This is a sponsored post written by me on behalf of Albertsons. All opinions are 100% mine.
Grilled Peaches take an already delicious fruit and elevate it to incredible. This easy grilled peaches recipe is cooked hot and fast on the grill and finished with a smoked honey glaze and delicious non-dairy ice cream treat! Want to really add flavor – consider hot honey instead.
If you are looking for an amazing and easy grilled dessert idea for your backyard cookout, this is it. Summer peaches are perfect for the grill.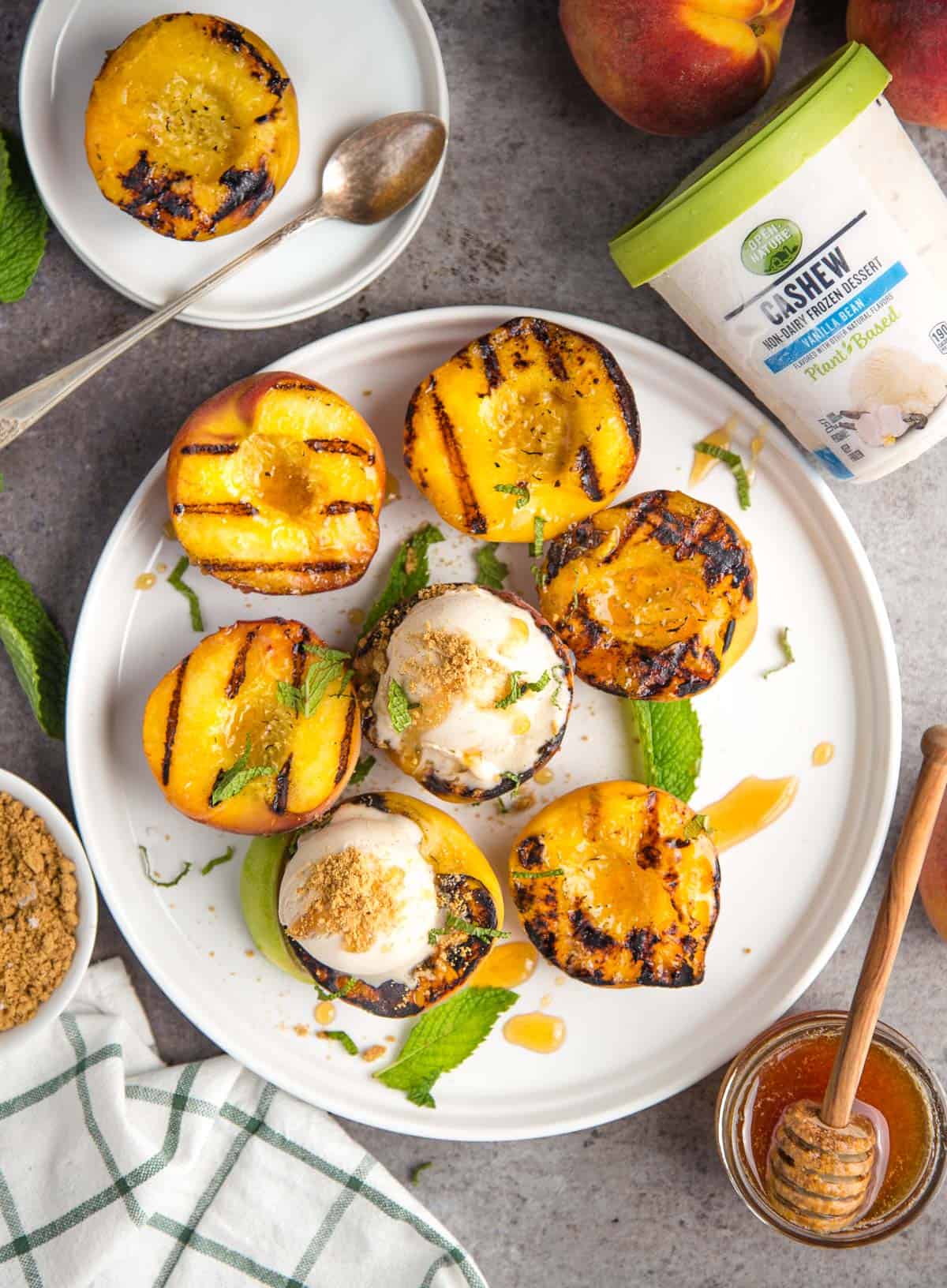 Jump to:
We discovered a few years ago that our boys not only have allergies to gluten, but also dairy. That was a hard one to swallow, being a forever fan of dairy. But we quickly discovered that there are LOADS of great (and delicious) alternatives to our favorite products. And with kids, summertime and ice cream is pretty much synonymous, so it was important to find a flavorful alternative so our kids didn't miss out on a seasonal favorite. Luckily our local Albertsons is filled with non-dairy ice cream alternatives my kids love.
And when you add ice cream on top of grilled fruit, it ends up being one of the most simple, yet flavorful summer desserts. Top it with some smoked honey adds a flavor that your family and friends will go bonkers for.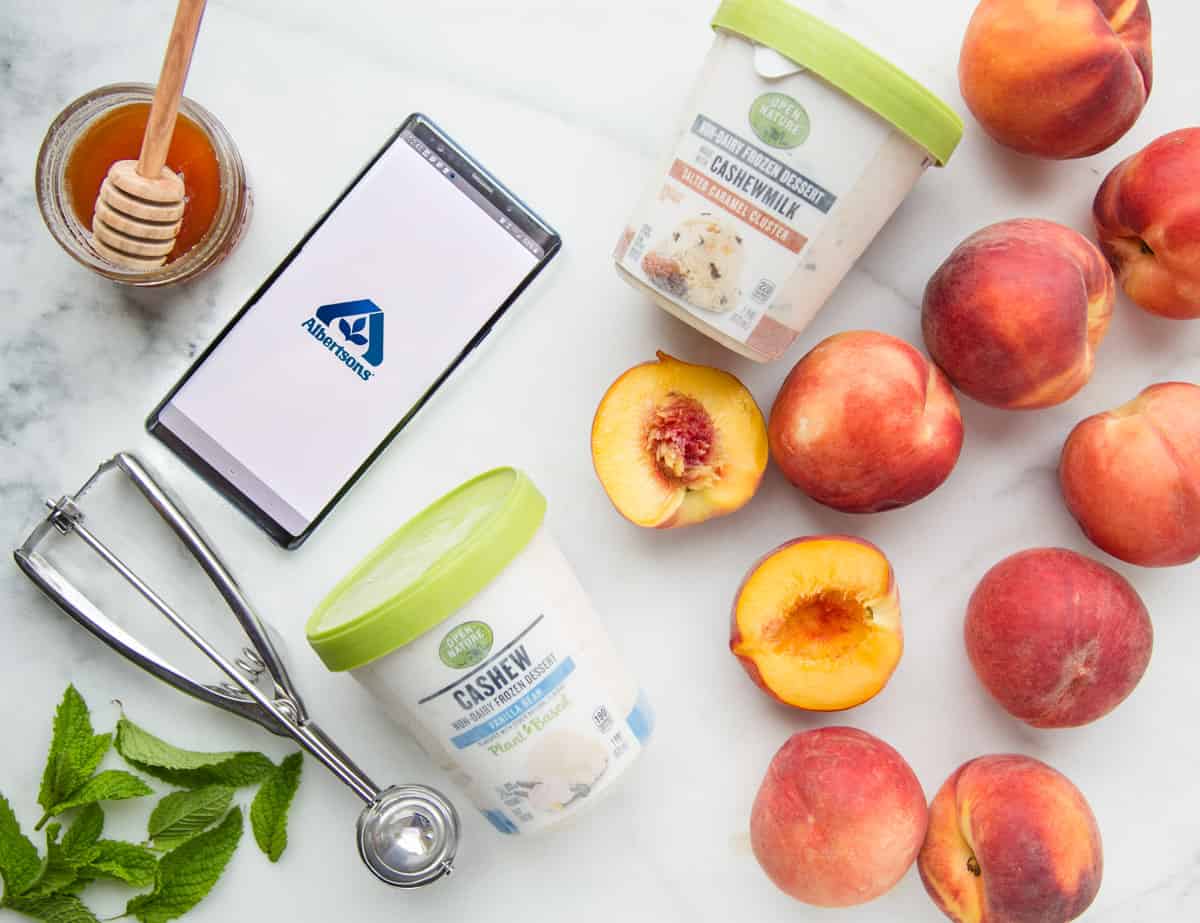 What to Look for when Buying Peaches
For this grilled peaches recipe, it's important to buy peaches that are slightly firm, but not rock hard. White peaches are our favorite variety of peaches for the sweetness level. When grilling peaches, the slightly firmer peaches will allow time to grill and soften while still remaining slightly firm when you serve them.
Overly ripe peaches will be very soft to the touch, or almost spongy. If that is all you can find, then adjust the grilled heat temperature higher to get the grill marks since they don't need to be grilled and softened, otherwise they will end up very mushy.
Cutting Peaches
When cutting peaches for the grill, the best way is to have a sharp paring knife.
Hold the peach in one hand and the paring knife in the other.
Start cutting the peach at the stem by pressing the paring knife into the peach until you feel the knife hit the pit.
Continue cutting the peach from the north pole to the south pole and all the way around the peach until you connect at the stem finishing the line. Always be sure you are cutting along the pit so you have two equal size halves.
Place the paring knife down, and then using your two hands, gently twist the two halves in opposite directions to separate the halves.
One side will have a pit. Using the paring knife, slowly cut around the pit into the peach and then using a small spoon, gently lift and remove the pit from the peach.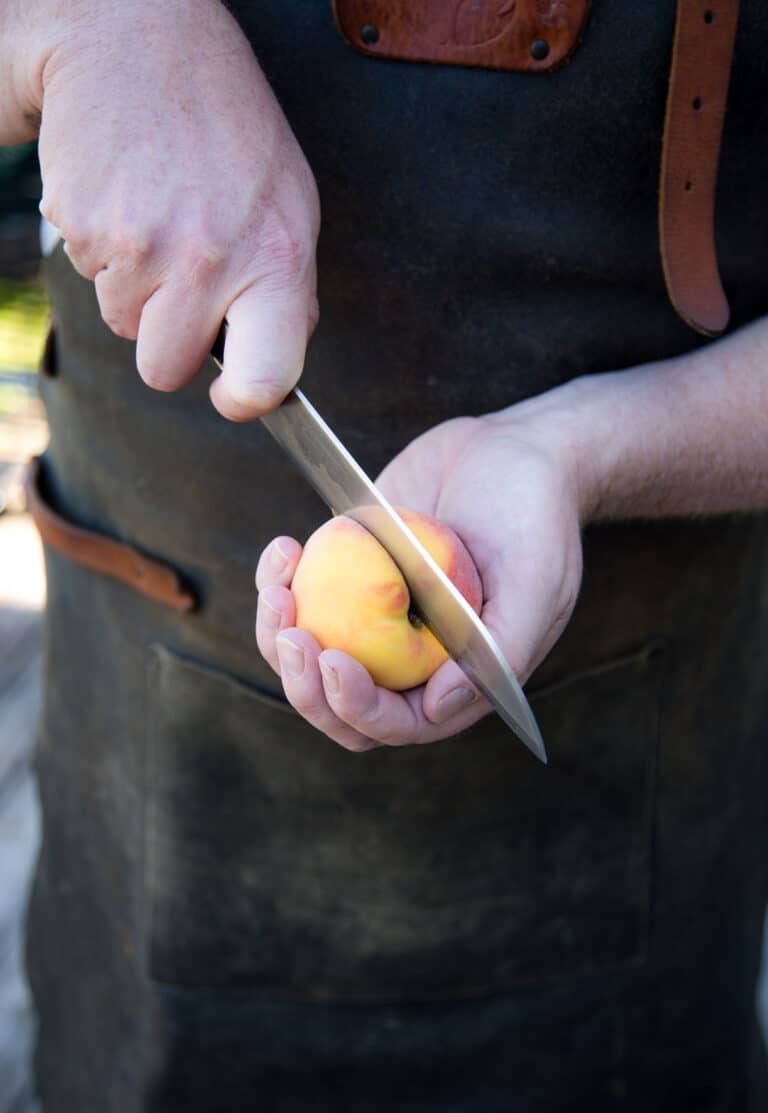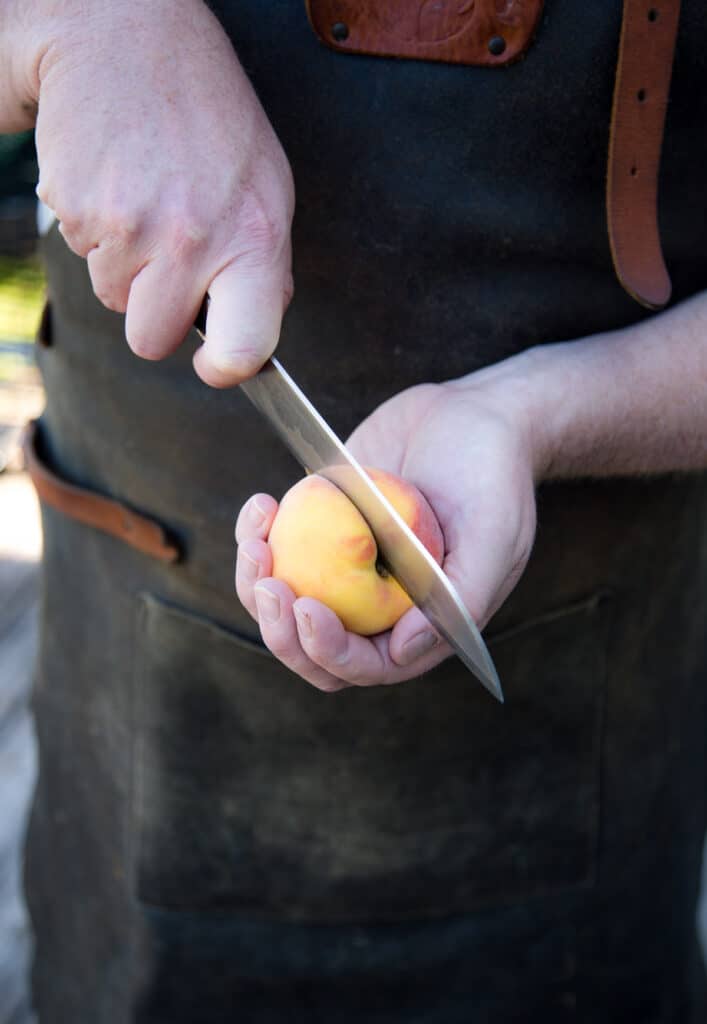 Seasoning
Place the peach halves on a large sheet pan. Add extra virgin olive oil to the tops (or flesh) of the peaches. This helps avoid the peaches from sticking to the grill. When you place sugar (or in this case, naturally sweet peaches) on a hot grill you run the risk of burning or sticking. The oil will help prevent this from happening.
How to Grill Peaches
First, be sure the grill grates are clean. Consider adding olive oil to paper towel and coating the grates with more oil. Long tongs are also very important because it prevents the peaches from being crushed or dropped over the grill. Spatulas are fine, but tongs work better.
Prepare grill for direct, or one zone grilling. Target the temperature of the grill at 375 – 400 degrees Fahrenheit for the grill. Note that if the peaches are over ripe, you can grill them at a higher temperature because they are already soft. Target direct heat of 450 – 500 degrees for overly ripe peaches. But again, it's best to use firm peaches for this.
Place the peaches flesh side down on the grate for 5 – 6 minutes. Pull the peaches after you see some nice sear marks on them and they are soft.
Remove them from grill when done and place on your serving platter.
If making as a dessert it is best to grill the peaches right before serving so they are warm. Serve with ice cream and toppings.
Non-Dairy Ice Cream Toppings for Grilled Peaches
There is no better companion to grilled peaches than ice cream. And we are using Open Nature® Cashewmilk Vanilla Bean non-dairy frozen dessert for There is no better companion to grilled peaches than ice cream. And we are using Open Nature® Cashewmilk Vanilla Bean non-dairy frozen dessert for our kids (we also love the Salted Caramel Cluster flavor as well on peaches!). No artificial colors or flavors, clean ingredients, and is a great and affordable non-dairy alternative for ice cream. It's creamy and delicious.
But if you're not strictly dairy-free, Signature SELECT™ and Open Nature® provide both high quality ice cream and non-dairy frozen dessert options for the whole family, available at a value in the greater Portland area. I shopped at the Albertsons Barrows in my local area, but you can also find the Signature SELECT and Open Nature line of products at the Albertsons Companies family of stores, including Albertsons, Safeway, ACME Markets, Jewel-Osco, Randalls, Shaw's Supermarket, Star Market, Tom Thumb and Vons, or online. Albertsons also offers Grocery Delivery and DriveUp & Go™ for convenient ways to shop!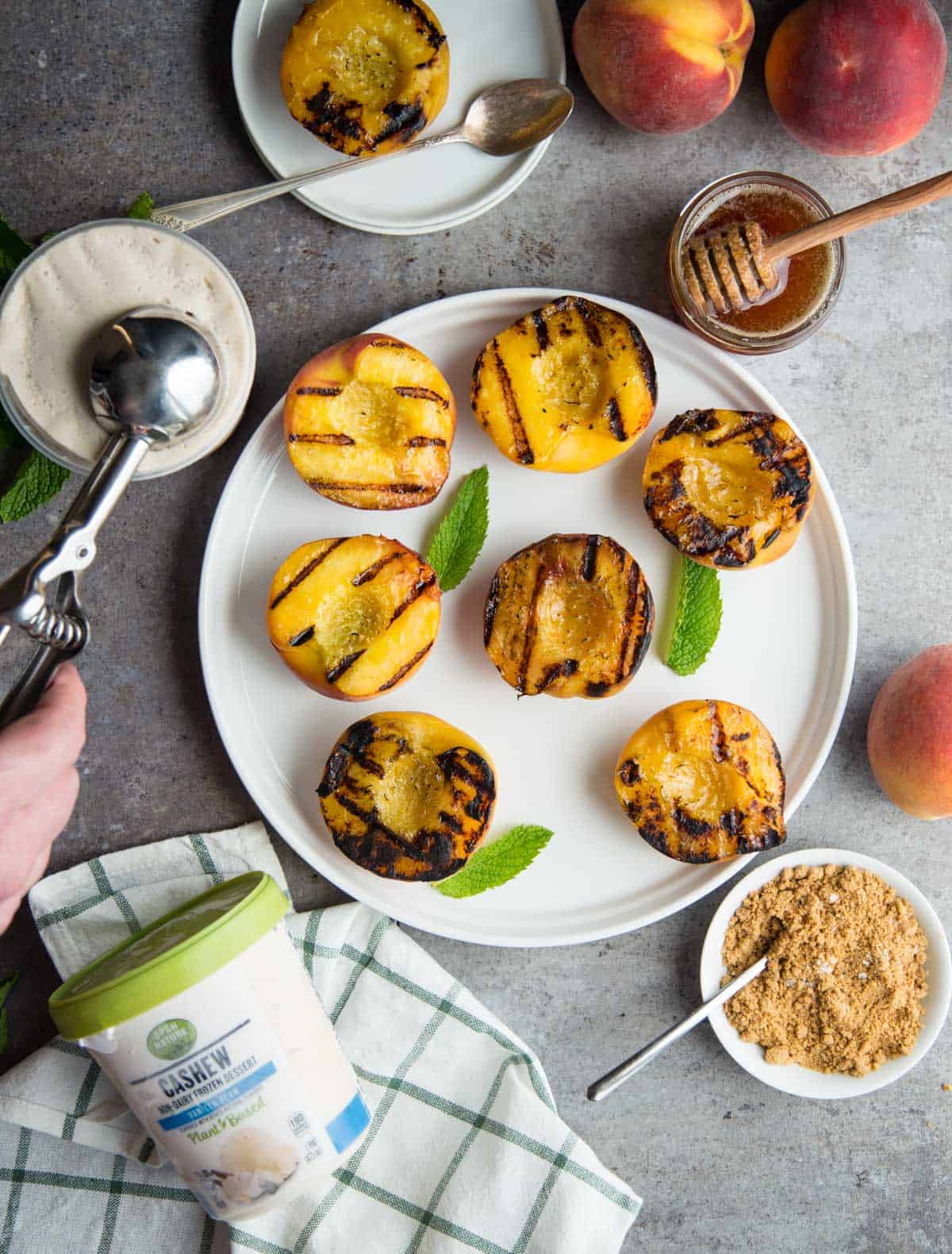 With the warm peaches on a serving plates, add a scoop of Open Nature Cashew Vanilla Bean non-dairy frozen dessert. Top with the smoked honey (regular honey works well too) and then finish with some crushed graham crackers and mint for a garnish.
Serve warm right away so the ice cream is softened but not melted.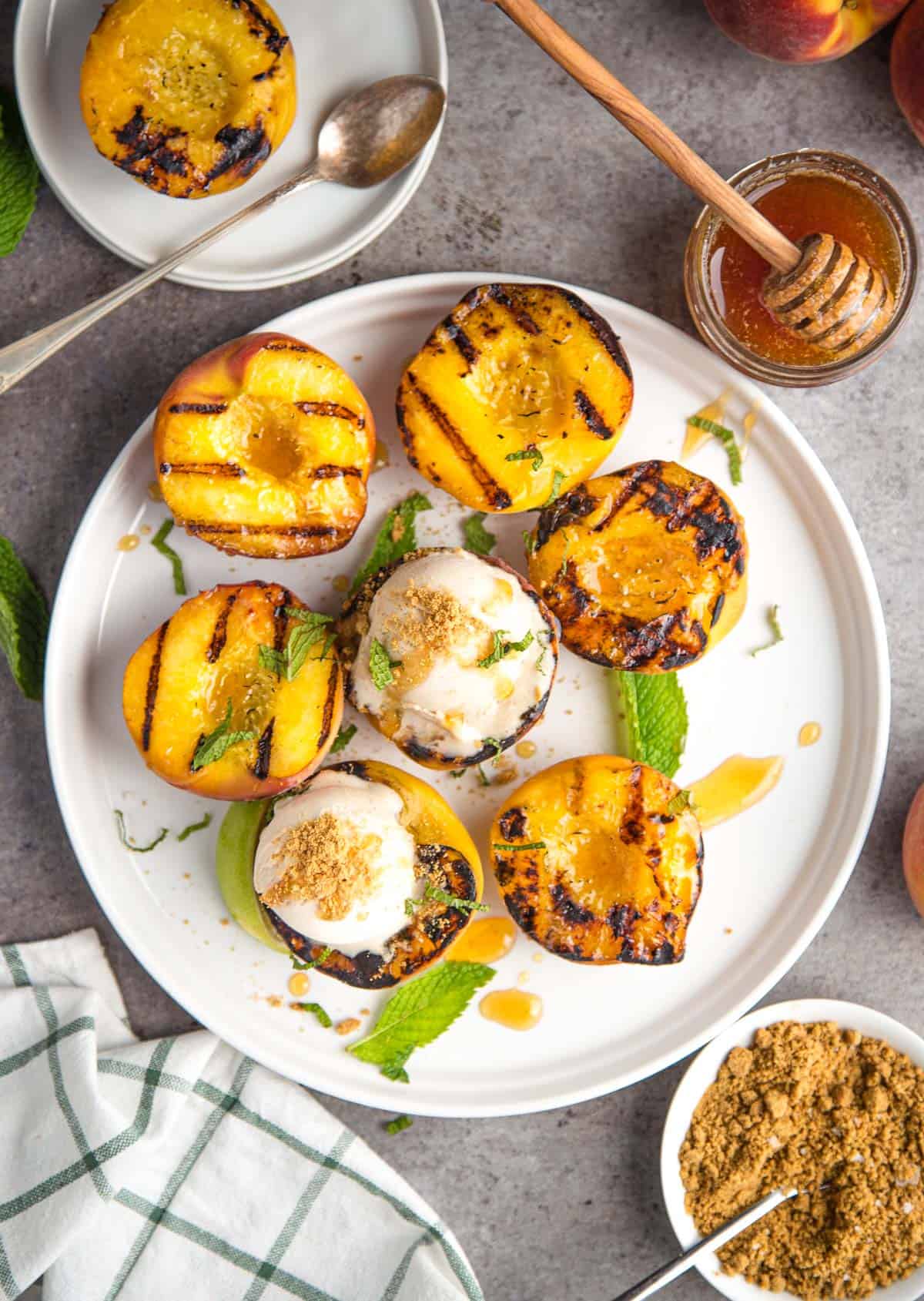 More Grilled Fruit Recipes