A basic homemade Pecan Pie Recipe is so simple to make. Sub the corn syrup for maple syrup, add some bourbon, and then grill it and you have one of the most flavorful Grilled Pecan Pies you will ever have.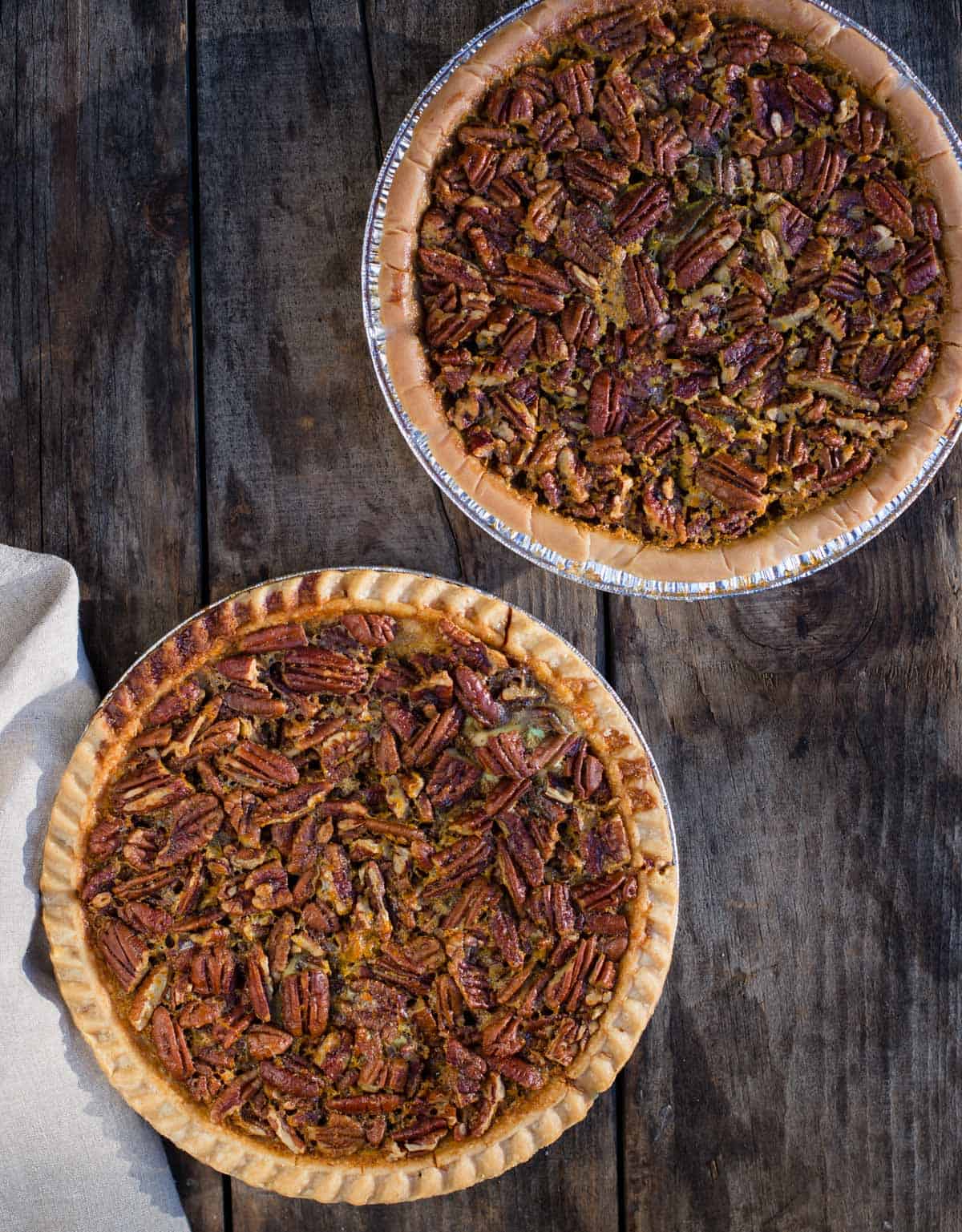 When it comes to pies, easy is important to us. And there is no easier pie than a homemade pecan pie (especially if you use a pre-made crust). With strong southern roots, this pie has all the flavors we love from sweet, to crunchy.
And why bake it in the oven when you can grill it?! If you think about your grill the same way you think about oven cooking, anything you can cook inside you can cook outside on your grill (and it's a lot more fun, and delicious too). Yes, including pies!
Jump to:
Ingredients
Classic Pecan Pie has three main ingredients: pecans, brown sugar, and corn syrup. However, we are not big fans of corn syrup and find that maple syrup is a great substitute. The maple syrup, when combined with the remaining ingredients, helps get that thick and gooey texture while still allowing the pecans to slowly soften and caramelize. Other ingredients we add include:
Eggs – To help with binding. One tip: pre beat the eggs to incorporate the whites. You don't want to see the whites cooking on the pie.
Bourbon – If you follow us you know we love to cook with bourbon. The bourbon (or whiskey) in this case adds a nice rich savory flavor to this pie. You can also substitute dark rum.
Vanilla Extract – We find vanilla to be a nice balance to the bourbon, not to mention a classic flavor.
Orange Zest – If you really want to brighten the dish and add complexity, fresh orange zest is what takes this pecan pie recipe from good to great. It adds that "what is that?" factor.
Butter – A necessary fat that brings together the various ingredients.
Salt – Salt is a great and necessary ingredient for baking and sweet as it enhances the sweet flavor.
Preparation
For this pie you're welcome to use a store-bought crust, or if you prefer your favorite home made version. Whichever kind of crust you use, we have found pre-baking the crust is an important step for pecan pie.
Just be sure to follow the directions on your dough for any pre-baking instructions. Most often it's pre-baking at 400 degrees F for 10 – 14 minutes or until lightly golden brown.
This will prevent the dough from getting too wet and gooey from the liquid pecan filling and falling apart when you remove it from the grill and allow it to cool.
If you are using a store bought gluten free pie crust this is again especially important (most store bought gluten free pie crusts that we've tested are fairly thin and can crack easily).
When pre-baking a pie crust, also be sure that you weigh down the crust to avoid the base from cracking or rising.
This is a good time to preheat your grill to 350 degrees using a two-zone cooking method (or direct/indirect).
How to Make Pecan Pie
The filling takes only 10 minutes to prep.
Chop Pecans – Roughly chop the pecans and add them right into the pre-baked pie crust.
Mix Filling – In a large mixing bowl add beaten eggs, whisk to make sure combined. Continue adding the brown sugar, maple syrup, butter, bourbon, vanilla extract, and orange zest. Continue to whisk to make sure combined.
Pour in Crust – Pour the filling into the crust. Do this in a few batches to be sure the filling works its way around the pecans. We will gently move around the pie crust to get all the air holes filled.
Grill – Cover the pie in foil and place on the grill.
Grilling Pecan Pies
Total grilling time will be 50 – 55 minutes. As noted earlier, have the grill already preheated to 350 degrees F using direct/indirect cooking. If you use a direct method, the pie crust will scorch and burn. So indirect cooking is important.
Bake covered for 30 minutes. Keeping it covered prevents the outer crust from burning.
After 30 minutes, remove the cover and finish for another 20 – 25 minutes. Remove when the pecans have risen to the top and the liquid has slightly reduced and thickened.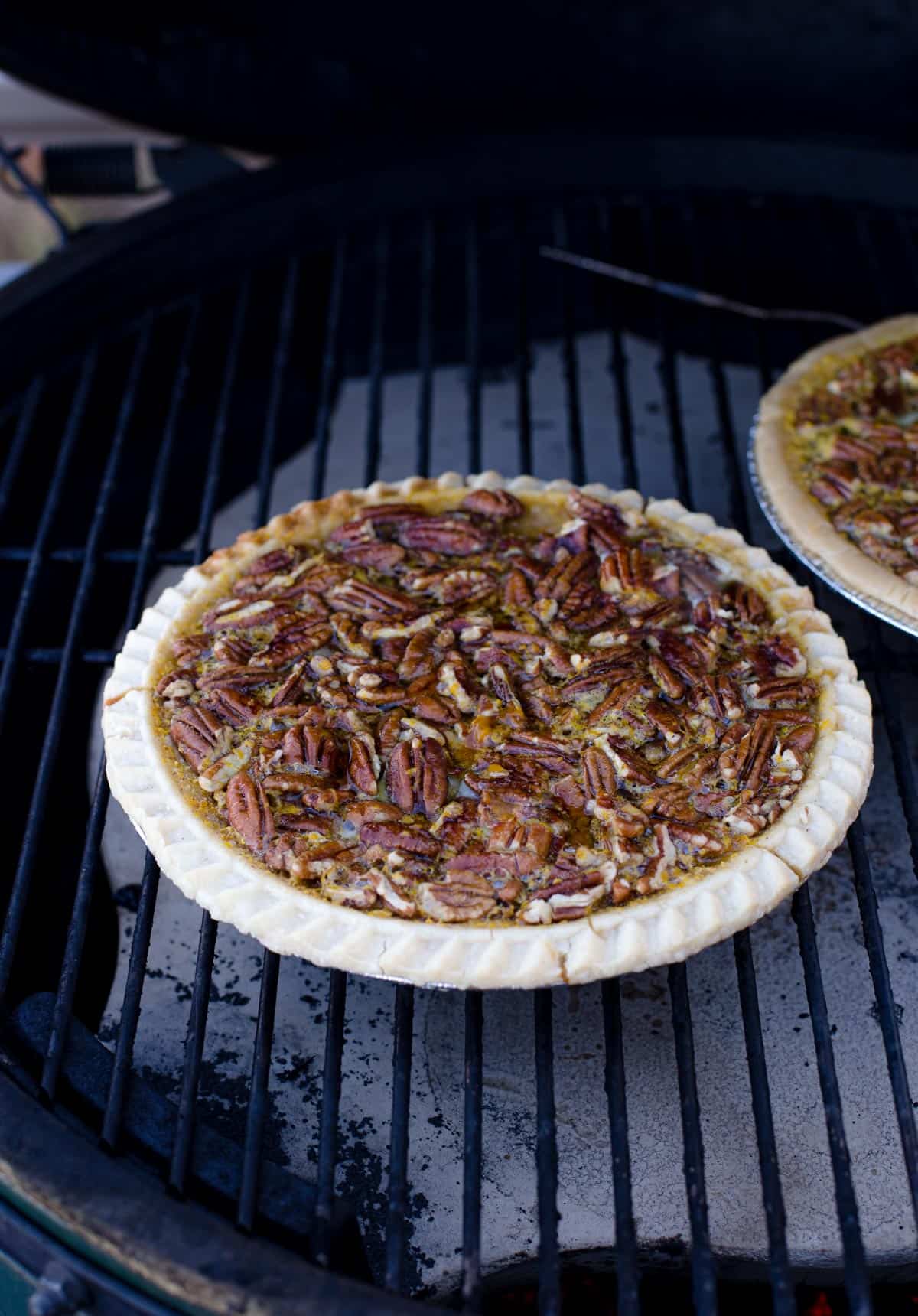 If using a gas grill consider using a wood chip box over the grates to add a little smoke influence to the pie since you don't have the ambient charcoal flavor.
Resting and Storing
After the grilled pecan pie is done cooking, rest the pie on a cookie cooling rack for at least two hours. As the pie slowly cools, the caramelization will continues and thicken giving the nice flavor and texture. If you cut into the pie too quickly it will fall apart.
This is great to make in advance of a holiday or party. Be sure after the pie cools at room temperature for a couple of hours that you cover with foil or plastic wrap and store in the refrigerator. Since we used eggs, it is important to keep it refrigerated and it should last a few days (per the USDA).
Serve it with ice cream or smoked whipped cream.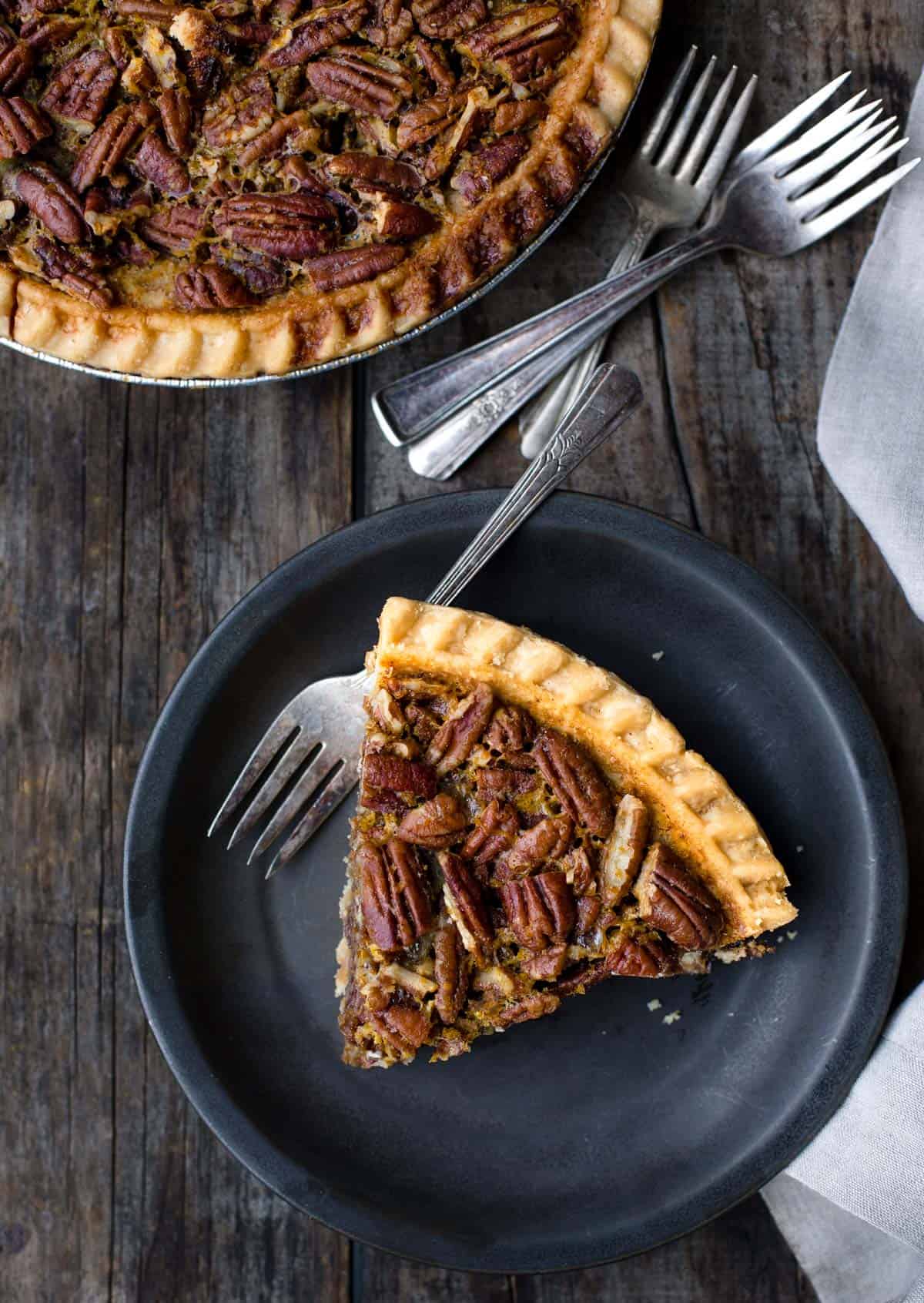 Other Holiday Dessert Ideas
You can check out our full list of dessert recipes or explore some of our favorites.
---
Mary (a certified sommelier and recipe developer) and Sean (backyard pitmaster) are co-authors of the critically acclaimed cookbook, Fire + Wine, and have been creating content for the IACP nominated website Vindulge since 2009. They live in Oregon on a farm just outside Portland.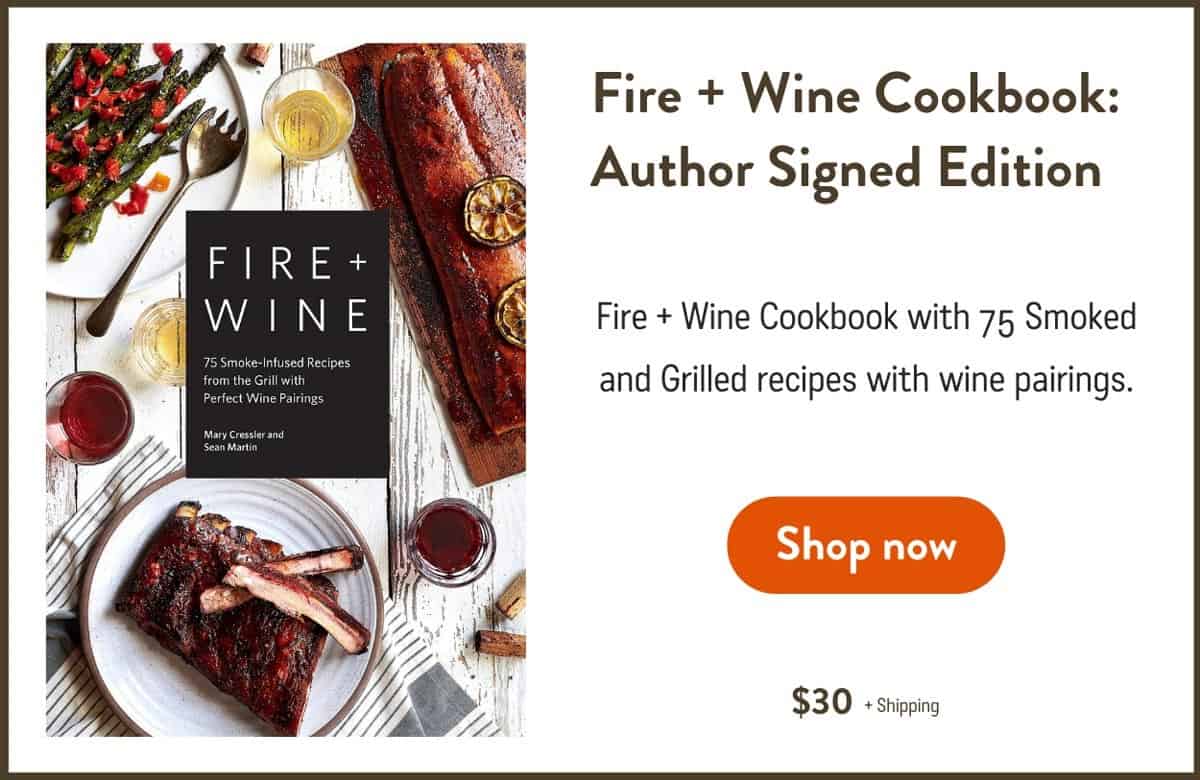 Tried this recipe? Give us a star rating and we would love to see! Mention @vindulge or use the hashtag #vindulge on all the social media handles. And consider subscribing to our newsletter where we drop all our favorite ideas and inspirations every week.