Grilled Pork Tenderloin topped with a fried sage butter melts in your mouth and cooks in minutes over a hot grill. Learn the difference between pork loin and pork tenderloin and how to grill pork tenderloin perfectly every single time.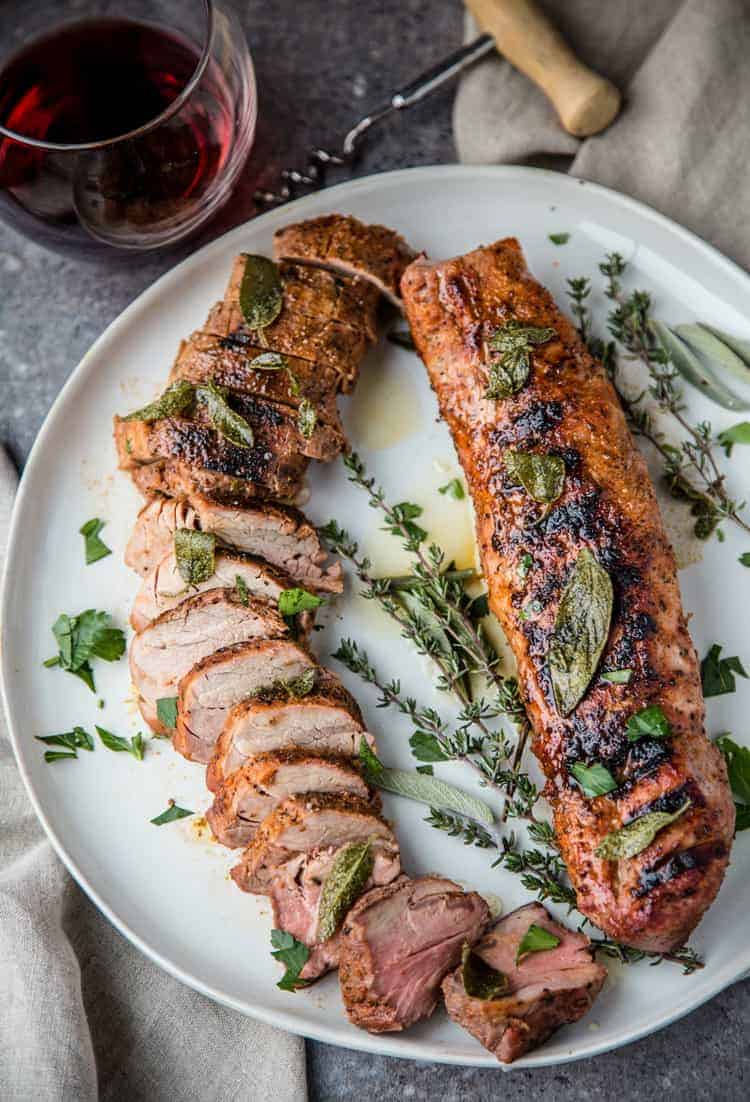 Grilled whole pork tenderloin is an easy way to serve a lean and flavorful cut of pork. There are so many variations of flavor that can be added. No matter what you want for flavor, let's walk through the basics for our grilled pork tenderloin recipe.
Pork Loin versus Pork Tenderloin
Pork Tenderloin is a long and narrow cut of pork that comes from along the backbone of a pig. Because the muscle along the backbone does not move as much (as say a pork shoulder), this is why it is so lean. With any lean cut, the best method of cooking is grilling over high heat, quickly, in order to avoid the meat drying out.
Pork Loin is a much different cut of meat that comes from the ribs and requires much longer cook times. The pork loin can be bone-in or boneless and can be cut up for pork chops or cooked as a whole roast like our grilled rack of pork or pork loin with blackberry balsamic wine glaze. It is also lean compared to ribs or a shoulder, but due to its larger size it needs slightly less heat, or a reverse sear method, for the best flavor and tenderness.
Our favorite producer of great pork is Snake River Farms Kurobuta Pork. The flavor is intense and rich, and the tenderness is amazing!
How to Trim Pork Tenderloin
Grilled pork tenderloin starts with properly trimming the tenderloin prior to seasoning. When you first look at the tenderloin you will see some silver skin along the outside, and there will be a thin end, and a thick end. To best prepare this for the grill we will follow a few steps.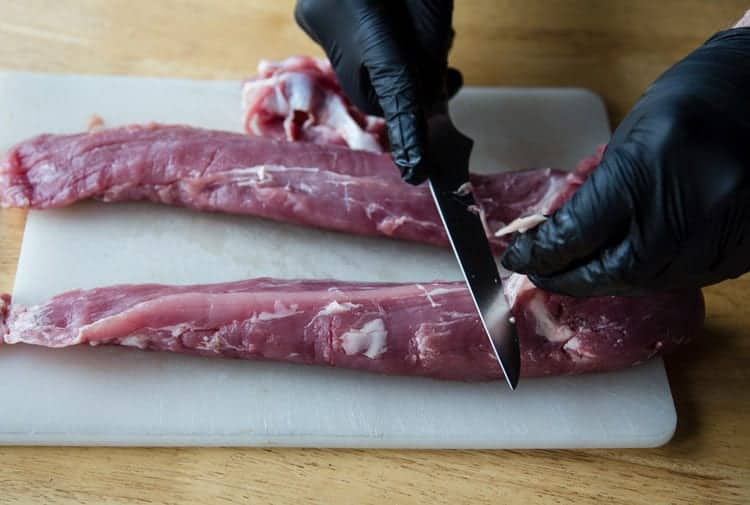 Remove some of the thin end, or the tail, to make the thickness of the tenderloin uniform from end to end. This prevents a dry overcooked end piece because it gets so narrow.
Remove any of the silver skin from exterior of the meat.
If there is any excess flaps of meat, remove those as well.
Seasoning Pork Tenderloin for the Grill
We do not marinade a pork tenderloin because we buy high quality pork tenderloin that is tender and juicy when cooked to the right temperature. Therefore we want the meat to shine. If you plan to marinade, then do so for a few hours prior to any application of a dry rub.
Coat the pork with extra virgin olive oil. This will allow the dry rub to adhere to the pork easier.
Apply the dry rub. Because we are grilling over high heat, we are using our chicken seasoning with more herb and savory elements. It also has no sugar added (and over a high heat sugar can burn, which makes the no-sugar rub great for grilling at a high heat).
This can be done the day prior or minutes before grilling. Adding earlier allows the salt to dry brine the tenderloin and get more flavor into the meat.
How to Grill Pork Tenderloin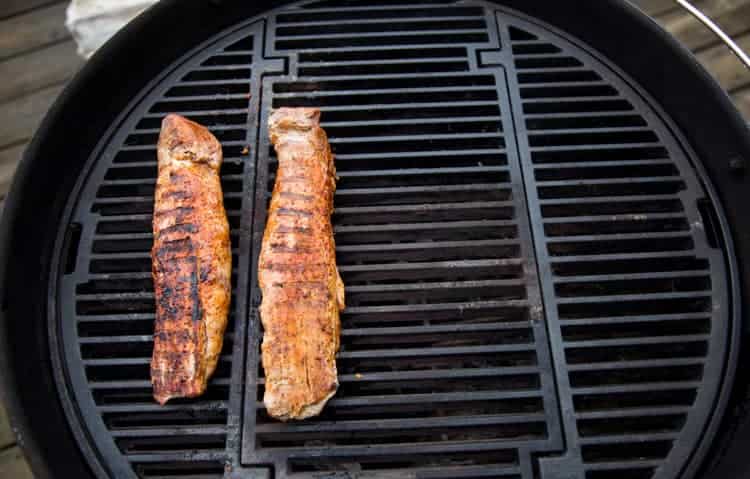 The process for grilled pork tenderloin will involve direct and indirect cooking or using the two zone method of cooking.
Get the grill hot using a two zone method. Target 450 – 500 degrees Fahrenheit over direct heat.
Get a sear on both sides of the tenderloin, about 4 minutes per side then move to indirect heat to finish.
After about 6 more minutes check the temperature and pull the pork when it reaches 140 degrees F.
Let is rest! 10 minutes will allow the juices to redistribute. Slice and serve with our fried sage butter sauce.
How Long to Grill Pork Tenderloin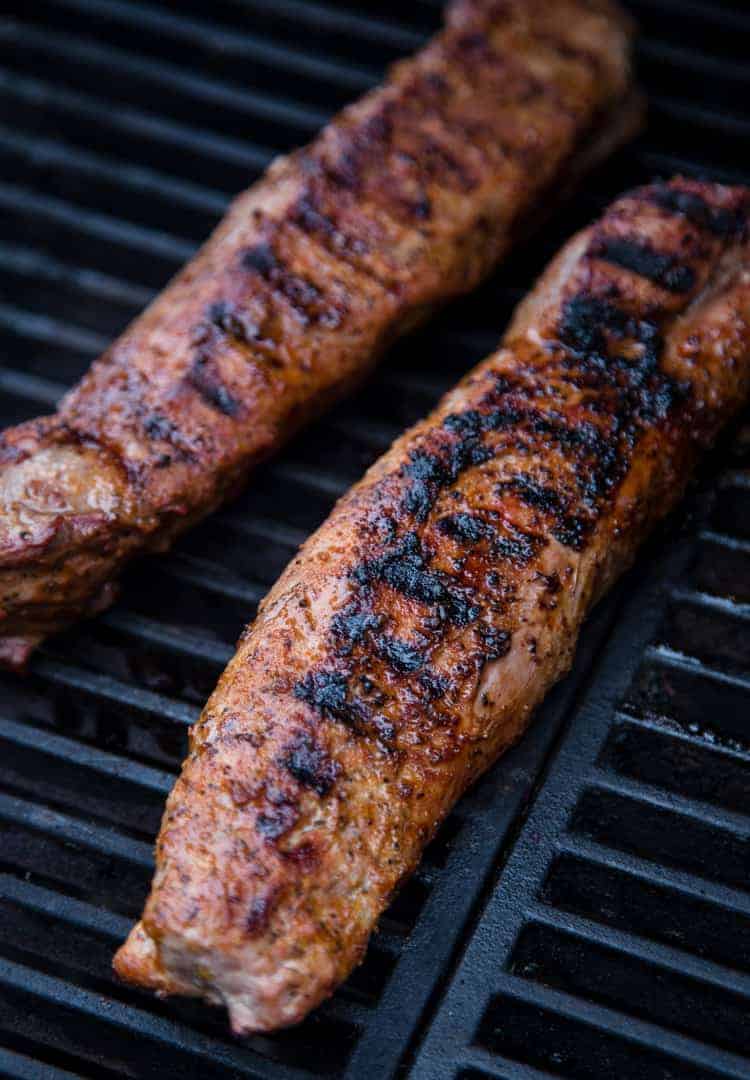 Pork tenderloin is going to grill very quickly, and the general guidance is no more than 15 minutes on the grill until it is done.
However, the important rule is to grill to temperature and not time because of all the variables of a grill. Use a quality instant read thermometer like the Thermoworks MK4 Thermapen and remove the pork from the grill when the internal temperature reaches 140 degrees Fahrenheit.
While the grilled pork tenderloin rests, the internal temperature will continue to rise in temperature to about 145 degrees F and ready to slice.
While the meat is resting you can make the sage butter.
Fried Sage Butter Sauce
This is the easiest way to add a simple flavor to any meat or veggies.
In a small pan over medium heat add the butter and let it melt.
Add diced sage and let the sage simmer in the butter until slightly crispy (3-5 minutes).
Optional: Add finishing salt if you want a touch of savory note.
Pour over the sliced tenderloin right before serving.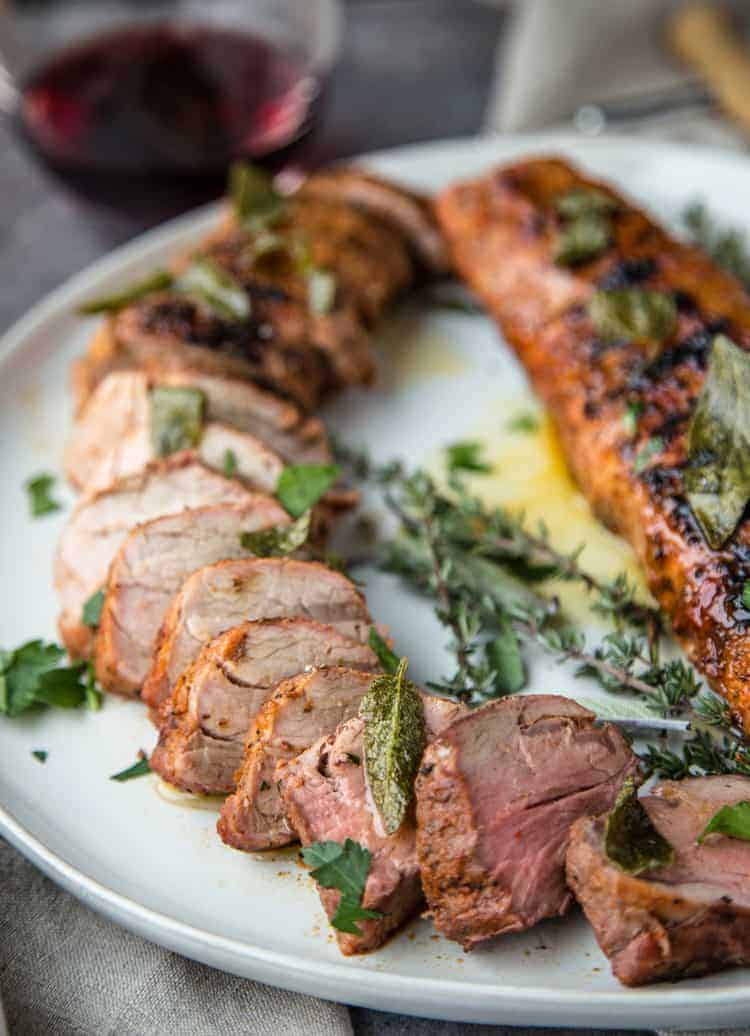 Related Recipes
Grilled Pork Tenderloin Recipe
This post may contain affiliate links. This means if you click on the link, we may receive a small commission if you purchase through the link. We partner with brands we know and love and use and it helps keep the blog going!