Grilled Pork Chops are delicious. And we aren't talking about the overcooked hockey pucks of our youth (sorry mom!). Add a quick marinade of maple syrup, soy, and some citrus and you have one incredible Marinated Pork Chop recipe great for a weeknight meal or weekend backyard cookout.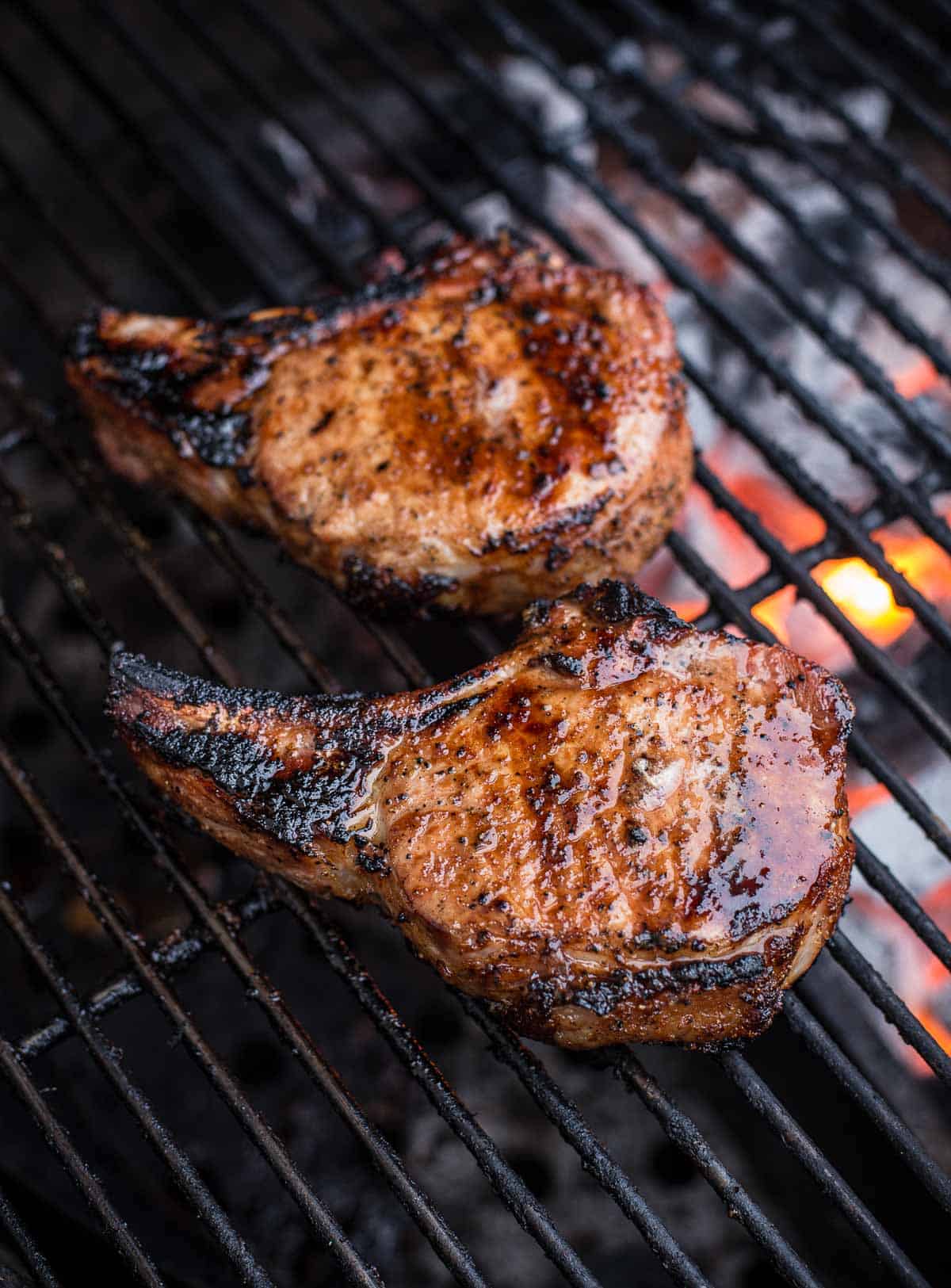 These marinated pork chops are quick and easy to make, cooked to juicy perfection, and will please all palates!
Ingredients
The big flavor for this pork chop recipe comes from the marinade. It's meant to be a balance of sweet, savory, and a touch of acidity. Amounts are in the recipe card.
Pork Chops – While this recipe will work with any pork steak cut, we strongly recommend bone-in pork chops. Look for two bone cuts from the pork loin and around 2-inches thick. Alternatively you can use boneless pork loin cuts as well.
Seasoning – We use a simple mix of kosher salt, black pepper, and granulated garlic (or our SPG seasoning). Avoid any seasoning that uses sugar. The majority of the flavor is coming from the marinade. So we keep it simple with the seasoning.
Maple Syrup – Use good quality grade A maple syrup for the best results. The natural sugars are more balanced than using something made from corn syrup.
Lime Juice and Zest – Both the zest of the lime and the freshly squeezed juice bring acid to the marinade and balance the savory (from soy) and sweet (from maple syrup).
Soy – Soy adds a savory flavor and balances the sweet from the maple syrup.
Garlic – We use a microplane to mince the garlic.
Rice Wine Vinegar – You can also use white wine or white vinegar, but we find the rice wine flavors are more pronounced for the pork marinade.
Preparation
Be sure to ZEST the lime before you cut in half and juice it. It's so much easier to zest while a lime is whole versus already cut.
In a large bowl combine the marinade ingredients and whisk. Place into a one gallon ziplock baggie and then add the pork chops. Squeeze the air out, seal the bag, mix it all up, and then place in the refrigerator for at least 2 hours (no more than 8).
Grilling Pork Chops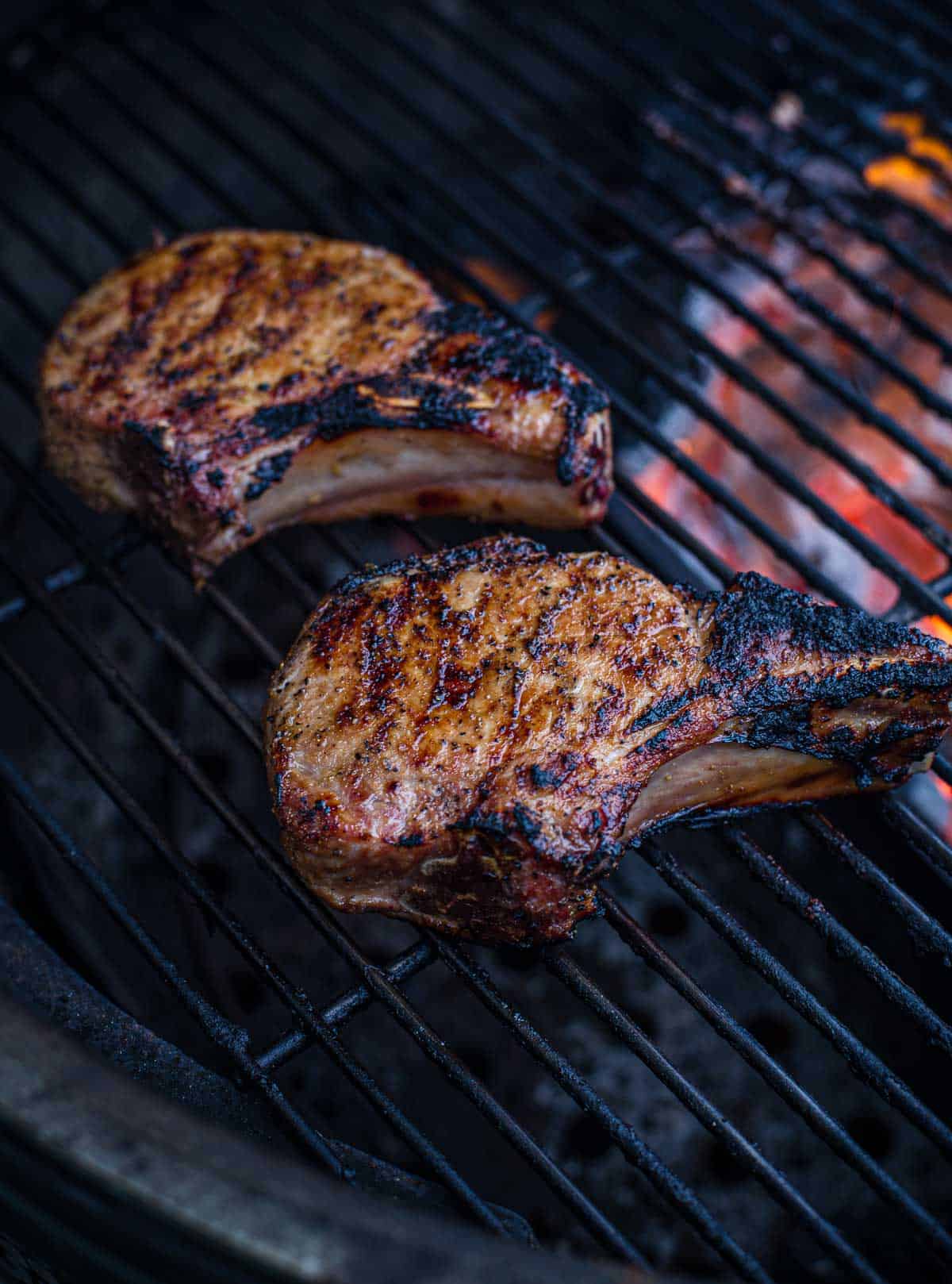 Pre-heat Grill: Prepare the grill for two-zone grilling targeting 400 – 450 degrees F in the cooking chamber. Avoid going too high with the sugar from the maple syrup.
Season Pork Chops: After 2 hours of marinating, remove the pork chops from the baggie and place onto a cutting board. Season them liberally with the SPG Seasoning. Adjust the amount based on how big the pork chops are. Discard the marinade, or see notes section for turning it into a glaze.
Grill Pork Chops over Direct Heat: Place the pork chops on the direct side of the grill and grill for 3 minutes or until you see pronounced grill marks. Flip and grill direct an additional 3 minutes or until you like the grill marks.
Finish Pork Chops over Indirect: Move the grilled pork chops to indirect heat and finish indirect until they hit your desired internal temperature. We target 140 degrees F and remove them to rest 5-10 minutes. As they rest they will continue to increase in temp to 145 degrees F while resting.
Enjoy: Slice and serve with your favorite sides.
If you want to make a sauce from the marinade, place the liquid into a sauce pan over medium high heat. Let it come to a boil and cook for 20 minutes. It will reduce by half and makes a great finishing glaze.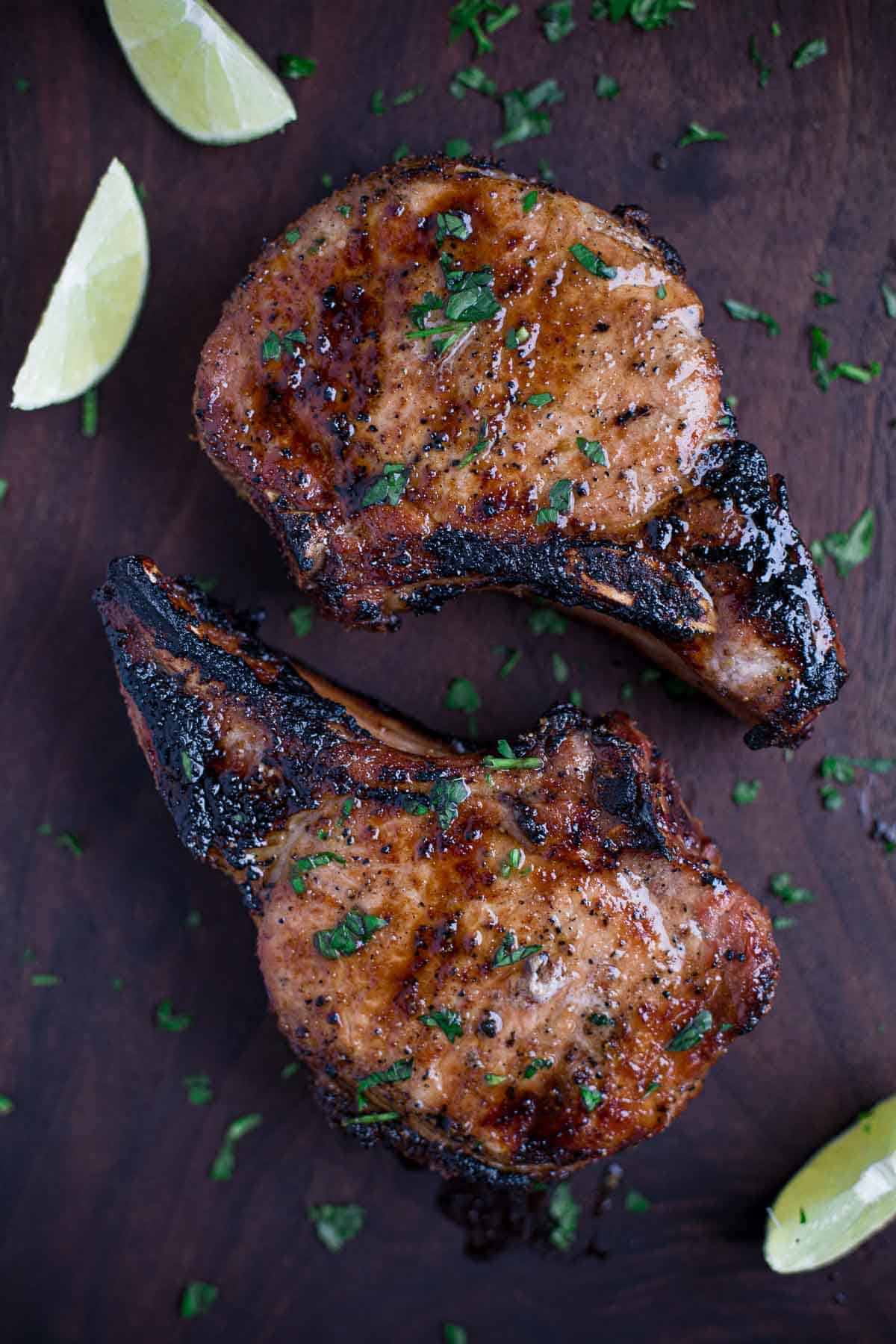 Wine Pairing
Of course we'll have a wine pairing for pork chops. And because of the both sweet and savory flavors of the marinade we opt for a Riesling. It's a great match for the savory and tender meat and sweet marinade. If you're craving a red, a Beaujolais works nicely.
Explore wines as well from the Vindulge Wine Shop.
---
Get a copy of our critically acclaimed cookbook anywhere online books are sold. You can also get signed copies through us directly.
---
Side Ideas For Pork Chops
Our Favorite Pork Recipes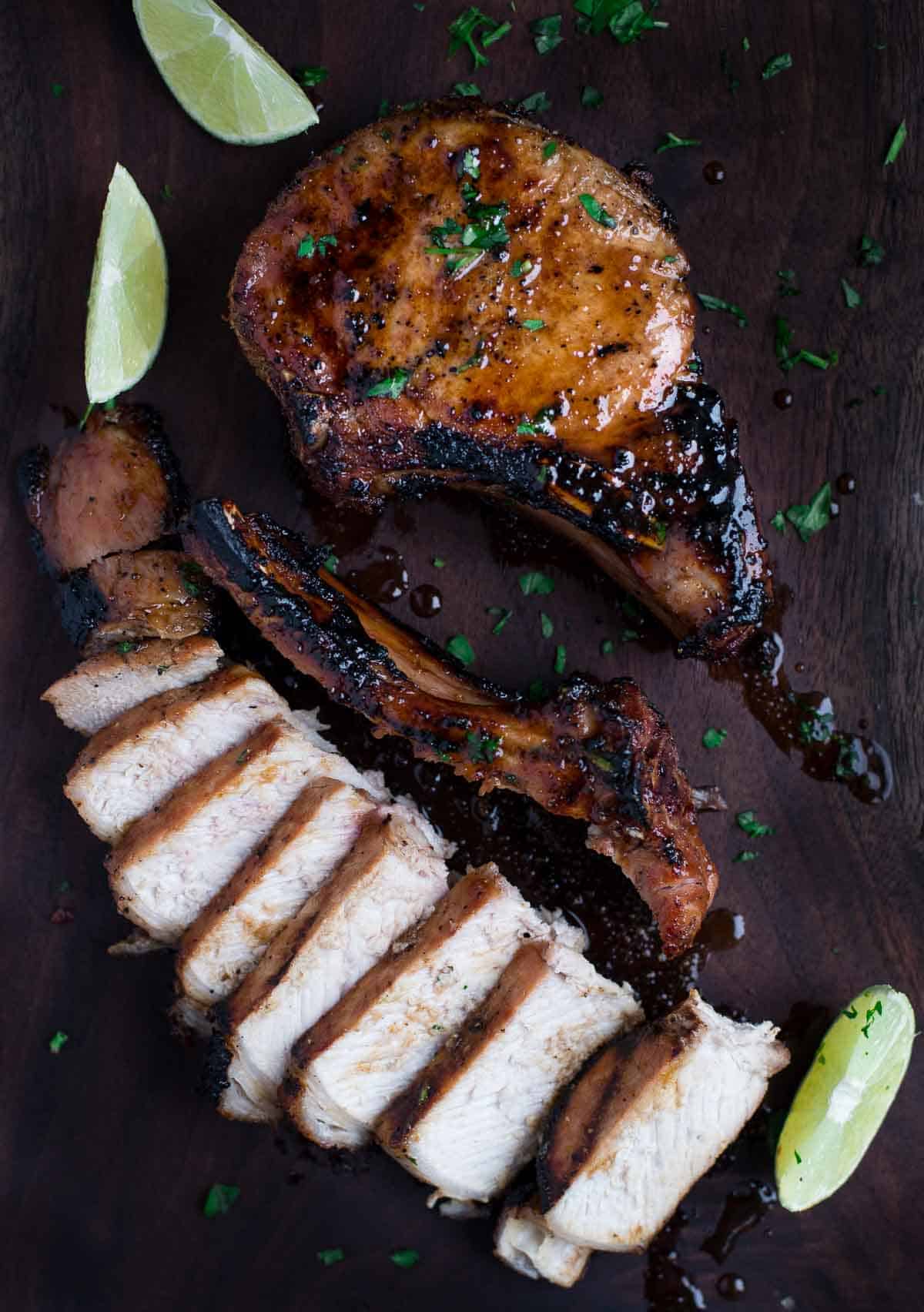 Tried this recipe? Give us a star rating and we would love to see! Mention @vindulge or use the hashtag #vindulge on all the social media handles. And consider subscribing to our newsletter where we drop all our favorite ideas and inspirations every week.
This post may contain affiliate links. This means if you click on the link, we may receive a small commission if you purchase through the link. We partner with brands we know and love and use and it helps keep the blog going!