Don't be afraid of undercooking or drying out chicken on the grill. Instead, try these 28 grilled chicken recipes for expertly flavored and perfectly cooked grilled chicken every time.
Want to know more about perfectly grilled chicken? Check out our full guide on the perfect chicken temperature.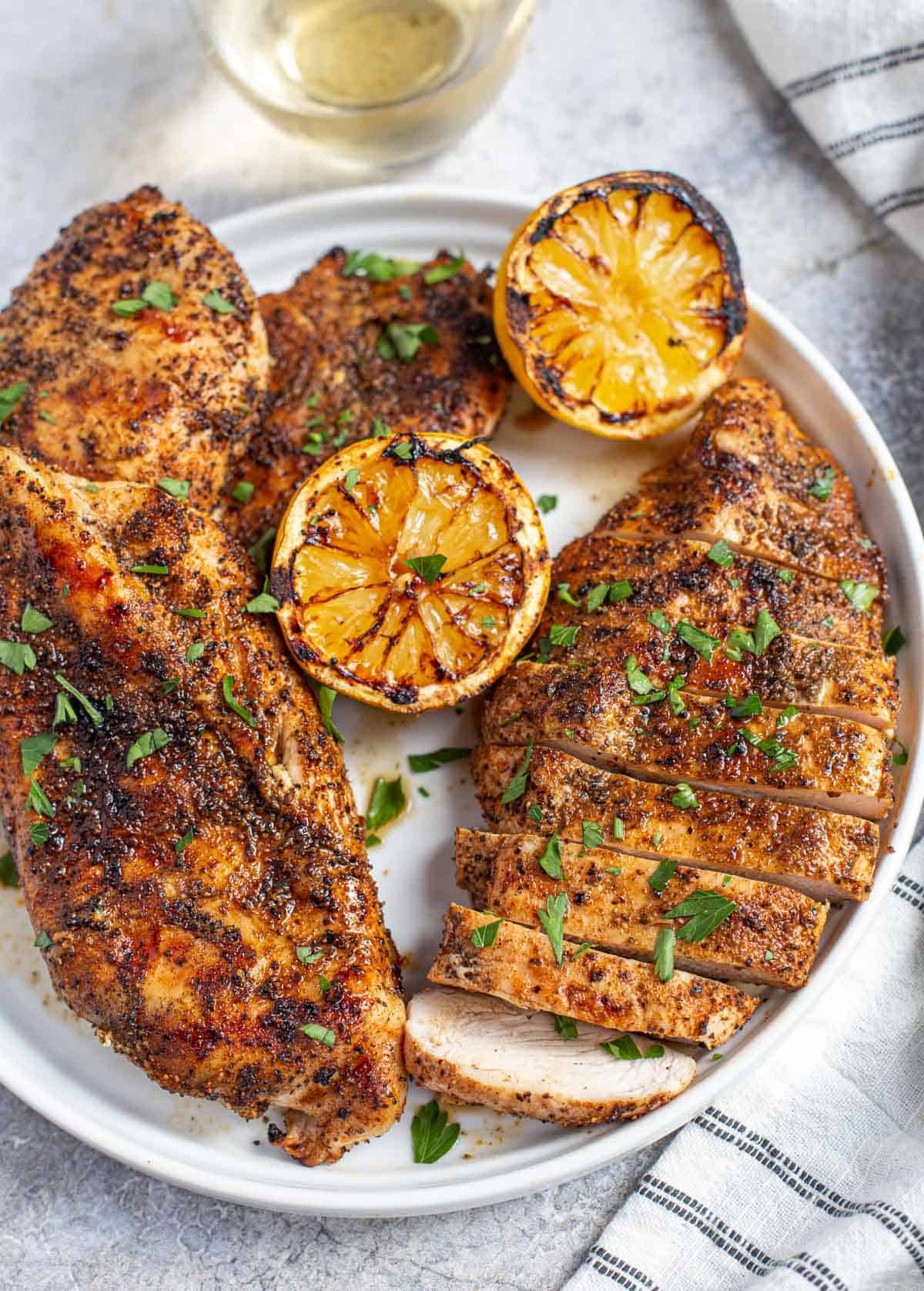 Chicken is the most consumed meat in the United States. But it's far from boring! We like to think of chicken as a blank canvas–perfect for covering in flavor and smokey goodness. We've gathered up 28 of our favorite grilled chicken recipes so you'll never have another boring weeknight dinner again.
From grilled chicken thigh recipes to grilled chicken breast recipes, we're showcasing many of our most preferred ways to cook chicken. Scroll down for instructions on how to prepare them, as well as more of our favorite grilled chicken recipes.
Jump to:
Seasoning
When it comes to a good grilled chicken seasoning look no further than our savory and delicious no sugar chicken rub.
Want something with a little more kick? Try our blackening spice or our jerk chicken seasoning.
Grilled Chicken Recipes
Grilled chicken can be a little intimidating for people. Too often people are afraid of undercooking chicken, which instead results in overcooked, dry, and boring chicken. With the right dry rub, techniques, and an understanding of how to grill chicken, you can make fantastic grilled chicken every time. It's also great when used in a Grilled Chicken Salad or Buffalo Chicken Sliders.
Whole Grilled Chicken
These whole grilled chicken recipes will go well with every one of your favorite side dishes. It's ideal for brunches and barbeques. Grilled chicken can also be delicious on spaghetti, and sandwiches. For a well-balanced lunch, pile your dish high with fruit and vegetables, as well as a serving of nutritious grains in addition to this lean protein.
---
Grilled Chicken Thighs, Legs, and Quarters
Chicken thighs and legs contain more fat than a boneless, skinless chicken breast so they handle high heat well without drying out. Bone-in chicken quarters also help to shield leaner meat from the high heat while cooking.
---
Grilled Chicken Breast
Chicken breasts are one of the most basic and inexpensive cuts of meat. Jazz up this plain Jane poultry with any number of seasonings and glazes.
---
Grilled Chicken Wings
The wings are one of the smallest and yet most expensive parts of a chicken, but for good reason! They are beyond tasty. Especially when grilled.
---
Marinades and Dry Rubs for Grilled Chicken
Try adding flavor before you cook with a dry rub or marinade.
---
Thank you for being part of our community. If you make any of our dishes we'd love to see them on social media using the hashtag #vindulge and give it a 5 star review.
This post may contain affiliate links. This means if you click on the link, we may receive a small commission if you purchase through the link. We partner with brands we know and love and use and it helps keep the blog going!
---