Grilled Tofu topped with an easy BBQ Sauce is a quick and easy vegetarian meal. Grilling Tofu is an incredible way to add texture and flavor to an otherwise flavorless ingredient. The secret to this grilled tofu recipe is to use extra-firm tofu, making sure the water is pressed out, grilling it hot and fast, then finishing it with a delicious BBQ sauce glaze.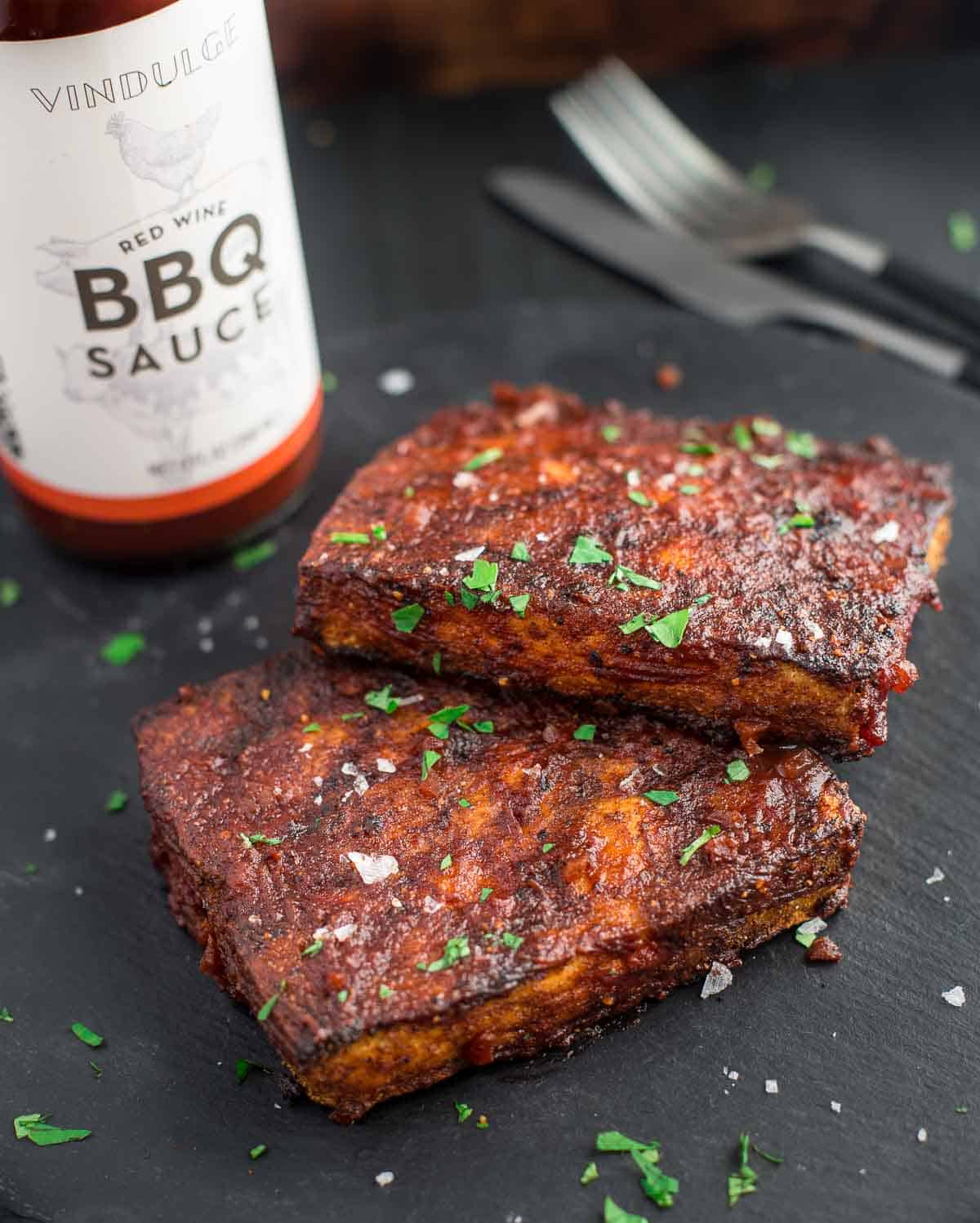 Jump to:
When we consider a dish for our non-meat eating catering clients and friends we like to really wow them with some type of BBQ tofu or protein. Now we know "BBQ" references low and slow cooking, but often people just use that phrase for grilled foods as well. In this case we're using it to refer to our BBQ Sauce, which is used to glaze the grilled tofu with.
And this Grilled Tofu recipe is one of our favorite ways to offer great texture and flavor to vegetarian BBQ dish for your next outdoor cookout or weeknight dinner.
Ingredients for Grilled Tofu
Extra Firm Tofu – Look for extra firm so you get the right texture. Don't use soft tofu for this grilled tofu recipe. If you can only find firm, that's fine. Just make sure to press out the excess liquid.
Olive oil – This helps the seasoning adhere to the tofu, and also keep the tofu from sticking to the grill. We use extra-virgin olive oil.
Seasoning – We use our chicken seasoning – it's savory and herbal without sugar. The key is avoiding sugar that may burn while over direct heat.
BBQ Sauce – We use our Red Wine BBQ Sauce, which is both savory and sweet. When cooked it takes on a rich flavor. You can also make your own red wine BBQ sauce or purchase ours online (available only in the US).
Tools
See our full list of the best grilling tools to have in your collection.
You want to be sure you have long tongs. The other important tool is a long silicone brush. Both prevent your arms and hands from being burned over a direct grill at 500 degrees.
Preparing the Tofu for Grilling
Two hours before cooking, remove the tofu from the container and water. Because it's soaked with water it needs to be pressed and drained. Cut the tofu in half, lengthwise, creating two equal sized "steaks". You can use a tofu press if you have one. If not, create a "press" using two long flat items (like a cookie sheet or pizza pan) and something heavy (like a cast iron pan or brick).
Using a sheet tray, place a towel down and then place the tofu halves directly on the towel. Place another towel on top of the tofu halves, and then, on top of that towel, place another sheet try, then add a heavy item on top of the sheet tray to press down on the tofu, allowing the excess liquid to seep into the towels. I find a cast iron pan works well for this. Alternatively you can use a brick, a hand weight, or a large can of tomatoes. You need the weight to press the liquid out of the tofu halves.
After 2 hours, the tofu halves are ready to prepare for the grill.
Key Prep Tip – Cut the large brick of tofu in half lengthwise to make it easier to grill. If you don't, the texture of the interior will still be gummy. By cutting it in half lengthwise you make it easier to drain and for better texture throughout the tofu when it's grilled.
How to Grill Tofu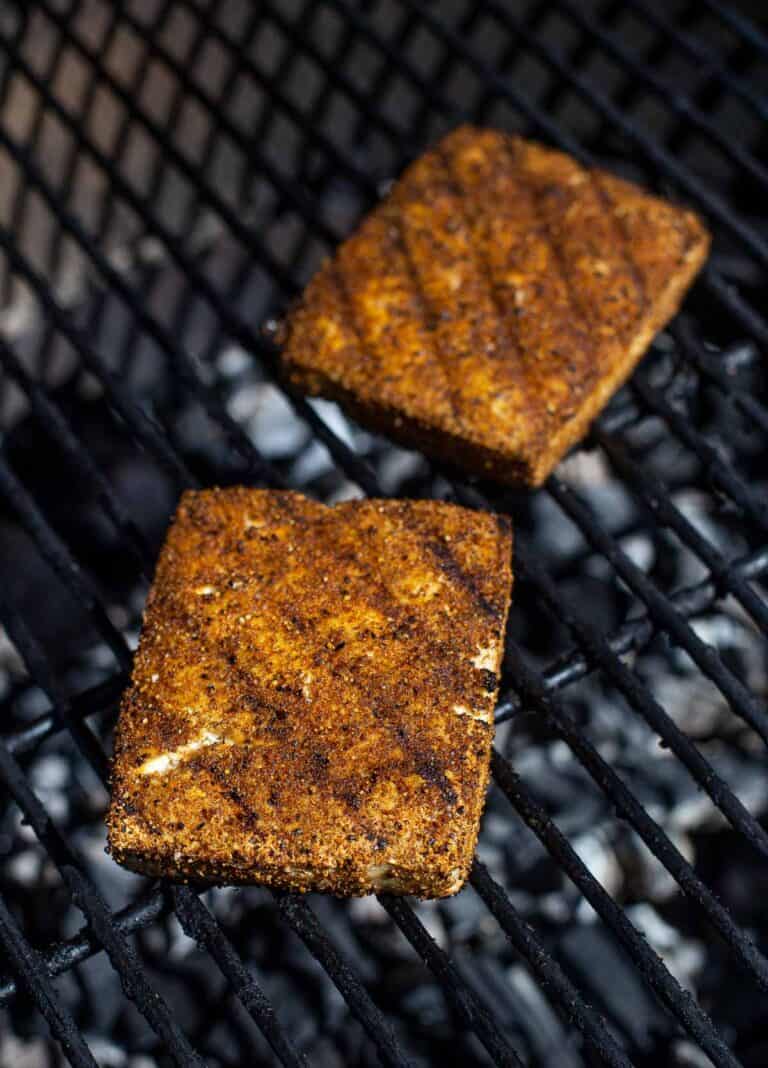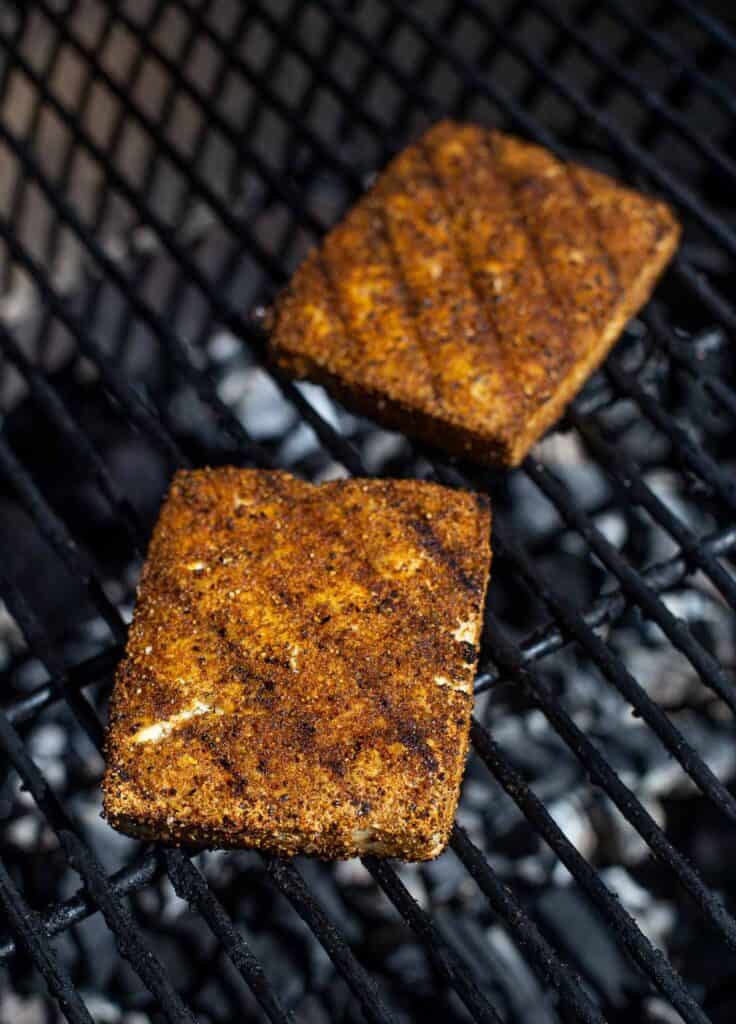 Prepare your grill for direct grilling. We prefer lump charcoal. Target 500 degrees Fahrenheit (F) on the grills dome thermometer. As the grill warms up season the prepared tofu. Coat each side with olive oil and liberally apply the seasoning.
Place the tofu halves over direct heat. Close the lid and grill for 5 minutes. Then open the lid and flip again for 5 minutes. You'll start to see some color form but it's not done yet.
Flip the tofu again and then add sauce to the side facing you. Flip again after 5 minutes and sauce the other side. Grill for 3-5 additional minutes to allow the sauce to caramelize, then remove and serve.
Key Tip – Hot and fast helps to get the right texture. If the heat is too low the tofu will be gummy. If the grill is too hot the tofu will burn. So get the target temperature of the grill to 500 degrees F.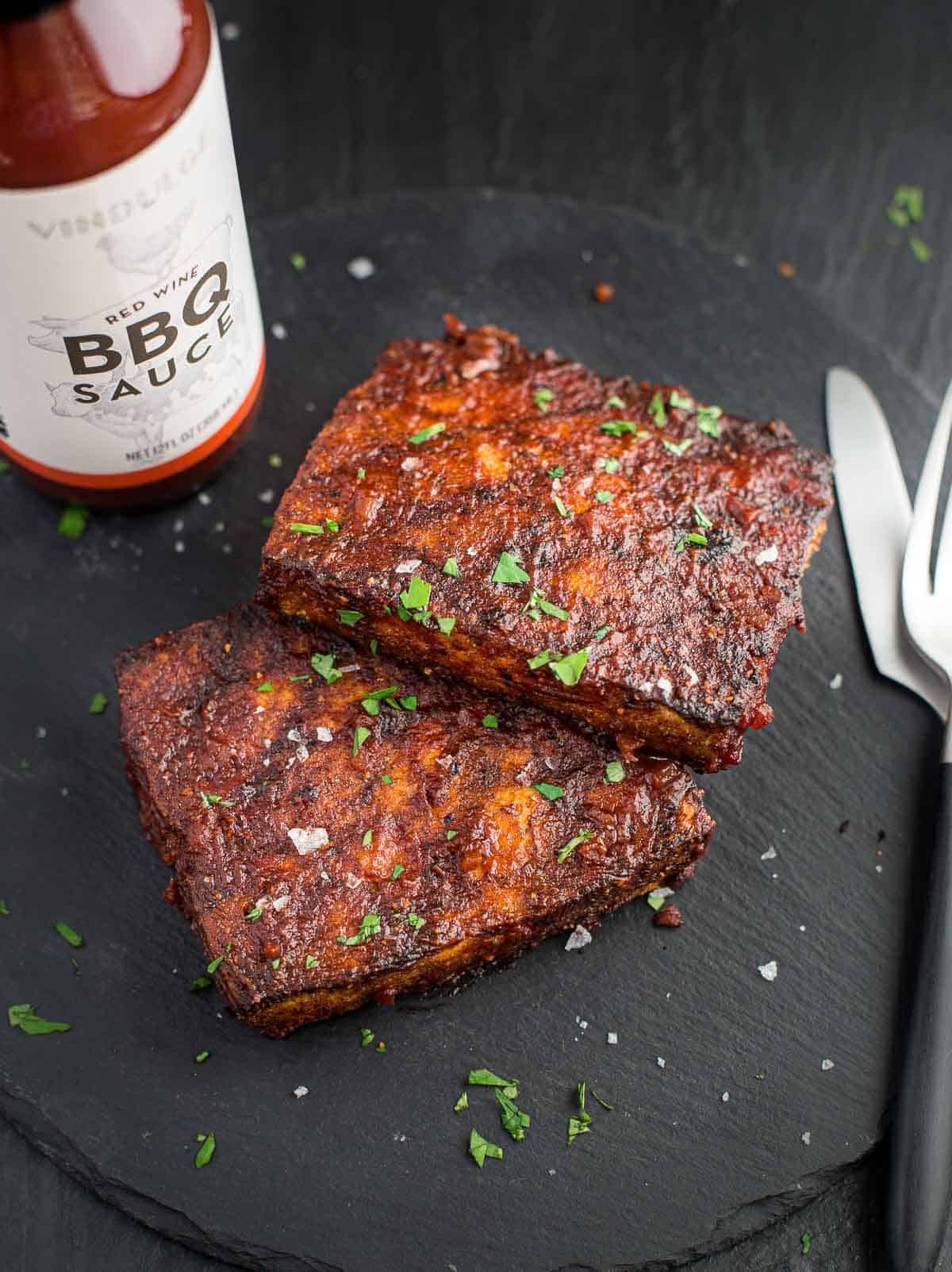 Frequently Asked Questions
Can I use soft tofu for grilled tofu?
No, soft or extra soft tofu are both going to have terrible texture when grilled on a live fire. It's best to use extra-firm or firm tofu in order to create a crispy (grilled) exterior and a soft interior.
Do I have to drain the tofu in advance?
Yes, draining the tofu is important to remove excess water from the storage of the tofu and get the right crispy texture. If you don't drain, or press, out the water it will lead to a gummy texture.
How long to grill tofu?
In the case of tofu it's likely to take up to 20 minutes at 500 degrees F to achieve the right texture. Times may vary based on how hot or cool your grill is. Be sure you are cooking to the right texture. I like to touch the tofu and make sure it has some crispiness to it.
How do you grill tofu without it sticking?
Make sure your grill grates are clean and hot. Like 500 degrees Fahrenheit. And make sure you use extra firm or firm tofu that has been pressed of any liquid. Liberally coat with olive oil and seasoning.

Then when you place on the grill you should hear it sear. Let it sit so the tofu sears and it should easily lift off with a good spatula.
What does grilled tofu taste like?
The flavor of tofu will take on any seasoning, marinade, or sauce you use. When properly grilled the exterior should be crispy and the interior should be soft. The overall flavor of the tofu is creamy and rich.
Other Vegetarian Recipe Ideas
We have a whole category of vegetarian recipes, or you can check out some of our favorites below.
About Vindulge
Mary (a certified sommelier and recipe developer) and Sean (backyard pitmaster) are co-authors of the critically acclaimed cookbook, Fire + Wine, and have been creating content for the IACP nominated website Vindulge since 2009. They live in Oregon on a farm just outside Portland.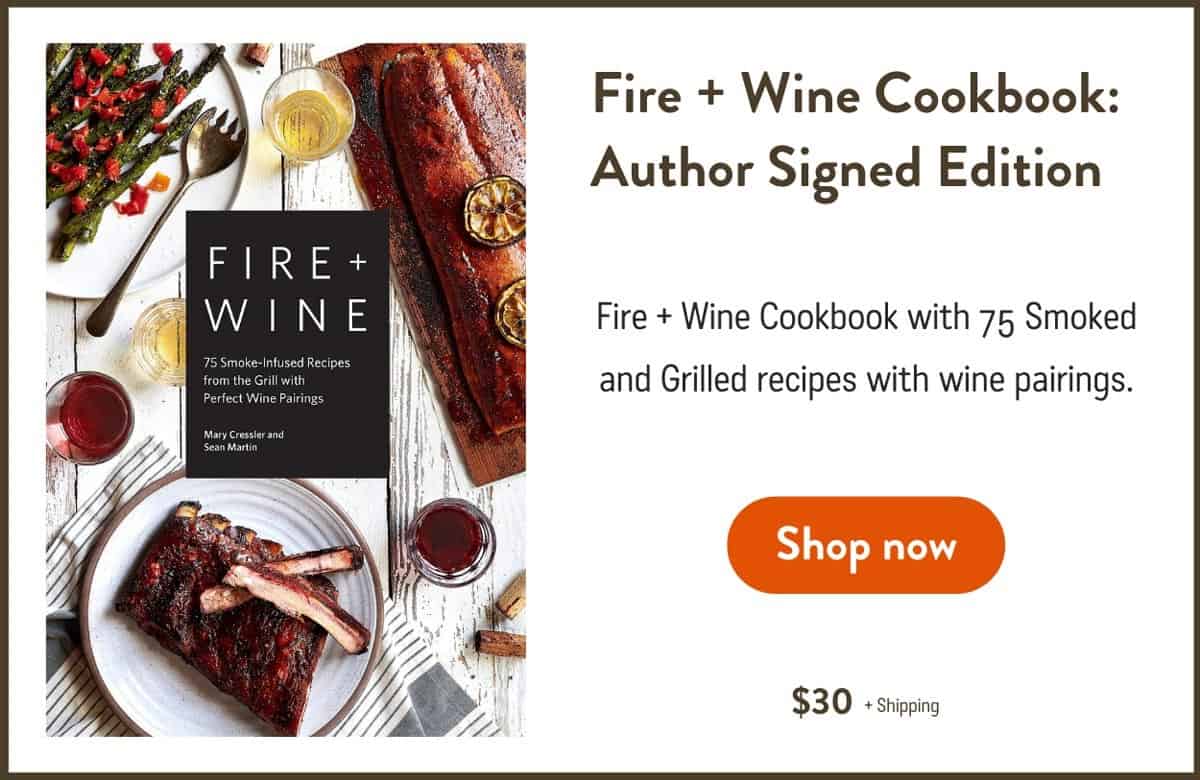 Tried this recipe? Give us a star rating and we would love to see! Mention @vindulge or use the hashtag #vindulge on all the social media handles. And consider subscribing to our newsletter where we drop all our favorite ideas and inspirations every week.
This post may contain affiliate links. This means if you click on the link, we may receive a small commission if you purchase through the link. We partner with brands we know and love and use and it helps keep the blog going!