This Jalapeño Pizza Recipe is the perfect balance of spicy, sweet, and savory. The heat of the pizza is balanced with the savory and salty flavors of coppa salami, fresh mozzarella cheese, fresh oregano, and then finished with homemade hot honey.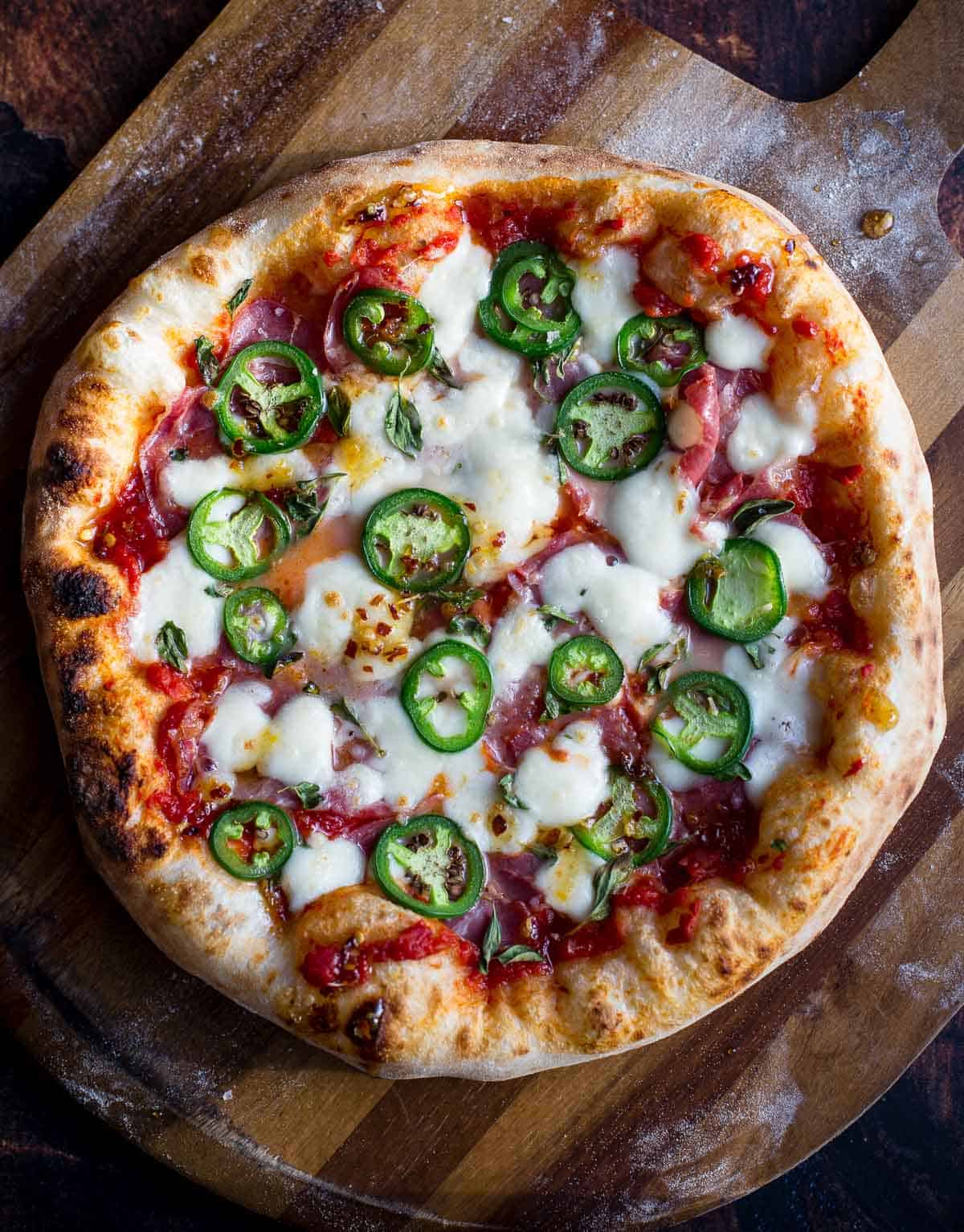 We celebrate Pizza Friday almost every week throughout the year, rain or shine (or snow!). From big neighborhood pizza parties to casual evening with our family. And the one constant is that we love experimenting with flavor combinations that provide rich flavor and textures. This jalapeño pizza was a neighborhood favorite by so many people! So much so that it became a request (no, demand!) to publish the recipe here.
Jump to:
Ingredients and Substitutions
Good Dough – The most important ingredient to any pizza recipe is a quality dough. And while you can buy store-bought dough, it's not that hard to make your own pizza dough (and it's so much better). We even have a gluten-free pizza dough too.
Pizza Sauce – We love our no bake pizza sauce, which is a balance of thicker tomato flavor and herbs. You can also buy your favorite store bought pizza sauce.
Fresh Mozzarella – We are cooking a Neapolitan style pizza, which means very high heat. Fresh mozzarella melts better than the low moisture shredded version. Be sure you have drained it from the water and have crumbled it up into smaller pieces.
Coppa Salami – While you can use any salami or pepperoni, the coppa has a brine-like flavor that adds a savory and rich balance to the heat of the pizza. Coppa will often come as hot or mild. Of course we went with hot.
Jalapeño – Be sure it's very thinly sliced. We leave the seeds and ribs intact. If you want less heat you can remove them.
Fresh Oregano – The touch of herbal flavor from the fresh oregano brightens the pizza.
Hot Honey – A drizzle of hot honey at the end brings the slightly sweet flavor that balances the jalapeño and coppa. You can use regular honey too if you don't want to make it yourself of have it available to you.
Optional – We always finish off all of our pizzas with a good finishing salt, like Maldon, often available in your spices and salts section of your grocery store.
Preparation for Jalapeño Pizza
First, the dough should be room temperature. It's so much easier to make it into a pizza round. We take our dough out 2 hours before we start cooking if it's in the refrigerator to let it come to room temp. Avoid rolling out with a rolling pin as that will destroy the air pockets from the fermentation. It's best to press out from the center of the dough outward with your fingers until it's the width you like.
Second, be sure your pizza oven is fully at temperature. We are using out Gozney Dome pizza oven with the pizza stone temperature at 700 degrees F and an ambient cooking temperature of 900 degrees F. See below if using your oven.
Third, make your jalapeño pizza. Be sure you are using a wood pizza peel with a generous amount of flour on it when prepping the dough. You don't want to make the pizza until just before you put it on the stone.
---
Related Content: Our favorite pizza tools for homemade pizza.
---
How To Make Jalapeño Pizza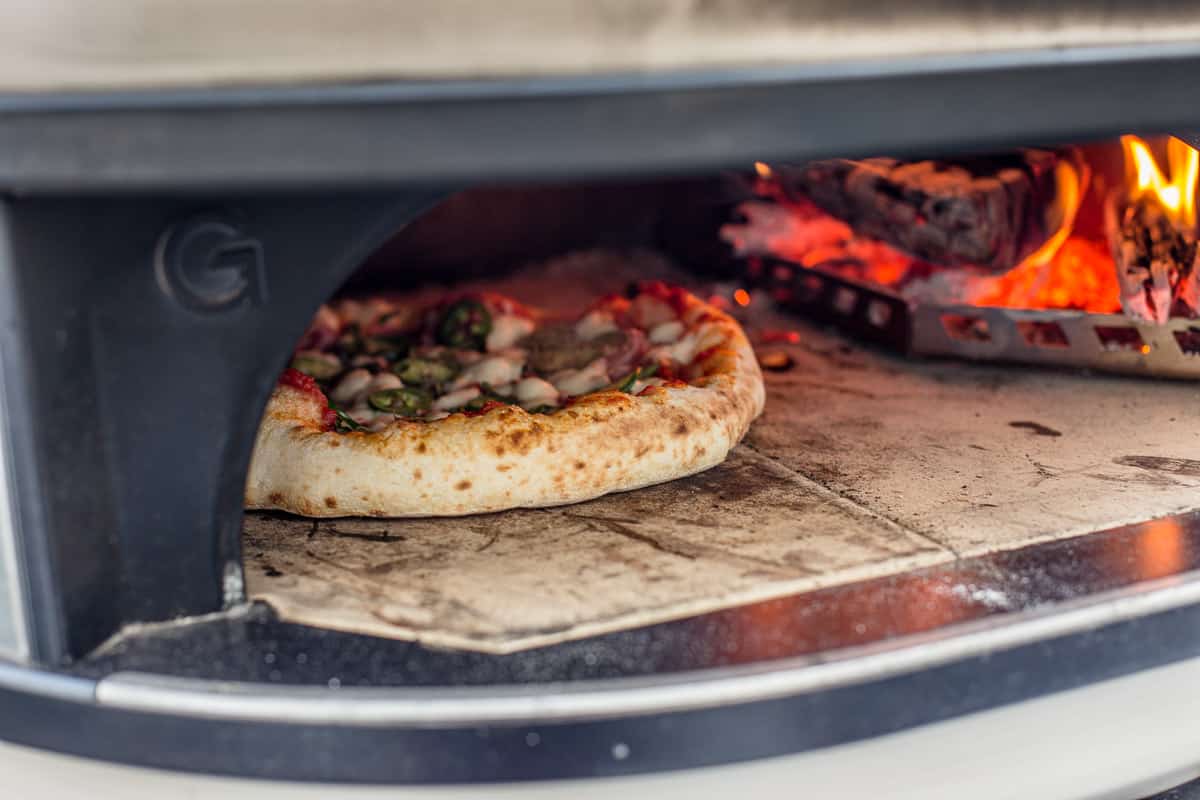 Prepare Oven: Prepare your pizza oven to the appropriate temperature. We are using a Neapolitan dough and targeting the pizza stone at 700 degrees in an outdoor pizza oven. See notes if using your oven or different style of dough.
Make Pizza: Dust a small amount of flour on a wooden pizza peel. Gently form your dough into a 11 to 13-inch width. Add the following ingredients in this layer: start with the pizza sauce. Next add the mozzarella cheese. Then finish with the coppa, jalapeño, and fresh oregano.
Bake: Make sure the dough still slides on the peel. If it doesn't then gently lift each side and add a dusting of more flour until it does slide. Then place into your pre-heated pizza oven. Gently turn the pizza using your turning peel every 15 seconds or when you see the crust near the flame bubble. Remove from pizza oven after it's been turned 360 degrees and the crust and bottom of pizza are done (roughly 2 minutes total).
Finish: Drizzle the hot honey over the pizza and add the finishing salt. Slice pizza and enjoy.
Troubleshooting – You do not want to prepare the pizza with toppings too early. The moisture from the pizza sauce and the cheese will soak the dough and make it impossible to slide onto the pizza stone.
Modification for an Oven
Place a large pizza stone on the middle rack and set the oven at 550 degrees. Let preheat and warm for 20 minutes to get the stone up to temperature. Place the pizza on the center of the stone and bake for 5 minutes. Then using a pizza turning peel, rotate the pizza 180 degrees (most ovens the back is hotter). Bake for another 5 minutes until the crust is golden and the cheese is melted.
---
Related Content – How to use an outdoor pizza oven.
---
Other Hot Honey Inspirations
We have our 3-ingredient hot honey recipe as well as a hot honey with fresh ginger, garlic, and orange.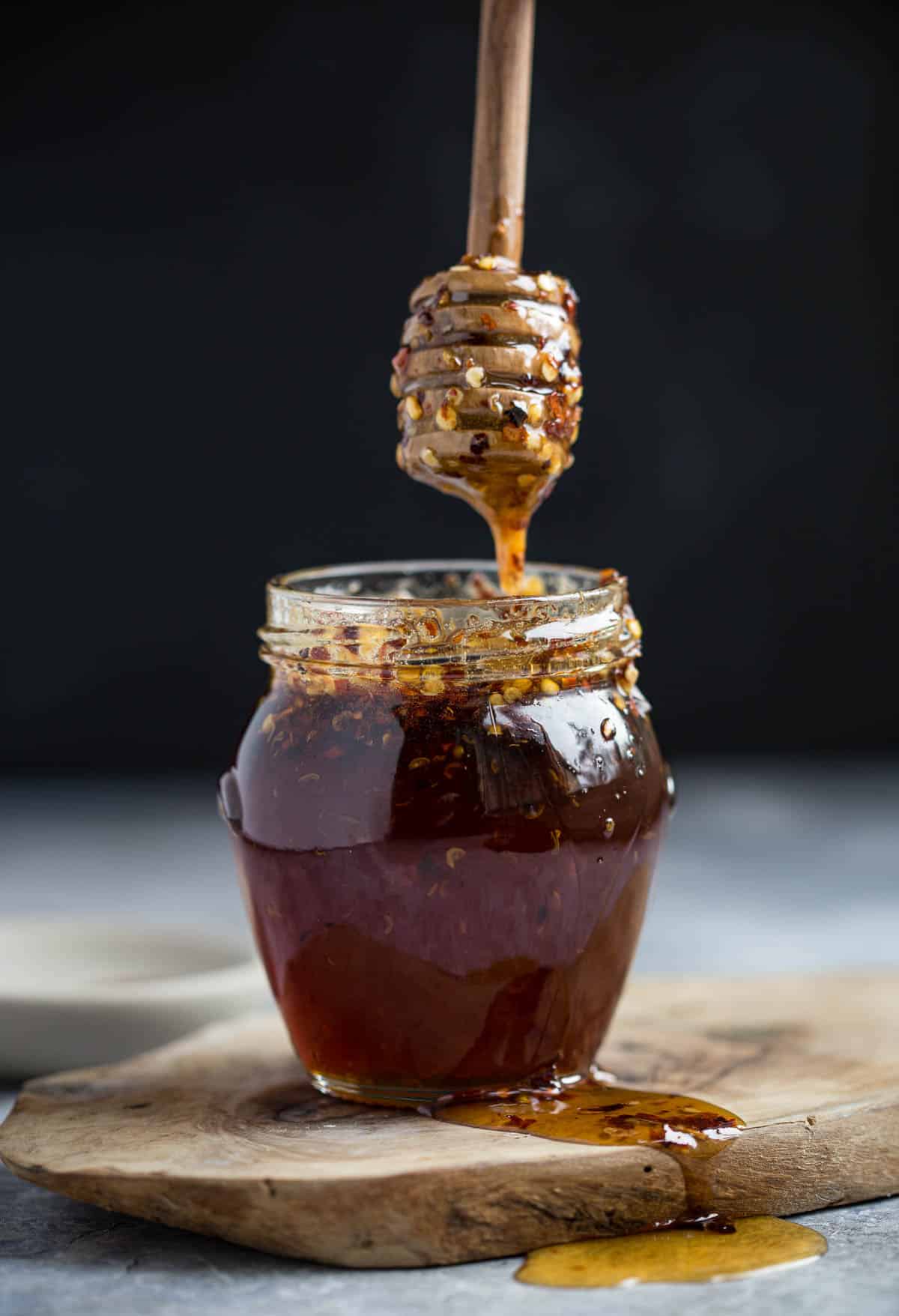 Hot honey is also great on everything from a drizzle over fresh cheese to hot honey ribs. You can also combine with butter for an amazing hot honey compound butter.
Other Pizza Recipes
We have another hot honey pizza with all the meats and ricotta cheese. We also love our basic Neapolitan style margherita pizza as well as our white sauce pizza. Or explore our favorite pizza recipes.
---
Mary (a certified sommelier and recipe developer) and Sean (backyard pitmaster) are co-authors of the critically acclaimed cookbook, Fire + Wine, and have been creating content for the IACP nominated website Vindulge since 2009. They live in Oregon on a farm just outside Portland.
Tried this recipe? Give us a star rating and we would love to see! Mention @vindulge or use the hashtag #vindulge on all the social media handles. And consider subscribing to our newsletter where we drop all our favorite ideas and inspirations every week.
This post may contain affiliate links. This means if you click on the link, we may receive a small commission if you purchase through the link. We partner with brands we know and love and use and it helps keep the blog going!