If you've ever stepped foot on a vineyard you've probably had at least one fantasy about how romantic it must be to own or work in one. Be honest. Working for several years at two different wineries I had my fair share of working both in the vineyard and winery. I've seen, first hand, both the glamorous and the not-so-glamourous side of winemaking. It's crazy hard work. It's dirty, sticky, stinky, and can be backbreaking. But it's also amazing! For those of you who want to know what it's like, without enduring the pain, dirt, or broken backs, there's an event for you. Kramer Oenocamp.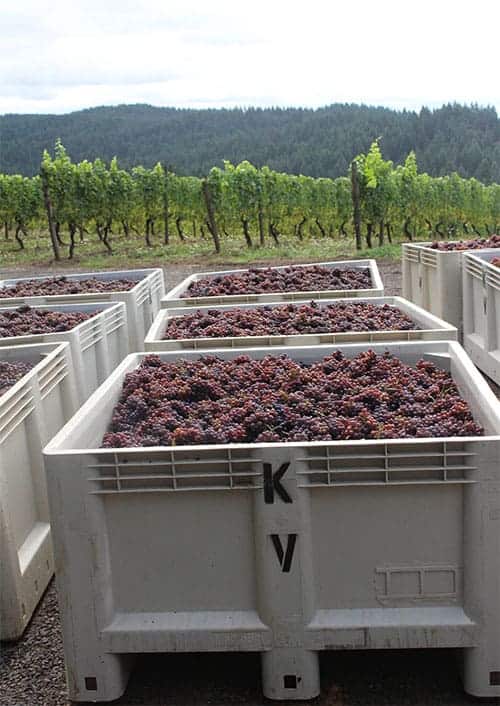 Last week I had the pleasure of attending Kramer Vineyards 2nd annual Oenocamp – getting to experience a day in the life of harvest in an event that will be open to the public as of next fall.
The Kramer's are no strangers to the Oregon wine industry, having purchased their 20 acre Gaston, OR, property in 1983 and planting their first vineyards the following year. This family owned and operated winery now grows several grape varieties including Pinot Noir, Pinot Gris, Pinot Blanc, Chardonnay, Müller-Thurgau, Carmine, and Grüner Veltliner among several other grape varieties and some new experimental blocks.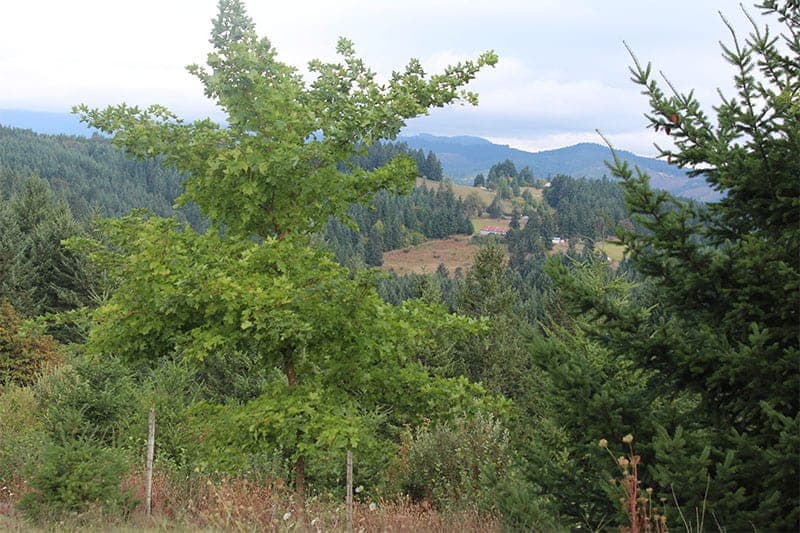 The view driving up to Kramer Vineyards
What interests me the most about their production, however, is second generation winemaker Kim Kramer's focus on sparkling wine production. Kim joined the family business in 2008 after spending several years working for Oregon's St. Innocent Winery and studying winemaking at Chemeketa Community College. In 2009 she made the first sparkling Brut for Kramer Vineyards and is now on their fifth vintage.
This idea of Oenocamp was to allow participants a peek into the production of their sparkling wines, starting with picking the grapes for their flagship Brut. Fate would have it that we were unable to pick the actual grapes for their Brut sparkling wine (Chardonnay and Pinot Noir) due to Mother Nature's intervention. Kim explained that due to temperature spikes they had to pick those grapes earlier than expected, but we still had our fair share of grapes to pick that day.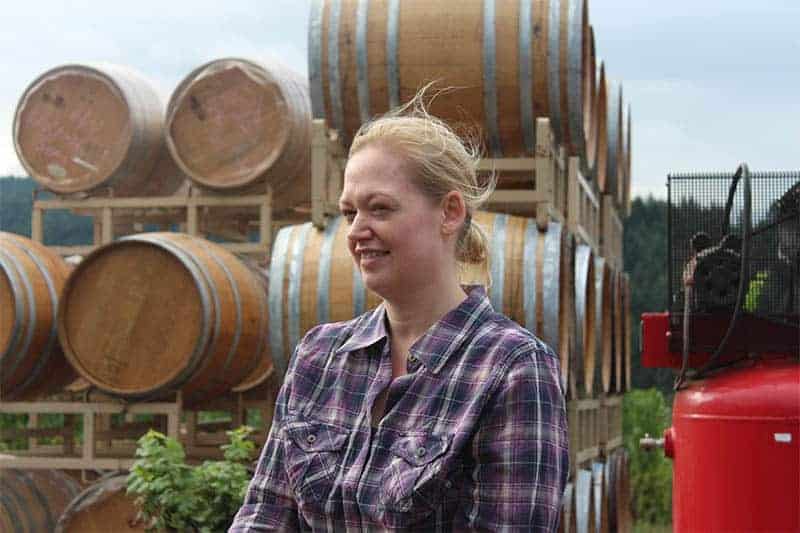 We were greeted by Kim with some coffee and pastries, then quickly moved to the vineyard armed with a bucket and some sharp cutting shears. The lucky ones, like myself, were teamed up with an experienced harvest worker – meet Juan (pictured below in the orange shirt). Juan showed me the ropes and taught me some secrets to cutting efficiently and quickly. Most importantly he taught me how to not cut off my fingers.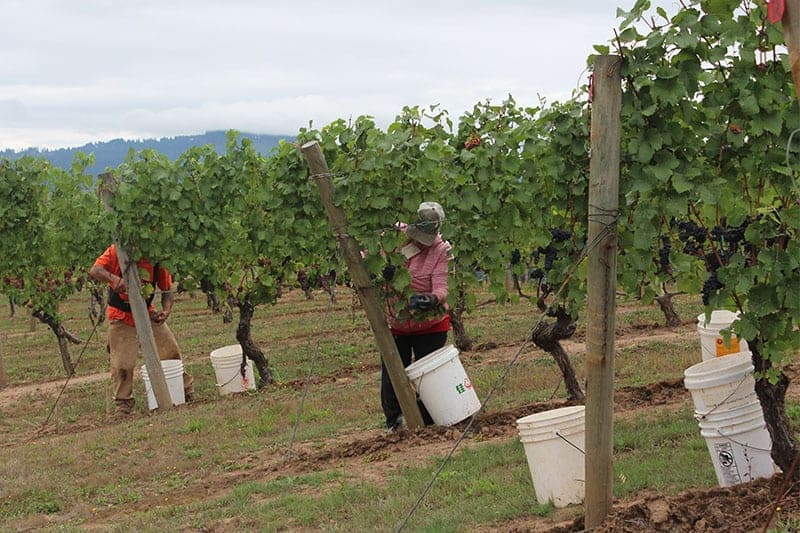 Working the vineyards is hard work. Juan and the rest of the crew had been there since 6am. We had the luxury of only working in the vineyard for about an hour and a half. Still, those 90 minutes were hard, leaving me with a slightly sore back.
We picked our way through row after row of Pinot Gris.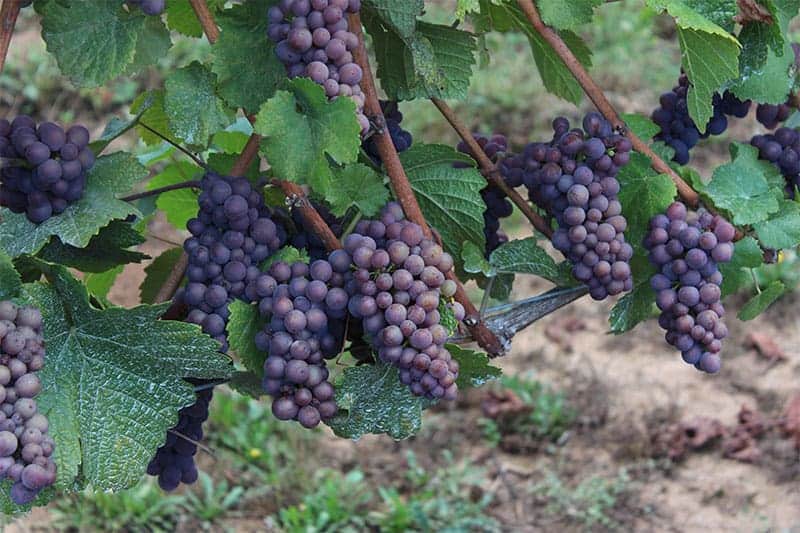 We were told to pick everything, except the green grapes, which hadn't fully ripened.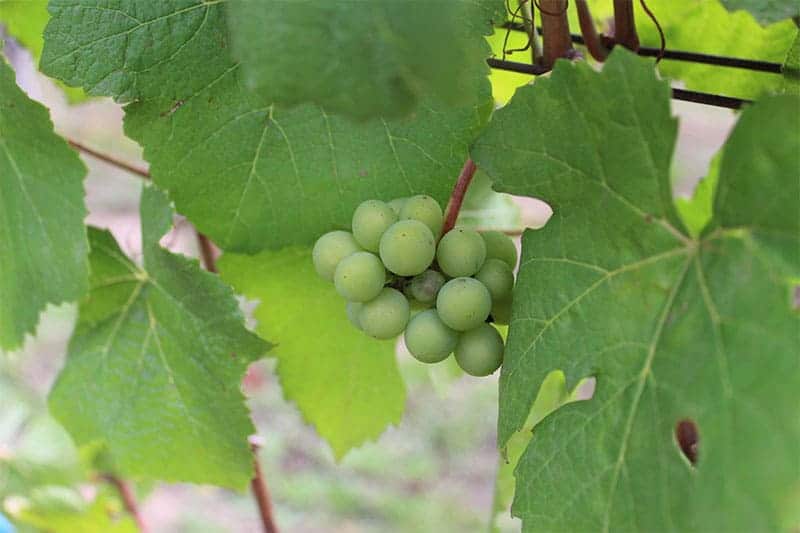 Though the rules were to pick "everything," I may or may not have skipped this cluster. Just sayin'.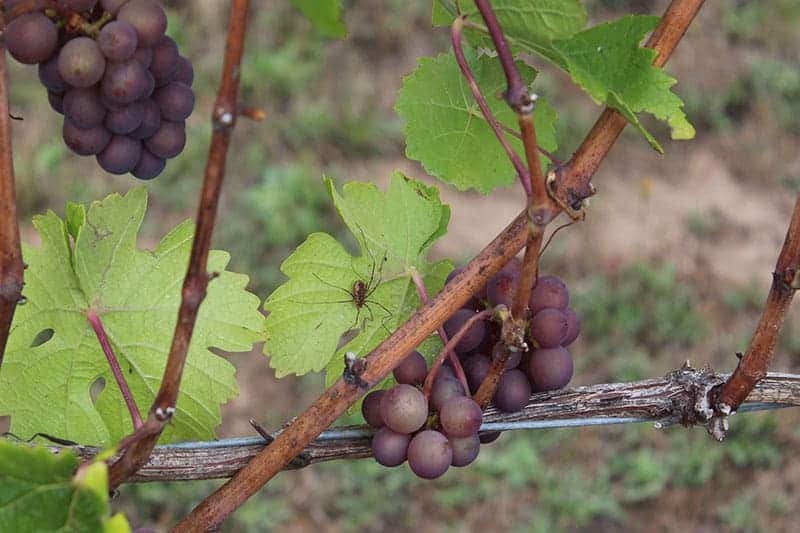 I have an extreme aversion to spiders! Shhh don't tell Kim!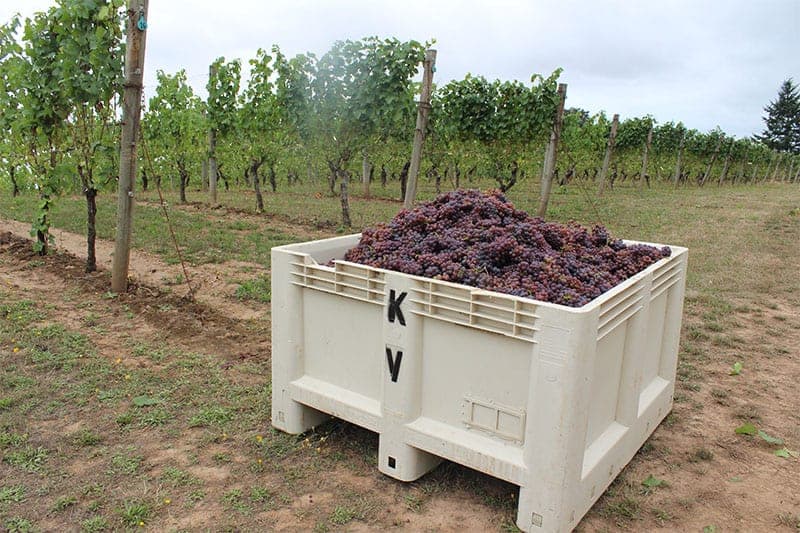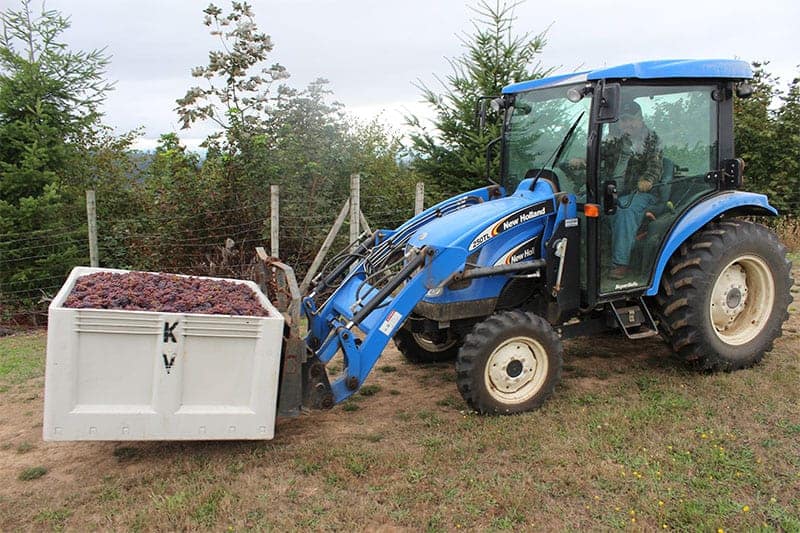 When we were done, and the last of the grapes headed downhill towards the winery, Kim gave us a tour of some of the exciting things she's working on…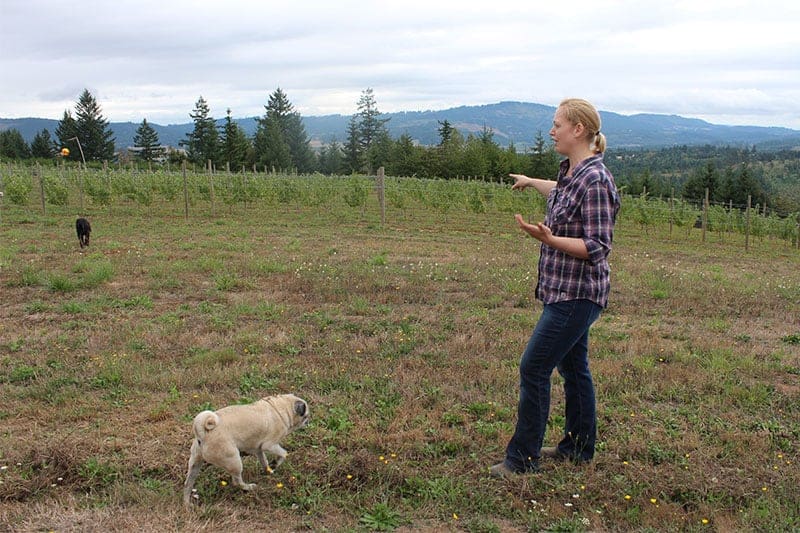 Like this small batch of Pinot Meunier (a grape variety used in traditional Champagne production) that she's hoping to add to their sparkling wine program. This means more exciting sparkling wines coming soon (how excited am I?!).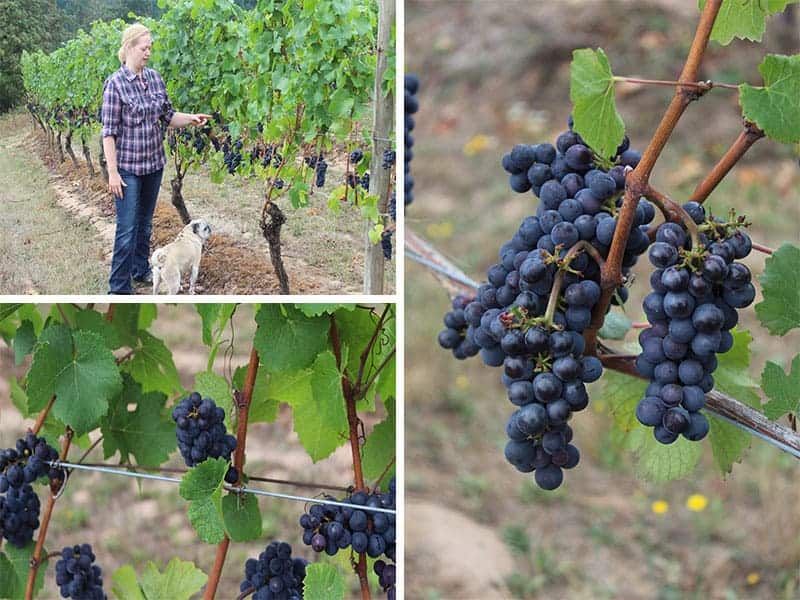 She also pointed out the grapes used in their Rosé of Pinot Noir, which originate from a Gamay Beaujolais clone. She even pointed out a unique feature of this clone; the clusters sometimes grow upside down. Pretty cool.
After our tour it was time to get back to work. We walked down to the winery to begin hand sorting and pressing the 6 tons of Pinot Gris grapes that we helped pick.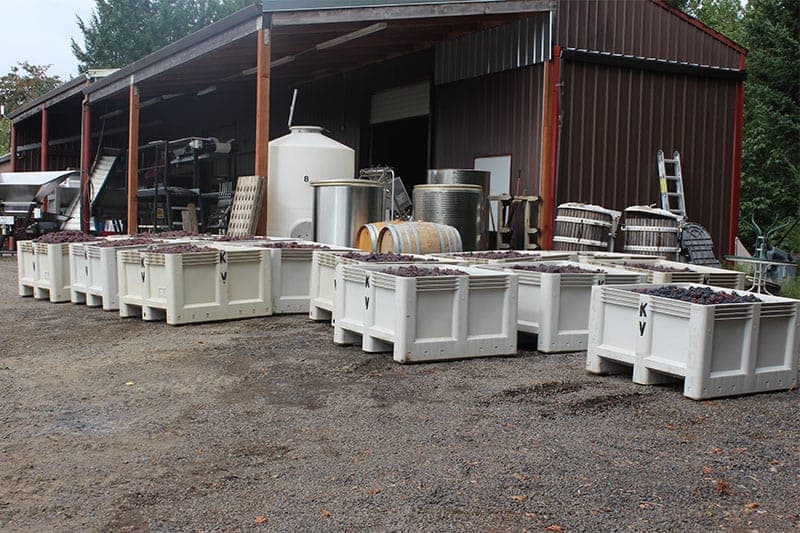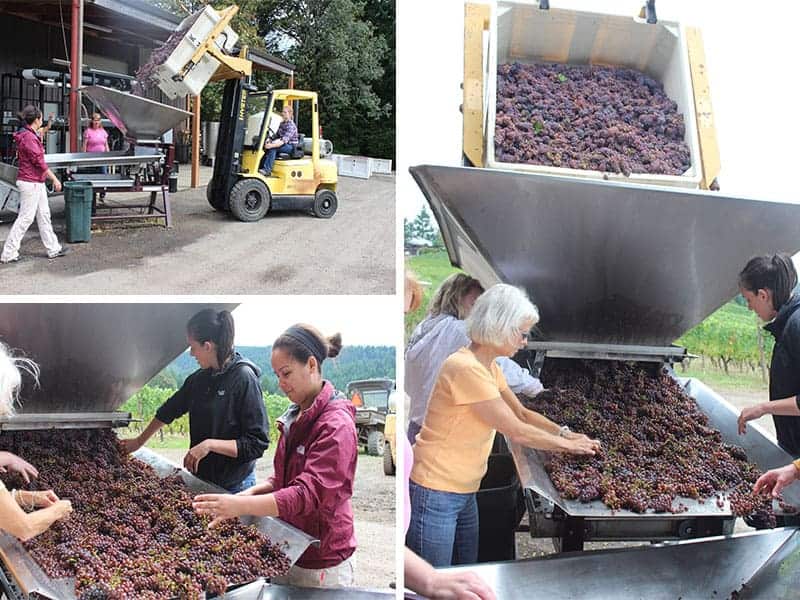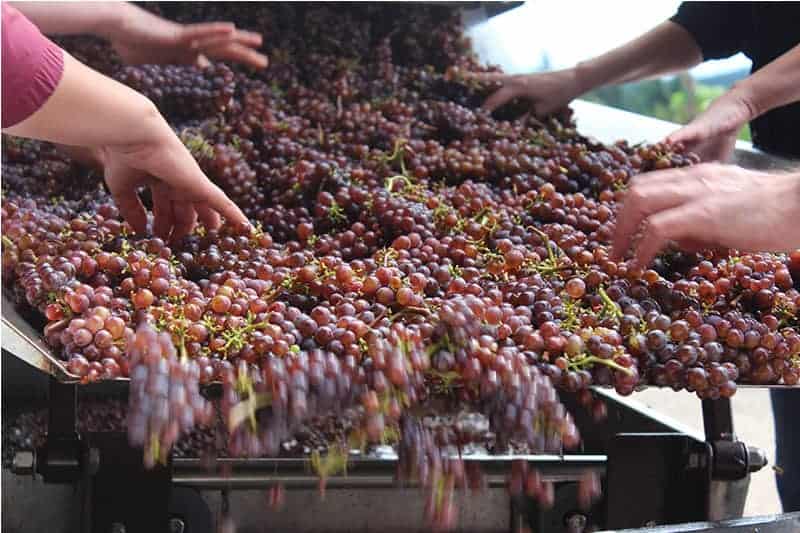 The grapes were all hand sorted on the tables to remove any leaves and unwanted objects, including these little creepy crawlers (pictured below), before heading up to the press. It's not the sexy glamorous job one may imagine it to be, but someone's gotta do it!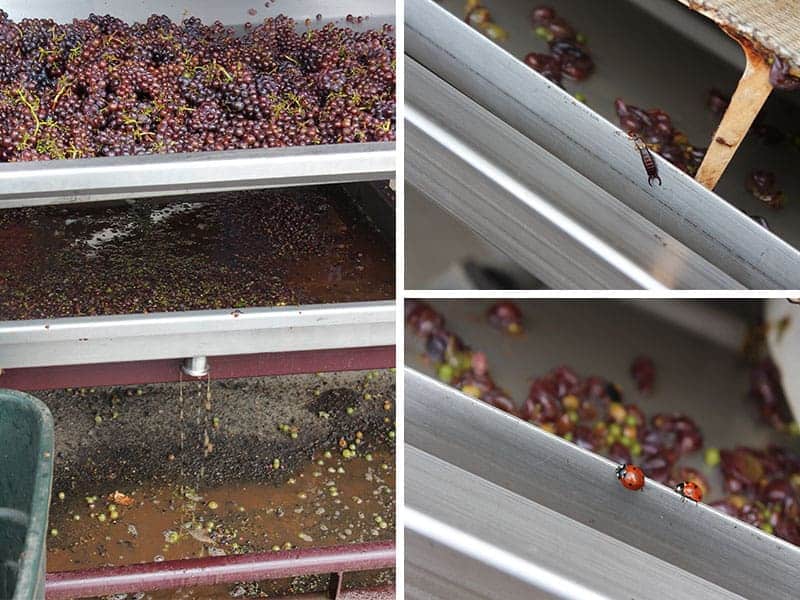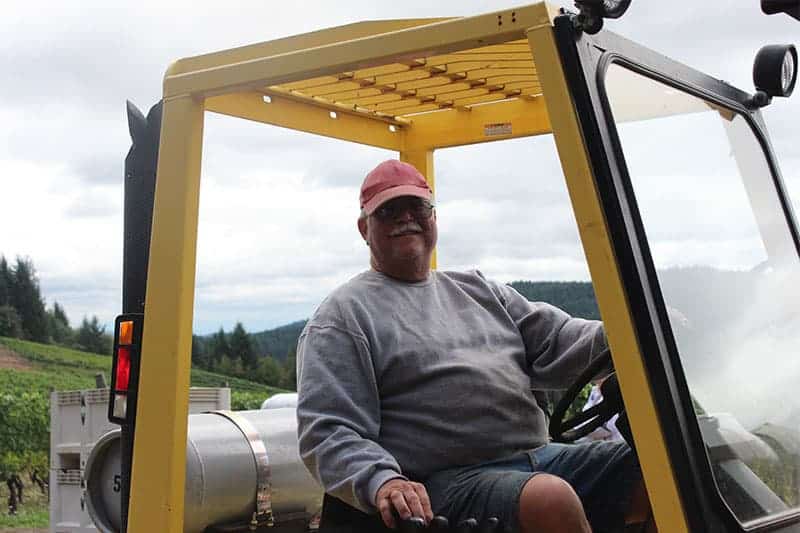 Kim's parents, who both still play important roles in the winery, were both on hand for the event. Here's Kim's dad, Keith Kramer, helping unload some of the grapes.

After the grapes were pressed Kim showed off her sabering skills by opening a bottle of their newly released 2011 Brut and then offering us all a taste of this crisp, bright, pleasantly tart, and absolutely delicious wine.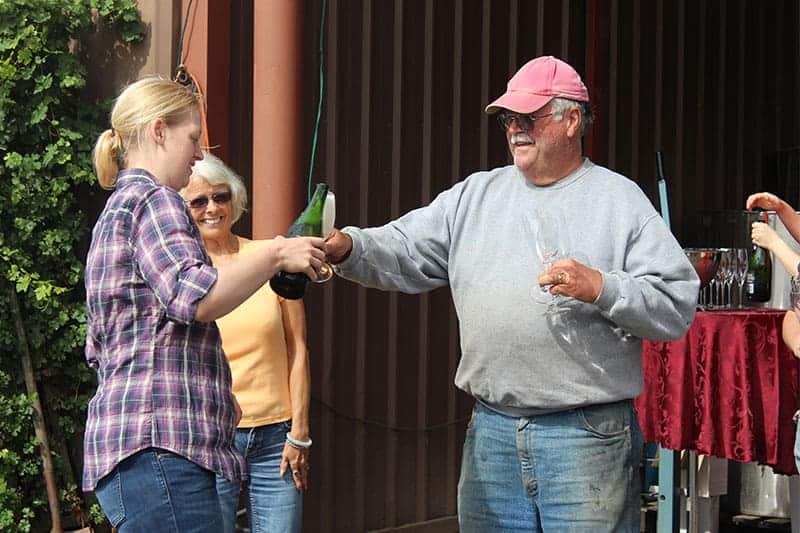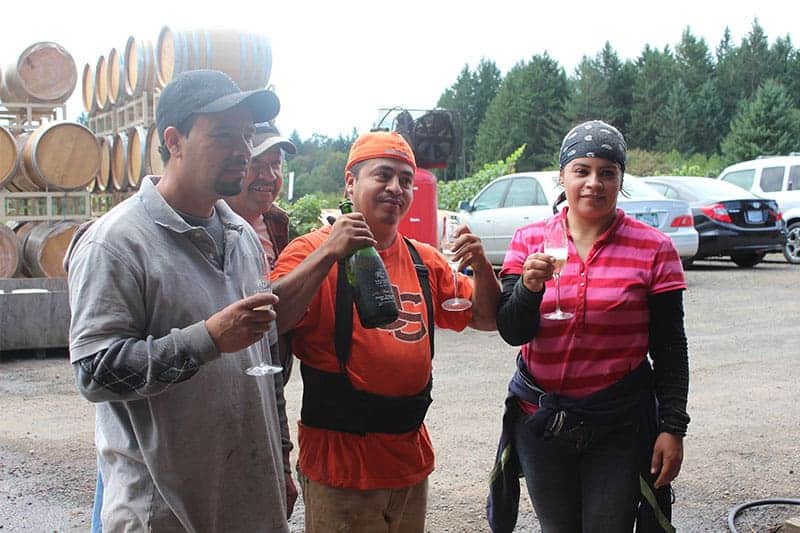 Even the hard working crew got to taste the fruits (literally!) of their labor.
We all then ventured to the patio to enjoy a lovely brunch with quiches, salads, breads, and more Brut.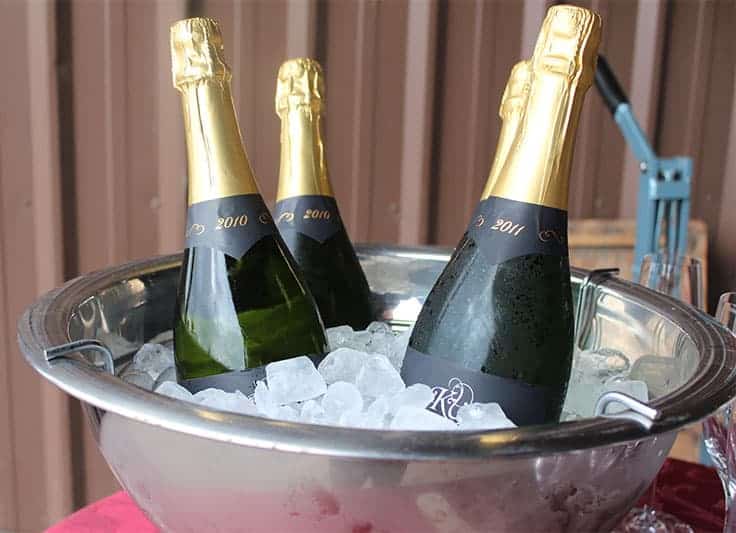 I've always been curious as to why more and more producers don't make sparkling wines in the Willamette Valley – we have the perfect conditions and grow the perfect grapes to make traditional styles of bubbles. I asked Kim her thoughts and she confirmed my hunch, "It's incredibly time consuming and expensive and involves all new equipment." Plus, she mentioned, "It's a huge commitment that involves several risks. You have to commit to at least two years for the project, and if something goes wrong you can't fix it," unlike other still wines they make.
"You have to really enjoy drinking it to want to make it," Kim added. And said her passion for the sparkling wine program at Kramer stems first from her love for drinking sparkling wine, and wanting to show off what they are capable of there.
From one sparkling wine lover to the next I fully support their venture to make more and more bubbly, and hope that other producers in the area follow suit. Yes, it's a huge investment and risk, but one worth it when you produce excellent bubbles in the end. I left that afternoon with a bottle of the 2011 Brut to be opened another day. I'm actually thinking of opening it tonight and toast to all of those who work hard to make my favorite style of wine.
In the end it was a very cool way to get a sneak peak into what it's like to harvest grapes in a fun and friendly environment…. and without nearly as much dirt, grit, or sore backs as those who do it everyday.
You can experience Oenocamp starting next fall. I don't have the exact details yet, but look for information come next summer. I'll be posting a follow up post as soon as the details are available.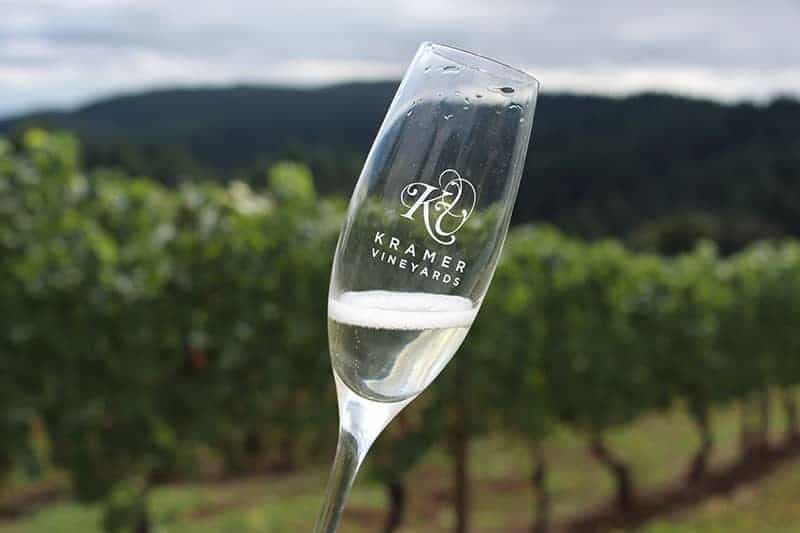 Thank you Kim, Trudy, and Keith Kramer, and the rest of your team for your hospitality and excellent bubbles.
*****
Want more? If you liked what you read you can subscribe to Vindulge and have new posts delivered directly to your inbox.