Smoked Sausage Lasagna is the ultimate comfort food, made with layers of smoked sausage and smoked tomato marinara sauce.
Smoked Lasagna is a great comfort food. It's not only a great use for smoked marinara sauce, it also a meal that feeds a crowd, and makes an amazing house warming or meal train idea for new parents.
Looking for more comfort foods for the grill or smoker? You can check out our round up of great comfort food recipes.
Think about it. The love we all have for lasagna just got 100 times more incredible by adding some delicious smoked sausage and rich smoked tomato sauce.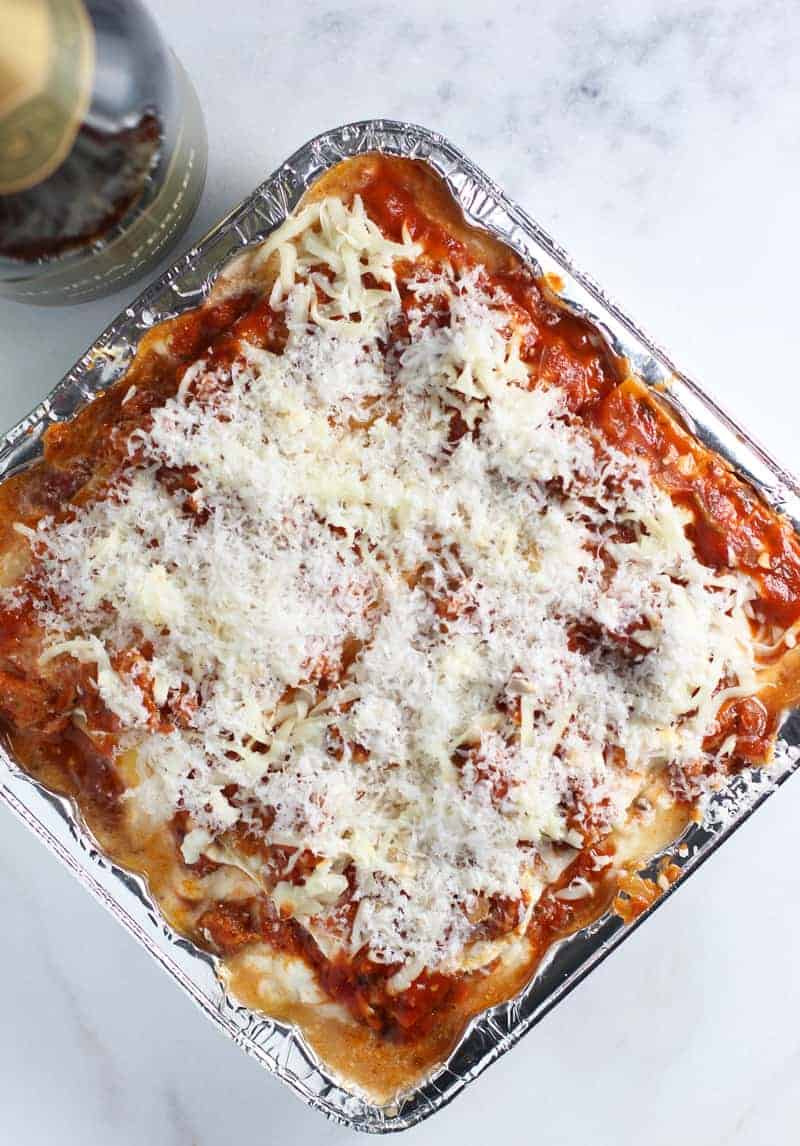 Modifications
I make different variations on homemade lasagna every time I make it. This is a very versatile and customizable recipe. Ideas include, adding:
Sautéed Mushrooms
Zucchini
Spinach (4 cups goes a long way with this dish)
Spicy Pickled Peppers
If making gluten free, use the same technique with your favorite gluten free lasagna noodles.
The Day Before – Smoke Sausage and Tomatoes
If you're making the Smoked Tomato Marinara Sauce: Go ahead and smoke the tomatoes and the sausage at the same time. And ideally just make both the day before you make the lasagna. Or time it so you can make the marinara sauce prior to constructing the lasagna.
Prep your Italian sausage by breaking it up and placing it on a sheet pan. Or consider buying it in bulk versus in a sausage casing.
Smoke sausage at 250 degrees F for 60 minutes, until the sausage reads 155 degrees at its thickest point. It will continue cooking in the lasagna too.
Make your Smoked Tomato Marinara Sauce. You might want to make extra sauce, because it's incredibly easy to just sneak spoonfuls of it and eat it alone like it's soup. I'm speaking from experience here!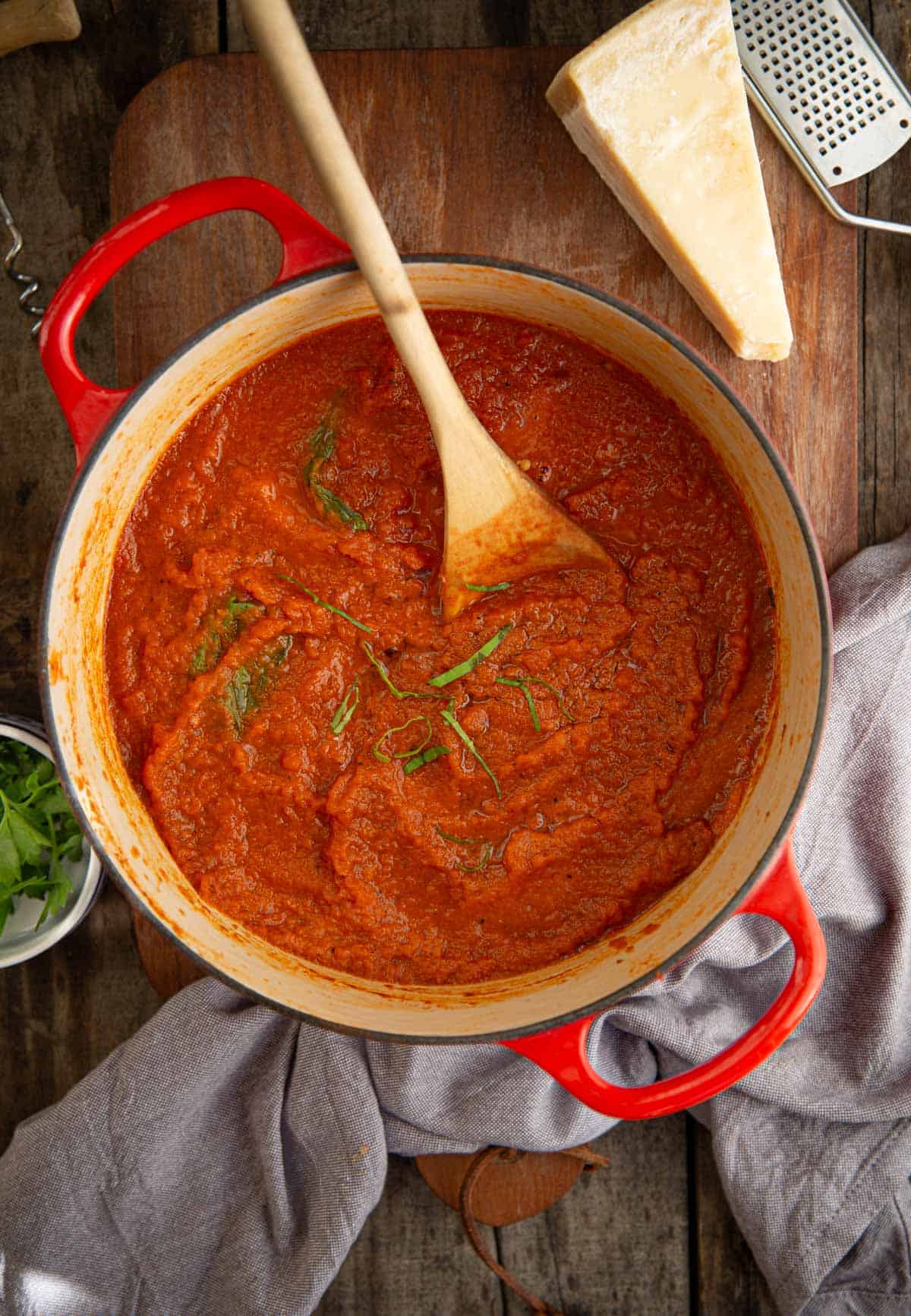 Once that's done, you can build your lasagna. If you are short on time you can make this in batches. The sausage and smoked tomato sauce can be made in advance and stored in the fridge. Even the smoked sausage lasagna itself can be assembled up to a day in advance and placed in the oven when it's time to eat.
How to Make Lasagna
It's all about the layering.
Heat Sauce: In a large saucepan, heat up smoked sausage and smoked tomato sauce together.
In a Medium Bowl: Combine the ricotta, egg, salt, pepper, and nutmeg. In a separate bowl, prep cheeses.
Layer Ingredients: Spread some of the tomato sauce evenly on the bottom of a 9×13 baking dish. Layer with 3 lasagna noodles. Spread some of the ricotta mixture over the noodles. Add ⅓ of the mozzarella, ¼ cup Parmesan cheese, and 1 cup of the smoked tomato sauce.
Repeat: With noodles, ricotta mix, cheeses, and sauce 2 more times. Cover with 3 noodles. Sprinkle with remaining mozzarella and sauce. Cover with foil.
Bake Lasagna: About 40 minutes, then remove the foil and let it bake an additional 15 minutes to crisp up the exterior crust. Remove, and let stand for about 10 minutes before serving.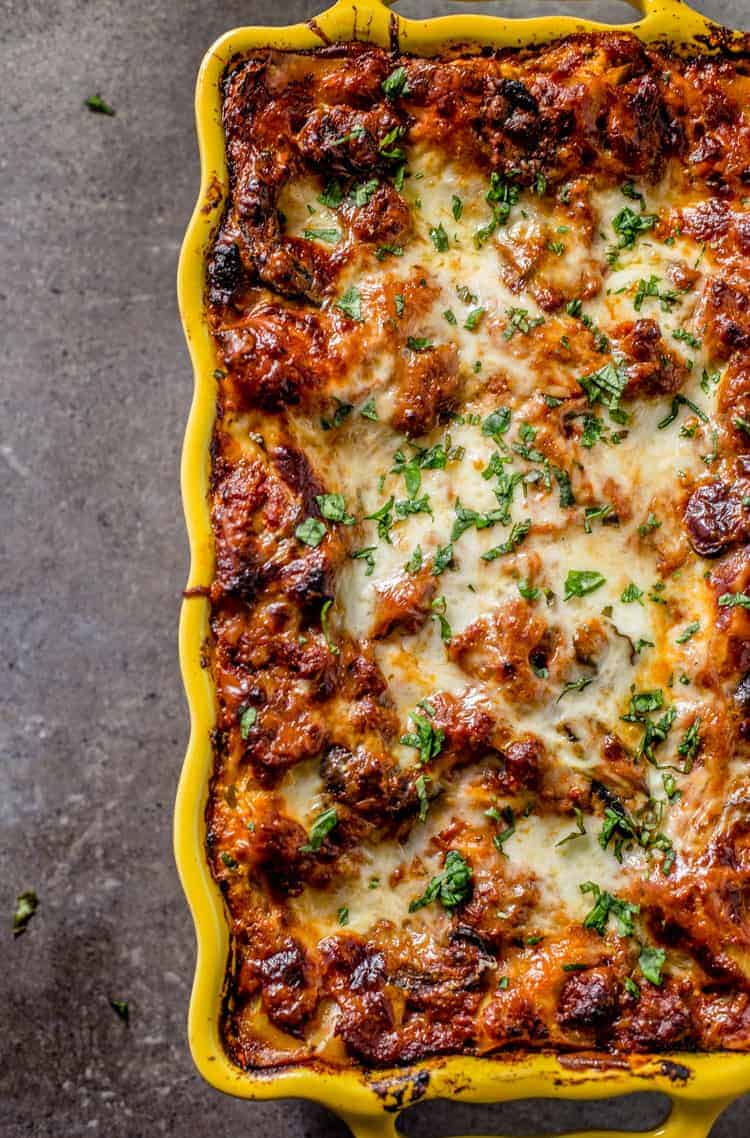 Wine Pairing for Smoked Sausage Lasagna
I love a good Italian red for this smoked sausage lasagna. Montefalco Rosso from Umbria is always a great choice. Montefalco Rosso DOC is made with primarily Sangiovese grapes (which are widespread in the area) blended with Sagrantino (the most important grape of the region), to give it structure and character, and often a small amount of Merlot or Cabernet Sauvignon. They are like mini versions of Sagrantino di Montefalco, but great for everyday drinking as well as more affordable. If you're not sure what exactly the magic of Sagrantino di Montefalco is, please head over here for a little primer.
If you can't find this wine, reach for your favorite Sangiovese, Barbera, or Zinfandel.
Want another great lasagna recipe? Check out our cookbook!
Other Smoked Tomato Recipe Ideas
*This recipe was originally published in February of 2017 and republished in October 2020 with updated photos and recipe details.
---
If you like this recipe we'd truly appreciate it if you would give this recipe a star review! And if you share any of your pics on Instagram use the hashtag #vindulge. We LOVE to see it when you cook our recipes.
---