Smoked Sausage Lasagna is the ultimate comfort food.
It's also a nice way to congratulate new parents. Show them you love them with a batch of smoked comfort food, like this smoked sausage and smoked marinara lasagna!
Some neighbors of ours recently welcomed their new baby to the world (hi sweetie!!). And knowing all too well what those first few weeks are like, we decided to bring them a dish they can make for dinner on a night they don't feel like cooking (aka every single day for new parents!). Something simple, yet something perfectly comforting, cheesy, and oozing with smoked love. I mean sausage.
Think about it. The love you all have for lasagna just got 100 times more incredible by adding some delicious smoked sausage and rich smoked tomato sauce.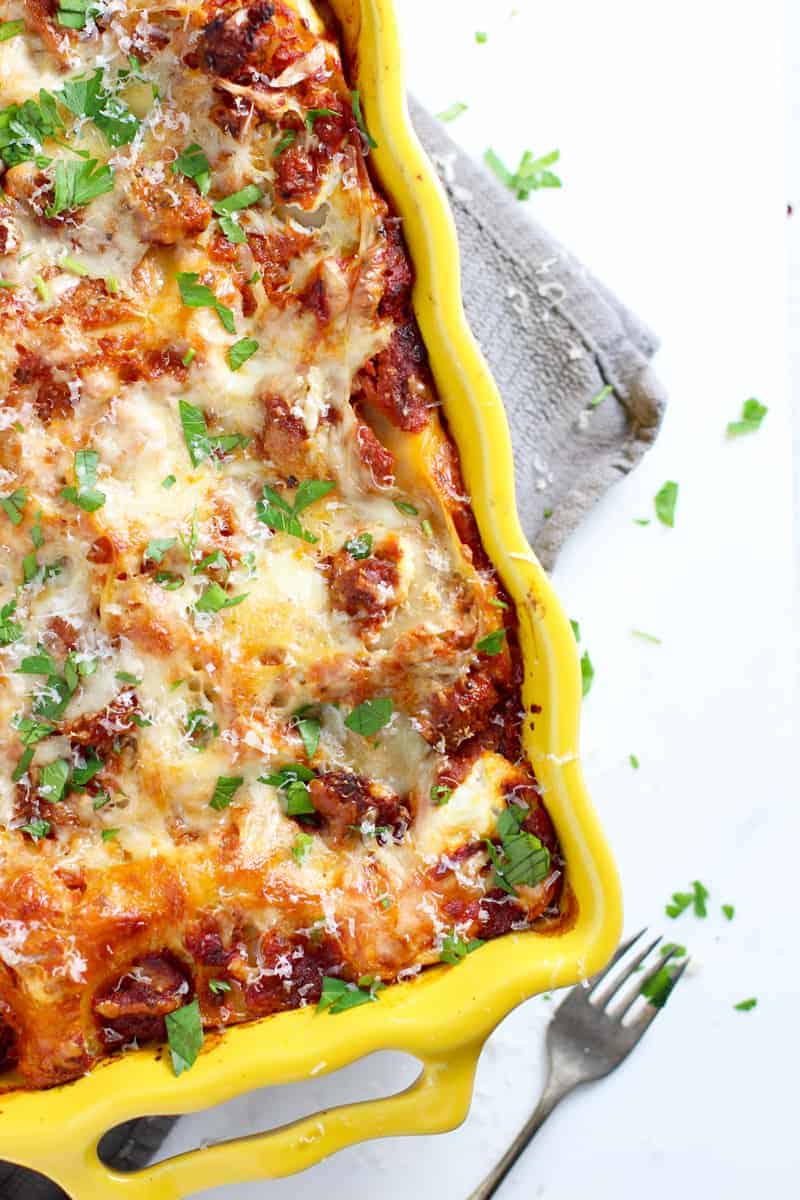 Since I was going through the effort of making lasagna in the first place, I figured it was only fair to make a double batch. One for us, and one for them.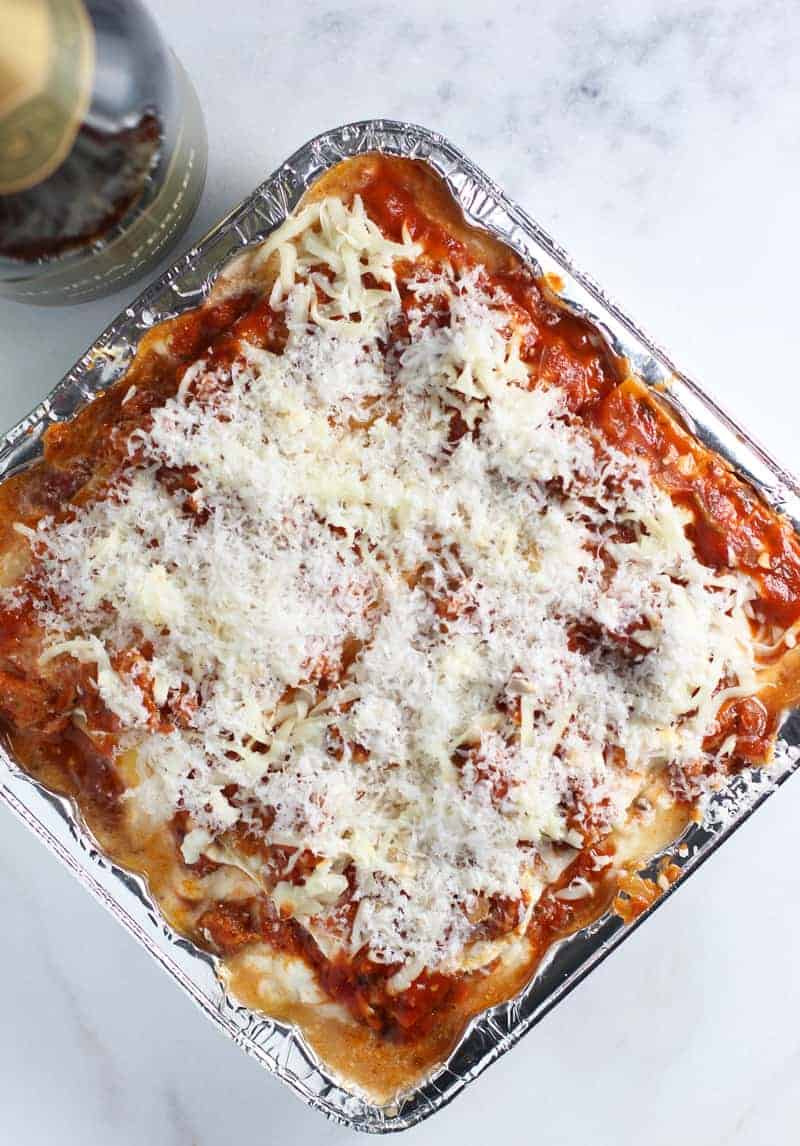 Variations on Smoked Sausage Lasagna
I've made several variations of this over the last week while tweaking the recipe (I've been living off of lasagna for 6 days now!! There are worse problems to have I suppose), and for the final recipe below I tried to keep it as simple as possible.
You can feel free to customize this smoked sausage lasagna however you would like. You can add some sautéed mushrooms or other veggies. One of my favorite versions was with spinach. I added about 4 cups of uncooked spinach intermixed with the layers. It kinda made me feel a little bit healthy like I was eating a salad, but one sandwiched in between smoked lasagna love.
Smoked Italian Sausage & Smoked Marinara
While the recipe for the smoked marinara sauce isn't below, I pretty much followed this recipe to a T. The only thing I added was a little tomato paste for more richness. As if lasagna isn't rich enough! I also threw in some Italian seasonings (dried oregano and basil to be specific). Feel free to adjust the flavors to your preference.
Go ahead and smoke the tomatoes and the sausage at the same time. Prep your Italian sausage by breaking it up and placing it on a sheet pan. Quarter your tomatoes, toss them with some olive oil, salt and pepper, then place them on a sheet pan.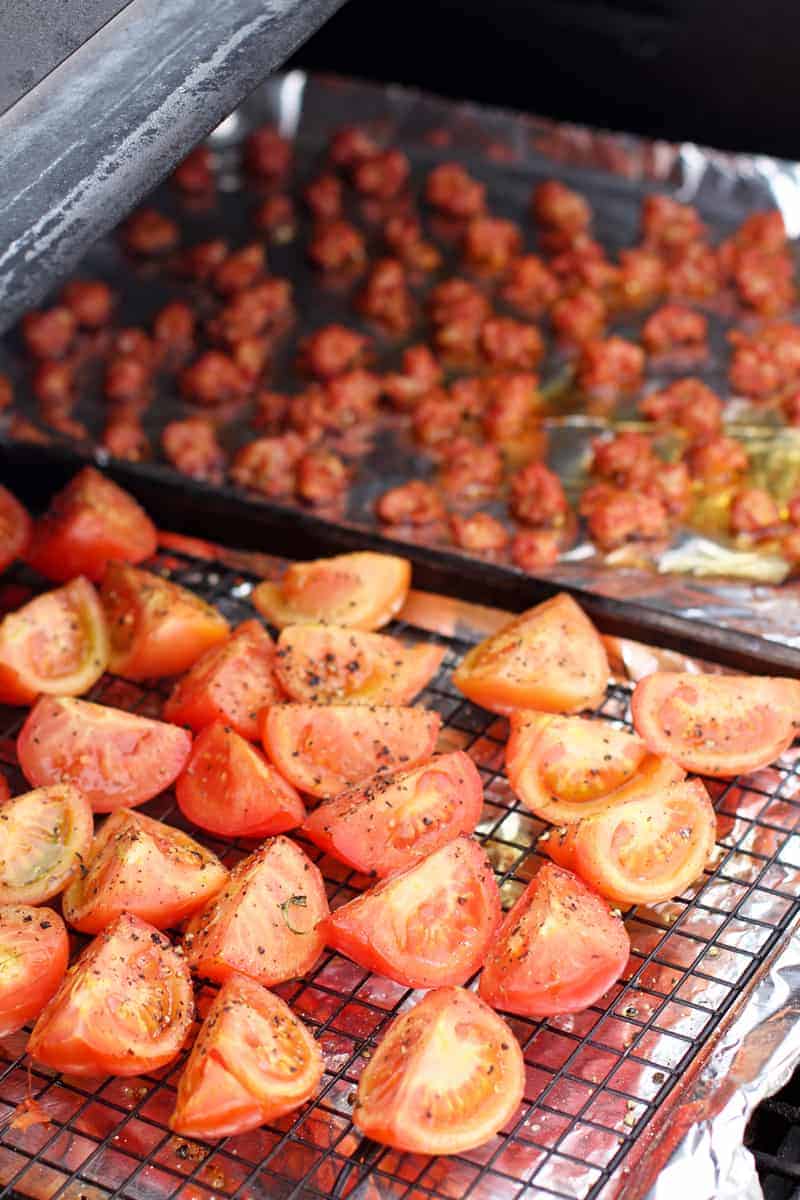 Smoke everything at 250 degrees F for 60-90 minutes, until the sausage reads 165 degrees at its thickest point.
Then make your smoked marinara sauce. You might want to make extra sauce, because it's incredibly easy to just sneak spoonfuls of it and eat it alone like it's soup. I'm speaking from experience here!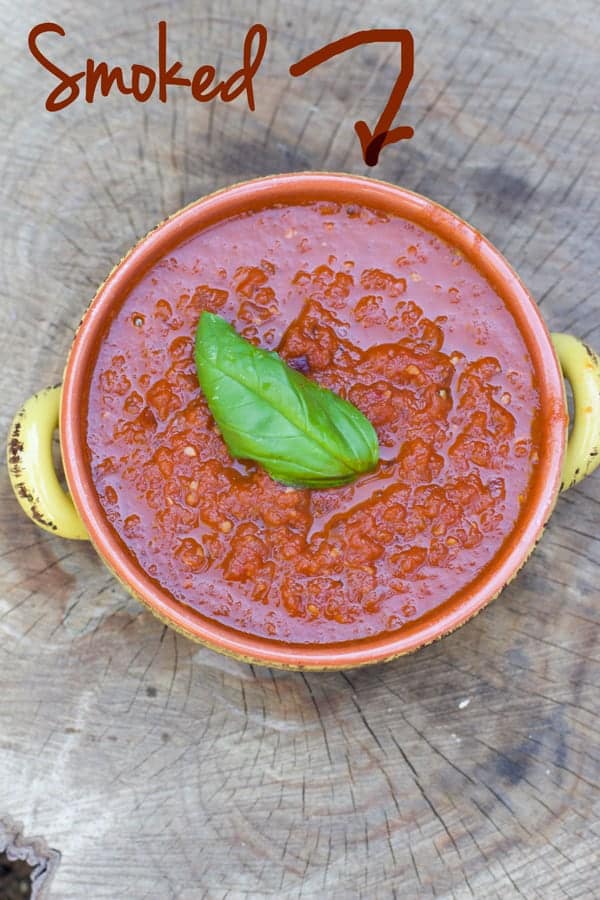 Once that's done, you can build your lasagna. If you are short on time you can make this in batches. The sausage and marinara sauce can be made in advance and stored in the fridge. Even the lasagna itself can be assembled up to a day in advance and placed in the oven when it's time to eat.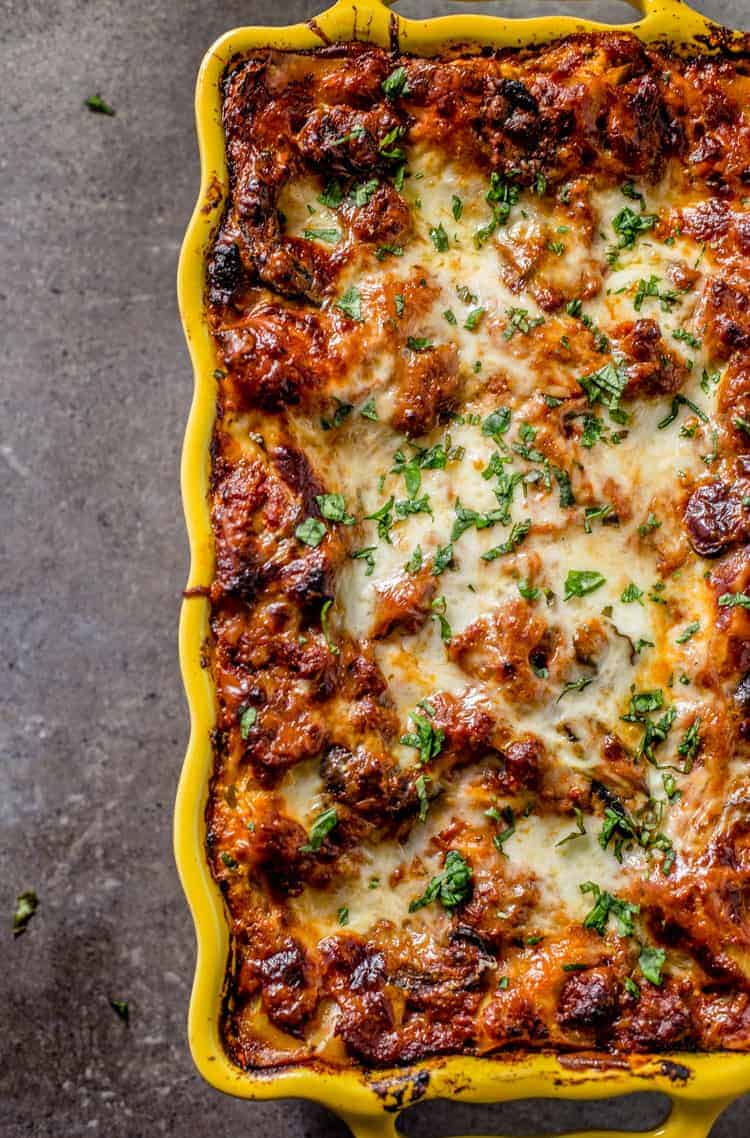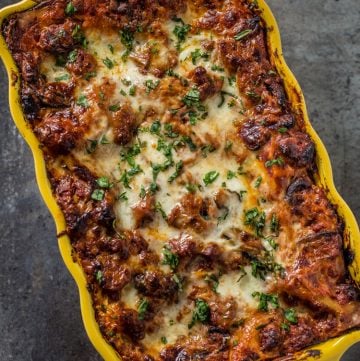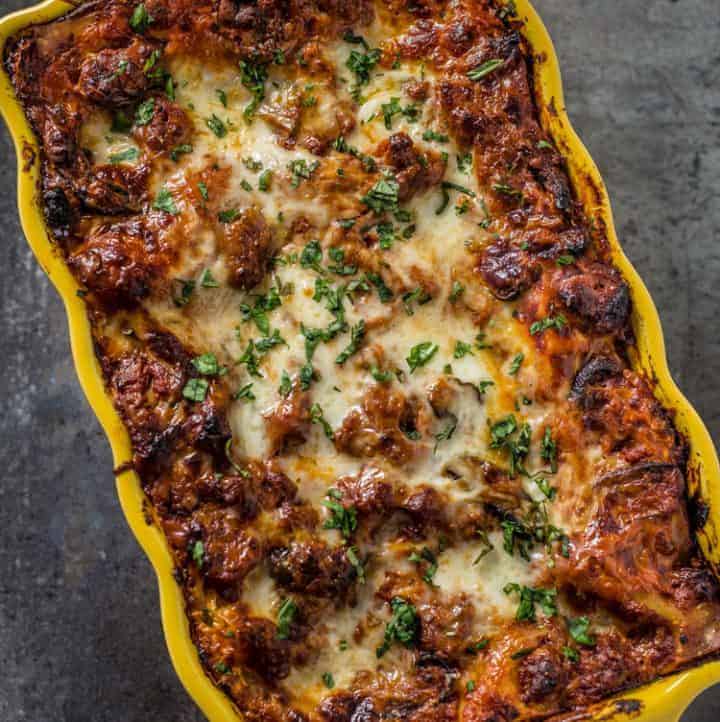 Smoked Sausage with Smoked Tomato Marinara Lasagna
Smoked sausage and smoked marinara sauce lasagna. Smoke sausage and combine with smoked marinara sauce for a rich and comforting lasagna dish.
Print
Rate
Ingredients
For the smoked sausage:
1

lb

ground hot Italian sausage

casings removed or bulk
For the Lasagna:
4

cups

smoked marinara sauce

recipe found at https://www.vindulge.com/smoked-marinara-sauce/

2

tablespoons

tomato paste

12

no-boil or oven ready lasagna noodles

1 16-

ounce

container whole-milk ricotta cheese

1

large egg

¼

teaspoon

nutmeg

¾

cup

Parmesan cheese

grated

1-

pound

mozzarella cheese

shredded (about 2 cups packed tight)
Instructions
For the Sausage:
Preheat smoker to 225 degrees, for this I like oak wood

Place sausage spread out on a large foil-lined cookie sheet in small clumps

Smoke for 60-90 minutes and remove. Look for a darker color on the exterior while still moist.
For the Lasagna:
Preheat oven to 375 degrees

In a large skillet, add 1-tablespoon olive oil and the smoked sausage. Add 4 cups of the smoked tomato marinara sauce and 2 tablespoons of tomato paste. Mix together and let cook 5 minutes to combine.

In a medium bowl combine the ricotta, egg, salt, pepper, and nutmeg.

Spread ½ cup of the tomato sauce evenly on the bottom of a 9x13 baking dish. Layer with 3 lasagna noodles. Spread 1/3 of the ricotta mixture over the noodles. Add 1/3 of the mozzarella, ¼ cup Parmesan cheese, and 1 cup of the smoked tomato sauce.

Repeat with noodles, ricotta mix, cheeses, and sauce 2 more times. Cover with 3 noodles. Sprinkle with remaining mozzarella and sauce. Cover with foil.

Bake lasagna, covered with foil, for 40 minutes. Uncover and bake about 15 more minutes, until heated through and liquid is bubbly. Let stand for about 10 minutes before serving.
Notes
Notes: You can use traditional boiled lasagna noodles too. Works great with either style. No boil are just super easy! One less step.
You can add veggies to this too. It works well with sautéed mushrooms or spinach. Just add the veggies to the layers.
Wine Pairing for Smoked Sausage Lasagna
Wine! For our friends we gave them a bottle of bubbles. Because, new baby.
For us, we went for one of my favorite Italian reds — Montefalco Rosso from Umbria.
Montefalco Rosso DOC is made with primarily Sangiovese grapes (which are widespread in the area) blended with Sagrantino (the most important grape of the region), to give it structure and character, and often a small amount of Merlot or Cabernet Sauvignon. They are like mini versions of Sagrantino di Montefalco, but great for everyday drinking as well as more affordable. If you're not sure what exactly the magic of Sagrantino di Montefalco is, please head over here for a little primer.
2012 Arnaldo-Caprai Montefalco Rosso (Umbria, Italy) ~ $20 (media sample)
This one from Arnaldo-Caprai never disappoints. This one is rich and aromatic with lots of dark cherry, berries, spice, and some sweet vanilla. It's got some tannins up in there from the Sagrantino grapes, but it also has some nice acidity that all balance well with the smoky sausage and rich sauce.
If you can't find this wine, reach for your favorite Sangiovese. We also tried it with a Zinfandel (specifically from Seghesio) that worked very well too. It had less acid and tannins than the Montefalco Rosso, but had rich fruit that worked well with the comforting lasagna.
Doesn't that just sound delish?!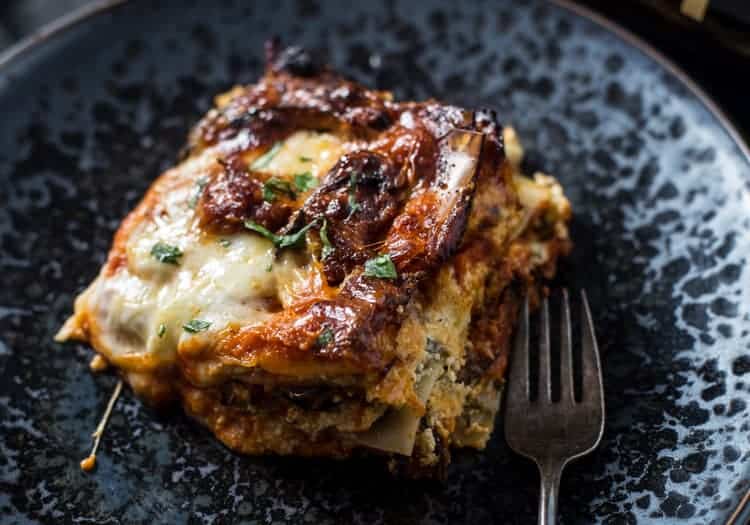 What are your favorite make ahead meals to make for friends?
---
If you like this recipe we'd truly appreciate it if you would give this recipe a star review! And if you share any of your pics on Instagram use the hashtag #vindulge. We LOVE to see it when you cook our recipes. 
---