Having lived in Oregon for five years I never spent much time in the town of Carlton, located less than an hour away.  Upon a recent trip during the annual Wine Bloggers Conference, I had the opportunity to spend two days there courtesy of the Carlton Business Association.  And boy, did I kick myself for not spending more time there while I was actually living in the region.  I am humbled that it took me so long to discover some great new gems and feel compelled to share some of the standouts.
New Gems
Seven of Hearts / Luminous Hills Wines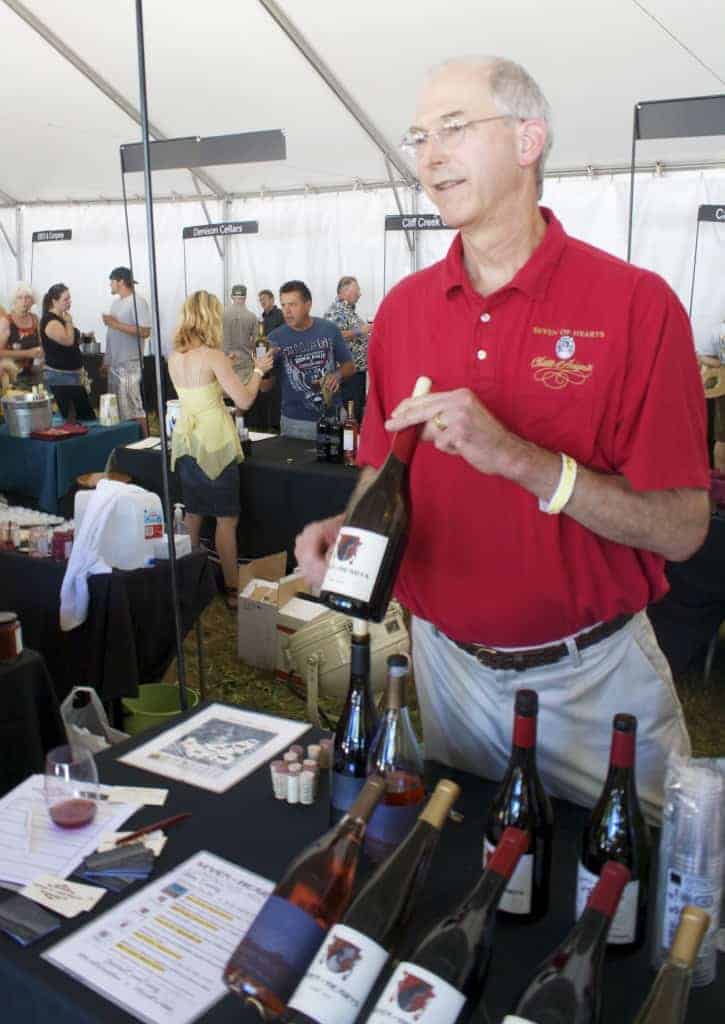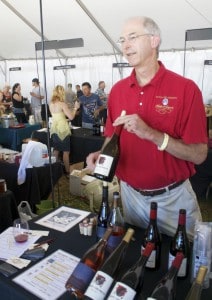 Byron Dooley and his wife Dana moved to Oregon from Northern California in 2004 in search of a location to grow world class Pinot Noir.  They found that location in Luminous Hills Vineyard, located in the southwest portion of the Yamhill-Carlton District within the much larger Willamette Valley.
In addition to his 12 acre vineyard, Dooley sources fruit from other trusted growers with the vision of creating limited production wines that reflect a sense of place from which they are grown.
The name and image of Seven of Hearts represents a "medieval-style playing card in the hearts suit, symbolizing Byron's passion for the traditional Burgundian style of Pinot Noir. The label's center features a heraldic cat, representing Seven, the owner's cat".
The wines under the Seven of Hearts label represent a combination of Dooley's own estate, and fruit he sources from other growers.  The wines labeled Luminous Hills Vineyard represent wines sourced solely from their own estate.  Luminous Hills Vineyard is also LIVE certified, a sustainable farming certification.
The first wine I tried was the 2009 Seven of Hearts Pinot Noir, Willamette Valley, and I was intrigued by the earthy qualities combined with a nice spice, light cherry aromas, and a long finish. But when Byron told me the wine sells for only $20 I was blown away and as a result I just had to buy some.  That is a killer price for such a balanced Pinot!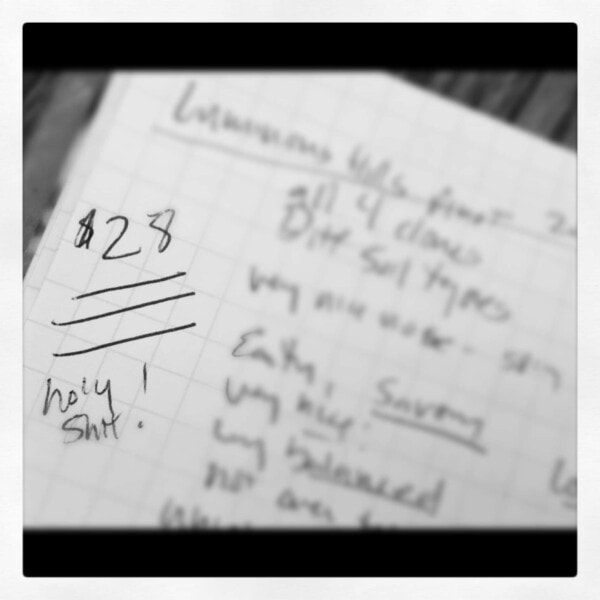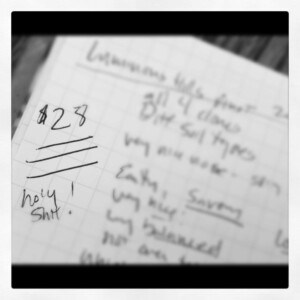 Next Byron poured the 2010 Luminous Hills Pinot Noir, another very balanced wine but also had an intriguing savory note to it that I was drawn to over and over. Earthy, savory, and balanced with a long finish.  When Byron told me he sells this gem for $28 I found myself scribbling the words "holy shit" in my notes and underlining the price three times. I kid you not!  Pinots of this quality rarely sell for under $30.
Dooley also sources fruit from outside of the Willamette Valley.  One such wine, with grapes sourced from the Columbia Gorge area, is his –
2010 Seven of Hearts, Chatte d'Avignon, GSM (Grenache / Syrah / Mourvedre),
with delicious fresh ground black pepper notes and a gamey quality you are more likely to find in an old world blend (think Rhone red), not one from the Pacific Northwest.  It was delicious and another great value and in fact, one of my colleagues refused to taste it at first because she "doesn't drink Syrah". After twisting her arm close to a million times she finally tasted it, and guess what?  She loved it and ended up buying a couple bottles. This is definitely a wine worth seeking out. Plus it is great for food, especially grilled meat, which is exactly why I bought a few bottles to take home with me. I do see a grilled peppercorn rubbed flank steak paired with this wine in my near future!
You can visit the Seven of Hearts tasting room on Main Street in downtown Carlton, Thursday – Monday from noon – 5:00pm.  And if you do visit the tasting room (and trust me, it is worth the visit!) you can also experience delicious chocolates made by Honest Chocolates, owned and operated by Byron's wife.  I must warn you though, you may never want to leave.
Belle Pente Vineyard & Winery
During our lunch at Cuvée I had the pleasure of sitting next to Brian O'Donnell, owner of Belle Pente and another California transplant who moved to Oregon in 1992 to start a vineyard.  He explained to me that back then property in the area was fairly cheap, the soils were perfect for growing Pinot Noir, and that Carlton was a very quiet town.  The perfect combination for what he and wife Jill were looking for.  His timing couldn't have been better, he explains, "Carlton has changed a ton over the last twenty years" (especially when it comes to land prices!).
The O'Donnells purchased a 70 acre property in the Yamhill Carlton District in 1992 and planted their first vineyard in 1994.  They now have 18 acres of vineyards planted on their property and also source additional fruit for their portfolio of wines.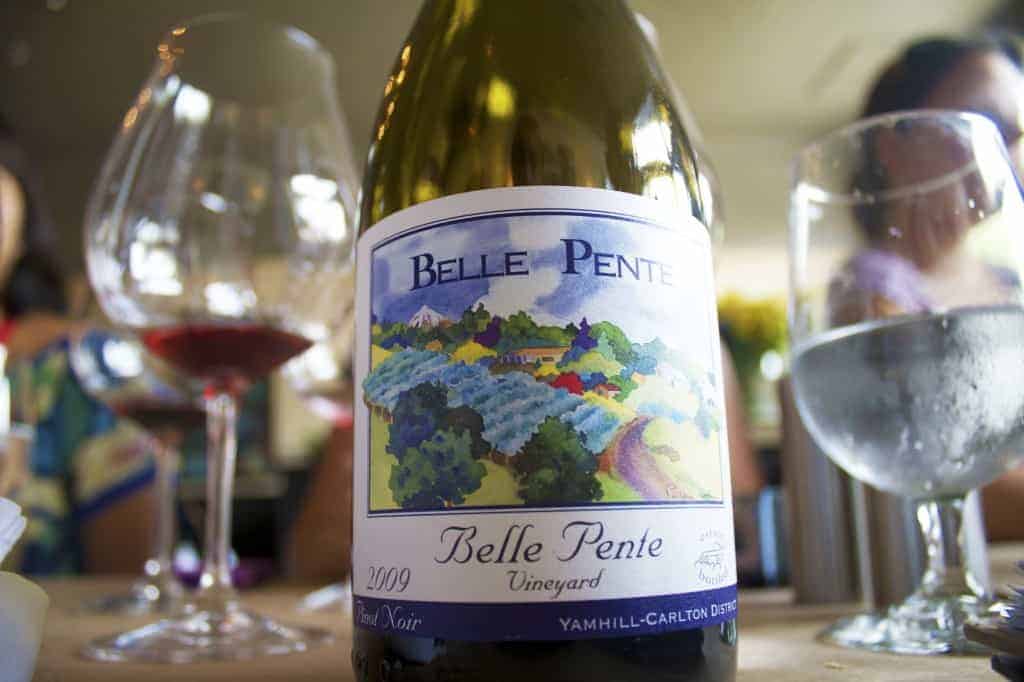 With lunch I enjoyed their flagship wine — 2009 Belle Pente Vineyard Pinot Noir.
Very herbaceous, and another wine with distinct savory (salty) flavors. When I asked Brian about the savory characteristics in some of the Pinot Noir's I enjoyed he explained it's a characteristic of the Yamhill Carlton AVA.  A quality that makes the wines very food friendly.  He was right, because this wine was perfect with the Tarte Flambée choices chef Gilbert Henry from Cuvée prepared for lunch that afternoon.
You can taste wines from this small production winery at their tasting room on Memorial Day and Thanksgiving weekends or by appointment.
And for all you readers in Connecticut, I found out from Brian that you can find his wines at Spiritus Wine Store in downtown Hartford! Score.
K&M Wines
K&M, name standing for Ken and his partner Mauro, is a very small production winery (approximately 200-300 cases produced annually) focusing exclusively on Pinot Noir and Chardonnay.
K&M is the third winery featured in this post, and yes its owners are also transplants from Northern California.  Ken was a hobby winemaker from 1993-1997 when he lived in San Francisco, and, like the stories above, had the goal to own his own vineyard to grow Pinot Noir, so he and Mauro moved to Carlton and planted their small (just three acre) vineyard.  The two of them enjoyed the personal experience of visiting small wineries and wanted to create a similar feeling for guests who experience their own wines so they decided to keep production small and focused.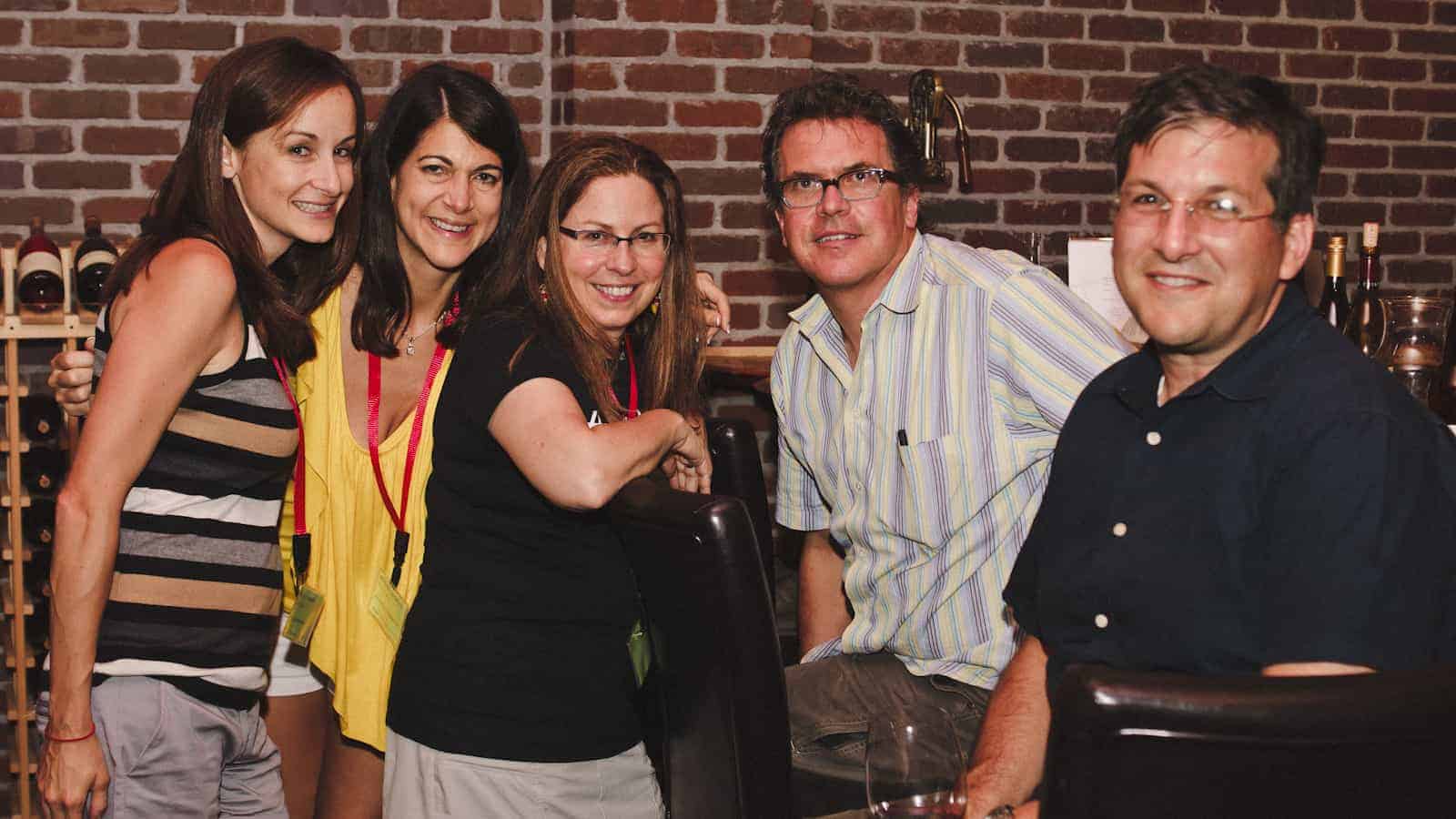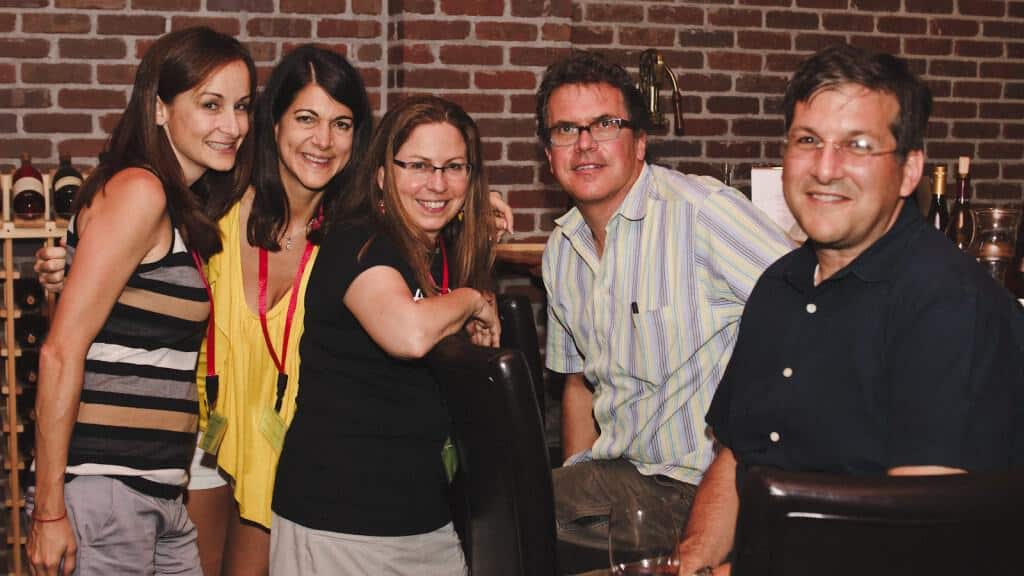 The highlight for me was his 2009 Alchemy Reserve Pinot Noir, made from just six barrels of their best estate fruit.  Delicate, balanced, and complex for a $35 Pinot!  Once again, a steal for a wine of that level of quality.
When asked what was one of the biggest lessons he learned from moving, starting a vineyard and wine label, Ken responded, "don't try to do everything yourself".  That resonated with me, as it is a lesson I am constantly trying to remind myself in my new role as a parent.  A nice reminder for all of us right?
All three of these producers share similar stories, and all produce small production, high quality wines at great prices. If you ever happen to visit the Willamette Valley I highly recommend a visit to the town of Carlton, and especially visiting the above producers.  While you are there, make sure to take your time and stay overnight enjoying the hospitality this entire town has to offer.  There are plenty of quality restaurants to dine at and great B&B's to stay at.
One such B&B is The Carlton Inn Bed and Breakfast, where I was treated to an evening stay during my two day visit.
Karen Choules purchased The Carlton Inn Bed and Breakfast just two weeks before our visit, brand new to the world as an innkeeper.  Shocker, as I thought she had been doing it all of her adult life.  She is a natural at hospitality and especially at preparing a delicious and beautiful breakfast made from fresh local ingredients  — so local that many were sourced from the garden in her backyard.  For breakfast that morning Choules prepared homemade yogurt and granola with fruit picked that morning from her garden, blueberry french toast with bacon from Carlton Farms, and Mud River Coffee purchased from her local farmers market.  Talk about a true Oregonian breakfast.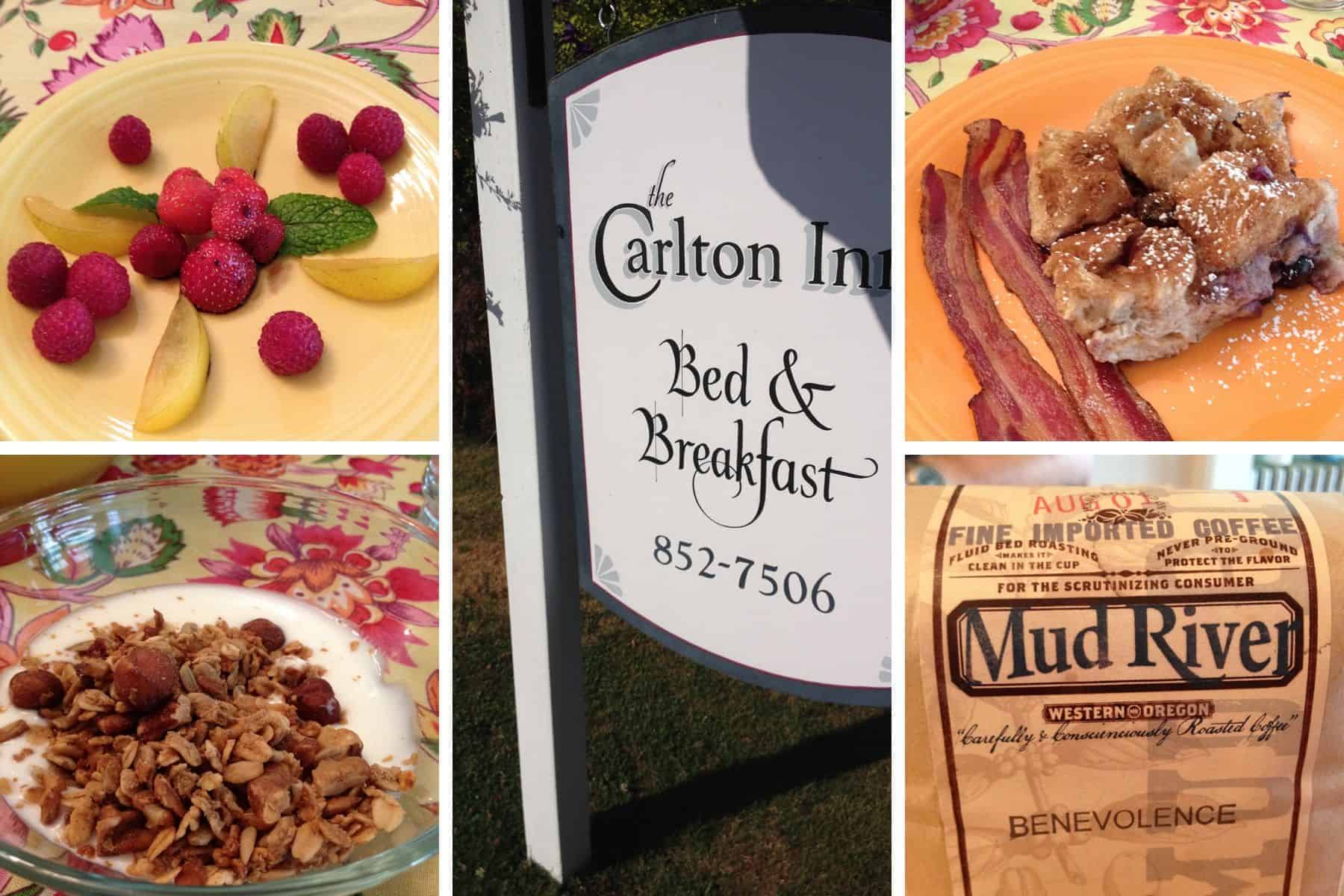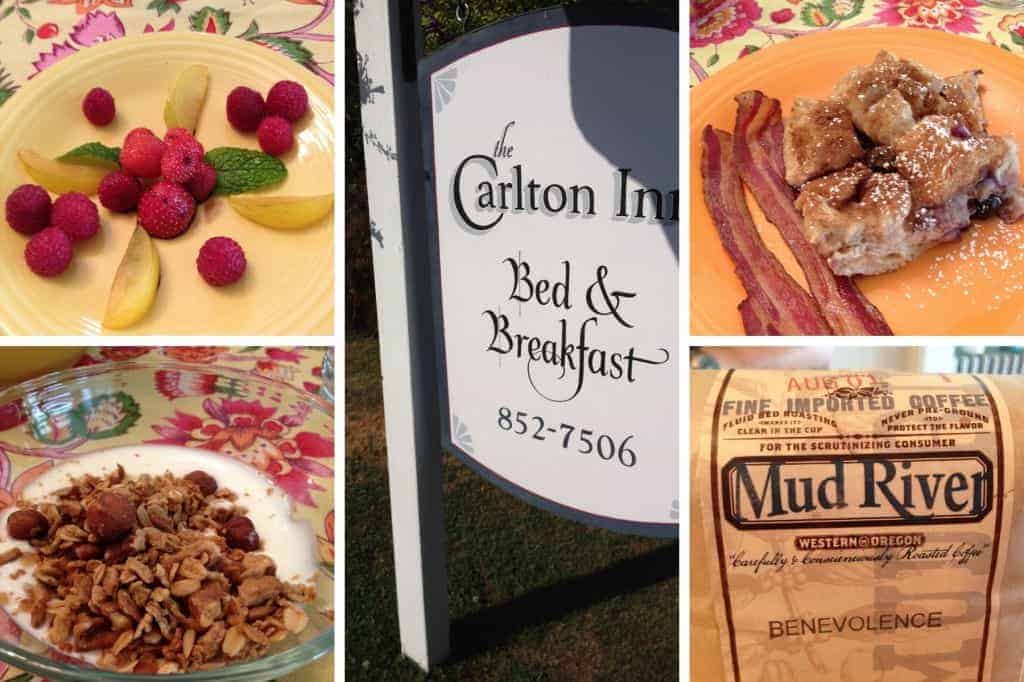 The property itself, a five minute walk from the Carlton center, has four cozy rooms (pictures here), with a living room on the main floor and a comfortable outdoor deck overlooking a garden, where myself and a few other bloggers on the trip enjoyed a glass of wine at the end of the day.
Choules is enthusiastic about her new venture as an innkeeper and based on what I experienced during my stay, she will be great success fitting right in with the Carlton community.
Whether I spend a weekend a month or one trip in a lifetime, it was another great lesson in getting off the beaten path and exploring the wines of an exciting AVA and its unique characteristics within the Willamette Valley.  I encourage you to check them out if you ever find yourself in the area.
Related Stories
The Road Trip – First Stop, Oregon and WBC
Thirty Days on the Road, a Spark Ignited