About a month ago I read an article where the writer expressed some very critical opinions about Oregon Pinot Noir.   She asserts that you can't find a decent Oregon Pinot for under $20 and generalized that most others priced above $20 weren't very interesting anyways, using terms like "meh", "lackluster" and "overpriced" to describe them.
I don't remember the exact publication; I was so offended that I immediately clicked out of the article hoping to never return.  I now find myself searching again trying to reference it with no luck (believe me I spent a solid couple hours trying!).  Not that I want to send any additional readers to that crap article, but after brewing on it for awhile I decided I wanted to write the author back and respond.  While it is fine to have an opinion, I do believe her arguments hold no merit.
I write this not because I am somewhat partial to Oregon Pinot Noirs having lived in the region for 5 years, but to explain that some of the very best Pinots in the world come from Oregon and for someone to clump them all into one category generalizing them is irresponsible and rude.
Like wine regions throughout the world, yes, you will find some duds.  This is true everywhere!  And while it is true that it can be a challenge to find really good Pinots under $20 (especially living outside the state), it is not impossible.  But to say that most wines above that price point are "meh" and "lackluster" is downright ridiculous!
Perhaps this writer has never been to Oregon to taste the wide array of offering for herself.  Or perhaps it was just a case of (very) lazy journalism.  My guess is both.
I now live 3,000 miles away from Oregon, where only a very small fraction of wines produced there are distributed, but I can still find excellent examples at every price point from some of my favorite wineries!  I could list several producers that are readily available outside of the state, but one that immediately comes to mind is Stoller Family Estate.  While their wines are not the most widely available Oregon wines, they are at least accessible to most who live throughout the US.
Stoller Family Estate, Dayton Oregon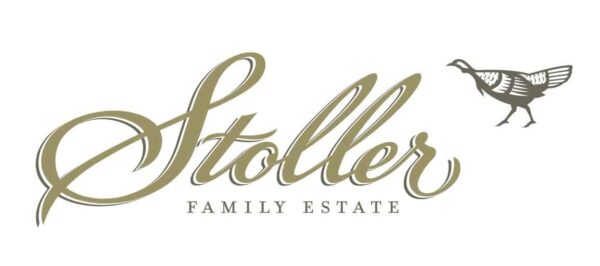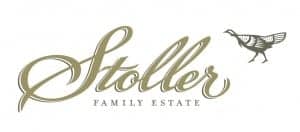 Stoller Family Estate is very well regarded among the Oregon wine industry, and for good reason.  Native Oregonian Bill Stoller purchased his family's farm in 1993 and has worked hard over the last 20 years to build the 373-acre property into the largest contiguous vineyard in the Dundee Hills.  Thanks in part to a dedicated team — including Winemaker Melissa Burr and Vineyard Manager Robert Schultz — they have built a solid reputation of quality, innovation, and sustainability.*
With a focus primarily on Pinot Noir and Chardonnay they also have small plantings of Pinot Gris, Riesling, Tempranillo, and Syrah.  It is Stoller's Pinot Noirs that demonstrate quality at a wide range of price points that one can experience in Oregon Pinot Noir.  And you don't have to live in Oregon to experience them.
Three tiers of styles:  These three wines from their portfolio demonstrate that there is nothing boring about Oregon Pinot. 
JV Estate Pinot Noir, 2010
Dundee Hills AVA
$25 | 13.2% abv
Whenever I teach a wine class I try to use wines that are locally available to those who attend my class, and I almost always throw in an Oregon wine or two.  One such wine I've used on numerous occasions (including the very first lecture I gave on wine) is the Stoller JV Estate Pinot Noir — partly because it is consistently available (even here in CT) and well priced at $25, but it is also consistently good year after year.  Standing for Jeunes Vignes (Junior Vines) this wine is very approachable and typically demonstrates bright red berry fruit, has good acidity, low tannins, and is food friendly.
Their range of Pinots is extended to their flagship and reserve tier wines; two of which I had the opportunity to taste recently.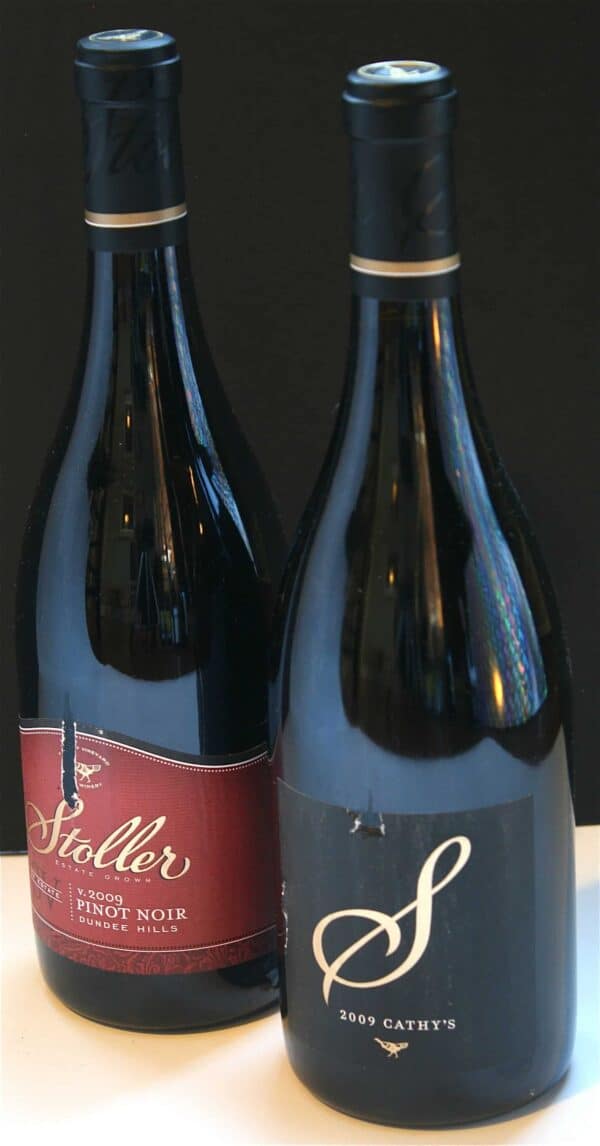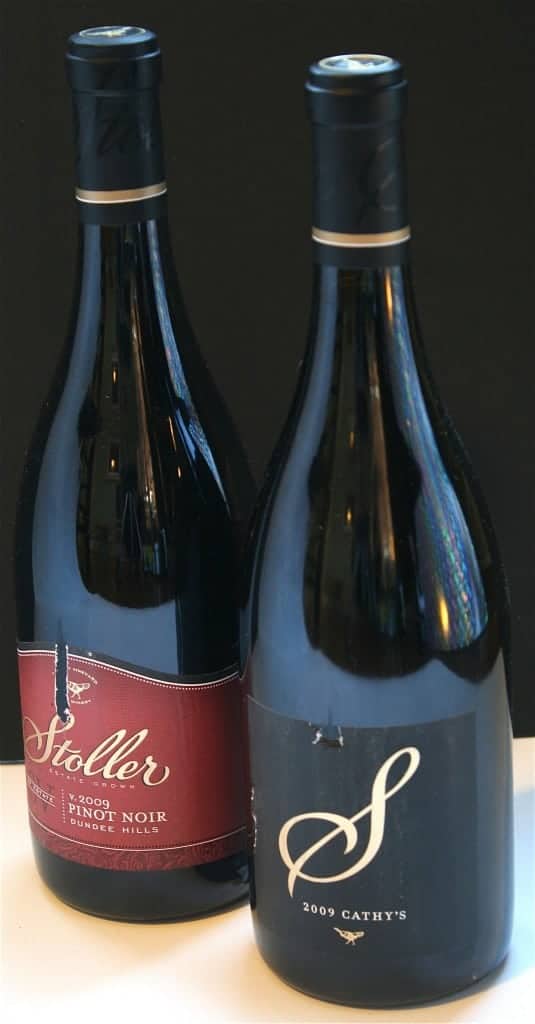 SV Estate Pinot Noir, 2009
Dundee Hills AVA
$45 | 14.5% abv  (media sample)
This Pinot is fuller in flavor and richer in body than the JV, though not heavy from over oaking, which can easily happen with Pinot Noir.  In fact this wine showed nice restraint from oak, and was spicy and earthy, more of a reflection of the terroir of the Dundee Hills instead of the inside of an oak barrel.   Spicy with raspberry, cherry, earth (think fresh mushrooms not yet cleaned of their soil), toast and graham.  Just the right balance of earth, funk, fruit, and elegance.
Make sure to let this one open up!  It begins to change, evolve, and smooth out after being open for at least a half hour.  Respect the wine, give it time!
Cathy's Reserve Pinot Noir, 2009
Dundee Hills
$100 | 14.5% abv (media sample)
Named after the late Cathy Stoller, wife of Bill Stoller, this wine is a representation of Stoller Estate's very best and oldest plantings.
Another wine that demonstrates great restraint in the use of oak — spending only 10 months in new French oak before bottling, just enough time to round out the wine and provide some additional spice and toast elements, but not be the dominate flavor.
While tight upon first opening, it has excellent texture, flavor, earth, spice, and intrigue (the thing that makes you keep going back for more, and more).  After decanting about 30 minutes this wine evolves into pure elegance, displaying floral notes along with beautiful cherry and blackberry aromas, earth, and spice.
I do believe this wine will age gracefully, but we decided to open the bottle and pair it with roasted lamb chops.   The flavors of the lamb — which was seasoned with rosemary and thyme, pan seared, and then finished in the oven — melded beautifully with the earth, spice, and texture of the Cathy's Reserve.
An elegant wine deserves elegant food, and this was a good example of that.  But if you have the patience I encourage you to lay this one down for a few years and see how it evolves.
If you are interested to see just how different, and just how good Pinot Noir can get, seek out the wines of Stoller. I highly doubt you will ever use the words "meh" or "lackluster" to describe any of them.  And if you do I'd like to hear about it.
The JV and SV are fairly well distributed throughout the US.  The Cathy's, with only 88 cases produced, will be much less accessible.  All three wines, however, are available for purchase on their website and can be shipped to most states.
*Stoller is LIVE (Low Impact Viticulture and Enology) and Salmon Safe certified.  The winery is also North America's first LEED Gold Certified, integrating gravity-flow winemaking techniques and energy-efficient systems to preserve fruit quality and reduce negative environmental impact.