Smoked BBQ Tofu Bowls will please vegans and meat lovers alike. This is an easy, delicious, and healthy(!) vegan and gluten-free recipe for the smoker or grill that everyone will love!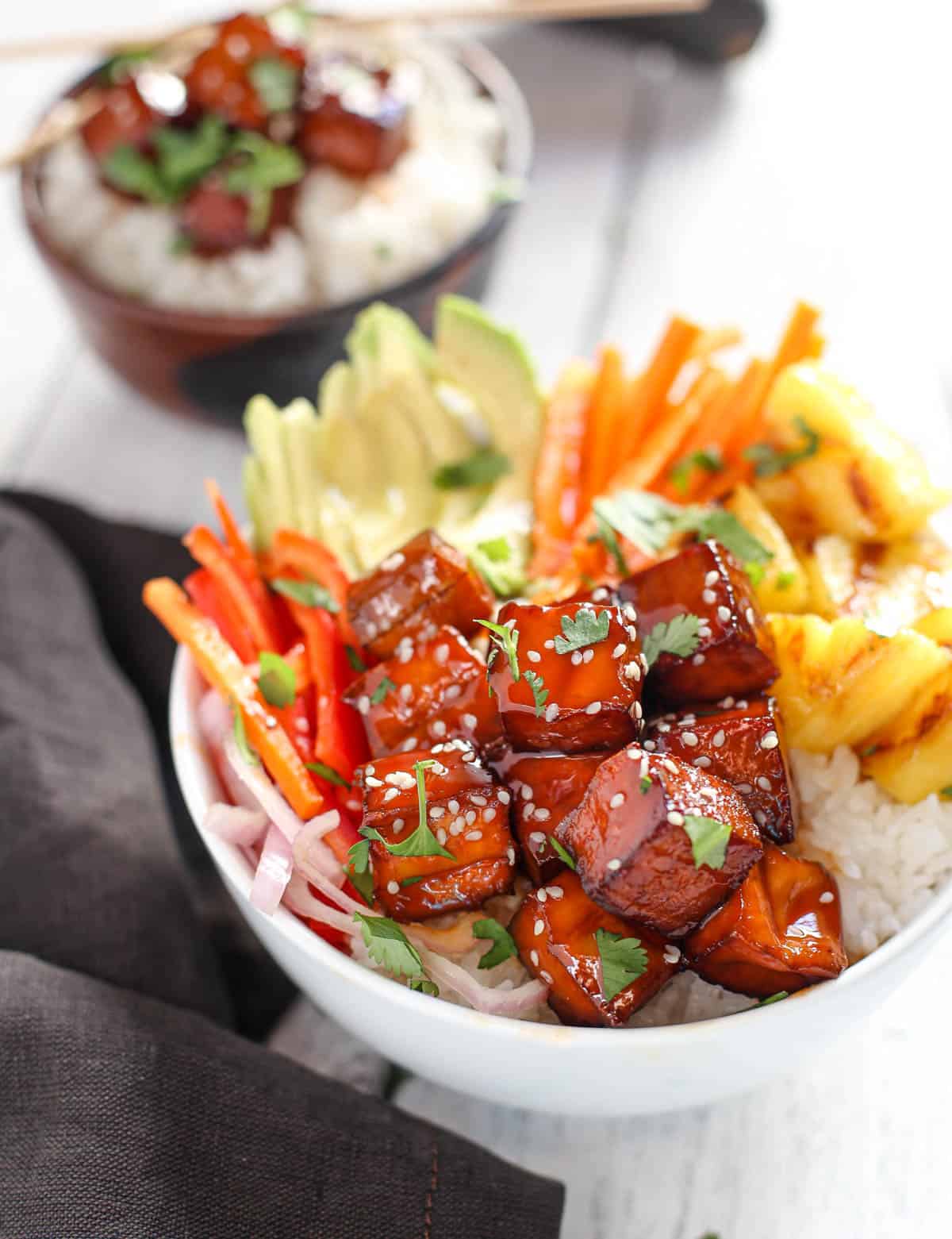 We also have a great recipe for grilled tofu if you want the entire tofu steak finished with our red wine BBQ sauce.
Jump to:
Smoked BBQ Tofu for Meat Lovers, Vegetarians, and Vegans
My husband lives and breathes for meat. But he married a woman who, during the first few years of us dating, was a pseudo vegetarian (meaning I tried my best to follow the rules but cheated from time to time with seafood and occasionally poultry). It took a long time (around 10 years) for me to finally come around to trusting meat (read: we bought a smoker and started sourcing great and trustworthy meat and cooked it like a boss!). And, while we do cook a lot of meat around these parts, we also eat our veggies. It's all about balance, folks!
We also have several friends and neighbors who are vegan or vegetarian, yet still wish to partake in the magic of smoked foods. So to be inclusive of all of our foodie friends (regardless of their dietary restrictions) while satisfying the die-hard carnivores, we have Smoked BBQ Tofu.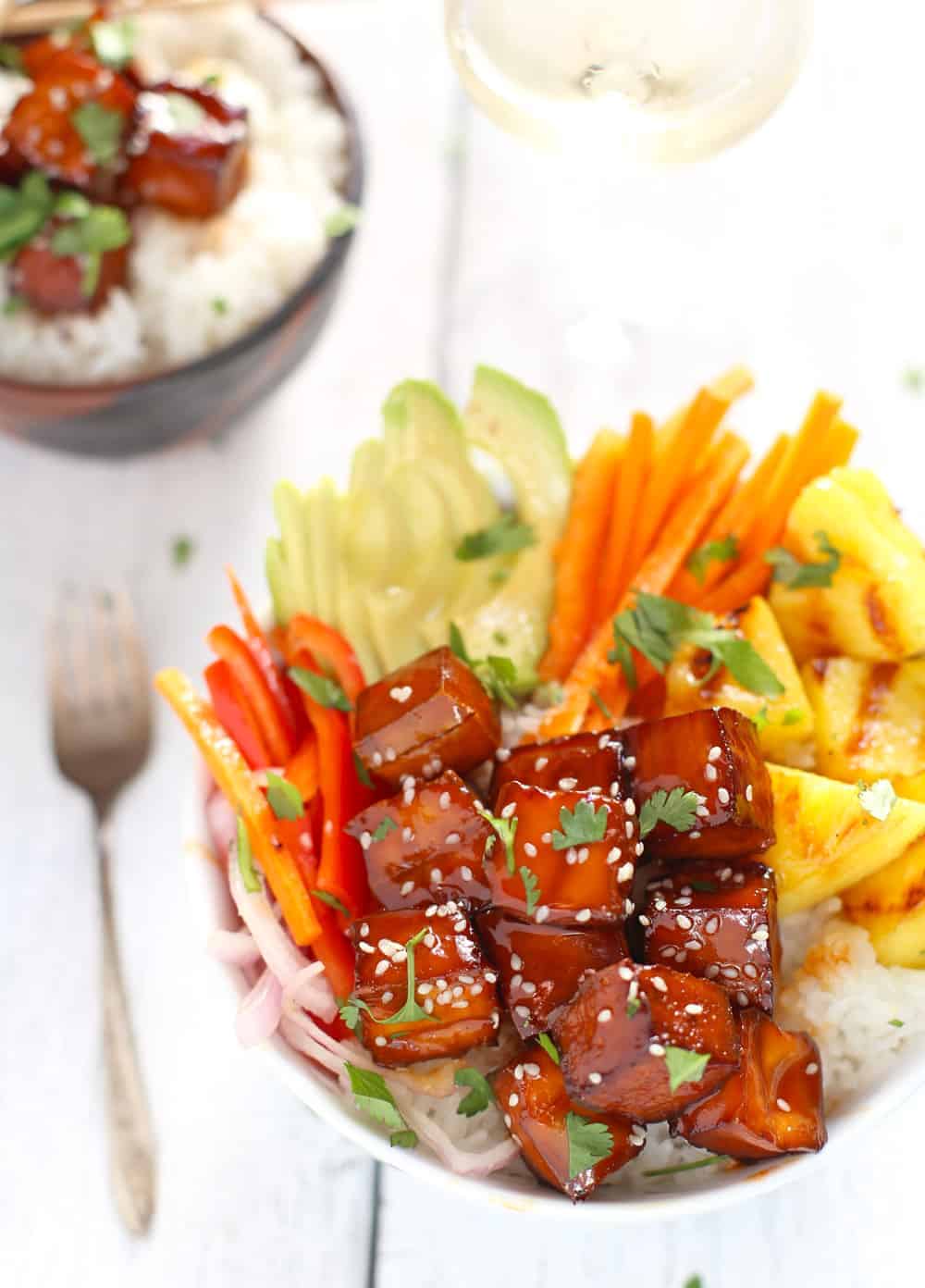 Seriously, the colors! The flavors! Plus it's smoked! And HEALTHY!
Smoked Tofu
We've been smoking a lot of tofu trying to come up with more vegan and vegetarian recipes, and so far this is one of our favorite methods. We've done a few "burnt end" style tofu recipes to serve along traditional BBQ side dishes, and they're great, but I loved the combination of the BBQ sauce with the grilled (or smoked) pineapple, veggies, and coconut rice.
That's right, coconut rice. That's just a fancy way of saying I used coconut water in place of regular water (or stock) to cook the rice in. It gives it a great (yet mild) tropical flavor to go with the fruit and sweet BBQ sauce.
How to Prepare Tofu for Smoking
Start with Extra Firm tofu. The density and firmness are the best texture for a smoker.
Any tofu lover knows that we start by pressing the tofu. If you're unfamiliar with this process, it just means that we need to press out the excess water. Tofu comes packed in water, and you need to get out that bland liquid so that you can introduce good flavors (like a marinade, or BBQ sauce). Think of it like a sponge that you need to gently ring out the liquid before introducing new flavors, or otherwise when you cook it, it's mushy and bland.
Take your tofu and discard the water from the packaging. Then slice it down the middle, lengthwise, creating two pieces 1-inch thick. Lay out a baking sheet with a cookie drying rack, or large flat plate and line it with a few paper towels. This helps absorb the liquid.
Place the tofu on cookie rack or the paper towels, then layer with some more paper towels. Place another plate or baking sheet over the top, then place something heavy on top of that plate/tray (like heavy books or a cast iron pan). Leave it for overnight or at the minimum an hour.
When done draining, remove the pan and towels, then cut into 1-inch cubes, then place those pieces in your marinade.

Easy Tofu Marinade with Miso
Next we add flavor to our BBQ tofu by marinating it in some Miso. Our vegetarian neighbor gave us the Miso idea to add more savory/umami flavors. It totally works to add some additional flavor to the tofu. But if you don't feel like buying this extra ingredient, then you can marinate it in your favorite BBQ sauce.
We specifically bought a dry miso soup mix and then combined with water.
Place the marinade in a plastic bag with the tofu, and let it sit in the fridge for one hour.
After one hour, remove from bag and season with your favorite seasoning. We like our ultimate dry rub.
Then it's time to smoke those bad boys!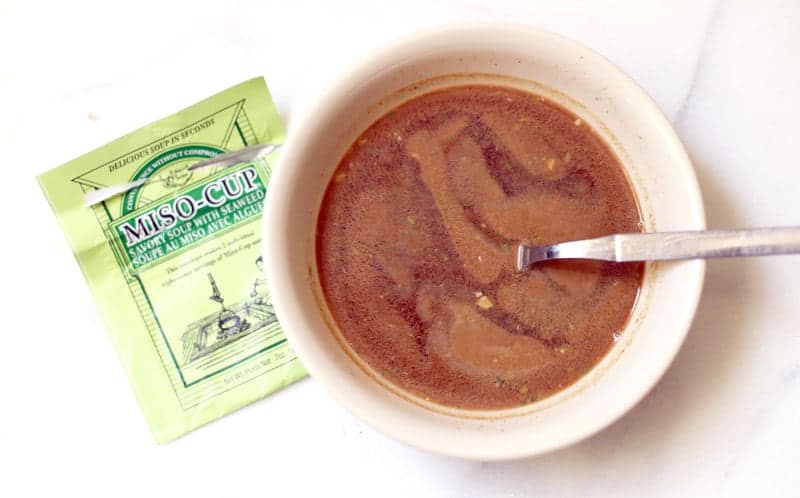 How to Smoke Tofu
Prepare smoker to 250 degrees Fahrenheit. We like fruit wood for this (like cherry).
Place the tofu directly on the smoker, or on a thin wired rack, for about two hours (up to three) or until you get a firm exterior with dark color.
Next, dip the tofu cubes into the BBQ sauce and toss. Get them all nice and sauced up, and then place them back on the smoker to firm up. You can also brush the BBQ sauce on with a food-safe paintbrush, but you'll have to rotate to get all 4 sides. The dipping method is super quick and easy.
*Note that depending on the style of BBQ sauce you use, the tofu may caramelize sooner. We used a Carolina style sauce that isn't too sweet. If you opt for a KC style, or sweeter style (tomato or ketchup based), then keep an eye on the tofu as it may caramelize sooner.
During this final round you can add your pineapple chunks that have been skewered. You can also do this separately on a hot grill. Leave the pineapple chunks to cook about 3-5 minutes per side, depending on how hot the grill is. Just look for some grill marks and some mild caramelization on the fruit.
After your tofu is done setting with the glaze (about 20 more minutes on the smoker), remove from the smoker and let them take one more happy dive into the BBQ sauce before serving, just for a nice sheen.
Assemble your smoked tofu bowls, and you're good to go!
Smoked Tofu is a BBQ dish that everyone can agree on! Feel free to add more BBQ sauce at the end for the tasty coconut rice to soak up.
Tofu Bowl Ingredients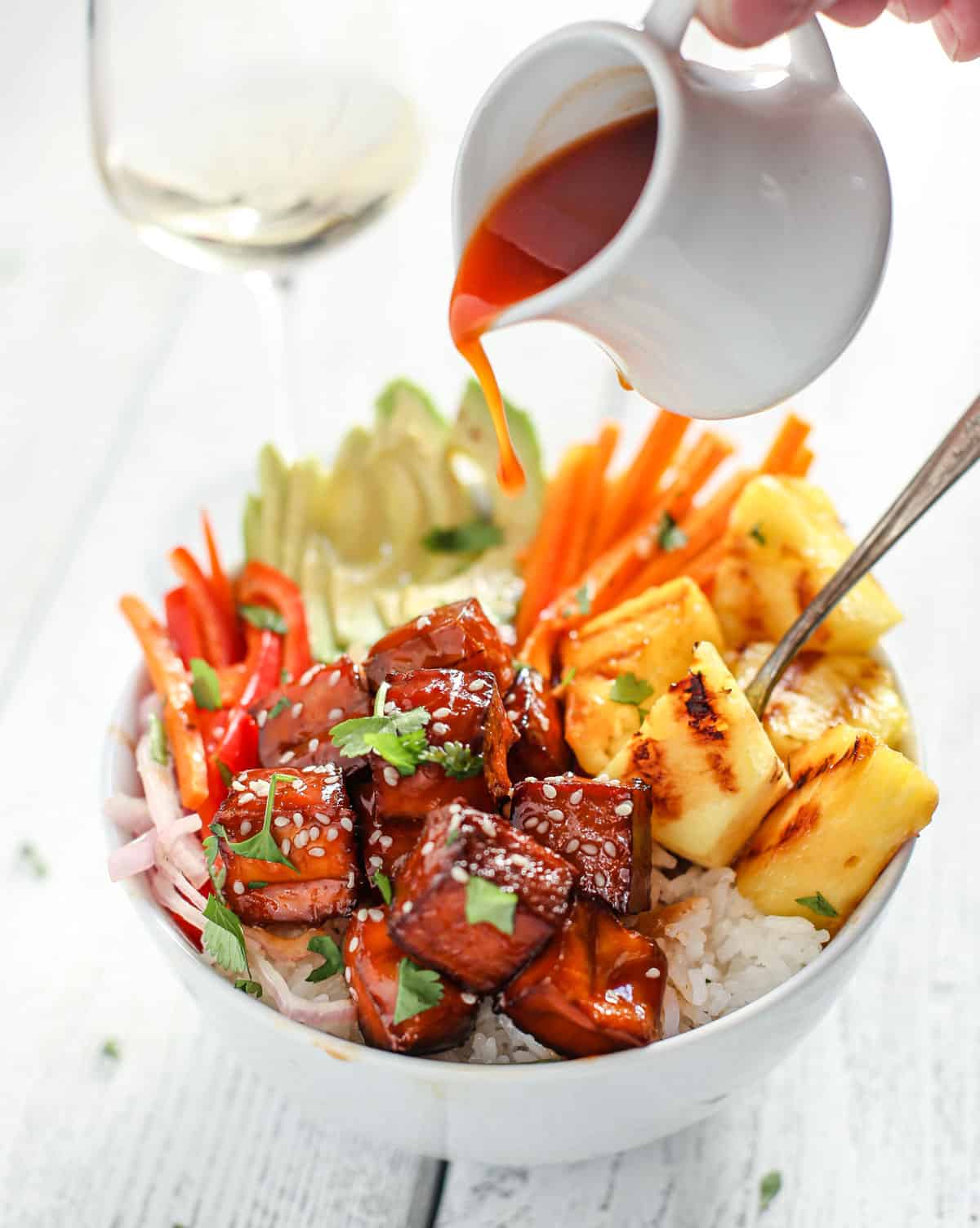 We use rice that we make in coconut water (not coconut milk). It adds an additional flavor we love.
For the remainder of the ingredients we prep all the fresh veggies while the tofu is smoking so it's ready to construct.
For garnishes we love fresh cilantro and some sesame seeds. Add more of your barbecue sauce as desired.
*Note this tofu is also great in a sandwich, or served alongside your favorite BBQ side dishes. But seriously, look at these bowls? So nutritious AND deeeeelicious!
Wine Pairing for BBQ Tofu
We've got some fun flavors going on with these smoked tofu bowls, from the BBQ sauce, the sweet pineapple, the flavorful rice, crunchy veggies, and creamy avocado. We're really focusing on the style of BBQ sauce you choose and something that will stand up to any sweetness of the sauce along with the tropical flavors from that pineapple.
While a fruity rosé is ever and always a good standby for these BBQ flavors, I also think it's a great match for refreshing fruity whites like Riesling or a sweeter style Müller-Thurgau.
While I would avoid most reds because of those dominant pineapple flavors, I do think it would be pretty awesome with Lambrusco — The very mildly sparkling red from Italy's Emilia-Romagna region — but not the sticky-sweet kind you may be thinking of. I'm talking a dry or perhaps one with a touch of sweetness. Good fruit, good acidity, good potential with these awesome flavors. Yum.
More Vegetarian BBQ Recipes
This recipe was originally published in June of 2016, and updated in April of 2021 with more detailed recipe directions. The recipe remains the same.
If you like this recipe we'd truly appreciate it if you would give this recipe a star review! And if you share any of your pics on Instagram use the hashtag #vindulge. We LOVE to see it when you cook our recipes.
---