Elevate your classic Whiskey Smash cocktail by grilling some lemons and making a grilled lemon simple syrup. This amazing whiskey cocktail is refreshing and is incredibly flavorful with a touch of smokiness from the grill. This is truly the perfect summer cocktail!
A classic whiskey smash recipe is a bright and refreshing whiskey cocktail that is perfect for warm days during the late spring and summer. Some fun ways to modify the recipe is to change it up by adding a flavored simple syrup and for that we used grilled lemons (both in the syrup and the cocktail).
Jump to:
This recipe was inspired by a whiskey smash cocktail recipe presented to us by Portland based Westward Whiskey for a spring cocktail campaign. Their twist on the drink included grilled peaches and lemons. We went the more classic route for our recipe and it was absolutely delicious with their whiskey.
History of Whiskey Smash
The Whiskey Smash is a classic cocktail with a history that traces back to the 19th century, where it was listed in the famed bartender Jerry Thomas's 1862 book, "How to Mix Drinks or The Bon-Vivant's Companion." The recipe listed therein makes it one of the oldest cocktails in American mixology. It's a simple concoction consisting of whiskey, sugar, water, and mint, essentially a mint julep with the addition of muddled fruit, making it a "smash."
However, the Whiskey Smash went largely out of fashion during much of the 20th century, its popularity overshadowed by other cocktails. It wasn't until the late 20th and early 21st century, during the modern craft cocktail movement, that the drink saw a revival.
The credit for its resurgence goes to Dale DeGroff, an influential bartender often referred to as the "King of Cocktails," who reintroduced the Whiskey Smash at New York's Rainbow Room in the 1990s. Since then, it's been embraced by a new generation of bartenders and drinkers, earning its place back on the cocktail menus of trendy bars worldwide.
Ingredients for Grilled Lemon Whiskey Smash
Lemon – We use roughly 4 lemons for two cocktails.

2 lemons cut in half grilled is enough for one batch of simple syrup.
1 lemon cut in half and grilled for the cocktail itself. After grilling we cut each half into three wedges. We use three wedges per cocktail. So if you want more cocktails add one lemon half for each cocktail made.
Optional, 1 additional lemon sliced and grilled for the garnish.

Whiskey – We used Western Whiskey, but any whiskey you enjoy works.
Simple Syrup – We use our grilled lemon simple syrup. But you can also use a basic simple syrup as well. We like the lemon for added flavor.
Mint – For muddling and for the garnish fresh mint is key.
Portions are in the recipe card and for 1 cocktail. We typically make enough grilled lemons and simple syrup for 4.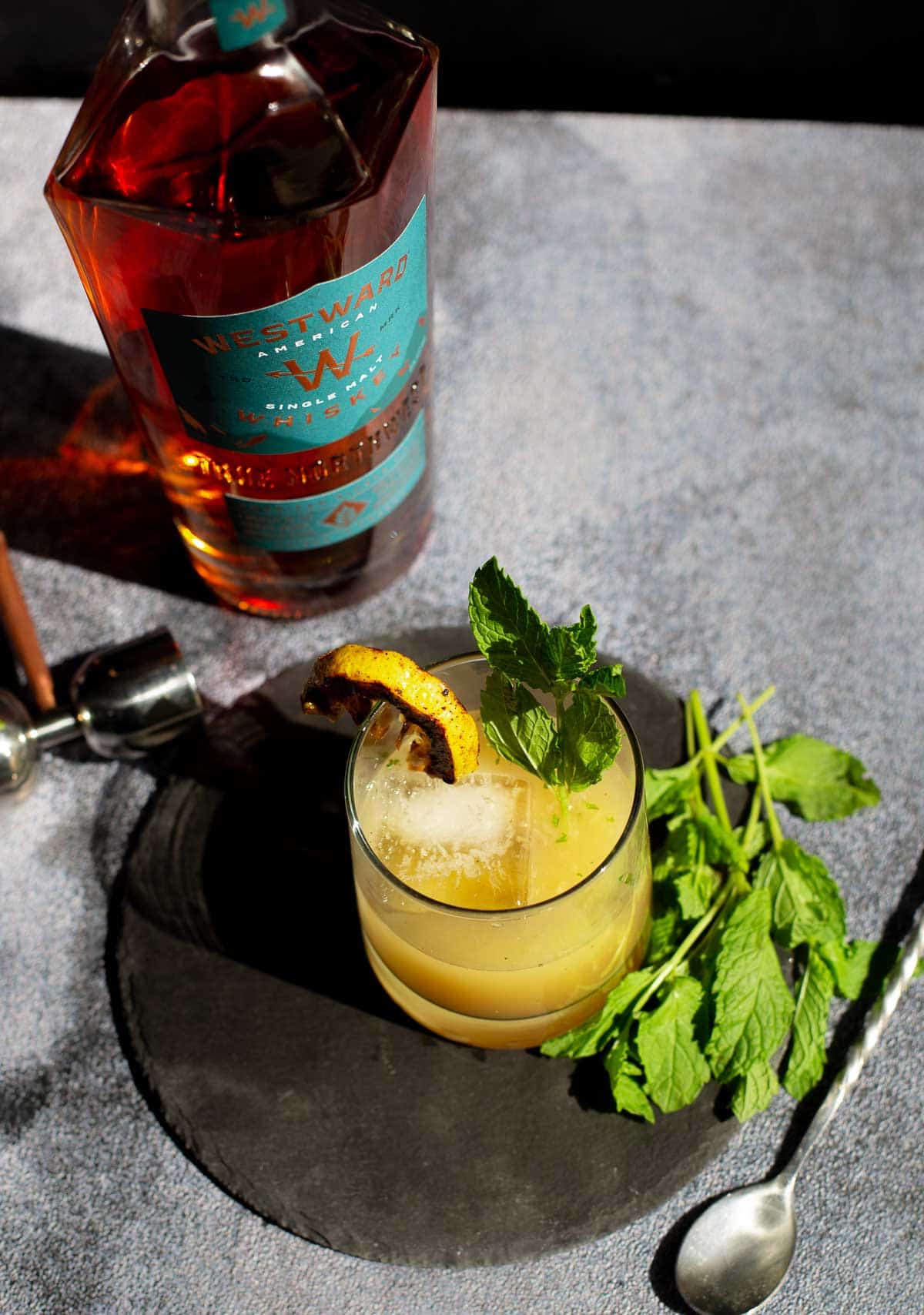 Tools
It is much easier to make this whiskey smash if you have a basic bartenders kit that includes a cocktail shaker, Hawthorne strainer, jigger, and muddler. You can get a basic set from Amazon.
It's also nice to have some nice ice cube molds for presentation, although that is not necessary, as the classic presentation is simply crushed ice.
You can even take this whiskey cocktail up a notch with smoked ice.
Preparation
Before making the cocktail you need grilled lemons and a grilled lemon simple syrup. You need lemons for both the simple syrup and the drink, so be sure you buy a large quantity.
Grilled Lemons – Prepare your grill for direct grilling tarketing 500 degrees Fahrenheit. Slice the lemons in half and place over direct heat flesh side down. Grill for 5 – 7 minutes or until you see grill marks. You can see more detail in our article on how to grill lemons and what to do with them.
Lemon Slices – We take one lemon and cut into thick slices as the garnish to the glass.
Ice Cubes: If you want fancy ice cubes be sure you have put them in your mold at least 6 hours prior to needing them.
Grilled Lemon Simple Syrup
This can be done up to three days in advance of making cocktails.
After grilling the lemons, use a lemon juicer or lemon squeezer to extract as much of the lemon juice as possible into a bowl. Strain the juice to remove any pulp and seed. Note – you need to keep some of the lemon halves for the garnish and the drink.
In a small sauce pan over medium heat add water, sugar, and grilled lemon juice.
Bring to a simmer for 15-20 minutes until the sugar dissolves and incorporates with the water and lemon juice.
Strain the juice to separate the solids, then allow to cool completely, and then use for cocktails or store in the refrigerator.
See recipe card for exact portions.
A Note on Sugar: A typical ratio for simple syrup is one part water to one part sugar. We use a slightly different ratio for less sweetness (I don't like my simple sugar overly sweet). We use 1 cup of water to ½ cup sugar. If you like a sweeter cocktail then feel free to use the 1:1 ratio or ⅔rds.
How to Make a Whiskey Smash
Place a couple ice cubes in a cocktail shaker with 3 grilled lemon wedges and a few pieces of mint. Muddle for 1 minute to release the lemon juice, and the oils from the rind. Add the whiskey and simple syrup. Cover, shake, and then strain into a rocks glass with ice.
Garnish with a lemon slice and fresh mint.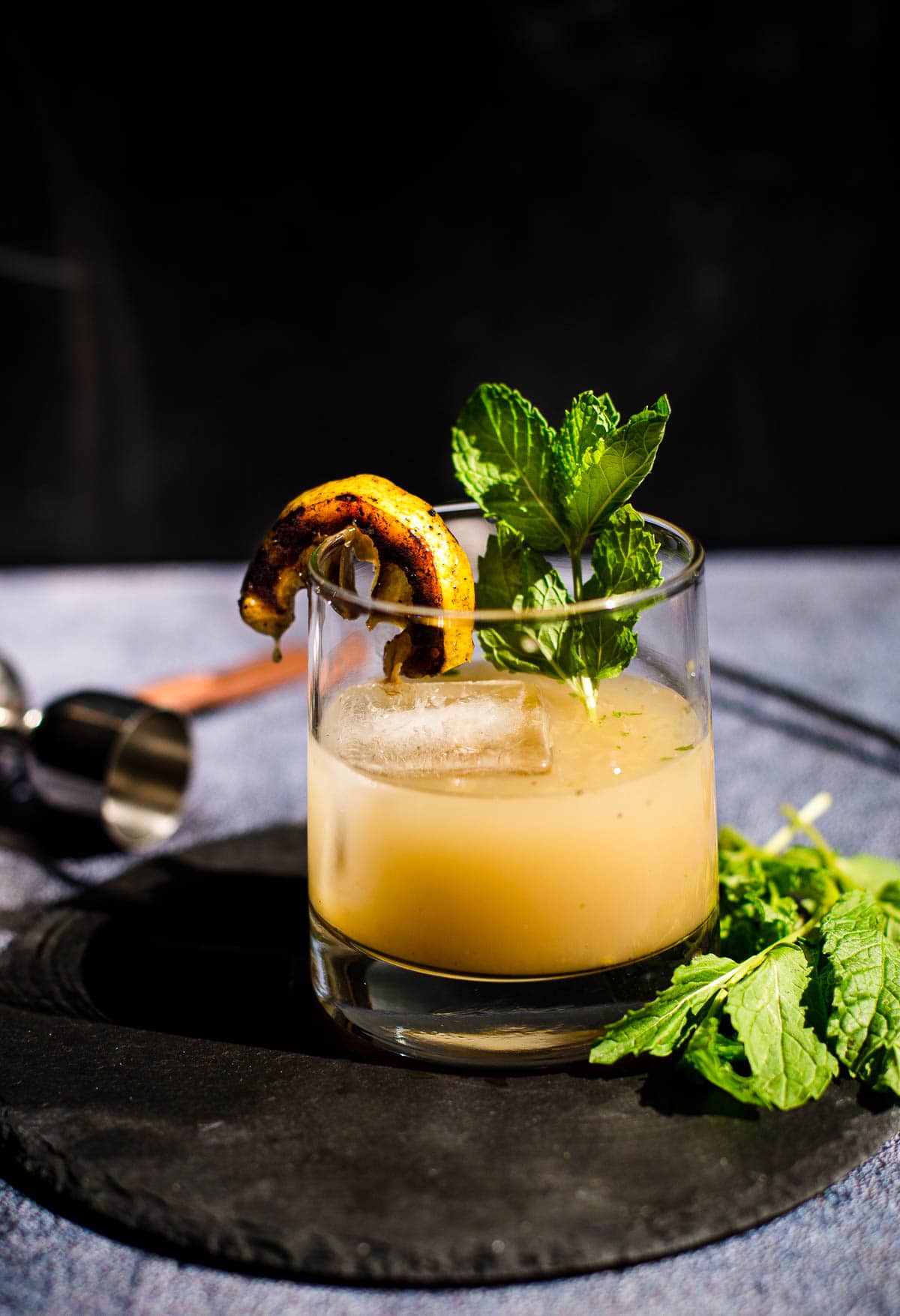 Other Cocktail Ideas
Browse our list of cocktail recipes or check out some of our favorites.
Mary (a certified sommelier and recipe developer) and Sean (backyard pitmaster) are co-authors of the critically acclaimed cookbook, Fire + Wine, and have been creating content for the IACP nominated website Vindulge since 2009. They live in Oregon on a farm just outside Portland.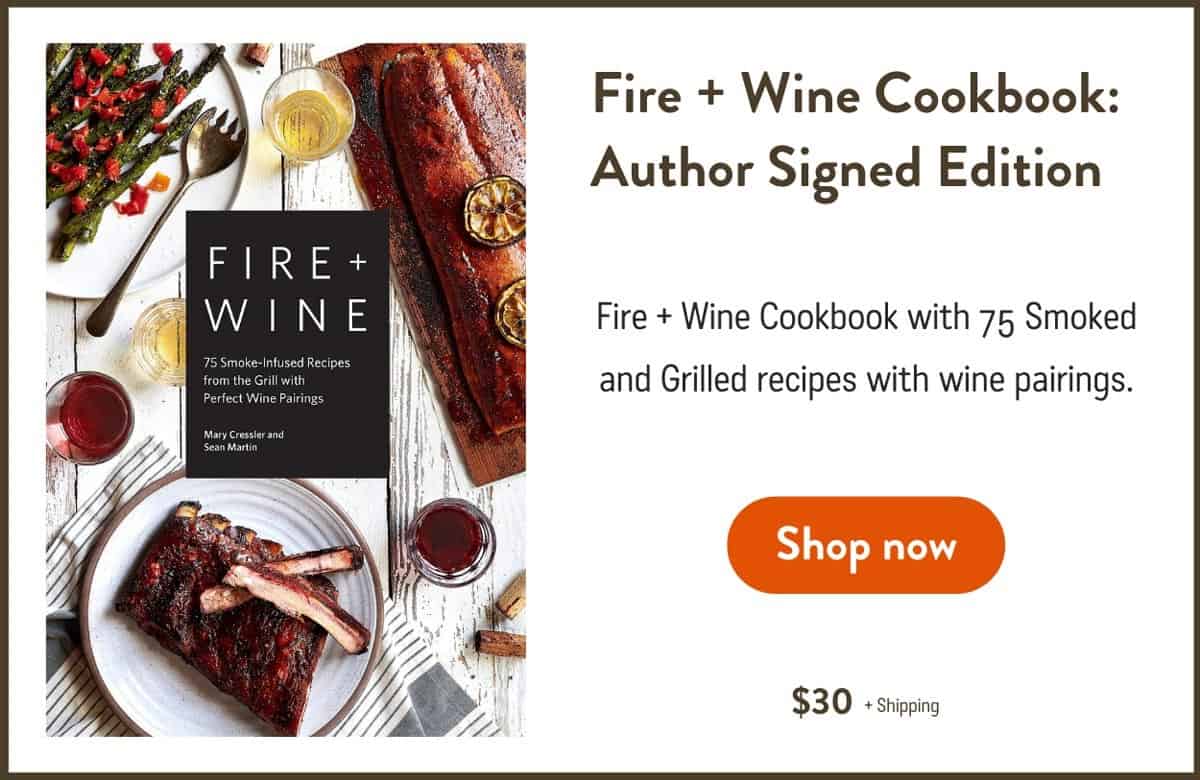 Tried this recipe? Give us a star rating and we would love to see! Mention @vindulge or use the hashtag #vindulge on all the social media handles. And consider subscribing to our newsletter where we drop all our favorite ideas and inspirations every week.
This post may contain affiliate links. This means if you click on the link, we may receive a small commission if you purchase through the link. We partner with brands we know and love and use and it helps keep the blog going!