We may have gone a bit over the top with this recipe for Smoked Strawberry Shortcake with Smoked Bacon Biscuits… and for very good reasons…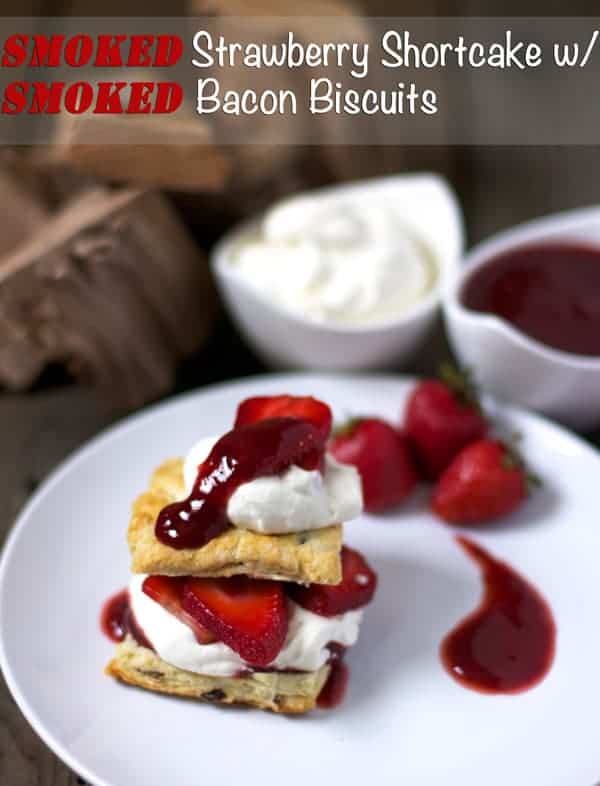 Strawberry season is officially upon us, and opening day at my favorite organic U-pick farm was this past weekend. We couldn't pass the opportunity to be among the first to sort through this year's lot of fresh, sweet, perfectly ripe, and deeply red strawberries.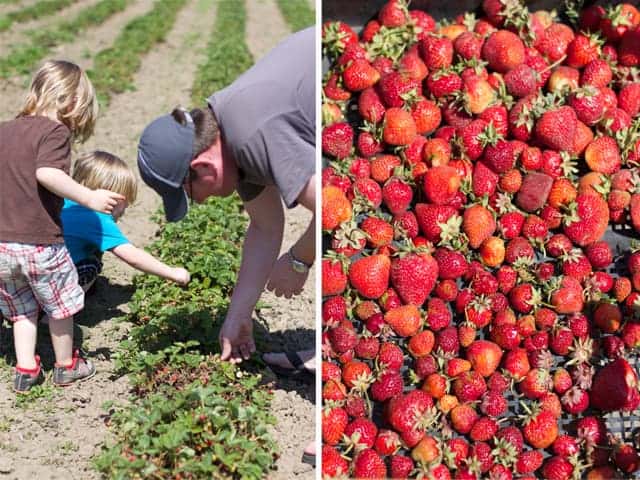 Even though they end up with a strawberry induced bellyache by the time we're done, I love taking my kids berry picking in the summertime. Growing up in Arizona I never had the opportunity to do stuff like this (not a lot of berry picking in the desert), so I try to take full advantage of living in the Pacific NW by teaching the boys where their food comes from. Incidentally the boys are obsessed with strawberries. So when I got the invite to submit a favorite strawberry shortcake recipe for the Daily Meal, who partnered up with Driscoll's Berries in search of the best shortcake recipes, I had to enter. Not only that, we had to put our very own twist on this summertime staple by, you got it, smoking it.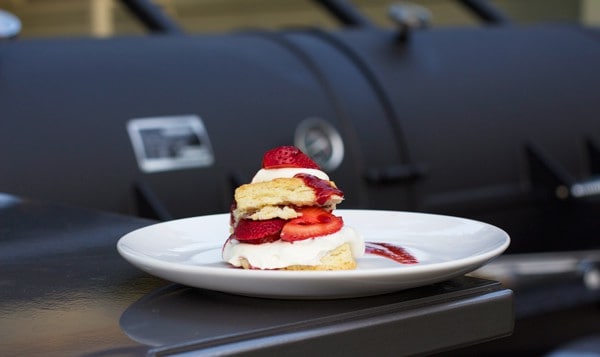 That's right, we smoked strawberries. 
Why make a regular strawberry shortcake on sponge cake when you can make your own smoked strawberry jam (one that is mildly smoky, yet equally savory and sweet), and layer it in between a savory biscuit made with loads of crunchy smoked bacon? Add some freshly macerated strawberry slices and top with homemade whipped cream? Yes please.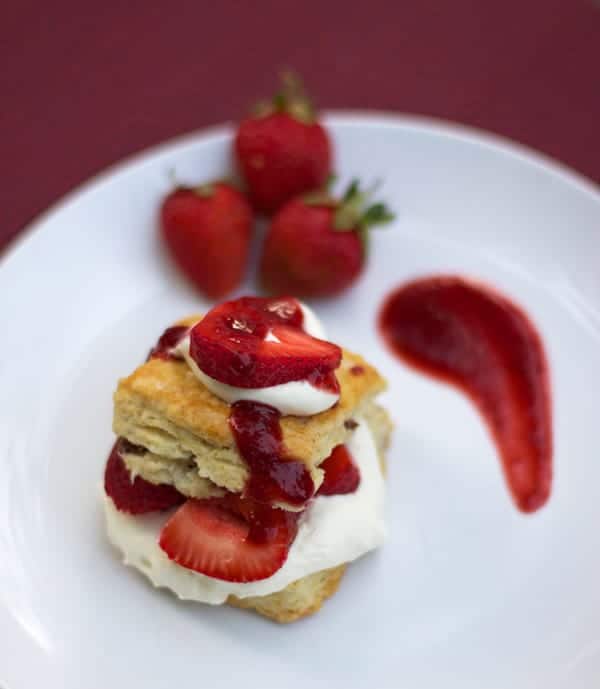 Hubby and I have spent the last couple weeks trying to come up with a smoked strawberry jam recipe that is neither too smoky, nor too sweet. We first tried to smoke fresh strawberries on the new wood fired smoker. Too smoky! We then tried it on the cold smoker attachment for the Traeger pellet smoker. Just right.
We also discovered that you can make the jam first (on the stovetop), then put the finished jam in a heat proof bowl and place it on the smoker for one hour. This will also get you that smoke infusion we were searching for. No matter how you do it, smoked strawberry jam is da bomb! And it's ridiculous with the smoked bacon biscuits.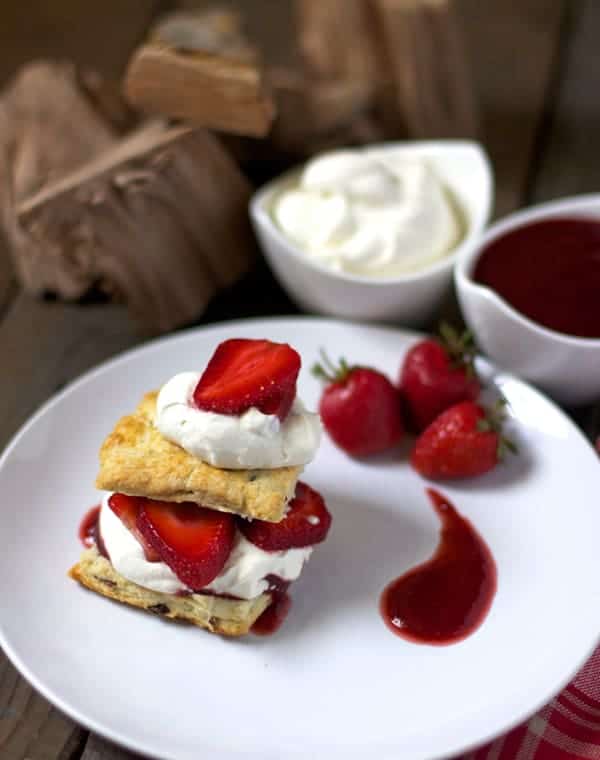 Now, I'm not gonna lie, this recipe takes some time. But believe me it's worth every minute you put into it. And if you're planning to use the smoker to cook up your dinner anyways, why not maximize the real estate by adding some strawberries? They don't take up much space.
You start by smoking your strawberries and bacon.
Place 1 lb of cleaned and stemmed strawberries and place the on some aluminum foil.  Place on the smoker for two hours.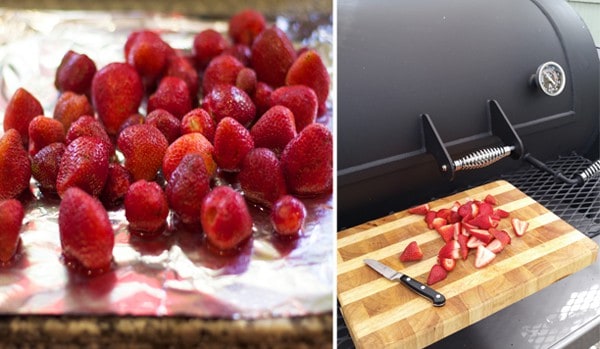 At the same time you can smoke your bacon.
When the bacon is cooked and cooled, dice it up and make your biscuits.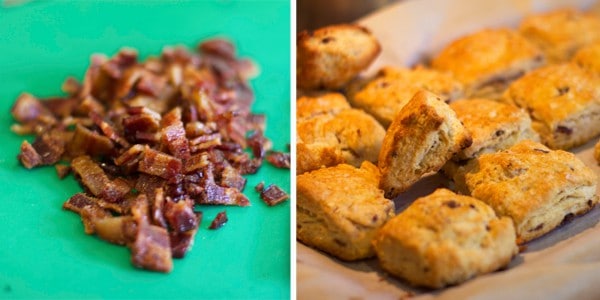 While the biscuits are cooking make your smoked strawberry jam.
While the jam is cooling, prep the rest of the strawberries and homemade whipped cream for your dessert.
Of course the jam and the biscuits can all be made ahead of time as well.  
Smoked Strawberry Shortcake with Smoked Bacon Biscuits

This twist on a summertime classic starts with biscuits that have been cooked with chopped up pieces of smoked bacon, layered with smoked strawberry jam, fresh strawberries, and topped with homemade whipped cream.
Smoked Strawberry Jam
2 cups Smoked Strawberries (see below)
1 cup sugar
Juice of ½ an orange
Zest of ½ an orange
1 tablespoon aged balsamic vinegar
1 teaspoon salt
For the smoked strawberries and jam
Preheat cold smoker from 120 – 140 degrees.
Cut strawberries in half and place on aluminum foil.
Put foil with strawberries in smoker for two hours.
Remove from smoker and put the strawberries into a sauce pot.
Over medium heat add sugar, orange juice, orange zest, balsamic vinegar, salt, and let come to a simmer for 10 minutes, stirring often with a whisk.
After 10 minutes, use an immersion blender and blend into a consistent texture and remove any chunks.
Place the mixture into a heatproof glass bowl and place back into a smoker for another hour and remove.
Let cool and then place in fridge until ready to use. Should yield about 2 cups of jam.
Alternative:  If using a standard smoker (not cold smoker), smoke the strawberries at 225 – 250 for one hour, and for the finish only leave the jam on for an additional 30 minutes. Just be careful to not over smoke. We just want a mild smoke infusion for the jam.
Smoked Bacon Biscuits
Inspired by Ina Garten's biscuits
6 ounces of thick cut bacon, cooked and diced (see below for smoking instructions)
2 cups flour
1 tablespoon baking powder
1 ½ teaspoons salt
12 tablespoons cold unsalted butter, diced
½ cup whole milk
1 cold egg
1 beaten egg (for egg wash)
To make the smoked bacon
Preheat smoker to 250 degrees and place thick cut bacon on smoker for two hours (or until crispy) and remove. Allow to cool, then dice.
Biscuits
Preheat the oven to 425 degrees F.
Place 2 cups of flour, the baking powder, and salt in the bowl of an electric mixer fitted with the paddle attachment. With the mixer on low, add the bacon, butter and mix until the butter is the size of peas.
Combine the milk and egg in a small measuring cup and beat lightly with a fork. With the mixer still on low, quickly add the milk mixture to the flour mixture and mix only until moistened.
Dump out onto a well-floured board and knead lightly. Roll the dough out to a rectangle 10 by 5 inches. With a sharp, floured knife, cut the dough lengthwise in half and then across in quarters, making 8 rough rectangles. Transfer to a sheet pan lined with parchment paper. Brush the tops with the egg wash, sprinkle with salt, if using, and bake for 20 to 25 minutes, until the tops are browned and the biscuits are cooked through.
Macerated Strawberries
1 lb strawberries, stemmed and sliced thickly
1 tablespoon sugar
Mix strawberries with 1 tablespoon sugar in a large bowl. Cover and refrigerate for about 30 minutes.
Whipped Cream
8 oz cold heavy whipping cream
1 tablespoon sugar
1 teaspoon pure vanilla extract
Using a mixer beat the heavy cream, sugar, vanilla, on high, until soft peaks form (about 1 1/2 to 2 minutes).

Tip: It helps to have a cold metal bowl to make your whipped cream. I like to place my metal bowl in the freezer for a few minutes prior to making the whipped cream. It helps for the peaks to form.
To Assemble
Take a biscuit and open it down the center.
Place a spoonful of the smoked strawberry jam on the bottom of each biscuit.
Add a spoonful of the fresh strawberries, and top with a dollop of the whipped cream. Add the top piece of the biscuit and spoon more strawberries and more whipped cream to the top. If you wish, add another drizzle of the jam.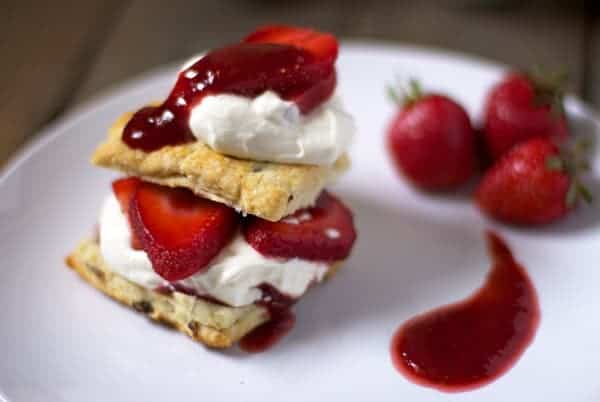 I know this may seem a bit over the top, but that's just how we roll. If you're looking for a cocktail just as over the top as this strawberry shortcake recipe, I suggest you check out these Smoked Bloody Mary's with Smoked Bacon. Ooh yeah.
*****
Want more barbecue recipes and tips? Check out the recipe index on the blog for recipes and wine pairing ideas. 
Or just enter your email to subscribe to new blog posts and recipes posted here on Vindulge, delivered directly to your inbox.