Eggs Benedict made with Smoked Salmon. And I'm not talking about lox. Nope! Instead, a delicious salmon filet slow smoked until tender and delicious, topped with a perfect poached egg and a flavorful hollandaise sauce.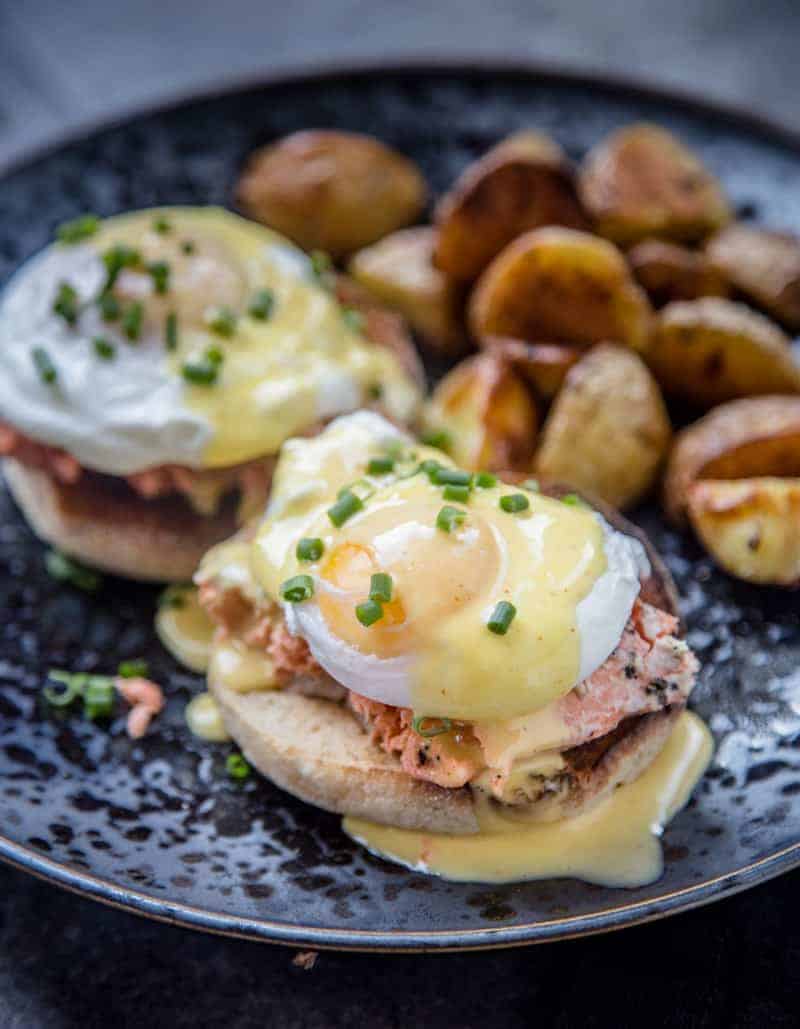 Eggs Benedict is my all time favorite breakfast, and one in which I judge all breakfast restaurants by. If they're known as a good brunch place, and they offer a Benie, I'm getting it. If it passes the Benie test, then they're solid in my book.
One restaurant in Portland that won with flying colors is The Country Cat, with an incredible Eggs Benedict served over a homemade buttermilk biscuit and with either smoked ham or smoked salmon. Being that we're smoked salmon freaks in our house I had to compare.
Hot damn, that is one great breakfast. They don't kid around.
So since I had that first version a few years ago, it's become a staple in our house. And now that we live in the actual country, far away from any restaurants, and especially The Country Cat, homemade is now how I get this dish.
And with Mother's Day coming up, I thought I'd share my annual Mother's Day Breakfast.
How to Make Smoked Salmon Benedict 
The Cut — Which salmon to use
This is not to be confused with lox (which is what you often see served with cream cheese and a bagel with capers).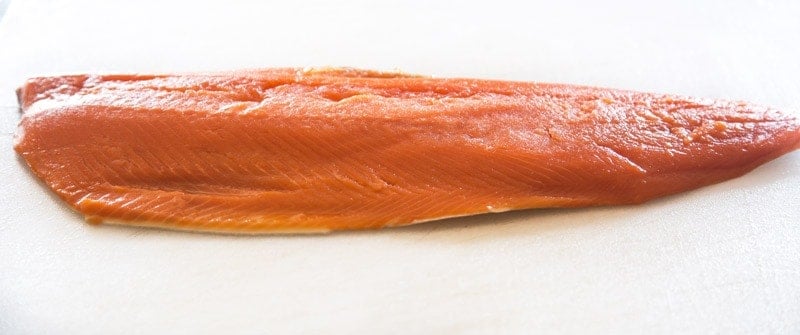 Quite often when you see "smoked salmon," especially at a grocery store or restaurant, it is cured and then smoked. That's the simplest way to define it (or "Lox").
Smoked salmon, the way we do it, is simply seasoned and smoked (not cured or brined). We're eliminating the curing and brining. It's not needed when you have a great piece of salmon screaming for that smoker of yours. You will often see this as "hot smoked" (vs cold smoked, which is cooking at around 80-100 degrees). Yes, you can still brine it, but that's your call.
Simply put, we are just cooking a salmon filet on our smoker much like we do most other meats on this website. Think of it as a hot smoked salmon.
The Preparation/Seasoning
With salmon, our favorite way to prepare it is by coating with Dijon mustard, and then rubbing with salt and pepper. Since we're incorporating it into the Benedict dish, we're not trying to overpower it with a bunch of different flavors here. We want to enhance just the pure delicious fresh flavor of the salmon.

How to Cook Salmon on the Smoker
For this we are setting the smoker to 225 degrees F.
Alternatively, you can grill your salmon if you would like on a cedar plank.
Heck, if you are inspired by this dish, you can even use leftover salmon from the night before. But our #1 recommendation, if you can, is to smoke it with method 1.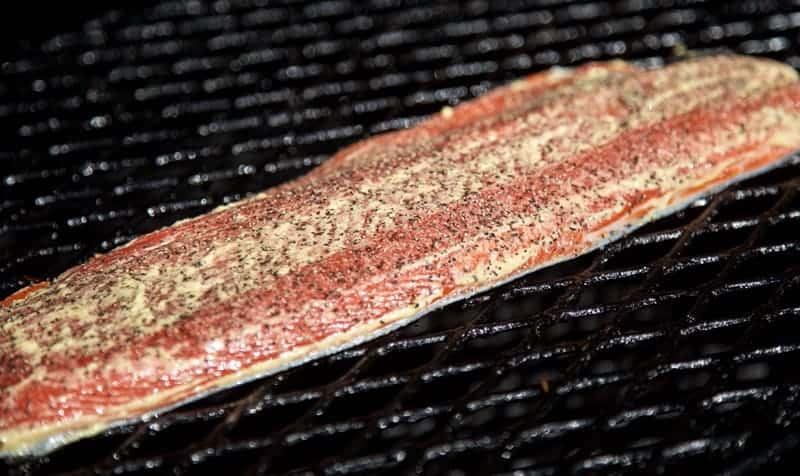 The Benedict
Next all you have to do is make your blender hollandaise sauce, poach your egg, and prep your bread. At The Country Cat they use a house made buttermilk biscuit. You can use a biscuit, or go traditional with an English muffin like we have done here. See the video for our easy blender hollandaise sauce (below).
Enjoy!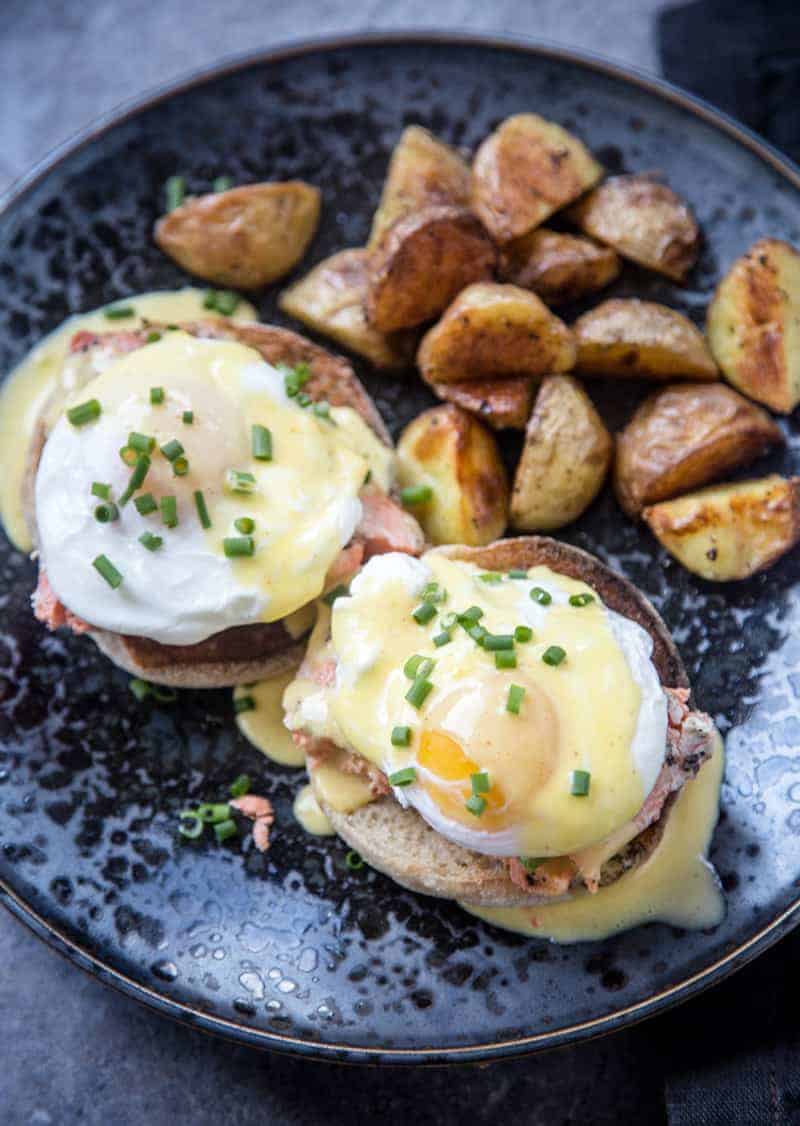 That's it. It may seem complicated to make eggs Benedict, especially with the added smoked salmon, but it's really not. It looks much fancier than it really is. It's just about following some simple techniques for great results. This is truly an indulgent and elegant breakfast that is certain to win over someone special…. especially for Mother's Day! Believe me, I know.
Video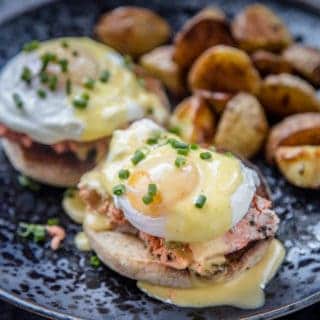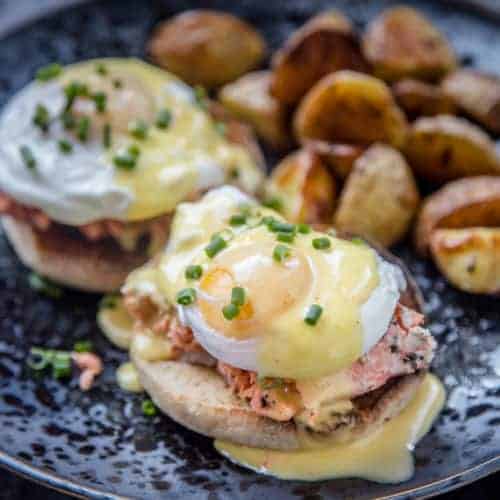 Smoked Salmon Eggs Benedict
Eggs Benedict made with Smoked Salmon. A delicious salmon filet slow smoked until tender and delicious, topped with a perfect poached egg and a flavorful and easy blender hollandaise sauce.
Print
Rate
Ingredients
The Smoked Salmon
1

lb

salmon wild or line caught salmon (can be Coho, Chinook, etc.)

1

tablespoon

Dijon mustard

1

tablespoon

salt & pepper blend (equal parts)
Easy Blender Hollandaise Sauce
1

stick

unsalted butter (8 tablespoons)

4

egg yolks

juice of 1/2 a medium sized lemon

1/8

teaspoon

cayenne pepper

1/8

teaspoon

salt (just a pinch!)
Eggs Benedict
Smoked Salmon

separated into 2″ length slices

2

English muffins (cut in half and toasted)

1

tablespoon

chives, diced, for garnish
Instructions
To Smoke the Salmon
Preheat the smoker to 225 degrees F using fruit wood.

About an hour before smoking, season salmon with Dijon mustard, salt and pepper. If there are pin bones consider removing them (or have your butcher do it for you).

Place salmon directly on your smoker (after it's been preheated 30-45 mins). If you used farmed salmon (with more fat content) it may take longer. Always adjust for internal temperature.

Pull salmon off smoker when internal temperature reaches 145 degrees. You can slice meat or pull into small pieces to see if cooked through as well. Remove and cut into about 2″ length slices in preparation for the Benedict.
Easy Blender Hollandaise Sauce
Melt butter in a small saucepan until hot

In a blender, add the egg yolks, lemon juice, cayenne pepper, and salt, and blend for 20-30 seconds on LOW.

***(see notes)

While the blender is still going on low, remove the lid and and slowly add the hot butter to incorporate into the egg/lemon mixture, and keep blending, on low, for an additional 20-30 seconds until the sauce thickens.

To Assemble the Benedict
In a medium sized sauté pan add water until the pan is about half full. Bring the water to a simmer. Break eggs, one at a time, in a small ramekin, then slowly add each egg to the water and cook about 3-4 minutes, keeping a close eye on the eggs, and gently spooning a tablespoon of water over the top of the egg, until you see the eggs slowly coming together. *The eggs should be firm, but yolk soft inside. Remove the eggs with a slotted spoon and set aside on a paper towel to soak up excess water.
Toast your English muffins.
To assemble: layer the English muffin with a generous amount of smoked salmon, then add the poached egg, and top with the Hollandaise sauce. Garnish with fresh dill.
Notes
Blending the egg yolks and lemon before adding the butter is crucial to the texture of the hollandaise sauce. If you add the hot butter too soon you run the risk of a thin and watery sauce. You want it thick and creamy. Emulsifying the yolk first, then adding the butter, will help create a great creamy hollandaise sauce. 
---
Want more Brunch Recipes?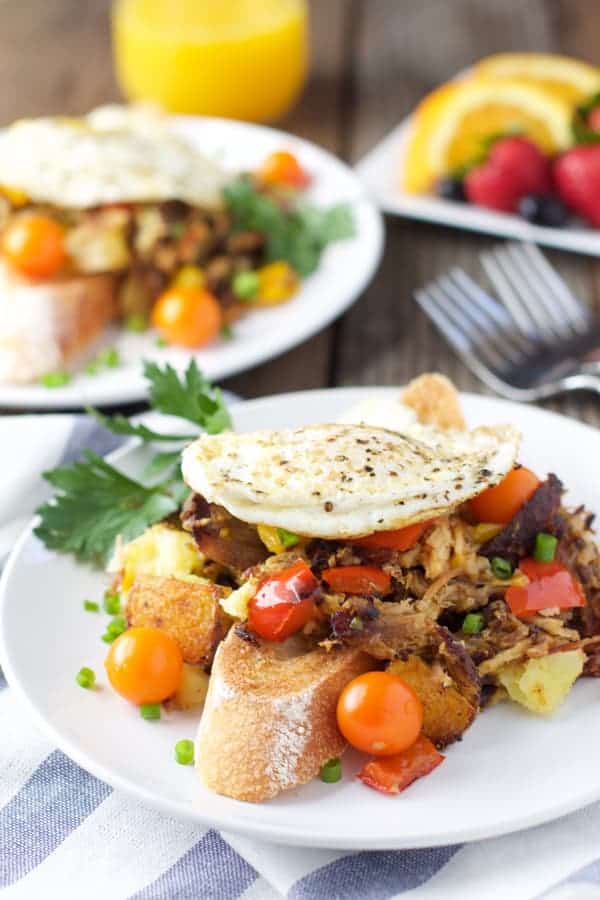 Want more Salmon?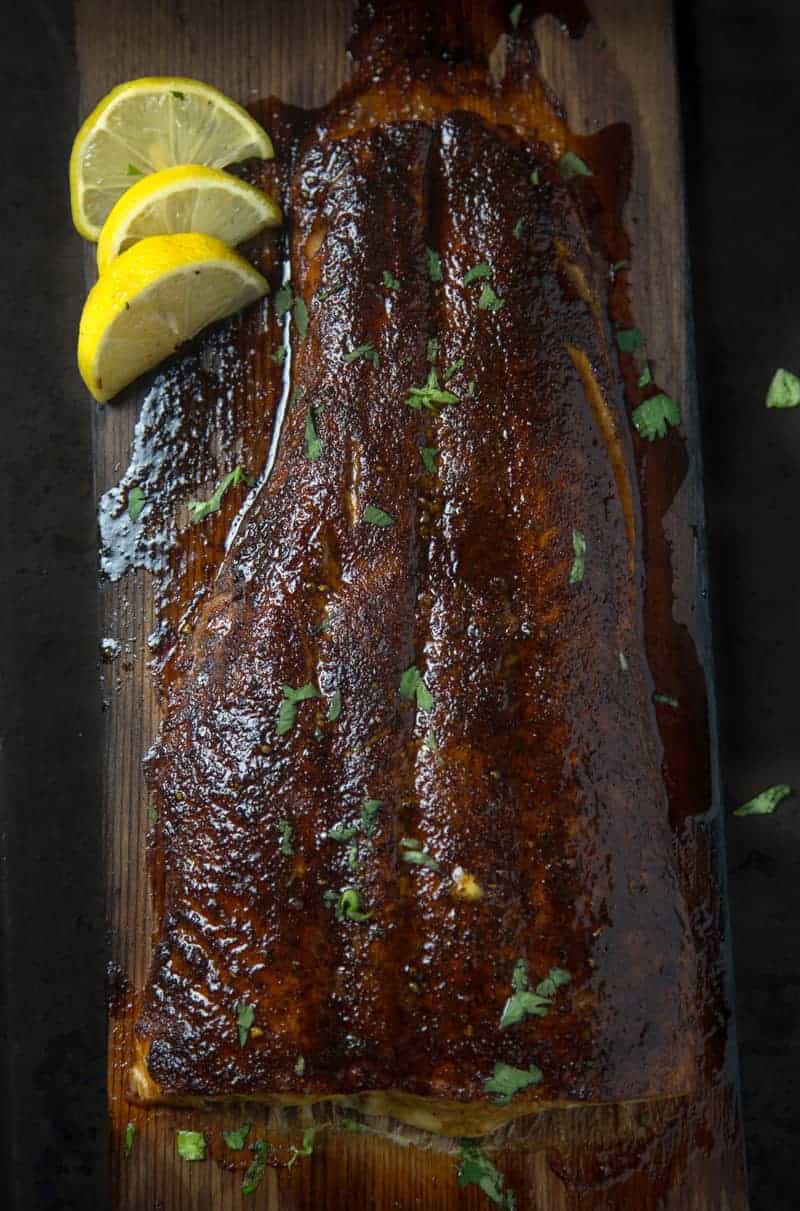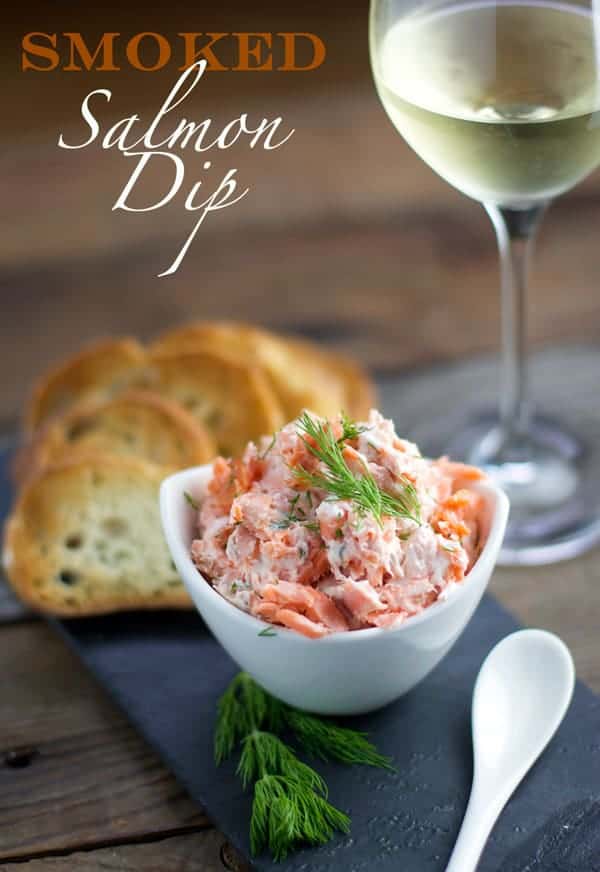 If you like this recipe we'd truly appreciate it if you would give it a star review! And if you share any of your pics on Instagram use the hashtag #vindulge. We LOVE to see it when you cook our recipes.
---