Our take on the best Dry Rub for Ribs is a balance of sweet and savory. A mix of brown sugar, kosher salt and savory spices makes this pork rib rub perfect for low and slow cooking.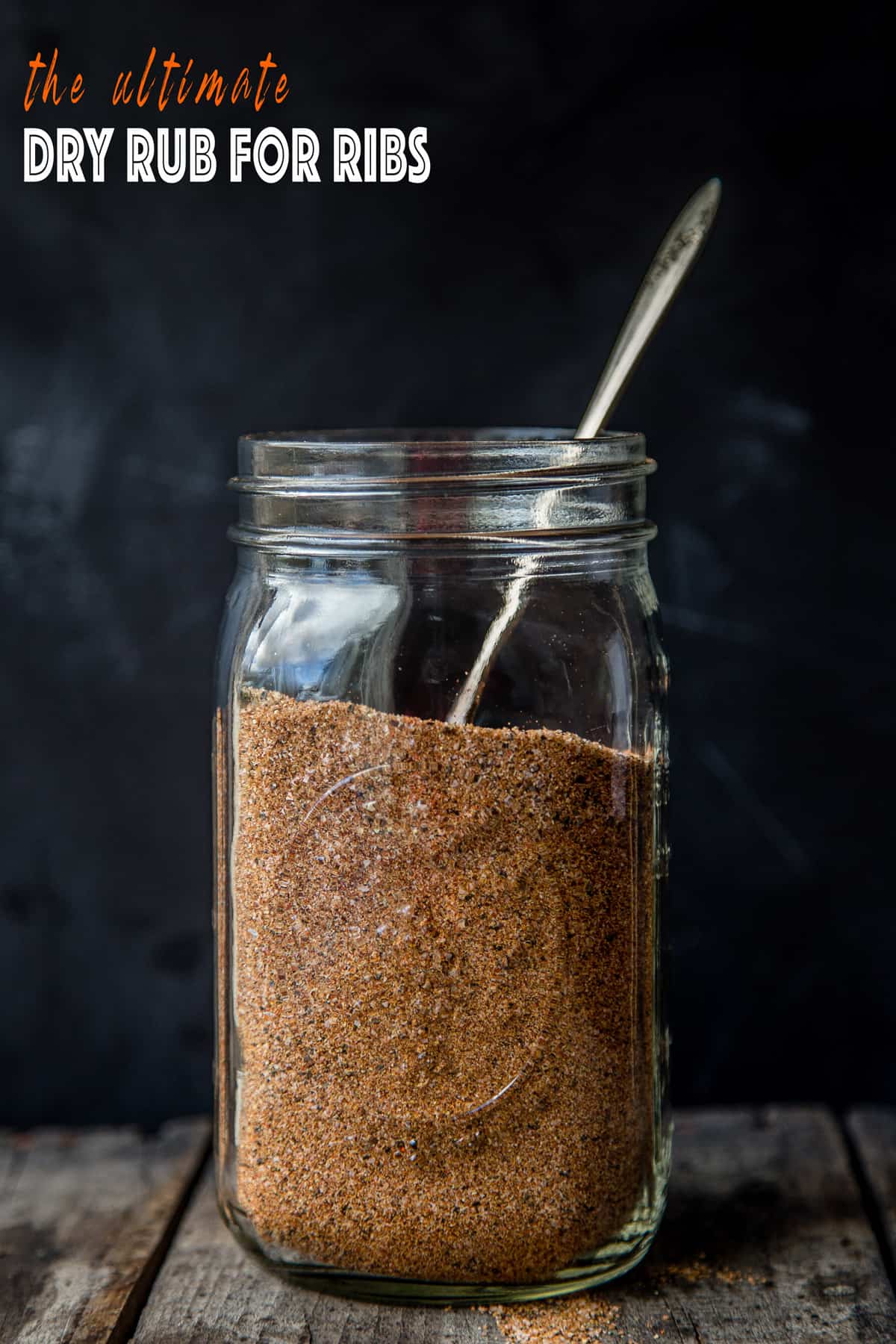 We love making our own dry rub. When we make a pork rib rub we focus on the flavors and the spice mix that will enhance a long, low and slow cook. And we like the flavors to balance out between sweet, salt, and savory. That means we are sugar forward in the ingredients so it slowly caramelizes over a long cook and is balanced out by savory components.
Jump to: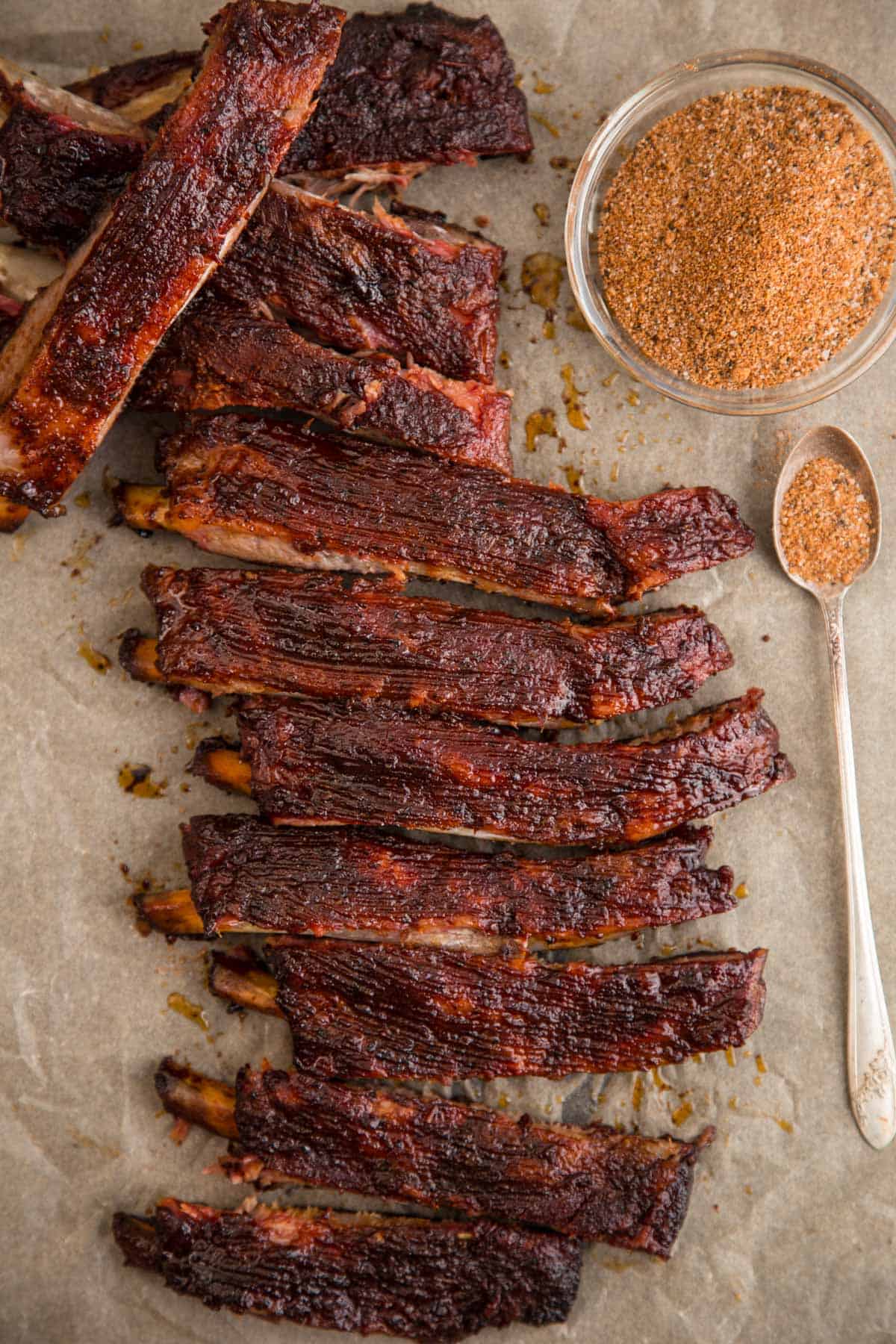 If you plan to grill pork over high heat like with grilled pork chops, use our savory style rub like our chicken seasoning. This is because it has no sugar, and when cooking over high heat sugar can burn quickly. So with high heat we tend to go no sugar. That is not a concern when cooking over a low heat (like we do for ribs).
Rib Rub Ingredients
The best way to make a homemade rib rub is to start with fresh ingredients easily available at the grocery store. And instead of secret ingredients, the real secret is to balance the flavor so it's overly sweet, hot, or savory.
Sugar: We use dark brown sugar as a base for the slightly molasses flavor and the size of the sugar crystals. 
Salt: Kosher salt is the preferred salt for the flavor versus iodized table salt. 
Pepper: Purchase coarse black pepper in bulk versus trying to use a grinder by hand  (it's just easier that way). 
Spice Blend: Paprika (versus smoked paprika) adds an earthy flavor. Ancho chili powder also brings a richness to offset the sweet. Dry mustard powder is a starch that gives density to the body. Granulated garlic (versus garlic powder) and onion powder both add a savory flavor similar to the kosher salt.
Optional heat: If you want heat then add 1 teaspoon of cayenne pepper.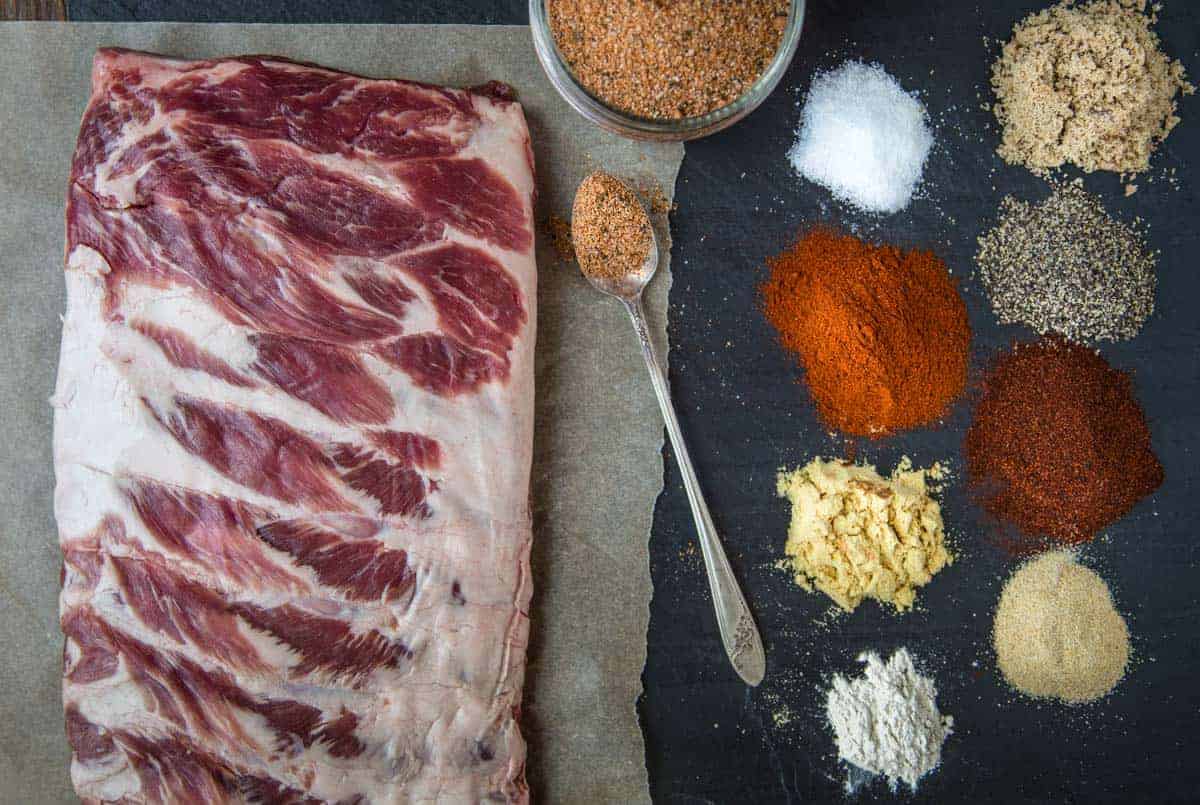 It's also easy to make this dry rub for ribs in bulk and use on barbecued pork ribs, pork shoulder, pork loin and any number of pork meats we like to smoke.
Types of Rib Racks
This homemade dry rub is perfect for baby back ribs or spare ribs (which may also be trimmed and called St. Louis style ribs). You can cook them in the oven, in a smoker, or in an instant pot.
For best results use a smoker. You can also make dry ribs without any barbecue sauce like Memphis style ribs. Alternatively you can add a sauce glaze at the end of the cooking process like with 3-2-1 ribs.
How to Make a Dry Rub for Ribs
For this pork rib rub intended for ribs we use our standard low and slow ratio of one cup of sugar to 1 cup of all the other ingredients.
Simply add all the dry rub ingredients into a bowl and mix. Be sure it's incorporated as the brown sugar is likely retaining some moisture and can clump.
After incorporating the ingredients use a funnel to get the dry rub into mason jar and enjoy!
Want more heat? Use more cayenne to spice it up.
Adjust the flavor as you see fit.
Applying to Ribs
The ribs need to be prepared before you apply the seasoning. There are two sides of the ribs. One with the meat and one with the bone. On the bone side you must remove the silver skin (a thin membrane) layer with paper towels and sharp knife. If there is excess fat on the meat side then trim some of the fat off.
After removing the silver skin apply the dry rub to ribs with a coating of Dijon mustard. This is going to help the rib rub adhere to the ribs and is called a binder. If you don't like Dijon, you can use yellow mustard or even olive oil instead.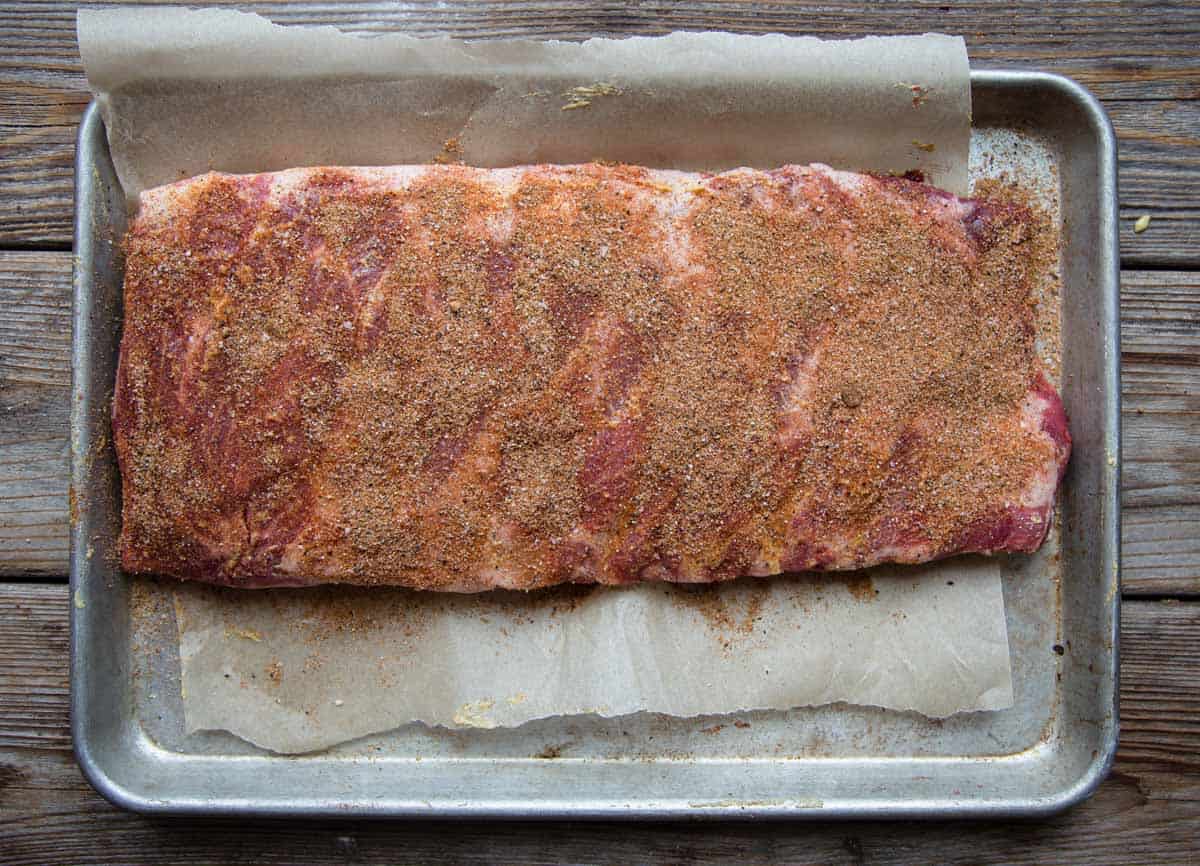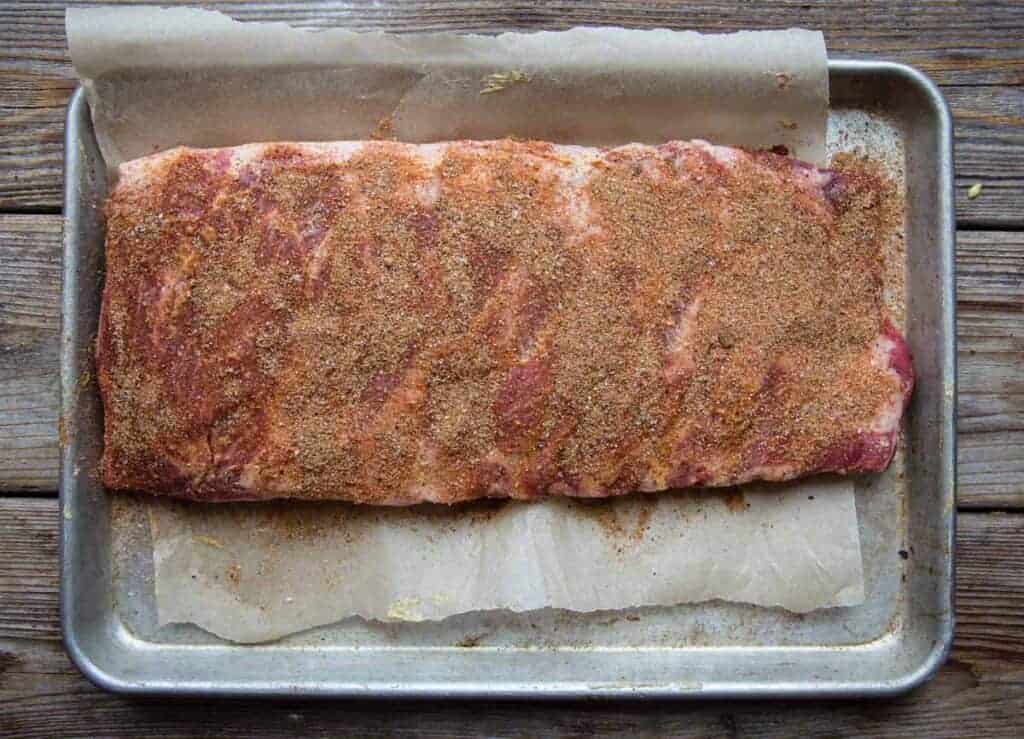 After the coating of Dijon, we season ribs with the dry rub, about 2 tablespoons of pork rib rub per rack of ribs (one tablespoon per side). Let the ribs sit with the dry rub for about 15 minutes before placing the ribs onto the smoker. You'll notice the dry rub begins to set and liquify a bit. You can also apply the rib rub the day before and then wrap in plastic wrap. Then when ready to cook, remove them from the plastic wrap and then smoke.
Storing
Make this and store in a mason jar, or similar airtight container, with the lid on tightly. This batch makes 2 cups of dry rub, so we place in a 16-oz wide mouth mason jar. You can also use smaller jars and give them away as gifts. Store a cool dark cupboard it lasts for months. If it starts to harden, simply take a fork, and mix it up or shake the jar.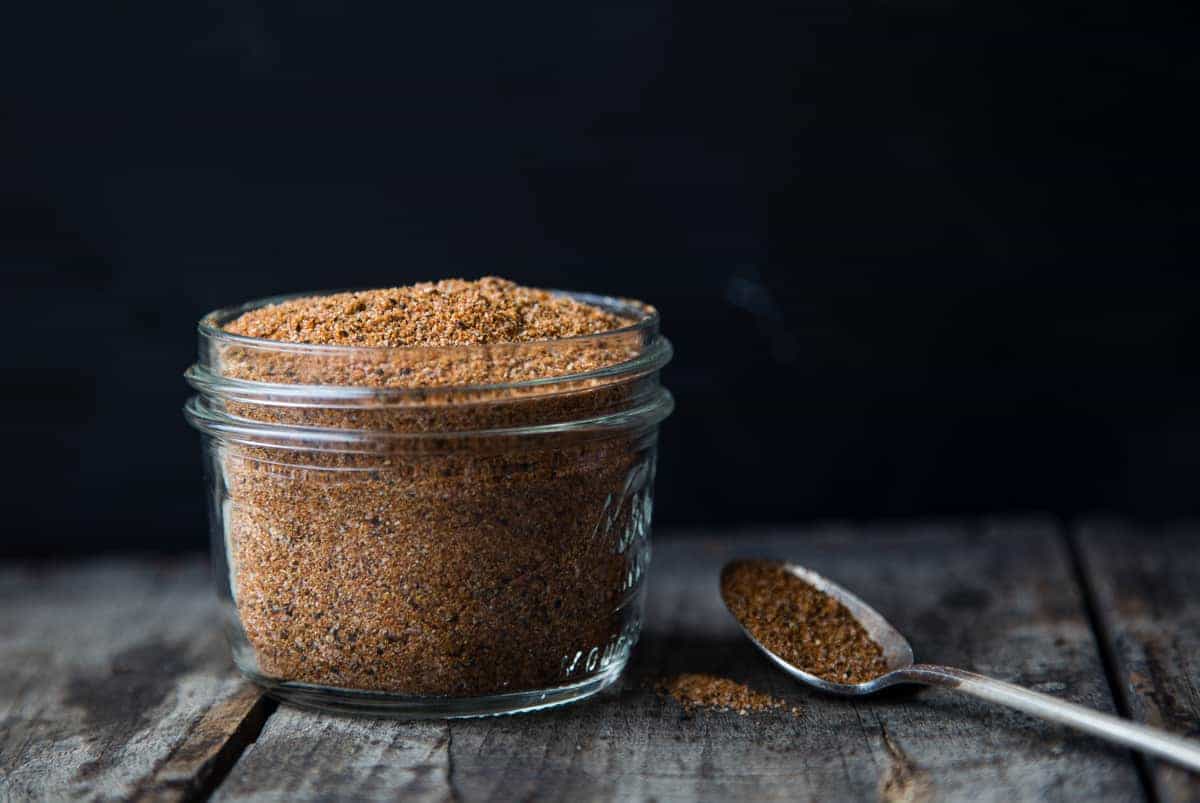 Other Seasonings
You can browse all our our best rub and seasoning recipes or check out a few of the following.
More Smoked Pork Rib Recipes
Mary (a certified sommelier and recipe developer) and Sean (backyard pitmaster) are co-authors of the critically acclaimed cookbook, Fire + Wine, and have been creating content for the IACP nominated website Vindulge since 2009. They live in Oregon on a farm just outside Portland.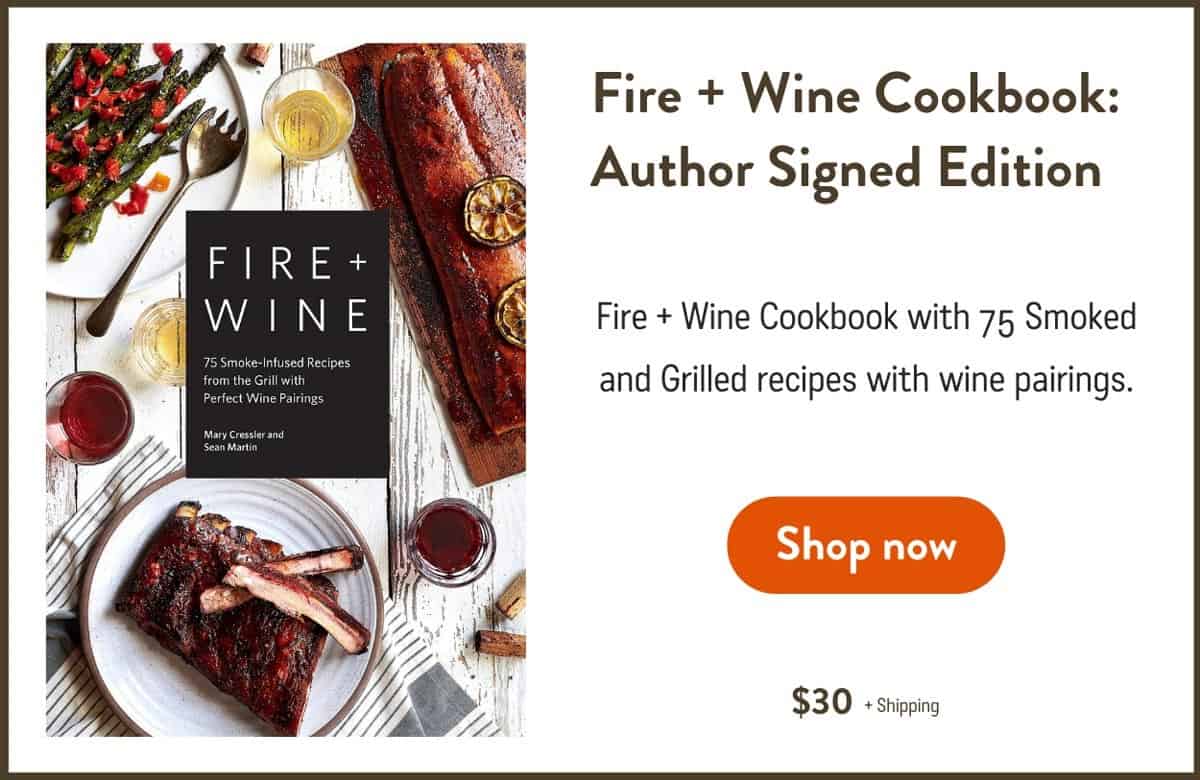 Tried this recipe? Give us a star rating and we would love to see! Mention @vindulge or use the hashtag #vindulge on all the social media handles. And consider subscribing to our newsletter where we drop all our favorite ideas and inspirations every week.
This post may contain affiliate links. This means if you click on the link, we may receive a small commission if you purchase through the link. We partner with brands we know and love and use and it helps keep the blog going!
---