Porchetta is an amazing combination of pork loin and pork belly wrapped with a savory filling. Roasted slowly in a smoker or grill, or cooked in an oven, this amazing Italian heritage cut of meat is a great holiday recipe for a crowd.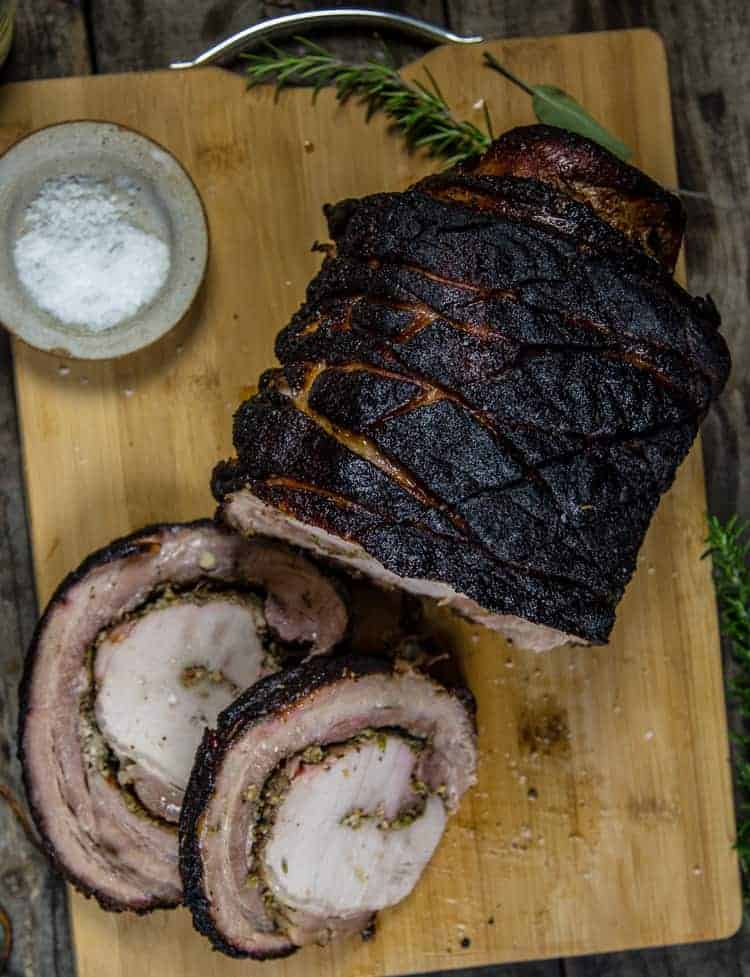 Jump to:
What is Porchetta
Porchetta is a classic Italian roast that is a combination of pork belly and pork loin. A portion of the pork loin is still attached to the butchered belly allowing the roast to be rolled into a log. Most commonly spices, herbs, and vegetables are added to Porchetta prior to it being rolled.
It can also be referenced as pork roast, although that can be any large cut of the pig.
Traditional Porchetta was roasted over an open fire pit.
Where to Buy Porchetta
Typically Porchetta is seen around the fall and winter holiday months. You'll typically find Porchetta in two ways:
Porchetta will be sold either pre-seasoned, cut, and wrapped in butcher twine like this from Snake River Farms.
Or it will be pre-cut (not seasoned) and ready for you to provide your own seasoning.
If it's difficult to find it pre-seasoned and rolled then it is fairly easy to make your own. Start with a 2 – 3 pound pork loin (not tenderloin) and then, separately, a 6-pound pork belly (we like the skin removed).
You will then roll together the belly and the loin yourself. Wrap the Porchetta with butcher twine to keep the roll tight.
Porchetta will come with a belly that is either skin on or off. Both are delicious.
Chef's Tip: Call the butcher in advance. If they can make the Porchetta Roast or at least get it cut and prepped for you, it will save some time and allow you to focus on the seasoning.
How to Make Porchetta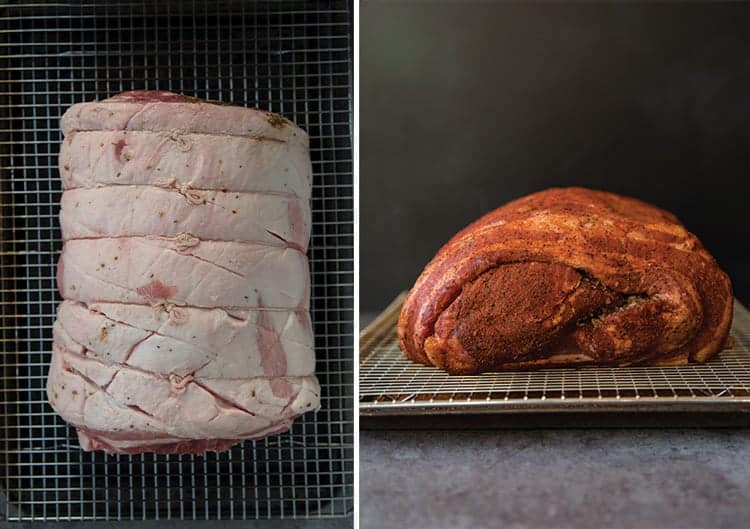 Follow the steps below.
We have to first trim the loin and the belly. Focus on removing any silver skin on the loin. For the belly, score the fat cap side of the belly with a series of ¼ inch X marks. On the flesh side of the belly remove any silver skin.
Lay the pork belly fat cap or skin side down. Coat the non fat or skin side of belly with olive oil and dry rub.
Coat the pork loin with olive oil and then place the pork loin on one side of the belly so the loin aligns with the sides of the belly. This is a good time to trim to make sure the belly and loin will fit. Once you roll, it's that much harder to trim.
Sauté leeks, garlic, and herbs for 10 minutes to soften. Layer onto the belly.
Using two hands and with thumbs under the belly and hands over the loin, roll the belly over the loin until the belly pinwheels over itself. If you have filling, don't roll too tight or the filling will squeeze out.
When done rolling take several pieces of kitchen or butcher twine, and tie them to hold the roast together. We use five pieces of twine for a 6 – 8 pound roast. (This is why you score the meat prior to rolling to avoid cutting the twine).
Lastly, coat the fat cap side of the belly with olive oil and a pork dry rub and let sit for 24 hours in the fridge to dry brine.
* If you purchased a pre-rolled and pre-seasoned Porchetta, then skip the steps above and simply score the fat cap of the belly, coat with olive oil and season with your favorite pork dry rub to the exterior. Season the roast 24 hours prior to cooking.
How to Cook Porchetta
Cook Porchetta in two stages. High heat sear and low heat finish.
High Heat Sear – Gives the Porchetta a nice bark on the exterior.
Low Heat Finish – Lower the temperature and finish the roast until the pork reaches your desired internal temperature.
Resting – It's critical for any roast to let rest tented in foil for 30 minutes prior to slicing. Resting allows the meat to slowly come down in temperature allowing the juices to re-absorbed back into the meat. If you slice too soon, it may seem juicy at first, but the meat will quickly dry out after the fact.
How to Cook Porchetta on the Grill
Our favorite Porchetta Recipe is to use a two-zone cooking method. Sear the meat first over direct heat and then move to indirect heat to finish.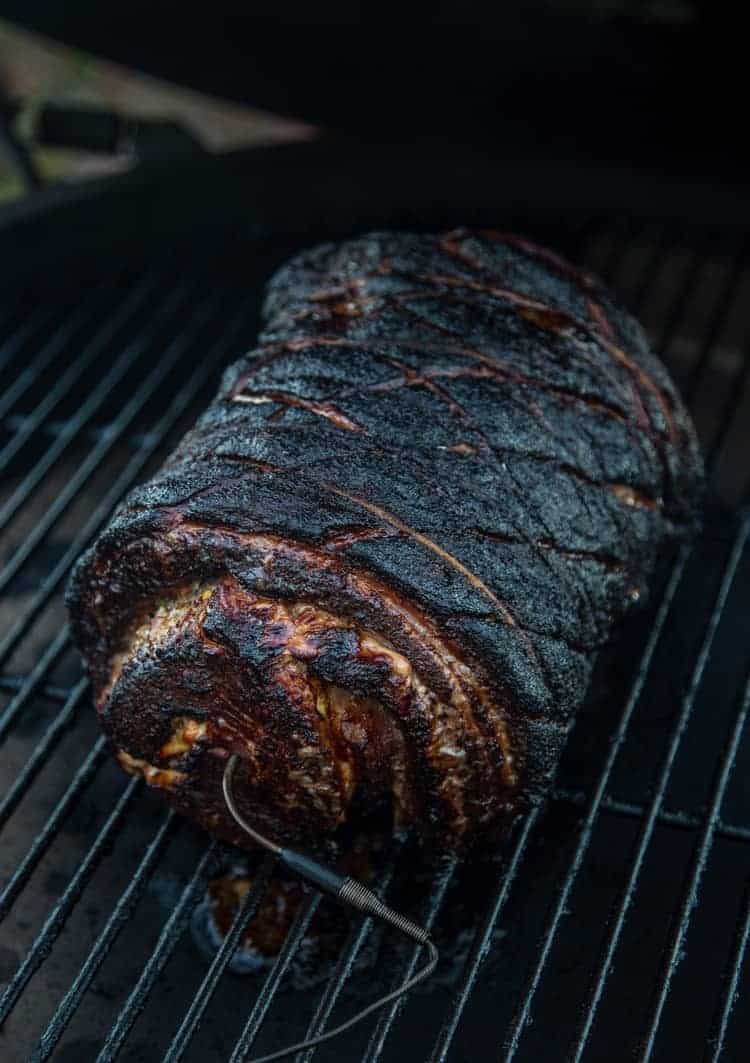 Season and prepare the meat as explained above.
Prepare the grill for two zone cooking with lump charcoal on one half of grill, and no charcoal on the other side. Or if using a Big Green Egg or other Kamado Grill start with the deflector plate off for direct heat.
Place the Porchetta over direct heat for 8 minutes, then rotate and grill over direct heat another 8 minutes.
Move to indirect heat to continue cooking. Remove the pork at 145 degrees F for medium rare pork.
After removing roast, tent with foil and let rest for 30 minutes prior to slicing.
Slice into pencil width slices and serve with your favorite sides.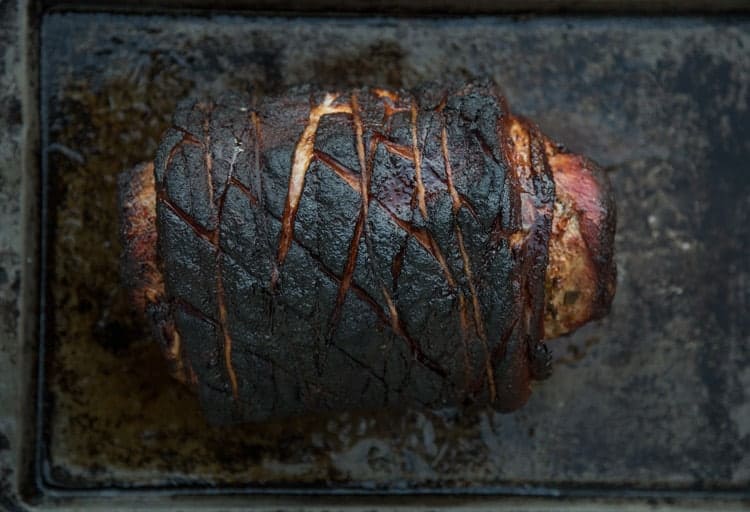 Chefs Tip: Grilling Porchetta on direct heat means there is a chance for flare ups, especially if the skin is removed from the belly. The time over direct heat will vary based on how hot the grill is. Keep grill closed as much as possible to minimize flare up flames from the oxygen. Simply rotate the Porchetta until you see a good crust form on both sides and then move to indirect heat.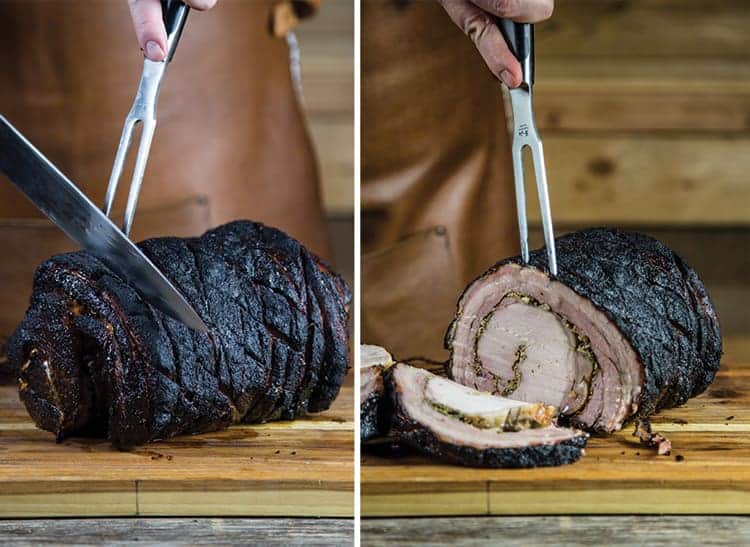 How Long Do You Cook Porchetta
Plan on 20-25 minutes of cook time per pound. When grilling it really comes down to the internal temperature of the meat. Using an instant read two zone thermometer like the Thermoworks Smoke Unit, you can insert the probe into the roast when you move to the indirect side.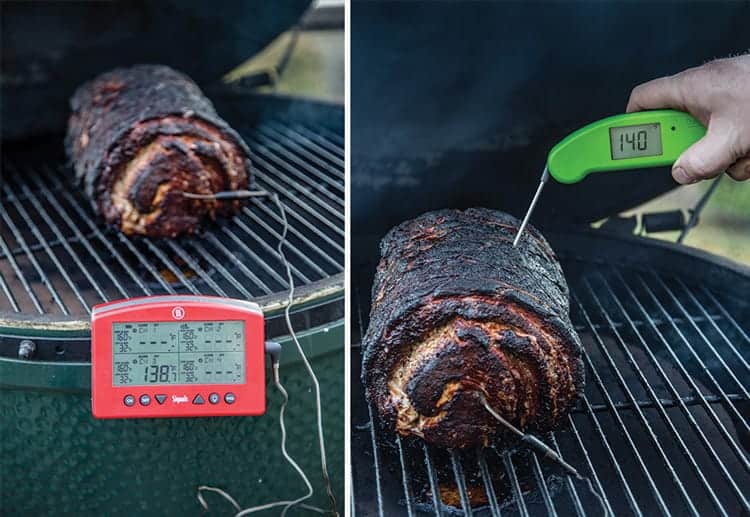 Monitor and pull the pork when the internal temperature reaches 145 F for medium rare pork (minimum USDA rating guidance). Supplement the Smoke Unit with a Thermapen allowing temperature checking in multiple places around the roast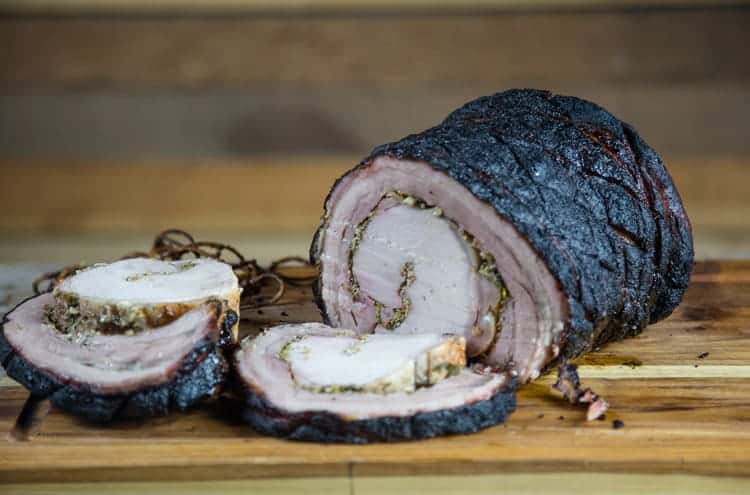 Sides to Serve with Porchetta
What Wine to Pair with Porchetta
The pork flavor combined with spices and herbs inside the roll make for a fun pairing. Look to a Pinot Noir from Oregon with nice acid and fruit. A hearty white like oaked CA Chardonnay is also a great idea. For something bright and fruity, Riesling works great with pork. For a splurge, consider Southern Rhone red blends as well. Find the wines we drink and love at VindulgeWine.com
Other Great Holiday Roast Recipes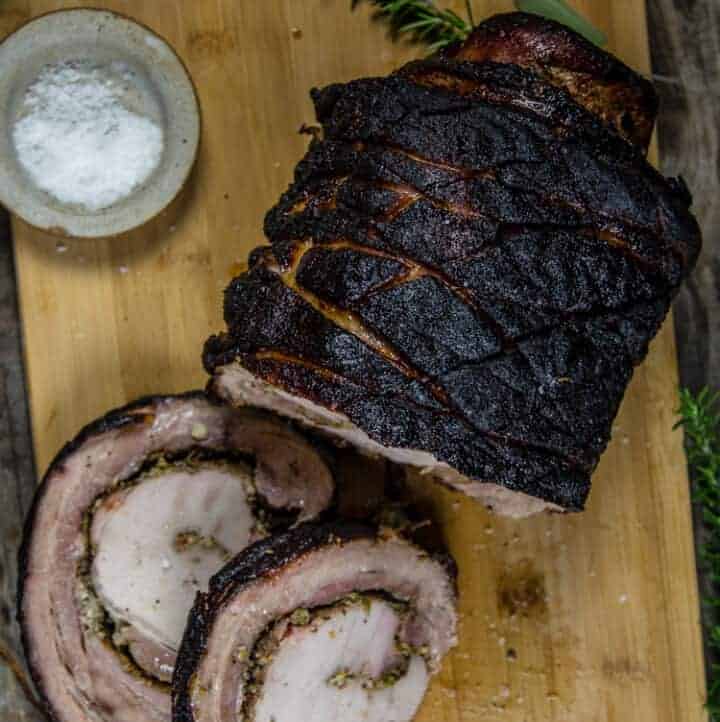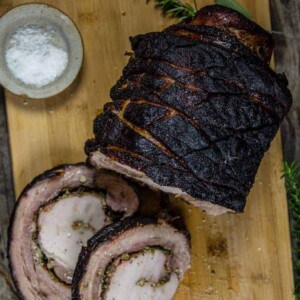 Porchetta Recipe for Smoker
A grilled Porchetta Roast perfect for a holiday meal or special occasion.
Print
Pin
Rate
Ingredients
1

8 pound

Porchetta prerolled and seasoned or butchered

2

tablespoons

extra virgin olive oil

¼

cup

pork dry rub
Porchetta Filling
2

tablespoons

extra virgin olive oil

2

tablespoons

pork dry rub

1

cup

diced leeks

4

cloves

garlic finely diced

2

tablespoons

diced fresh sage

2

tablespoons

diced fresh rosemary
Instructions
Porchetta Filling
Add olive oil to a medium sized skillet over medium heat. Add leeks and saute for 8 minutes or until soft. Add garlic and saute additional two minutes.

Continue adding sage and rosemary and saute an additional 5 minutes. Remove from heat and add to the pork belly prior to rolling the Porchetta.
Porchetta Roast
Coat the inside portion of Porchetta with 2 tablespoons of olive oil, dry rub, and filling. Roll the Pork Belly per the blog instructions and tie together with butcher twine.

Coat the exterior of the Porchetta with remaining olive oil and dry rub and filling. Place into the refrigerator covered for 24 hours to season.

Prepare the grill for two zone cooking and remove the Porchetta from the refrigerator.

Place Porchetta over the direct heat for 6 – 8 minutes or until you see a nice crust form. Rotate the Porchetta and cook over direct heat for additional 8 minutes or until you see a nice crust form.

Move the Porchetta to indirect heat, and add your meat thermometer probe into the center of the roast. Cook additional 2 hours and 30 minutes or until the internal temperature of the probe reaches 145 degrees F.

Remove the roast from the grill, and tent with foil. Let rest 30 minutes. Slice and serve with your favorite sides.
Find the perfect wine pairing at the Vindulge Wine Shop
Nutrition
Calories:
2423
kcal
|
Carbohydrates:
2
g
|
Protein:
43
g
|
Fat:
248
g
|
Saturated Fat:
89
g
|
Polyunsaturated Fat:
26
g
|
Monounsaturated Fat:
117
g
|
Cholesterol:
327
mg
|
Sodium:
146
mg
|
Potassium:
867
mg
|
Fiber:
1
g
|
Sugar:
1
g
|
Vitamin A:
103
IU
|
Vitamin C:
2
mg
|
Calcium:
57
mg
|
Iron:
3
mg
---
*This post contains affiliate links. We only recommend and promote products we use and love and contribute to great barbecued and grilled foods, like a good digital thermometer!
If you like these recipes we'd truly appreciate it if you would give this recipe a star review! And if you share any of your pics on Instagram use the hashtag #vindulge. We LOVE to see it when you cook our recipes.
---