There is something magical about a perfectly grilled chicken that has a sweet and savory glaze added to it for flavor. And there is no easier way to make it than with a simple chicken glaze. Find out the secrets to this easy grilled and glazed chicken.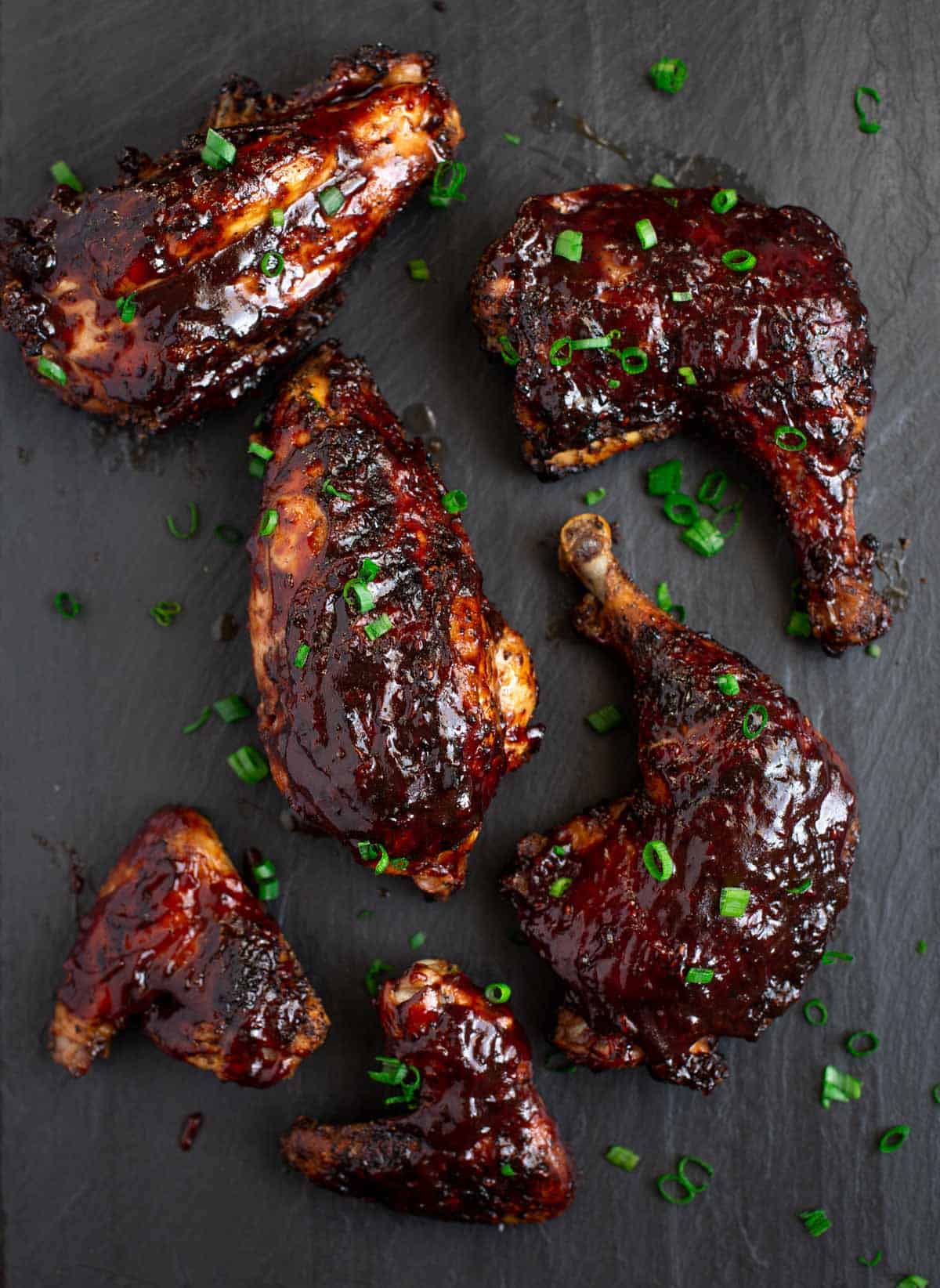 Chicken is a blank canvas, and with the correct technique, you really can make the flavors pop. There are tons of ways to consider doing it — brines and chicken seasoning for one. But for simplicity's sake, the basic chicken glaze is one of the best to master to add just a touch more flavor.
Jump to:
The Meat
First and foremost it starts with quality meat. Maybe it's the inner Ina Garten in me, I don't know, but I don't skimp on meat quality. I always chose free-range and organic skin-on chicken for this glazed chicken recipe. It is not cheap, but the reason I do is my preference on flavor, plus it just feels good.
When buying chicken to grill, I love a fully quartered chicken versus the entire roaster. If the meat counter not have it cut up just ask the butcher. They should be more than happy to do it.
Chicken Breast – I get it with the bone in. Not only does it add flavor, but when you let the breast cook, you cook bone side down protecting the meat from overcooking.
Chicken Wings – Don't be fooled, you need to do some trimming here. Check out this post for wings and preparation for smoked Buffalo chicken wings. These cook fast and can easily overcook. They are also insanely delicious.
Chicken Leg Quarters – This will be the leg and the thigh. You need to do a little butchering to separate the thigh from the leg, because often the leg/thigh combo is cheaper. In my opinion, the thigh is the best part of the chicken. Rich flavor, moist and the perfect bone to hold when munching.
Preparation and Seasoning
Trim off excess skin, bone fragments, and fat from the quartered chicken using a good boning knife. Typically it's the skin that hangs off the side of the thighs and the breast. In case you missed the memo, you don't want to "rinse and dry" chicken. The potential for cross-contamination is high and water makes it hard to season and let the rub stick.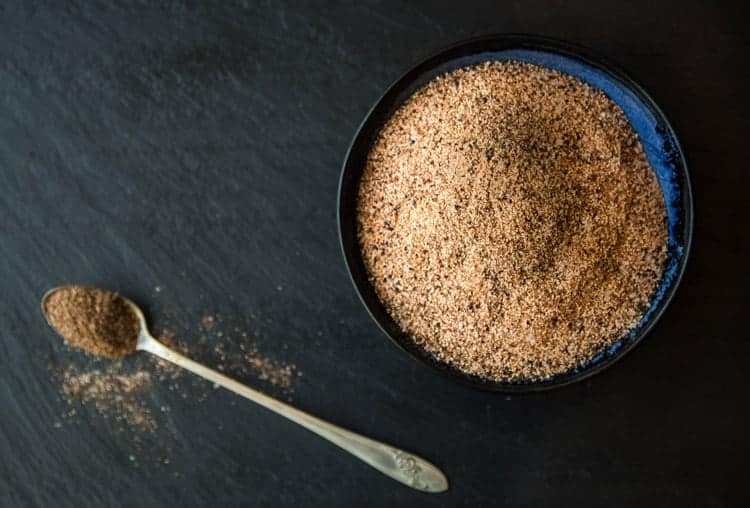 After the chicken has been trimmed coat with olive oil and liberally apply an herb-focused chicken seasoning. Avoid using a sugar-based seasoning since it's being grilled over direct heat.
The Glaze – Ingredients
All you need is a good Kansas City Style Barbecue Sauce and a fruit jam (we like raspberry). That's it. By combining the two it will thicken slightly and have a sweet and savory complimentary flavor. If you want more complicated sauces feel free to make your own as we have a variety of rubs and sauces to choose from. Easy but not compromising flavor.
Combine ½ cup of barbecue sauce and ½ cup of the jam over low heat and combine. Then it's ready to apply to the chicken.
Grilling Variations
Charcoal Grill – Using a chimney starter, prep your coals. Usually, it's 20 – 30 minutes to get up to temp. Set up the grill for an indirect cooking method. We prefer lump charcoal for the heat units it puts out and flavor.
Regarding Lighter Fluid – I don't use it, and never will. Nothing against it, but it's easy to get the coals lit using a chimney and avoiding any unpleasant odor or flavor from the stuff.
Gas Grill – Start some of your burners at a medium/high heat and let the grill grate get hot. I use the hand method, hover the hand over the heat, and if I can't let it linger to long, that's perfect for the sear. Leave some burners off so you can move the chicken to the indirect side after you get the right amount of char.
How to Grill Chicken
We have an entire tutorial on perfect grilled chicken with more details but the basic steps are below.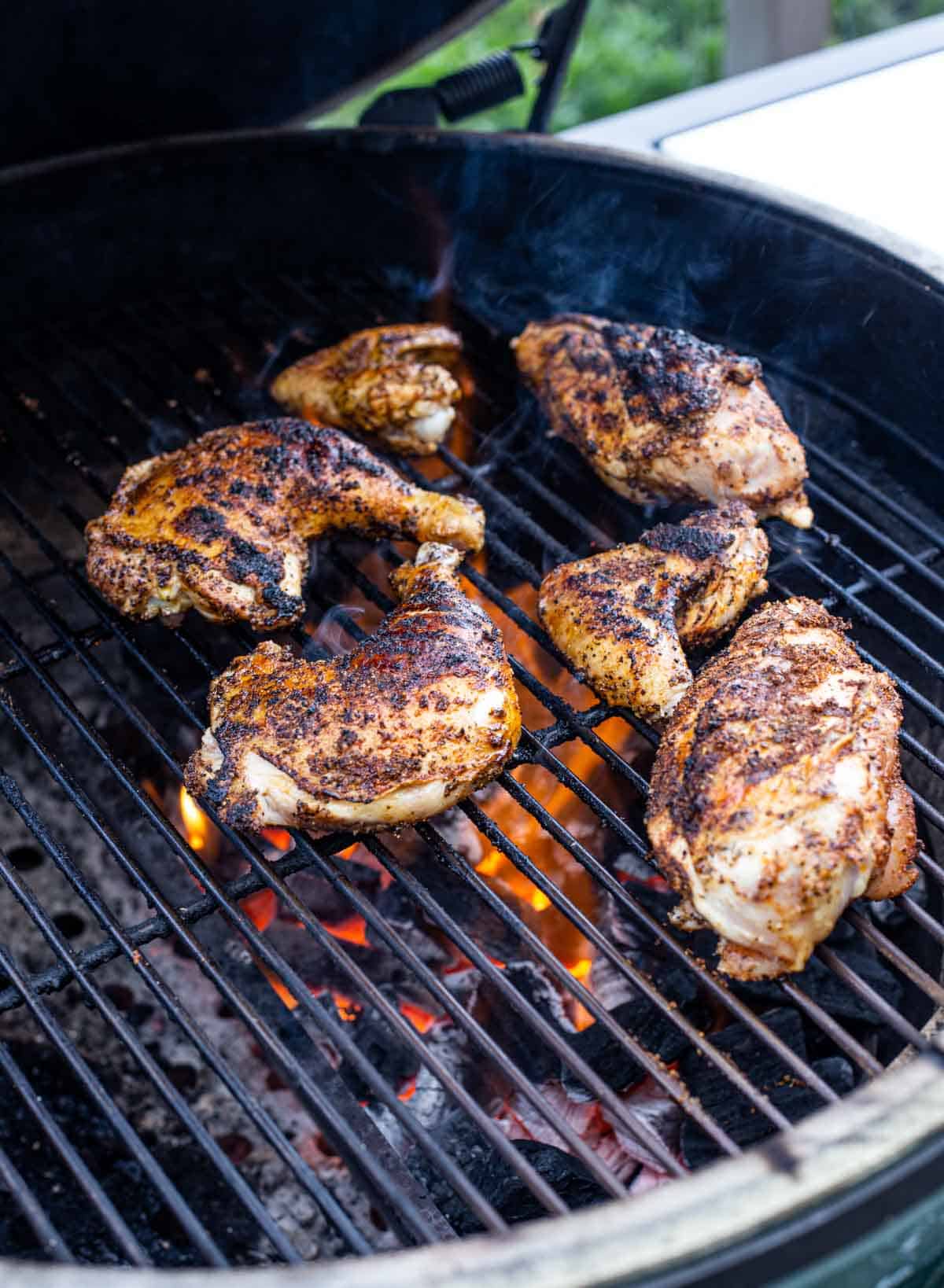 Prepare grill for two-zone grilling using lump charcoal and targeting 450 degrees Fahrenheit in the grill.
Season Chicken: Coat chicken in olive oil and apply dry rub. The rub will stick to the oil. Be sure to apply rub under the skin on breast, thigh and leg.
Grill Direct: Place chicken on direct heat skin side down for 4 minutes or until the skin has a good sear. Flip Chicken and then sear over direct heat for an additional 4 minutes to get a nice char.
Grill Indirect: Move the chicken to indirect heat and continue grilling covered until the internal temperature of the chicken reaches 155 degrees in the thickest part of the breast (about 15 minutes).
Glaze Chicken: When the meat reaches 155 degrees Fahrenheit brush the first coat of glaze over all sides of the chicken with a silicone brush and continue grilling, covered. When the chicken reaches 160 degrees F, remove it from the grill and apply the glaze a second time.
Serve after it rests for about 5 minutes.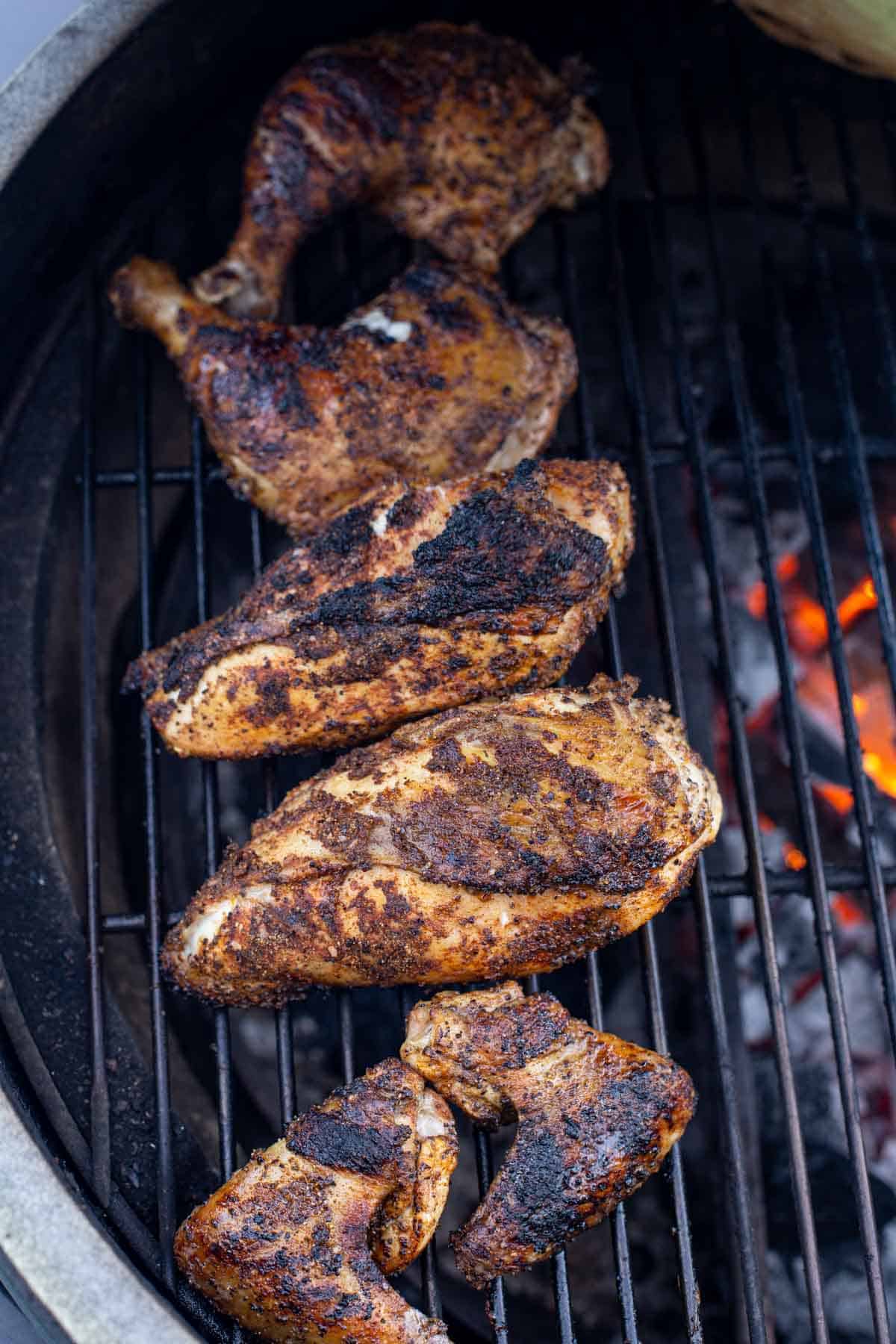 Monitoring Temperature

of Chicken

Chicken is done per the USDA when it reaches an internal temperature of 165 degrees Fahrenheit in the thickest part. But the reality is more complicated. Read our full guide on chicken temperature.
Chicken Breasts: We like to pull our chicken breasts off at 160- degrees Fahrenheit and let it rest. As it rests the internal temperature rises slightly to 165, and because it holds at that high heat, pasteurization kicks in and makes it safe to eat and very tender.
Chicken Wings, Thighs, and Legs: We like to take the internal temperature over 170 degrees to allow the connective tissue to break down.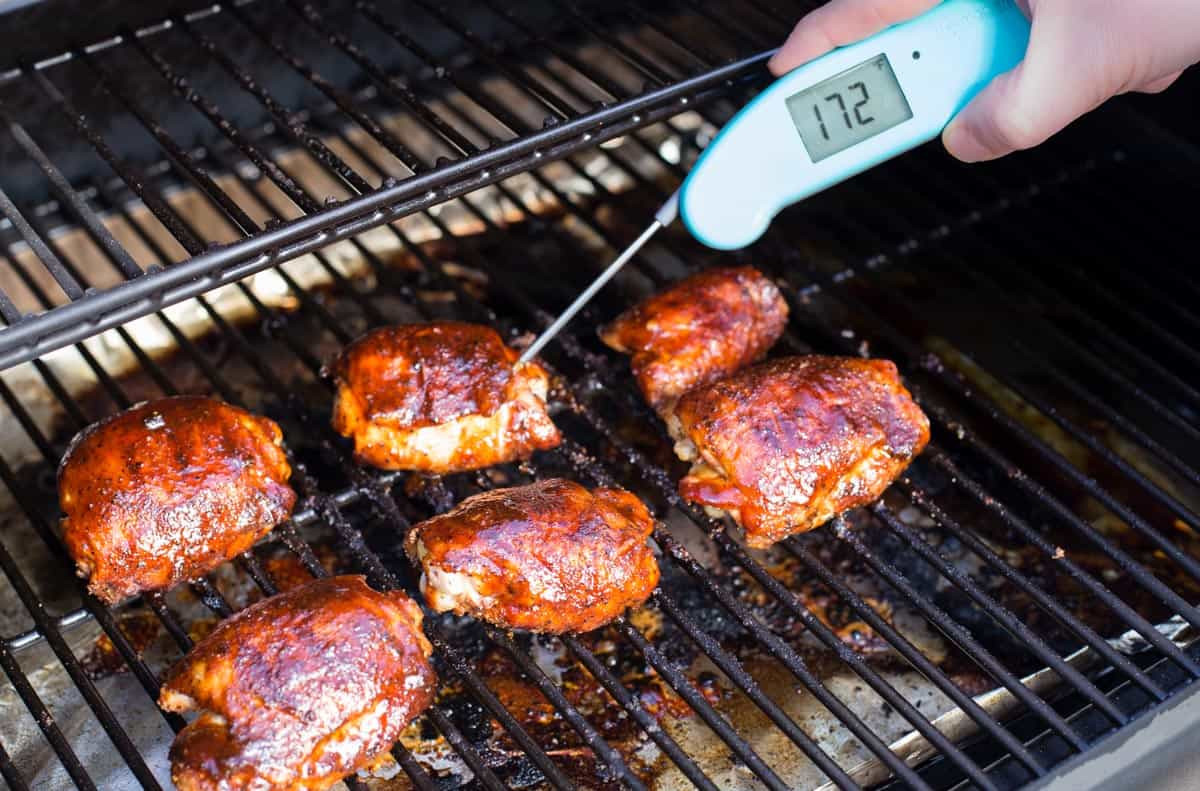 No matter your desired internal temperature it's critical to have a good instant read thermometer like the Thermoworks Thermapen One.
Modifications
Extra Flavor — Consider adding wood chips by placing in an aluminum foil with some holes poked in. You'll want a couple of bags prepped because one tends to burn up with a large handful in about 10 minutes. Place the bag over the direct heat right before you cover then replace as you see the smoke diminish.
Sides – Consider your favorites. I love roasted potatoes or grilled asparagus. For those wine lovers out there afraid of pairing asparagus with wine, once you grill it I find the texture and flavor to be very appealing as a pairing, so don't be afraid to serve it alongside your wine!
Other Great Glazed Chicken Recipes
Wine Pairing for Grilled Chicken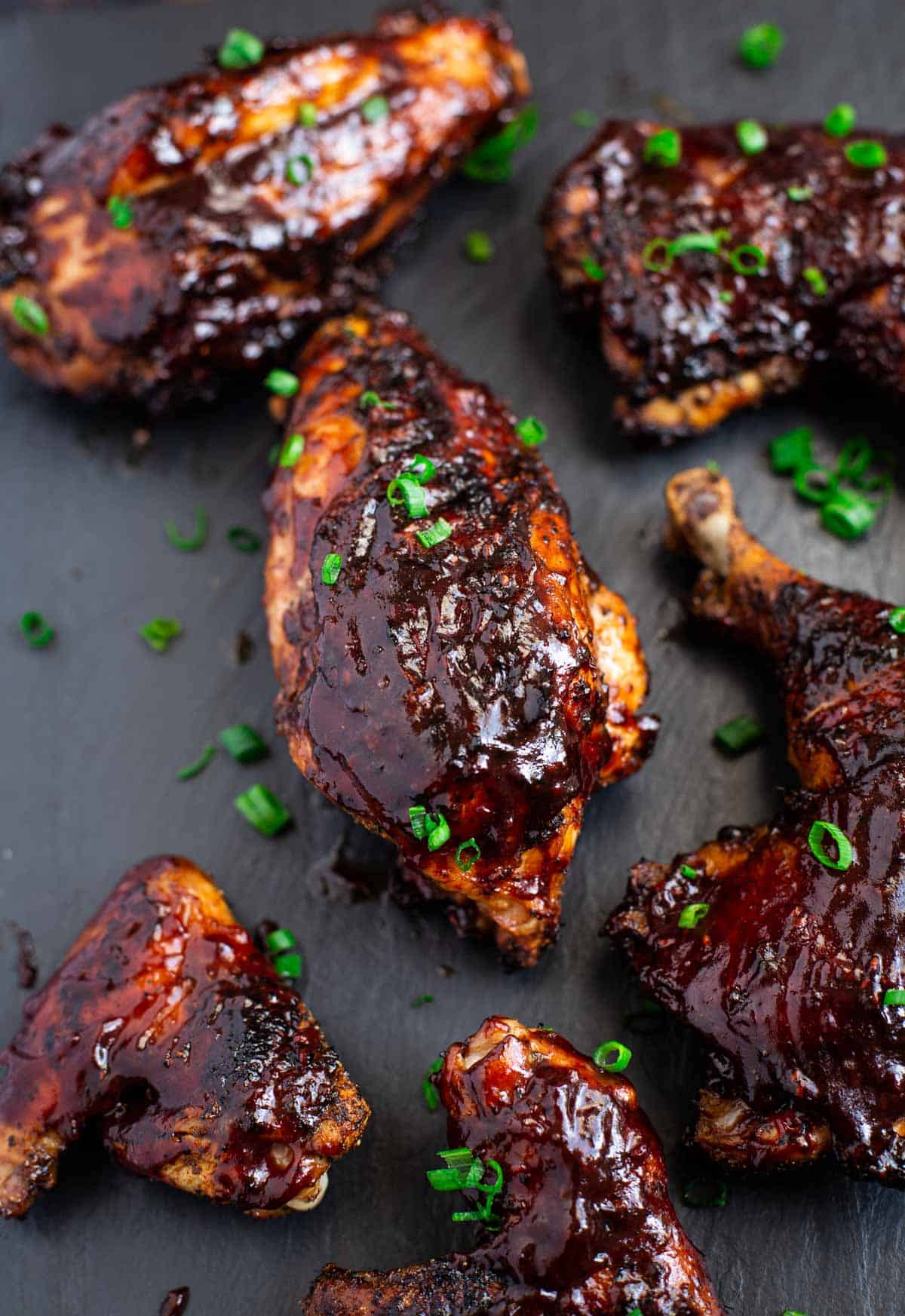 A girl's gotta open something while the cooking is happening. On a sunny spring day the answer is always rosé. Incidentally, a fruity rosé with strong acidity is a great match for the juicy chicken and chicken glaze. The fruitiness and slightly sweet flavors balance any heat you may have from your sauce.
Alternatively, a fruity red with good acidity is also great with the rich flavors of the sauce. Barbera is a great example of this. Just be weary of overdoing it on the sauce! No wine wants to compete with a pool full of sweet and spicy sauce.
Whatever your preference – crisp fruity rosé, or rich red – they both pair well with the meat.
---
*This post was originally published in April 2014, and updated in July 2022 with updated photos and cooking instructions. The recipe remains the same.
This post may contain affiliate links. This means if you click on the link, we may receive a small commission if you purchase through the link. We partner with brands we know and love and use and it helps keep the blog going!
This recipe was first published in April of 2014 and updated in July of 2022 with new photos and specific steps in the recipe.
---