I've wanted to post this recipe for Smoked Marinara Sauce for a long time. And since I was craving a hearty pasta dish to eat before running the Oregon Wine Country Half Marathon last week I thought it would be the perfect pre-race dinner and perfect opportunity to finally share this Smoked Marinara Sauce.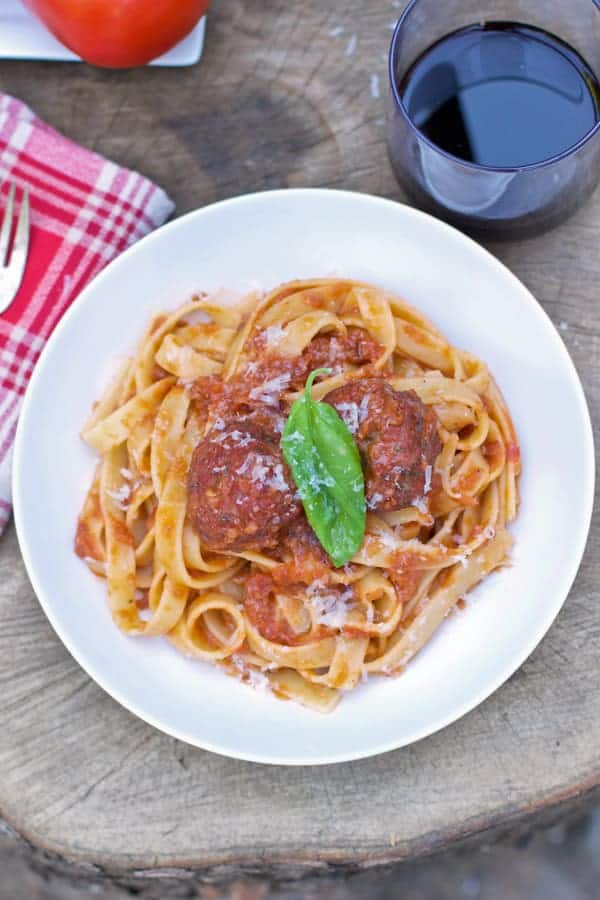 We first came up with a smoked marinara sauce back when we first started smoking tomatoes; right around the time we first posted our recipe for Smoked Bloody Mary's. We thought if smoked tomatoes taste this good in a bloody mary mix, they'd probably taste remarkable in anything requiring tomatoes? This Smoked Tomato Bisque is the perfect example of another use for smoked tomatoes.
So we worked on perfecting the sauce.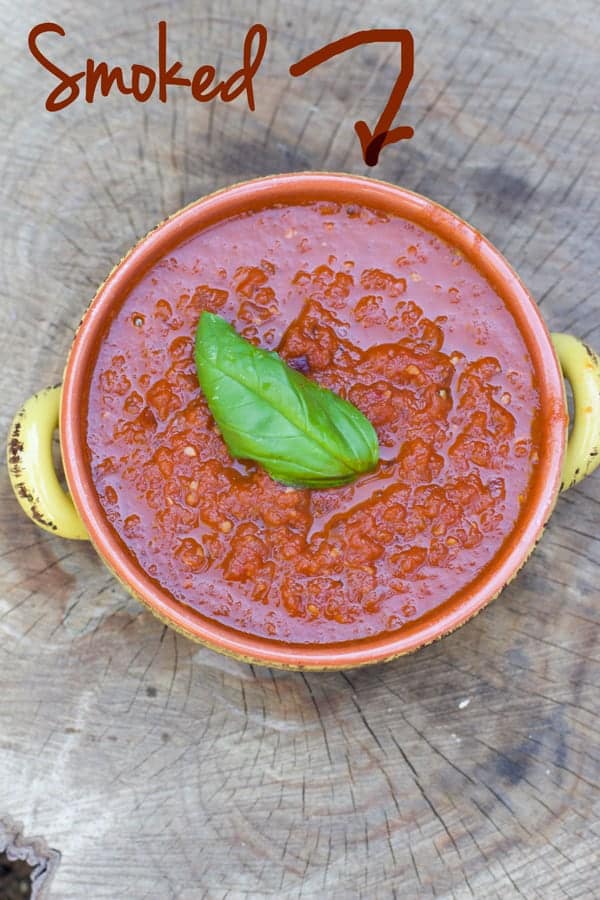 We first started making it the way I make my regular tomato sauce made from canned tomatoes, which involves sautéing onions, carrots, celery, then added a bunch of spices, some tomato paste, wine, a little tomato sauce, some bay leaf, and let it simmer away for hours. And while that was good, the smoked flavor got lost in the midst of all those other flavors. I figured, if we were going to go through the effort to smoke tomatoes why add so many other ingredients. Why not just let the tomatoes shine? So we got rid of all the other distracting flavors.
We finally found a recipe we love that highlights the smoked tomatoes but is also rich enough to use as a sauce for pasta, or even a base for pizza or lasagna. We keep the flavors simple by sautéing up onions, a few seasonings, a splash of wine (this is a wine blog after all!), and a bunch of the smoked tomatoes. This way the tomatoes are the star of the show. It's my favorite method!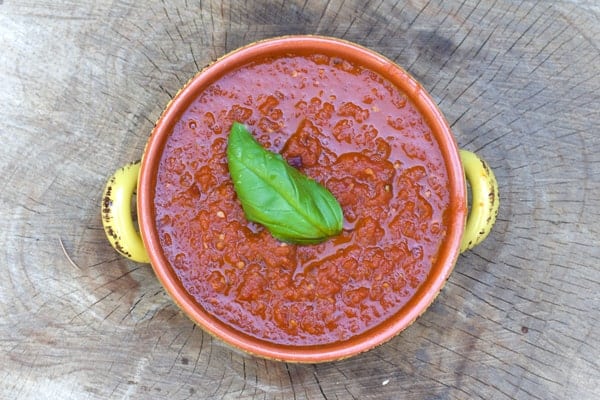 The key to making this fresh and delicious sauce starts with smoking fresh tomatoes. And since it's tomato season I'm sure there are plenty of you out there looking for uses for the bounty of tomatoes coming your way. If not, store bought tomatoes work just great (it's what we usually use).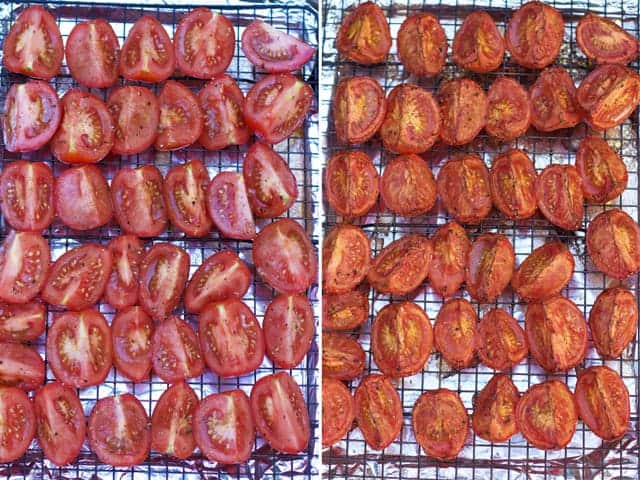 How to Smoke Tomatoes
Just like our other smoked tomato recipes you start by quartering your tomatoes, then tossing them in some olive oil, salt, pepper, and bay seasoning. Line them on a foil lined baking tray. I like to place the tomatoes on a thin drying rack on top of the baking sheet for better ventilation. Smoke them at 250 degrees for about 2 hours. You can use whatever smoker you have for this. We go back and forth between our offset stick burner and our Traeger pellet smoker.
After they're smoked let them cool just enough to work with, then peel the skin immediately. They peel so easily if you do it while they're still a bit warm. They just glide off… like buttah.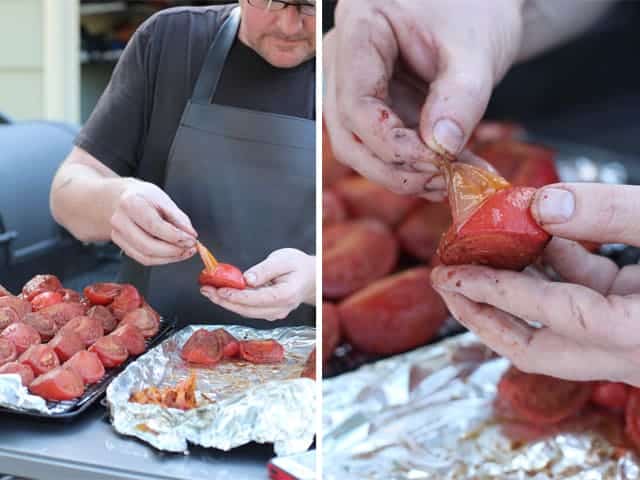 Once the tomatoes are peeled you can start your sauce.
How to Make Smoked Tomato Marinara Sauce
Keep it simple, just sauté some onions in olive oil for about 12-15 minutes, to let them get soft and sweet. Then add some garlic and some simple seasoning (salt, pepper, a pinch of red chili flakes and some sugar if your tomatoes need it). Sir those together for about a minute, then add some wine. Let that reduce a bit, then add your tomatoes, and cook about 20 minutes.
If your sauce is rather chunky you can use a hand immersion blender to break up the chunks. A potato smasher also works. I like my sauce a little chunky, but not large chunks. So I usually just go in there with the hand immersion blender and pulse quickly a few times.
Taste and adjust for preferences. The tomatoes taste a little different each time we make this recipe (it will depend on how ripe and sweet they are pre-smoking). Sometimes they're naturally perfectly sweet and we don't need to add any sweetener at all. If your sauce isn't as sweet as you'd like feel free to add a pinch of sugar, honey, tomato paste, or whatever you like for sweetness. Slowly adjust the flavors until you get to the sauce you love.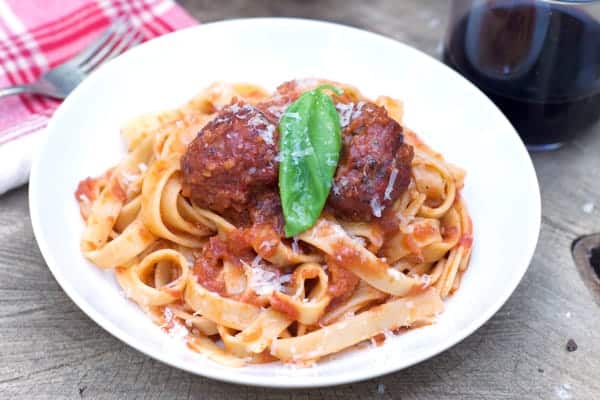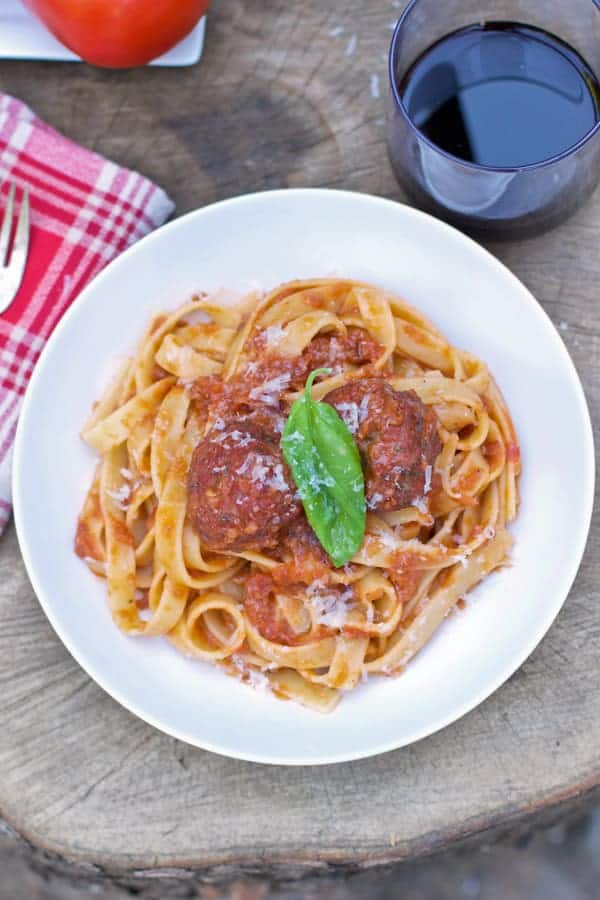 Smoked Marinara Sauce
Smoke fresh tomatoes to add an incredible mild smokey flavor to a traditional Marinara Sauce. Can be used for pasta, pizza, lasagna, or meatball sandwiches.
Print
Rate
Ingredients
For the Smoked Tomatoes
8

large beefsteak tomatoes

Extra Virgin Olive Oil

Salt

Pepper

Old Bay Spice Seasoning
For the Marinara Sauce
1

tablespoon

Extra Virgin Olive Oil

1

small red onion

chopped (1 cup worth)

½

teaspoon

salt

¼

teaspoon

fresh ground pepper

Pinch

of red chili flakes

1

teaspoon

sugar

optional

½

cup

dry red wine

4

cups

smoked tomatoes

should be the equivalent of all 8 of them smoked and peeled

4

basil leaves
Instructions
To smoke the tomatoes:
Prep your smoker to 250 degrees.

Quarter the tomatoes then toss with olive oil, salt, pepper, and old bay seasoning, and place them on a foil lined sheet pan. Smoke them for up to 2 hours.

Remove from smoker and peel the skins from the tomatoes while they are still warm. Set aside.
For the sauce
Heat olive oil in a large skillet set to medium. Add onions and let them cook about 12-15 minutes, until soft and sweet. Add the garlic, salt, pepper, chili flakes, and sugar (if using), and let cook 1 additional minute.

Add the red wine and cook 2-3 more minutes, until the sauce has reduced. Add the tomatoes and simmer on low for 15-20 minutes. Blend the sauce with a hand immersion blender to break up the chunks, or use a potato masher to get to a consistency you like.

Just before finishing add 2-4 whole basil leaves and stir them in. Just before serving, remove the basil leaves.
Uses For The Smoked Marinara Sauce
Use for a simple pasta and meatball dish.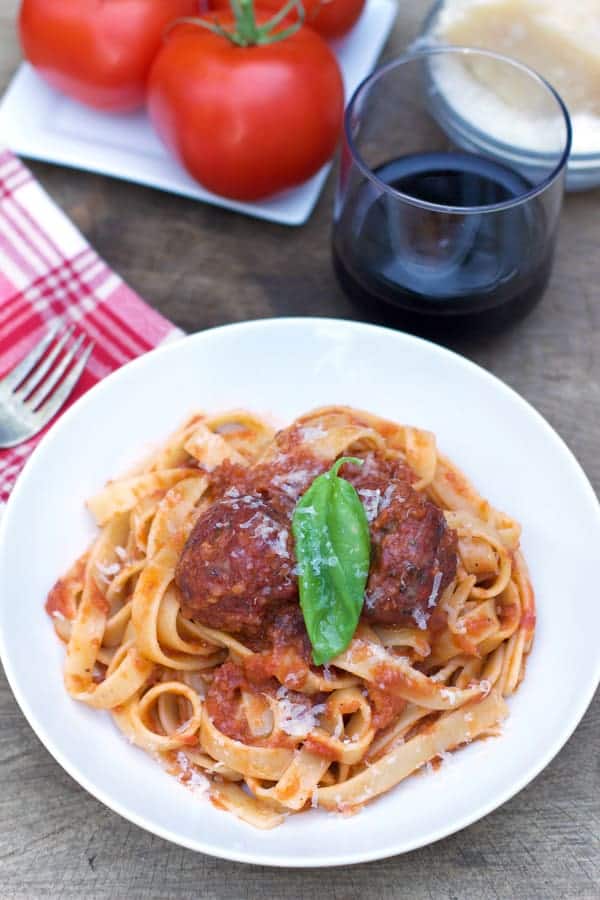 If using for pasta — Warm up the sauce in a large skillet while noodles are cooking. Save ¼ cup of the salted pasta water. Add 1 tablespoon butter to the sauce and let it melt. Add the ¼ cup of pasta water, then toss the sauce with the noodles, and sprinkle some fresh grated Parmesan cheese. Yum. This is how we did it, pictured above.
These sandwiches will haunt you they're so good!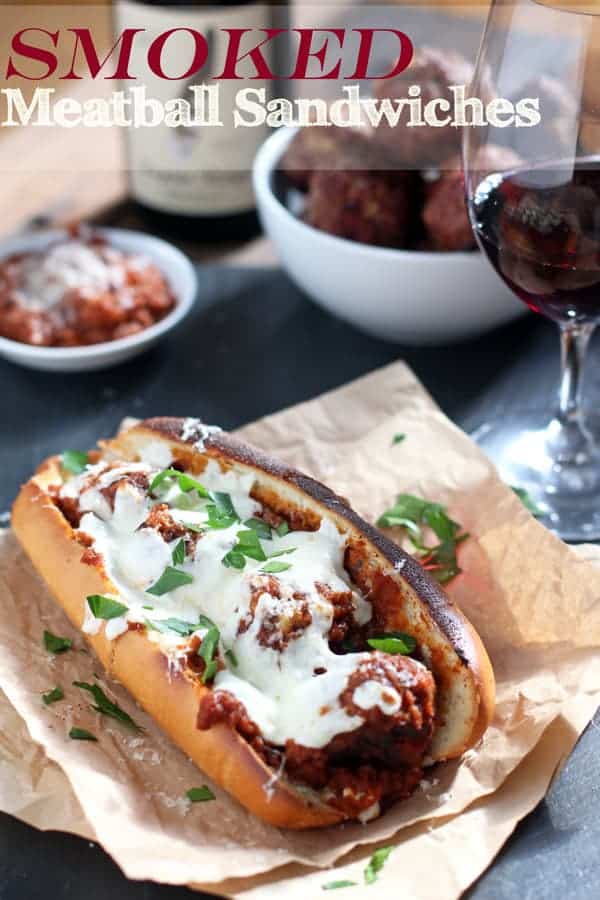 Use for Pizza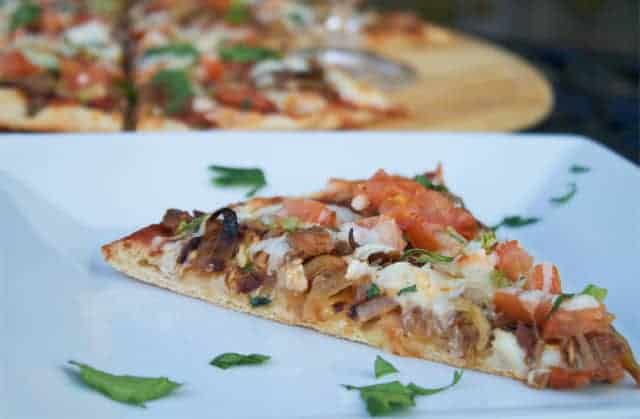 Use it as a pizza sauce, like this Smoked Brisket Pizza. If you like your pizza sauce thicker (like me), then just reduce the sauce by simmering for an additional 20-30 minutes. You can also add a couple tablespoons of tomato paste and some sugar to both sweeten and thicken the sauce quicker.
What would you use it for?
Other uses for Smoked Tomatoes

 
---
For more recipes check out the Recipe Index.
If you like this recipe we'd truly appreciate it if you would give this recipe a star review! And if you share any of your pics on Instagram use the hashtag #vindulge. We LOVE to see it when you cook our recipes.
---