Smoked Sausage Ragù is a simple way to add some smoked flavor to your next ragù sauce. Serve over creamy polenta and pair it with some delicious red wine and you've got yourself an awesome dinner.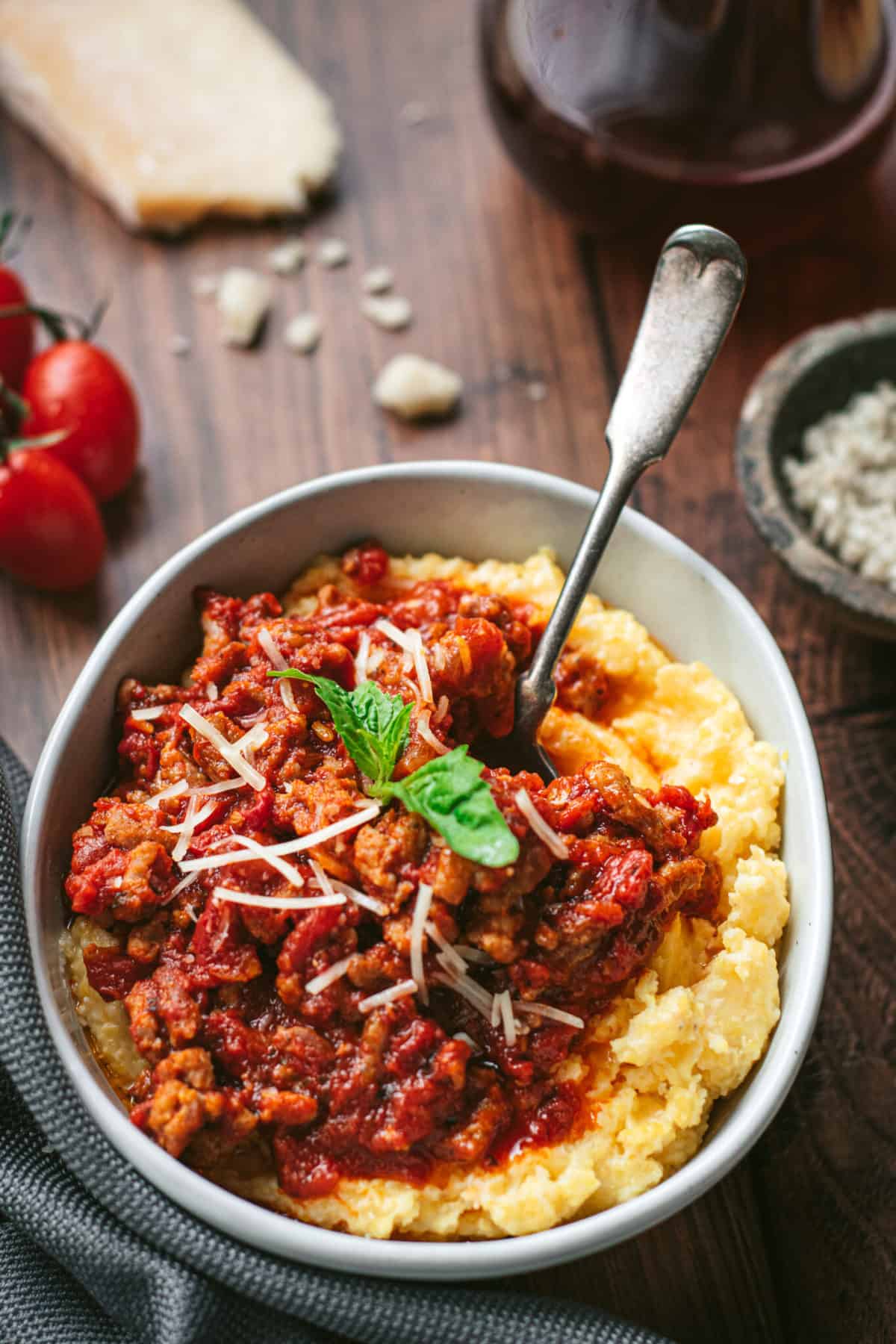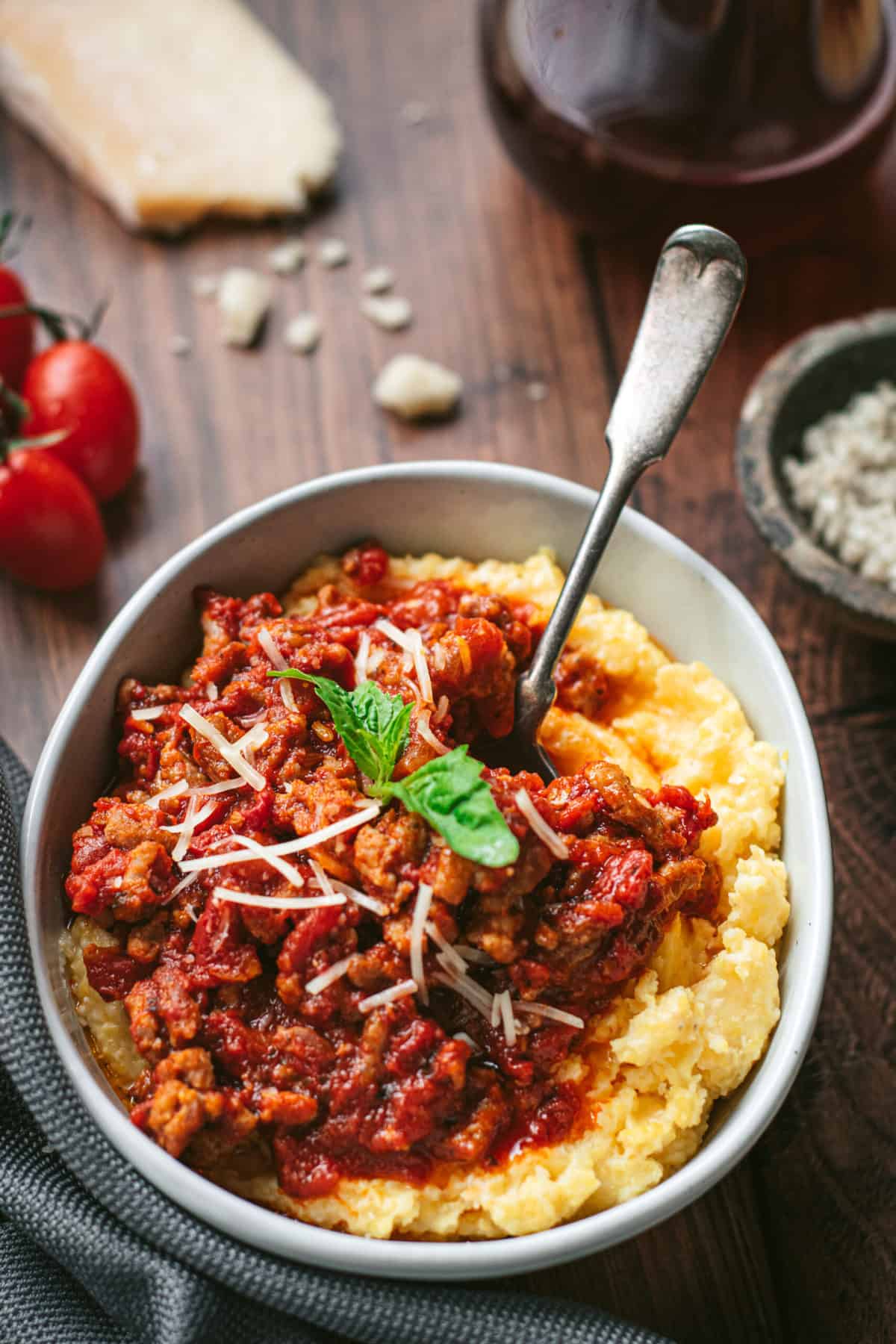 There are several ways to incorporate some smoke flavor to your favorite Italian dishes, like a rich ragù sauce, without having to go through the effort of smoking your tomatoes and making everything from scratch. One simple way to add some subtle, yet delicious, flavor is to simply smoke some bulk Italian sausage and add it to your favorite tomato based sauce.
Though I will be the first to preach that it's so ridiculously worth the effort to make a smoked marinara sauce (including smoking your tomatoes), but we'll get into that on another day. Perhaps you're busy and don't have the time? I get it!
Jump to: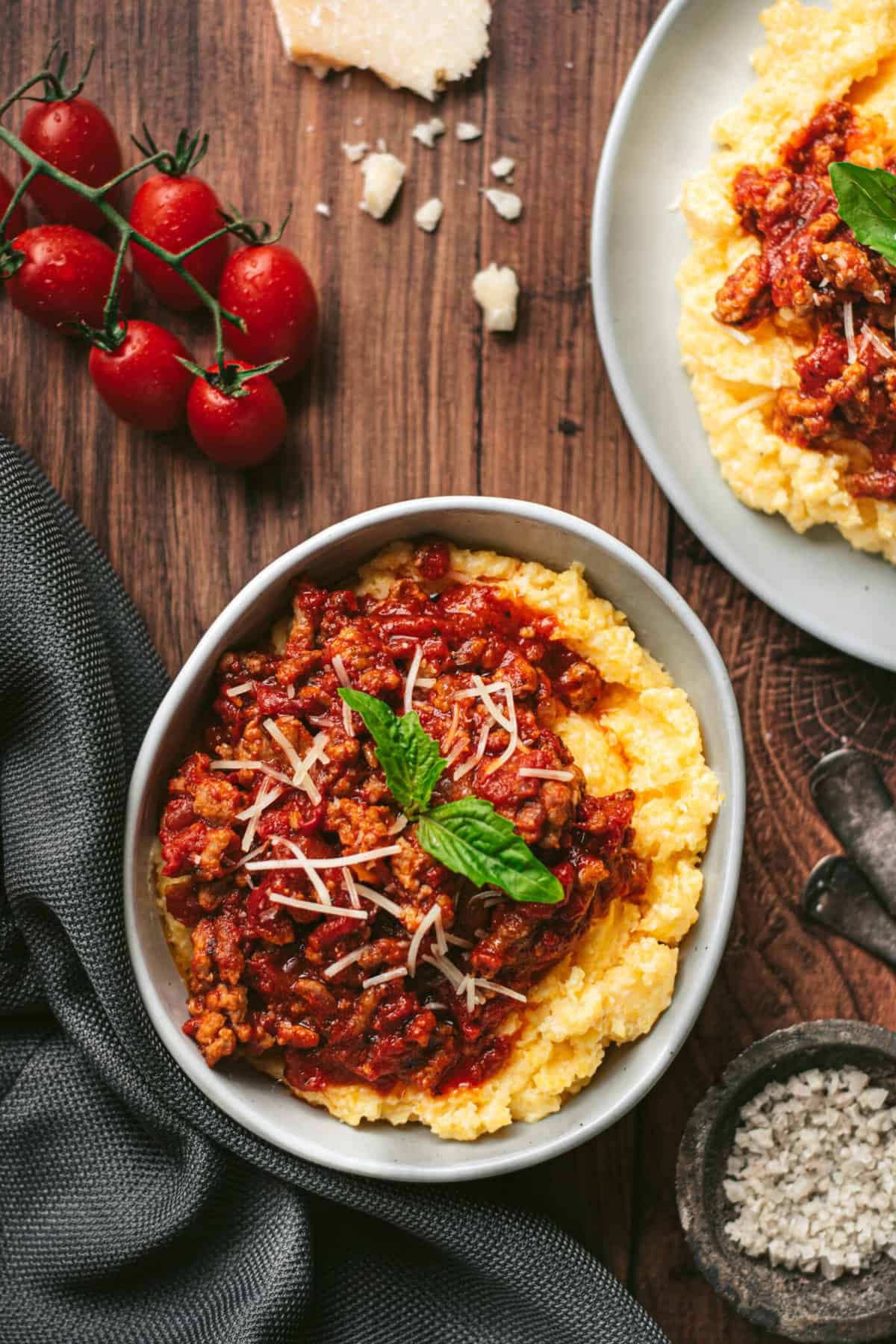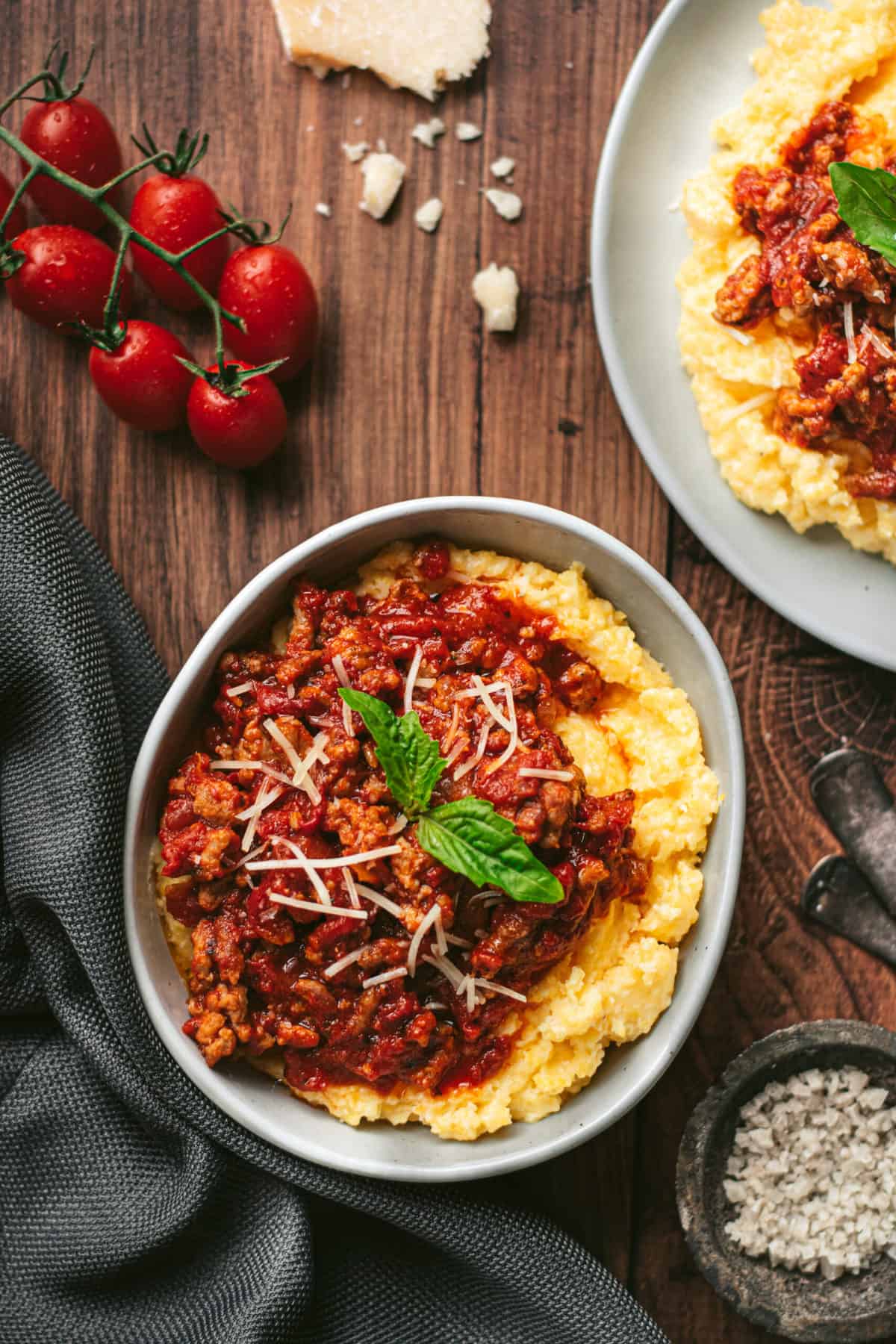 What is a Ragù?
Ragù is a chunky Italian pasta sauce made with meat and tomatoes. It is very similar to a bolognese sauce. Traditionally, these sauces are paired with pasta. Today we are serving it over a creamy parmesan polenta.
What is Polenta?
Polenta is a coarse ground cornmeal, boiled and served as a porridge. Polenta is traditional to Northern Italy, but is very similar to the Southern US dish grits. The only difference being that polenta is made with yellow corn, while grits are made with white corn or hominy.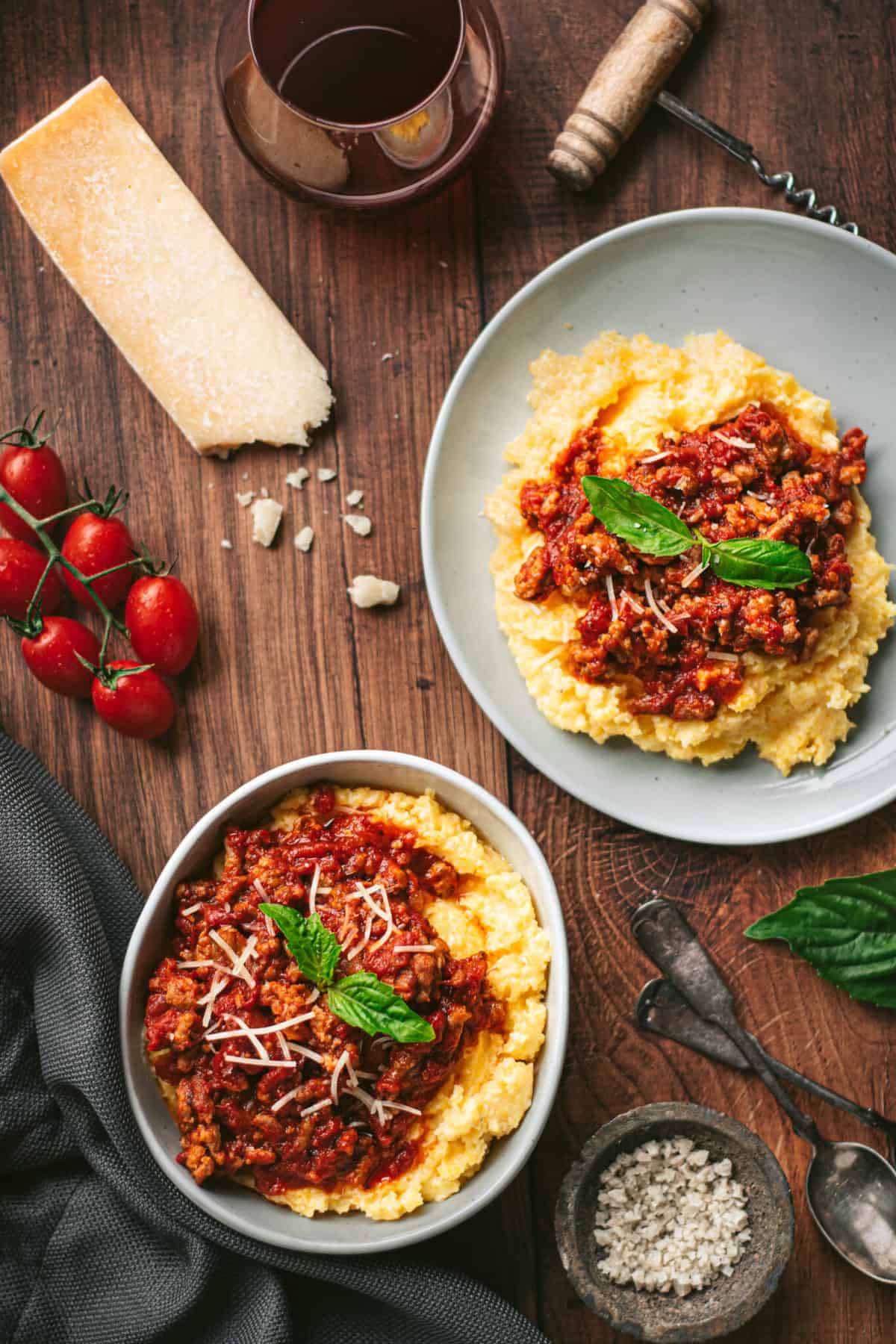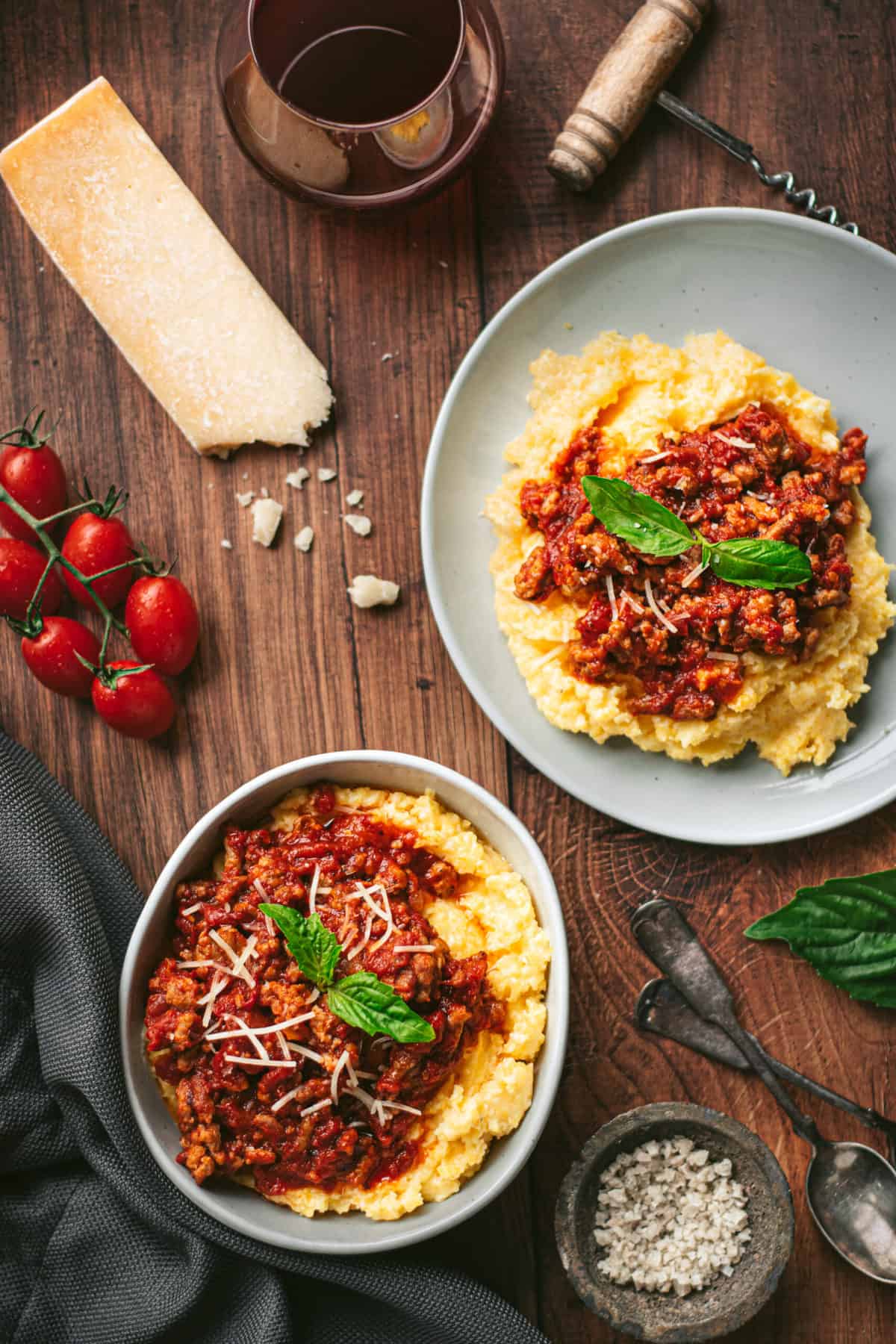 How to Smoke Sausage for Ragù
Start with some bulk Italian sausage and break it up into quarter size pieces and lay them out on a baking sheet. You can also use sausage links and just remove the casings and break up the pieces into the same size.
Smoke them at 225 degrees Fahrenheit (F) for about an hour, just to get some flavor infusion.
Then transfer the smoked sausage to your ragu sauce and let the sausage and tomato flavors incorporate together.
Serve the Smoked Sausage Ragu over the creamy polenta and garnish with additional parmesan cheese and some fresh basil.
How to Make Creamy Polenta
The length of time it will take you to cook your polenta will depend on the grind of cornmeal you use. Make sure to refer to your cornmeal package for their specific instructions.
Bring 4 cups of water and 1 cup of milk to a boil in a medium saucepan.
Slowly add polenta and cook, stirring constantly until all liquid is absorbed.
Then, reduce heat to low and continue stirring occasionally until it has achieved the desired consistency.
Take it off the heat and add in butter and cheese.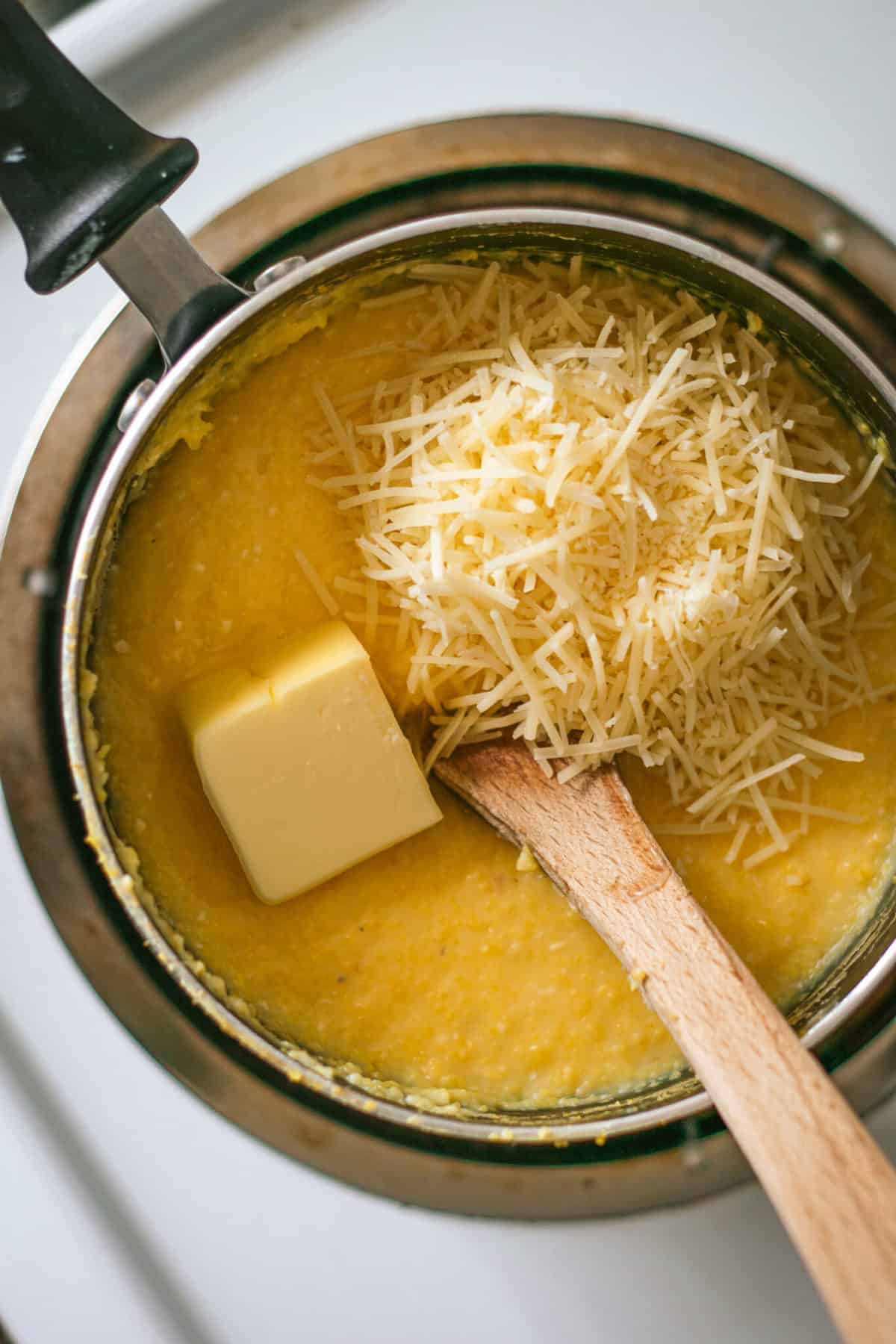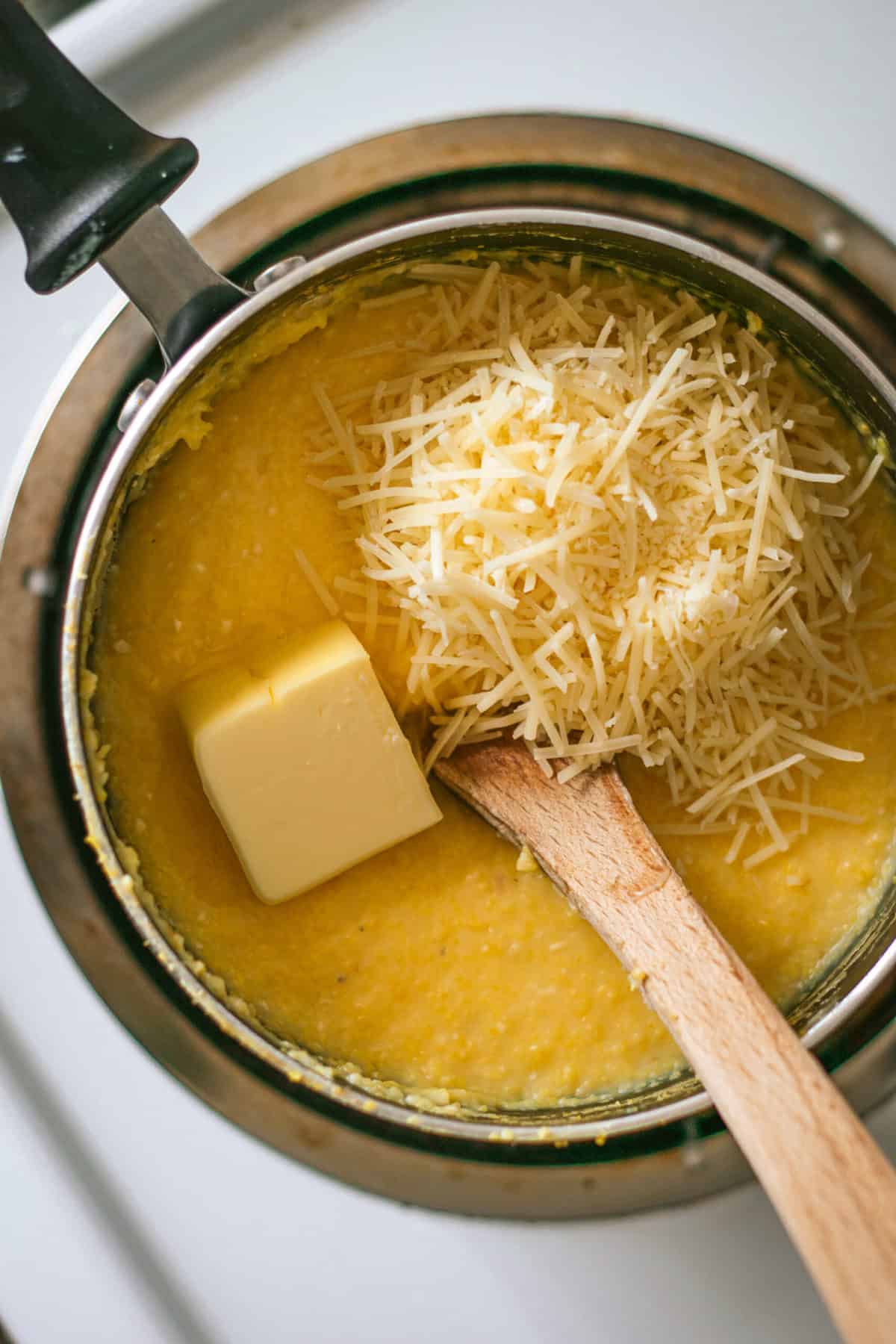 Other Italian Inspired Recipes
I travel all over Italy and love coming home inspired by some of these regional favorites.
Wine Pairing for Smoked Sausage Ragù with Polenta
Zinfandel and Petite Sirah tend to be some of my favorites with this dish. Something with a nice richness (but not overly tannic) works well with the smoky sausage and the depth of the tomatoes.
---
If you like this recipe we'd truly appreciate it if you would give this recipe a star review! And if you share any of your pics on Instagram use the hashtag #vindulge. We LOVE to see it when you cook our recipes.
We adapted this recipe from Pedroncelli Winery to allow for the smoked sausage, and a more creamy and savory polenta (this is based on my preference, you can use whatever recipe or method you wish for your polenta).
---