Did you know you can make Smoked Turkey Gravy for Thanksgiving without a smoker?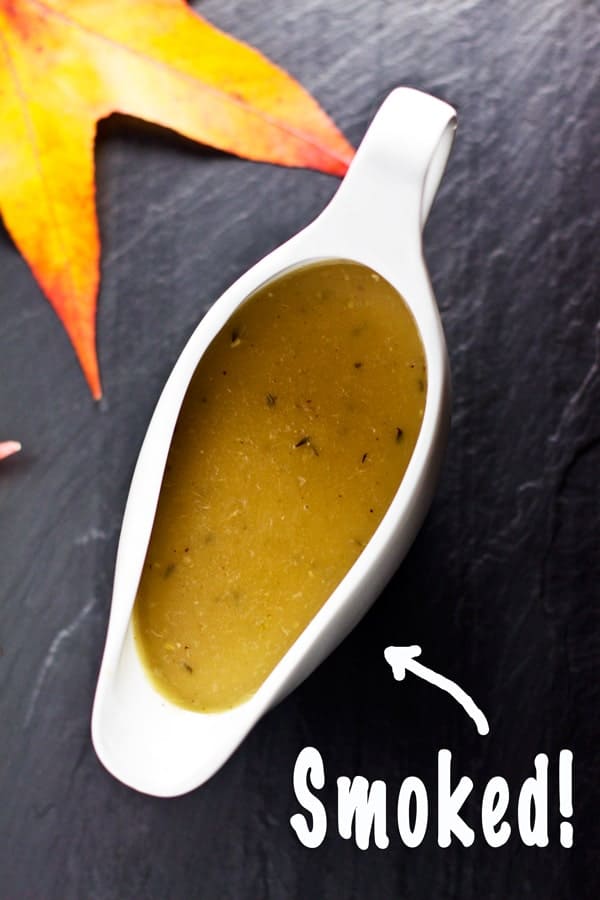 The first time we cooked Thanksgiving dinner outdoors we assumed our gravy would be made in a traditional method, indoors – by using turkey drippings. 
Only we quickly realized that smoking it on the outdoor grill doesn't yield the same amount of drippings, leaving us gravy-less and sad. What a Thanksgiving tragedy for smoked food lovers!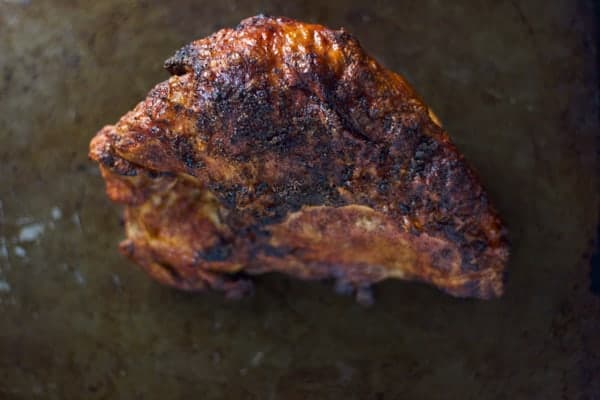 What's a Thanksgiving turkey without some gravy love??
Throughout the many years we've been celebrating T-day outdoors we've learned several tips and tricks making sure no soul would be left gravy-less ever again. And the best part? You don't even need a smoker to make authentic smoked gravy.
Whaaaaaaa?
Say it ain't so.
How could this be?
I know I know. It sounds downright ridiculous to think you can make smoked gravy and not even need to smoke your own bird. It almost sounds like cheating.
Well it is. Kind of.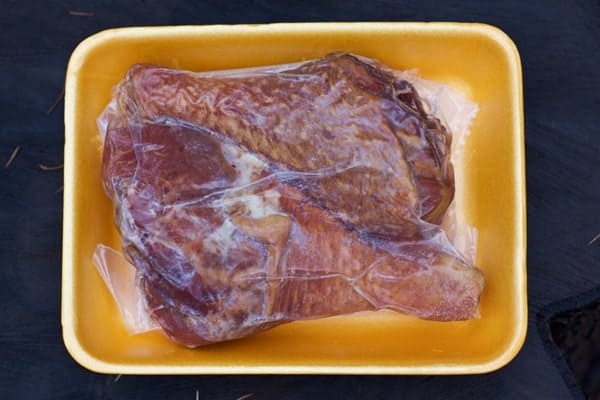 You can use store-bought smoked turkey drums, and simmer them in your chicken stock. This will infuse the stock with that lovely smoked flavor (basically creating your own smoked chicken stock). Then use a slurry to thicken the stock and create your gravy.
Well, let me backtrack.
There are three ways that we've successfully made great smoked gravy.
By using smoked chicken stock and making traditional gravy with (no turkey drippings needed). Smoked chicken stock is so full of delicious flavor that I could drink it whole (er did I actually just admit that?).
Buuuut, making homemade chicken stock takes time. Knowing this is one extra thing most people don't want to commit to when they're already making tons of other things, you can try method 2…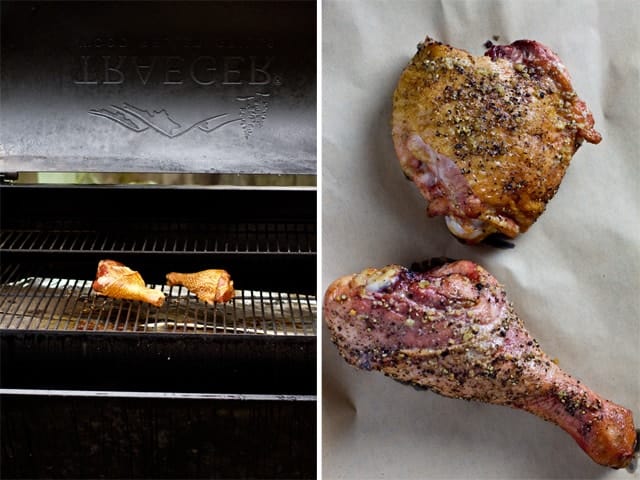 By smoking your turkey and using the neck, or other part of the turkey (once the bird is finished), as a base to cook your gravy.
Or, this method.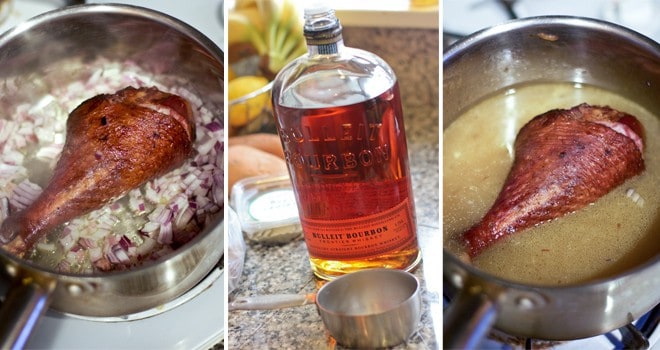 Buying smoked turkey legs from your supermarket and infusing your stock with it. Most supermarkets will have pre-smoked turkey legs or drums. You'll find them near the whole turkeys or in the deli section. It's the quickest and easiest way to get true smoked flavor into your gravy (I'm not talking about adding smoked paprika, which I've seen some recipes floating out there using and then calling it "smoked gravy." I see your BS and raise you ten notches of authentic smoke flavor!).
Basically what you're doing in method three is making a quick smoked stock. Then using that smoked stock to make your gravy. And then adding bourbon.
Because everything's better with Bourbon.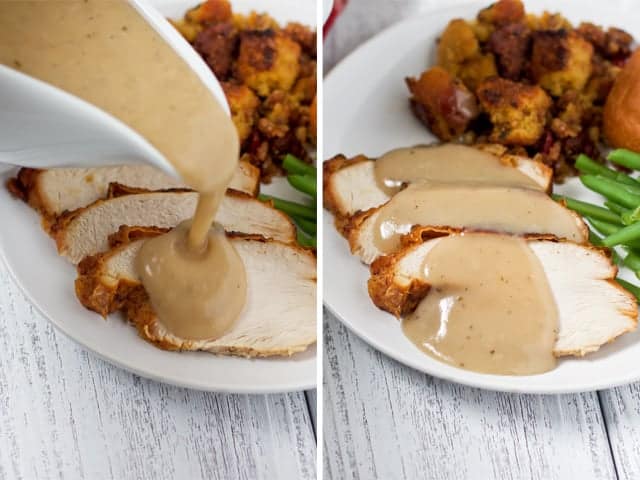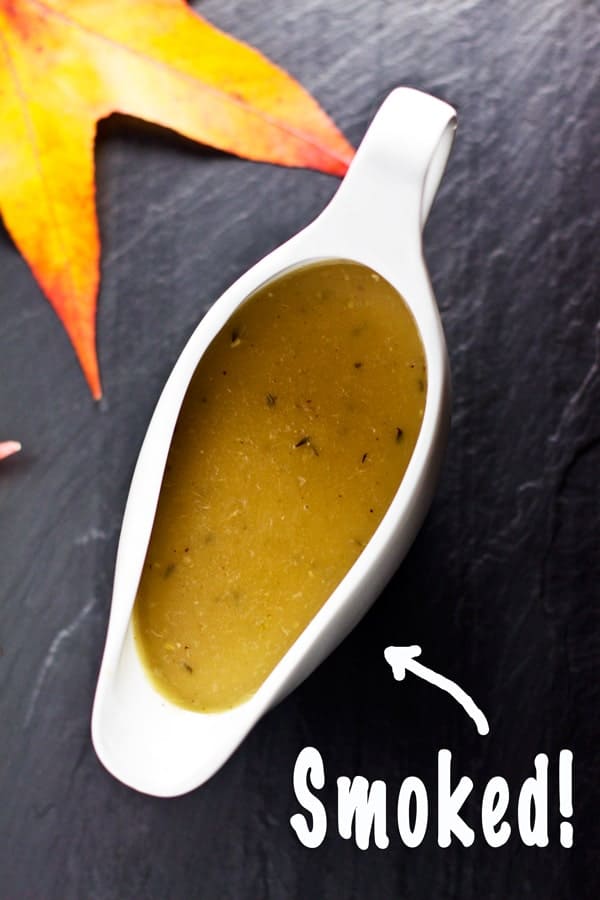 Smoked Turkey and Bourbon Gravy
A simple way to make smoked Thanksgiving gravy without a smoker.
Print
Rate
Ingredients
Extra virgin olive oil

1

store bought smoked turkey drum

2

lg shallots

or 1 small red onion, chopped (about 1 cup) cup

Salt and Pepper

1

clove

garlic

¼

cup

of bourbon

10

sprigs of thyme

4-5

cups

chicken stock

¼

cup

flour
Instructions
In a large pot pan set to medium-high heat add olive oil and your turkey drum and shallots. Season with salt and pepper. Continue to stir and rotate the drum until it's browned on all sides and you start to see some drippings in the pan, and your shallots have softened (about 10 minutes).

Add garlic and cook for 1 minute and then reduce heat.

Add bourbon and let simmer for two minutes (if the pan is still really hot it'll boil, so be sure to avoid too much heat causing it to nearly evaporate).

Add the thyme and 4 cups of stock and bring back to a boil (reserving the 5th cup for later). Cover and let simmer for 25-30 minutes.

Meanwhile make your slurry: take the remaining 1 cup of stock and place it in a sealed jar with the flour. Shake vigorously until all of the flour has been fully absorbed.

After 25 – 30 minutes remove the smoked turkey drum from the pan and set aside.

Add the slurry to the pan, and begin whisking. Continue whisking while the gravy begins to thicken (about 10 minutes). If it gets too thick add more stock. If it's too thin, let it simmer a few more minutes. It will thicken up after you remove it from the heat.

Strain before serving.
Want to know other ways to enjoy a Smoked Thanksgiving? Stay tuned this weekend for more ideas for cooking Thanksgiving on your grill or smoker, including advice for smoking your first turkey, and wine recommendations for the big day!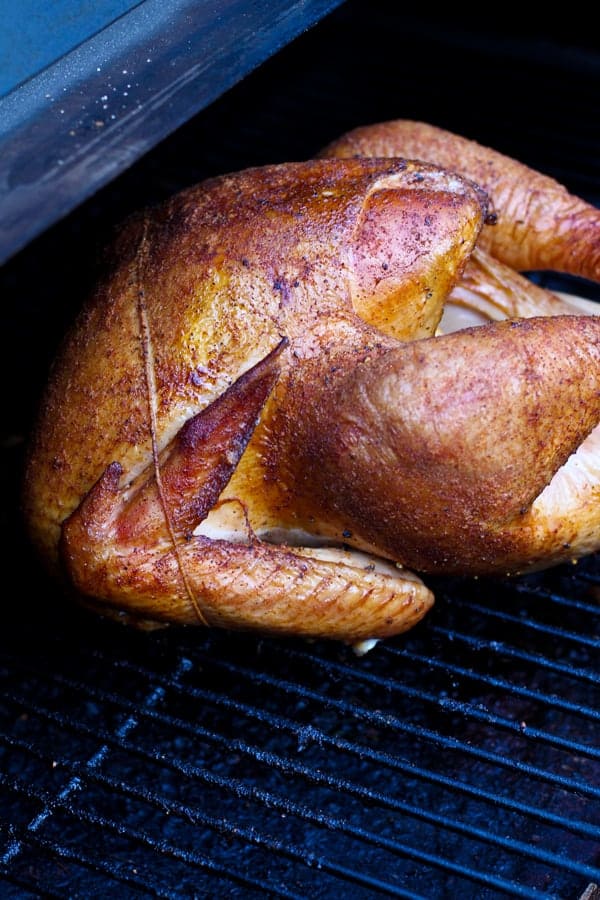 ---
For more recipes check out the Recipe Index.
---
If you like this recipe we'd truly appreciate it if you would give this recipe a star review! And if you share any of your pics on Instagram use the hashtag #vindulge. We LOVE to see it when you cook our recipes.
---