Smoked Turkey Gravy with Bourbon is truly the most delicious gravy to serve alongside your Thanksgiving or holiday dinner. And did you know you can make Smoked Turkey Bourbon Gravy for Thanksgiving without a smoker? Whaaaat?! Yes! And you don't even need to catch any turkey drippings. We have the greatest shortcuts for your gravy this year!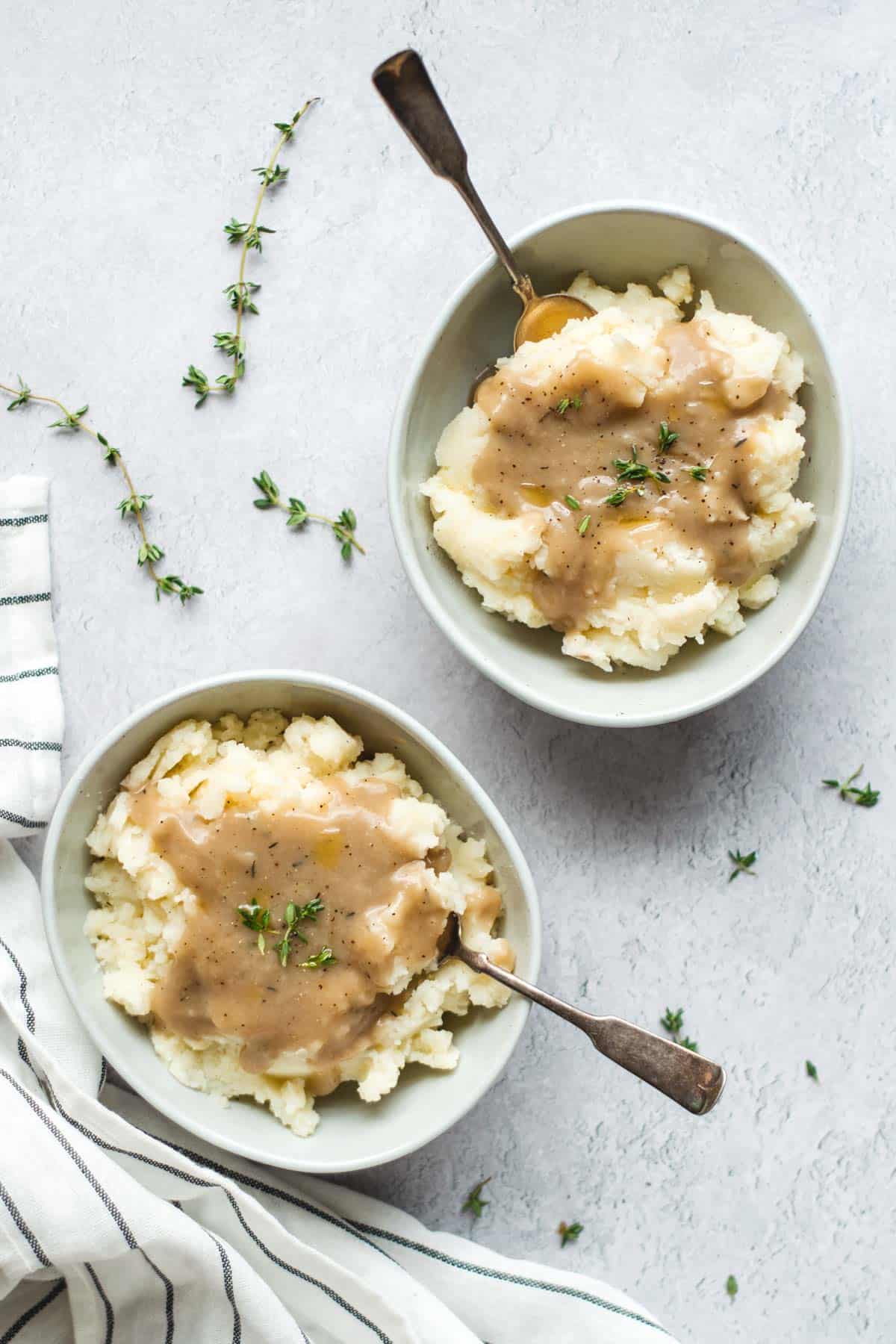 Why This Recipe Works
Smoking or grilling turkey leads to no drippings, which are traditionally used to make a gravy.
Using a smoked turkey leg or thigh, you can replace the loss of drippings with added stock.
The infusion adds smoke flavor.
It can be easily modified if you have no smoker.
The first time we cooked Thanksgiving dinner outdoors we assumed our gravy would be made in a traditional method, by using turkey drippings. Only we quickly realized that smoked turkey on the outdoor grill doesn't yield the same amount of drippings (even when cooking the turkey in a pan), leaving us gravy-less and sad. What a Thanksgiving tragedy for smoked food lovers.
Jump to:
Throughout the years we've been celebrating Thanksgiving outdoors we've learned several tips and tricks making sure no soul would be left gravy-less ever again. And the best part? You don't even need a smoker to make authentic smoked gravy. They key ingredient however is a smoked turkey leg.
We are going to use the smoked turkey leg or thigh as the base to infuse your gravy, which will be made in a stock pot on the stovetop.
If No Smoker
Purchase a store-bought smoked turkey leg or thigh (they sell them during the holidays near the whole turkeys or in the deli section). Just ask your butcher and they will find them for you. This is a great option of you don't have a smoker. Just use the store-bought smoked turkey drum and simmer it in your chicken stock to infuse it. This will infuse the stock with that lovely smoked flavor (basically creating your own smoked chicken stock). Then use a slurry to thicken the stock and create your gravy.
Smoked Stock
Making your own smoked chicken stock as a base for a traditional gravy (no turkey drippings needed). Smoked chicken stock is so full of delicious flavor. Buuuut, making homemade chicken stock takes time. Knowing this is one extra thing most people don't want to commit to when they're already making tons of other things, you can try method 3. By the way, you can find our recipe for smoked chicken stock exclusively in our cookbook Fire + Wine.
Smoking Turkey Leg or Thigh
Smoking your own turkey drum or thigh first, and then braising it in your stock to infuse it with smoky flavor.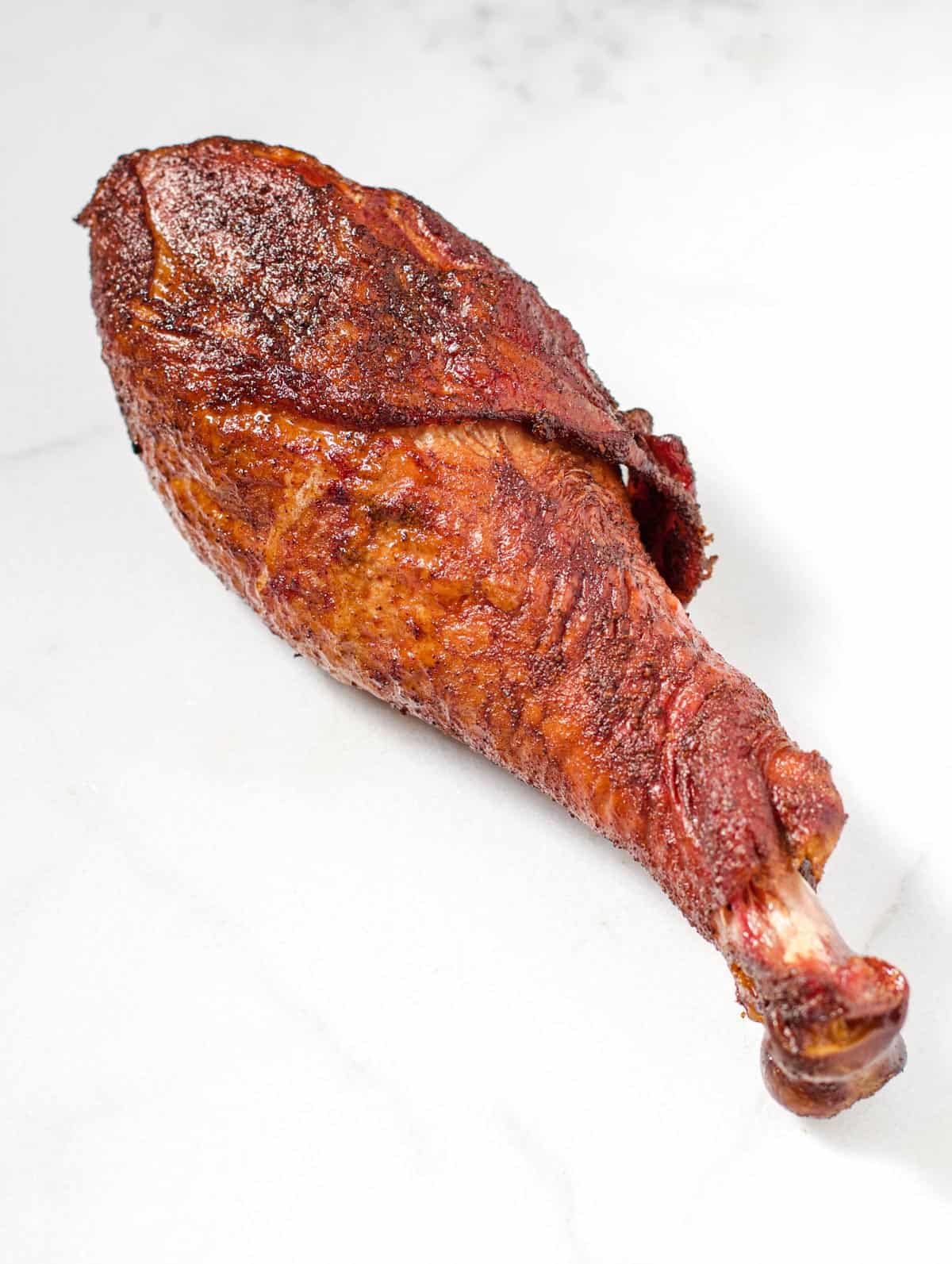 These are all great ways for making the very BEST Smoked Turkey Gravy! The idea is to use a piece of smoked meat and infuse it into your gravy liquid. No meat drippings required. You only need one thigh or leg for this smoked gravy recipe.
Other Ingredients for Smoked Turkey Gravy
In addition to the smoked turkey piece (like a thigh or leg), the following are needed to maximize flavor. When the gravy is done, strain it for a smooth texture.
Onions and Garlic – adds savory flavor
Bourbon – adds a fun caramel and spicy element and unique richness
Stock
Thyme – a simple herbal element that elevates the flavor
Flour – this will help in making the slurry that thickens the gravy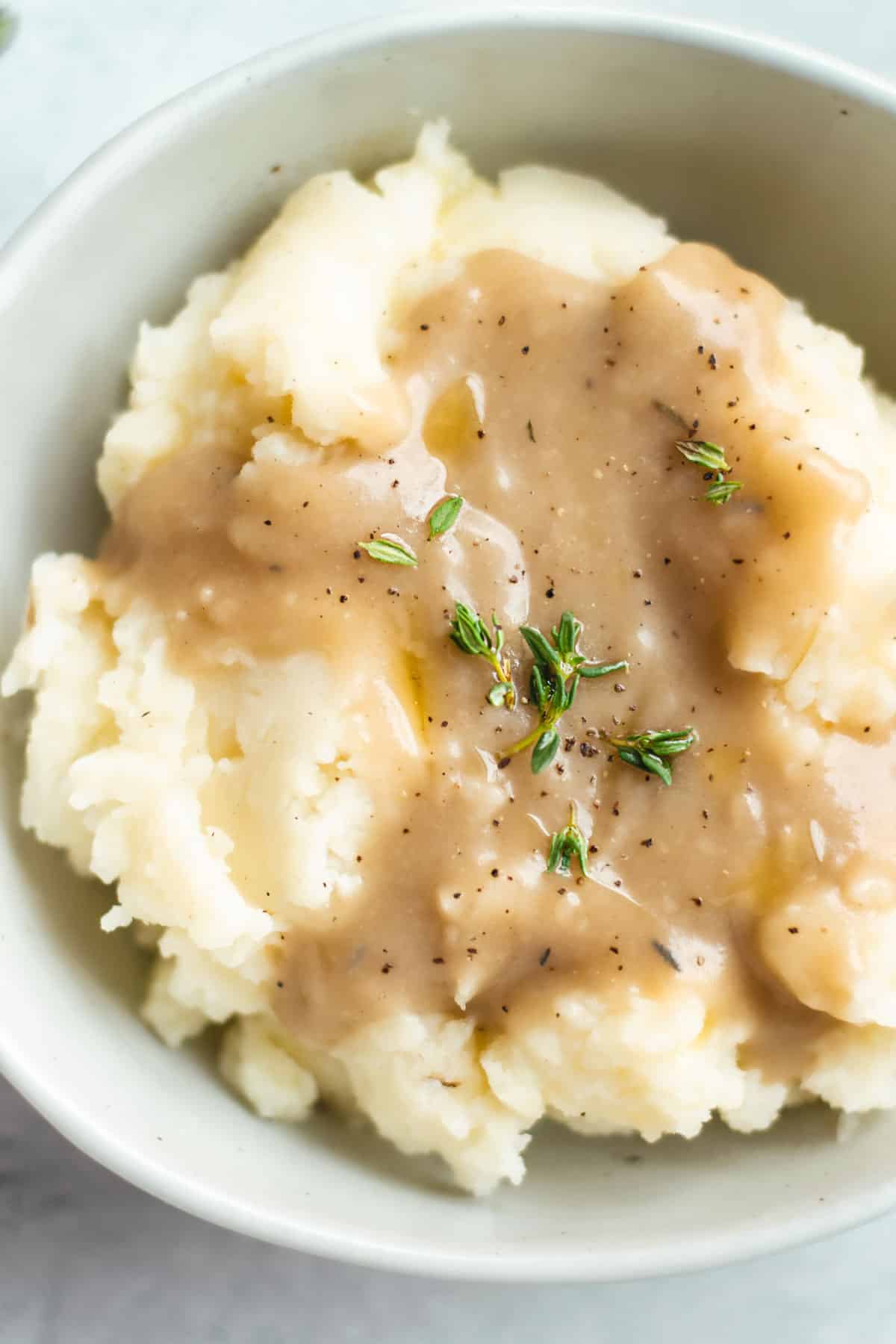 How to Smoke a Turkey Leg or Thigh for Smoked Turkey Gravy
Preheat smoker to 250 degrees Fahrenheit using fruit wood or oak.
Liberally season the leg with extra virgin olive oil and our poultry seasoning.
Smoke the leg until the internal temperature reaches 160 degrees Fahrenheit. This takes roughly 45 minutes to one hour.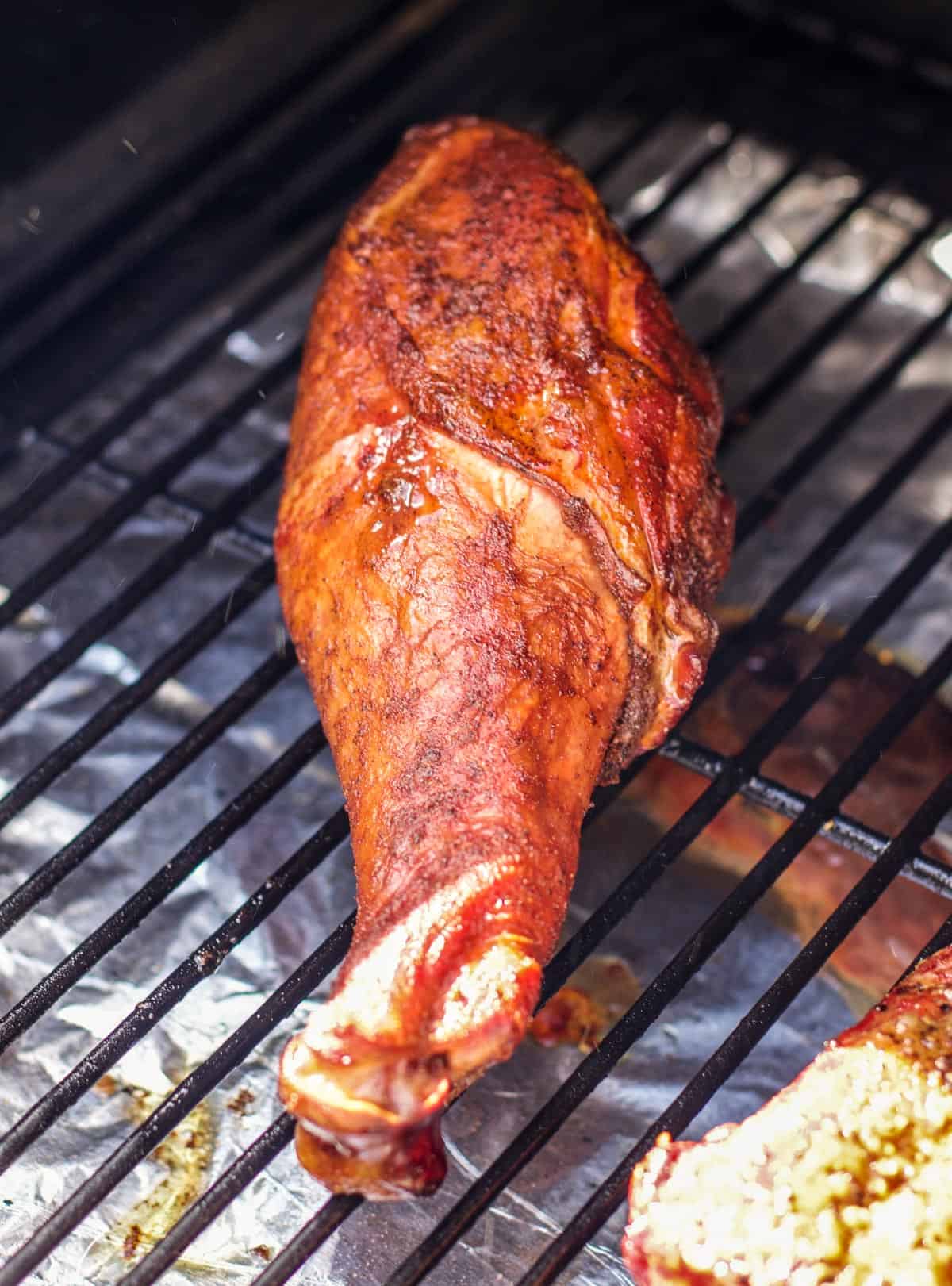 Now it's time to make the smoked turkey gravy.
How to make the Smoked Turkey Gravy
Start with a large Dutch oven over medium heat coated with olive oil.
Brown the smoked turkey leg or thigh. While it's already fully cooked, browning helps add that flavor to the pan (and the browned bits) as you sauté the onions and add the liquid. Brown and turn the turkey four times to get the most flavor from each side.
Sauté Onions and Garlic. After browning, add the diced onions and continue to stir. Soften the onions, but don't caramelize, about 6 – 7 minutes. Then add garlic and stir for one additional minute.
Add Bourbon, Stock, and Thyme. Pour bourbon to deglaze the pan and stir while it simmers (about two minutes). Then add chicken stock and thyme and bring to a simmer. Simmer uncovered for 30 minutes to let the smoke from turkey leg infuse and liquid reduce. Adjust heat up or down to keep it from boiling.
Add Slurry, Salt, and Pepper. Combine one cup of stock and flour in a small jar, shake and add to the gravy. Next, add kosher salt, and pepper. Stir and bring back to a simmer for 10 more minutes. The gravy will thicken up after 10 minutes of a simmer.
Strain. Remove the turkey leg, and then strain the gravy. Serve with your holiday meal.
Chef's Tip: Consider tying the thyme up as a bunch with kitchen twine. This way you don't have to fish them out when the gravy is done.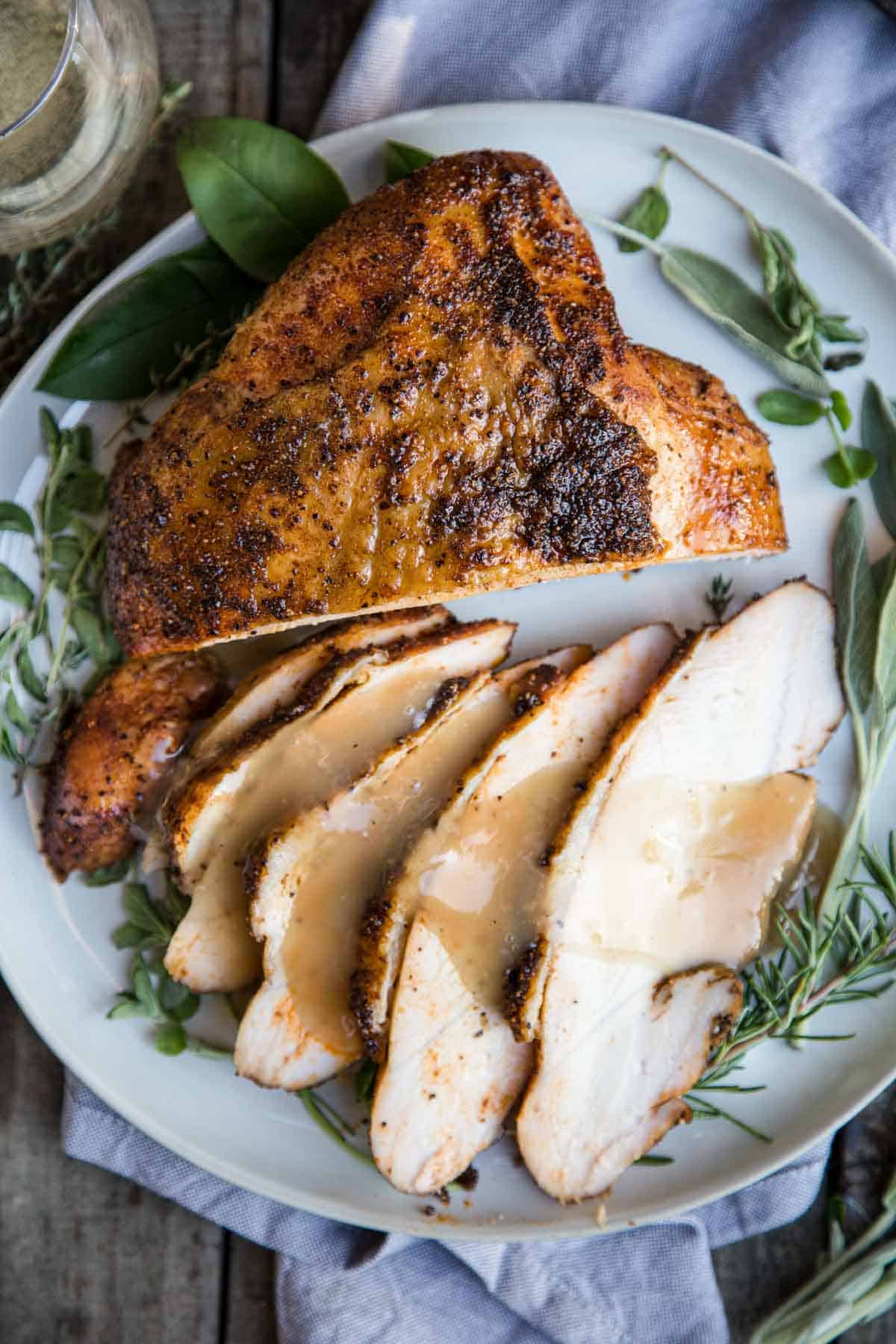 Turkey Recipes for your Gravy
If you are looking for more great recipe ideas for Thanksgiving, visit our round-up featuring our favorite Thanksgiving Recipes for the grill or smoker, including our:
More Holiday Side Dishes
---
This recipe was originally published in November of 2015, and updated in November of 2021 with updated photos and video. The recipe remains the same.
If you like this recipe we'd truly appreciate it if you would give this recipe a star review! And if you share any of your pics on Instagram use the hashtag #vindulge. We LOVE to see it when you cook our recipes.
---