Grilled Turkey Breast is tender and full of flavor. It's also a great alternative to a larger turkey dinner. Adding a spicy and savory Cajun seasoning gives it that extra kick. If you're cooking for a smaller crowd and looking for an alternative to a larger turkey roast, this Grilled Turkey Recipe is calling your name.
Sometimes we just don't have large crowds for a full Smoked Turkey, or perhaps we're craving a Thanksgiving Holiday meal experience without so much work. A Turkey Breast is a great way to get those traditional flavors, but in much smaller portions that a full turkey (and less prep work too!).
In this Grilled Turkey Breast recipe we are keeping things very simple by seasoning the breast with our Cajun Seasoning and adding some butter under the skin for additional flavor and moisture.
Just because you ain't smoking a 15 pound bird doesn't mean you won't get those same big flavors! This turkey breast is juicy, tender, and super flavorful.
Jump to:
Purchasing Turkey Breast
You will find two types of turkey breast:
Bone-in will most commonly have both breasts attached to the bone. This is great if you have a smaller grilling space, and the bone will help keep the breasts attached for an even cooking experience.
Boneless will typically come in one or two separate breasts, depending on the supplier. For ease, we often opt for boneless, as it will still have the skin on and it grills quickly. Boneless is also easier to slice.
Will the bone add more flavor? No, a turkey breast bone has little in it that would add "flavor", so opt for a boneless making it easier for slicing when done. Either style will work for this recipe (just factor in some extra cooking time if there's a bone attached).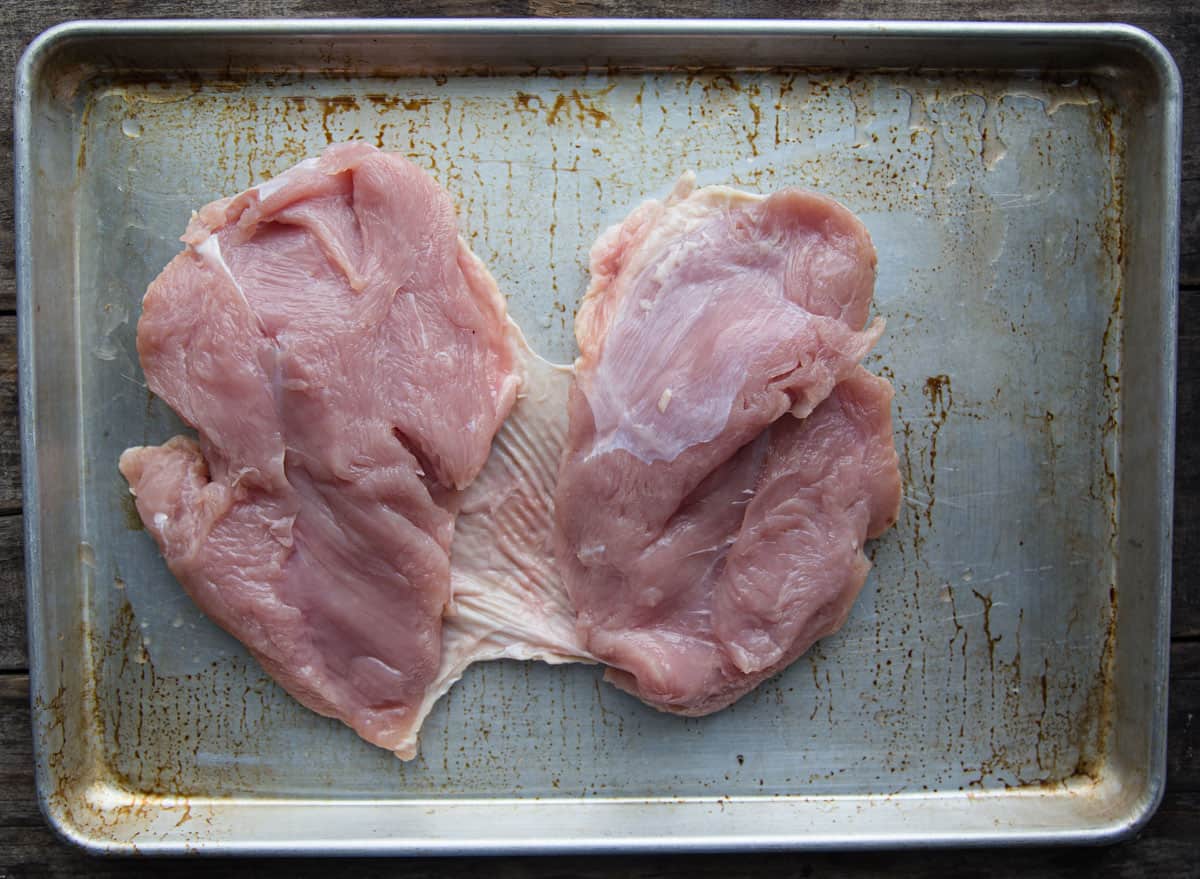 Preparing for Grilled Turkey Breast
Because we are cooking at a higher heat, brining is an option and will add some additional salt flavor and moisture. If you choose to brine, brine for at least 8 hours, and no more than 36, otherwise it will get a less desirable texture.
In this recipe we do not brine it, instead we use a savory Cajun seasoning and butter to add flavor and moisture. You can season the day before to achieve a dry brine, or you can season just before you put on the grill. We prefer the night before for a touch of added flavor and time for the salt to work into the meat. But if you forgot to season the day before, just do it prior to grilling. Easy peasy!
Remove any webbing or netting from the turkey breast and discard.
Pat the breast down dry with a paper towel.
If purchasing two breasts, cut the skin and separate the two breasts.
Using your fingers, gently separate the skin from the meat in a pocket. You won't completely separate the skin. Just separate enough so you can pack butter into the pocket.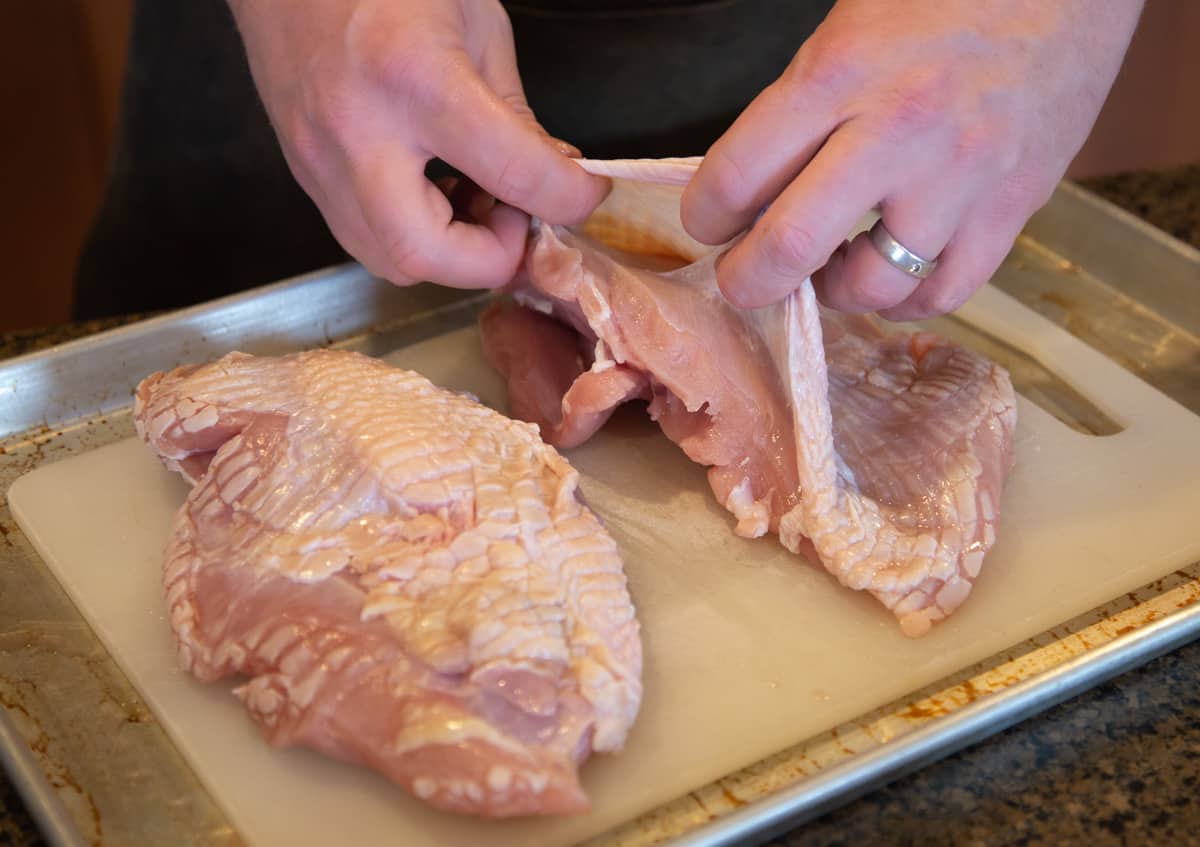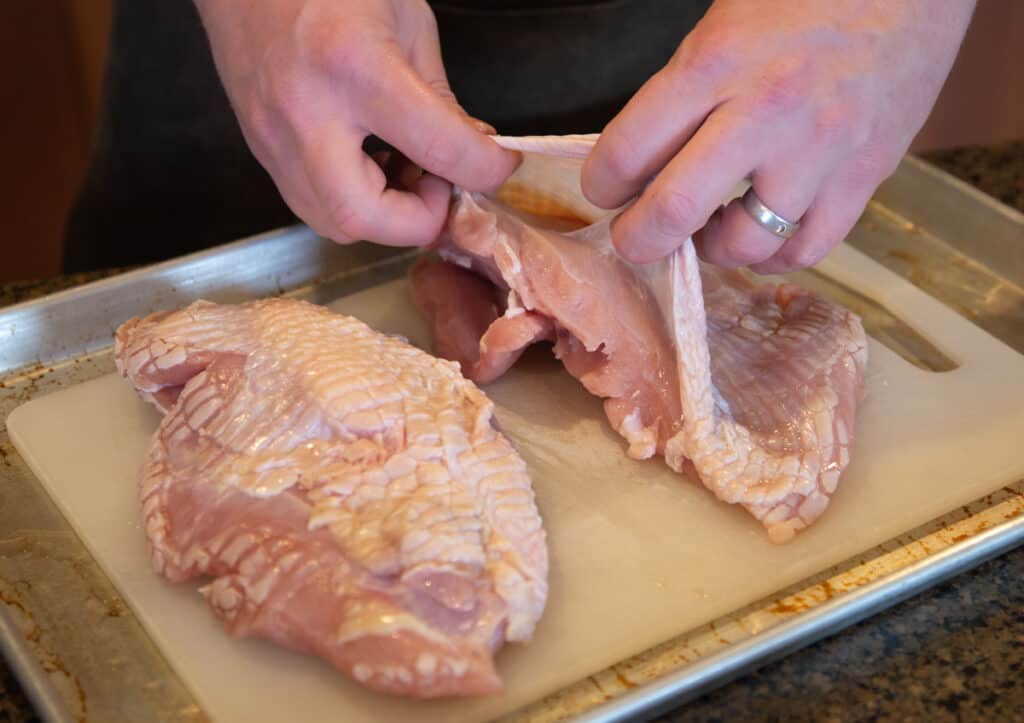 This will prepare the breast for the cajun seasoning.
Cajun Seasoning
Start by adding 1 teaspoon of our Cajun Seasoning with two tablespoons of room temperature butter.
Take the seasoned butter and stuff it in the two breasts in the pocket you made in between the skin and the meat.
Season the outside of the breasts with the same rub. Plan 2 tablespoons of dry rub for each grilled turkey breast.
If doing this the day before, loosely cover the breasts and store in the refrigerator.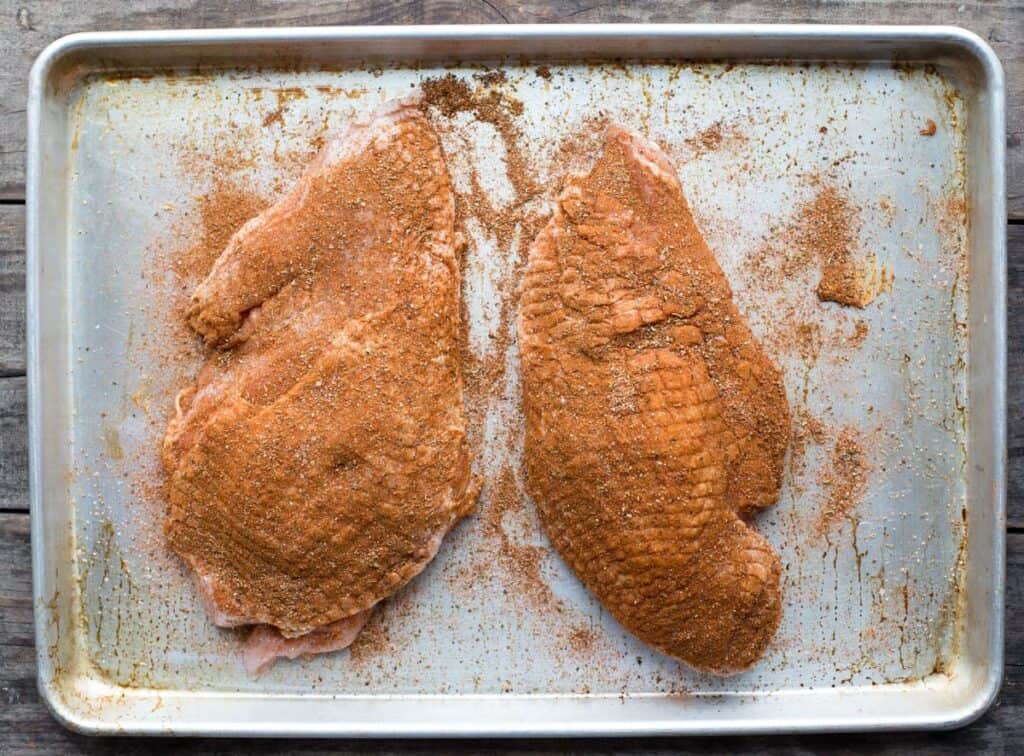 How to Grill Turkey Breast
Prepare your grill for two zone cooking (or direct/indirect) and targeting 350 degrees Fahrenheit over direct heat. We are using the Flamezone feature of our MAK Two-Star General for the pellet grill equivalent.
Place the turkey breast skin side down on the grill over direct heat for about 6 – 8 minutes, or long enough to get some browning color from the heat.
Flip the turkey and continue grilling over direct heat for 4 additional minutes to slightly brown the bottom of the breast.
Move the grilled turkey breast to the indirect side of the grill until it reaches an internal temperature of 160 – 165 degrees Fahrenheit using an instant read thermometer, like the Thermoworks MK4 Thermapen.
Let it rest for 10 minutes, and then slice and serve with your favorite sides.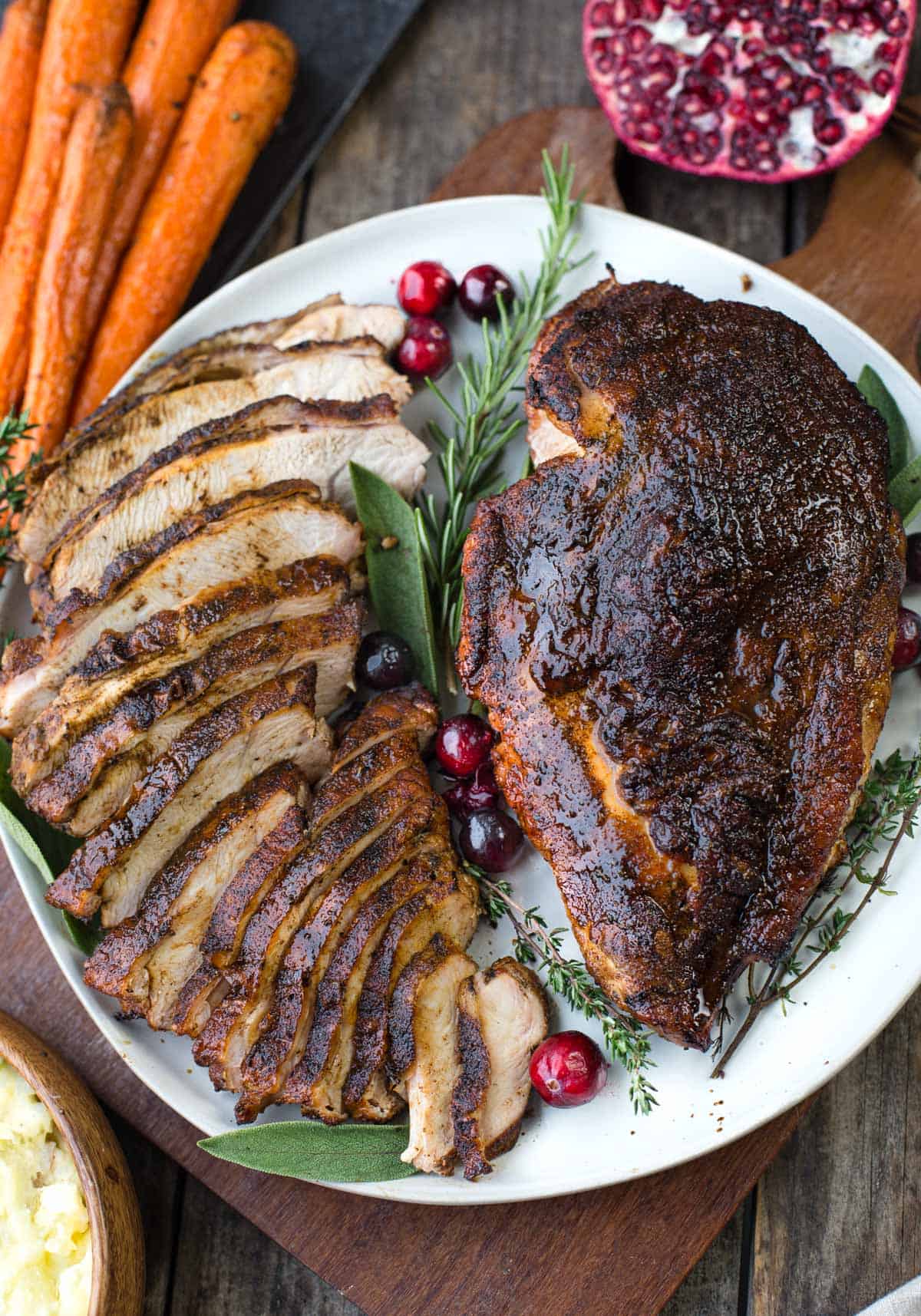 Other Holiday Small Roast Ideas
Thanksgiving Side Dish Recipes
Wine Pairing For Thanksgiving Turkey
If you're looking for wine to pair with your grilled turkey breast, or full Thanksgiving Dinner, check out our Guide to Pairing Wine with Thanksgiving (or Holiday Dinner).
This post may contain affiliate links. This means if you click on the link, we may receive a small commission if you purchase through the link. We partner with brands we know and love and use and it helps keep the blog going!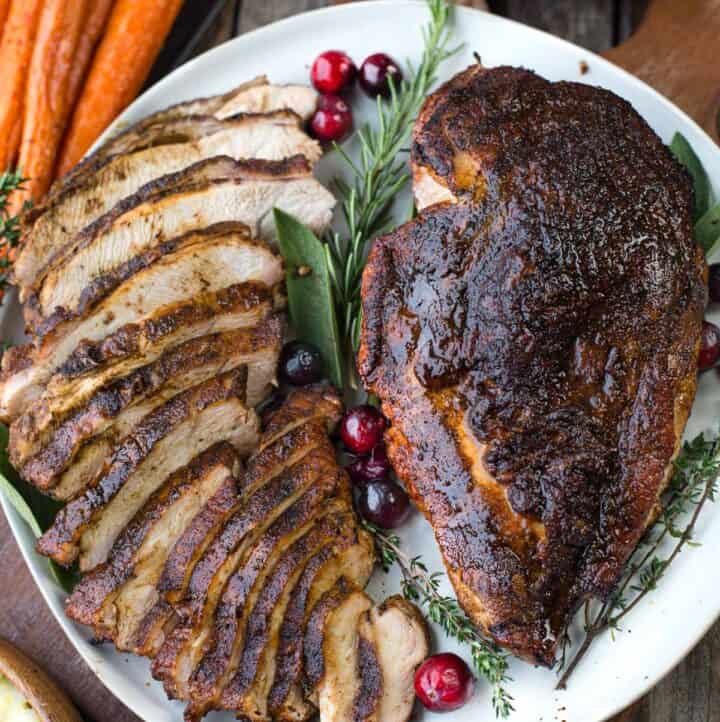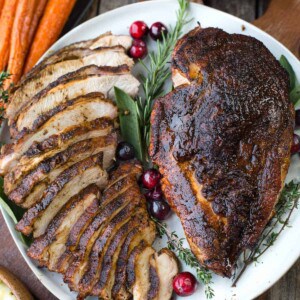 Cajun Grilled Turkey Breast Recipe
Grilled Cajun Turkey Breast with a savory and spicy finish. Add butter just under the skin for more flavor and moisture. A great Thanksgiving recipe for a small crowd or as alternative to a large turkey.
Print
Rate
Ingredients
1

3-4 pound

turkey breast roast

(should be two breasts)

2

tablespoons

unsalted butter at room temperature

¼

cup

Cajun seasoning, plus 1 teaspoon for butter
Instructions
Prepare grill for direct/indirect (or two-zone cooking). Target 350 degrees Fahrenheit in the cooking chamber.

Place 1 teaspoon of Cajun seasoning in the butter and mix. Using your fingers, slowly separate the skin from the meat on each breast to make a pocket. Add the butter into the pocket and press down to make smooth. Finish seasoning the rest of the breast with the ¼ cup of Cajun rub.

Place the seasoned turkey breast over the direct heat skin side down. Grill 6 – 8 minutes or until the skin shows a little browning. Flip and grill the other side of the turkey for 4 – 6 minutes. Once a little browning occurs, move to indirect side of heat.

Continue grilling turkey breast over indirect heat until the internal temperature of the thickest part of the breast reads between 160 to 165 degrees Fahrenheit using an instant read thermometer. This should take between 30 – 45 minutes depending on the size of the breast.

Remove the breast from the grill, and let rest for 10 minutes. Slice and serve with your favorite sides.
Find the perfect wine pairing at the Vindulge Wine Shop
Nutrition
Calories:
70
kcal
|
Carbohydrates:
4
g
|
Protein:
1
g
|
Fat:
7
g
|
Saturated Fat:
4
g
|
Cholesterol:
15
mg
|
Sodium:
6
mg
|
Potassium:
154
mg
|
Fiber:
2
g
|
Sugar:
1
g
|
Vitamin A:
3500
IU
|
Calcium:
15
mg
|
Iron:
1
mg