We're back!
After a few weeks of competitions, catering events, travel, family, otherwise general summer craziness, we're finally back to talking about wine and food. Chicken to be exact.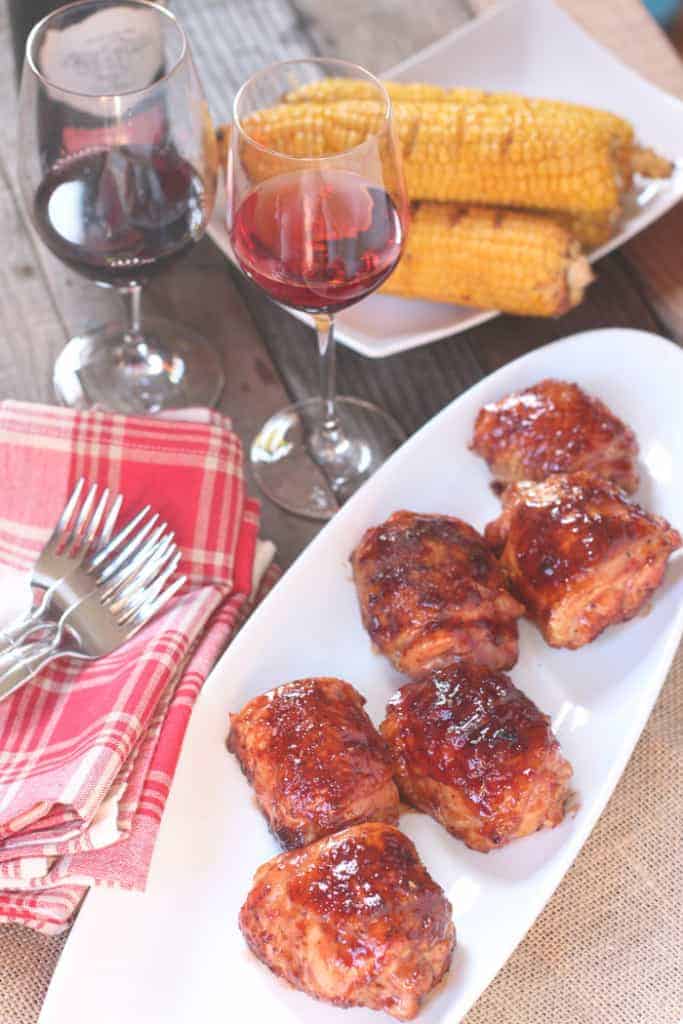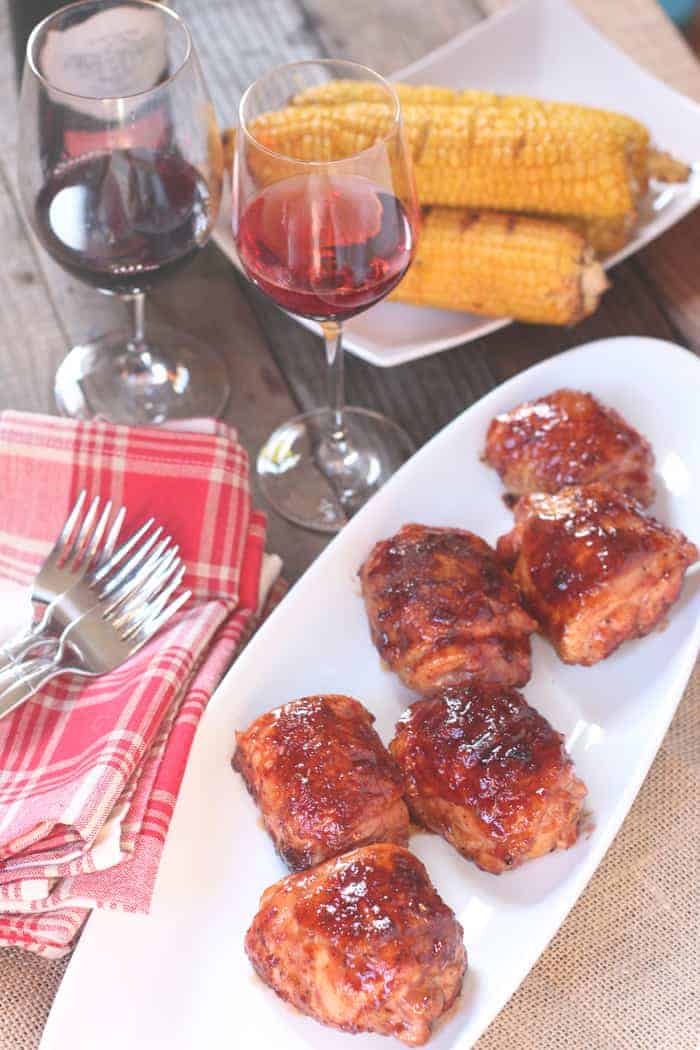 One of the recipes we practiced over, and over, and over again for our first BBQ competition was chicken thighs. We learned a ton about smoking thighs. One of them is how challenging it can be to get crispy skin when cooking low and slow. One of the easiest ways to achieve this is to cook over a high heat. Or better yet, over direct heat (show me some flames, baby!), like this method. The only downfall of is losing that gorgeous smoke flavor.

MY LATEST VIDEOS
What we have today is a happy medium. Chicken thighs cooked in a Traeger pellet smoker, but over a high heat (450 degrees). What this does is allow a hot enough temperature to get a nice char and crispy skin, while still inviting some smoke infusion to get into the meat.
Smoke flavor + tender meat + perfect char = happy chicken lovers.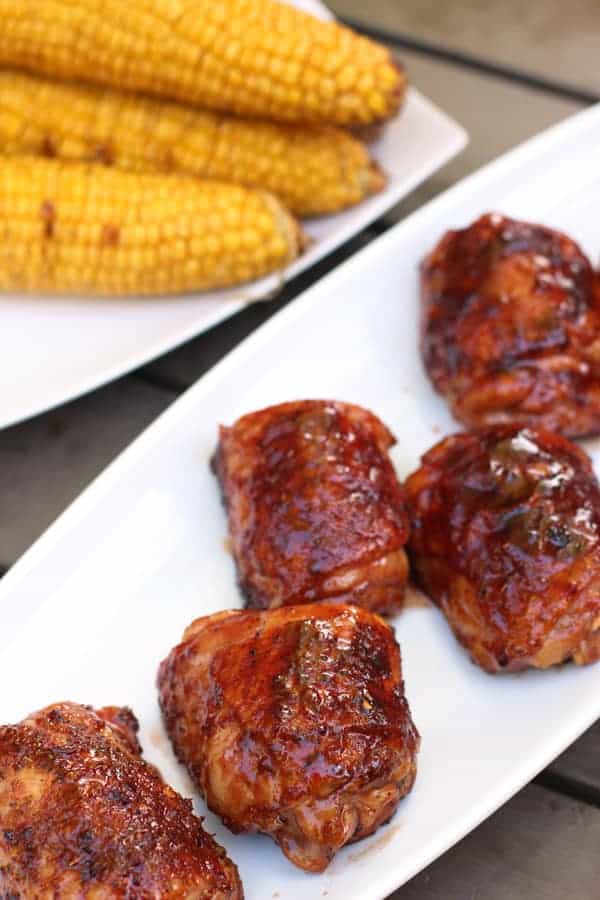 If you don't have a Traeger, or a smoker at all for that matter, don't fret. You can still enjoy this recipe on a regular grill (gas or charcoal).
How to Make Grilled Chicken Thighs
You start by cleaning and patting dry your thighs. Then you'll want to trim any excess fat. The idea here is to make the thighs look uniform, like handsome little soldiers. This way they all cook around the same time and look pretty on you serving platter.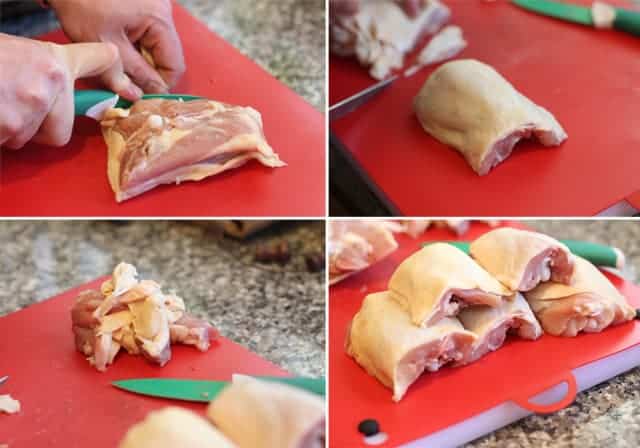 Once trimmed liberally apply your dry rub. We've tested this with a sweet bbq style rub like this one, and also a savory rub (with a simple cracked peppercorn, salt, oregano, and chili powder). We prefer the savory. But you can use whatever dry rub you like. Then throw 'em on your preheated grill.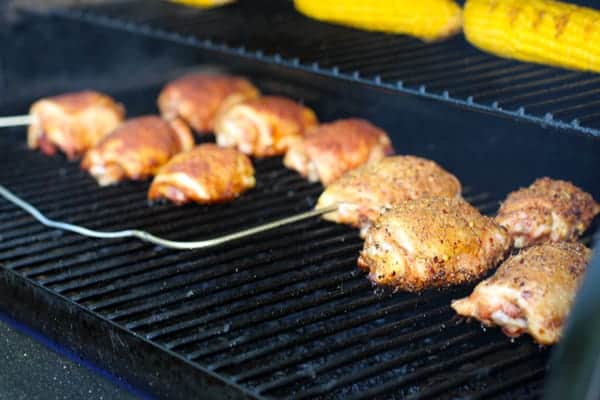 While they are cooking, crack open a beer (or some rosé) and make your glaze. The glaze is going to give it gorgeous flavor and a sweet and spicy kick. For this glaze we use a combination of a Carolina BBQ Sauce (vinegar based), jam, and corn syrup (for shine), recipe below. Combine the sauce, the jam, and the corn syrup and bring to a medium high heat for ten minutes.  Turn off heat and then let sit to thicken up.
When your chicken is close to temp (around 155 degrees internal temperature), dunk each thigh into the sauce and place back on the grill to cook a few more minutes until they are at 165 degrees. This will allow the sauce to adhere to the meat and get a little crispy and caramelized. Yum.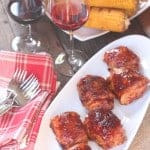 Traeger Grilled Chicken Thighs
Keyword:
Traeger chicken thighs, traeger grilled chicken thighs, traeger recipe
Servings
:
6
grilled chicken thighs
Ingredients
6

bone-in chicken thighs

about ¼ lb each

Extra Virgin Olive Oil

approximately 1/4 cup
Dry Rub:
Use approximately 1 tablespoon per thigh of the dry rub recipe, linked below

(or your favorite dry rub)
For the Glaze:
¾

cup

Carolina BBQ sauce recipe

below, or your favorite bbq sauce.

¾

cup

rasberry jam

any red berry fruit works

1/2

cup

corn syrup
Instructions
Preheat Traeger Grill to 450 degrees (if using an alternative grill, preheat grill to medium/high heat)

Rinse and pat dry each chicken thigh.

Trim excess fat. The idea is to make each thigh look uniform.

Drizzle each thigh with a little bit of Extra Virgin Olive Oil, then liberally apply dry rub to each thigh. Use approximately 1 tablespoon of the rub per thigh.

Prepare Glaze: Place the glaze ingredients in a sauce pan over high heat and bring to a bubble. Turn heat down to simmer and let reduce for approximately 10 minutes. Set aside in a large bowl.

Place chicken thighs on the grill. (If using charcoal, place over direct heat and sear each side. If chicken skin is browning too much move to an indirect heat, but leave the temperature at med/high.)

When internal temperature of each thigh is 155 degrees glaze both sides of the chicken and then place back onto the grill.

Cook until the internal temperature is 165 degrees.

Remove from heat and glaze the chicken thighs again and let sit for 10 minutes.
Wine Pairing for Traeger Grilled Chicken Thighs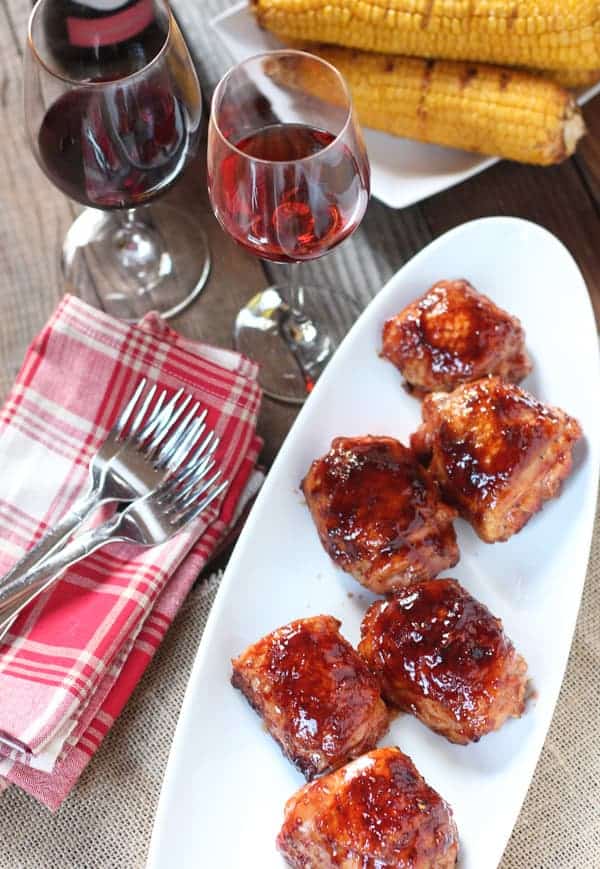 This chicken dish comes out super juicy and tender, with a nice sweet bite from that glaze, and a mild smoke infusion. Remember we used a vinegar based sauce as the base for the glaze, so I wanted wines that had enough acidity and power to stand up to that flavor, but not so big as to overpower the tender meat. We decided to try it with a few Côtes du Rhône reds, and also threw in a couple rosés for good measure (it is summertime after all!).
Côtes du Rhône reds, which are from Southern France, are generally based on Grenache or Syrah grapes, and tend to be affordable, easy drinking, and food flexible. They can be fruity but also tend to have some smoky or earthy tones, which work well with smoked or grilled meats.
Rue de Perle Côtes du Rhône Villages 2013
Region: Côtes du Rhône Villages, France
$17 (media sample)
Dark berry fruit, plum, and black cherry, along with some herbs and fresh peppercorn flavors. Not a very tannic wine, this one had some nice minerality, acidity, and enough fruit that all complimented the sauce on the chicken quite well. A nice option if you want a red to go with the dish.
Fruity Rosé
We tried the chicken with a couple different styles of rosé, from light and dry to fruity and bold. It worked best with a bolder, fruiter style. The light (Provence style) gets lost in the vibrant flavors of the chicken. You can stick with the Rhone theme and go with a Rhone rosé, but the dish would work equally well with a Spanish Rosado. Or if you want to drink local go with a 2014 rosé from the Willamette Valley.
The weather was warm in 2014, which resulted in some bolder fruitier style rosés. We recently tried this dish with the 2014 K&M Rosé of Pinot Noir ($21). Fruity, with lots of bright red berries with nice acid, this is definitely a good BBQ contender, especially with this juicy chicken dish. You can find it here, or just seek out your favorite Oregon rosé from the warm 2014 vintage.
---
For more recipes check out the Recipe Index.
If you like this recipe we'd truly appreciate it if you would give this recipe a star review! And if you share any of your pics on Instagram use the hashtag #vindulge. We LOVE to see it when you cook our recipes.
---