When my mom and hubby are both in town, deciding what's for dinner often becomes a competition.  Hubby, of course, wants to smoke something.  Mom wants to make one of her Mexican specialties.  I'm happy either way.  As a mediator, however, I need to find a way to appease them both.
Instead of choosing sides (I mean come on!) I recently decided to honor both of their talents by taking over dinner responsibilities and creating a sort of Yolanda (my mom) meets Sean (my hubby) fusion.
I like to call it "Yo-Sean-da" fusion.
By now we all know what happens when hubby smokes a brisket.  So I knew there would be a slew of leftovers (again) when he made a brisket for lunch this past Sunday.   Mom had already made her signature red chile sauce on the second day of her visit.  So I took matters into my own hands and decided I would cook dinner.  I made my mom's red sauce (which we have like 6 batches of in our freezer!), combined the leftover brisket, and created Smoked Brisket Enchiladas. I even threw in my own touch by adding some spinach and tangy goat cheese for added flavor.

MY LATEST VIDEOS
I'm pretty sure I made both Mom and Sean proud with this combination.  Yeah, they not only cleared their plates, but the entire platter was licked clean.  There were no more leftovers with this dish.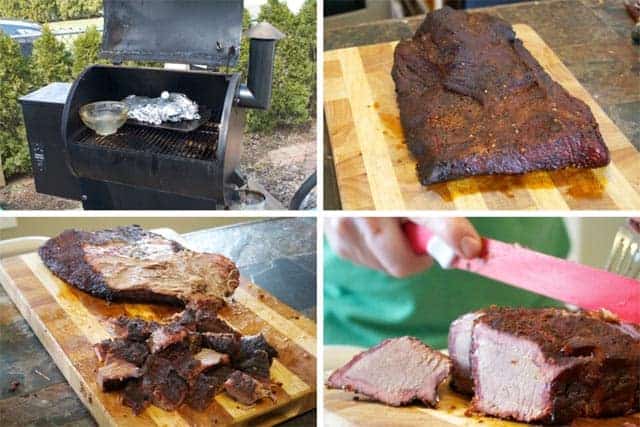 Uses for leftover Smoked Beef Brisket, recipe #3 – Smoked Beef Brisket Enchiladas
Smoked Beef Brisket Enchiladas
Adjust ingredients to the size of your baking dish.  We only had about 2 cups of leftover brisket, so used a square 8×8" baking dish to make 6 enchiladas.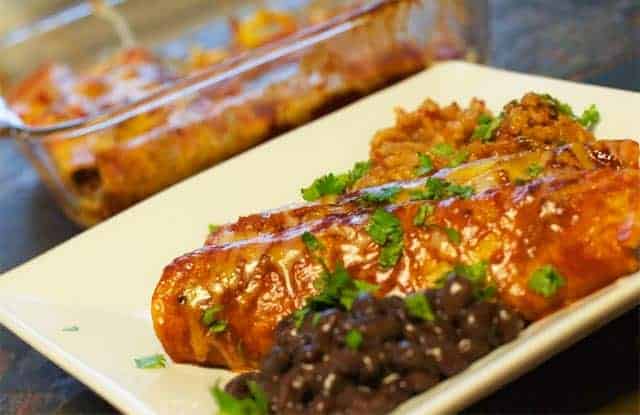 Ingredients: 
The sauce: 
2 cups of My Mama's Basic Red Chile Sauce (preparation instructions below), or your favorite red chile enchilada sauce (if using store bought sauce, omit the next 4 ingredients).
1 clove of garlic, crushed or finely diced
½ teaspoon each salt and fresh ground pepper
½ vegetarian bouillon cube (I used Edward & Sons Non-Chick'n Natural Bouillon Cubes – my mom is convinced that the bouillon takes away any bitterness in the red chile sauce)
Slurry:  1 cup water mixed with 2 tablespoons flour (mixed together so that the flour is dissolved)
1 cup leftover smoked beef brisket, chopped
For the filling:
6 corn tortillas
1 cup leftover smoked beef brisket, chopped
1 cup spinach, chopped and slightly wilted
1 cup shredded Mexican 4-cheese blend  (mild cheddar works well too).  You may need more for the top, depending on how cheesy you like your enchiladas.
2.5 oz goat cheese, crumbled
Instructions:
Preparation – the sauce
To make the sauce thaw one portion of My Mama's Basic Red Chile Sauce.
Heat a medium-large size skillet to medium heat and coat with a tablespoon of oil then add the garlic to let get hot (but don't fully cook it or it will start to burn).  Once you smell the garlic add the red chile sauce.  Next add ½ a vegetarian bullion cube and the salt and pepper, and mix into the sauce.  Add the slurry, bring to a simmer and stir, allowing everything to mix and thicken to desired consistency (4-6 minutes). Set aside.
If you are using a store bought sauce just heat up the sauce in a medium skillet and wait to add the beef just before you top the enchiladas.   
Preparing and assembling the enchiladas
Pre-heat oven to 350 degrees
Dice up your brisket into small pieces.  Separate into two portions (1 cup will go into the sauce, 1 cup will go into the filling).
Soften the spinach for 1-2 minutes on a skillet set to medium heat (just to slightly wilt it).
To soften the corn tortillas – take the tortillas and dip them into the red chile sauce sauce one by one to coat them.  This will help soften the tortillas so they don't break up when you roll them.  It also helps infuse the tortillas with the tangy delicious sauce.
Next, add your filling to the tortillas – layer about one tablespoon of the beef, spinach, shredded cheese, and a couple crumbles of the goat cheese (go light on the goat cheese or it will overpower the flavor).  Roll the tortilla and layer the rolls on an 8×8″ baking dish seam side down, in one layer.
Repeat with the remaining tortillas until the dish is packed.
When the tortillas are all layered, add the remaining 1-cup of beef brisket to the sauce and let mix.   Pour the beef soaked enchilada sauce over the top of the dish.  Sprinkle with the remaining shredded cheese.
Bake for 15-20 minutes, or until cheese is melted and bubbly.
Garnish with cilantro.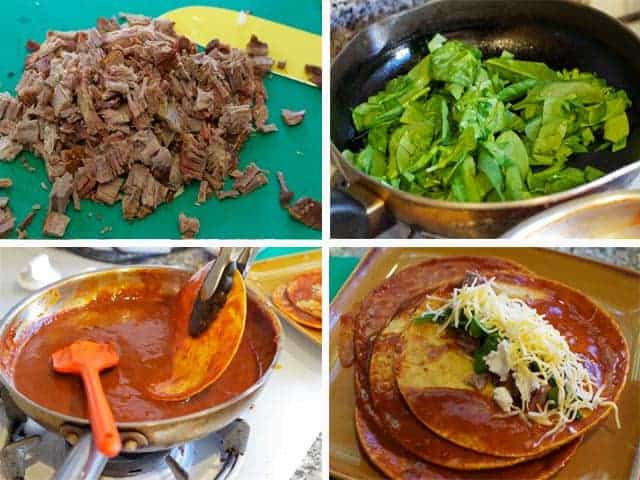 Wine Recommendations
The smoked flavor of the beef is very mild in this dish, so I don't recommend seeking out a wine to go with the beef.  Instead I want something to balance the rich, acidic (and almost bitter) red sauce, and the creamy texture of the enchiladas.
Not to sound like a broken record, but I found Monastrell from Spain to be a pretty spot on pairing because the Monastrell is fairly acidic, yet fruity with tannins that work well with both the meat and cheese.   And while we're on the subject of Spain, Riojas also have good enough acidity for this dish and work well with the red sauce.   A juicy Zinfandel works well too for similar reasons as the Monastrell and Rioja.  For all of the above just look for a wine that's not too high in alcohol (15% abv+) otherwise it will accentuate any heat in the dish and create an unpleasant aftertaste.
For white I am a huge fan of a fruity dry rosé.  For this dish I want a big bold rosé, so as much as I adore Provencal rosé, I recommend you steer clear for this dish.  Instead look to Washington state rosé's made from Grenache or Syrah.   Grenache (or Garnacha) based rosé's from Spain work well too.   The dish itself isn't very spicy, but a nice fruity rosé works well to lighten up what is otherwise a filling dish, cooling and refreshing the palate in-between bites.
More uses for leftover brisket
What about you? What are your favorite uses for leftover brisket?
*****
Want more barbecue recipes and tips? Check out the recipe index on the blog for recipes and wine pairing ideas. 
Or just enter your email to subscribe to new blog posts and recipes posted here on Vindulge, delivered directly to your inbox.
0