Finger lickin' recipe for Glazed BBQ Chicken. Including tips and tricks for getting incredible flavor from smoked chicken, including using a chicken dry rub, and dipping in a glaze during the final minutes of cooking. You're gonna love this barbecued glazed chicken!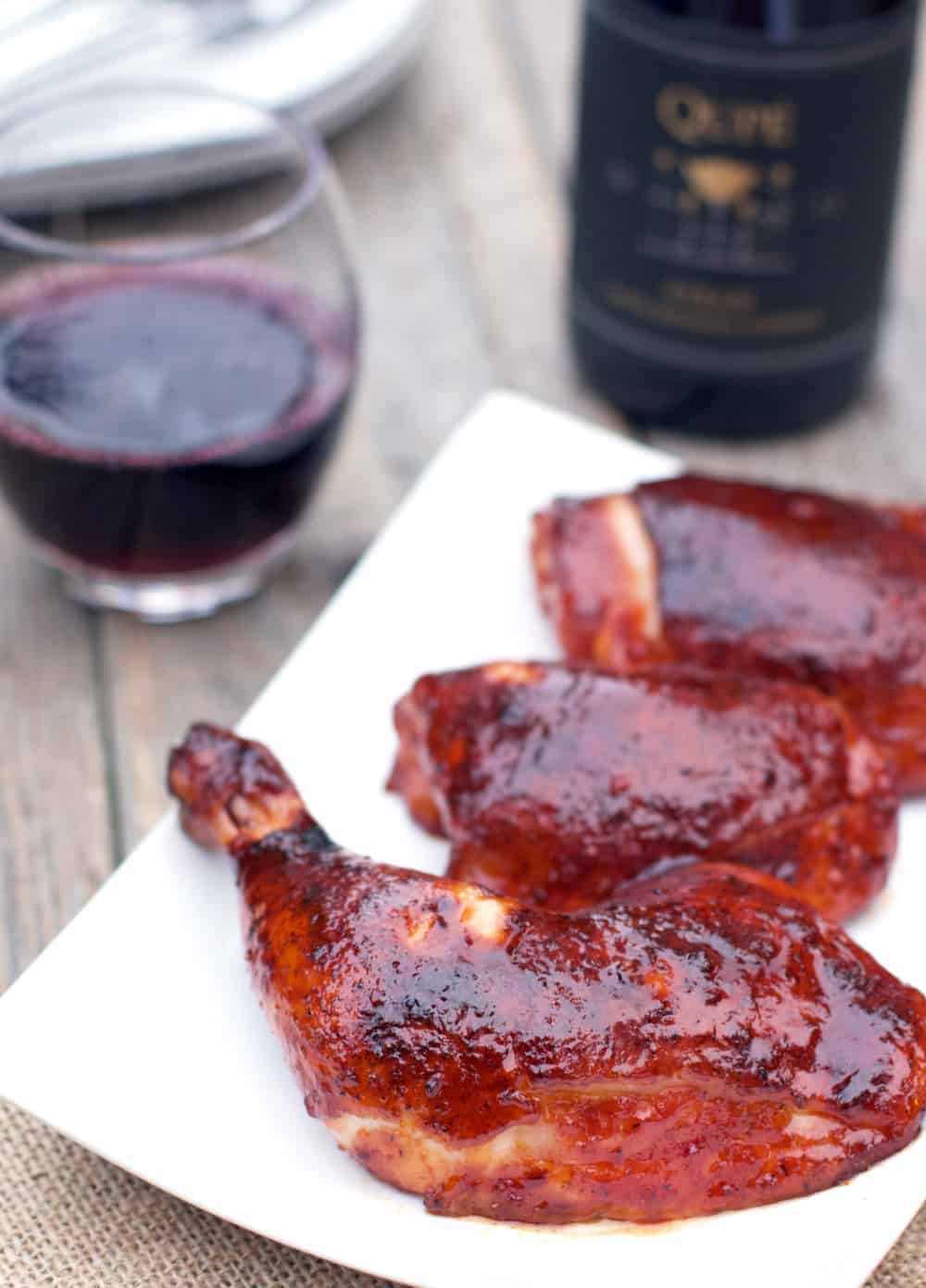 We are huge fans of chicken on the smoker. Though it hasn't always been the case. Sean, for example, was never much of a chicken fan until I forced him to eat it over and over because one cannot live off beef alone. True story.
Now I know brisket, pork shoulder, and ribs get all the love and attention when it comes to barbecue, but there is something about chicken slowly smoked and carefully sauced and cared for that makes for a delicious flavor bomb. And yes, the cliché "tastes like chicken" can infer a bland outcome, but when you have such a blank canvass, you can flavor the hell out of it with dry rub and sauce and have moist and delicious taste from this versatile protein.
How to make great BBQ Chicken on the Smoker
Over the years we have learned a few things about making the very best smoked BBQ chicken. Here are all the tips, tricks, and secrets we have to share: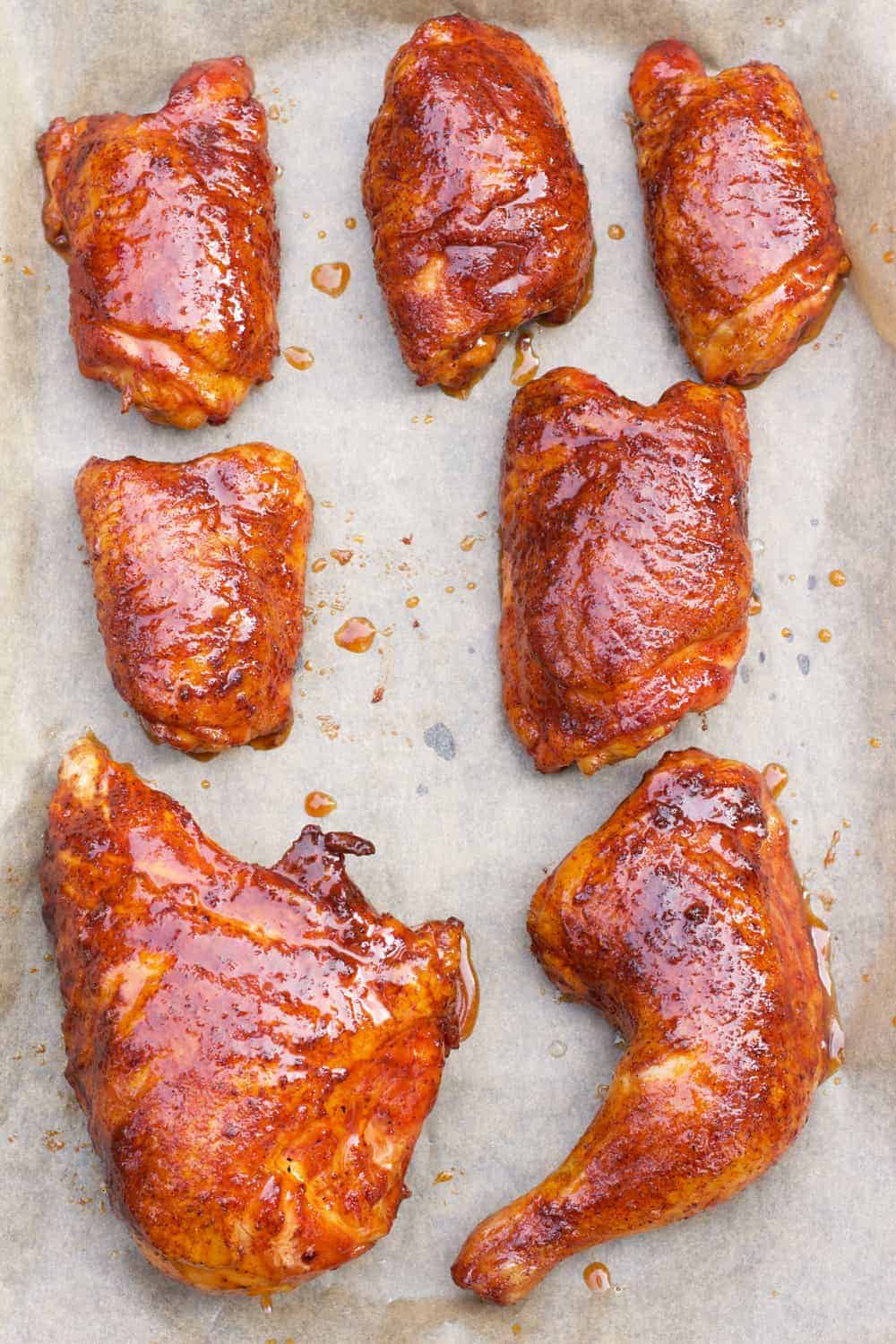 The Best Cut for BBQ Chicken:
We've learned that we definitely want to cook the bird in pieces. Yes, an entire bird is fun, but to be able to monitor the internal temps of a chicken makes it so much easier to have the breast, wings, thighs and drums separated. You are also able to season each piece more thoroughly when they are seperated. We still do the occasional smoked whole roaster chicken, but for that it's usually when we're looking to do shredded (or pulled) chicken for other recipes, like smoked chicken chili or smoked buffalo chicken dip.
The Prep for BBQ Chicken:
I really like a start my smoked bbq chicken with a dry rub, savory to be specific. Yes, you can brine chicken. But one challenge with brining is the impact that it can have on the skin. When cooked at a lower temp the skin often comes out rubbery (gross!). And ideally for competitions (as well as everyday consumption) we are trying to avoid the rubbery chicken skin. That just means the fat hasn't rendered out. So when cooking low and slow, the key is avoiding too much excess moisture, but without skipping flavor. So that's why we use a dry rub.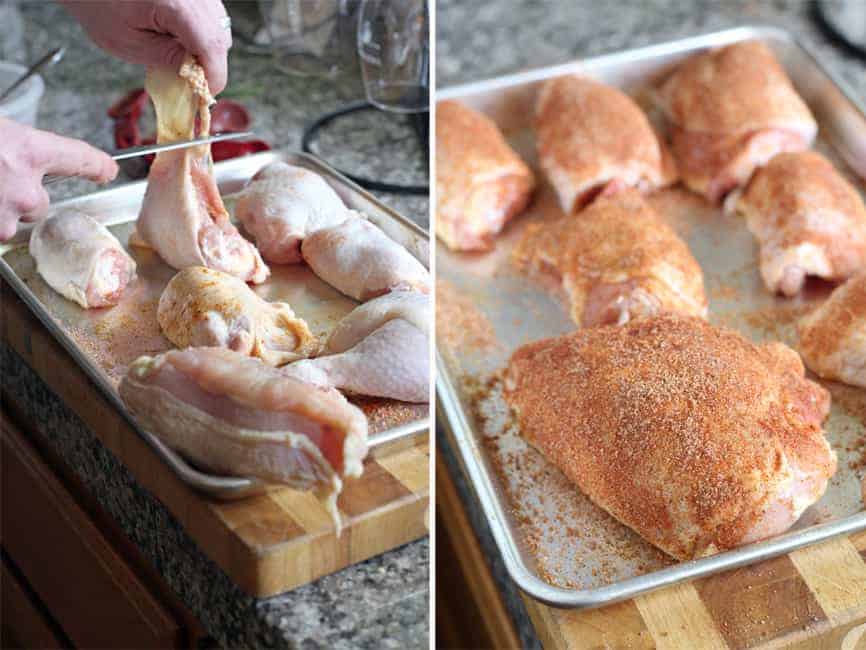 Next, trim excess fat off the chicken. In some cases you can get really technical on say, the thighs, and actually remove the skin, scrape off the fat, and then put it back on again (that's what we do in a competition style chicken). But really, that's a pain when you are in the backyard. So for this example, start by using a dry rub and we'll talk about getting a crispier skin in a minute. You can also place the chicken in the fridge for a few hours to allow the skin to dehydrate (like we do for our Smoked Buffalo Wings).
How to Cook Chicken on the Smoker: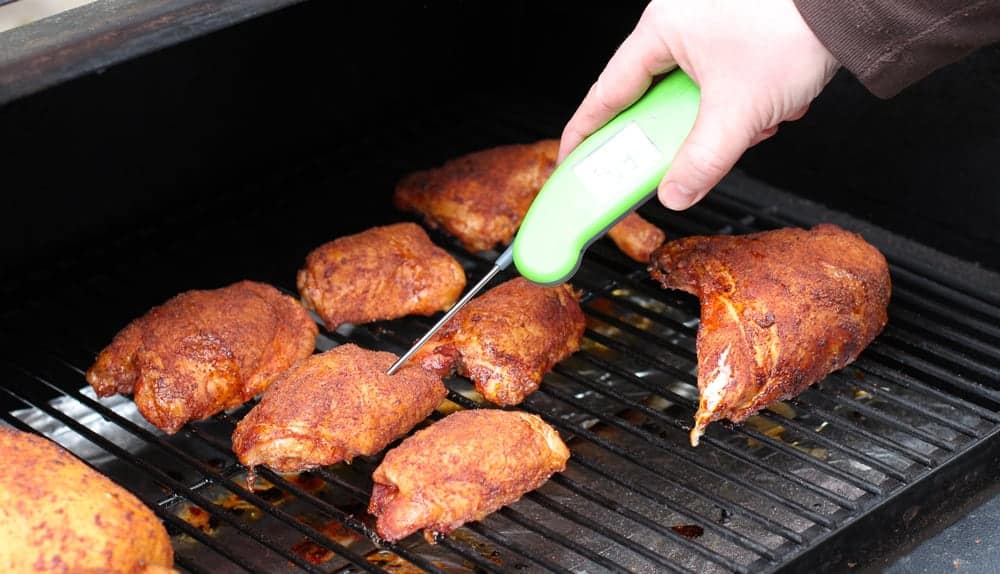 Cooking at 250 – 275 degrees is the sweet spot. It's hot enough to help render out some fat (for that crispy skin), while still allowing that low and slow smoke to infuse your meat. The key is watching the temp in each part of the bird, thus why I like separating the parts (each piece will cook a different length of time based on its size, so you can monitor each piece with a thermometer).
Want crispy skin on your Smoked BBQ Chicken?
When your chicken is approaching its final temp (165) jack up the heat to high for those final minutes. Ending with a higher heat will help to get that skin crispy. Alternatively, you can move your meat to a hot charcoal or gas grill (like we do for those Smoked Burgers we made a few weeks ago). But that's also pretty labor intensive. So try jacking up the heat to high to help get the skin crispy towards the end.
When to Glaze BBQ Chicken:
Here is where the flavor really pops. Right before the chicken is done (say an internal temperature of 155 degrees versus fully cooked at 165) dip the chicken into a bowl of your favorite sauce then place back on your cooker for those final minutes.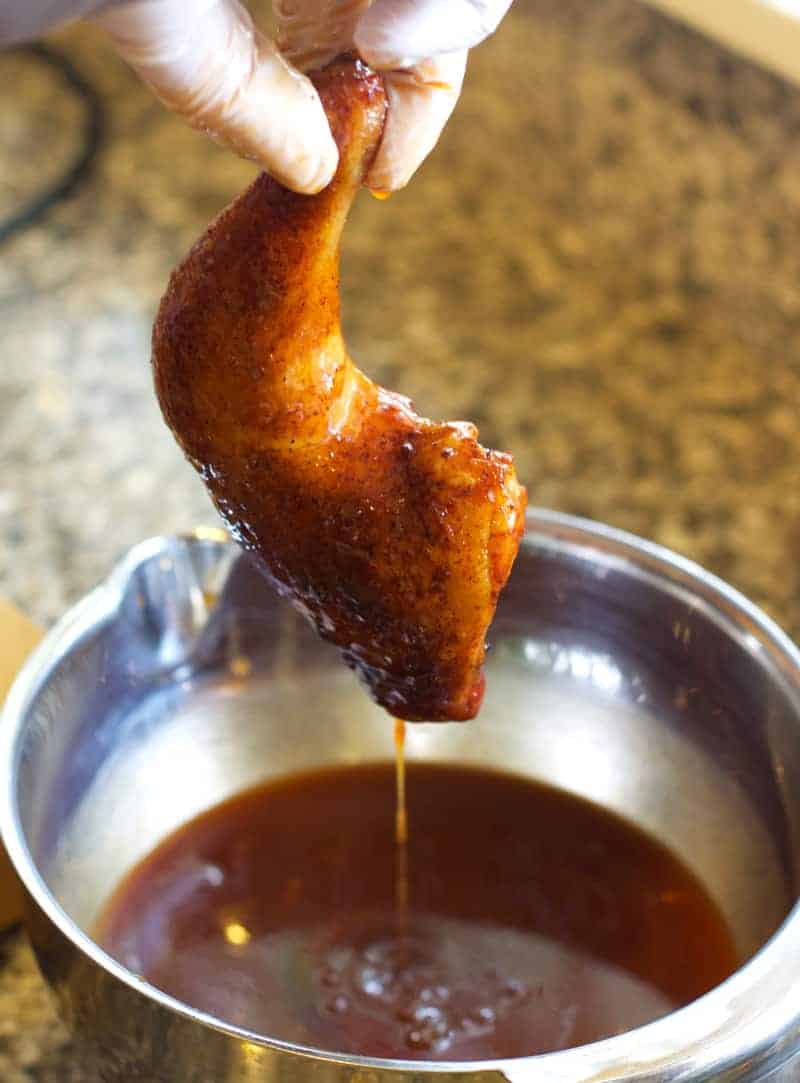 This allows a few minutes to set the glaze but avoid burning; especially if you are cranking the heat up at the 155 internal temp for that crispy skin. After the bird reaches 165 internal temp, remove and dip again in the glaze. Let sit for about 10 minutes and then enjoy.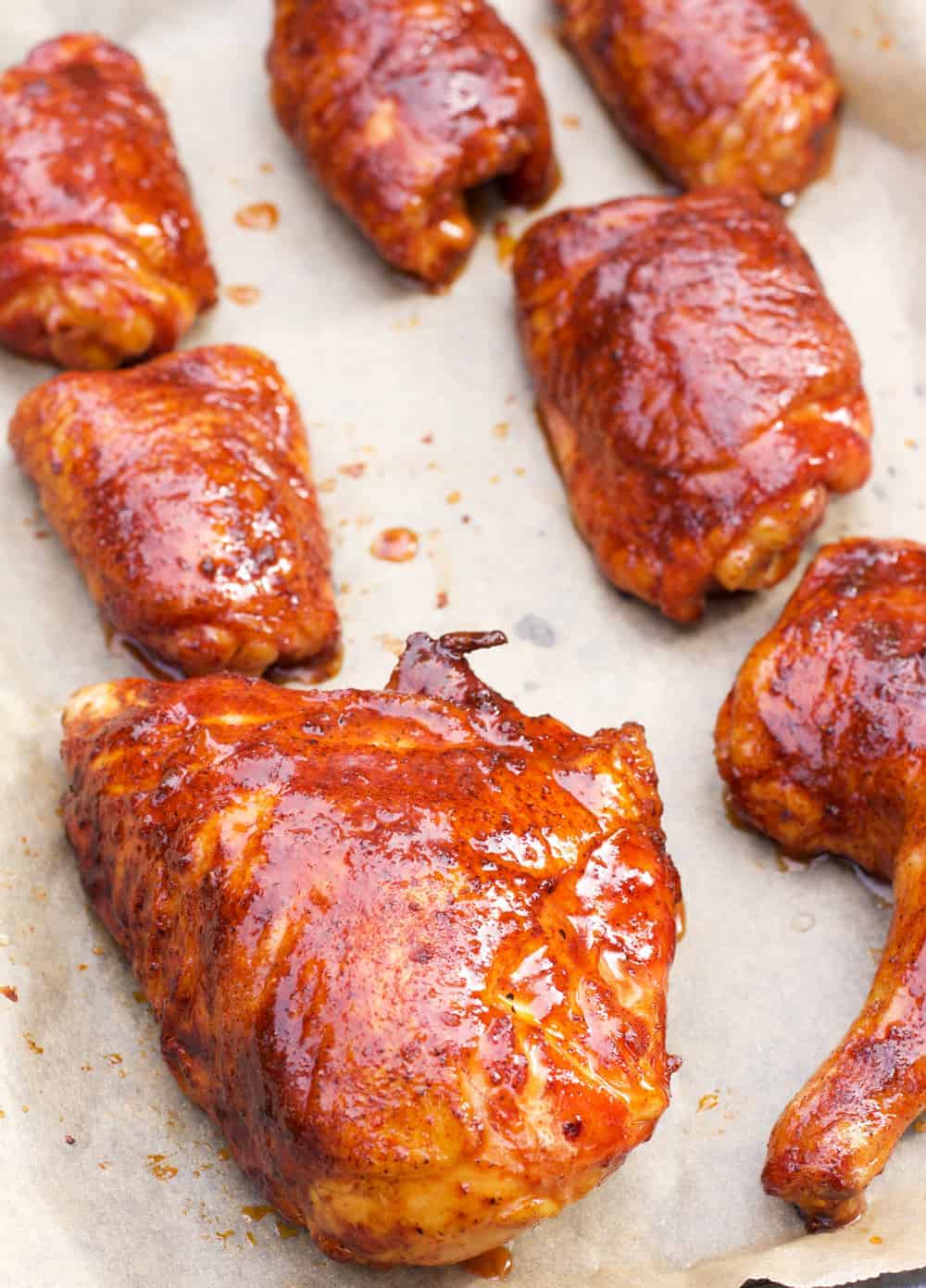 This is a different technique than brushing a BBQ sauce on. The dipping method allows for a uniform sauce application, and it also creates this gorgeous glossy look! So pretty!
When using the glaze, this is where your favorite flavors can stand out. Like mixing sweet with heat and savory. In our case, we use agave nectar mixed with a Carolina style BBQ sauce and the heat from the rub as a base. All three make for a complex flavor bomb when you bite into the chicken. It should still be moist and delicious in every bite, both white and dark meat.
If you like a sweeter and stickier style sauce, check out our Kansas City Style BBQ Sauce recipe too!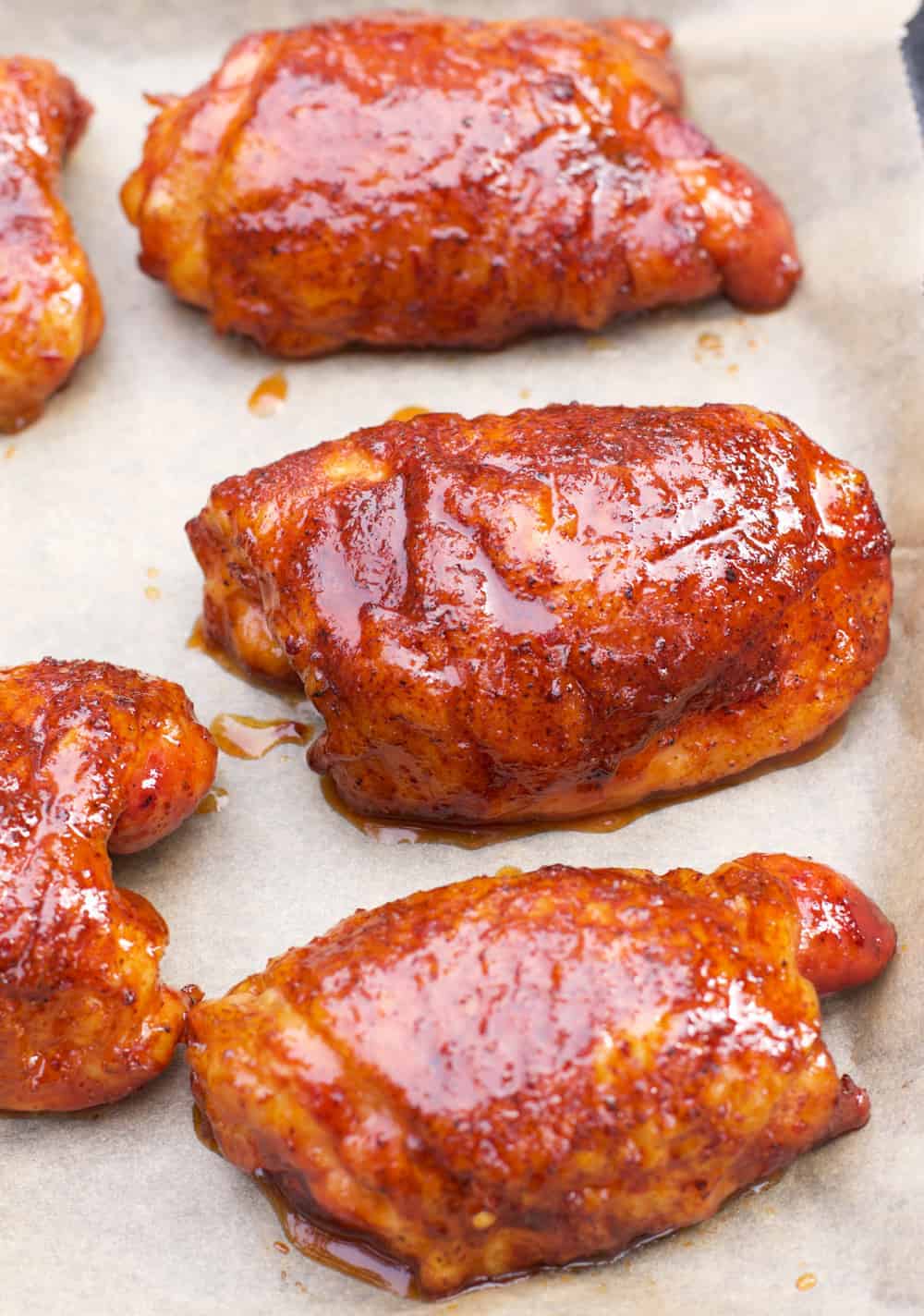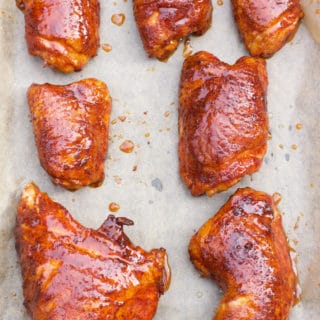 Glazed BBQ Chicken
Recipe for glazed barbecue chicken. Tips and tricks for getting incredible flavor from chicken on the smoker, including using a dry rub, and dipping in a glaze during the final minutes of cooking.
Print
Rate
Cook Time:
1
hour
30
minutes
Total Time:
1
hour
30
minutes
Ingredients
For the Chicken:
6

bone in chicken thighs

2

bone in legs

2

bone in breasts

5

tablespoons

dry rub,

recipe below

2 2/3

cups

glaze,

recipe below
For the Dry Rub (makes approximately ¾ cup rub):
¼

cup

light brown sugar

2

tablespoons

kosher salt

2

tablespoons

smoked paprika

1

tablespoon

onion powder

1

tablespoon

garlic powder

½

tablespoon

black pepper

1

teaspoon

cayenne

Mix all the ingredients together and store in airtight container for up to a year
For the Glaze:
2

cups

Carolina style BBQ sauce

see notes for our recipe

2/3

cup

agave nectar

or honey

Mix ingredients together in a bowl
Instructions
Preheat smoker to 275 degrees.

Trim meat of excess fat, rinse and pat dry (if you dehydrate, do this step first and then dehydrate).

Apply the dry rub to the chicken (make sure you apply it all over, approximately 1 teaspoon per piece, depending on size).

Place in the smoker until the internal temperature of the chicken reaches 155 degrees.

Dip the chicken pieces into the bowl of glaze and place back onto the smoker.

Raise temperature of smoker to 375 degrees (or higher) and continue cooking until the internal temperature reaches 165 degrees.

Remove from the smoker and then dip again into your glaze, let it rest on butcher or parchment paper for 10 minutes.

Serve and enjoy.
Notes
As always, cooking times will vary. Always cook to proper temperature (in this case 165 degrees per piece of chicken). For this recipe we cooked the meat for approximately 90 minutes total.
For our Carolina Style BBQ Sauce
Wine Pairing for BBQ Chicken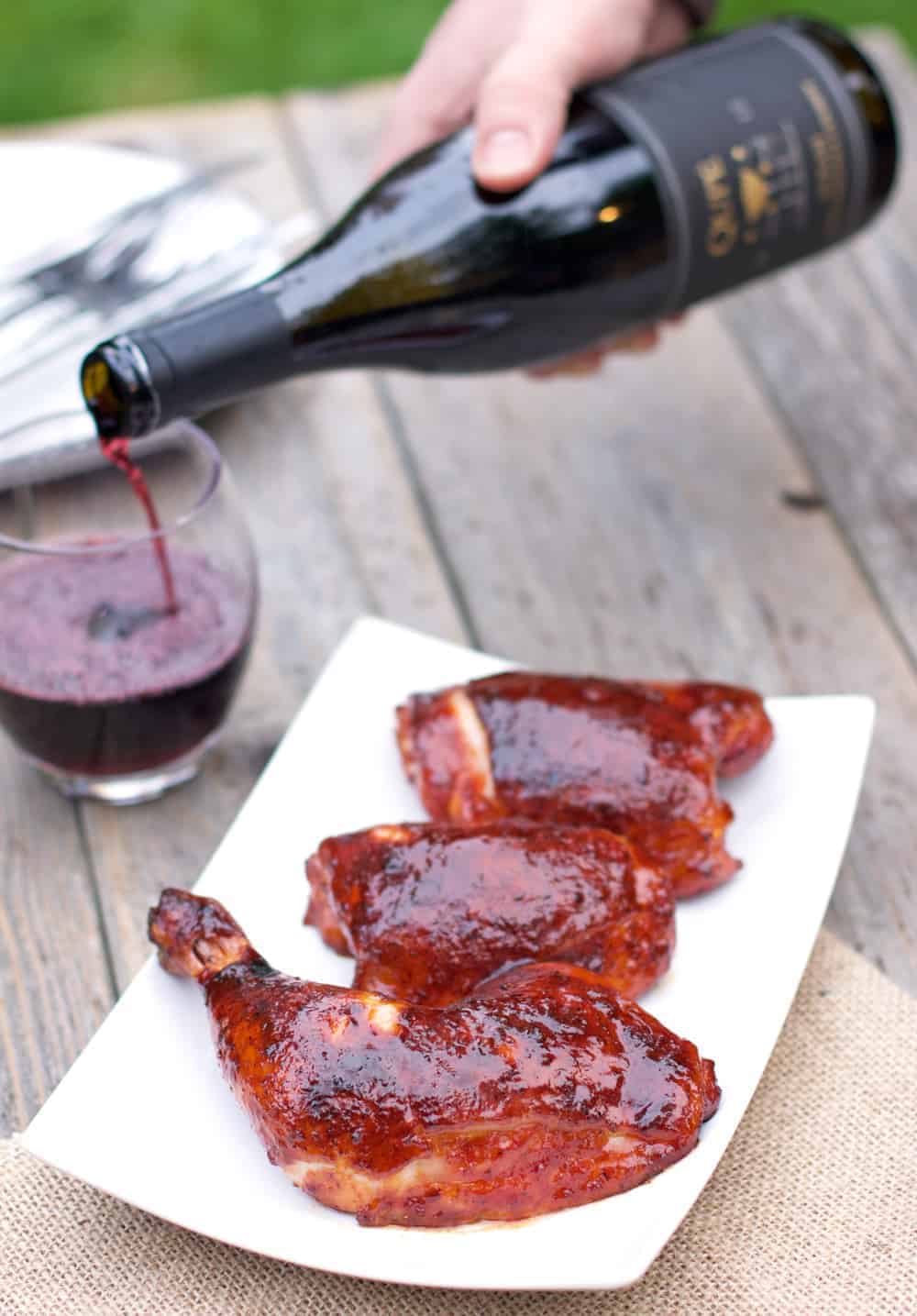 We've got a few things going on here that will effect the wine pairing. There's the savory, slightly sweet, and just barely spicy dry rub. And then we have the glaze. For our glaze we went with a Carolina style sauce and some agave, so that means vinegar (acid) and sweet. If you go with a KC, or sweeter-style BBQ sauce that will create an even sweeter glaze. We strive for a balance of savory/smoky/sweet, which we achieved. This allows for more options with wine (otherwise your best bet would be something like a Zinfandel, or super fruity style wine).  We opted for a Syrah from Santa Barbara and it was darn near a perfect match.
2012 Qupé Syrah (Santa Barbara County, California)
This cool climate Syrah allowed for a gorgeous integration of fruit, herbs, spice, and even some floral notes, without becoming rich or jammy. It did have rich dark berry fruit (but it wasn't overripe or intense), but also some blueberry fruit, some plums, fresh black pepper, and this lovely savory feeling throughout. Smooth, velvety, savory, and balanced, this was just the balance of flavors that worked well with the flavors of the chicken.  13.5% abv  |  $30 (media sample)
Feel free to try your favorite Syrah with this chicken and experiment with the flavors.
---
Want more BBQ Chicken Recipes?
---
If you like this recipe we'd truly appreciate it if you would give this recipe a star review! And if you share any of your pics on Instagram use the hashtag #vindulge. We LOVE to see it when you cook our recipes.