Grilled Buffalo Chicken Meatball Sliders are an outstanding snack when you're craving a classic chicken wing, but want to change it up a bit. And when we're looking for fun game day recipes, we want big flavor, and these fit that bill perfectly!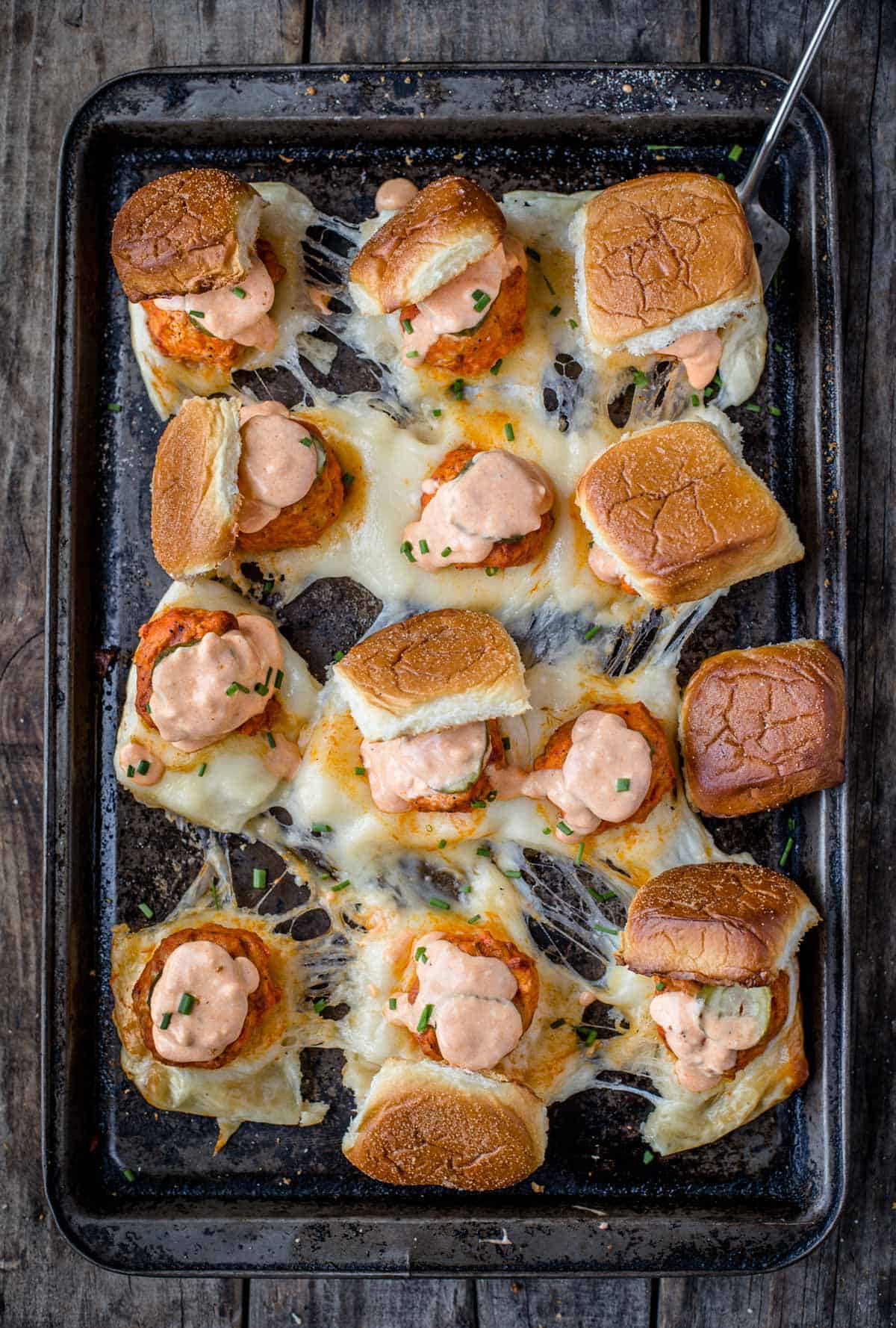 This post and recipe is sponsored by Mirum, and it's one heck of a recipe. All opinions and content are my own.
If you are looking for a creative way to add Buffalo style flavor to chicken, this Buffalo meatball recipe is it. Turning them into sliders makes them the perfect finger food for any game day or to wow your guests with a filling snack for the Big Game!
Jump to:
Ingredients For Buffalo Chicken Meatballs
For these meatballs we're deconstructing the flavors that go into a classic chicken wing, and adding them into the meatball.
It starts with ground chicken, but ground chicken is typically very lean which in turn means it can dry out easily when cooked. So, we recommend you buy ground chicken that is 90% lean versus the 99% lean if possible.
Next, to bring the classic hot wing flavor, you need a Buffalo Wing Hot Sauce. We then add some celery for crunch and some dry rub to season for the perfect combination.
For a binding agent we're not using egg for this. Instead, we're using bacon that's been ground into a paste. This works as both a binder and also adds great flavor!
What is Bacon Paste?
Bacon paste is simply bacon that has been ground into a fine paste using a food processor. When bacon is turned into a paste it becomes a great binding substitute to egg. In addition to adding the right amount of fat to allow the ground chicken to combine and set, it also adds a slightly bacon-like flavor to any dish (like in our classic turkey burger with bacon paste).
Simply place two slices of bacon (per pound of ground chicken) into a food processor and pulse until it becomes a paste like consistency. Thick cut cold bacon works best. If it's warm and thinner, it tends to not process as easily. If all you have is the thinner cut bacon, be sure it's cold.
How to Make Buffalo Chicken Meatballs
Once you have made your bacon paste it's time to make the Buffalo meatballs. These on their own are amazing, but we're going the extra step to really take them over the top as sliders.
In a large bowl combine the ground chicken, bacon paste, wing sauce, celery, and dry rub. Combine them with your hands to incorporate the bacon paste and ingredients until it is well combined. Note: The meatballs will feel wet, and that is normal.
Using an ice cream scoop, form the meatballs into 12 golf ball sized meatballs. Even sized meatballs will cook at the same time. Place on a tray and put into the fridge for 15 – 20 minutes. This will allow them to form up and hold well while on the grill.
Grilling Steps
While preparing the meatballs, this is a good time to preheat your grill and set it up for indirect or two-zone grilling, targeting 350 – 375 degrees Fahrenheit (F). Place the meatballs straight from the refrigerator onto the grates and grill them for 20 minutes, or until the internal temperature of the meatballs reaches between 160 – 165 degrees Fahrenheit. If your grill is running hotter, then they will cook faster, so be sure to cook to temperature, not just time. Check them after 12 minutes just to be sure.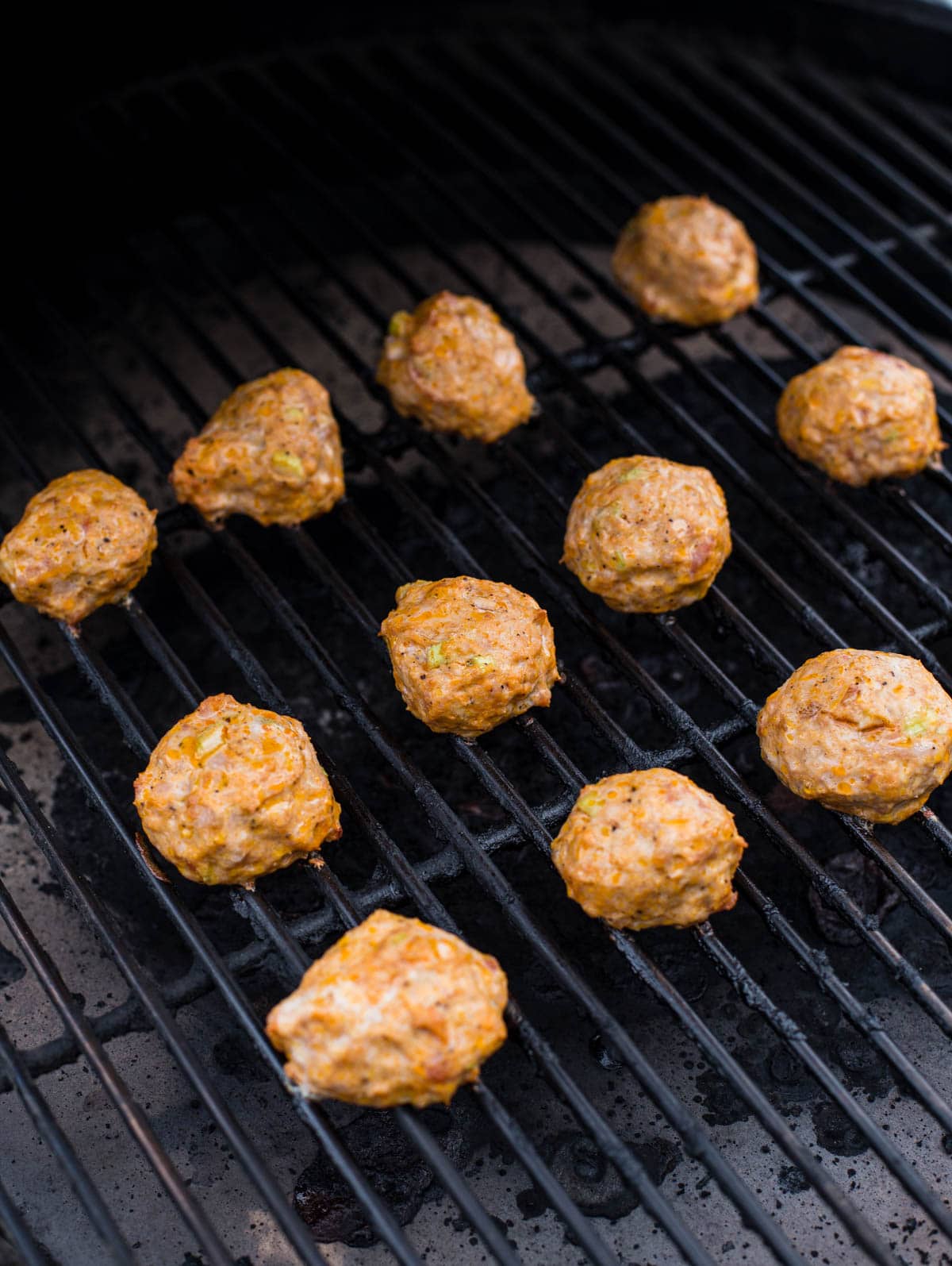 Ranch Sauce
While the meatballs are grilling, this is a good time to make the ranch sauce. Combine the cream cheese, ranch, and wing sauce in a medium sized bowl, and whisk until smooth. If you're a hardcore blue cheese fan, feel free to sub blue cheese dressing instead of ranch. When the sliders are done, we'll pour this sauce over the top or use as a dipping sauce.
Making The Buffalo Chicken Meatball Sliders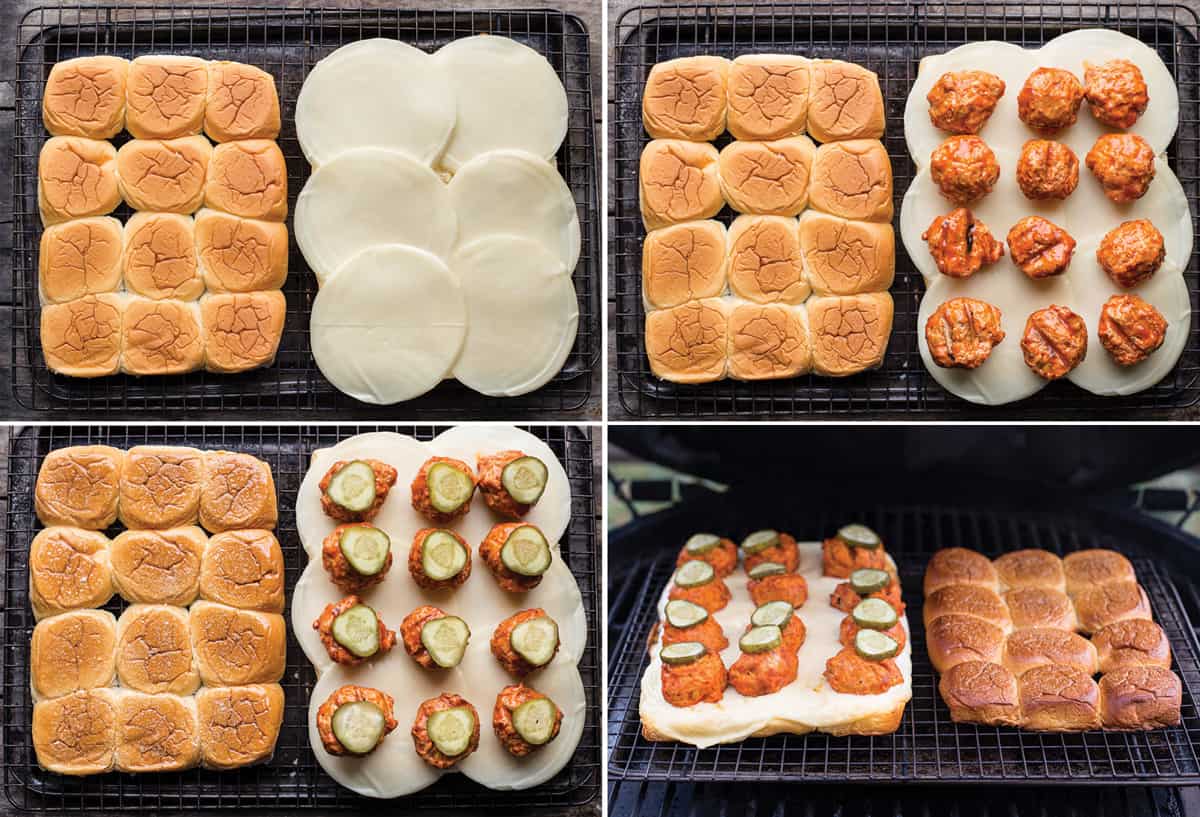 When the meatballs internal temperature reaches 160 – 165 degrees F (about 20 minutes of grill time at 350), remove from the grill and then place the chicken meatballs into a bowl. Pour ¼ cup of wing sauce into the bowl and toss them to coat. This gives even more of that distinct Buffalo chicken flavor.
On a cookie rack, place the rolls and cut the rolls in half with a good, serrated bread knife and lay them side by side with the bottom half. We use Hawaiian style rolls for these because they stay connected and we can lay out the ingredients so easily (they're also so soft and tender!). Brioche sliders are another great alternative.
Lay your slices of provolone cheese on the bottom half, and then add one meatball per roll. Top each meatball with a pickle. On the bread tops, brush with melted butter and then sprinkle with granulated garlic and kosher salt for extra flavor.
Take the entire cookie rack (with the sliders still on it) and place back onto the grill to melt the cheese and warm the bread. This should take about 10 minutes, or until you like the color of the melted cheese. Remove and then top the meatballs with the ranch sauce and place the top of the buns on the sliders.
They are ready to serve.
A note about the cookie rack versus just a sheet pan – We use this because it elevates the bread off of a sheet pan preventing burning the bottom of the rolls from the grill.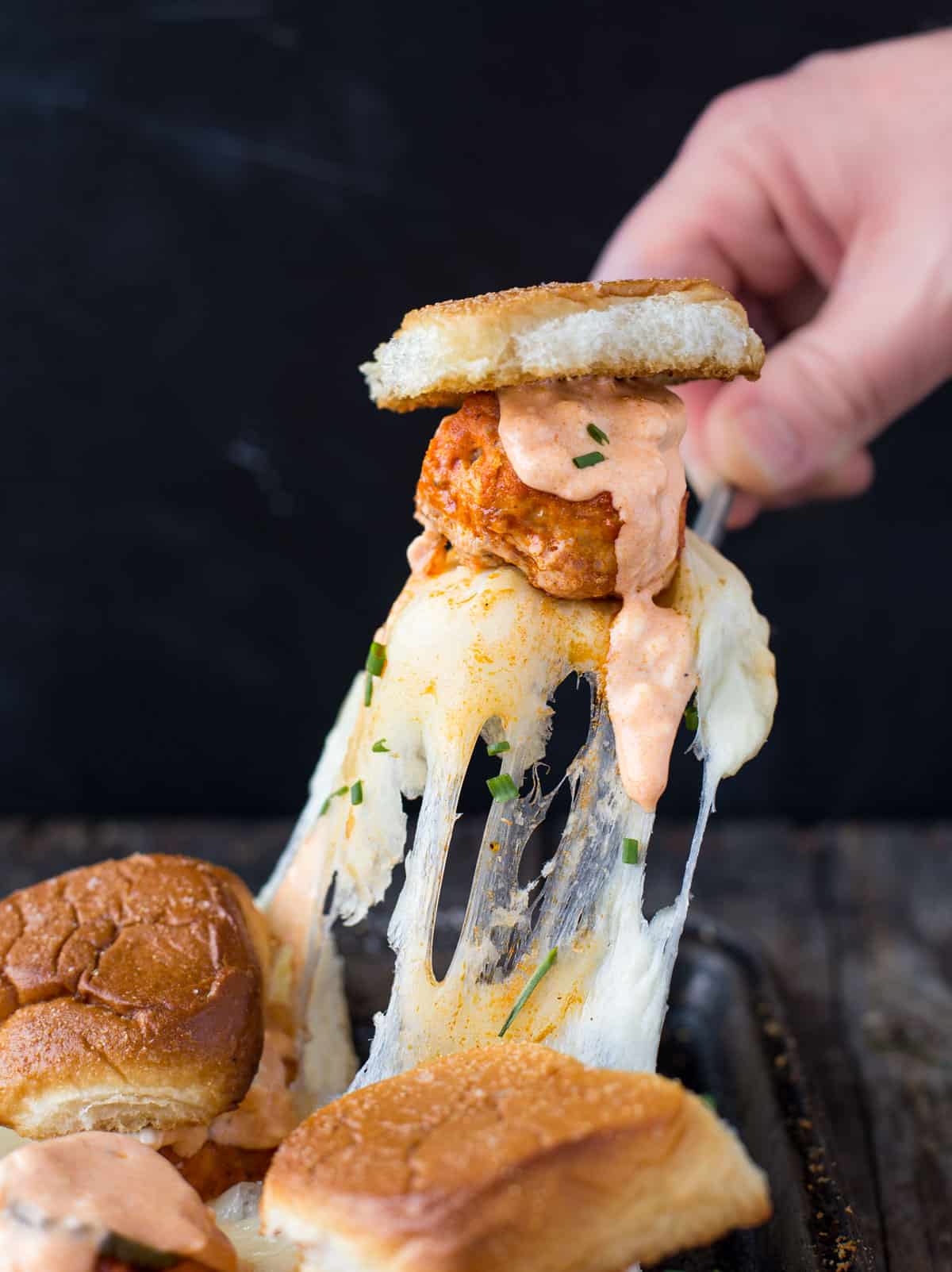 Reducing Heartburn Symptoms When Eating Spicy Foods
If you're combatting frequent heartburn (2 or more days per week), a 14-day course of Kroger's Omeprazole Orally Disintegrating Tablets (ODT) can really aid in treating those symptoms.
Omeprazole ODT from Kroger is affordable compared to national brands and easy to consume. You simply take a tablet that disintegrates right on your tongue every morning for 14 days. No need for water. And when we're grilling wings and enjoying delicious foods, it's a game changer.
Use Omeprazole ODT as directed for 14 days to treat frequent heartburn (occurring 2 or more days a week). Omeprazole ODT is not intended for immediate relief and may take 1-4 days to feel the full effect. You can find it online at Kroger.com or at your local Kroger store.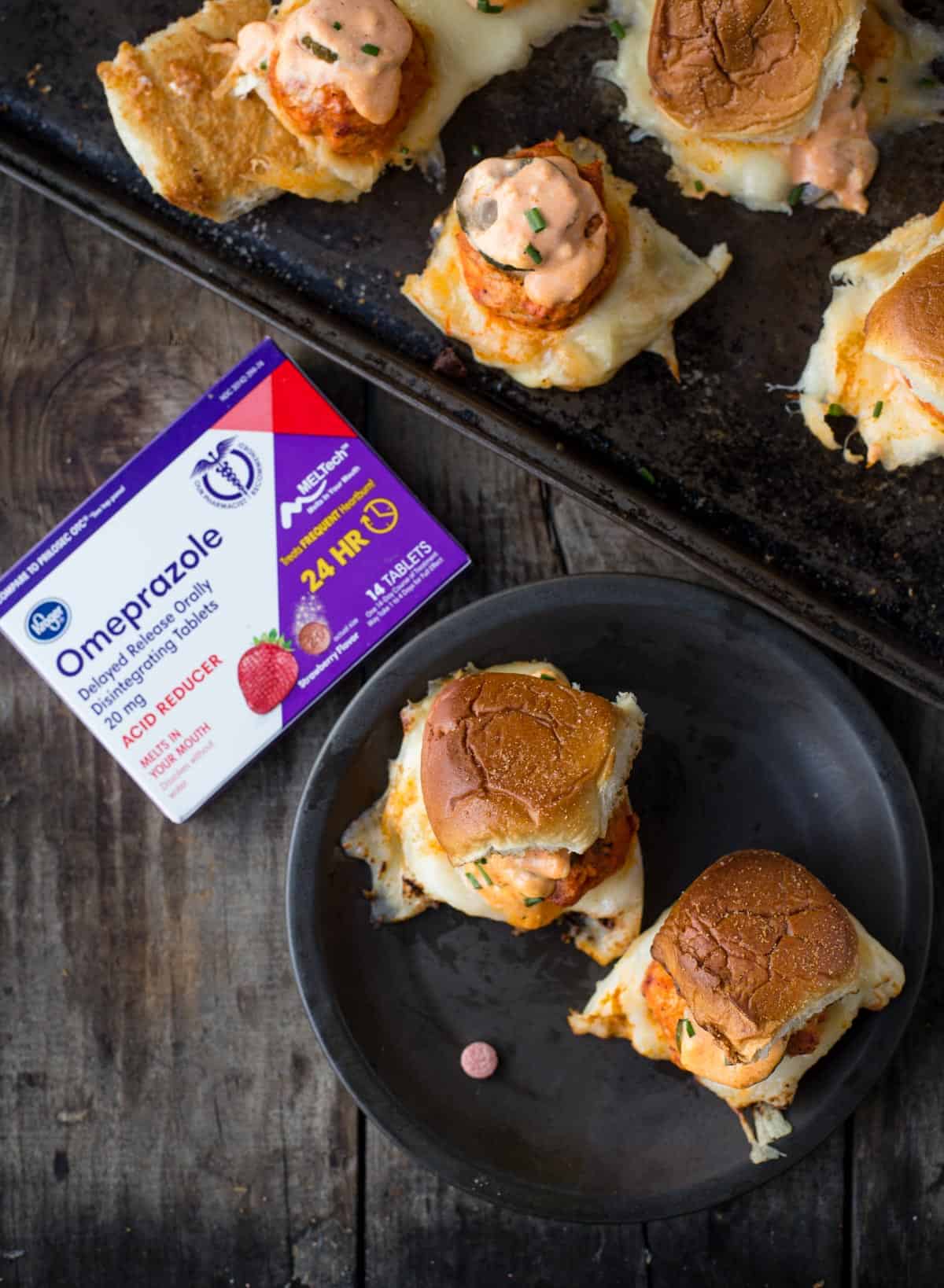 Other Great Game Day Recipes
Check out our Game Day recipe round up for even more great options.
Slider Ideas
Here are some of our other great slider recipe ideas.
---