BBQ Meatballs are a great appetizer for any outdoor gathering. They also can be adjusted in size as a main meal, and are great to scale up for a crowd. We've elevated this recipe by adding an elegant (and flavorful) Red Wine BBQ Sauce at the end for a lovely "wow" factor!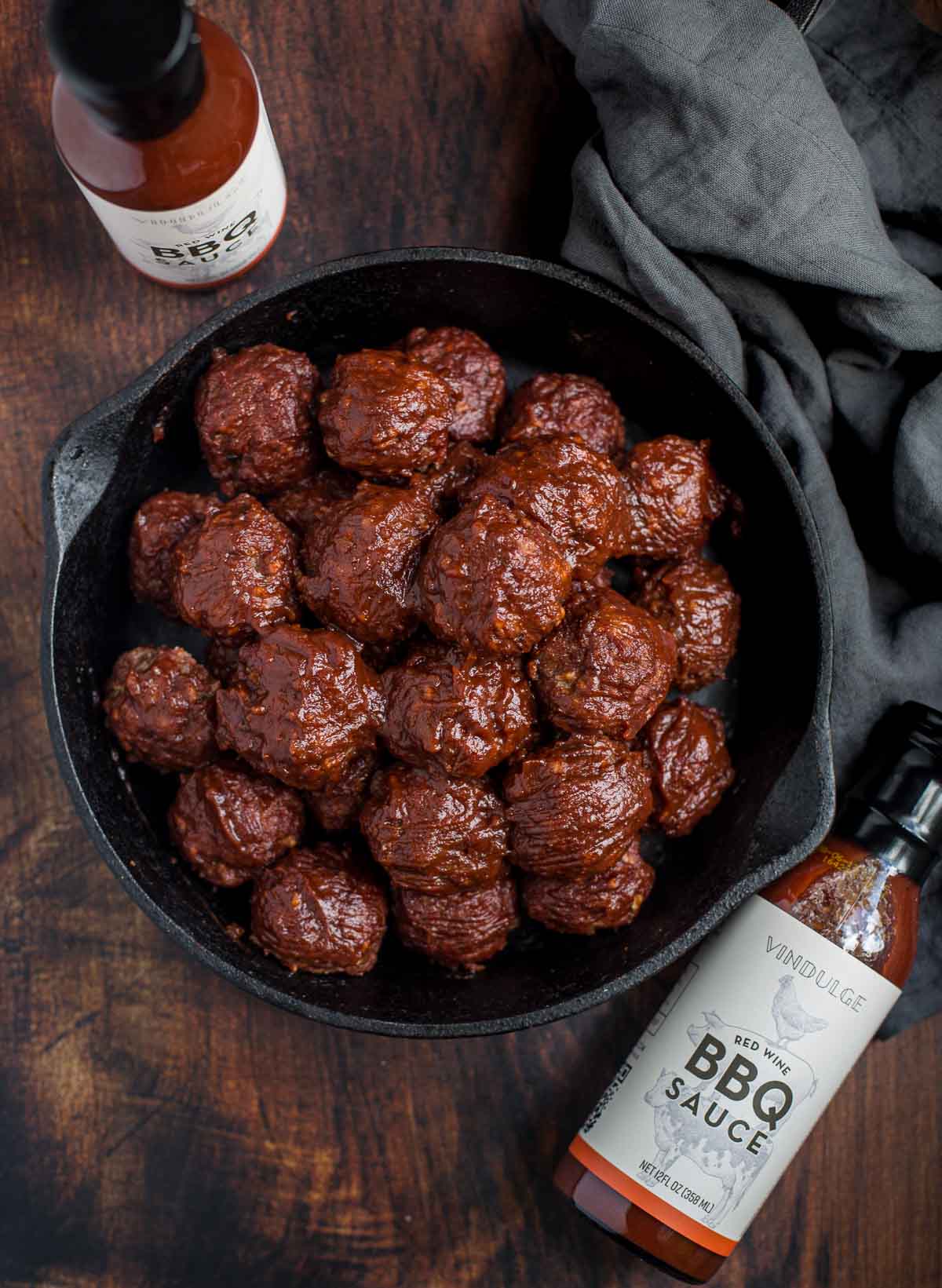 You can never have too many meatball recipes. They come in handy as a quick appetizer for a crowd or can be scaled up as a main meal, or turned into an indulgent meatball sandwich. This seven ingredient BBQ meatball recipe keeps it simple and uses added smoke flavor for one of the juiciest ground beef BBQ meatballs you will ever have. It was also a featured recipe on AM Northwest, our local ABC TV affiliate as well.
Jump to:
Ingredients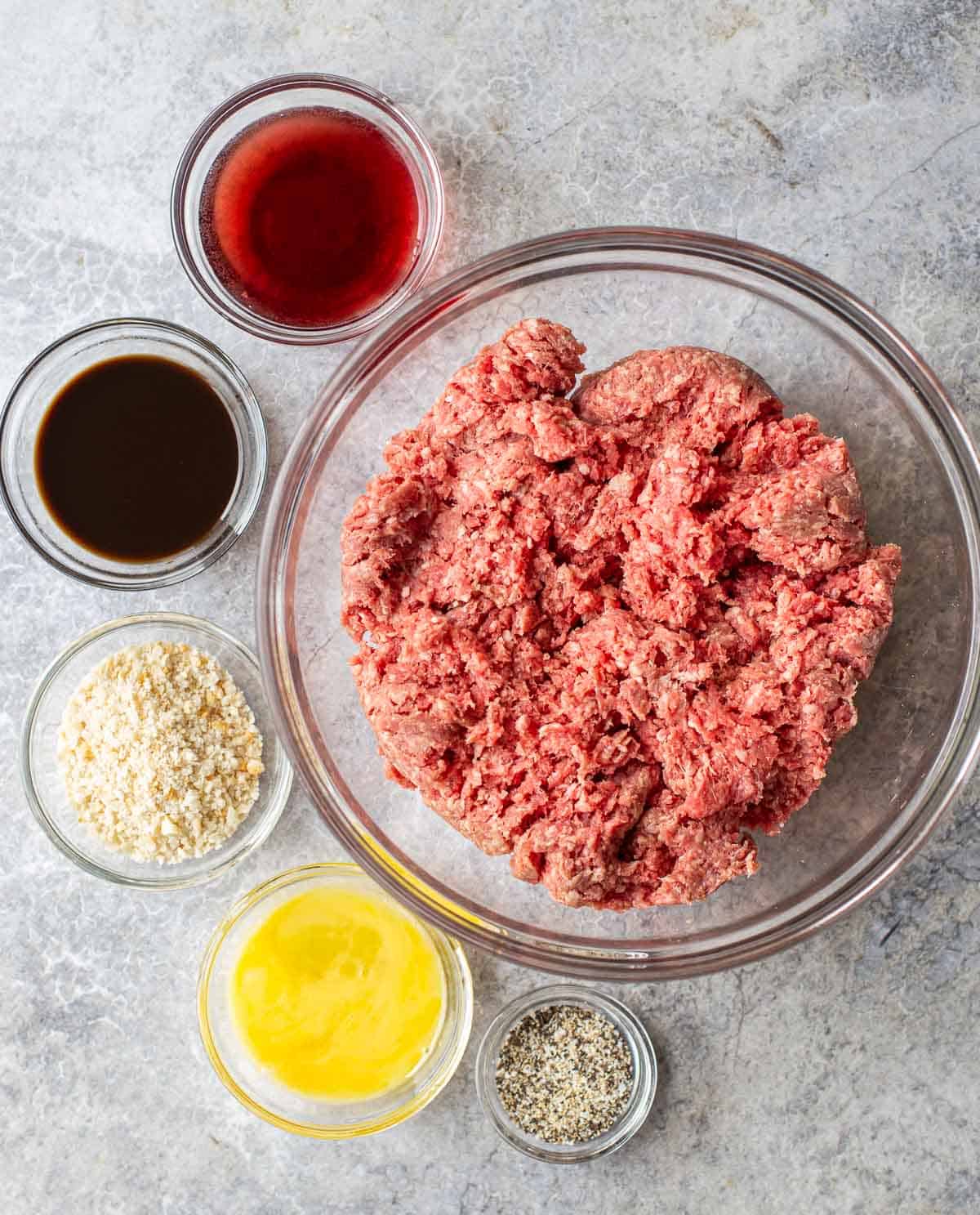 The meatballs flavor comes from a combination of red wine and seasonings. As a binder we use egg and panko. The fat ratio of the meat combined with the liquids give the incredible moisture, making them super tender and full-flavored.
Ground Beef – We recommend 80/20 lean to fat ratio. If you use a leaner ground beef be sure it's not overly wet from the ratios below.
Egg – Beaten. This helps bind the beef with the other ingredients and balanced by the panko.
Panko – You can sub with gluten-free as well.
Red Wine – We recommend a dry red wine like Pinot Noir, Merlot, or Zinfandel.
Worcestershire sauce – For savory flavor.
SPG Rub – Or sub with your favorite beef seasoning.
Pinot Noir BBQ Sauce – It's the secret ingredient that gives it an extra wow factor!
Preparation Tips
Don't over mix the beef. We recommend using your hands and just combining the ingredients enough so you don't overwork the protein in the beef. This will lead to tougher meatballs.
If you choose to use a leaner beef or even ground turkey – you need to adjust the ratio of wet ingredients offsetting how lean the beef is.
How to Make BBQ Meatballs On A Smoker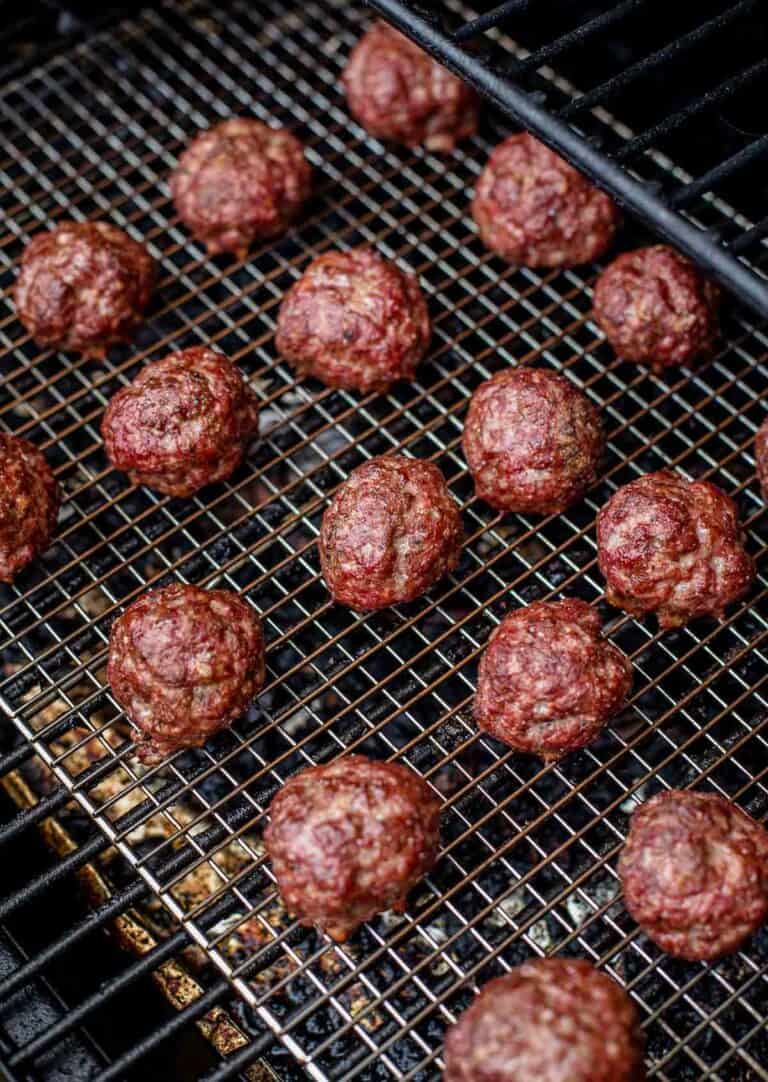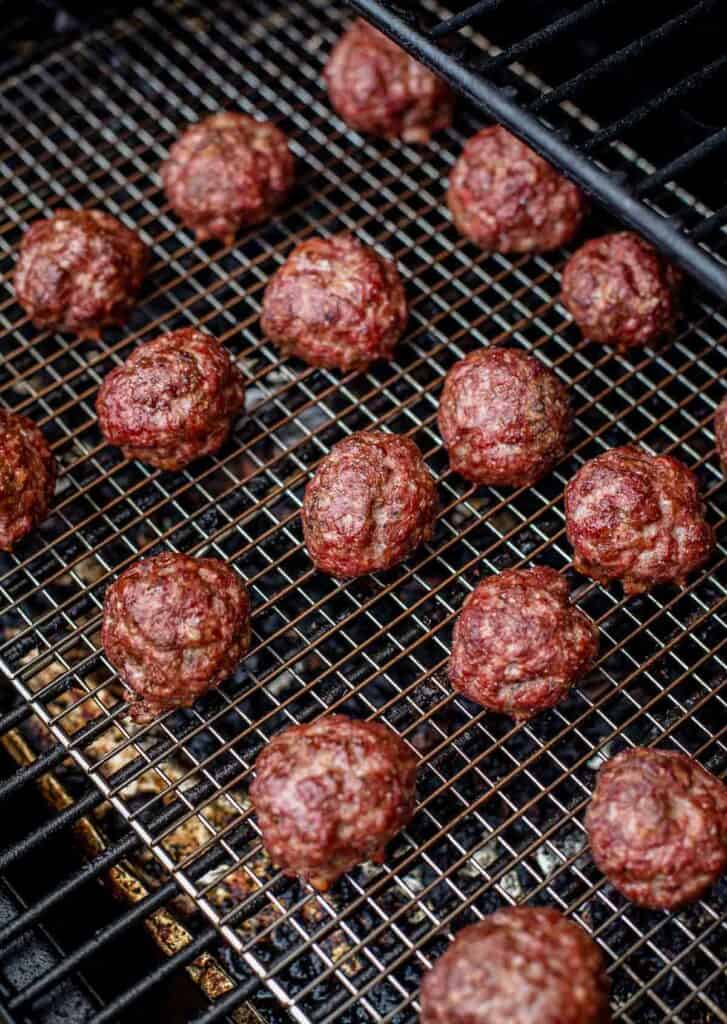 Preparation: Prepare smoker for low heat targeting 250 degrees Fahrenheit using oak, cherry, or apple wood. In a large bowl combine beef, egg, panko, red wine, Worcestershire sauce, and SPG rub, with your hands taking care not to over mix. Use an ice cream scooper to form even sized meatballs and place on a wired drying tray.
Smoke: Place meatballs on the smoker until the internal temperature reaches 155 degrees F (this should take about 45 minutes). Once they hit the internal temperature, glaze once with the BBQ sauce. Continue smoking until the meatballs reach an internal temperature of 160 degrees. Remove from smoker.
Glaze: As you remove the meatballs, glaze them with the sauce one last time and place on your desired serving plate. Serve warm.
If modifying for a gas grill you can follow our directions in our article on how to smoke on a gas grill.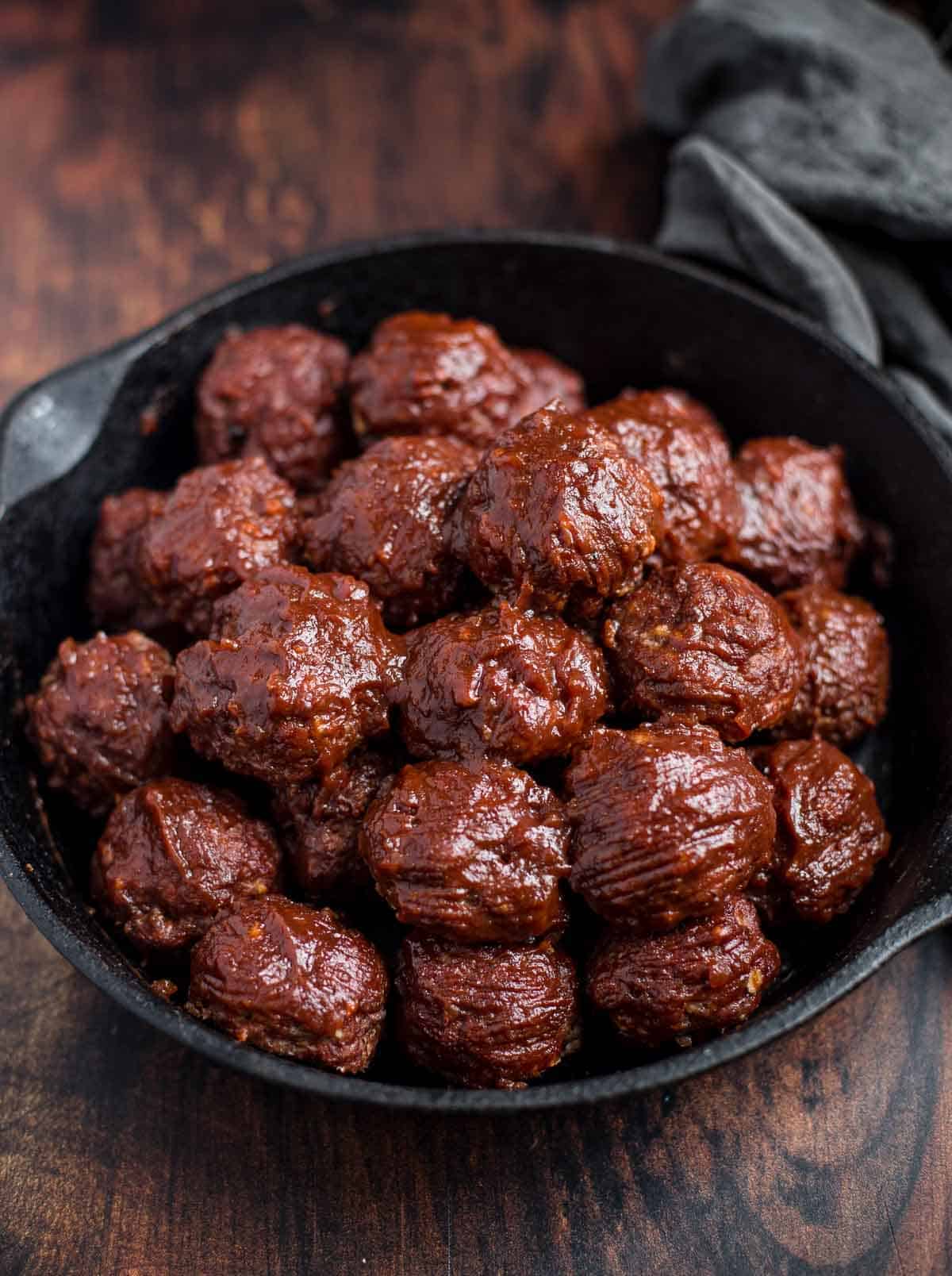 When are Meatballs Done?
Always cook to temperature and not time. The meatballs are done and safe to eat when the internal temperature reads 160 degrees Fahrenheit using a good instant read thermometer.
This is why we glaze the BBQ sauce when the internal temp reads 155 degrees and remove them when they are 160.
We use the Thermoworks Thermapen One which is the best instant read thermometer on the market.
Other Great Meatball Recipes
Mary (a certified sommelier and recipe developer) and Sean (backyard pitmaster) are co-authors of the critically acclaimed cookbook, Fire + Wine, and have been creating content for the IACP nominated website Vindulge since 2009. They live in Oregon on a farm just outside Portland.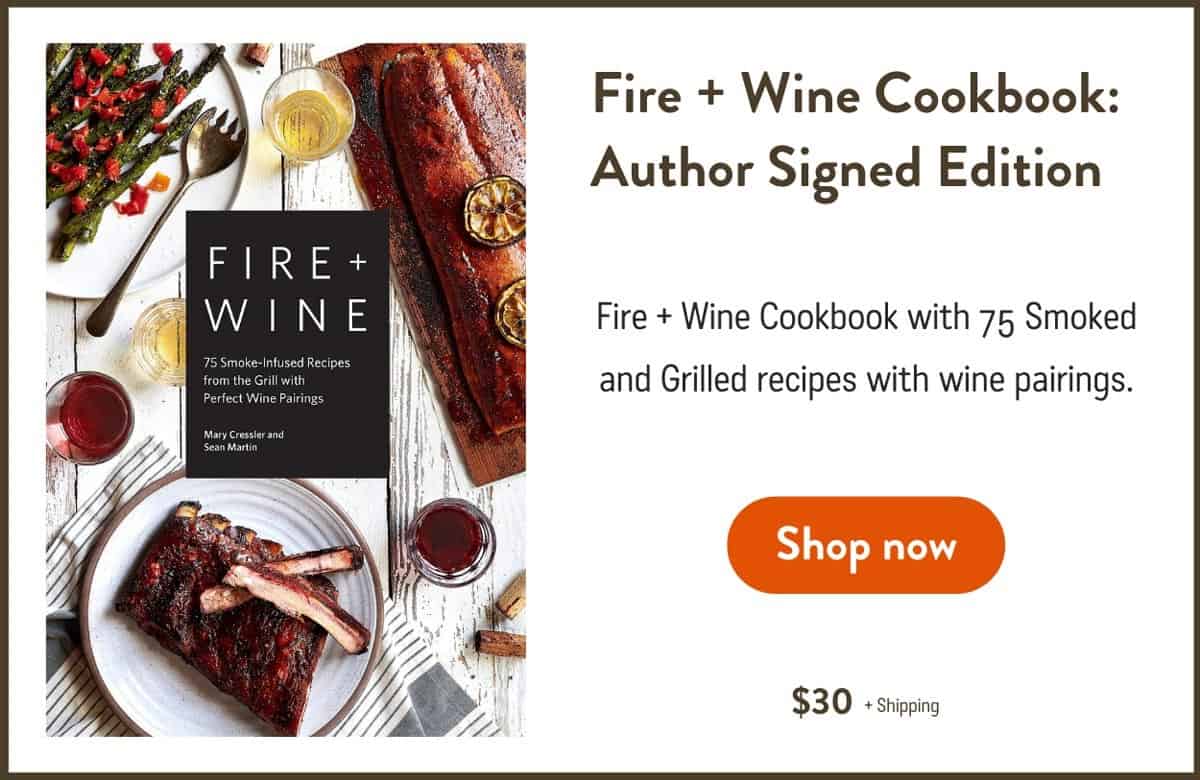 Tried this recipe? Give us a star rating and we would love to see! Mention @vindulge or use the hashtag #vindulge on all the social media handles. And consider subscribing to our newsletter where we drop all our favorite ideas and inspirations every week.
This post may contain affiliate links. This means if you click on the link, we may receive a small commission if you purchase through the link. We partner with brands we know and love and use and it helps keep the blog going!