If there is one cut of meat that is the showstopper of all backyard grilling it's the thick cut Grilled Tomahawk Steak. And when you spend this kind of money on a steak you need the best way to cook it, which is to sear on direct high heat and then finish over indirect heat until it reaches the perfect internal temperature.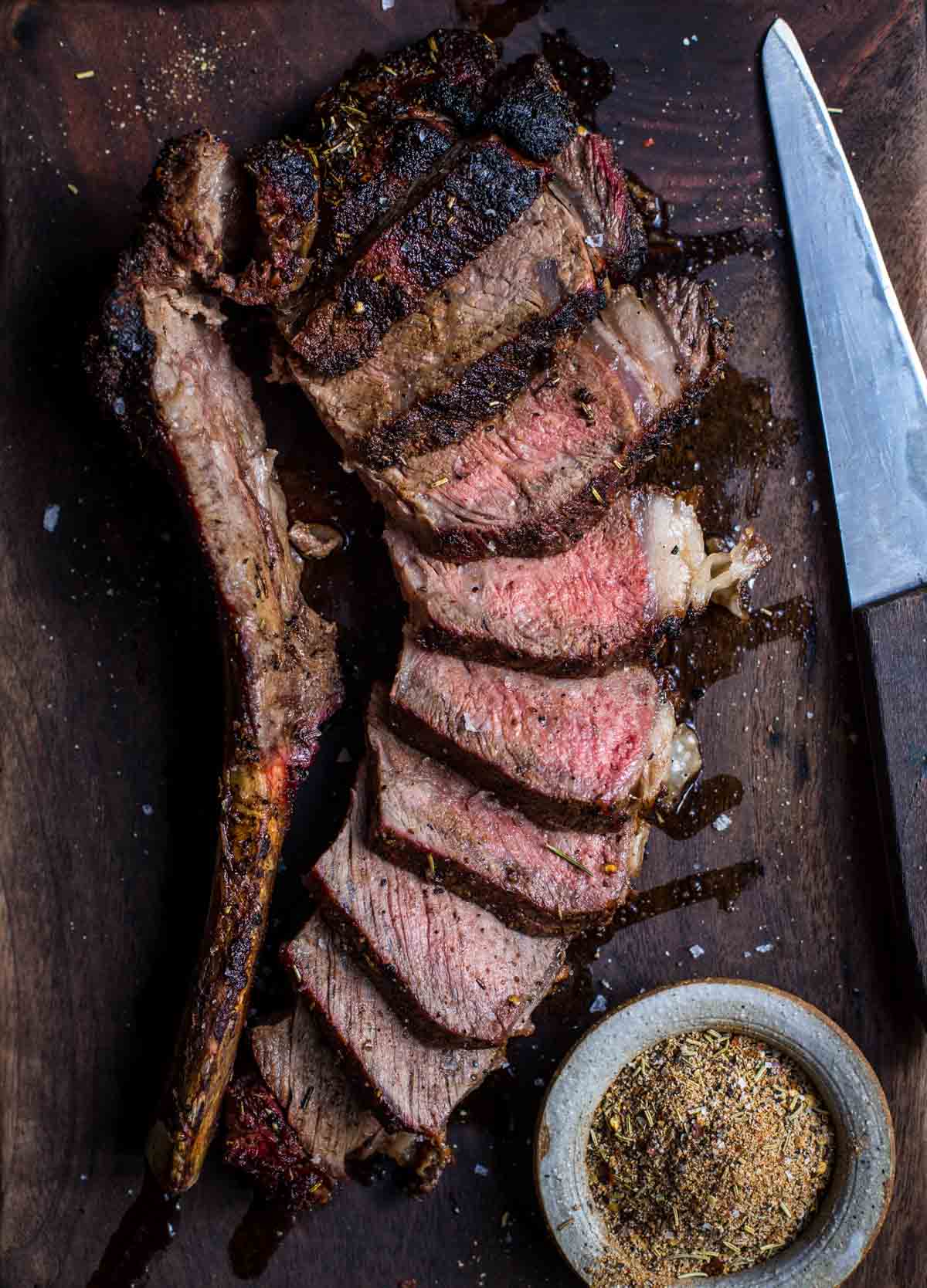 Vindulge Recipe Highlights
A Tomahawk Steak is the perfect special occasion cut of beef.
This thick steak comes from the ribeye and has beautiful marbling.
If you have a smoker you can modify this recipe with a reverse sear for some smoky flavor.
If you don't want to pay for the extra weight of the bone then buy a cowboy steak instead.
When it comes to thick steaks that are Instagram worthy the Tomahawk Steak is arguably the most popular. And while you will find a lot of haters who don't think spending money on a bone you don't eat is worth it, the experience of grilling one should be on your backyard cooking bucket list.
Jump to:
What is a Tomahawk Steak?
A Tomahawk steak is a bone-in thick-cut ribeye steak where the butcher leaves a significant portion of the rib bone attached. It resembles a tomahawk axe, thus the name. You may see this cut compared to the cowboy ribeye or cowboy cut, which refers to any cut of beef steak (most often ribeye) that is over 2 inches thick with the shorter portion of the bone attached. It's a rich steak with a lot of intramuscular connective tissue that translates into flavor as it cooks. The marbled fat renders while grilling giving it a rich flavor.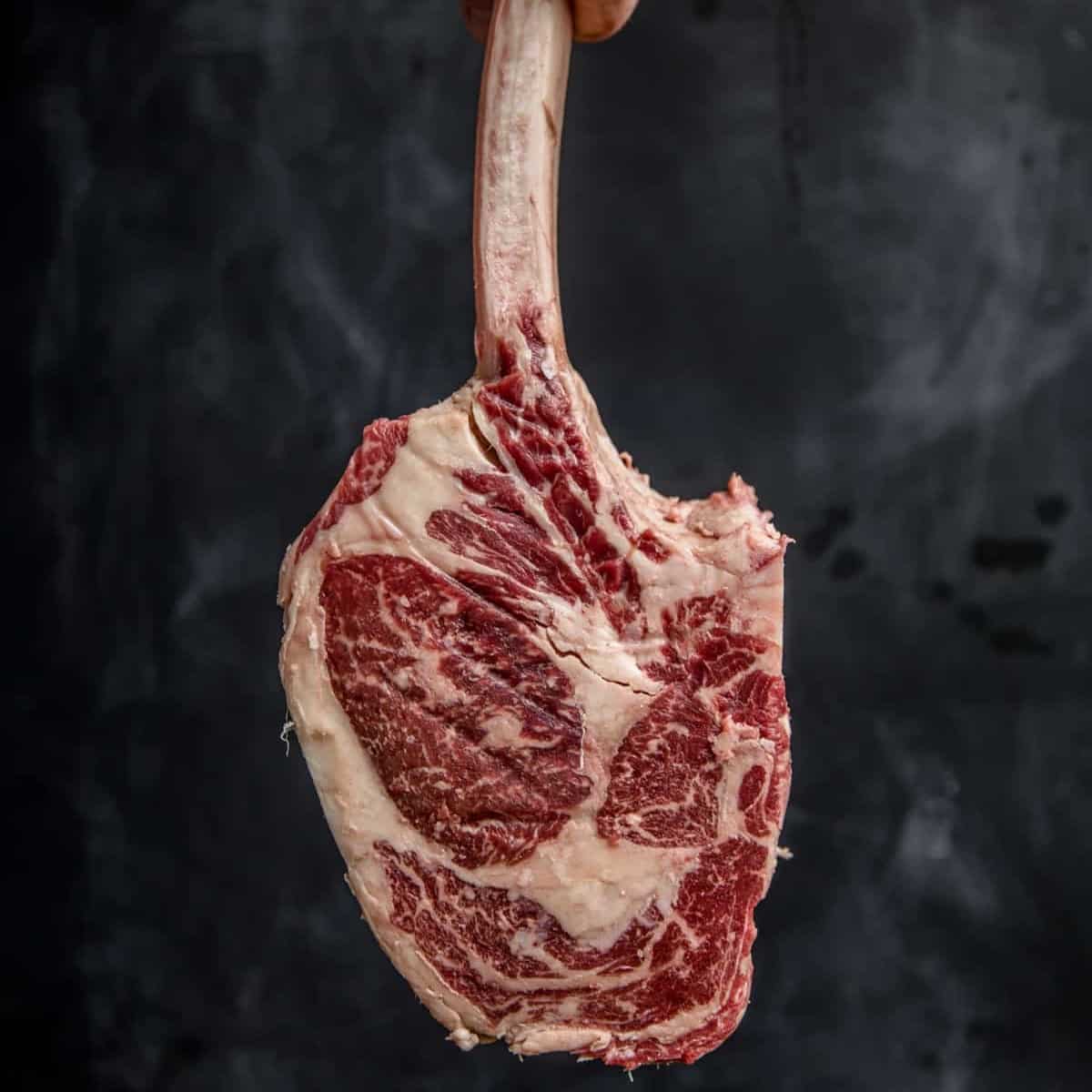 It's important to note that the long rib bone can range from 8 to 14 inches so when looking at the type of grill you own be sure to match the right tomahawk steak that will fit inside your grill.
If buying by the pound you will be paying for the bone weight, but the actual bone itself is negligible compared to the weight of the actual meat.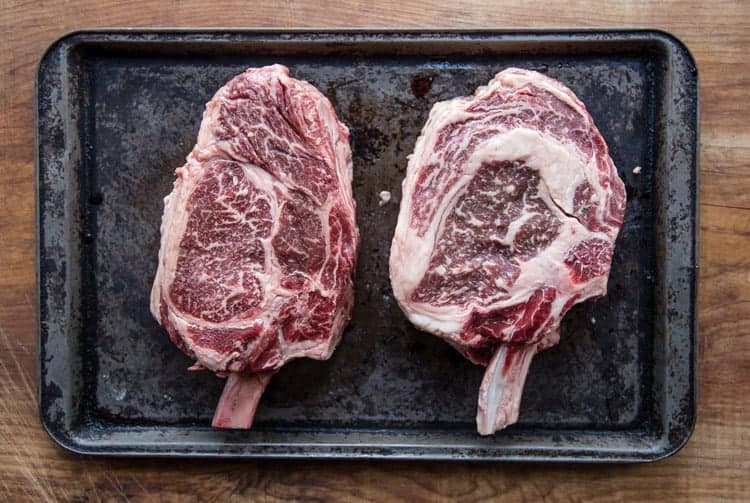 Ingredients
This Tomahawk Steak recipe is all about simplicity in order to showcase the amazing flavor of the beef. For best results use a beef seasoning without any sugar.
Dry Rub – Our beef seasoning is full of savory and spicy herbal flavors. Alternatively you can go simple with an SPG rub of kosher salt, coarse black pepper, and granulated garlic (note – not garlic powder).
Binder – We will add a little olive oil to the steak so the seasoning sticks. It's optional.
Steak – A great steak will have good marbling. Look for the white intramuscular lines as an indication of a good quality steak.
Related Article – Choice vs. Prime – does it matter when cooking steaks?
Preparation
The best way to prepare the steak is to season it in advance of grilling. Liberally apply the seasoning to the tomahawk steak (on a sheet tray) the night before you plan to grill. Cover it with plastic wrap and store in your refrigerator to let it dry brine. Most of the flavor comes from the salt as it infuses with the cells of the meat. This helps the end result of a nice crust as it sears.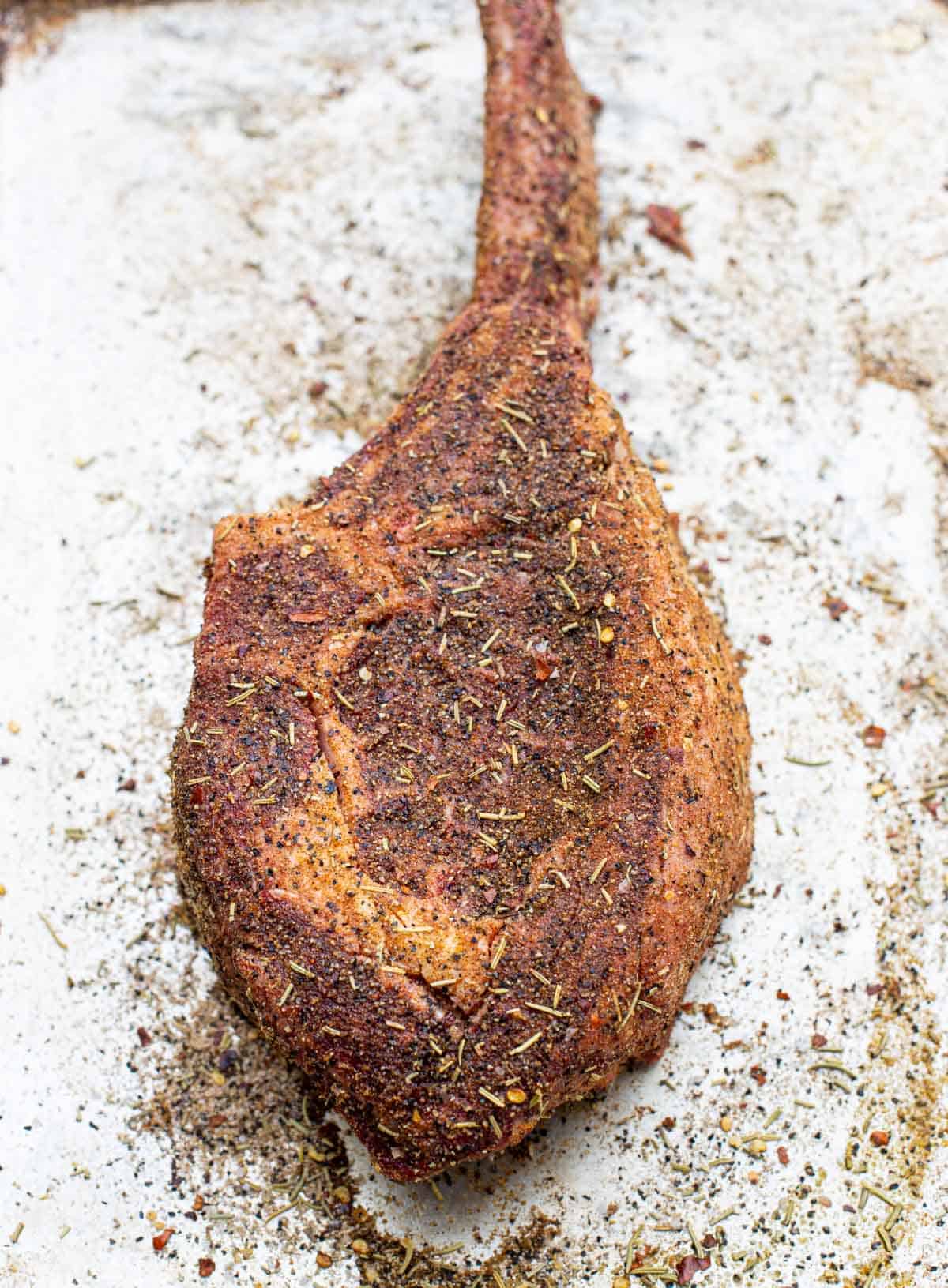 That's it.
Tools Needed
Be sure to have a sturdy set of long tongs. These thick Tomahawk Ribeye Steaks are heavy and so much easier to grill if using good tongs.
A good instant-read thermometer is a must. You do NOT want to overcook this investment. Our go to is the Thermoworks Thermapen One.
On a charcoal grill, lump charcoal helps add flavor if you aren't reverse searing. And that extra flavor is worth it.
If you are cooking on a pellet grill you need grill grates to help radiate the heat and get a sear worthy of this cut of beef.
Cooking Method
Grilling – This is the best way to cook a tomahawk steak because you need room for the bone. This uses the two-zone method of cooking over a hot grill, direct, and then finishing over indirect for a perfect steak finishing at your desired temperature.
Smoking or Reverse Sear Method – If you own a smoker then starting with a low smoke cook for flavor and then finishing with a hot and fast sear is an incredible way to get flavor and texture. We have a recipe for reverse seared tomahawk steak in our BBQ cookbook, Fire + Wine, or you can modify this recipe from our article on how to reverse sear.
How to Grill a Tomahawk Steak
For best results use a two-zone grilling set up where the hot coals are on one side of the grill. Target 500 degrees Fahrenheit as the ambient internal temperature of the grill. The goal is to get a quick sear on both sides of the tomahawk steak and then finish the steak to your desired internal temperature over the indirect side.
When the grill is at the right temperature place the tomahawk over the direct heat directly on the grill grates. Rotate the bone so it is over the indirect side and close the lid. Sear the steak for up to 5 minutes or until you see nice grill marks. Flip the steak over and continue to grill over direct heat for an additional 4 to 5 minutes or until you see the color you like. Be sure to stay close to the grill because the fat content of the steak can cause flare ups.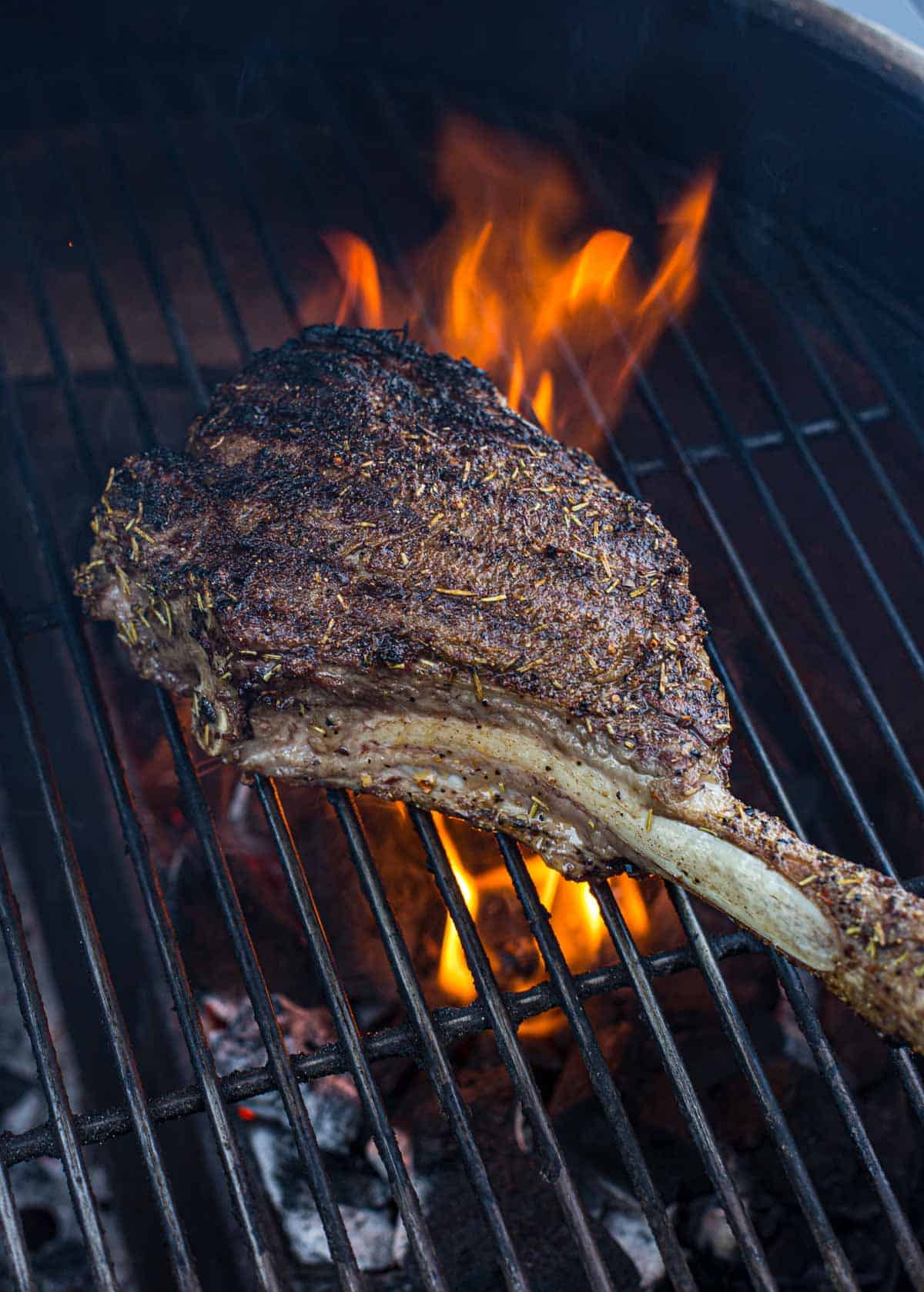 When both sides of the steak are seared off, move the steak to the indirect side of the grill. Continue to grill for 10 minutes and then flip it over. Grill for an additional 6 to 10 minutes or until the internal temperature reaches 120 degrees (for rare) using a good quality instant read thermometer (or see the temperature chart below for other finishing temps).
Once the steak reaches 120 degrees remove it from the grill and place on a cutting board loosely tented with aluminum foil for 10 minutes. Carryover cooking will occur where the internal temperature of the steak will continue to rise an additional 5 degrees F.
Then slice and serve.
Chef's Note: Flipping the steak halfway through the indirect cooking allows an even cook to both sides of the steak. You don't have to flip, but if you don't one side of the thick steak will cook to a higher temperature.
Using a Gas Grill: If you are using a gas grill then follow the same method. Turn on one or two burners as your direct heat and then move the steak to the indirect side to finish. If reverse searing you can read out guide on how to smoke on a gas grill (using wood chips).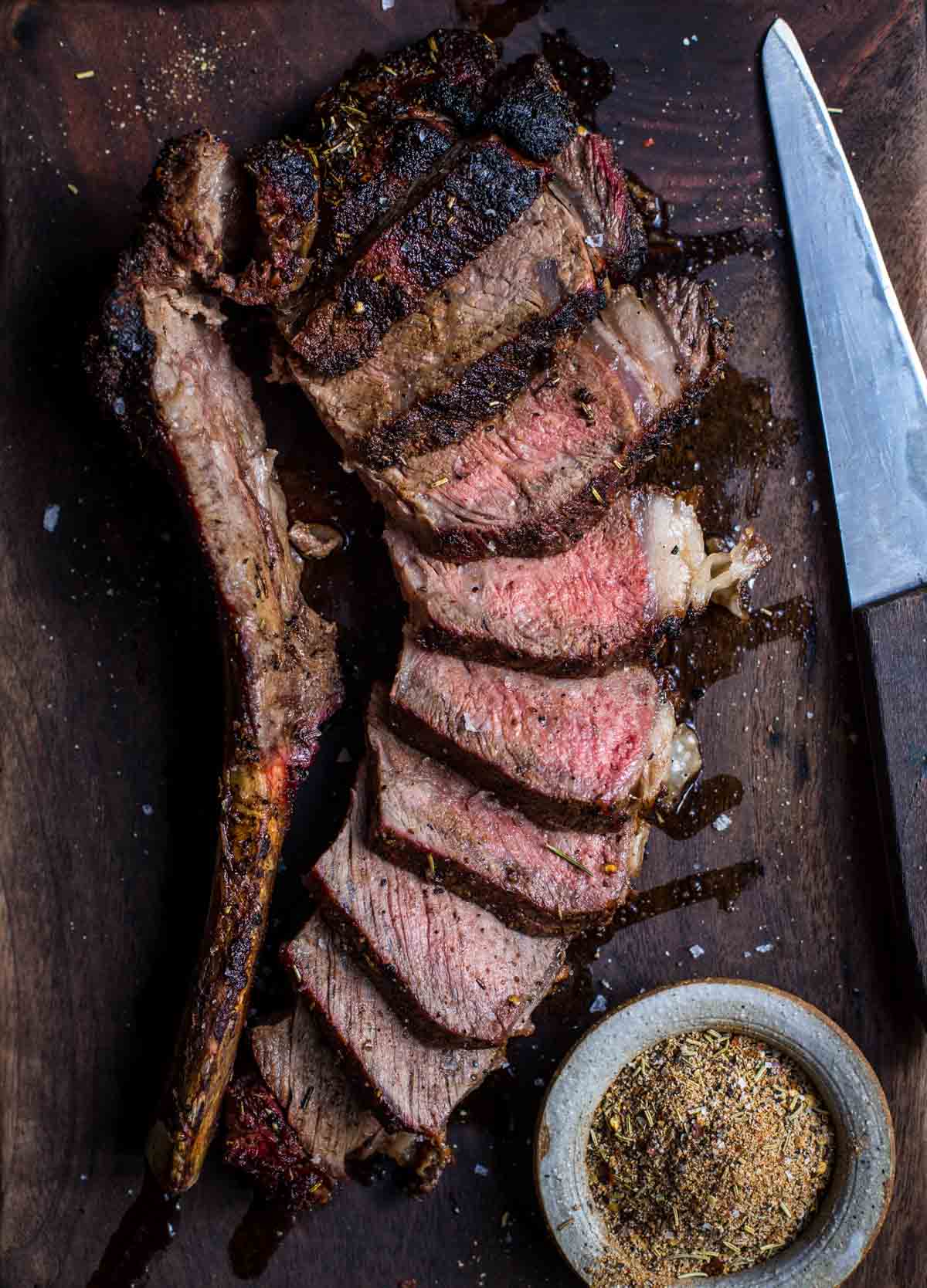 When Is Steak Done
The USDA recommends cooking any steak to 145 degrees F – however if you trust the source where you purchased the meat consider the following ranges. We love rare or medium rare at most. Always cook to temperature and not time.
Rare: 120-130 degrees F
Medium Rare: 130-140 degrees F
Medium: 140-150 degrees F
Medium Well: 150-160 degrees F
Well Done: 160 degrees F (and not recommended)
Variations
Wine Pairing with Tomahawk Steak
Classic wine pairing rules apply to this highly marbled steak. With the amount of fat consider tannic wines that will smooth out with the buttery flavor, like Cabernet Sauvignon or even Merlot.
Washington State reds stand out and are a great price. Explore wines at the Vindulge Wine Market.
Sides
If you are going big with this expense cut of steak go big with these side dishes.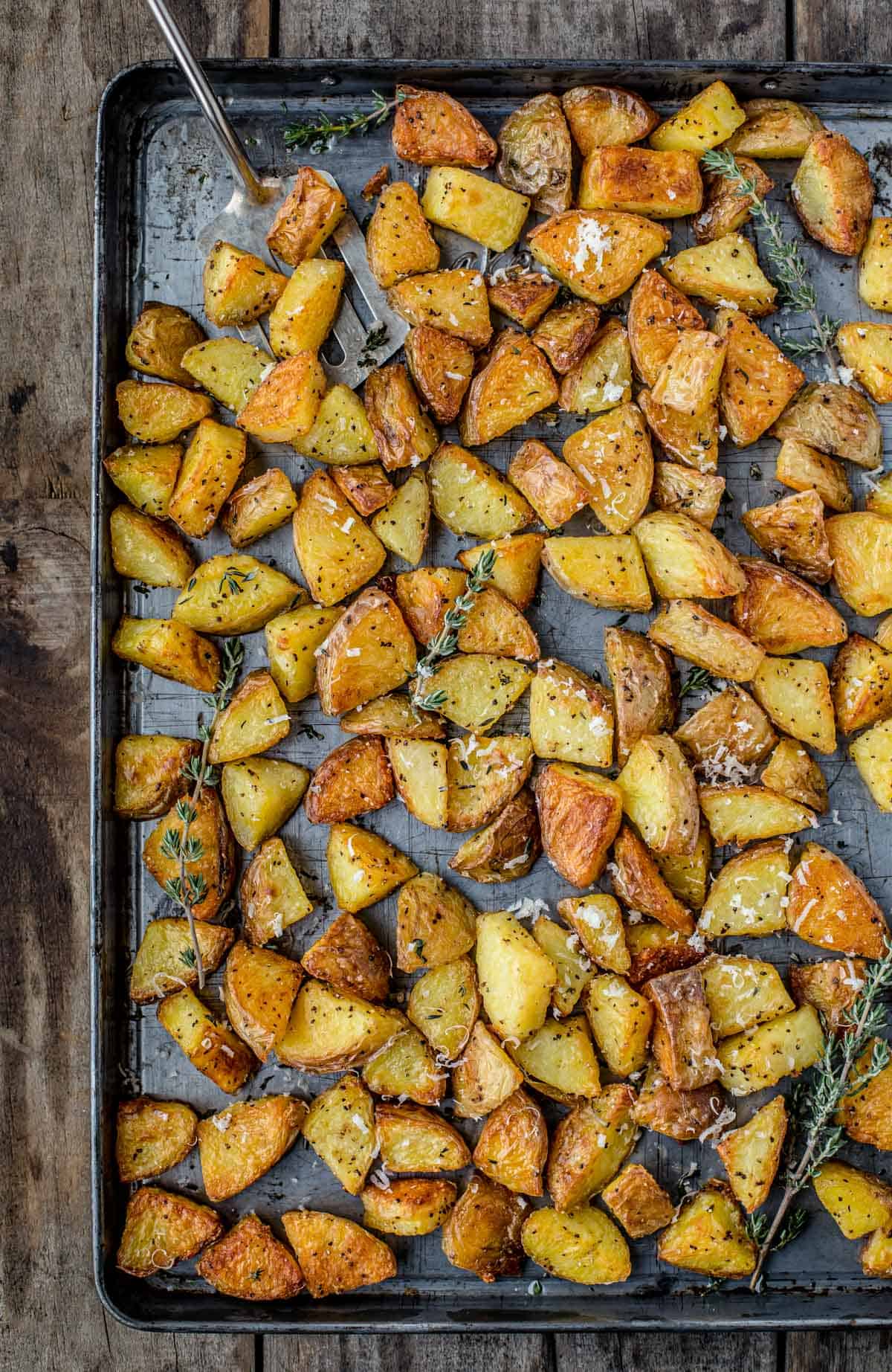 Other Steak Recipes
You can see a full list of our beef steak recipes or check out some of our favorites.
---
Tried this recipe? Give us a star rating and we would love to see! Mention @vindulge or use the hashtag #vindulge on all the social media handles. And consider subscribing to our newsletter where we drop all our favorite ideas and inspirations every week.
This post may contain affiliate links. This means if you click on the link, we may receive a small commission if you purchase through the link. We partner with brands we know and love and use and it helps keep the blog going!
---