If you are looking for an incredibly tender cut of beef that grills hot and fast then you are going to love this recipe for grilled flat iron steak. It's topped with an amazing horseradish herb compound butter.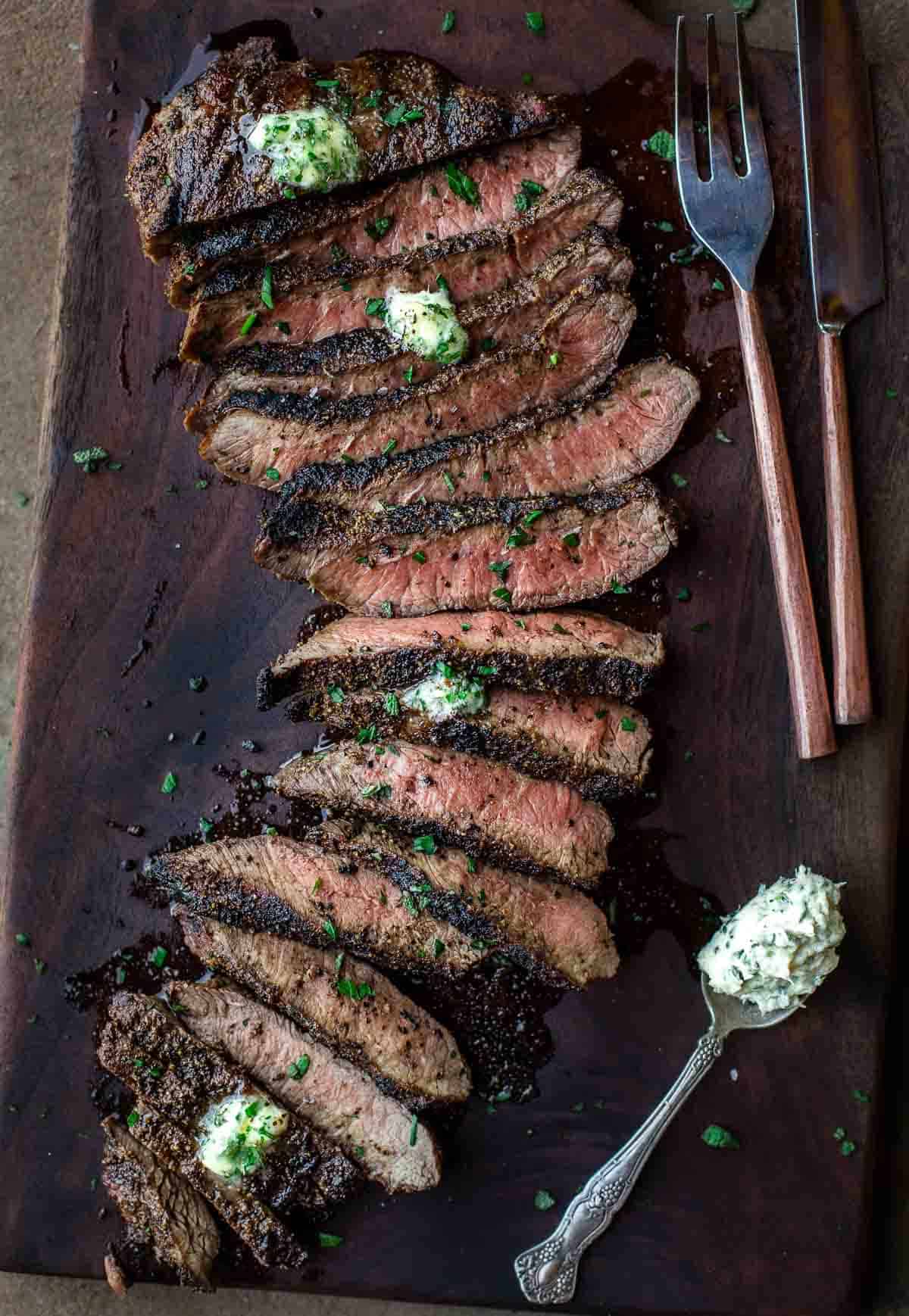 If this is your first time hearing of flat iron then check out our deep dive into the full cut history in our grilled flat iron steak with chimichurri sauce.
Jump to:
Ingredients
Flat Iron Steak – A thin cut well marbled steak that comes from the shoulder, or chuck roast. It is the second most tender cut of beef after filet mignon.
Olive Oil – We use extra virgin olive oil as a binder to help the rub to stick.
Dry Rub – You can use any steak seasoning that doesn't have sugar. We are using our dry rub for steak with rich savory flavors from anchovy and mushroom powder. You can also use our beef seasoning that we use on large roasts with more dried herb flavor. If you want simple then our SPG rub is great option.
Horseradish Compound Butter – We take butter and mix it with horseradish, garlic, seasoning, and herbs. It's easy to modify based on your flavor preference.
Preparation
Flat iron steak is typically trimmed pretty well when you buy. If anything you may need to remove small bits of silver skin. Otherwise it's ready to season and get on the grill.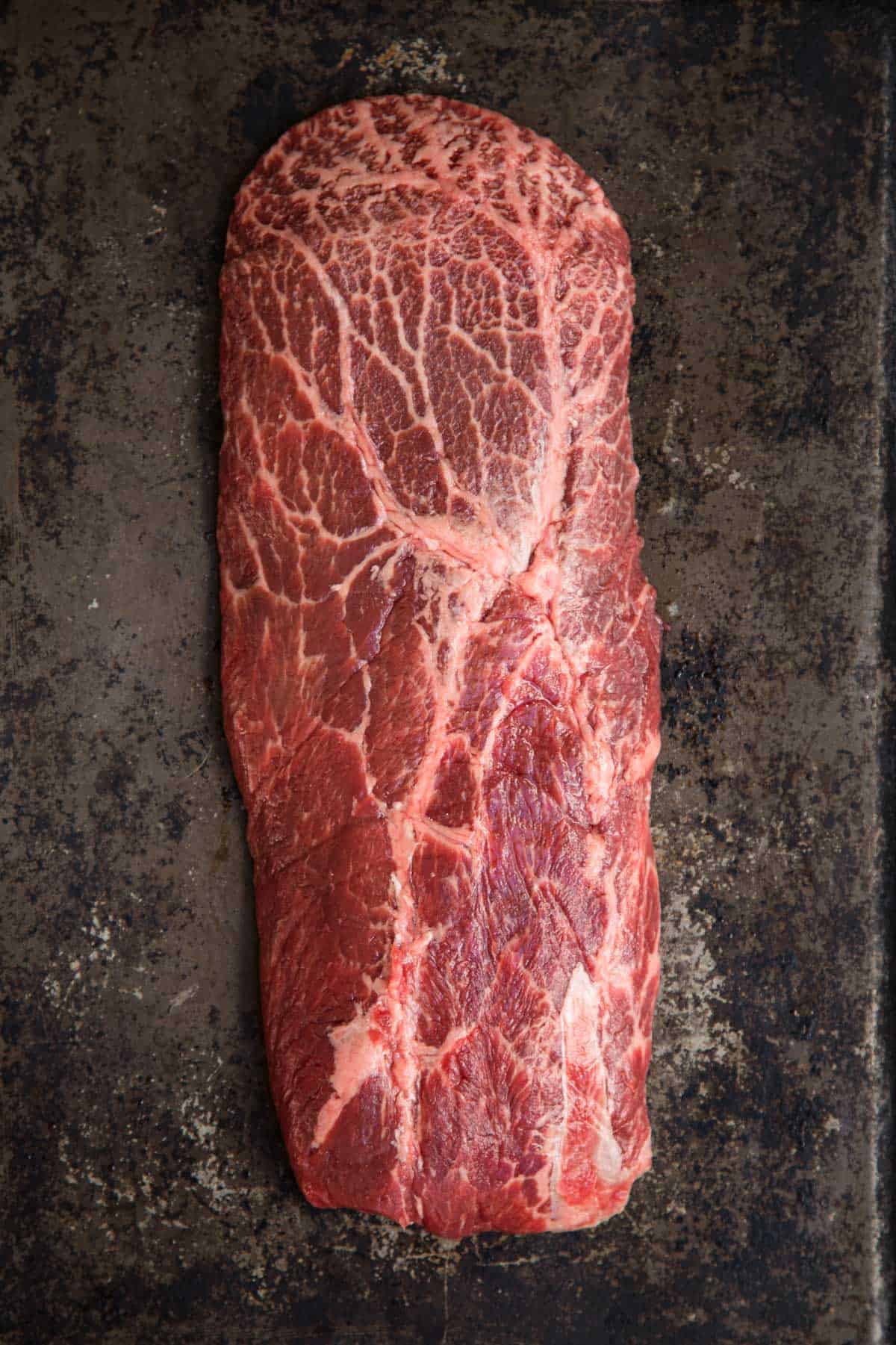 For the compound butter we combine room temperature unsalted butter with the beef seasoning, garlic, horseradish, and herbs (sage and thyme). If making in advance you can roll it up with plastic wrap and place in the refrigerator when ready to use.
We plan 1 tablespoon of compound butter for every .5 pounds of steak. Read more details in our article about how to make compound butter.
Grilling a Flat Iron Steak
Set up grill for two-zone grilling using lump charcoal and target the internal temperature of the grill at 500 degrees F.
As the grill comes up to temperature lightly coat the flat iron with olive oil and then liberally season the steak with the dry rub.
When the grill comes to temperature place the flat iron steak on the direct side. Grill and sear for 4 minutes, flip and continue to grill over the direct heat for an additional 4 minutes.
Check the internal temperature using a good quality instant read thermometer like our Thermoworks Thermapen One in the thickest portion of the steak. If it's at your desired temperature then remove it and let rest on a cutting board for 10 minutes.
If it's not quite done then you can move the steak to the indirect side, close the lid, and then finish. Be sure to check the temp every 2 minutes as the internal temperature will increase quickly.
After resting slice perpendicular to the grain and top with the herb compound butter.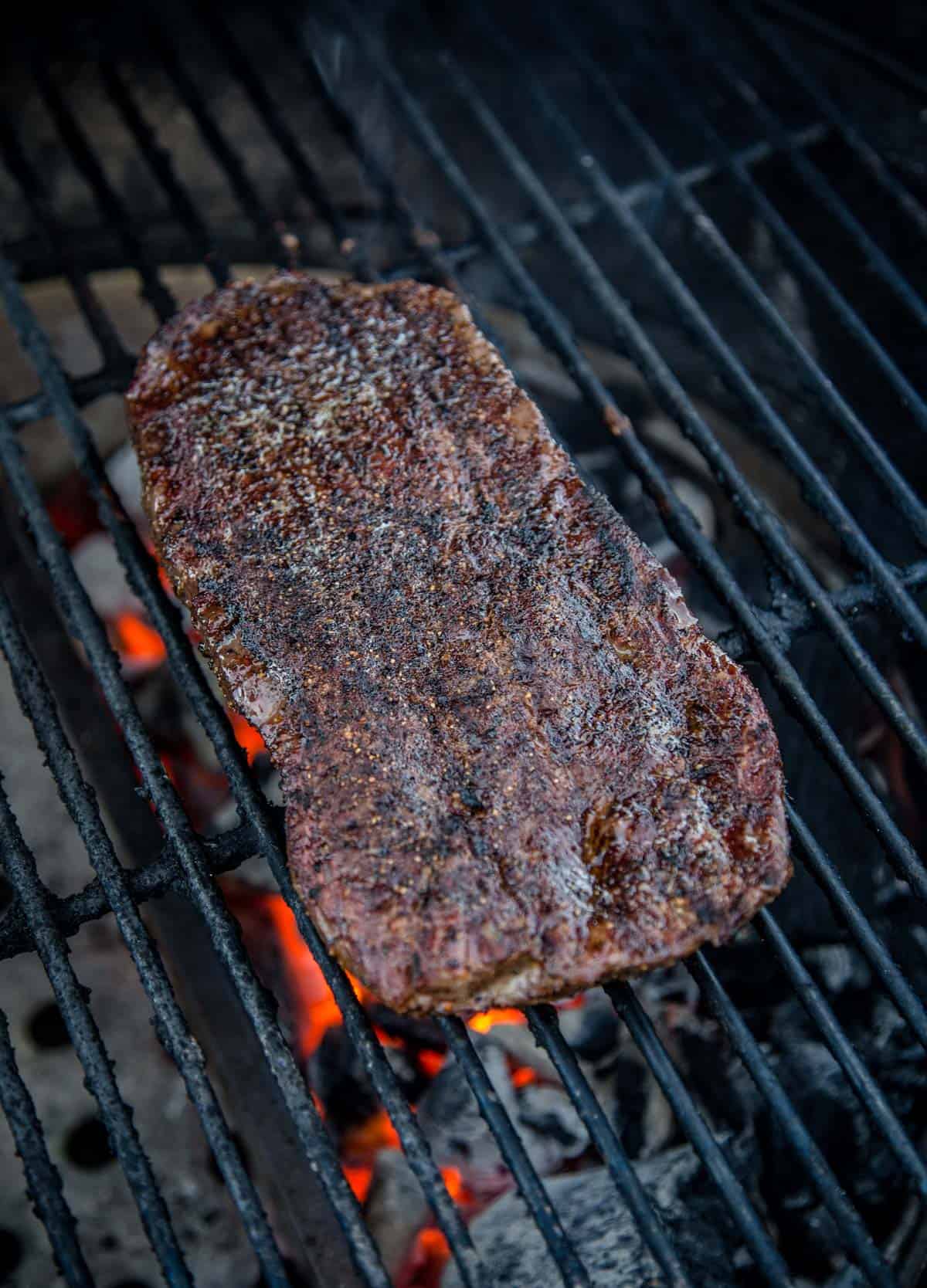 Gas Grill – If using a gas grill light one burner on high and grill direct. If it's not done after the 8 minutes of grilling direct then lower the burner to medium or cook indirect.
Pellet Grill – If using a pellet grill we recommend running it at high. If your model has a direct grill feature, use it. Otherwise preheat a cast iron pan or use grill grates. When it's preheated 20 minutes then add the steak to the pan or grate and follow the directions.
Beef Temperature Guide
Rare: 120-130 degrees F
Medium Rare: 130-140 degrees F
Medium: 140-150 degrees F
Medium Well: 150-160 degrees F
Well Done: 160 degrees F (and not recommended)
Check out our full guide on the perfect steak temperature for more details.
Wine Pairing for Flat Iron Steak
Flat Iron Steaks are super tender with a good amount of marbling. Malbec is a classic choice for this, for their richness and earthiness, as are Cabernet Sauvignon. But I personally love a richer style Merlot, particularly from Washington State, for this recipe.
Side Dishes to Serve with Grilled Flat Iron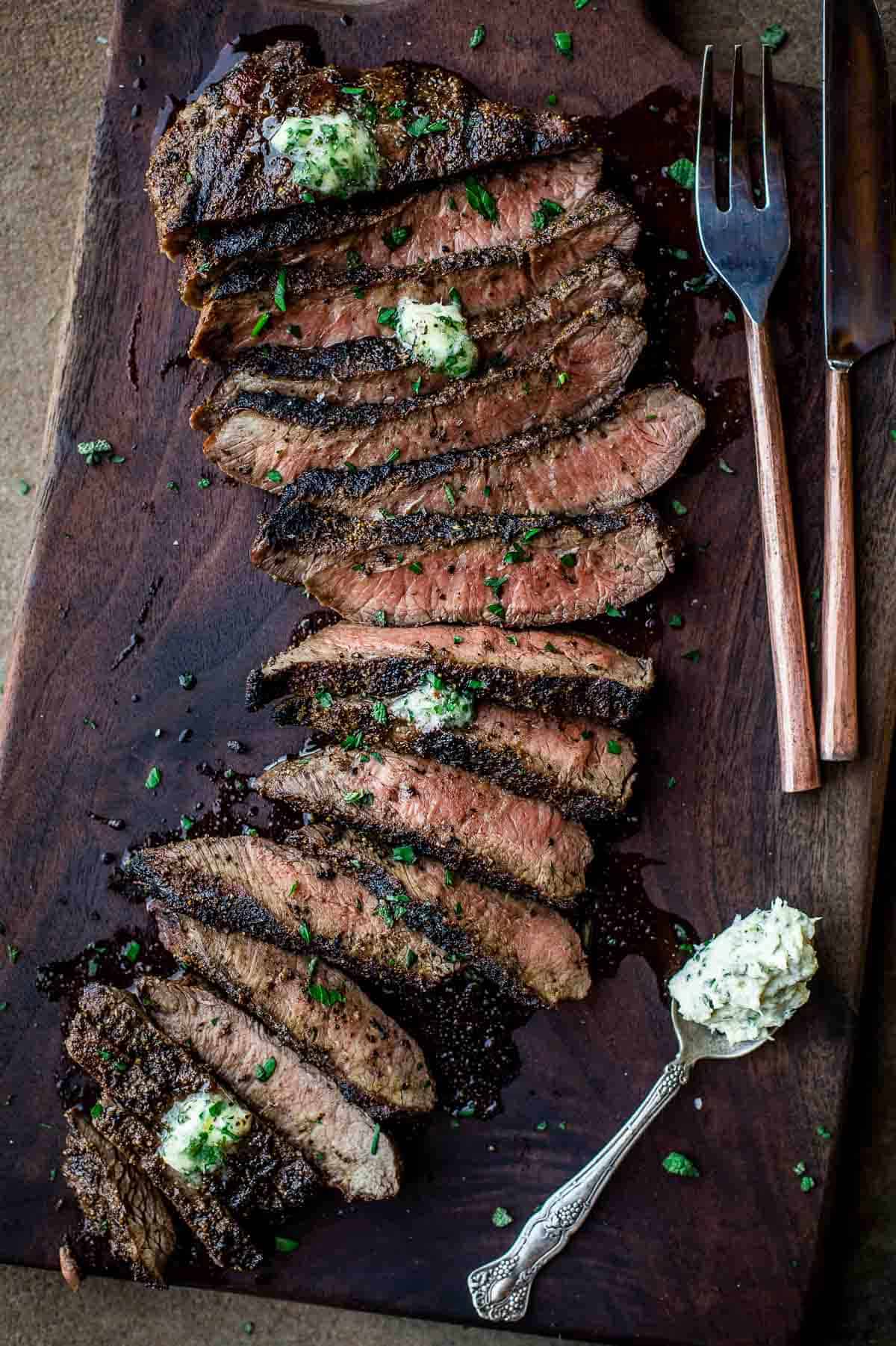 ---
Mary (a certified sommelier and recipe developer) and Sean (backyard pitmaster) are co-authors of the critically acclaimed cookbook, Fire + Wine, and have been creating content for the IACP nominated website Vindulge since 2009. They live in Oregon on a farm just outside Portland.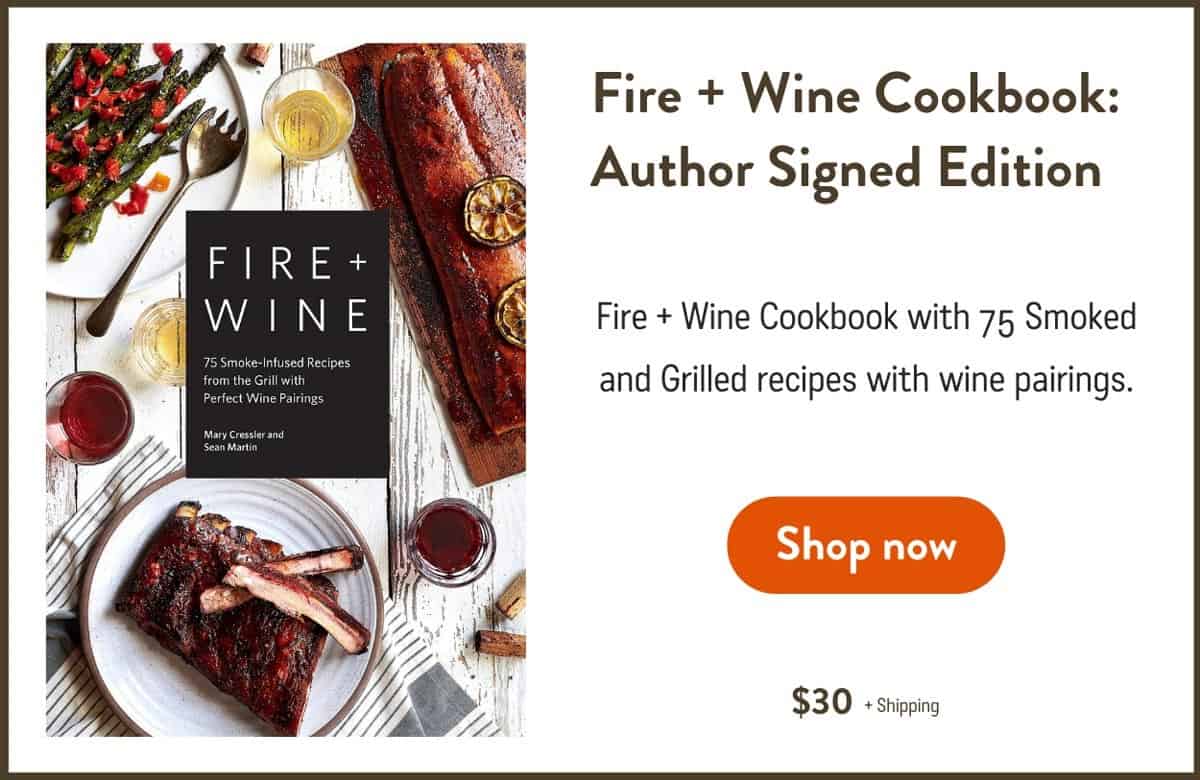 Tried this recipe? Give us a star rating and we would love to see! Mention @vindulge or use the hashtag #vindulge on all the social media handles. And consider subscribing to our newsletter where we drop all our favorite ideas and inspirations every week.
This post may contain affiliate links. This means if you click on the link, we may receive a small commission if you purchase through the link. We partner with brands we know and love and use and it helps keep the blog going!