Cooking a good steak is an art, and it starts with choosing the right dry rub for whatever steak cut you're cooking. This savory dry rub recipe is sure to become a family favorite, offering a perfect balance of simple and unique ingredients that blend together to enhance the flavor of the meat.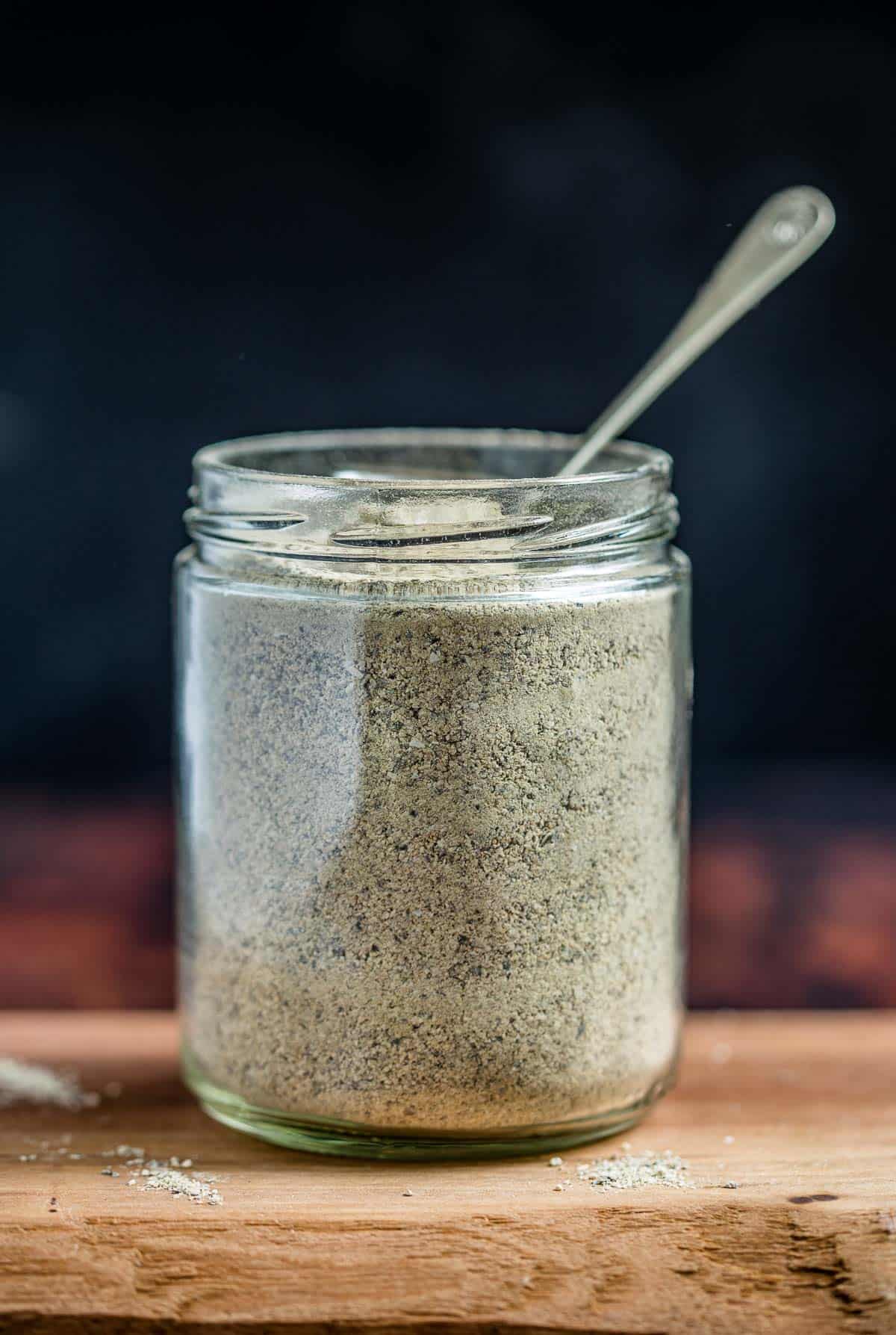 Jump to:
Recipe Highlights
This recipe focuses on a combination of salt, herbal, and savory flavors to make a balanced and rich flavor.
The main ingredients are mushroom powder and anchovy powder, which, albeit a little unique, add a rich and dense flavor to the steak but still allow the beefy flavor to come through.
We also have a beef seasoning for roasts that has easier to find ingredients.
Or if you want something super simple (but still great on steak) then check out our SPG rub, which is salt, pepper, and garlic.
You can use this recipe on any steak cut, chicken, or even in burgers.
Contrary to popular belief, a good grilled steak does not always require a complicated marinade or seasoning. Simple seasonings, when used right, can provide an extra punch of flavor that elevates your steak to the next level. This recipe focuses on creating the best dry rub for steak. Whether you're preparing a New York strip, a filet mignon, a top sirloin, or even pork chops, this dry rub will ensure your cut of beef (or pork) is nothing short of exceptional.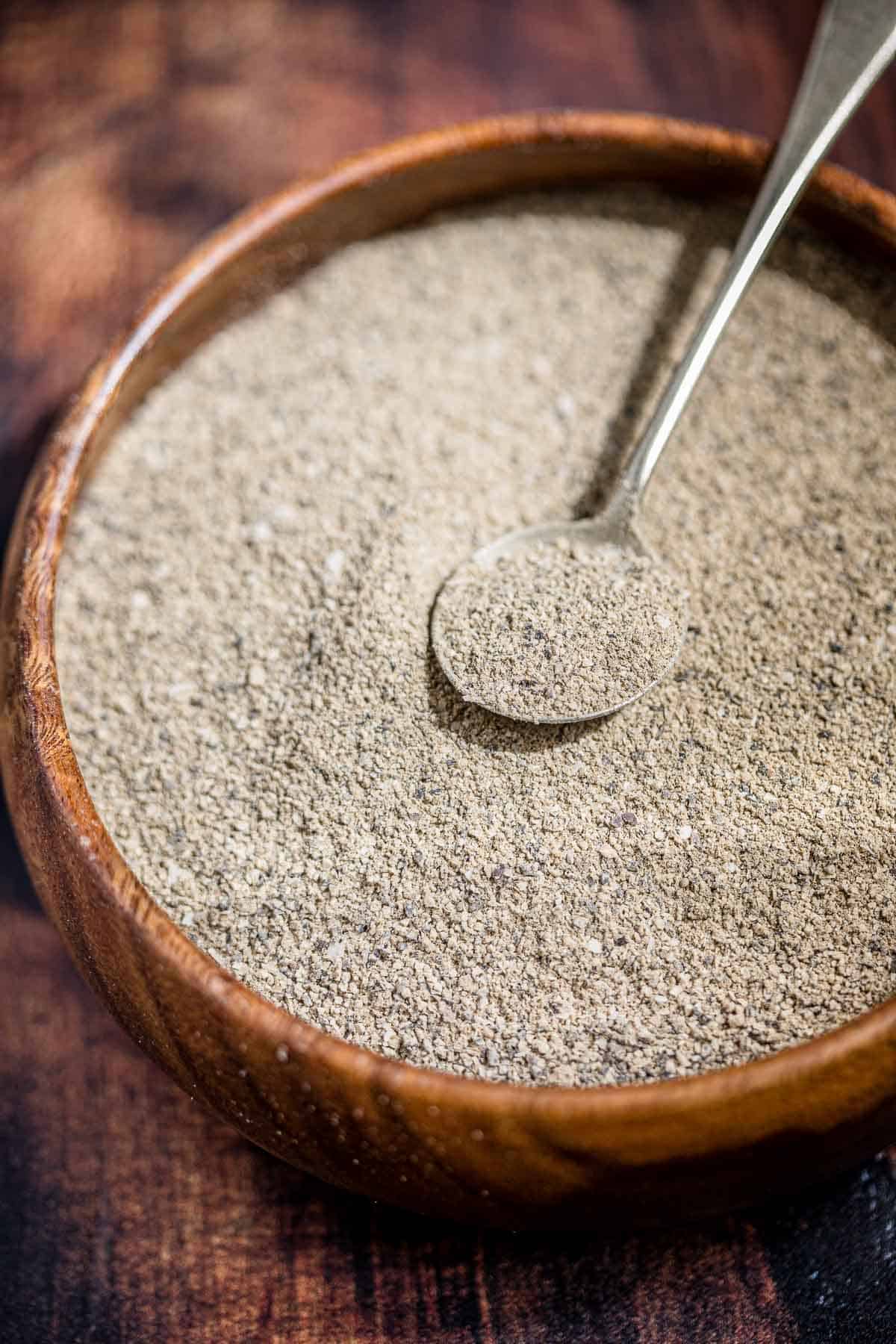 Ingredients
To make the best steak seasoning, the following are needed:
Kosher salt – Avoid iodized table salt and opt for the larger kosher salt brands (such as Diamond Crystal). You can use sea salt if they are the right size crystals.
Ground black pepper – We like consistent size for our dry rub for steak, which is why we opt for coarse versus fine ground pepper.
Ground sage – To balance the spice flavor of the salt and savory we like adding the ground sage as an aromatic and herbal flavor. You can also add dried thyme in equal parts if you like more herbal flavor.
Granulated garlic – Versus garlic powder. The granulated garlic has larger granules. If all you have is garlic powder then reduce the portion by half and add to taste.
Powdered shiitake mushroom – Any powdered mushroom will work. We used the Spiceology powdered version found online. You will also find mushroom powder in the health section near supplements and work just as well. You can also find it on Amazon. This adds a great umami character.
Anchovy powder – You can often find this in the Asian section of the grocery store for broth. Or buy anchovy powder online. It also makes for a great stock.
Optional – If you want heat then add cayenne pepper in 1 teaspoon increments.
It is recommended to opt for high-quality spices from the grocery store. This is a simple yet effective way to ensure your homemade steak rub offers the best flavor. Full portions are in the recipe card. This yields just over one cup, which is great for a few applications to steak.
Note on Sugar: We avoid any sugar for a steak dry rub because sugar can burn while cooking over high heat. So avoid brown sugar, turbinado sugar, or cane sugar in this seasoning mix.
Preparation for Dry Rub for Steak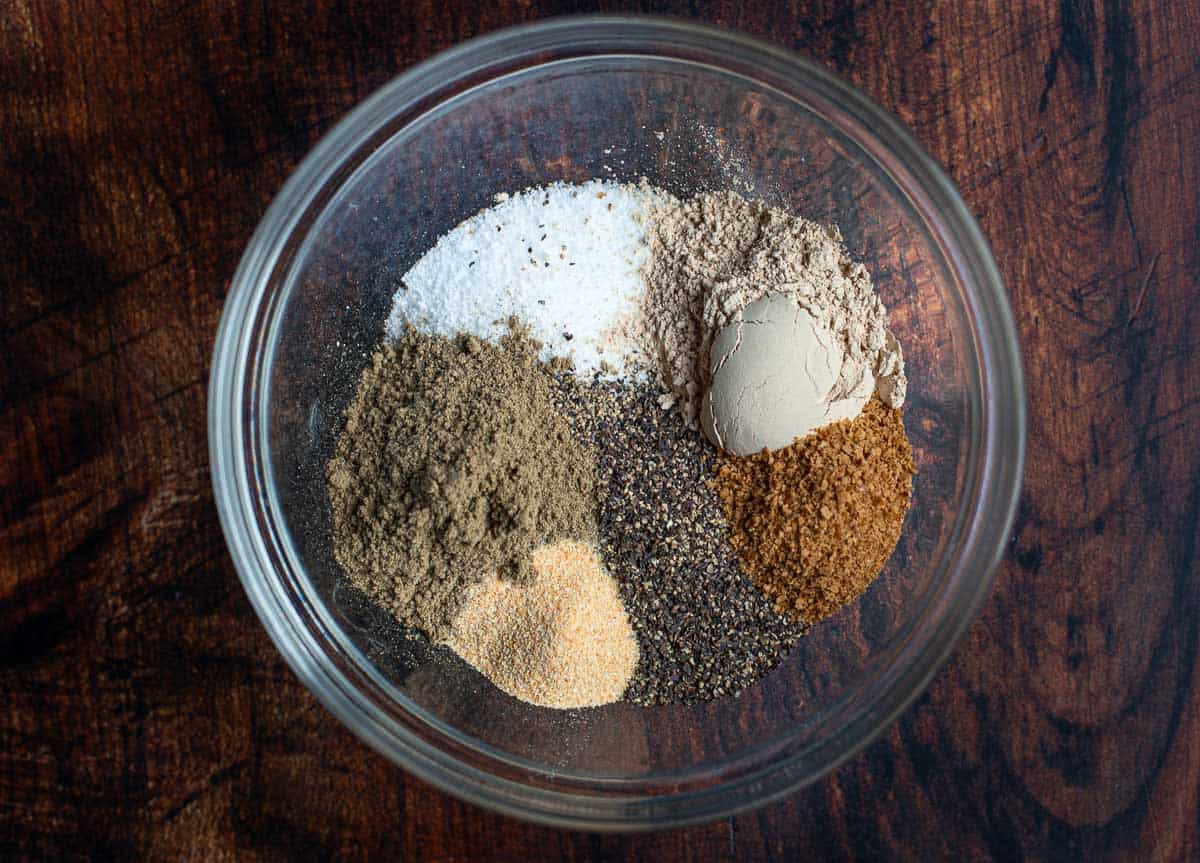 Combine all ingredients in a small bowl. For those who prefer a spicier flavor, you can add some cayenne pepper. Stir the mixture until you attain a uniform consistency. This is your homemade spice blend, and the best steak dry rub for a big juicy steak.
Store the dry steak rub in an airtight container to ensure a long shelf life. A mason jar (or similar spice jar) or an airtight glass jar is perfect for this. Keep the container in a dry place, away from direct sunlight. The sunlight activates heat, which will take any moisture in the rub and make it clump.
Application
One of the best ways to season steak is to apply your homemade rub liberally on all sides of the steak, rubbing it into the surface of the meat.
Now, the choice of steak is entirely up to you. You could go for a sirloin steak, rib eye, or even try your hand with flank steak or skirt steak. It's also worth mentioning that this rub can add great flavor to chicken wings, pork chops, or even a roast.
Cooking Your Steak
The best way to cook your steak will depend on the cut and your personal preference. We find grilling is the best method for us! But you can pan fry, grill, or even use an air fryer and still yield fantastic results.
Regardless of your cooking method, using a meat thermometer is the best way to ensure your steak is cooked to your desired level. Once cooked, it's crucial to let the steak rest before cutting into it. Cut against the grain of the steak to keep the best texture.
We use the Thermoworks Thermapen One as our go to thermometer for temping steaks.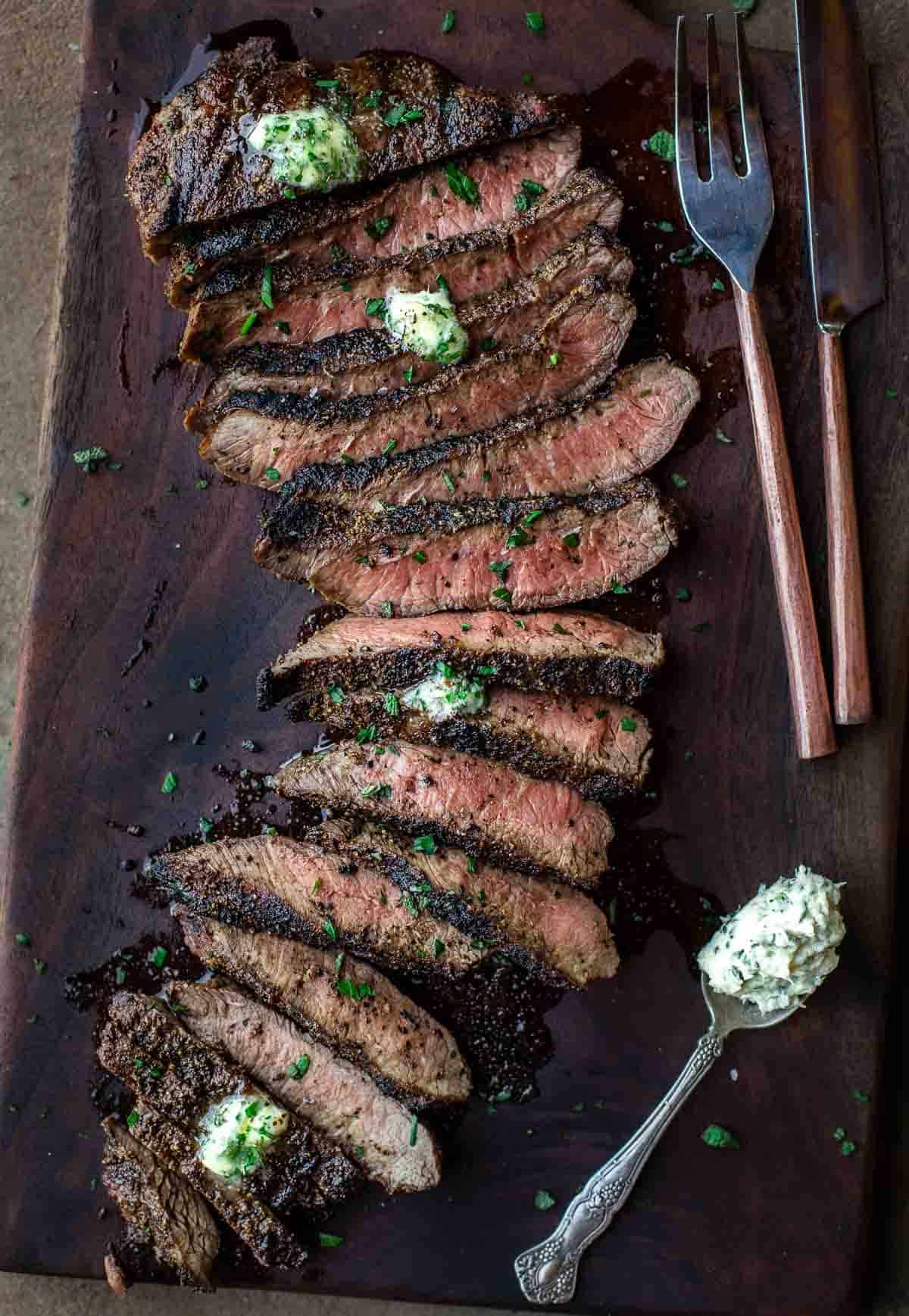 Final Thoughts
Experimenting with your own steak rub is a great way to tailor your meals to your specific taste. Once you have tried this recipe, don't be afraid to tweak it the next time around. Add extra ingredients like corn starch for a good rub that creates a crispy crust. Perhaps a dash of olive oil or avocado oil to create a paste-like rub. Or try this rub the next time you prepare pork chops, and take note of the different flavor combination it creates.
With this simple, yet unique, dry rub recipe, you're well on your way to enjoying your favorite steak with a flavorful twist. The next time you cook up a filet mignon, sirloin steak, or even some New York steaks, use this homemade rub for an incredible flavor boost.
Remember to store any leftover dry rub in an airtight container to maintain freshness and ensure a long shelf life. If you found this recipe helpful, share it with your friends and family. They might just thank you for their best steak dinner yet.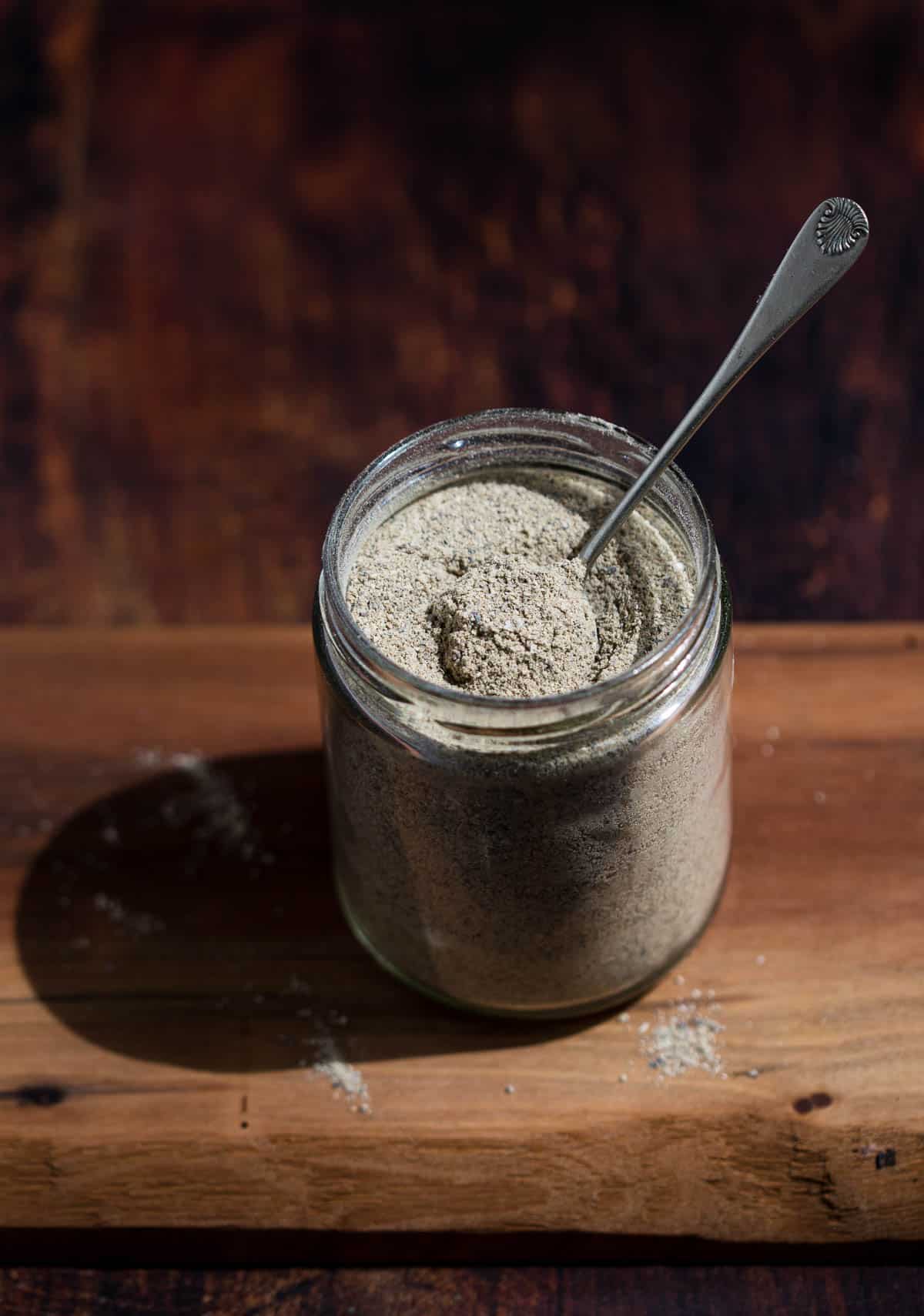 Steak Recipe Ideas
Explore all our grilled recipes, but here are a few of our favorites.
Grilled flat iron steak with herb compound butter. (Coming Soon)
Other Seasoning Inspirations
Explore all of our rubs and seasonings or peruse some of the following to use as a savory seasoning.
Mary (a certified sommelier and recipe developer) and Sean (backyard pitmaster) are co-authors of the critically acclaimed cookbook, Fire + Wine, and have been creating content for the IACP nominated website Vindulge since 2009. They live in Oregon on a farm just outside Portland.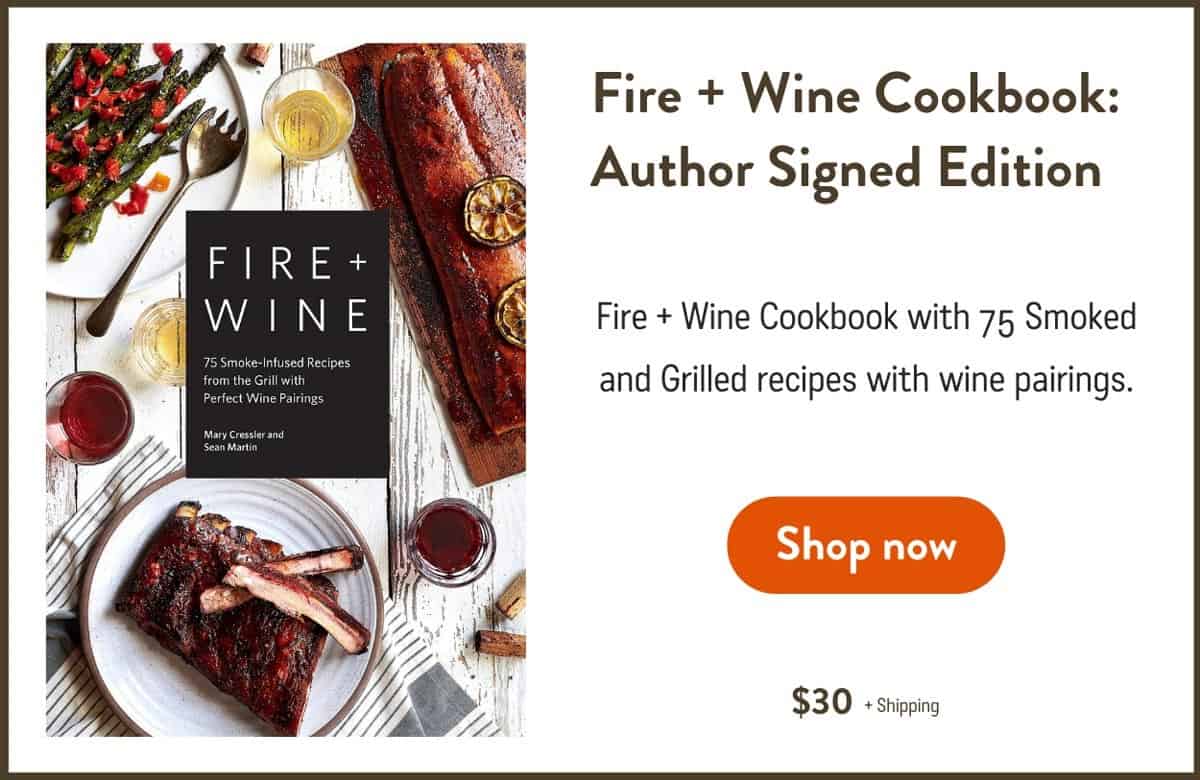 Tried this recipe? Give us a star rating and we would love to see! Mention @vindulge or use the hashtag #vindulge on all the social media handles. And consider subscribing to our newsletter where we drop all our favorite ideas and inspirations every week.
This post may contain affiliate links. This means if you click on the link, we may receive a small commission if you purchase through the link. We partner with brands we know and love and use and it helps keep the blog going!