This is a special edition of Friday Favorites here on the blog. Instead of listing out all of my favorite discoveries of the week like I usually do, this news encompasses all four Friday Favorite themes. Plus I have a special giveaway to go with this week's announcement!
This past weekend my husband and I announced to friends and family that we will be moving back to Oregon this summer!* We lived in Oregon from 2005-2010 prior to moving to Connecticut. It's where I first started working in the wine industry (unless you count the 8 years I worked as a server the "industry"). During that time I fell in love with Oregon and its beauty, people, land, food, and wine (!!).  I'm thrilled to be returning and moving closer to said wine country.
*OK so, I am moving back to Oregon, and hubby will remain bi-coastal between Oregon and Connecticut, technically speaking.
This move will be a true reflection of what this blog is about, and I hope to continue sharing stories of life in Oregon. What I write about is ultimately shaped by the experiences I have wherever I live and travel. The opportunities that will arise from being so close to the thriving food and wine culture that exists in the Pacific Northwest are exciting.
To celebrate the announcement, hubby and I made a special dinner over the weekend with a very Oregon theme — Oregon Mango Glazed Grilled Chicken paired with (duh!) Oregon wine.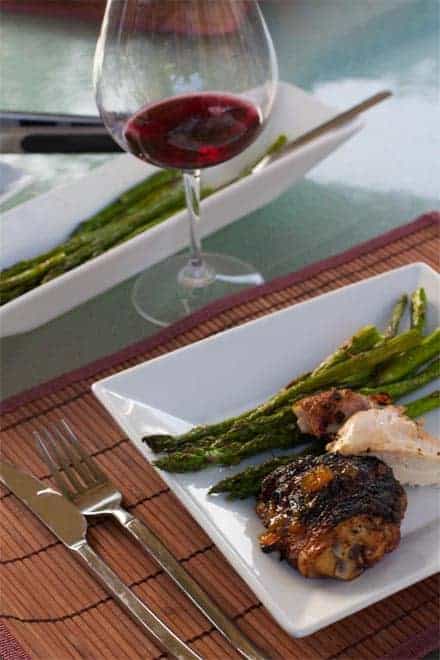 It was indeed the very best thing I ate all week, and probably the best chicken dish my husband has ever made, and I can't wait to share it with friends this summer.
I give hubby full credit for this dish because he came up with the idea of the glaze, which really steps up this grilled chicken dish about a 1,000 notches. The glaze is made from a jam we purchased from Republic of Jam, an incredible jam shop located in the town of Carlton, Oregon. This recipe is for a whole chicken (cut up into pieces), but would work just as well with smaller portions, or even just chicken breasts (just adjust the marinade and glaze accordingly).
What makes this dish so great is the technique. 
Start by marinating your chicken in the buttermilk mixture for 2-3 hours. The next step is crucial.  Remove the chicken from the marinade and allow it to dry on a rack for one hour in the refrigerator.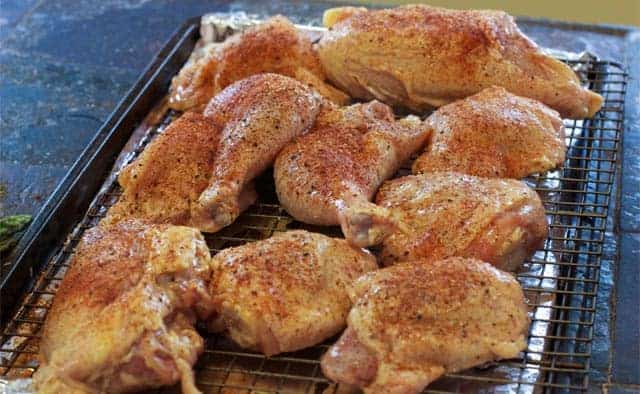 We've discovered the key to getting a nice crust on your chicken, while maintaining the moisture inside, is to allow the outside to dry out (otherwise you'll end up with soggy or rubbery skin). After an hour, you're ready to grill.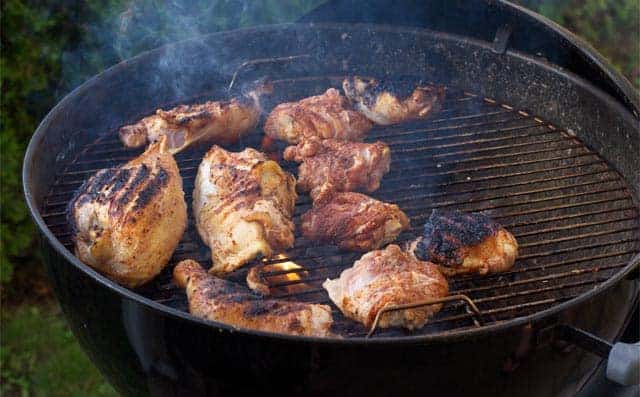 Once the chicken is almost at temperature, it's time to apply the glaze and allow it to finish cooking to get that nice sweet crust.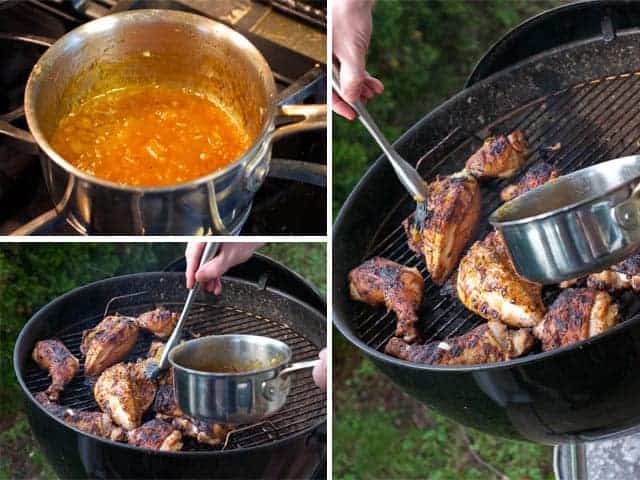 Once it's done, let the meat cool, and then you're ready to eat.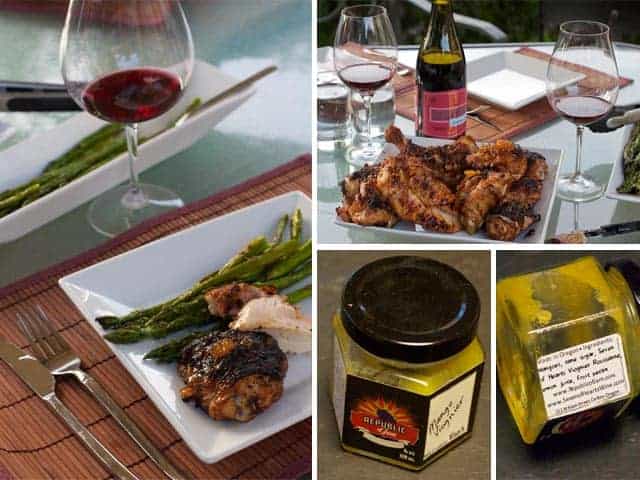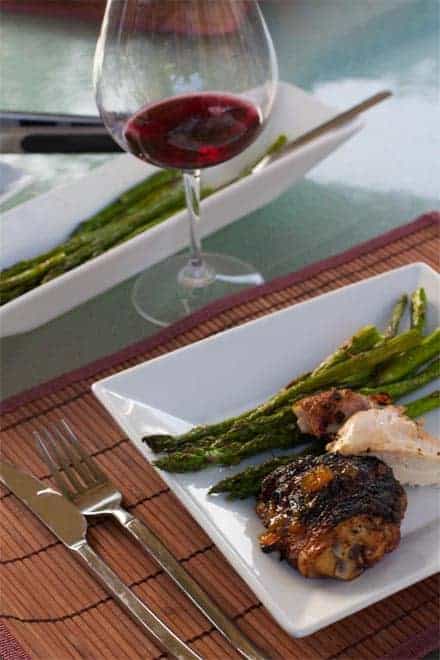 Oregon Mango Glazed Grilled Chicken
Ingredients:
1 whole 4-5 lb chicken, cut up into pieces
1 quart of buttermilk
¾ cup dry rub (see this

dry rub recipe

)
1 teaspoon salt
½ teaspoon pepper
Oregon Mango Jam Glaze (see below)
For the Glaze:
2 tablespoons shallots, diced
1 clove garlic, chopped
½ cup mango or apricot jam (we used one 4oz jar of Mango Viognier Jam from Republic of Jam, company based out of Carlton, Oregon)
1 tablespoon honey
Directions:
Marinate the chicken:
Rinse and pat dry chicken.
In a large bowl or wide deep dish combine buttermilk, dry rub, salt, and pepper.  Stir.
Place chicken into buttermilk bath, cover with plastic wrap, and place in fridge to marinate for 2-3 hours.
Remove chicken from the marinade. Place on a drying rack (we used a drying rack on top of a foil lined cookie sheet pan).
Place back in fridge, uncovered, for one hour.
For the Glaze (for timing, make your glaze right before you put the meat on the grill):
In a small saucepan over medium heat sauté shallots in ½ tablespoon of butter or olive oil for 8 minutes or until translucent.
Add garlic and let cook 1-2 minutes.
Add jam and honey, stir, and bring to a slight simmer.
Reduce heat and simmer for 5 additional minutes.
Remove from heat and let cool at least 15 minutes to set and thicken.
(You want a nice viscosity here; about five minutes should be enough time to create this texture.  It should mirror the texture of a good maple syrup, but chunky because of the jam)
For the Chicken:
Preheat grill to medium heat.
Place chicken pieces on grill over direct heat, but be careful of flare-ups.
After 4-5 minutes (or when a nice crust starts to develop) turn chicken over and allow it to cook an additional 4-5 minutes per side.
When the other side has developed a nice crust, move the pieces to indirect heat to avoid flare-ups.
As the chicken nears appropriate finish temperature (165 degrees for breast, 180 for thighs) begin to brush chicken pieces liberally with the glaze.
Apply all of the glaze between the chicken pieces, top side only!
Allow the chicken to finish cooking to temperature, and then remove from the grill.
Let the chicken pieces rest 10 minutes to allow juices to redistribute.
Serve this amazing creation alongside your favorite side dish or grilled vegetable.
Wine Pairing
"Evolution Red" 2nd Edition, by Sokol Blosser Winery
Oregon
13% abv  |  $15 (media sample)


The funny thing about Sokol Blosser is that it was hubby's first favorite Oregon winery back when he was still in college (that was a long time ago!).  He was living in Arizona at the time and used to buy Sokol Blosser's Evolution White Blend.  It was also one of the first wineries we sought out to visit on our very first trip to Oregon.  Therefore, in honor of our future homecoming, I thought it was indeed appropriate to open this bottle (that was sent to me for review) to pair with this amazing meal.
Notes
You immediately notice pretty aromatics on this wine.  Tart raspberries, rhubarb, plum and cherry aromas fill the glass.  More of the same fruit characteristics dominate the palate with the addition of some welcoming spice (cloves), and bright acidity.  Fruity, spicy, and acidic makes this wine an excellent food wine.  Light in tannins and not too high in alcohol this is a good choice for summer barbecues and will pair with a variety of grilled staples (burgers, ribs, or this very chicken dish!), but would also be good with indoor favorites (pizzas, pasta with red sauce, etc.).  The fruit and spice characteristics really melded with the juicy chicken with the sweet crust.  Great match.
About Evolution
In the tradition of Sokol Blosser's well-known Evolution White Wine, this is a blend of several grape varieties.  Based on what the website reveals they want to keep the blend a "secret", but from dissecting the information on the label one can make some assumptions.  The wine is designated  "American Wine" even though the winery is based in Oregon.  This is because more than the legal amount of the blend (75%) comes from outside of any one state.  It is also labeled "non-vintage", again because more than the legal amount of the blend is derived from a single vintage.  Being that the Columbia Valley in Washington State is abundant with excellent Syrah, and not far from the Willamette Valley, I can only assume that is where much of the red comes from.  I was also informed that there is a very small amount of white wine in the blend, which I think is awesome and what must contributes to its excellent aromatics!
The practice of blending white and red is not uncommon at all, though most consumers are not aware of the practice.  Take bubbles for instance.  It's quite common to blend red and white wines together in the production of Champagne and other delicious sparkling wines.  In addition, in France's Rhone Valley some of the most famous Syrah's (a red grape and wine) are actually blended or even co-fermented with small amounts of Viogner (a white grape) giving the wine distinct and beautiful aromatics.  This is also true for many Shiraz blends from Australia, and is becoming a more common practice in wine regions throughout the world.  Most people don't know this because there is usually such a small amount of white wine in the blend that it doesn't need to be revealed on the label.  Just a touch of white wine can add beautiful aromatics to a red wine.  Don't be afraid if you find out your red wine actually has some white wine in it!  Embrace it.
Oregon Themed Giveaway!!! (CLOSED)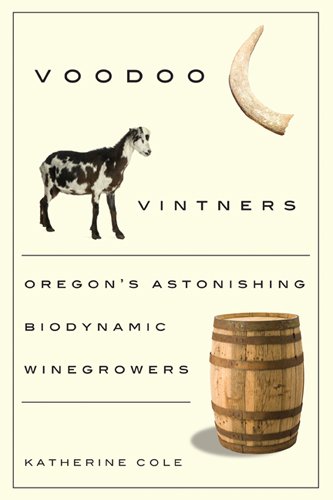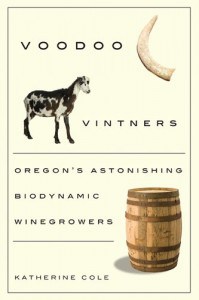 For Mother's Day my dad bought me a copy of a book I'd been waiting over a year to read —   Voodoo Vintners: Oregon's Astonishing Biodynamic Winegrowers, by Katherine Cole.  Due to an Amazon snafu I ended up with two copies (wohoo!), and I decided to give one of them away to one lucky reader in honor of our Oregon homecoming.
Katherine Cole is the wine columnist for The Oregonian and tasting coordinator for Oregon's MIX Magazine.  She is an excellent writer and Portland local.  I'm only a few chapters in to my own copy but it is an excellent read so far!  I can't wait to share the love.
How to win your copy?
All you have to do is leave a comment on this post telling me what your favorite thing about Oregon is.  Never been to Oregon?  Let me know one thing you would like to see or do if you ever get the chance to visit.
That's it!
[GIVEAWAY IS CLOSED. THANK YOU TO ALL WHO ENTERED!]
~~~
Why I write these Friday Favorite Posts