Learn how to make the best Grilled Pork Chops from beginning to end, including a savory red wine pan sauce with shallots. The secret is managing your fire temperature and NOT overcooking the pork. And this recipe does not require a marinade or brine.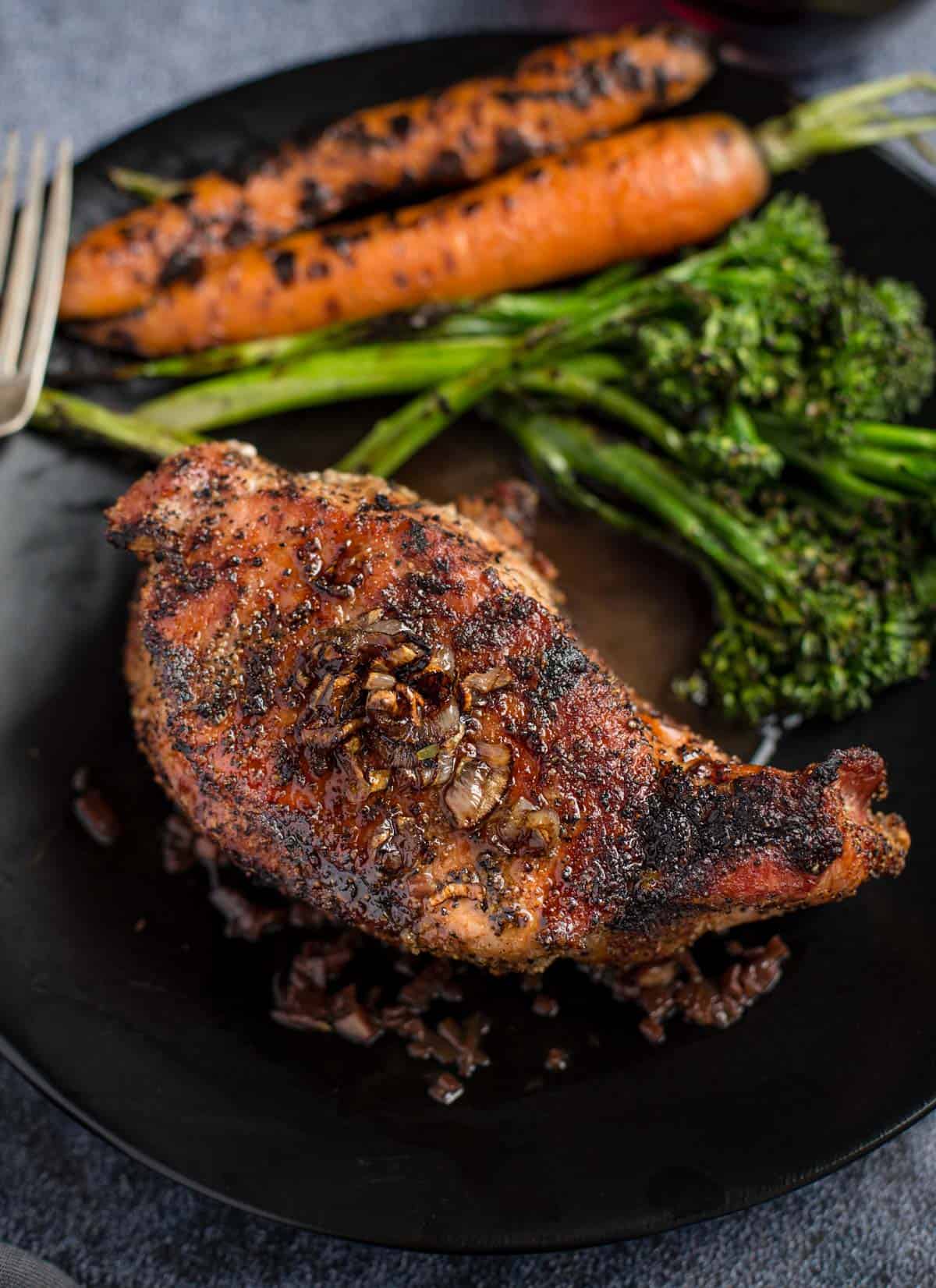 Growing up, the pork chops I was regularly subjected to were almost always overcooked hockey pucks (no offense, mom). But after learning how to cook them properly and to the right internal temperature, I realized that good pork is flavorful, buttery, and tender. This recipe is not only easy, but that decadent red wine sauce makes it look super elegant (with very little effort!). This could easily be your next date night or dinner party meal!
---
Why This Recipe Works
Two-Zone Grilling allows you to control a nice sear or crust on the outside of the pork while using indirect heat to finish it.
A hot grill at 500 degrees is key to the searing.
The pan sauce, which is basically a combination of shallots, garlic, balsamic and red wine reduction, adds that extra something special and is easy to make .
---
Jump to:
The Cut – Buying Pork Chops
The definition of a pork chop is simply a pork steak. It can really be cut from any parts of the pig primal cuts (or larger cuts before the smaller steaks and roasts are butchered). The most common pork chops are the center cut pork loin (often the equivalent of a beef T-Bone) and the pork rib chop (or pork ribeye). They can be boneless or bone-in. Other names for pork chops include:
Tomahawk – A bone-in ribeye with the bone Frenched for presentation.
Sirloin – From the rear portion of the pork loin just off the backbone.
Top Loin – A portion of the loin cut into steaks. Often seen boneless.
Blade Chops – Technically these are steaks cut from the pork shoulder. We do NOT recommend this cut for this recipe as they are best braised or smoked as a whole roast.
Pork Collar – This is a less common cut but comes from the shoulder and neck. It's tender and very similar to a pork tenderloin (only bigger). It's delicious grilled as a roast or smaller steaks.
This grilled pork chop recipe works for any of them except shoulder or ham steaks. We strongly encourage purchasing bone-in, as well that are 2 to 3-inches thick for grilling. This allows a nice sear to the outside and the ability to slowly cook the interior so it is still tender and juicy. If the steaks are too thin you run the risk of overcooking them.
You can also source specific pork steaks from various online retailers. D'Artagnan has incredibly sourced pork from small farms around the US and world. Snake River Farms has Kurobuta Pork with a rich, tender and buttery flavor, often described as the "Wagyu of pork" sourced from the Northwest.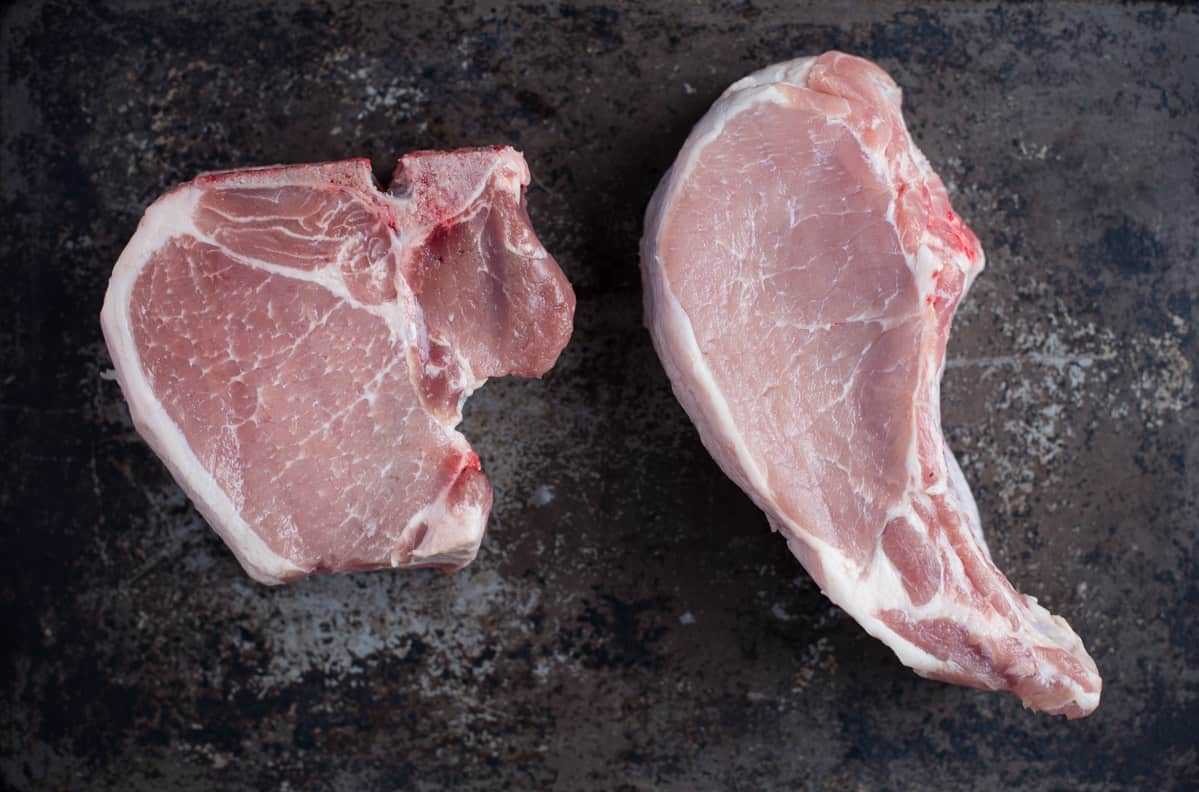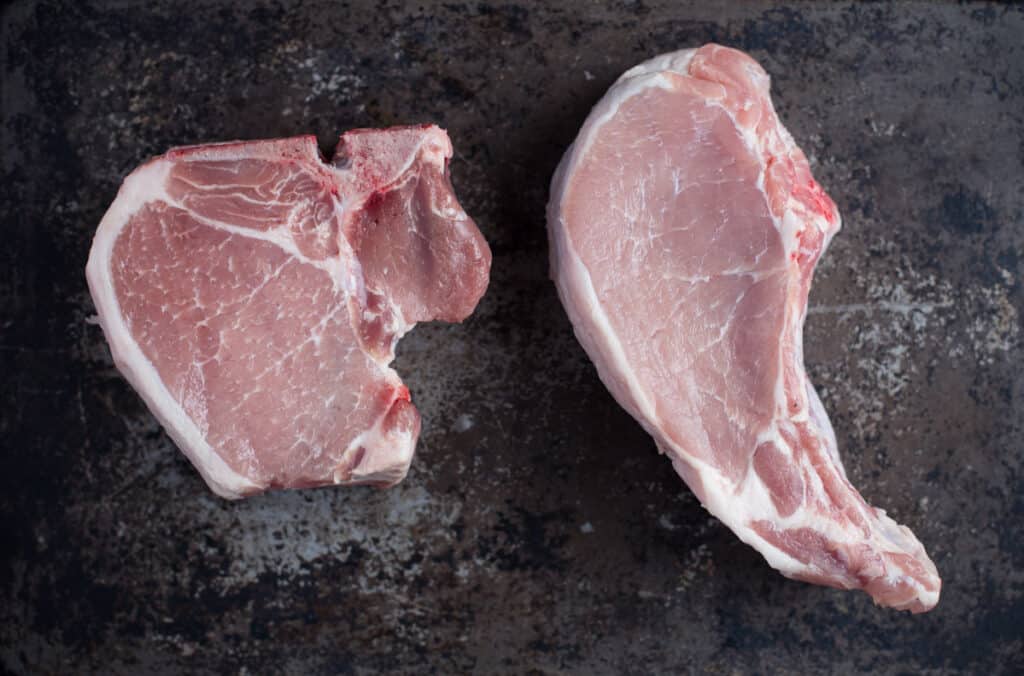 Buying Tip
Butcher Tip: Call your butcher in advance and be specific about what you want. Let them know you want 2-inch thick bone-in pork chops. Ideally center cut loin or the rib roast (ribeye). Then they can prep them in advance before you go. Most often if you just show up, you'll find thinner steaks that aren't as great on the grill.
Preparation and Seasoning
Prep: Most likely the chops will be ready to go and won't require much trimming. The only thing to consider is removing any excess hard fat or silver skin. Hard fat won't render and silver skin can be chewy. But likely the chops will be ready to season and grill.
Seasoning: The goal is to accentuate, not overpower, the natural pork flavor. We use our SPG (or Salt, Pepper, Garlic) rub to season the chops and then finish with a red wine pan sauce. You can use any rub, however be sure you avoid any rubs with sugar as the first ingredient. Because of the high heat, sugar will burn so avoid sugar based rubs if at all possible for high heat grilling. Coat the steaks with olive oil as a way for the seasoning to bind easier to the steaks. Then it's ready to grill.
You can season them up to a day before.
How to Grill Pork Chops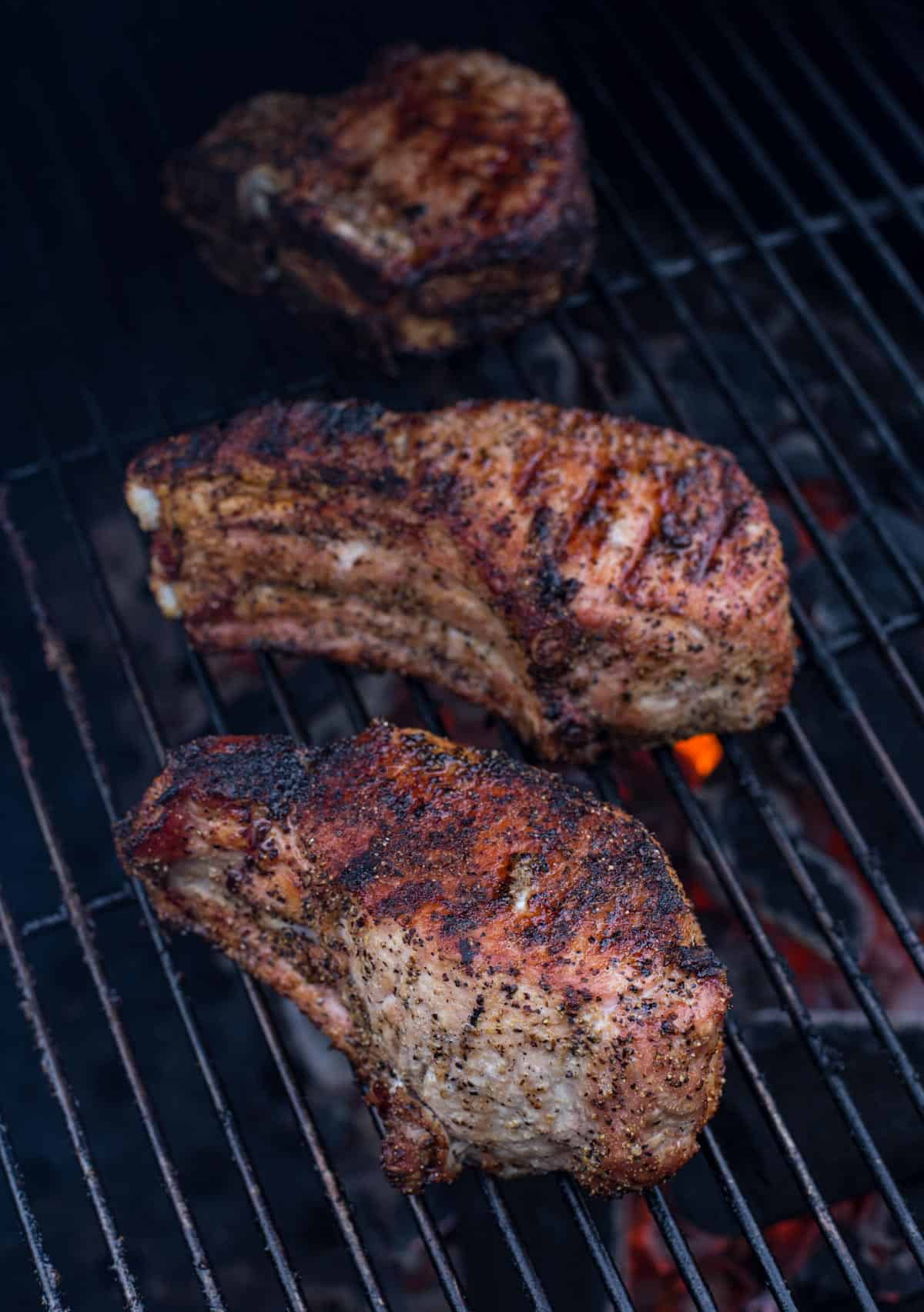 The secret to perfectly grilled pork chops is to have a HOT direct flame and an indirect side to finish the steaks.
Prepare grill for two-zone grilling, targeting 500 degrees as the ambient temperature in the cooking chamber.
Place the seasoned steaks over the direct heat, close the lid, and grill for five minutes, or until there are visible sear marks. Then flip the steaks and continue to grill (lid closed) for an additional 5 minutes. This will have seared both sides of the steaks.
After searing both sides, move the steaks to indirect heat, close the lid and continue to grill until they reach your desired internal temperature (for us that is 135 degrees Fahrenheit). Our one pound steaks took approximately 20 additional minutes cooking on the indirect side to reach 135 degrees (*this will all depend on the exact thickness of your pork chops, so always cook to temperature, not time).
Rest the steaks for 10 minutes to allow carry over cooking to occur, where the temperature continues to rise another 5 degrees. Then slice and serve.
Thinner Chops: If all you can find are thinner steaks/chops, follow the same recipe steps but plan the steaks to cook faster. Check internal temperature throughout the cook and plan 10 – 12 minutes of indirect cooking time if they are thinner.
On A Pellet Grill
If you are trying to do this on a pellet grill, it's best to consider reverse searing them because many pellet grills don't get to over 500 degrees direct heat. If yours does, then the default method of any pellet grill is indirect. Set the grill to High, or 500 degrees, and then grill the steaks. If you don't see the sear you like, then finish them in cast iron on high heat with butter on the stove top.
When Are Pork Chops Done?
Always cook your pork chops to the proper internal temperature, not based on time. Every cut will be different weight and thickness, every cook will have different weather. Invest in a good instant read thermometer, like the Thermapen One, so you have fast accurate readings and know exactly when to pull your pork steaks.
While the USDA recommends cooking pork chops to 145 degrees Fahrenheit, we like ours more on the medium rare side because we trust our pork sources. This means there may be a little pink in the middle. We grill ours until the internal temperature is 135 degrees F and then let them rest, and while resting they will rise another 5 degrees F to 140 degrees.
However much you like your pork steaks we recommend not letting them cook to an internal temperature over 145 as they will dry out quickly at that point.
How to Make Pan Sauce
The idea is to simmer and reduce the liquids to intensify the flavor, but add them in stages. It's important to watch your heat because your pan sauce can go from savory to burned if you scorch the liquids. The consistency is also not gravy, it's more like a thickened liquid. We start our pan sauce when the steaks are moved to indirect heat.
In a medium size pan over medium heat, add olive oil and shallots. Stir the shallots consistently until the soften (about 4 minutes). If they are cooking too fast, just reduce the heat to low until they soften (to avoid burning).
Add garlic and stir for one additional minute, and then add the balsamic vinegar. Adjust heat so it comes to a strong simmer. Continue simmering for two minutes. You'll see the balsamic start to reduce in half and slightly thicken.
Add wine and bring to a simmer while stirring. Continue to reduce at a simmer for additional 4 minutes. Then add the chicken stock and salt, again bring back to a strong simmer and continue to reduce (about 5 additional minutes).
Remove the pan from heat and then add the butter. Whisk or stir until butter melts. As it melts the sauce will continue to thicken slightly. Serve a spoonful over the slices of grilled pork chops.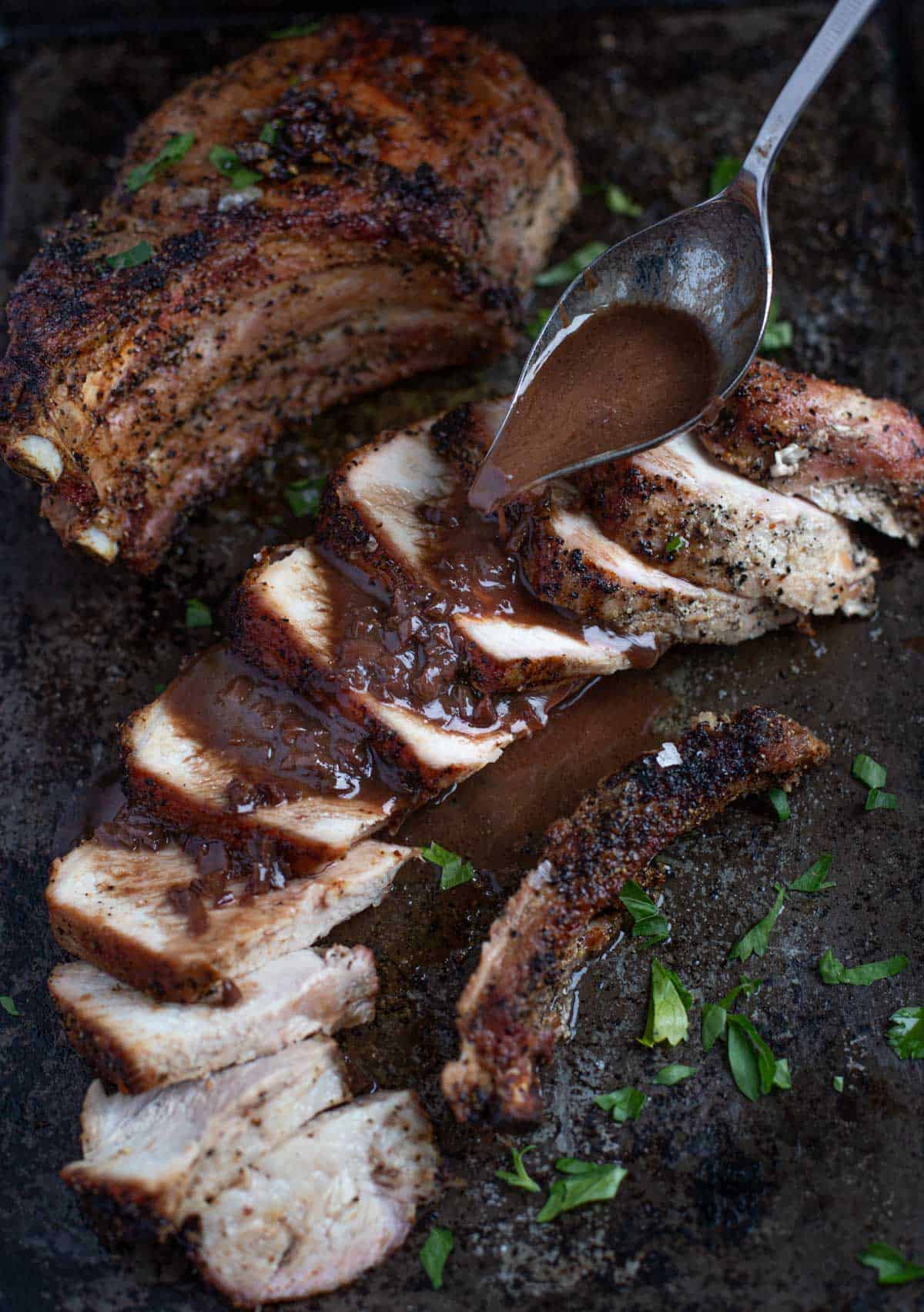 Variations
If you aren't craving a red wine sauce, then a compound butter is just as delicious. Make it a day ahead and then spoon the butter over the resting steaks.
Frequently Asked Questions
How long should you cook pork chops on the grill?
Always cook to temperature and not time. We recommend cooking the pork chops until they are no more than medium rare, or 140 degrees Fahrenheit. This means remove them from the grill when the internal temperature reaches 135 and as they rest, they will cook until 140. USDA recommends pork be cooked to 145 degrees F, but we feel comfortable in where our pork is sourced. Good quality meat shouldn't cause you too much alarm.
Should pork chops be grilled fast or slow?
You can do both. If doing slow – use the reverse sear method where you smoke them at a low temperature, and then finish with high heat for a great sear. If grilling fast, target 500 degrees F and use two-zone grilling method so you can start with a sear over the direct heat and then finish on indirect heat.
Can pork chops be a little pink?
Yes, pork can be a little pink and still be safe to eat. Always use an instant read thermometer to measure the internal temperature and remove when they reach your desired temp. The USDA recommends pork be cooked to an internal temperature of 145 degrees F.
How many pork chops should I buy?
Consider a half pound of meat per person for a full meal. So for a four-person dinner, purchase 4 pounds of bone-in meat.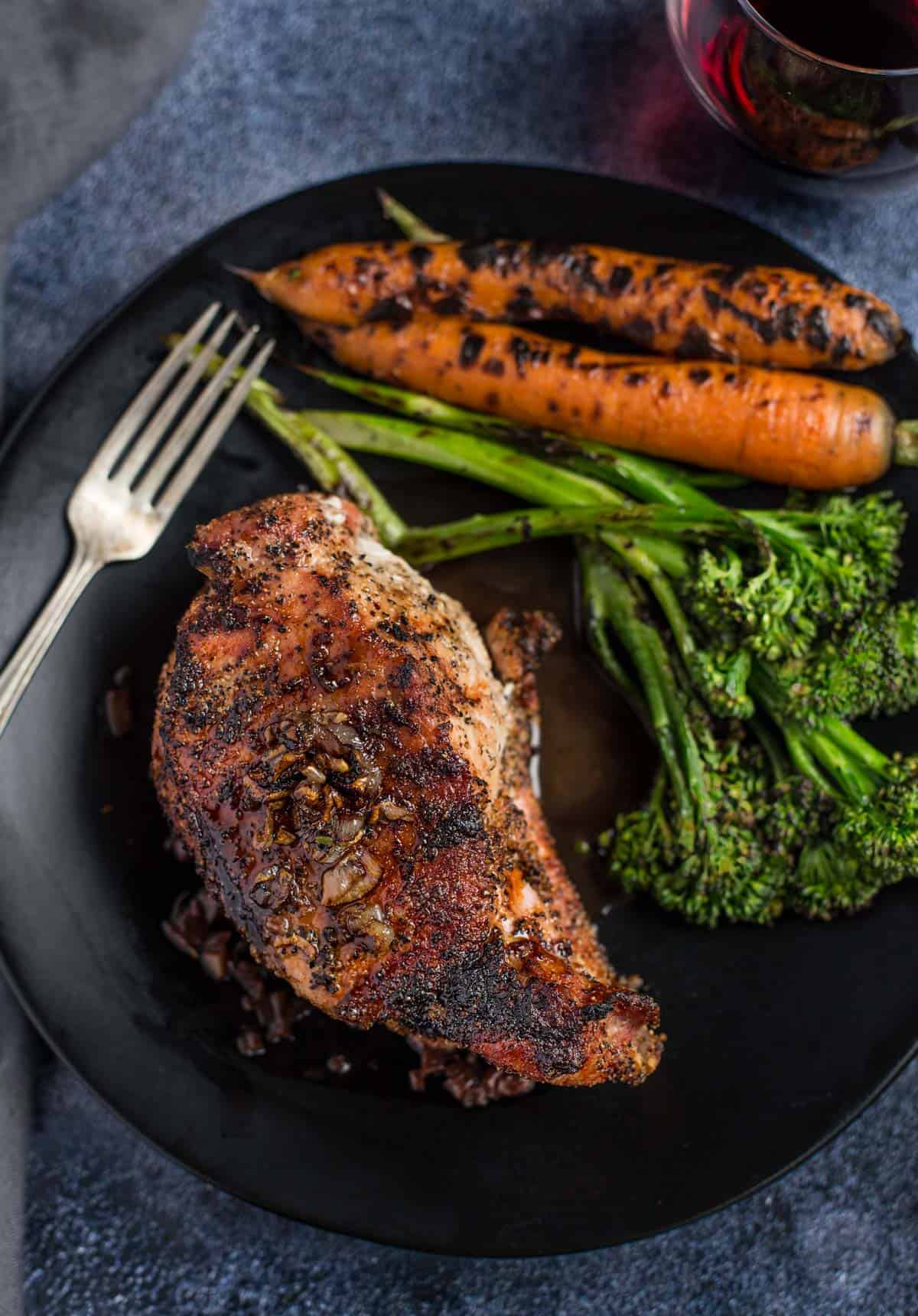 Other Pork Chop Recipes on the Grill
Whether grilled or smoked, these pork chop recipes are also delicious.
This post may contain affiliate links. This means if you click on the link, we may receive a small commission if you purchase through the link. We partner with brands we know and love and use and it helps keep the blog going!
---