Just 12 hours after arriving home from a trip to Croatia and Italy I jumped on a train en route to NYC for the Snooth People's Voice Awards (PVA). After two weeks of intensive wine, food, and traveling I was admittedly jet lagged, full, and tired, but I wouldn't have passed this opportunity up for anything.
Myself and 20 other bloggers were guests of Snooth for their PVA Weekend, which included a public Grand Tasting Event and three days of focused seminars and master classes for the bloggers on wines from regions across the globe.
My jetlag quickly changed to a rush of adrenaline at the realization I was back home – so to speak. The first dinner, located at Peking Duck House, was sponsored by the Oregon Wine Board with a lineup of wines that included many of my favorite Oregon producers, including; Soter, Stoller, Abacela, and Argyle, among others. I was welcomed with a glass of a standout sparkling wine – The 2009 Soter Brut Rosé.
Looking for a spot to sit, Meg Maker pointed to an empty seat next to her. On the other side sat a tall, friendly, gray haired gentleman who pointed to the same chair disclaiming, "I won't bite". I recognized his face, but not as one of the 20 bloggers in our group. He introduced himself as Earl Jones, owner of Abacela (my first favorite Oregon winery!). Fate would have it that I lived and worked in the Oregon wine industry for several years and had to travel all the way to NYC to finally meet the man behind the wines I'd admired all that time.
I explained to Earl (because you immediately discover he's the kind of down to earth guy that you can call by first name) that I had been a fan of his wines from the moment I moved to Oregon when I found out someone from this "Pinot Noir state" was growing Tempranillo (one of my favorites at the time). Before moving there I (like many) associated Oregon strictly with cool climate Pinot Noir. It seemed strange yet intriguing that someone would be focusing on Spanish grape varieties typically associated with warmer climates. I had a lot to learn.
Abacela Winery (Roseburg, Oregon)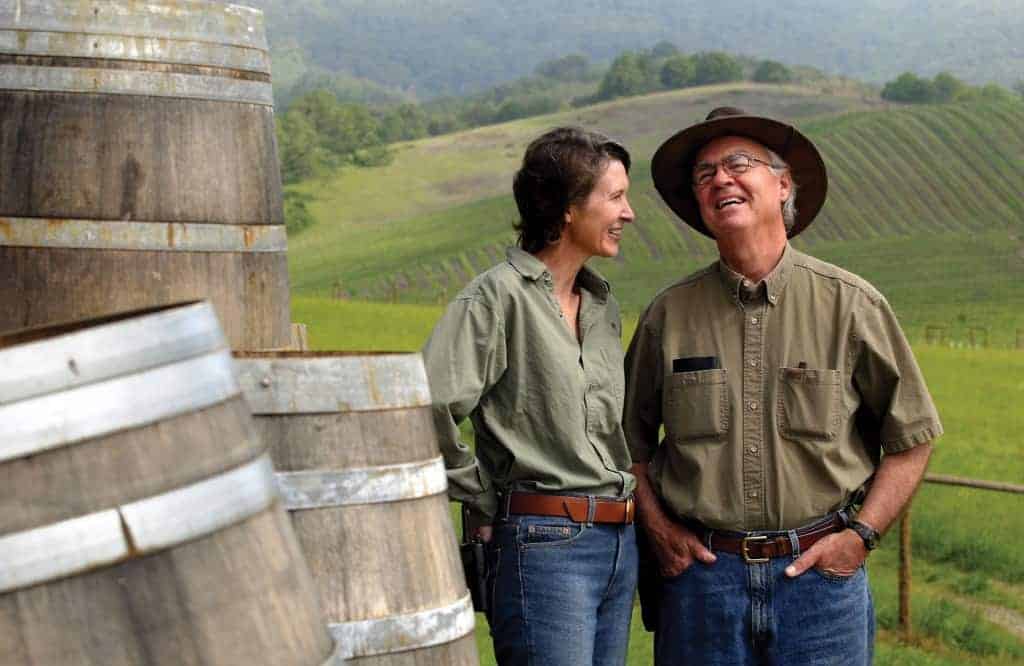 Earl & Hilda Jones, photo courtesy of Abacela
It was over 20 years ago when Earl and his family transplanted from the Gulf Coast to Southern Oregon's warm Umpqua Valley in order to plant Tempranillo, eventually adding other Spanish and Portuguese varieties to their portfolio. Abacela's story, however, began much earlier than that.
Early on in life Earl (then a physician-scientist-educator) and wife Hilda (a medical technologist) developed a fondness of the red wines of Rioja and Ribera Del Duero – wines made primarily from Tempranillo grapes. When they discovered nobody was working with that grape in the US they traveled to Spain in order to learn more. That trip not only intensified their understanding and love for the varietal, but also Spanish culture and cuisine, and fueled their desire to find the perfect climate in the US to produce these types of wines and share this lifestyle. That would mean leaving the subtropical Gulf Coast.
But they didn't just up and move to a random location and start planting vineyards; they were scientific, smart, and strategic. It took years of research, planning and preparation, and yet the quality of their wines was evident immediately as demonstrated by the awards they started receiving soon after their first release. They knew what they were doing, and they did it well.
Though Abacela has built their reputation on Tempranillo, it was their Grenache Rosé that soon became a household wine of mine shortly after my move to Oregon. I mentioned this to Earl.
"You've had my rosé?" he seemed shocked. "Of course!" I laughed, reminding him again that I lived in Oregon for five years and used to buy it by the case from my local New Seasons. I explained, "That rosé was one of the best value rosé's out there (and I have little doubt that it still is), but I never liked telling people that because I didn't want it selling out too quickly leaving me empty handed come August."
"Though," I continued, "I have to be honest. There was one vintage that I didn't love, at all. It was very different. Do you always use the same blend in your rosé?"
"Great observation!" he exclaimed. " The answer is no. We always made it with Grenache. Then one year we made it with Tempranillo. We didn't like how it turned out at all! We never made that mistake again, and now continue to only use Grenache."
Alas, the Grenache Rosé was not poured at our dinner that evening, but their delightful 2012 Albariño was. In fact, this was the only Abacela wine among the 16 Oregon wines served that evening. This white Spanish grape variety is one of many Abacela also grows. The resulting wine was fresh and crisp with lovely apple and lemon aromas and a crisp yet sultry mouthfeel.

The other 15 wines poured that evening came from several producers located throughout the state, reflecting the diversity you can find in the wines of Oregon. As one of the winemakers pointed out, "Chile, Argentina, and Spain are the only other places that have as varied of a climate as Oregon". After working in the industry there I can vouch for that. In addition to Albariño we tasted Vermintino, Riesling, Gewürztraminer, Pinot Gris, Chardonnay, Syrah, and of course Pinot Noir (including one of my favorite Pinots – Nuthouse Pinot Noir by Argyle Vineyards).
In addition to Earl Jones, Jim Bernau of Willamette Valley Vineyards, and Brian O'Donnell of Belle Pente were also in attendance speaking about the wines of Oregon, as a collaborative team. Not to downplay the other producers, I previously wrote about my newfound love and appreciation for the wines of Belle Pente. They are all fantastic producers. That night, however, I was just thrilled to finally get to meet one of my long time Oregon wine heroes – just a mere 3,000 miles away from where I was first introduced to them.
Thank you to Snooth for inviting me to an enlightening weekend of events. And thanks to the Oregon Wine Board for providing a wide variety of wines. I must admit though, it made me slightly homesick for Oregon.