Using a pellet grill is a great way to achieve incredible smoked flavor while achieving crispy skin for the best smoked turkey. Learn the key steps in how to smoke turkey on a pellet grill every time.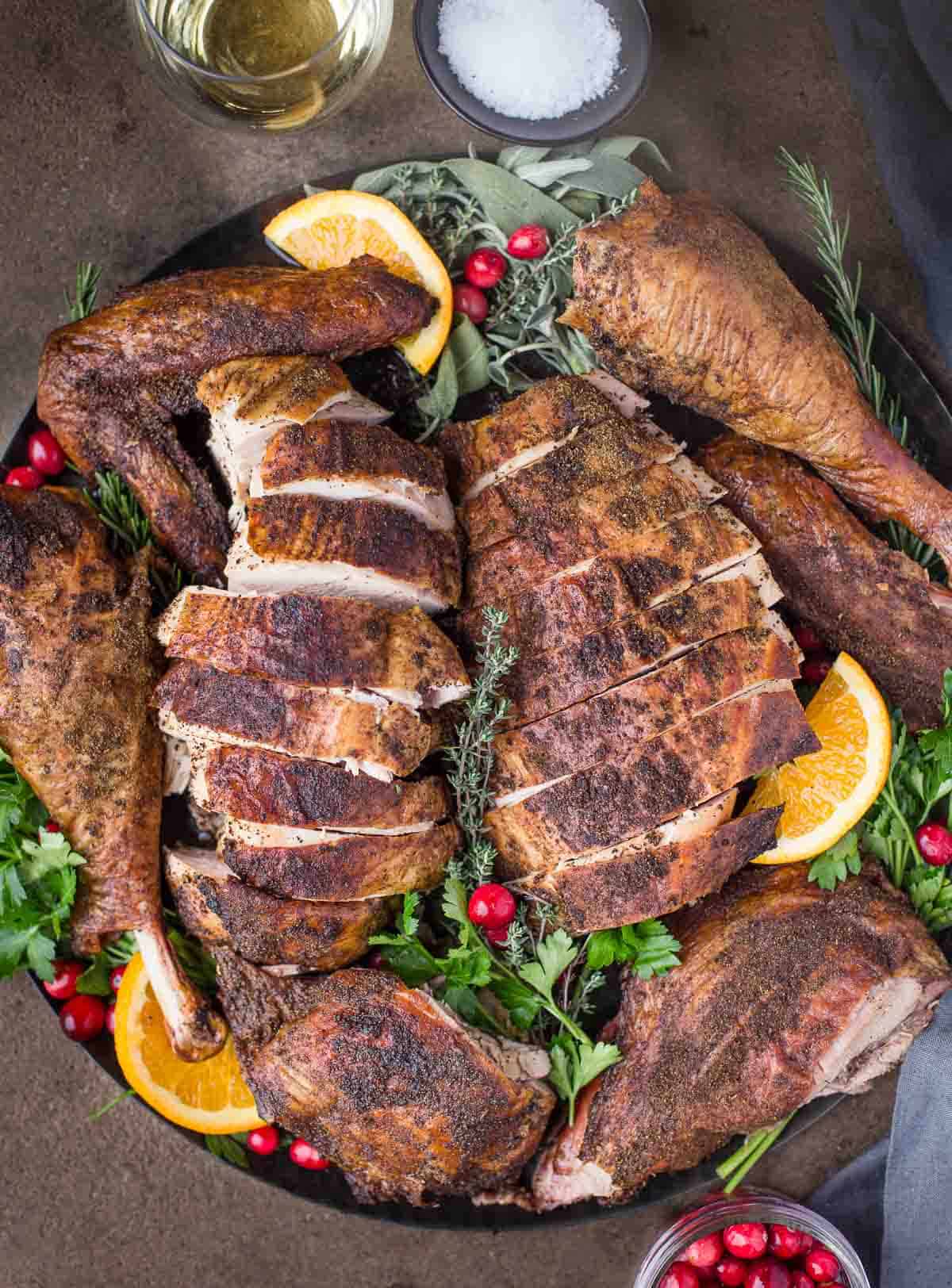 Do you have a pellet grill and hoping to smoke a turkey that is far better than any oven roasted turkey you've ever had?
It's possible!
A perfect turkey has crispy skin and juicy flavorful meat. When using a wood pellet smoker you have an easy advantage that allows you to smoke it first then roast it to get the desired crispy skin. This approach is easy when using a wood pellet grill.
For this recipe, we will follow 4 simple steps of brining, spatchcocking the turkey, seasoning, and smoking.
Jump to:
Ingredients for Pellet Grill Smoked Turkey
Whole Turkey – A fresh turkey is ideal. If buying frozen turkey be sure you allow enough time to thaw. If you plan to make your own brine be sure to buy a turkey that is not already soaked in a brine solution. You will see this on the packaging. 
Seasoning – We use a wet brine and a dry brine (seasoning) to add flavor and help prepare the turkey for crispy skin. Our dry brine is our savory turkey seasoning, which is a combination of kosher salt and herbal flavors like sage and thyme. You can also add a sweet element with our ultimate dry rub for chicken and pork.
Frozen Turkey Thawing Tips + Planning
Plan 1 day of thawing in your refrigerator for every 5-pounds of turkey. So for a 15 pound turkey plan 3 days. For a 20 pound turkey – 4 days. You also want to plan 1 additional day to brine your turkey.
If you need to thaw a turkey more quickly you can completely submerge a frozen turkey in cold water according to the USDA. Replace the water every 30 minutes until thawed. Plan 30 minutes of time for every pound of frozen turkey. So a 15 pound turkey should thaw using this method in 7 ½ hours.
So basically buy a thawed turkey and add a day in prep time for brining. We also have our article on all the advice for your first smoked turkey to plan and have the perfect holiday meal.
Turkey Buying Tips
When smoking turkey we always recommend buying smaller turkeys versus a large turkey. Larger turkeys can dry out easier when smoking low and slow for a long period of time. If you start to need a turkey over 15 pounds then consider two smaller turkeys instead of one large. The best part is that you get twice as much of the darker meat.
For portions we always plan 1 ½ pounds of turkey weight per person. So for an 8-10 person dinner we plan for roughly 14-15 pounds.
Tools Used
​Make sure you have all your supplies ready and prepared.
Large Cutting Board – It needs to be an oversized board that can fit a whole turkey. If you don't have a large board, you can place a smaller cutting board inside of a large sheet tray. This helps prevent spillage. Chef's Tip: Place a kitchen towel under your cutting board or sheet tray to prevent it from moving around.
Paper Towels – You will need a lot of them.
Brine Bucket – We use a large 16-quart stock pot, or you can use a brining bag. If using a cooler we recommend brining in a bag, placing in a cooler with ice to keep cool.
Sharp Knife – If you plan to spatchcock your turkey you want a sharp chef knife. Kitchen shears also work well for spatchcocking.
Meat Thermometer – Don't rely on the pop up tag on any turkey. Use a good leave-in thermometer with Bluetooth features so you can monitor the internal temperature of the turkey at any given time. Many pellet grills have these integrated into their control system. You also want a good instant read thermometer to check multiple areas of the turkey in the thickest part of the breast so you know all parts of the turkey are done. We use the Thermoworks Smoke Unit and the Thermoworks Thermapen One.
Wet Brine
Remove the giblets from the turkey (save them to use for a turkey gravy). We recommend spatchcocking after this step because it's easier to leave the whole turkey in the brining pot.
In a large stockpot, add the cold water, salt, and the sugar. Stir until it's absorbed. Then add your additional ingredients for flavoring. Place the whole turkey into the pot, place into the refrigerator and brine for 24 hours. We use this basic turkey brine all the time and it's easy to modify with additional flavors.
Spatchcock Turkey
After 24 hours in the refrigerator remove the turkey from water and place on a large cutting board. Discard the brine.
Place the turkey breast side down so the backbone is facing you. Using your knife, begin to cut along one side of the backbone, cutting through the cartilage as close to the bone as possible.
Once you have cut through one side, repeat on the other side. You can season and smoke the backbone with the giblets for gravy. Otherwise discard backbone.
The last step is to open the former cavity and crack the breast bone so that the entire turkey lies flat.
For further description you can also read this post on spatchcocking turkey or chicken.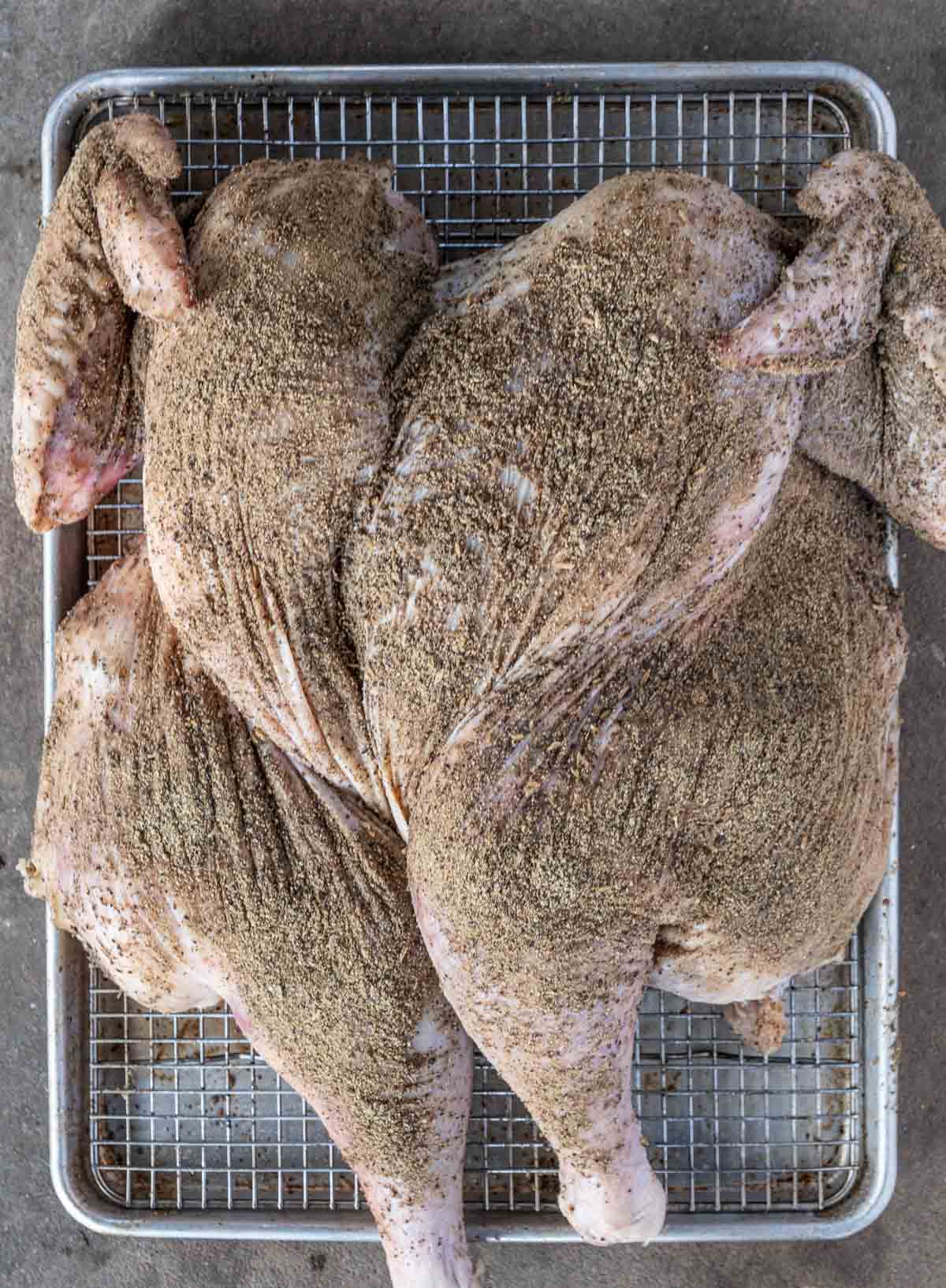 Dry Brine
Completely dry the whole turkey with paper towels. You want the turkey dry. This is the key step in achieving crispy skin. After it's been dried, liberally apply your turkey seasoning to the entire turkey. Place the turkey on sheet tray lined with a wire rack (or cookie cooling rack). Then put the turkey into the refrigerator, uncovered for at least 3 hours (ideally 12).
During this process the salt in the seasoning will continue to pull out water in the fatty layer of the skin and dehydrate the turkey. This is an important step to getting that crispy skin. Note that at no point in the dry brine process do we use olive oil. We keep the skin dry.
Smoking a Turkey on a Pellet Grill
The whole bird has been brined, spatchcocked, seasoned, and now it's time to smoke it. The best part of any pellet grill is that it's easy to start at a low temperature for smoke flavor and then cranking it up to get the higher roasting temperatures. There is NO NEED to allow the turkey to sit for an hour and come to room temperature. This is a myth and will not materially change the cooking times at all.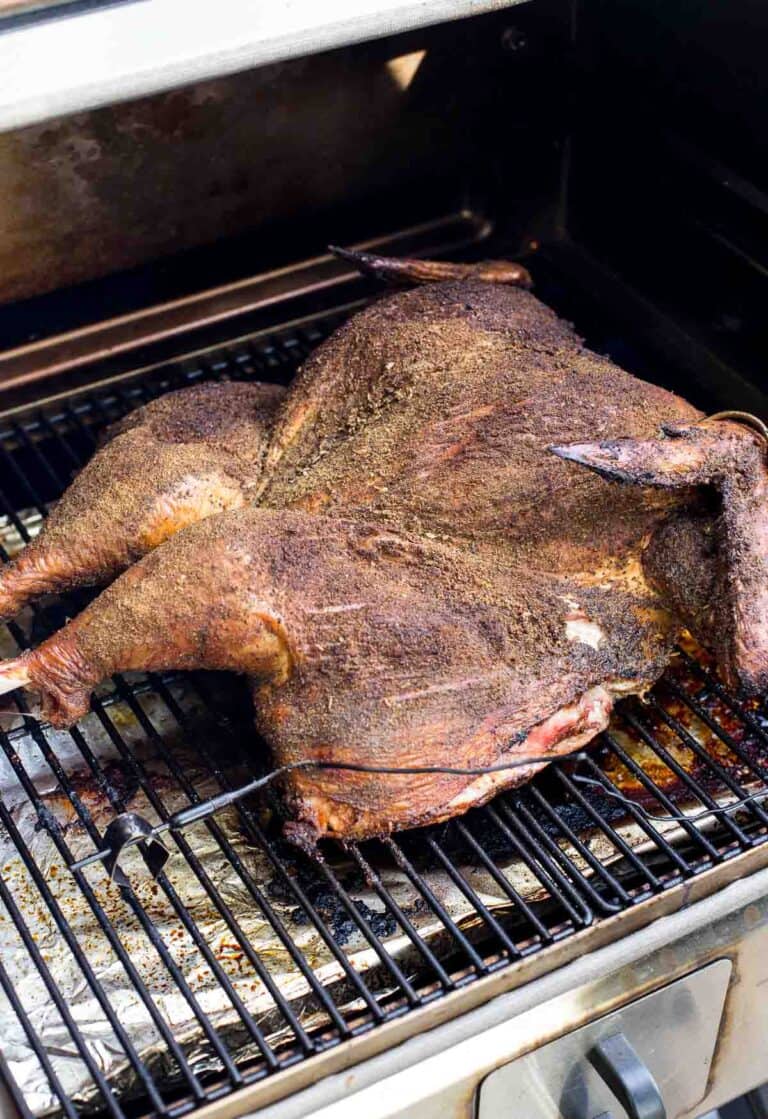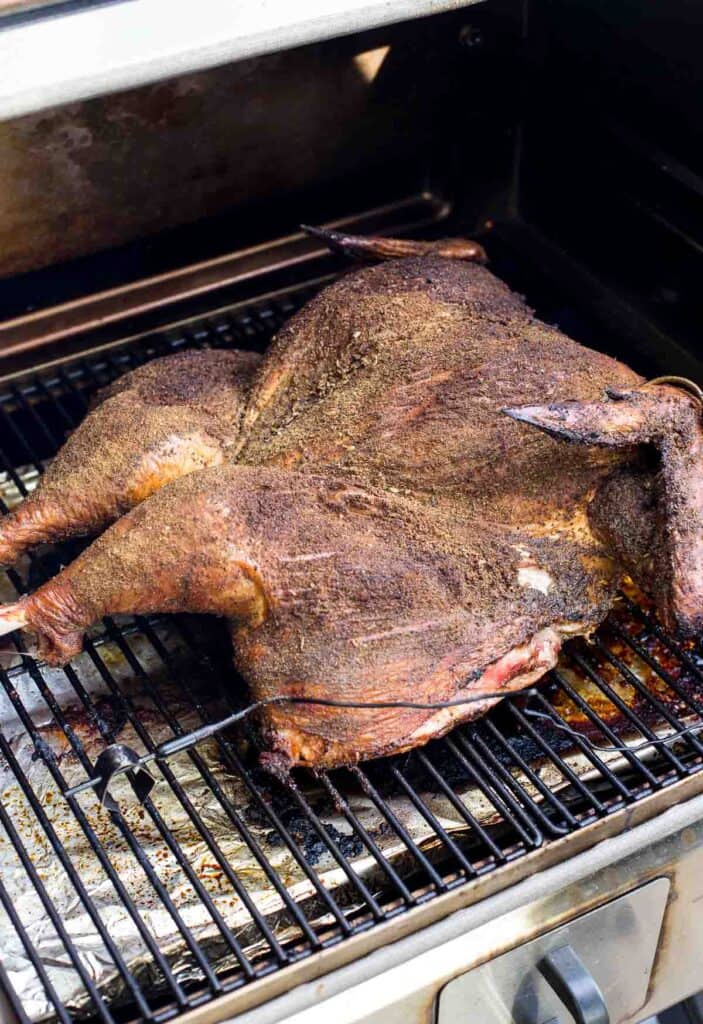 PREHEAT SMOKER: Set your smoker to 250 degrees F.
SMOKE TURKEY: Place the seasoned turkey on the grill grate, breast side facing up. Insert the leave-in thermometer temperature probe into the thickest part of the breast. Close the lid and smoke for two hours. See FAQ section on using a water pan.
INCREASE HEAT: After two hours the internal temperature of the turkey should be around 100 – 120 degrees F, and smoke flavor will have integrated with the outer layer of the turkey. Increase the temperature of your pellet grill to 375 degrees Fahrenheit. Continue to smoke for an additional hour, or until the internal temperature of the turkey at the thickest part of the turkey breast is 160 degrees F. Use your instant read thermometer to check the turkey in multiple places on the breast. The legs and thighs at this point will be closer to 180 degrees F which is perfect.
REST: Remove from the smoker and let rest 20 minutes.
This method will work for any type of pellet grill. We used the Camp Chef Woodwind Pro 24 and added wood chunks to their unique smoke chamber in addition to the wood pellets.
Rest
​After the turkey has come to the proper internal temperature, rest it for 20 minutes on a cutting board. Loosely tent with aluminum foil. Do not wrap tightly or it will steam the skin and start to rubberize it. The internal temperature of the turkey will increase by 5 degrees because of carry over cooking (to the recommended temperature of 165). This is why we let meats rest, so they finish cooking.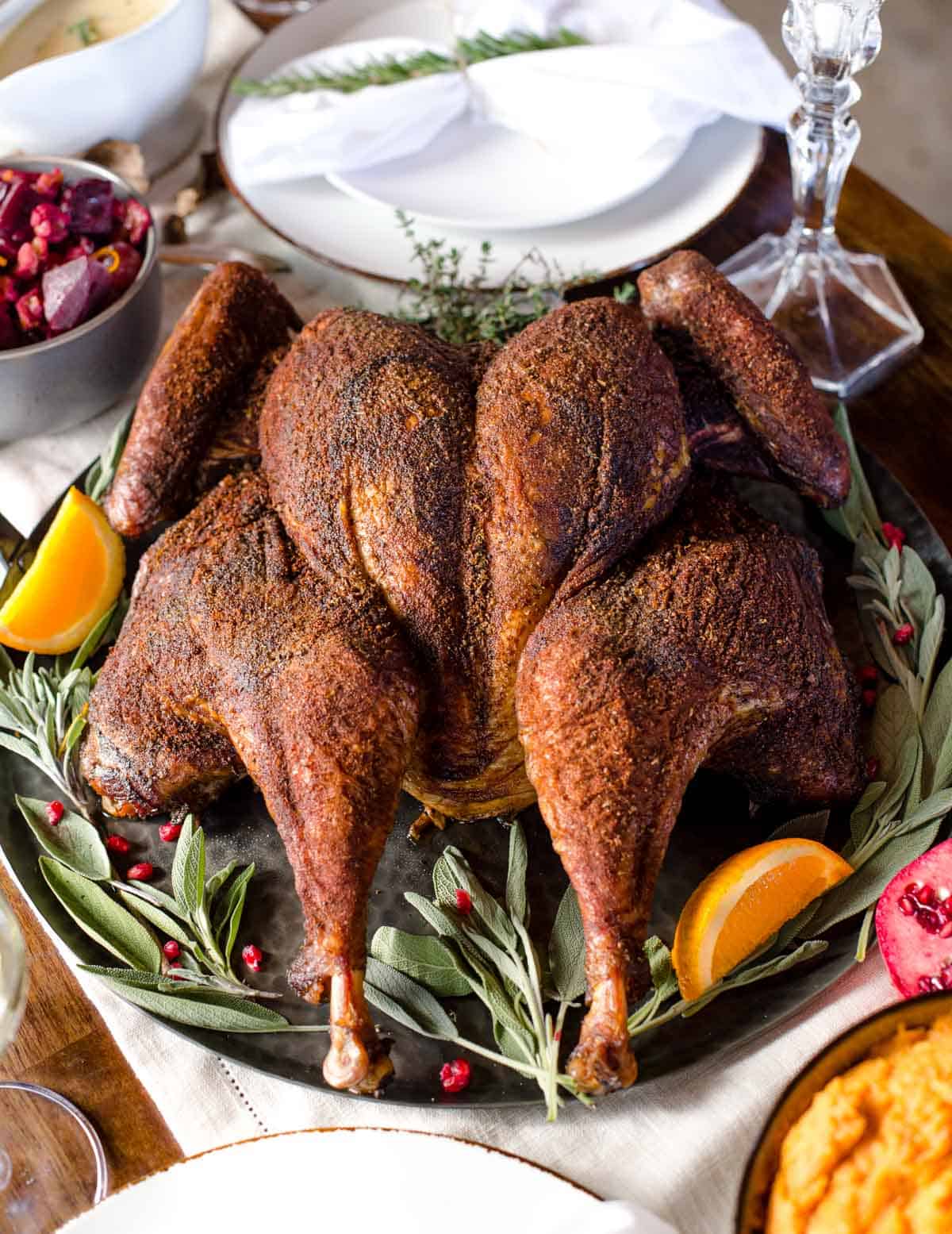 Carve + Serve Smoked Turkey
Carve the turkey with a sharp knife. Remove the wings first, then the thighs and legs. This frees up space to then carve the breast. I like to carve the breast into thick strips, as seen below, so that guests can get the juicy meat and some of the crispy skin.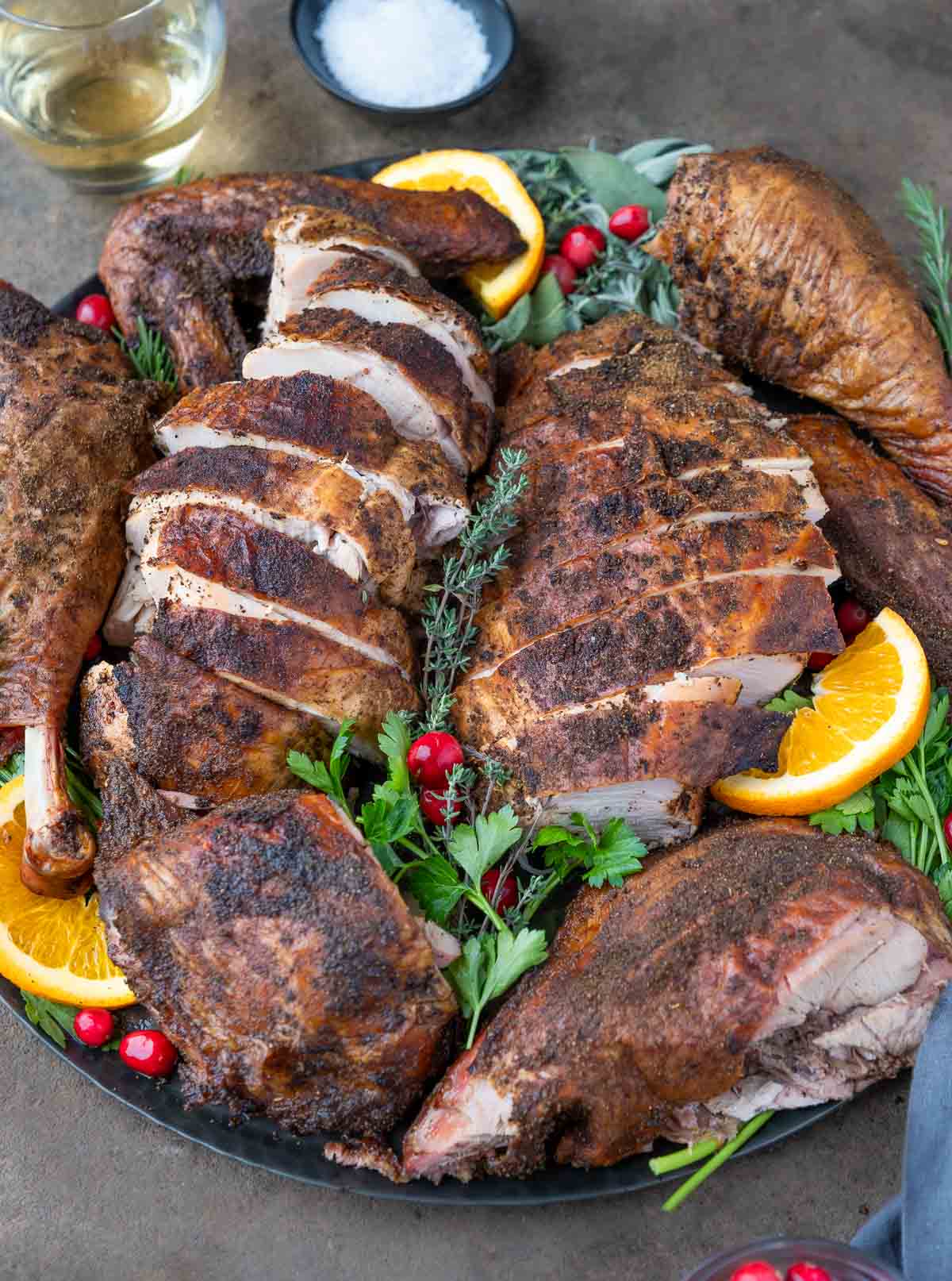 Frequently Asked Questions about Pellet Grill Smoked Turkey
What's the best wood for smoked turkey?
We recommend a fruit wood like cherry or apple for the brighter and sweeter flavor. You can buy Thanksgiving blends, and if you do make sure it has fruit woods in it.
How long to smoke turkey in a pellet grill?
Cooking time will vary based on weather. But a turkey generally takes 20 minutes per pound when smoking a whole turkey. A spatchcock turkey takes 15 minutes per pound. When smoking then roasting in a pellet grill it should take roughly 3 ½ hours total including resting. Plan more time for a larger bird.
Do you wrap turkey when smoking?
There is no need to wrap turkey when smoking. Wrapping will actually prevent the skin from getting crispy.
Do I need a water pan in my pellet grill when smoking turkey?
We do not recommend using a water pan in a pellet grill when smoking turkey. It raises the humidity level and will make it more difficult to get crispy skin.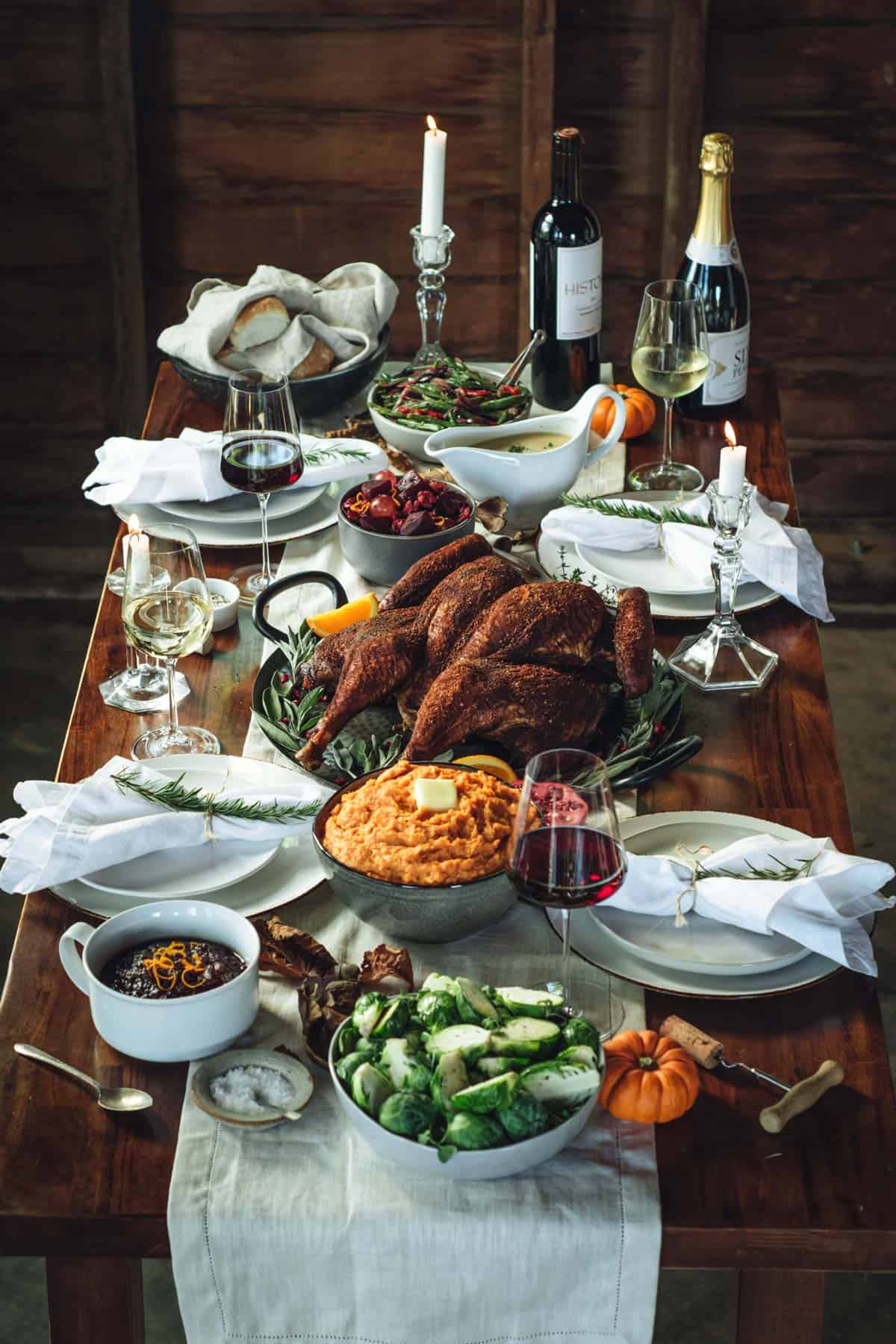 Other Thanksgiving Recipe Inspirations
You can check out our entire round up of Thanksgiving Recipe ideas or check out some of our favorites.
Best Sides for Pellet Grill Smoked Turkey
---
Mary (a certified sommelier and recipe developer) and Sean (backyard pitmaster) are co-authors of the critically acclaimed cookbook, Fire + Wine, and have been creating content for the IACP nominated website Vindulge since 2009. They live in Oregon on a farm just outside Portland.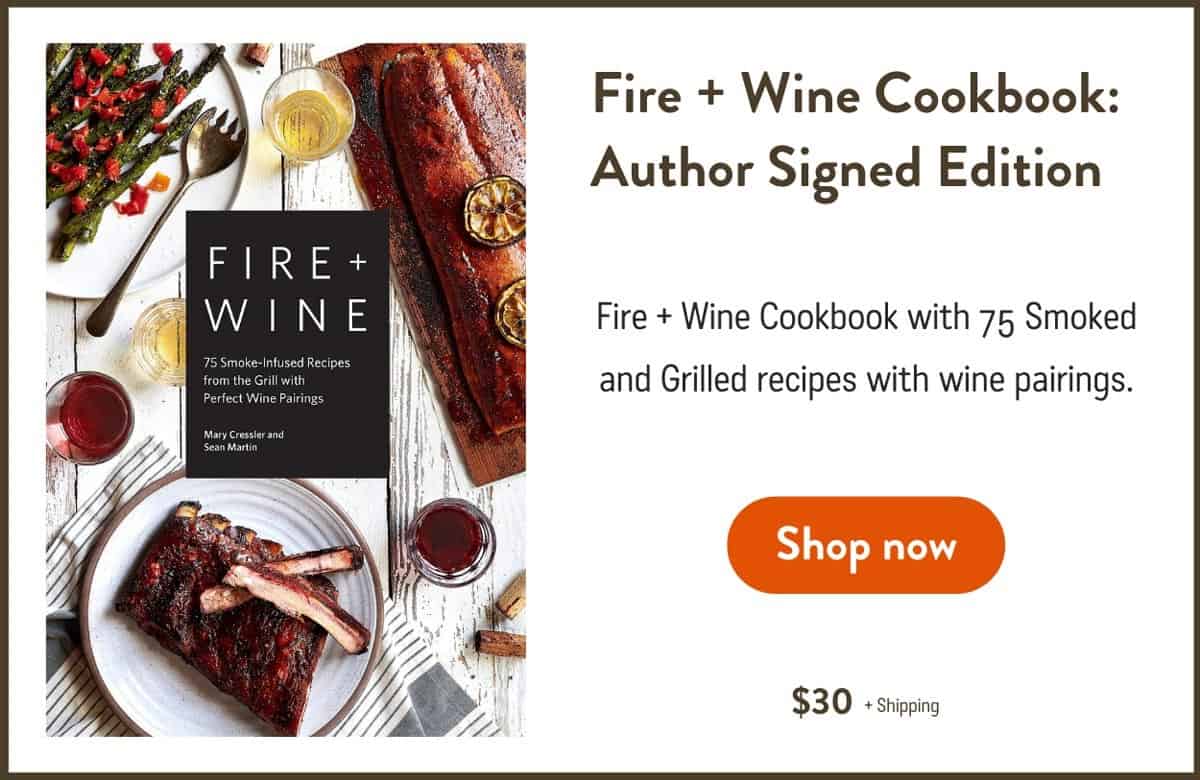 Tried this recipe? Give us a star rating and we would love to see! Mention @vindulge or use the hashtag #vindulge on all the social media handles. And consider subscribing to our newsletter where we drop all our favorite ideas and inspirations every week.