Smoking turkey is an investment of time and money. Do you spatchcock? Brine? How do you get Crispy Skin? Whether Thanksgiving or a Tuesday night, we've crowdsourced from pros, hobbyists, friends, and anyone who loves to do Thanksgiving outside, for their best advice on smoking your first smoked Turkey. Here is some of our best advice to help you have a successful holiday!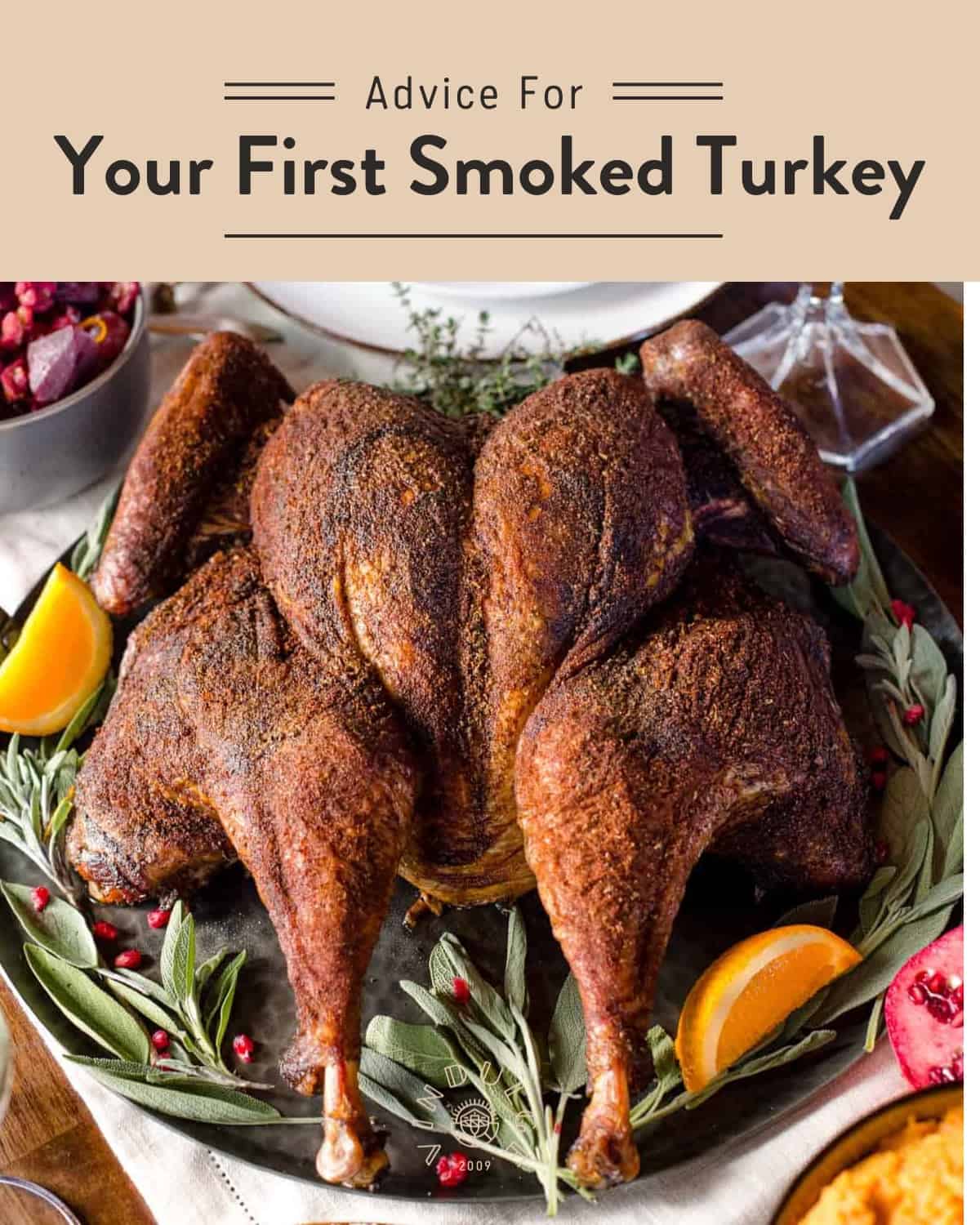 We have run a successful catering company for years, and smoked turkey advice is something we get asked every single year. Here is the information you need to be a Thanksgiving hero (or shero!) this holiday season.
Jump to:
I didn't grow up on smoked turkeys as a kid. My mom would always cook two turkeys, both roasted in the oven. One would go straight into this Green Chili Turkey dish and the other served traditionally. It wasn't until Sean and I moved to Oregon and bought our first smoker where we started smoking our own turkeys.
This post not only contains our amazing Bourbon Brined Smoked Turkey Recipe, it also have some tips and tricks to smoking your first turkey, no matter what kind of grill or smoker you have.
Buying Turkey
If you want our number one smoked turkey advice? It starts with buying the best turkey you can afford.
Sourcing Turkey
There is nothing more frustrating than planning to brine your turkey only to find out it's been pre-soaked in a saltwater solution. So we have a few key point on buying your turkey.
If you plan to brine your turkey – don't buy one already soaked in a saltwater solution. If you do, your brine won't work.
Source a good quality turkey. The best you can afford. Order locally when possible so it doesn't have to travel far or encounter any delays getting to your doorstep.
Online Turkeys are a great option if you are looking for specialty breeds like heritage turkeys.
Get 2 Small Turkeys instead of 1 Large One
When you cook on the smoker, you want to avoid drying out your meat. Larger turkeys (over 15 pounds) will easily dry out before they are finished cooking. To avoid this we recommend you buy two smaller turkeys (12 – 14 pounds). You'll get twice the dark meat and they will cook faster. Win-Win!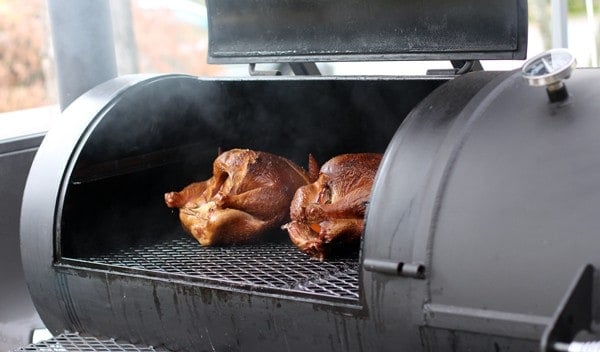 Plus you have more for leftovers.
How Much Turkey Per Person
Unlike steak or other proteins, turkey has a lot of bone and weight that does not get consumed. So when planning for how large your turkey should be for a crowd plan 1 ½ pounds of turkey per person.
If your ratio of turkey exceeds a 14 – 15 pound turkey consider our advice of buying two smaller turkeys.
Smaller Crowd – Use Turkey Breast
Consider smaller cuts for smaller crowds, like a bone-in turkey breast. You can feed a smaller group of 4 – 6 people, but still get great flavor, like our Cajun Turkey Breast or our Maple Glazed Turkey Breast.
Tools for Smoking Turkeys
Be sure you have all your tools prepared, cleaned, and ready to go. Here is a list of our go-to smoked turkey tools.
Brining Bag or Large Stock Pot – Don't scramble at the last minute for a brining container. Use a brining bag available at most grocery stores or use a large stock pot. You can also buy pre-packaging brining kits like from our friends at Hey Grill Hey. Pro Tip – If you have multiple turkeys you can brine inside a clean cooler. Just be sure to change out ice to keep turkey cool and food safe.
Butchers Twine – You should have butcher's twine on hand no matter what you are making. From tying herbs to the legs of turkey when trussing. It's a kitchen essential for us.
Instant Read Thermometer – The turkey is done when it reaches the proper internal temperature, not by time. So invest in a good digital instant read thermometer, like the Thermoworks Thermapen One.
Digital Leave-In Thermometer – In addition to the instant read thermometer a good leave-in thermometer allows you to track the internal temp (IT) of the turkey while it cooks. We recommend the Thermoworks Smoke Unit.
Fuel Source – Be sure you have pre-purchased your fuel source in advance, because if it's Thanksgiving or Christmas day the stores may not be open if you run out.
Preparation Advice
Prepping your turkey is as important as sourcing. The number one piece of advice we have for smoked turkey is to write down your plan for the week. Have a written menu and a plan for the week and, a have plan for the day you are going to cook.
Is the turkey frozen? Plan time for it to thaw so you have enough time to brine.
Company coming over at 4 pm? Then plan for how long it will take to smoke it and have it ready for the table.
Do everything you can to prepare your menu in advance of the day you want to serve it. We have an entire round up of Thanksgiving Recipe Ideas.
Defrost – Turkey Thawing Timelines
You do not want to get ready to brine and season your turkey only to find out it is still frozen. If you didn't purchase a thawed turkey, allow for enough time for any frozen turkey to thaw using the following table as a guideline.
| Turkey Weight (lbs) | Approximate Thawing Time |
| --- | --- |
| 4 – 8 pounds | 1-2 days |
| 8 – 12 pounds | 2-3 days |
| 12 – 16 pounds | 3-4 days |
| 16 – 20 pounds | 4-5 days |
| 20 – 24 pounds | 5-6 days |
See more details at the USDA website.
We recommend defrosting in the refrigerator covered.
If you waited too long you can use a cold water thawing technique. Submerge the turkey completely in cold water, and change the cold water every 30 minutes. Plan 30 minutes of total time for the turkey to thaw.
If you are reading this and it's hours before dinner time then go buy and grill a beef tenderloin or order takeout. 😉
To Brine or Not to Brine
We always recommend brining turkey no matter how you plan to cook it. Brining adds moisture first and flavor second using osmosis.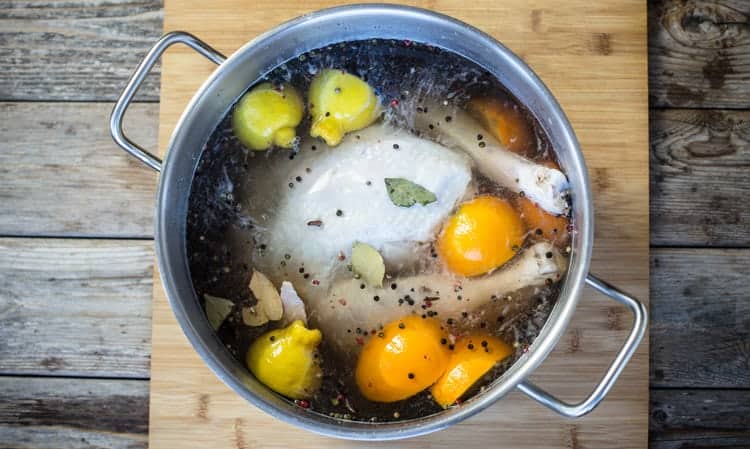 Dry brine is just that, salt and other spices on the turkey for up to 24 hours. No liquid. The most important tip for dry brine is the salt.
A basic turkey brine is a water, kosher salt, and sugar solution with your own flavor mix that you submerge the bird in for up to 30 hours. A wet brine adds amazing flavor and moisture.
Over brining can cause the cells to break down and make the texture of the turkey mushy, so don't brine for more than 30 – 36 hours.
Since your fridge will be full of food the day prior to smoking we use a big bucket or pot (pic above) with a food safe bag to place our brine mixture in and keep it in a large cooler with ice or even your garage if it's cold enough in there.
How to Get Crispy Skin on a Smoked Turkey
The number one tip for crispy skin on a smoked turkey is to make sure the skin is dry before it goes into the smoker.
After brining be sure that you rinse off the brine and then pat the turkey dry before any seasoning. Then apply the turkey seasoning to the inside cavity and outside.
We then like to place the dried, brined, and seasoned turkey on a sheet pan lined with a cookie drying rack in a refrigerator uncovered for at least 4 hours. Even better if 8. This allows the dry air in the refrigerator to help remove more moisture from the skin and essentially dry brines the turkey for even more flavor.
Spatchcocking
Spatchcocking (or butterflying) is removing the backbone of a turkey (or chicken) and pressing firmly down on the turkey so it's flat.
The turkey will cook faster and have a more even cook. Downside is that you loose the traditional upright turkey look and you can't "Stuff" the cavity.
Smoking the Turkey
Now that the day has arrived and you are getting the smoker ready here are some key tips for smoking success.
Best Wood for Smoking a Turkey
Charcoal brings the heat, wood brings the flavor. You will get opinions across the board on this matter, but our recommendation for smoked turkey will always be fruit wood, like apple or cherry. The same guidelines apply to traditional smokers as well as pellet grills.
Fruit Wood – Any fruit wood will have a sweet and light flavor of smoke. So if you like just a a kiss of smoke this is the wood to select. We recommend apple or cherry.
Nut Wood – Hickory, pecan, and hazelnut fall under the nut wood category. While still sweet, like fruit woods, there is a more pronounced smoke flavor but without any bitterness.
Oak Wood – There are several oak options, like post oak and white oak. Oak burns hot and adds a defining wood flavor. It is not sweet in flavor, and the turkey will have a darker look.
Rich Woods – Mesquite is one of the woods we use the least for turkey. It will burn hot and will impart a very dark smoke element to the turkey. It will be a very rich smoke flavor more closely aligned with a clean burning campfire.
Wood Blends – If you own a pellet grill you will see bags marketed as turkey blend or fruit wood blend. We find VERY LITTLE flavor difference in any of these blends and the most common blend will be oak and fruit woods. If you are using an offset or kamado grill we do like mixing oak with fruit wood for a combination of heat and flavor.
No matter the wood options be sure you are burning a clean fire. Make sure a flame is running and you have clean smoke to avoid a creosote flavor from being imparted in the turkey.
What Temperature To Smoke Turkey
The balance is always crispy skin versus smoke flavor. The lower the temperature you smoke a turkey the more likely you will end up with rubbery skin. We recommend smoking turkey at 275 degrees Fahrenheit (F) if using a charcoal smoker like a Big Green Egg or Kettle Grill. This is the sweet spot of smoke and skin texture.
Pellet Grill
If smoking turkey on a pellet grill you can start with a low smoke setting like 225 – 250 degrees. After two or three hours of smoke you can then crank it up to 375 degrees to roast and crisp up the skin while still getting the flavor from the wood pellets.
Cooking Times For Smoked Turkey
This will depend on the size of your turkey and what temperature you choose. It also depends on a whole turkey versus spatchcock. Always cook your turkey to the proper internal temperature versus time.
Whole Smoked Turkey Table
| Temperature (Fahrenheit) | Time |
| --- | --- |
| 225 degrees | 30 minutes per pound |
| 250 degrees | 20 minutes per pound |
| 275 degrees | 15 minutes per pound |
This is assuming a whole smoked turkey versus spatchcocked.
Spatchcocked Turkey Table
| Temperature (Fahrenheit) | Time |
| --- | --- |
| 225 degrees | 22 minutes per pound |
| 250 degrees | 16 minutes per pound |
| 275 degrees | 12 minutes per pound |
This is assuming a spatchcocked turkey versus whole smoked turkey.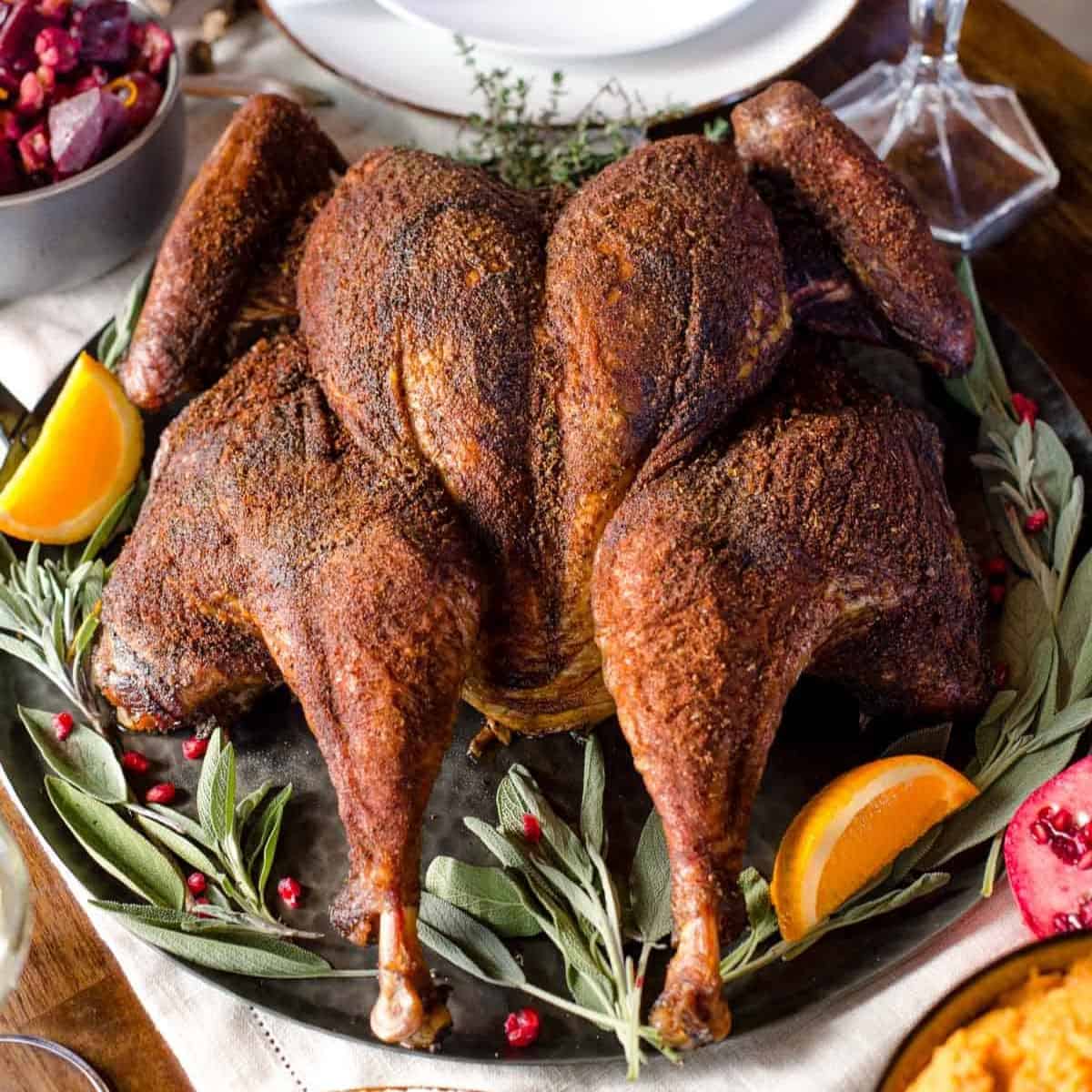 What Temperature Do I Smoke Turkey To?
In general when you turkey reaches 160 degrees Fahrenheit as read in the thickest part of the turkey breast, the whole turkey is ready to be removed from the smoker and rest. The internal temperature of the leg and thigh at that point will be 180 degrees (which is perfect).
We actually remove the turkey when the internal temperature of the breast reads between 155 degrees F and 158 degrees F. Then carry over cooking is going to occur bringing the temp up another 5 – 7 degrees.
You can read more on the perfect chicken and turkey temperatures and why carryover cooking is so important to understand.
If Done Early
If your turkey is done sooner than you expected don't panic. Remove the turkey from the smoker and place the turkey in a clean cooler (with NO ice). Close the lid. It will hold at that temperature for up to 4 hours.
If you don't have a cooler then warm your oven to 150 degrees F and place the turkey in the oven on a sheet tray.
Avoid wrapping the turkey in foil immediately after removing from the heat source as it will steam the skin and it will get soft.
Bringing the Turkey?
If you are the one with a smoker and your friends or family want you to bring it to their house for dinner. Just follow the same tips above and bring the finished turkey in a cooler. Then carve it on site.
PLAN PLAN AND PLAN for the Menu
We're notorious spreadsheet people when it comes to planning. That's because it's easy to get distracted. So when it comes to Thanksgiving, when I'm making several dishes at the same time, I plan, right down to each platter I intend to use for each dish.
Create a timeline, starting backwards from when you intend to eat (and give yourself some wiggle room in case your turkey takes longer than you intended!).
I literally do all of this on a spreadsheet, listing the full menu with ingredients on a separate column.
Then list out all dishes I intend to use and lay them out days in advance. Next on the list is a timeline for the days leading up to Thanksgiving day (which days I'll go shopping, what can be prepped on Tuesday, Wednesday, etc.).
And then an hour by hour timeline of game day!
I thought I was the only one who got so nitty gritty into the spreadsheet details until I reached out to others. Turns out I'm not alone! Planning will keep you calm during Thanksgiving and everything running smoothly.
Smoked Turkey Advice From Other Pros
If you have multiple grills or smokers use them as warmers to keep your side dishes warm as everything comes together towards the end.
You can check out our cookbook, Fire + Wine, for an exclusive spatchcocked turkey recipe!
Christie from Girls Can Grill has an awesome recipe for a method cooked on a Weber Grill. We say this all the time, you don't need an expensive or complicated smoker to smoke great food. Our trusty Weber Kettle Grill can do it all. Christie explains her recipe here. Her apple cider sea salt rub sounds killer!
Find the detailed recipe for our Bourbon Brined Smoked Turkey here.
Just getting started and want an easy kit for brining and seasoning? Check out the turkey kit from our friends at Hey Grill Hey.
Smoked Turkey Advice From Our Fans
"I love to soak mine in a brine of water, brown sugar, a couple oranges and lemons halved, 2-3 bay leaves and kosher salt. I let it soak for 24-48 hours. Then I dry it off. Salt and pepper the inside and outside finally adding fresh rosemary stalks between the skin and the breasts and pouring a stick of melted butter there and over the top of the bird . I then smoke it at 250 until the internal temp is reached. Usually about 3-4 hours depending on the size. I prefer hickory or maple but my sister and my wife's family prefers using mesquite. I've never basted and the skin comes out crispy and the meat super juicy and tender… love crispy skin! I'd imagine if you constantly baste it and only pour the butter between the skin and the breasts it would lessen the crispiness. However it could lengthen the time due to constantly opening and closing the lid to baste. Oh the drippings still make for an excellent gravy." – Brian Campbell, Facebook user
"I like cooking with breast down, stick of butter in body cavity….½ stick in neck cavity. My theory….. juices run down, so I would rather a have moist breast than a moist back." — Tony Cunningham, Facebook user
"In my thoughts, doing a turkey, is just a bigger chicken, takes a little longer due to size. How do you do your whole chicken? If you like how they turn out, follow that on your turkey. It should follow suit-175 in leg/thigh, 165 in breast. Wood/smoke flavor should be what you like. Cherry is great with poultry, but I also like mesquite or hickory. Cooking temp should be a little higher for "crispy" skin, around 300 to 375, so they say. I am no pro, and usually do skinless, wild birds, have done a couple "store " bought birds , too." – Dennis Wilkins, Facebook user
"I injected the turkey with honey brown (beer) and it came out really moist and tasty!" – John Scully, Facebook user
"I choose to smoke the turkey. My best advice is to create a timeline. It will reduce your stress and make things so much easier. Wet brine, dry brine both work well. So there are no bad options when planned properly. A good drink along the way doesn't hurt either." – hooked_on_bbq via Instagram
"I love smoking my bird. I recommend relying on your thermometer to tell you when it's ready." – girlscangrill via Instagram
"Write down your plans and figure out how long each item takes to cook so you can be in the same ballpark when it's all done!" – Rowdyroddypooper via Instgram
"A tip I like to share with folks is to apply rub and butter under the skin, that way it will apply directly to the meat and seep in. I do this with the white meat portions." — Learningtosmoke via Instagram
"I like to melt a few sticks of butter, then use my injector to liberally inject the melted butter into the cold turkey. The butter quickly cools and solidifies. Then, smoking low and slow, it slowly melts again and makes for a very moist finished bird."– barnacle_bob56 via Instagram
Share Your Success
Finally, make sure to Instagram your pics and tag us or drop us an email. We want to celebrate with you no matter what you cooked.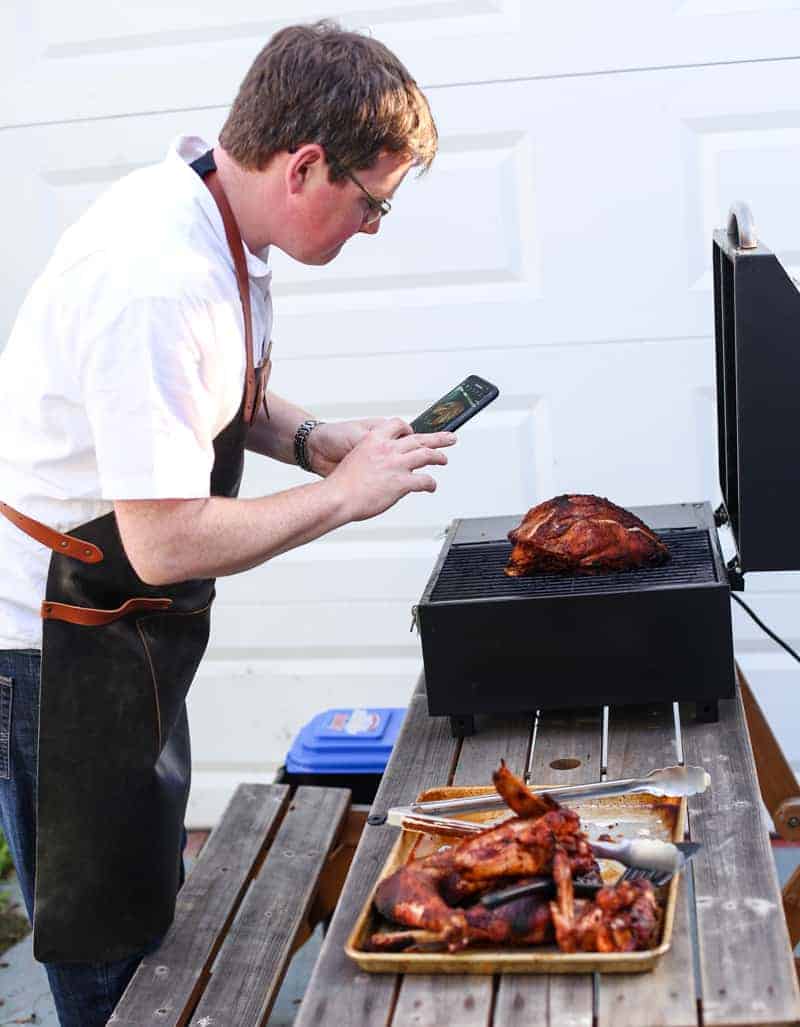 Recipe Ideas for Thanksgiving
Check out our full roundup of our favorite Thanksgiving recipes on the grill or smoker.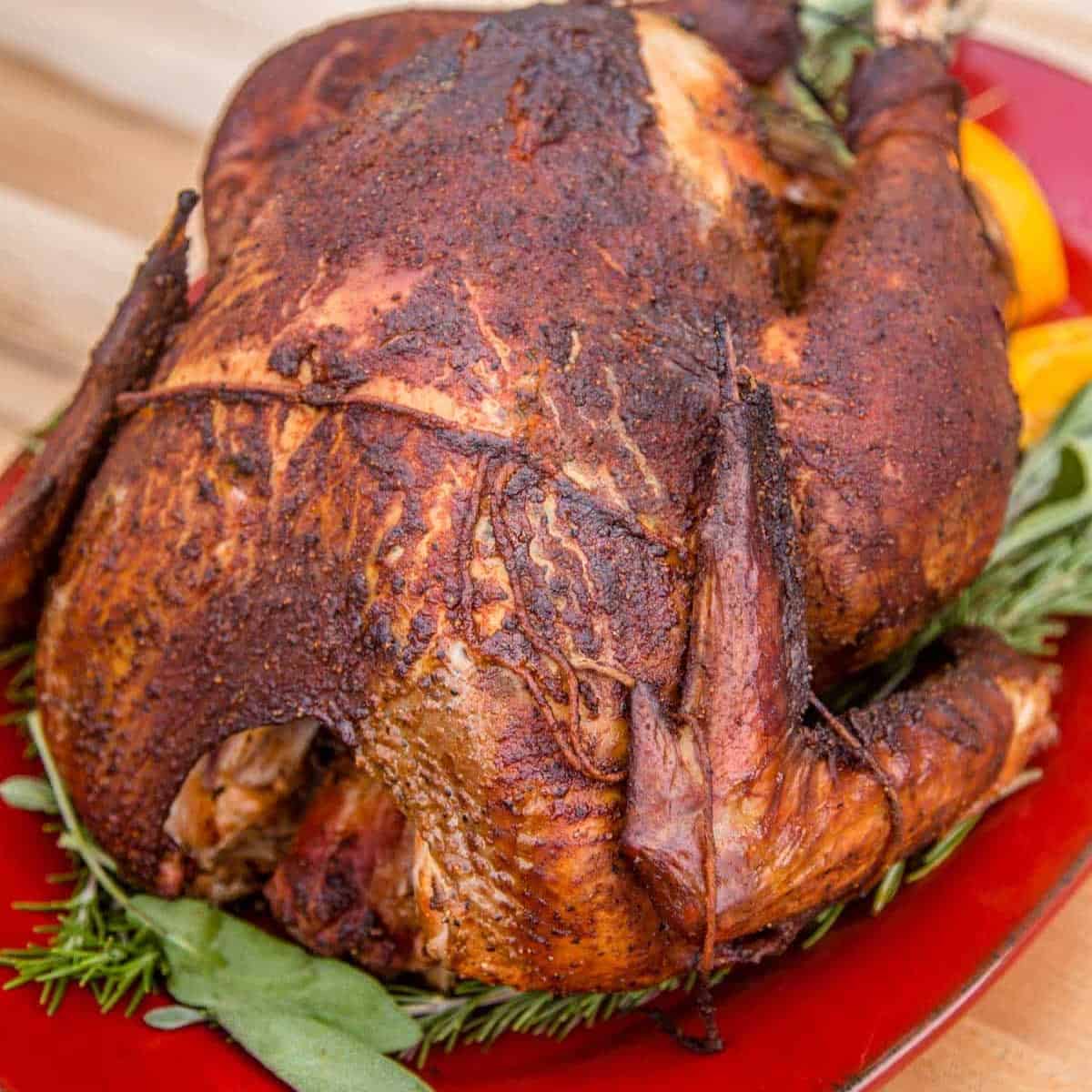 Wine Pairing for Smoked Turkey
Of course you need great wine for smoked turkey. Our best advice is to actually pair the wine with the other dishes versus just the turkey. You can never go wrong with sparkling wine, it pairs with everything.
Another great option is a Dry Riesling. This white varietal can carry a lot of punch with the diverse flavors of a Thanksgiving table.
For red we reach for a ful bodied and fruity Zinfandel.
Check out our full resource guide on pairing wine with Thanksgiving Dinner.
---
Mary (a certified sommelier and recipe developer) and Sean (backyard pitmaster) are co-authors of the critically acclaimed cookbook, Fire + Wine, and have been creating content for the IACP nominated website Vindulge since 2009. They live in Oregon on a farm just outside Portland.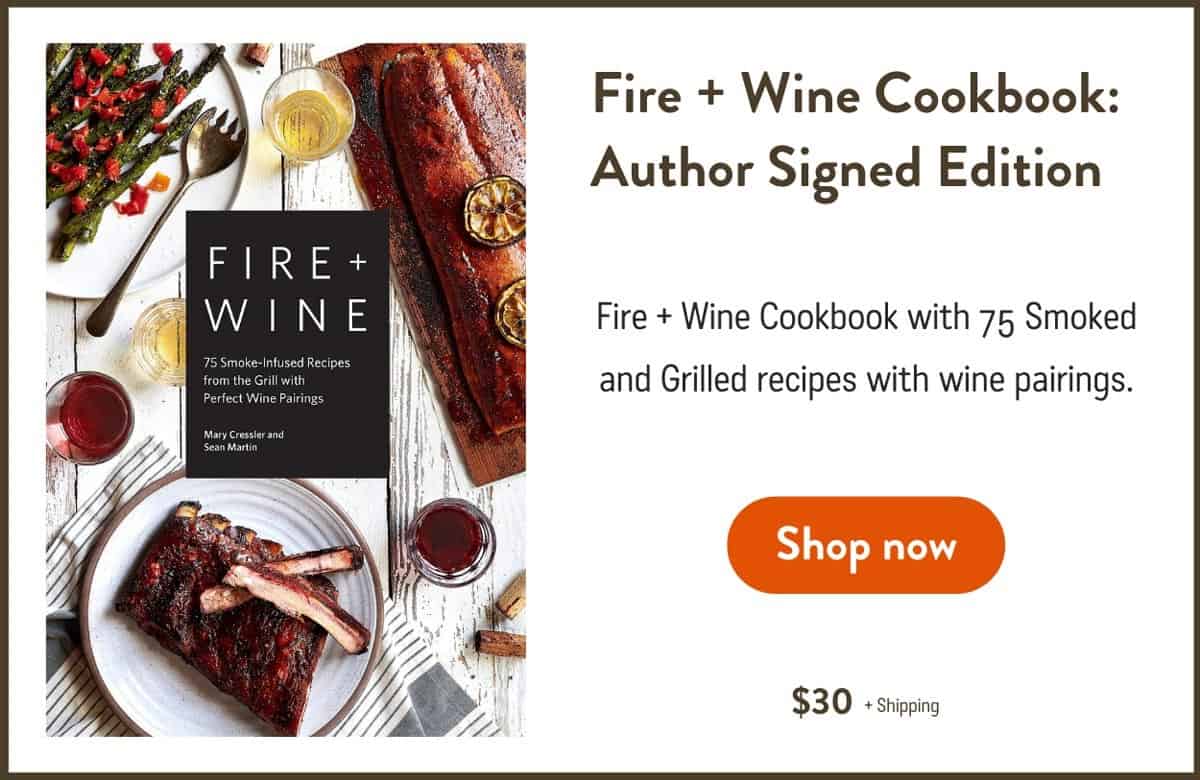 This post may contain affiliate links. This means if you click on the link, we may receive a small commission if you purchase through the link. We partner with brands we know and love and use and it helps keep the blog going!