The Pacific Northwest arguably produced some of the country's best Rieslings.  Living in the region I was fortunate to be surrounded by many small producers who made some of the best examples of this wine.  I was spoiled.  Now, living in the opposite side of the country, I no longer have the same accessibility to such a wide variety of wines and producers.
While many in the Finger Lakes region of New York State do also produce some excellent Rieslings, they are just as hard to access outside New York State as the best from the Northwest are – heck I can't even find many of them next door here in Connecticut.  And while you do not see as diverse of a range of Riesling here in New England as I was used to when I lived back west, you can still find some excellent examples of what the PNW is capable of, albeit from the larger producers, in a wide range of styles.   And that is one of the beautiful things about Riesling – there is a style for all palates ranging from bone dry to super sweet.
Chateau Ste. Michelle is Washington State's oldest winery, dating back to 1934, and the largest producer of Riesling in the country.  They recently sent me three different examples from their diverse portfolio of Rieslings to sample.  These three wines below are great examples of the diversity of Pacific Northwest Riesling, and you don't need to live in the region in order to access them.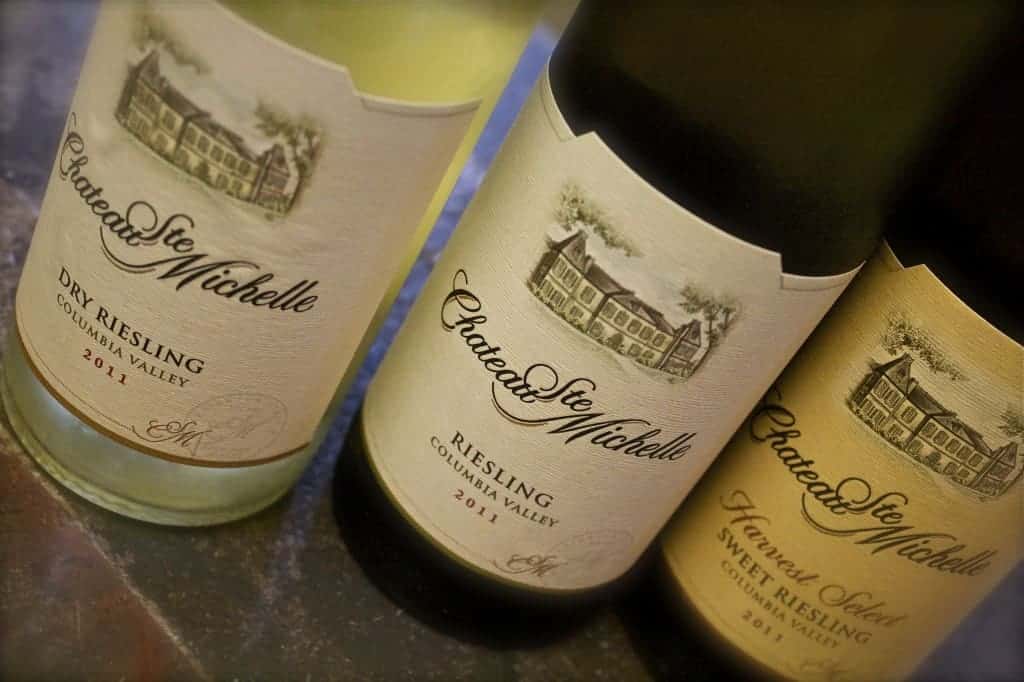 2011 Columbia Valley Dry Riesling
12% abv  |  $9
This wine had an intriguing and aromatic nose full of pineapple, apricot, and mandarin oranges. Rather than ripe juicy fruit flavors that I usually find on Rieslings, this one had more tropical and citrus flavors (think lemon and orange) with great acidity on the finish.
2011 Columbia Valley Riesling
11% abv |  $9 |  2.2% residual sugar (rs)
Sweet peaches and juicy ripe pears fill the nose on this wine.  Slightly sweet and surprisingly tart in the mouth, with some green apple, this wine had very nice acidity to balance out the sweetness.  For me the challenge with sweeter style Rieslings is finding that balance of acid.  Not enough acid you will have a wine that just tastes like flabby sweet fruit juice.  This wine balanced it all out very nicely.  And for someone who prefers her Rieslings dry, I would easily drink this one anytime.
2011 Columbia Valley Harvest Select Sweet Riesling
10% abv  |  $10  |   5.2% rs
Juicy, lush, and noticeably thicker than the others.  Sweet citrus fruit throughout, mandarin orange, tangerine, orange peel, and juicy apricots.  Once again strong acidity to hold up to the sweetness of the wine and balance out the flavors nicely.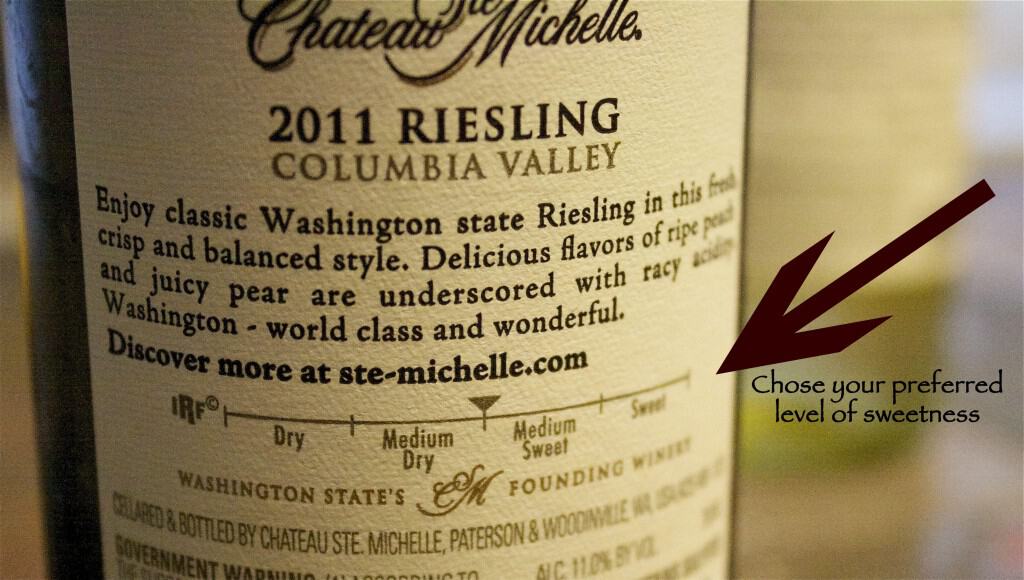 One of the nice features of these wines (other than the bright flavors and strong acidity) is that it is easy for a consumer to read the label and know what style Riesling it is.  More and more, smart Riesling producers (from all over the globe, not just PNW) are starting show you on the bottle what style is inside.  By looking at the scale on the backside of the label you can see what level of sweetness the wine is and pick one based on your preference (dry to sweet).  This is a very helpful tool and I am happy to see more and more producers adopt this feature on their labels.
The most impressive part of these three wines is that they are all priced at $10 or less and widely available outside of the state of Washington.  For wines made in such large quantities Chateau Ste. Michelle continues to surprise me with such quality wines at such low prices.  And for me, living out here in Connecticut it is nice to know I can easily access them at local wine stores.