Find out why Salmon and Pinot Noir are such a great wine pairing, plus recipes for salmon cooked on the smoker.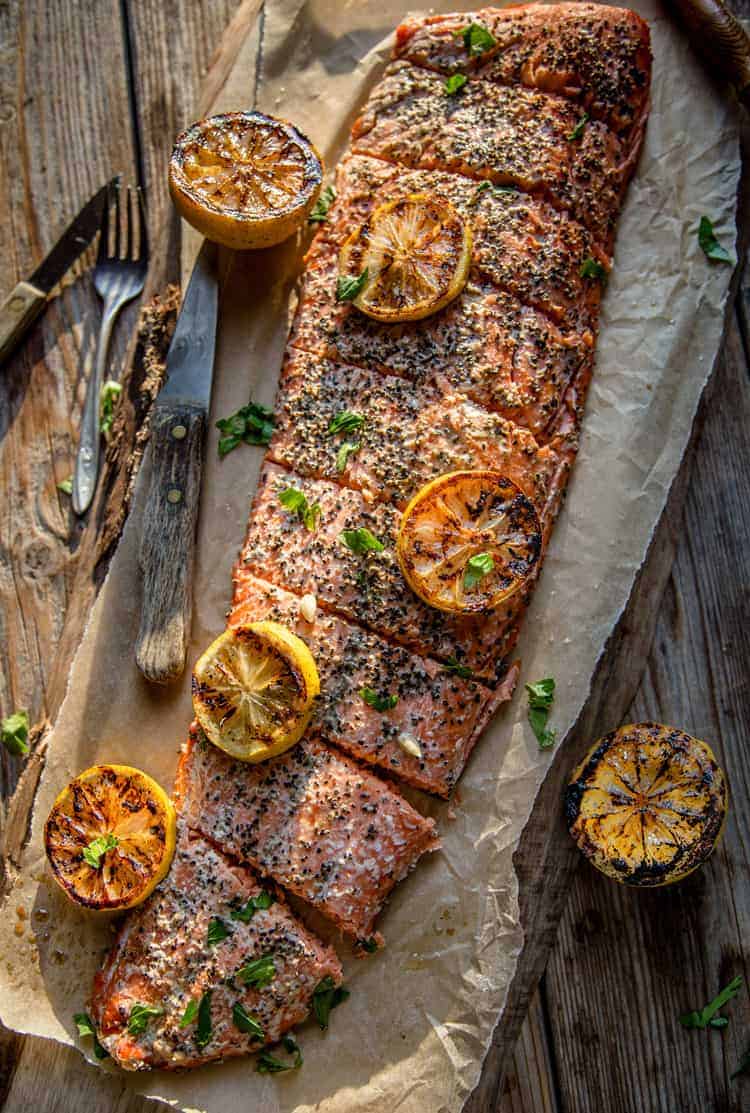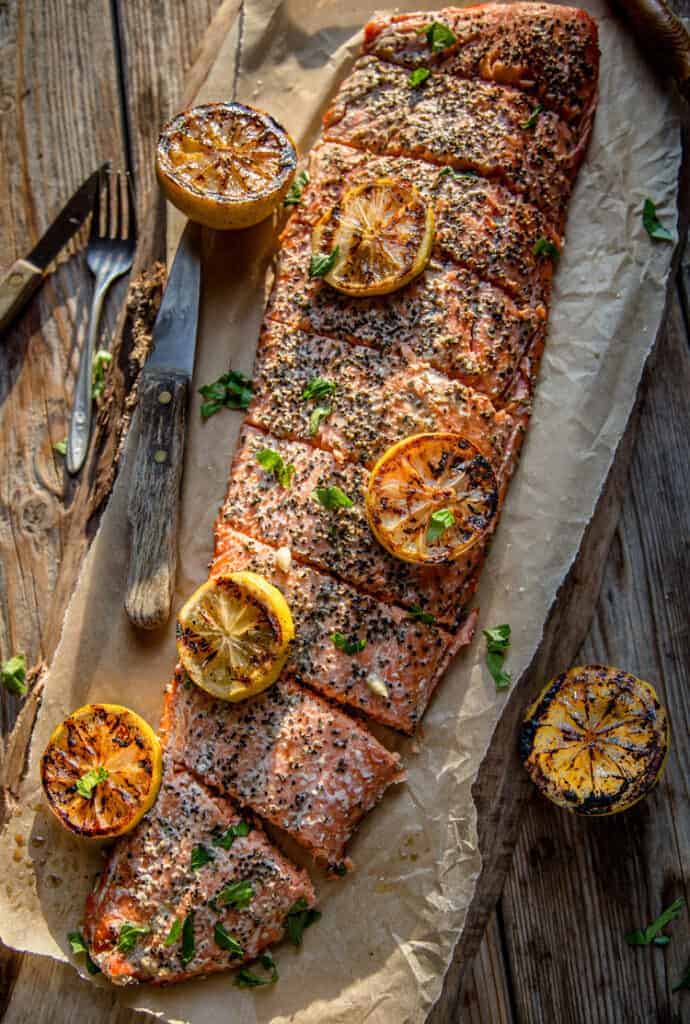 Living in the Pacific Northwest we're very lucky to be surrounded by great options for the freshest fish. When in Seattle we like to take the kids to, Pike Place Market. If you go, make sure to go early morning, as that's the best time to avoid crowds!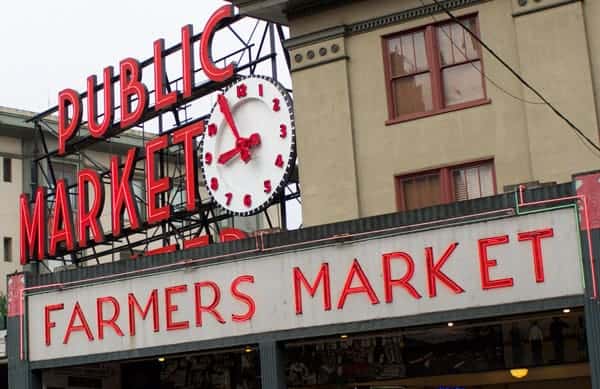 Our kids could spent hours watching "the men throw the fish" as the boys would refer to it (i.e. the famous Pike Place Fish).
It's definitely a tourist attraction, but when perusing the fish selection you'll quickly realize they have some absolutely gorgeous and fresh looking fish. On a recent trip we couldn't leave empty-handed and bought a copper river salmon filet for us to cook on the smoker that night.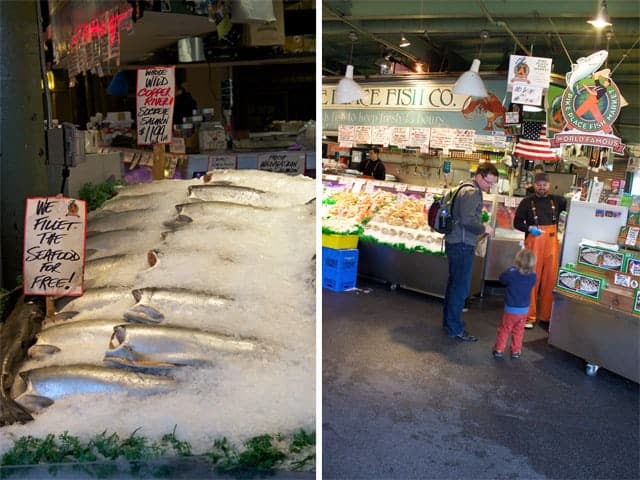 Not only is there great salmon in the Pacific Northwest, but we're also surrounded by some of the greatest Pinot Noir in the world!
Salmon and Pinot Noir Wine
To make for a great wine pairing for salmon keep it simple.
Fresh salmon is incredible. It doesn't need a lot to bring out those natural fresh flavors. Like a good Pinot Noir, the flavors are fresh and pure.
Salmon on the Smoker
Start by rubbing the fish with a bit of Dijon mustard for moisture and flavor, and then sprinkle with a simple dry rub. Don't go overboard on the Dijon. A little goes a long way in terms of adding the right amount of flavor.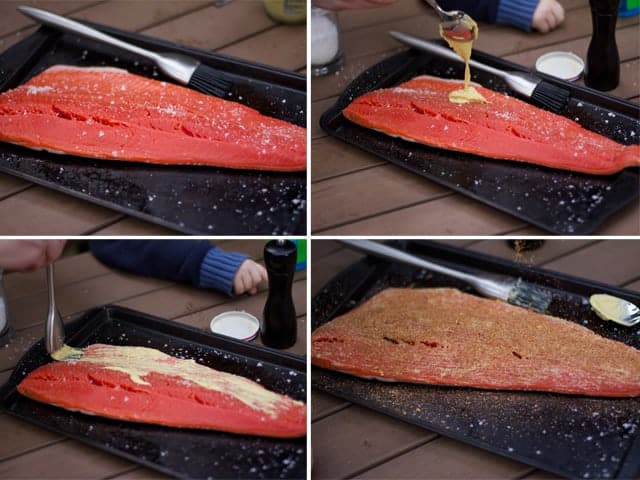 Place on your smoker at 275 degrees, for roughly 90 minutes. Much can change the time like ambient temperature and such, but at 275 degrees for a filet it took us 90 minutes. Look for a moist, slightly opaque, and pink interior. The salmon, once removed from the heat, will continue to cook, so that way you avoid it drying out.
Alternatively you could use a gas grill and place the salmon on a cedar plank over medium heat for added flavor. Adjust the cooking time. If you use a cedar plank, soak it in water for about an hour as that will avoid the plank from flaming up.
When the salmon is done, let it sit 15 minutes then cut up into individual servings.
Great Salmon Recipes
Smoked Salmon Recipe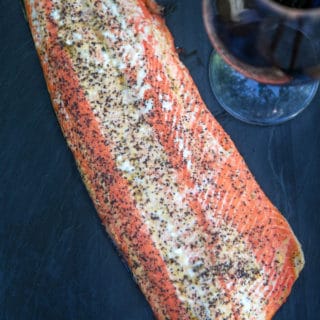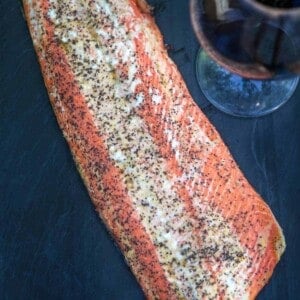 Smoked Salmon
An easy recipe for salmon cooked on the smoker with a simple dry rub.
Print
Rate
Ingredients
For the Salmon
1

filet of Copper River Salmon

(ours was 2 ½ lbs)

up to 2 tablespoons Dijon mustard, to coat

(depending on size of salmon filet)

2

tablespoons

Basic Dry Rub
Basic Dry Rub: (store in an airtight container)
1/2

cup

granulated sugar

1/3

cup

chili powder

2

tablespoons

salt

1/2

tablespoon

cayenne pepper

this dry rub will yield approx 1 cup. Use only a couple tablespoons on the salmon, then save the rest for future recipes
Instructions
Preheat the smoker to 250 – 275 degrees.

At the same time prepare salmon by washing in cold water and patting dry. Place skin side down on a sheet pan.

Add the Dijon mustard by rubbing onto the meat. Be careful not to over coat, a nice thin layer for flavor is all you need.

Then add approximately 2 tablespoons of the dry rub to the salmon.

Place salmon on smoker for up to 90 minutes. Note that temperature and time will vary, pay special attention to the interior of the salmon using a knife. As the center gets closer to an opaque pink interior in the thickest portion of the filet, you can remove as the salmon will finish while resting. Let the salmon sit for 15 minutes and serve.
Salmon and Pinot Noir Wine Pairing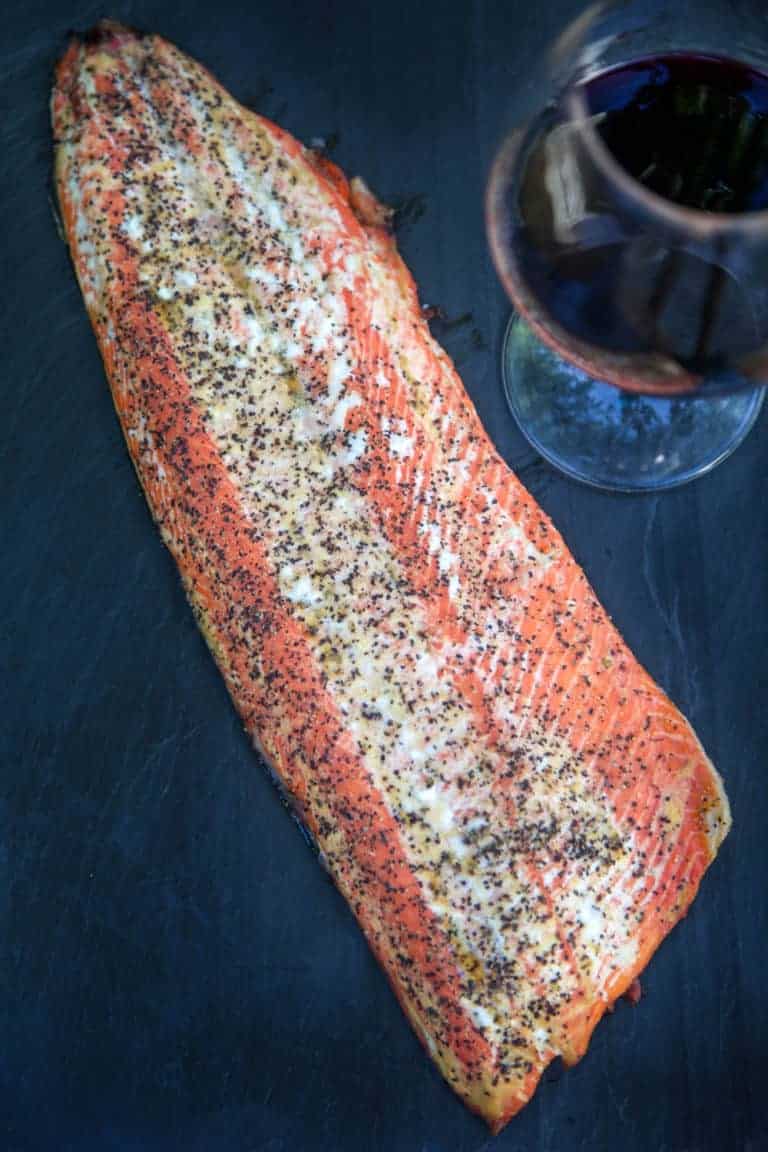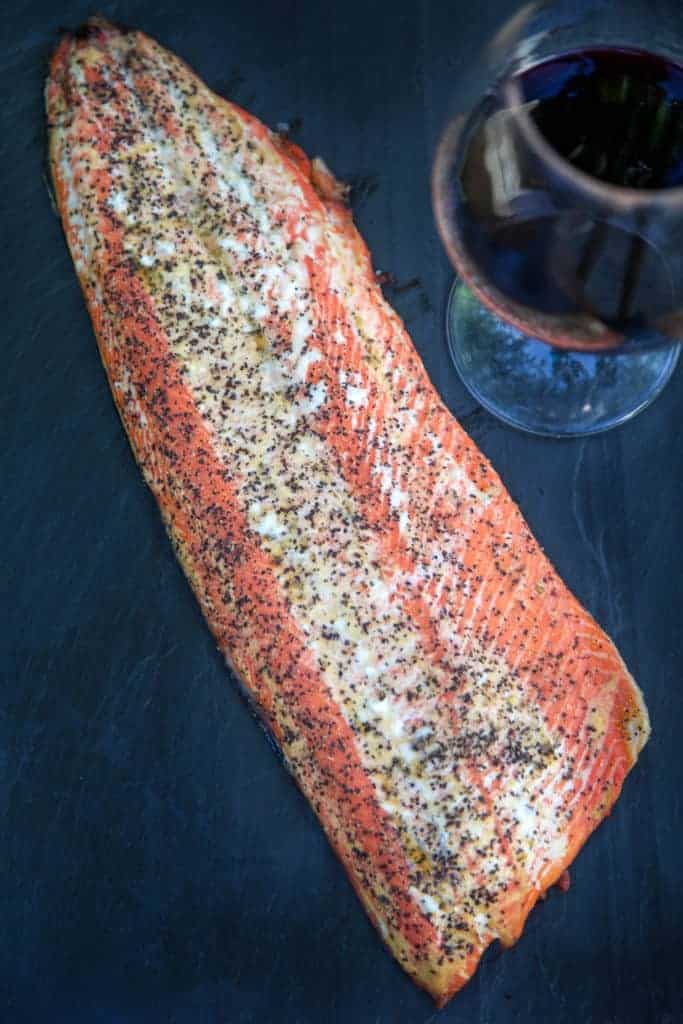 Hands down Pinot Noir is the most popular pairing for Salmon. Pinot Noir, especially from Oregon, has a lovely silky texture, with bright red fruit characteristics (cherry, strawberry and raspberry), often displaying earthy and spiced notes, with mild tannins. These characteristics are a fantastic match for the uniquely sweet flavors of Salmon and it's silky textures. Pinot is not an over the top wine, nor is salmon an over the top protein (so long it's prepared simply).
Plus they also say what grows together goes together. Pacific NW Salmon + Oregon Pinot Noir. You betcha!
Pinot Noir can demonstrate pretty aromas of cherry, spice, with a bit of cloves and earth. These wines exude silky and smooth textures in the mouth with mild tannins, mild oak influence, and excellent acidity. Prime characteristics for a good food wine…. especially salmon.
But what about "smoke" flavor? Wouldn't that be a bit harsh for Pinot Noir?
The thing about the way we smoke our salmon (or anything for that matter) is that it doesn't leave you with the feeling that you've just been to a campfire. That's not the style of barbecue we do. We strive for balance. This means mild smoke integration so that the natural flavors of the fresh fish aren't masked by fire and wood. Much like balanced wine, no single flavor should dominate with our barbecue.
Together these two make for a great pairing. The fish has a fantastic silky texture, still maintaining its freshness; with some spice notes from the dry rub and balanced smoke integration. These textures and flavors marry nicely with the fruit and spice notes on the wine. Neither overpowered each other. Instead, they complimented each other nicely.
Recipes for Leftover Salmon
---