Take this smoked chicken, add some smoked chicken stock, and a few other goodies, and you have this amazing Smoked Chicken Verde Soup that comes together in under 30 minutes.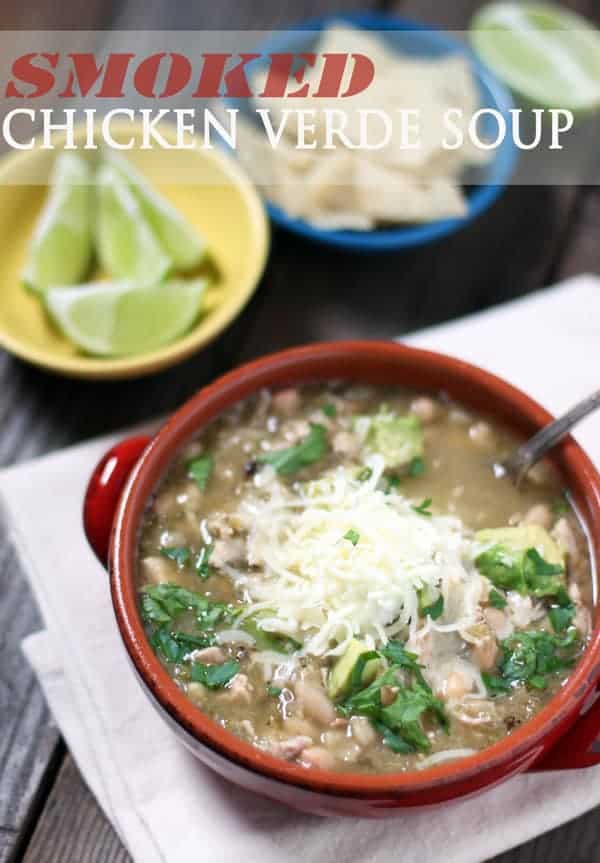 I was first introduced to this brilliant Jalapeño Lime Chicken Soup from one of my favorite food blogs, Pinch of Yum. Their version however, calls for you to cook raw chicken breasts in water and broth for around a half hour, and then add the other ingredients, and cook away for another half hour. It required much more cooking time than I had available (because I'm a procrastinator). So I made it using a store bought fully cooked rotisserie chicken, shredded it, and added it to store bought stock. I took some shortcuts, for sure, but it came out amazing. The flavors and textures were out of this world.
Next time I made it I used another rotisserie chicken but cooked the soup in homemade smoked stock, giving it a lovely mild smoky flavor, and… Wow.
Then I made it using leftover shredded smoked chicken and that same homemade stock… OMG. It took that soup to a whole new level!
Now, whenever I make it (which is often btw!), I will purposefully smoke a chicken just to use the carcass to make stock, and then use any leftover chicken meat to make this soup.
I won't lie, the stock makes for an amazing chicken noodle soup too, but I just love the flavors that it brings to this particular soup.
I should also mention that the recipe requires a full jar of verde salsa, and also that I am a bit obsessed with verde salsa these days. But not just any verde salsa. Specifically the Whole Foods 365 Roasted Verde Salsa. I've used other verde salsas and the Whole Foods is 100x better than the competitors. True story. And no, they didn't pay me a dime to say that! I'm just a fan.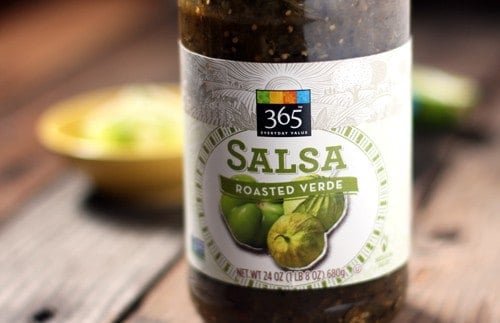 So, before you go making this, it should be said that you should be a fan of verde salsa before making this soup, because the soup will end up tasting a bit like the salsa. So use your favorite brand.
So here's what I do days prior to making the soup.
I start by smoking a chicken.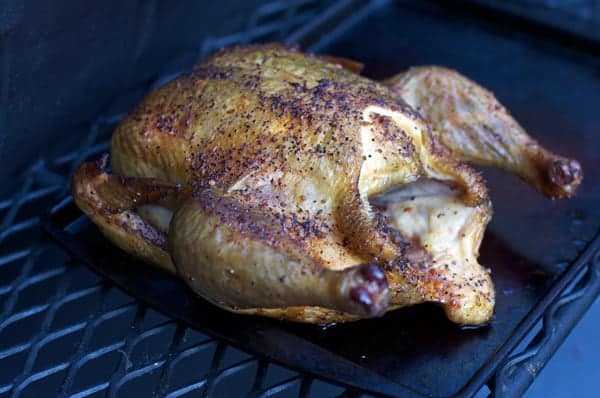 This is the method we've been using to smoke our chicken. But feel free to use whatever method you prefer. Shred your chicken and save for later.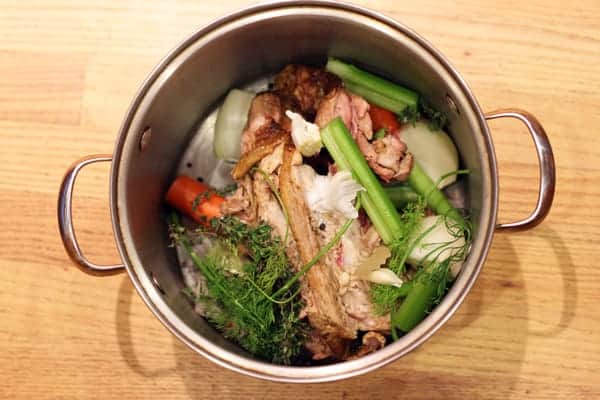 Then use the chicken carcass to make a smoked chicken stock. I save that stock for when I want to quickly add amazing flavor to a dish.
Then use those as a base to make this soup.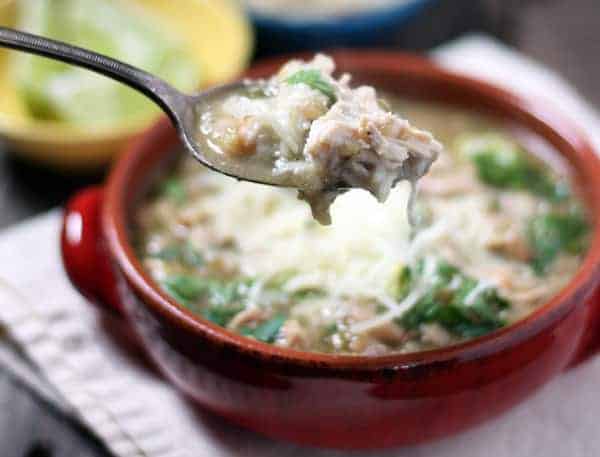 Once you have steps 1 and 2 down (which both can be made way in advance) making the soup is super quick and easy.
Just heat up your chopped onion and jalapeño, add the remaining ingredients and simmer away for just 30 minutes!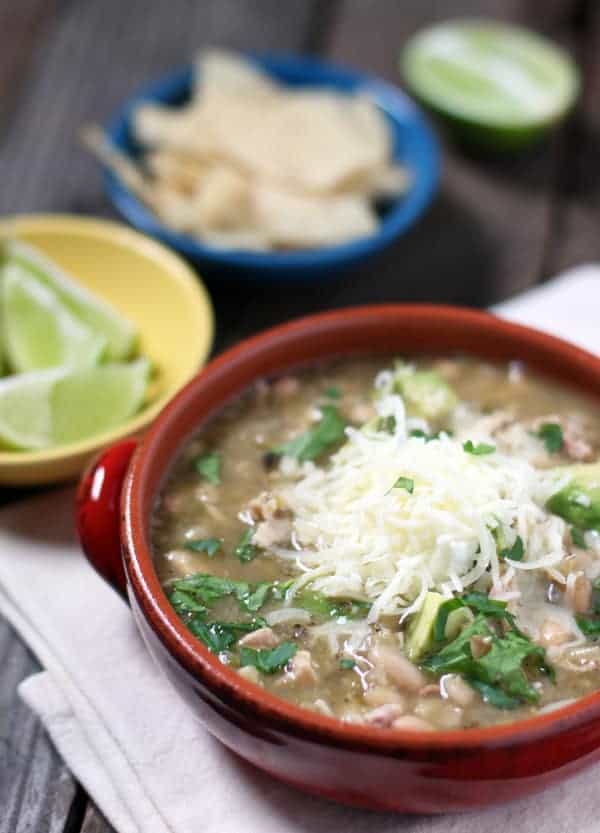 Don't worry about it being spicy from the jalapeño. If you remove all seeds and ribs it won't end up spicy. My kids even love the soup, and they are super picky four-year-olds! But for them I usually pour a ladle of the soup over some cooked rice. This allows the rice to soak up some of the juices making it easier for them to eat the soup without making a sloppy mess.
This is, hands down, one of my favorite soups these days. Plus you can easily whip it up for a quick weeknight dinner.
You can see the original recipe from Pinch of Yum here, and then try these alterations for a delicious smoky infusion version of the soup.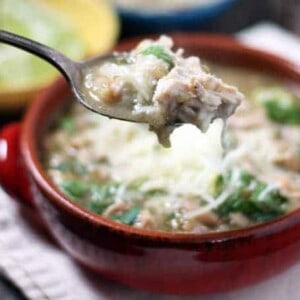 Ingredients
2

medium sized jalapeños

roughly chopped

½

red onion

roughly chopped

1

clove

garlic

4

cups

smoked chicken stock

3

cups

leftover smoked chicken

shredded

2

cans white beans

sometimes called Great Northern Beans, drained and rinsed

1

jar Whole Foods 365 Roasted Salsa Verde

or your favorite salsa verde, 24 oz jar

2

limes

Optional toppings: shredded cheese

sour cream, avocado, fresh cilantro, crushed tortilla chips
Instructions
In a food processor, mince up the jalapeños, onion, and garlic.

Bring a large pot to medium heat. Add a tablespoon of oil, then add the minced jalapeño, onion, and garlic. Let it cook 2-3 minutes to heat up and start sweating.

Add the stock, then chicken, beans, and verde salsa. Simmer for 20-30 minutes.

Before serving, squeeze the juice of one lime into the pot.

Cut any remaining limes into wedges and use for serving.

Serve with your favorite toppings; shredded cheese, sour cream, avocado, fresh cilantro, crushed tortilla chips, more lime, you name it.
Wine Pairing
The primary flavors to pay attention to are the salsa verde and the mildly smoky flavor of the chicken. Verde salsa is made from tomatillos (green tomatoes), and is usually milder than those made from red tomatoes. I find the flavors to be more savory than spicy, with a fresh zestiness to them, and a bit of sweetness from the roasted tomatillos. Rosé is a very versatile match for the flavors of this soup, but I also like zesty acidic white wines that have citrus flavors and aromas. Sauvignon Blanc works well, but I really like Spanish Albariños for this.
Similar Recipes: