Guys, we got to back on AM Northwest! This time cooking up one of our favorite holiday appetizers – Smoked Meatballs with a Cranberry & Red Wine Sauce.
This is a fantastic appetizer for any party!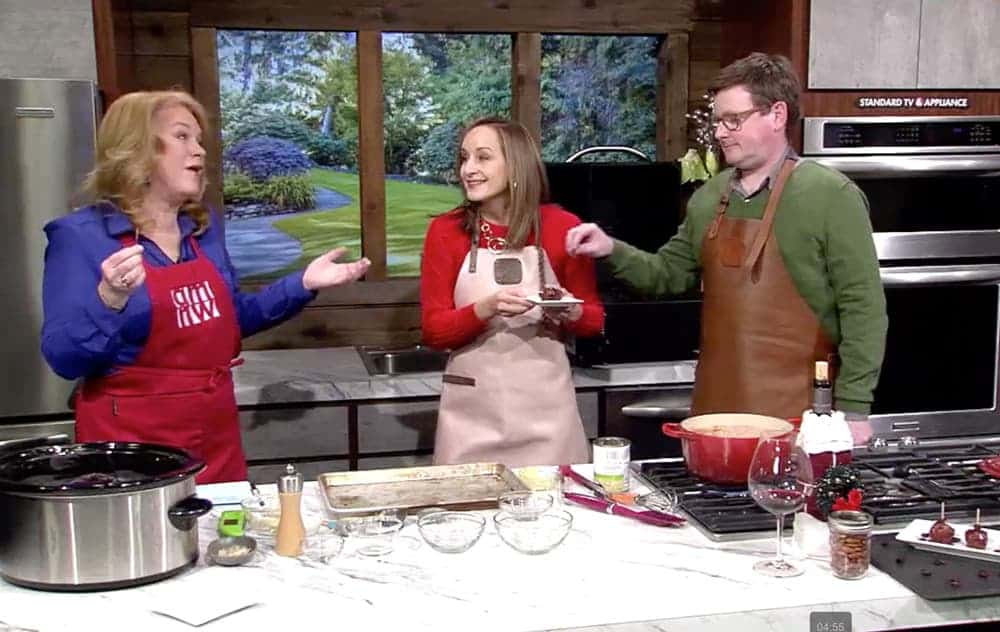 Scroll to the bottom for the video, or just click here.
Several years ago I discovered a very cool use for canned cranberries at a very unlikely location – a winery. I was out wine tasting during Thanksgiving weekend, and the owners of a particular winery were putting cranberries — which are overabundant during the holidays — to good use. They were serving up store-bought meatballs cooked in a cranberry and Pinot Noir sauce. A light bulb went on, and we started making our own version, based on what we remembered that original one tasting like.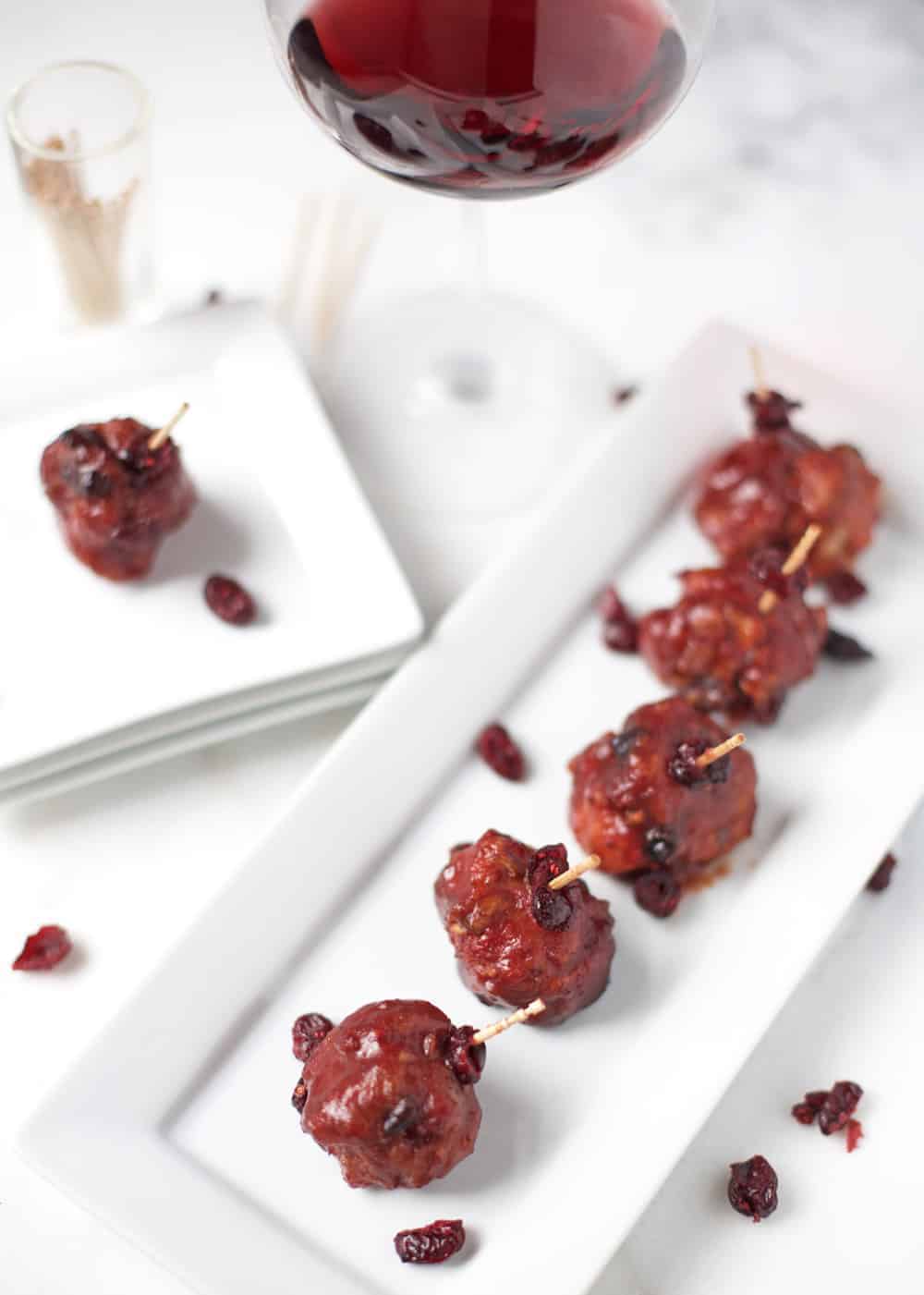 It wasn't for several years that we realized which winery was the inspiration for this recipe!
Our neighbors!
Turns out that the former owners of Beran Vineyards (who sold the winery to Ruby Vineyards about six years ago), used to serve these meatballs. And during the first holiday season as Ruby, the new owners didn't serve these meatballs. People were pissed and demanded the meatballs!
So they decided to continue the tradition ever since.
Now they continue to serve them every Thanksgiving weekend at their winery located in the Chehalem Mountain AVA region of the Willamette Valley (basically our new backyard).
They make theirs with Costco-bought meatballs that they heat up in a slow cooker.
We, of course, make homemade meatballs and smoke them, then braise them in the sweet and savory cranberry red wine sauce. The combination of all of these factors is mind blowing.
I'm not kidding.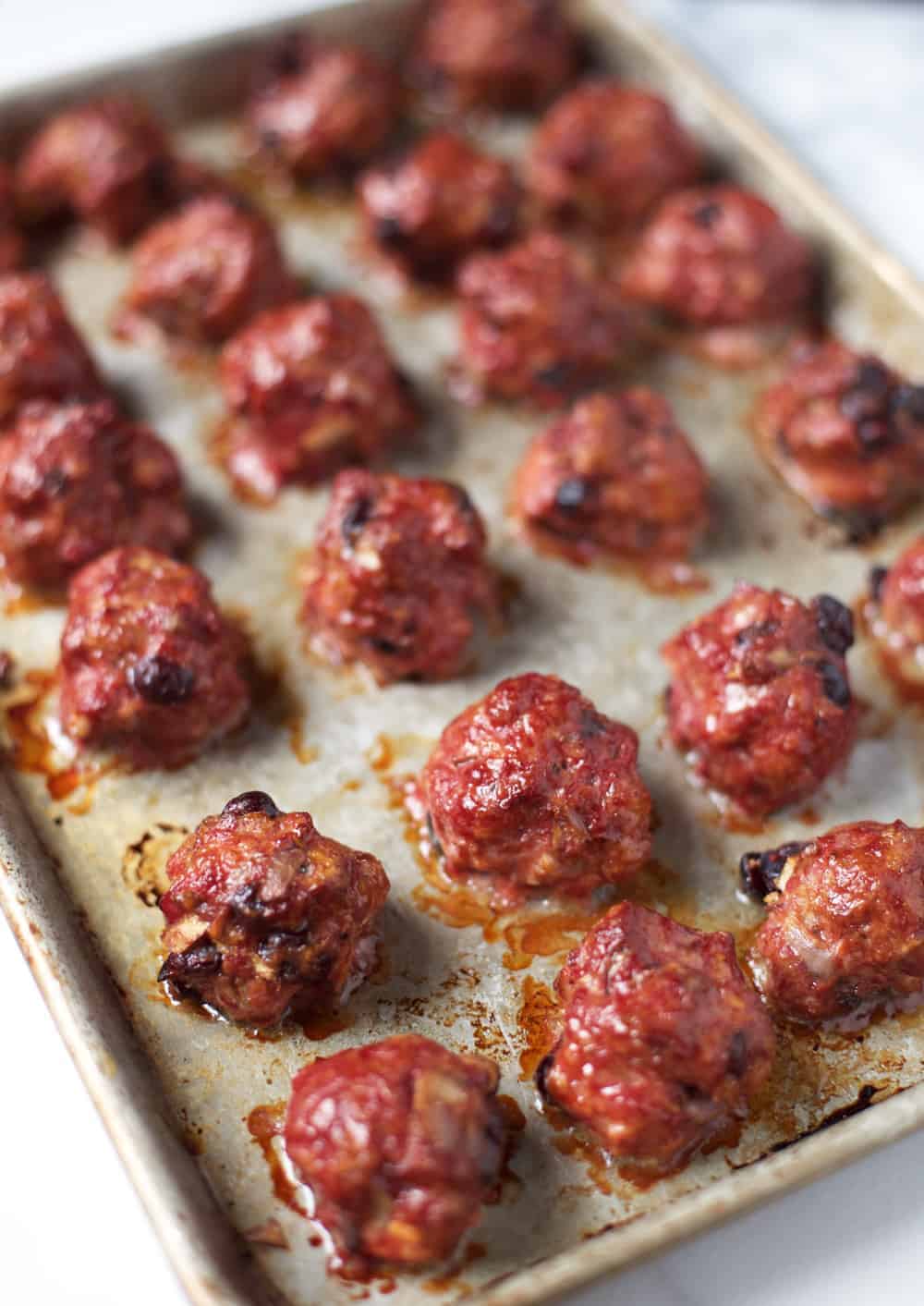 If you don't have a smoker then you can easily pan sear the meatballs and then finish them in the oven so they don't overcook. But if you do have a smoker, as everyone should(!), then put that bad boy to good use.
Start by rolling out your meatballs. The secret ingredient in these are a handful of dried cranberries.
Dried cranberries? Inside the meatballs? You betcha! It adds a nice touch of sweetness to balance the smokiness and savory meatballs.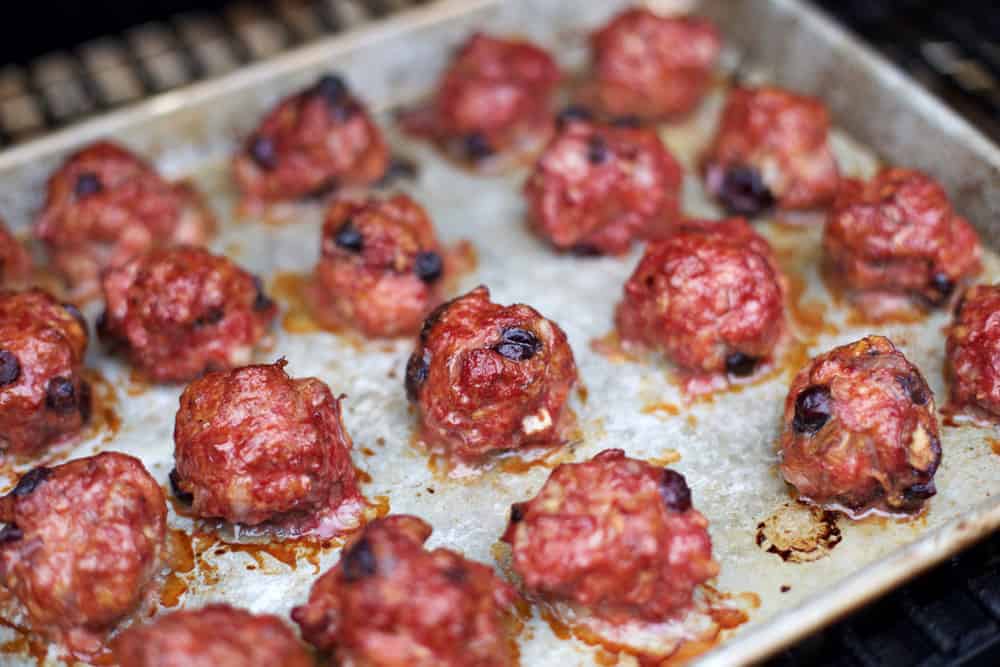 You don't want them too small, or too big. These are meant to be a finger food, so you want something you can eat in one or two bites. But make them too small then you run the risk of overcooking them to the point where they could get dry in the middle. 1 to 1 ½ inch diameter is where we like them.
Then place them on your smoker set to 225 for about an hour.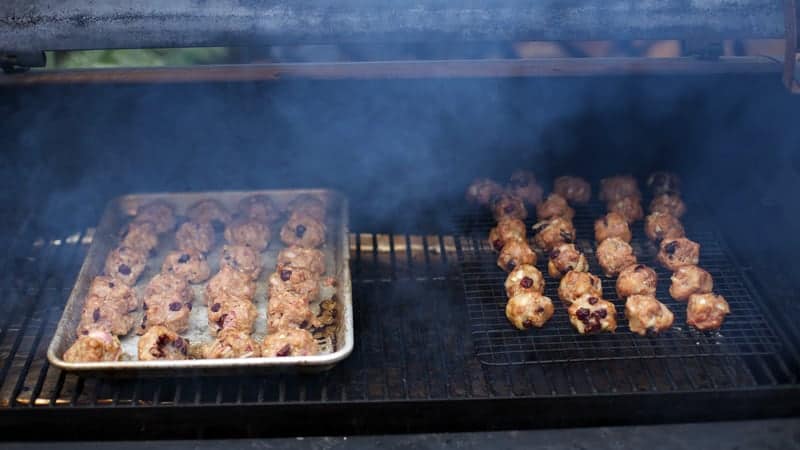 While they are cooking you can make your sauce. But feel free to sit back and drink a beer too, because the sauce is the easiest thing ever, and only takes about 5 minutes to make.
When the meatballs are done, just transfer them to the pot with the sauce. Or if you're having a party, then transfer the sauce and meatballs to a slow cooker and set it to low.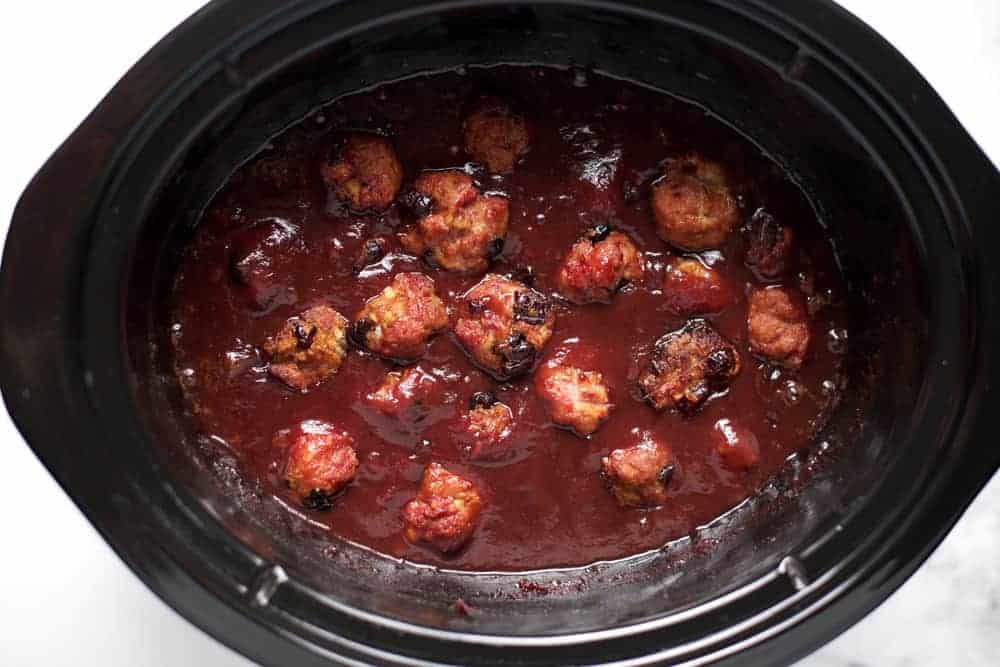 Now stir them around to coat the meatballs with that rich sauce.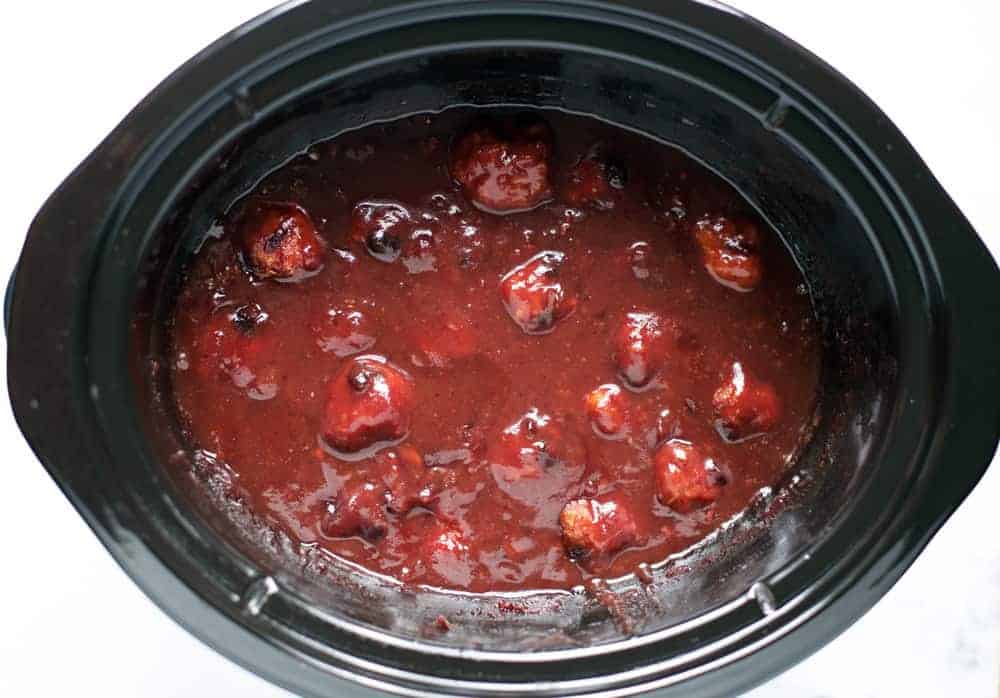 It's party time.
Smoked Meatballs with Cranberry Red Wine Sauce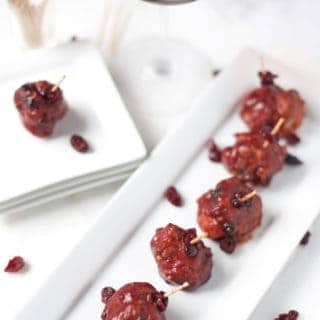 Smoked Meatballs with Cranberry Wine Sauce
A simple, delicious, and elegant appetizer idea for the holidays. Smoked meatballs made from pork and beef, cooked on the smoker, then braised in a sweet and savory cranberry wine sauce.
Print
Rate
Total Time:
1
hour
10
minutes
Ingredients
For the Meatballs:
½

pound

ground beef

½

pound

ground pork

½

onion

finely chopped

1

clove

garlic

finely diced

½

cup

breadcrumbs

or breadcrumb substitute like Panko

½

cup

dried cranberries

1

egg

beaten

1

tablespoon

Dijon mustard

1

tablespoon

Worcestershire sauce

½

teaspoon

crushed red pepper

½

teaspoon

each

salt and pepper
For the Cranberry Wine Sauce:
1

16-ounce can cranberry sauce

1

cup

fruity red wine

Pinot Noir or other fruity red wine like Zinfandel

½

cup

brown sugar

2

tablespoons

Dijon mustard
Instructions
For the Meatballs:
Preheat smoker to 225 degrees.

Mix all meatball ingredients together in a large bowl. Mix well with your hands.

Shape into approximately 1-inch balls.

Place on the smoker until the internal temperature of the meatballs reads 165 degrees (roughly 1 hour on the smoker). Remove from smoker and add to the cranberry wine sauce (below).
For the Cranberry Wine Sauce:
In a medium size saucepan, combine the cranberry sauce, wine, brown sugar and Dijon mustard.

Bring to a simmer and whisk continuously for about 5 minutes to allow the sauce to begin to reduce and thicken.

Transfer the sauce to a crock-pot, add the meatballs, and gently stir together. Keep warm.
Notes
Alternatively you can cook the meatballs on the stovetop in a heavy pot or large pan, coated with oil and set to med heat. Cook, and rotate the meatballs so all sides get browned (roughly 4-5 minutes). After they are browned transfer to an oven set to 375 for an additional 10-15 minutes until the internal temperature of the meatballs is 165 degrees.
Wine Pairing 
At first glance these meatballs may seem too sweet to pair with wine. But there's a delicate and intentional balance of smokey, sweet, and savory flavors, along with that acidic bite from the Dijon mustard, that make them rock solid with wine. I promise you these aren't sugary sweet meatballs.
Since the initial inspiration for this was in the Willamette Valley wine country we always default to Pinot Noir (ideally a bigger style or one from a warmer vintage like 2014 or 2015). But you can use any fruity wine that is low in tannins. Zinfandel is another favorite with this dish. It's also a crowd pleaser if you're serving these at a party.
At the end of the day, this is meant to be an appetizer, likely at a holiday party, where loads of flavors are going to be competing for one another. So no need to really overthink it. Whatever you used in the sauce is likely a good match for the dish!
TV Cooking Segment on AMNW
And now for the video.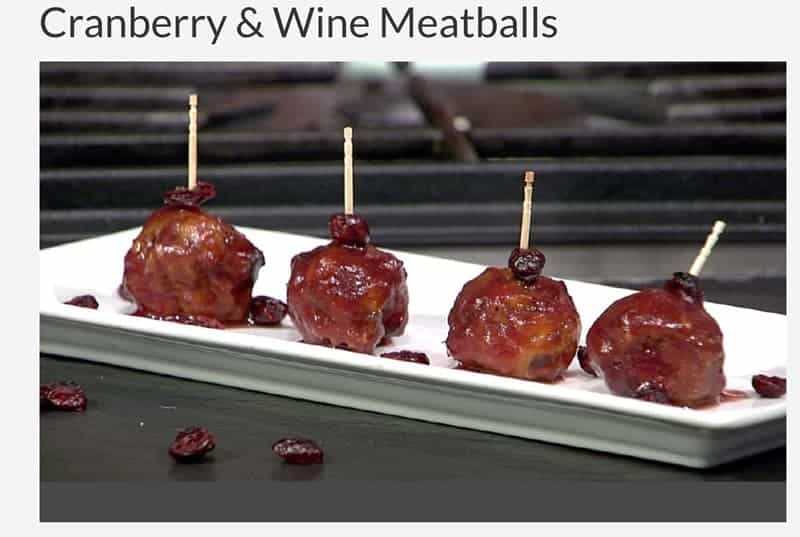 And thank you so very much to the amazing crew at AM Northwest for inviting us back again and again! We are truly honored to cook for you!
If you're new to the site, welcome! You can find out a little more about us from the first time we were on AM Northwest, here.
---
If you like this recipe we'd truly appreciate it if you would give this recipe a star review! And if you share any of your pics on Instagram use the hashtag #vindulge. We LOVE to see it when you cook our recipes.