Smoked Pulled Pork Hash is a fantastic way to use leftover Pulled Pork for the ultimate brunch!
This is how people who are obsessed with smoking meats do brunch.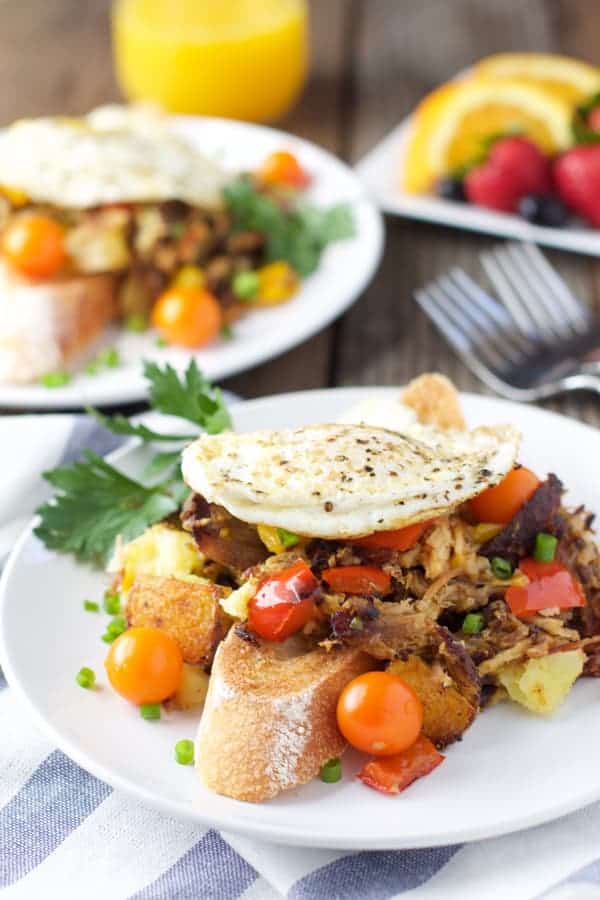 Portland is pretty famous for its brunch scene. But we have four-year-old twins, which means we're not going out for brunch that often. Not that we don't want to (we do!), but waiting in any kind of line for brunch (and Portland brunch spots always have lines) with two antsy twins that don't understand patience (yet) is kind of like nails on a chalkboard while getting your teeth drilled into by an unskilled dentist with the SpongeBob SquarePants theme song playing in the background. Painful.
We still do brunch. We just do brunch differently.
We do it at home.
With smoked pulled pork.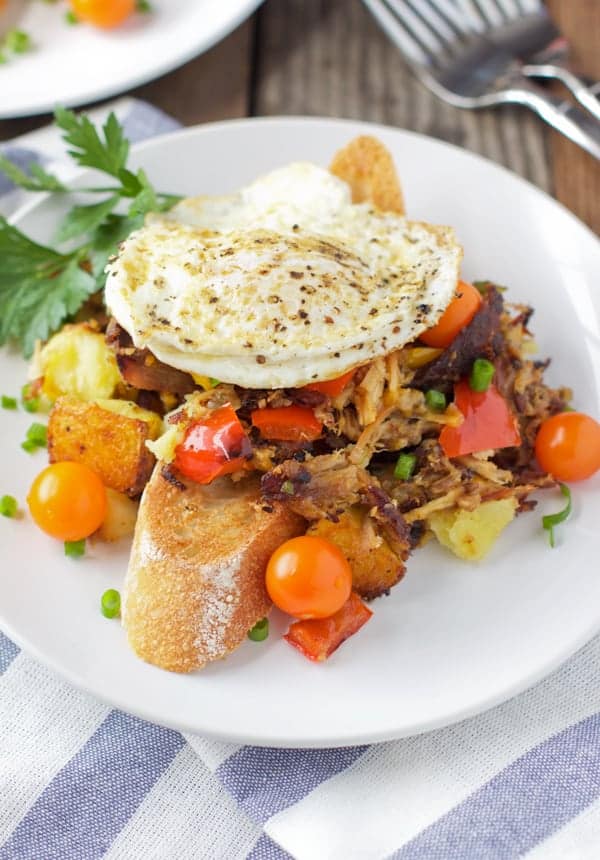 Like I mentioned in this post from earlier this week we've had a lot of leftover smoked pulled pork lying around (I know, I know). And trying to come up with something delicious to eat last weekend, our first and only free weekend of the summer where we had absolutely nothing planned, we wanted to spoil ourselves. So we had pulled pork. Yes, for breakfast. You would too.
I'm telling you. Go buy yourself a pork butt right now, smoke it, and make some delicious pulled pork sandwiches immediately. Then make this hash for breakfast this weekend while sipping on these insane Bloody Marys, and then make these smoked pulled pork wontons for dinner the next day. Your friends and family will thank you.
If you want an easy, yet over the top, awesome brunch idea, for smoked food lovers, here you go.
How to make Pulled Pork Hash
Start by softening some vegetables. I like onions and bell peppers (a mix of colors). Yellow and red bell peppers are plentiful right now, so we went with them because they add a beautiful color and slightly sweet flavor. Then add your pre-cooked potatoes and leftover smoked pulled pork, to get everything warm.

While the hash is warming prep your eggs. You can top the hash with a poached egg (especially if you're feeling all healthy), but we indulged in fried eggs this time. Whatever you fancy. Then toast up some bread to place underneath to catch all the delicious flavors that will run to the bottom of the plate. You can even eat this like an open-faced sandwich, or you can be proper and use a fork and knife. Whatever you do, please try this next time you have leftover smoked pulled pork lying around.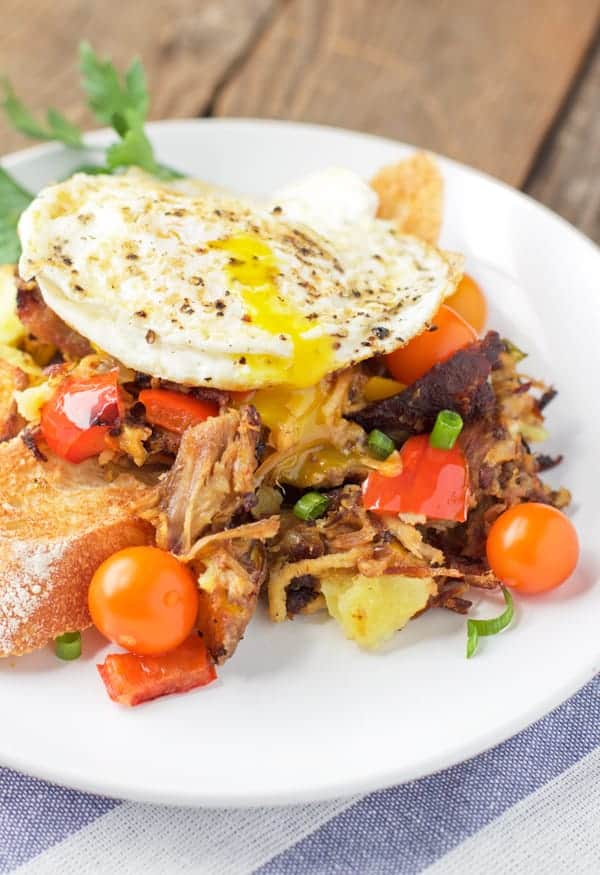 Look at that yolk, just oozing into the tender meat  <sigh>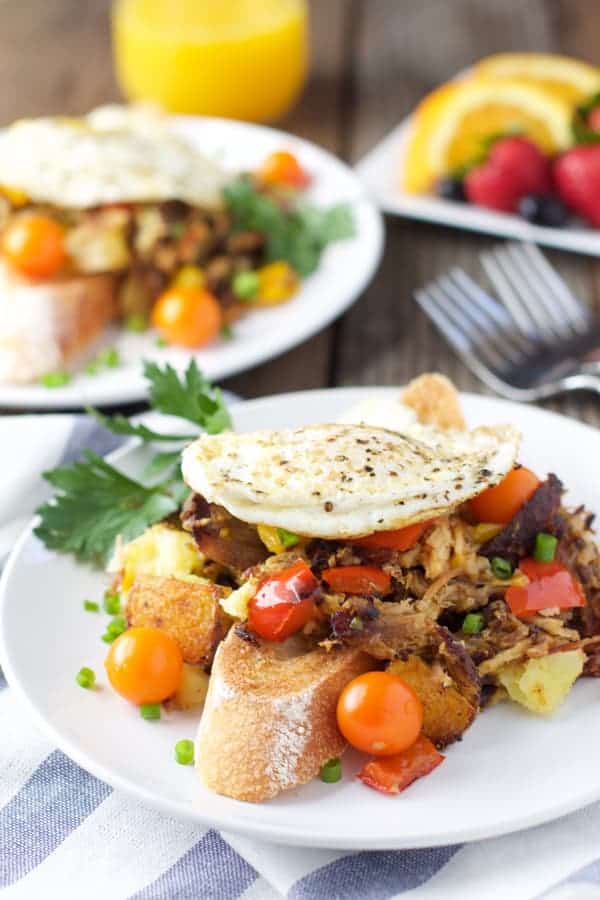 Smoked Pulled Pork Hash
A fantastic use for leftover smoked pulled pork and perfect idea for brunch for smoked food lovers.
Print
Rate
Ingredients
3

yukon gold potatoes

diced

Extra virgin olive oil

1

yellow or orange bell pepper,

chopped

1

red bell pepper,

chopped

1/2

yellow onion,

chopped

1

large jalapeño,

seeds and ribs removed, finely diced

3

cups

of leftover smoked pulled pork

1/2

cup

shredded cheese

6

eggs

1

baguette,

or other crusty bread, sliced at an angle into long pieces

4

tablespoons

butter

1/2

cup

cherry tomatoes

optional
Instructions
Place potatoes and cold water in a large pot and place on burner. Turn on the heat to high, and cook for 15 minutes (the water will start to boil, and let it continue until the 15 minute mark or until fork tender). This will par-bake them. Drain and place on paper towels to dry.

Next cook your vegetables in batches.

When potatoes are dry place them in a large skillet (ideally a large cast iron) set to medium heat and coated with extra virgin olive oil. Cook for 8-10 minutes to get a good crust. Remove and set aside.

In the same skillet, wipe any residue clean with a paper towel and then add more oil (about 1 tablespoon). Add your peppers, onions, and jalapeño and cook until starting to soften (about 5 minutes).

Add the cooked potatoes, leftover pork, and cheese. Mix together to combine.

In a separate skillet cook your eggs. You can poach them or fry them. We fried them in a couple tablespoons of oil until they were cooked on the outside, but the yolk was still liquid on the inside.

Toast up your bread and coat it with some butter and place on your serving dish.

Place a large spoonful of the hash over the top of the toasted bread. Top with an egg. Garnish with cherry tomatoes.
Notes
The hash will serve at least 4-6 people. Just make sure to adjust the amount of eggs you use based on the number of people you are serving.
For best results use a cast iron skillet. But if you don't have one (like us), use a large skillet.
What to drink with this hash?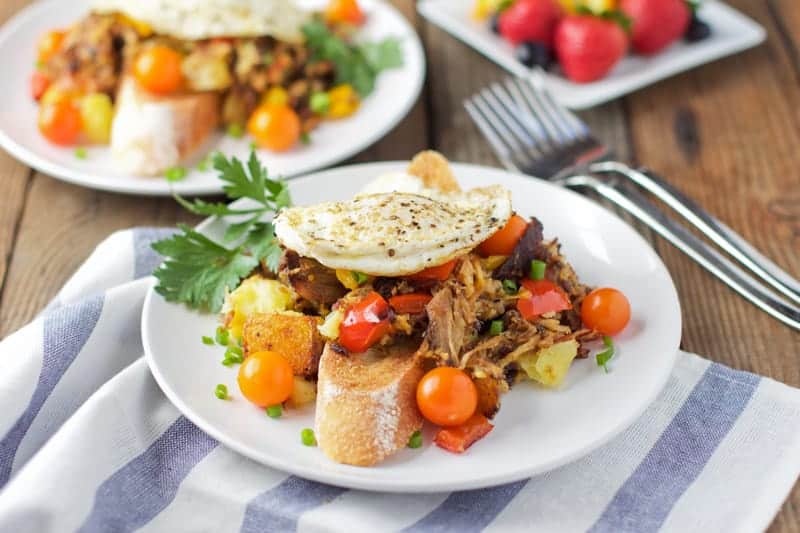 I don't know about you, but I'm usually not in the mood for Pinot Noir or Côtes du Rhône reds at 10:00am (let's be dignified and at least wait until noon). It's brunch after all, so I'm thinking a traditional orange juice mimosa, or go big with a Smoked Bloody Mary (I'm partial to the Bloody Mary. Smoked Tomatoes. Smoked Bacon. Smoked everything!). I'm also intrigued by cider, an idea offered by my friend Jameson Fink. He just wrote about this delicious sounding cider that would be killer with this brunch feast. He also appears to be in the brunch mood this week. Kindred spirits I tell ya. Check it out.
---
If you like this recipe we'd truly appreciate it if you would give this recipe a star review! And if you share any of your pics on Instagram use the hashtag #vindulge. We LOVE to see it when you cook our recipes.
---