I was first introduced to the wines of Ribera del Duero several years ago while vacationing in the Adirondack Mountains in Lake Placid, New York. My husband and I were still just discovering our love for wines made from Tempranillo, and one stood out on the menu of the restaurant we were dining at. I wrote about that experience here. The wine, Condado de Haza, Crianza, was incredibly memorable and we've been buying it regularly ever since.
Since then I've had the opportunity to taste hundreds of wines from several of Spain's regions, and to this day the wines from Ribera remain among my favorite.
Needless to say I was thrilled to learn I would be attending a wine and food pairing lunch as a part of the Snooth People's Voice Awards (PVA) events a few weeks back in NYC. Not only was I excited to try twelve new wines from this region, but that they were paired with a four course meal carefully designed by Chef Luis Bollo of Salinas restaurant in Chelsea.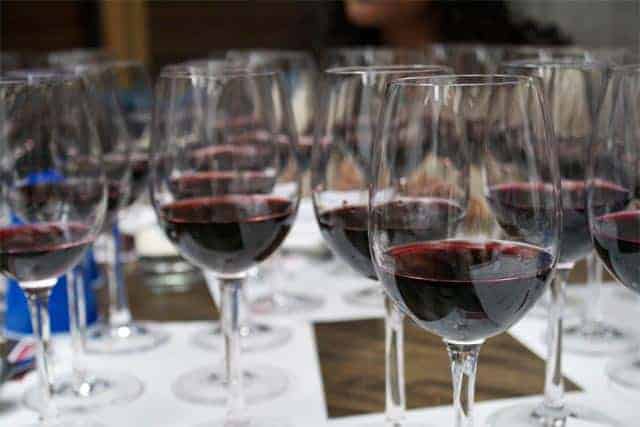 Tasting wines alone can give you one perspective, but tasting them with food, especially foods matched to the region of a wines origin, can bring the experience to an entirely new level. A good pairing can be memorable. The right pairing can be heavenly. Either way, some wines were just meant for food — the wines from Ribera del Duero are among them.

Ribera del Duero is located in Spain's northern plateau approximately one and a half hours north of Madrid along the Duero River, and just southwest of Rioja but at a higher elevation. 93 miles long from east to west, 22 miles wide, this is a red wine region with Tempranillo (known here as Tinto Fino) comprising 95% of the grapes grown. There are approximately 280 producers who make wine in what is described as "a difficult region to grow grapes"– one where winemakers are required to work hard year round, in often difficult conditions, in order to produce wines of quality. It definitely pays off.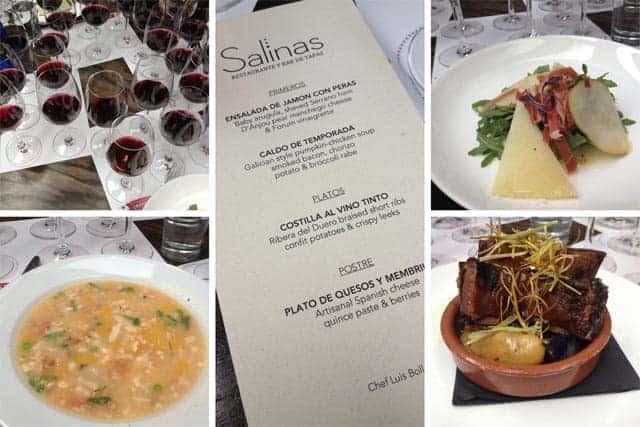 ENSALADA DE JAMON CON PERAS: baby arugula, shaved Serrano ham, d'Anjou pear, Manchego cheese, vinaigrette
No white wines here, instead we began with a salad (pictured top right) and a flight of three great value wines. The most standout to me was the 2011 Bodegas Barco de Piedra, Bodegas Barco de Piedra ($15): This wine showed bright fruit character, lots of blackberry, dark cherry and mellow tannins. Easy drinking and an excellent value! It was also a great match for the salty ham and slightly soft Manchego cheese.
CALDO DE TEMPORADA: Galician style pumpkin-chicken soup, smoked bacon, chorizo, potato & broccoli rabe
We moved onto a warm and comforting soup (pictured in the collage on the bottom left), which was a nice match for all three wines below.
2009 Selección de Torres, S.L., Celeste ($28): Inviting and pretty nose full of mixed berry fruit and nicely integrated oak. Fresh, approachable, and a lovely food wine as it mingled well with both the salad and the soup.
2006 Bodegas Convento San Francisco, S.L., Convento San Francisco ($34): Rich and alluring with both dark fruit characteristics of blackberry and herbs, but also some earth and funk in the mix with a solid tannic structure on the palate.
2009 Bodegas Cepa 21, S.L., Malabrigo ($66): I know I can often be much more detailed and technical with my notes, but my handwritten description of this wine read, "Wow. Fruity, rich, textured. Just lovely!"
I guess that means I liked it. I'm now trying to locate a bottle so I can re-taste for more "official" notes.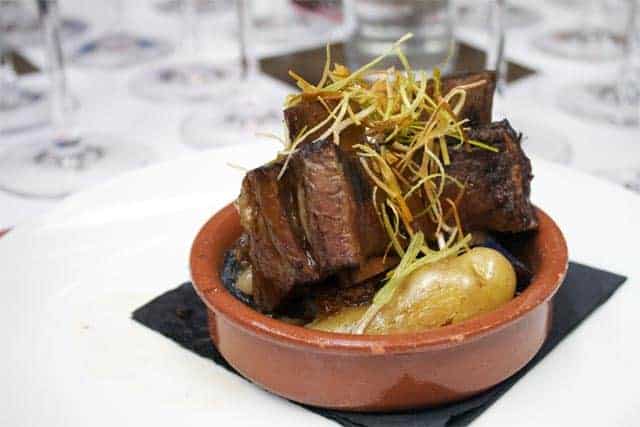 COSTILLA AL VINO TINTO
My Spanish isn't the best these days but I'm pretty sure that translates to "ribs from heaven", though the menu described them as "Ribera del Duero braised short ribs confit potatoes & crispy leeks." Same thing.
I also have a secret obsession for presenting foods in small ramekins the same way the chef presented this dish (above), and I am totally stealing this idea next time I make any kind of braised meat dish!
2001 Condado de Haza, S.L., Alenza ($100): From the same producer I wrote about at the beginning of this piece, this is their top bottling at Condado de Haza. The wine has seen over a decade of aging that has helped it mellow out and develop its complexities. Dark black fruit, mixed with some spice, earth and leather characteristics lead to a smooth body with a long finish. A luscious pairing for the richly flavored, yet delicately textured, ribs.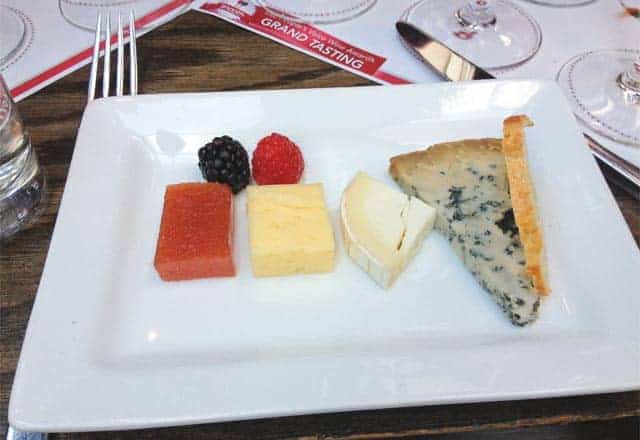 We finished with my kind of dessert – a cheese plate with quince paste and berries. Though I had a hard time pairing the cheese with most of the wines I had absolutely no problem finishing the plate clean, sans wine, while waiting for my espresso. Quince paste and certain cheeses (firm cheeses especially, Manchego if you can find it) can be just as ethereal of a pairing as the best wine and food together. It's like a fruit roll up wrapped up in cheese paradise – but better! If you haven't tried it yourself I highly recommend it. Add a few Marcona almonds to the mix and you'll be set.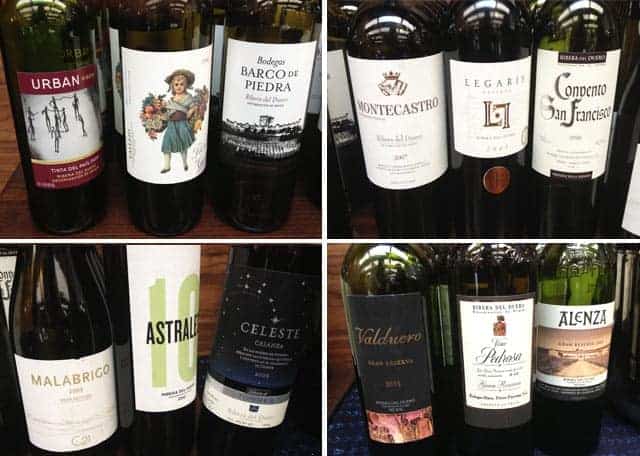 The wines of Ribera del Duero can range from everyday value wines perfect for your weeknight BBQ needs to incredibly complex, beautiful, and age worthy wines. The region is also very tourist friendly, as we were told by our host Roger Kugler. If you decide to ever visit the region the only thing I ask is that you please leave room in your suitcase for me! I've never been and it's definitely on my wine bucket list.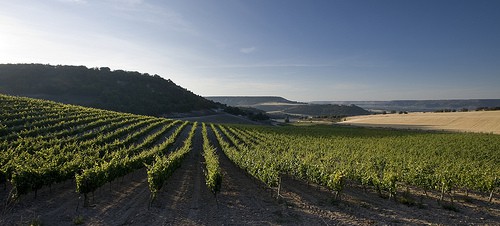 This photo, provided by Drink Ribera, will have to suffice while I wait for somebody to whisk me away to Ribera.
*Disclosure: This lunch and seminar were provided by Snooth, but my opinions as always are my own.