I just love the sound of that …  "Award Winning Recipe"!
I've been grinning since Monday when I found out this recipe won the Kettle Brand Potato Chips Joes vs Pros Cook-Off, sponsored by Snooth and Kettle Brand Potato Chips.
About two weeks ago I found out my recipe was one of four finalists in their nation wide competition for recipes incorporating favorite Kettle Chip flavors, and that they wanted to fly me out to L.A. for the Grand Finale and announcement of the winner.  Sadly, timing didn't work out in my favor and I couldn't get down to L.A.  I waited (im)patiently to find out that my recipe took the overall grand award!  I'm thrilled to share it with you.
In honor of winning we decided to make the recipe again this weekend and share it with friends who were visiting from out of state.  Besides, we had to see if it was as good as we remembered from when we submitted it a few months ago 😉
In case you were wondering, it was.
See the official announcement here, and original recipe over on Snooth.
Here is the updated version.
The Award Winning Cheddar Beer Kettle Crusted Smoked Pork Tenderloin
(originally published on Snooth)
*We couldn't find a single bag of Cheddar Beer flavored Kettle Chips here in Portland (we looked at four different markets).  So we used regular Cheddar instead this time.  It was a pretty darn good substitution.  In fact, I recommend playing around with your favorite flavor combinations to see what you like with this recipe.  I'm thinking of trying Jalapeño next, for a little added heat. 
Ingredients
1 pork tenderloin
½ cup dry rub (your favorite, or a mix of brown sugar, touch of oregano, paprika, salt, pepper, garlic powder.  We use this recipe for dry rub.)
½ cup Cheddar Beer Kettle Chips – ground in a food processer or crushed finely
2 tbsp Dijon mustard
1 cup BBQ sauce for basting
 Directions 
About four hours pre-cooking, rinse pork tenderloin in cold water and pat dry completely.
Combine the dry rub and ground Kettle chips together.  If you don't have a food processor you can easily put the chips in a baggie sealed shut and use a roller to pound the chips into a grind.
Coat pork with the Dijon mustard.
Apply generous portions of the dry rub/Kettle chip blend, reserving a small amount.


Refrigerate for up to 24 hours
Pre heat smoker to 250 degrees (I used hickory and oak wood)
Bring pork tenderloin to room temp (about 20 minutes or so) and put onto smoker.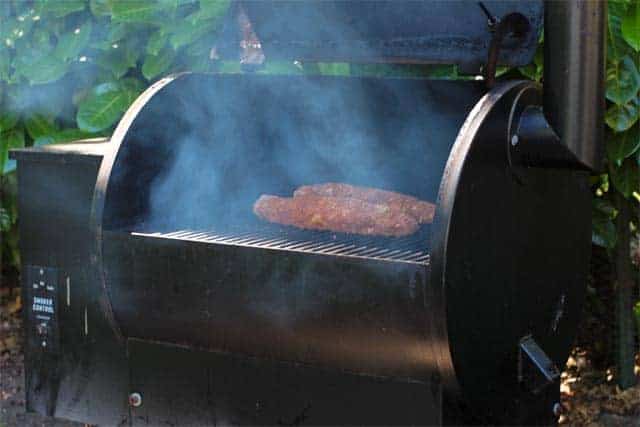 Combine the reserved dry rub/chip mixture with your basting sauce.
Smoke for approximately 2 hours, and every 30 minutes apply a coating of the basting sauce (likely you will do this three times total).
Once internal temp is 160 degrees remove from heat and let sit for 10 to 15 minutes to allow for moisture to redistribute.
Cut and serve immediately.
You should get a nice mahogany color from the basting sauce and a nice slight crunch from the chips infused with the dry rub.
Serve with your favorite BBQ side dish.
Now I'm curious, what's your favorite flavor of Kettle Brand Chips?
***
Want more?  If you liked what you read you can subscribe to Vindulge and have new posts and original recipes delivered directly to your inbox.