Grilled Beef Tenderloin is an incredible holiday Roast, Christmas dinner, or for any special meal. It's grown to be one of our favorite cuts of meat, and for good reason. Add a rich and savory mustard steak sauce and you have the best Beef Tenderloin recipe on the grill. It's simply seasoned with our signature Beef seasoning and then grilled hot and fast on the charcoal grill.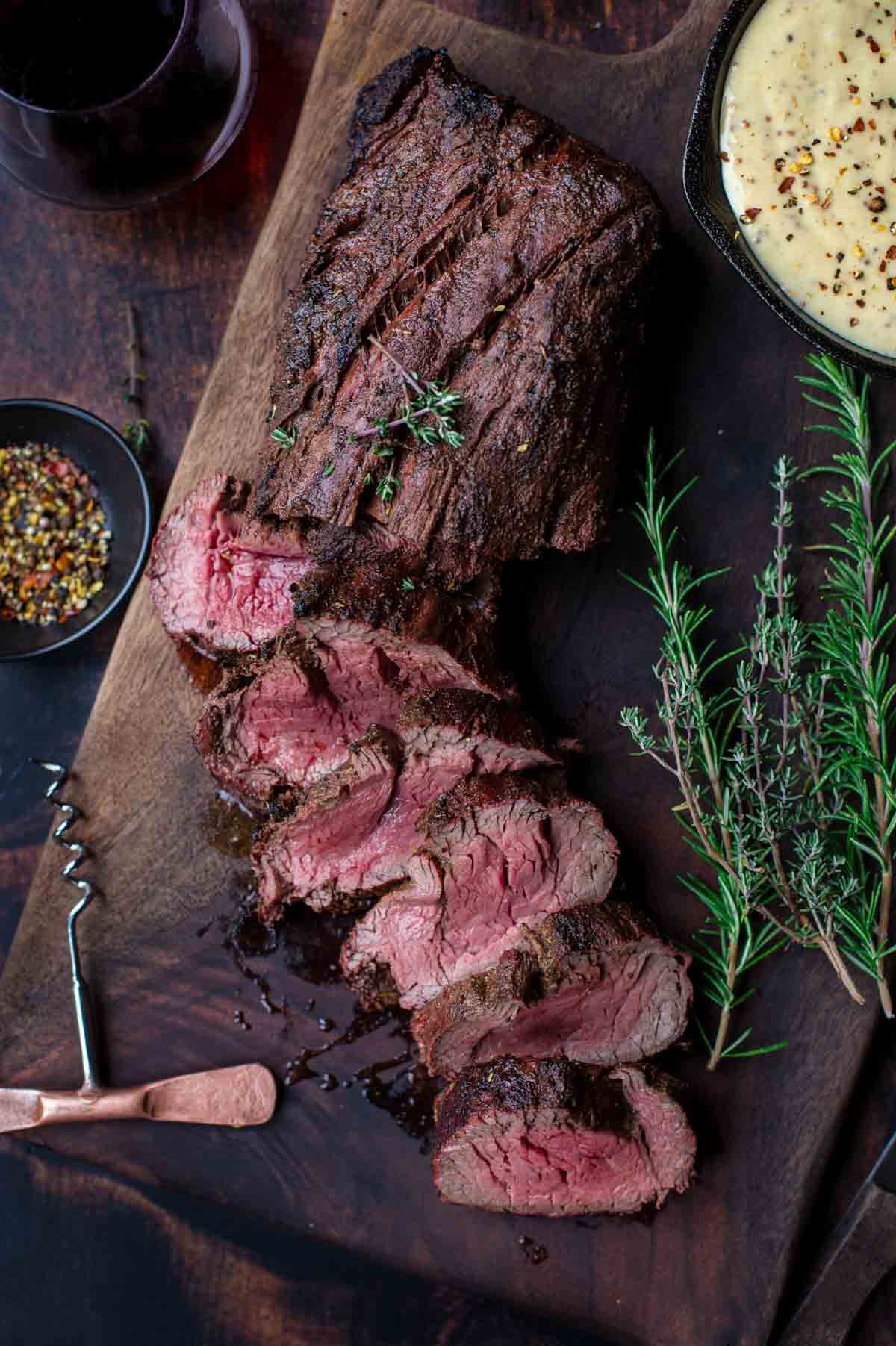 This post is sponsored by Beef. It's What's for Dinner on behalf of the Beef Checkoff. All opinions are our own.
Recipe Highlights
This recipe is for a whole Beef Tenderloin that's been trimmed into a roast.
It's grilled using two-zone grilling at 500 degrees F in 30 minutes.
The mustard steak sauce has a balance of richness and acidity to complement the tender slices.
Mustard Steak Sauce can be made gluten free with 1:1 flour substitute.
Jump to:
When elevating a special occasion there is nothing more fabulous than grilling a whole Beef Tenderloin Roast. The whole Tenderloin is incredibly tender and rich with a decadent Beefy flavor. The presentation is absolutely beautiful. Follow along as we walk through the cut and the best way to grill it using high heat.
Beef Tenderloin
We go into more detail about this cut in our Smoked Beef Tenderloin recipe. But as a quick reminder, this tender Roast comes from just off the spine area of the cow. The flavor profile is rich, that is because the muscle fibers do not see as much movement as a brisket or Chuck Roast. It is incredibly tender because of less connective tissue. That means it can cook very quickly, so paying attention throughout the cooking process is important.
It's an expensive cut of meat and so to save money you can often buy the entire Beef Tenderloin that has yet to be trimmed. It's also the most tender cut of beef.
Fun fact: After being trimmed down into individual steaks, the Tenderloin is where the Filet Mignon comes from.
Related Recipe: If you want to know the second most tender cut of Beef, it's the Flat Iron Steak from the Chuck Primal.
Ingredients
Trimmed Beef Tenderloin Roast
Olive Oil and Beef Seasoning
Roux – Equal parts unsalted butter and flour
Whole Milk – Heavy cream makes the sauce too thick
Whole Grain Dijon Mustard – Gives the right balance of acidity, but any mustard will work
Horseradish Cream – Adds heat
Mustard Seed – Adds more of the mustard bite and texture
Trimming
If you can't source a pre-trimmed and ready Tenderloin roast at grocery stores then you can often find a full Beef Tenderloin, which will need to be trimmed up prior to grilling. There are three parts to the full Roast – the chain, the tail, and the Roast itself. Using a sharp knife and your cutting board:
Remove the tail. I remove it at the point the width of the Roast is the same.
Remove the chain. Using my knife I gently cut along the silver skin and seam. As I remove the chain the Roast itself starts to take shape. On the opposite side of the chain there may be some larger portions of the roast that also need to be removed.
Trim the roast. Remove any excess fat and silver skin. The Roast should be roughly 12-inches long and even.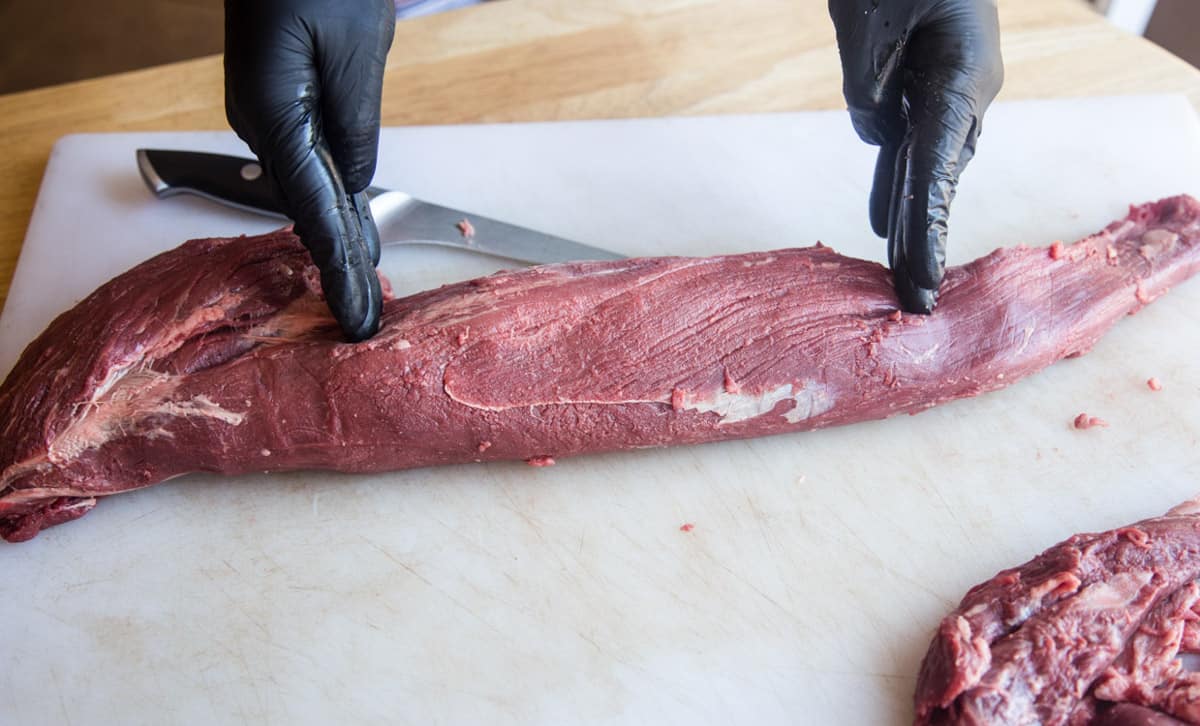 Use the trimmed meats for other recipes, like our grilled steak bites with wine sauce, beef kabobs, or freeze them for future use.
Seasoning
If you want to go simple use a basic beef seasoning with equal parts kosher salt, granulated garlic, and coarse black pepper. For this recipe we are actually elevating the flavor with more savory and herbal flavors using our beef seasoning. Coat the outside of the Tenderloin with olive oil and then liberally apply the seasoning. Then it's ready to grill.
A note about bringing Beef to room temperature – Some say that you should allow the Beef Roast to sit for an hour to come to room temperature. The reality is that any cut of meat is not going to come to "room temperature" in one hour. The internal portion of the Beef will still be 45 degrees while you run the risk of bacteria forming on the outer side of the Roast. Save yourself the hassle and time and just crank up the heat of your grill.
How to Grill Beef Tenderloin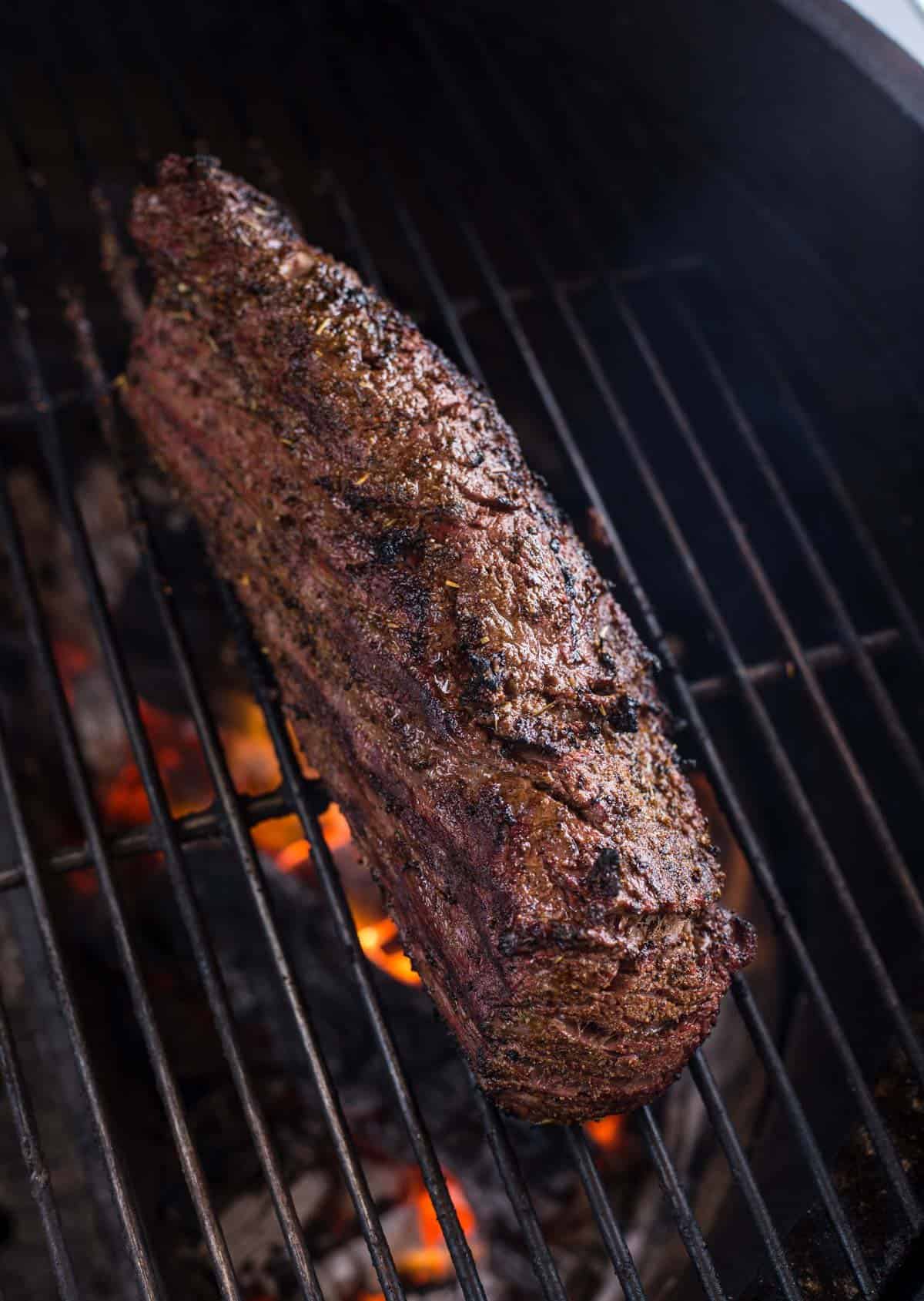 The easiest way to get a good sear and the perfect temperature is to sear hot and fast over hot direct heat and then finish over indirect heat to your desired finishing temperature.
Prepare your grill for two-zone grilling (or direct and indirect grilling). Target the inside of the grill at 500 degrees F. Place Beef Roast on the grill grates over direct heat. Grill direct over the high temperature for 5 minutes and then rotate the Roast and continue grilling direct for 5 more minutes. Because of the shape of the Beef Tenderloin, it tends to be like a triangle. So grill the last side for 3-5 additional minutes (to make sure there's a good sear on all sides).
After all three sides were grilled move the Roast to indirect heat, which is the cooler side of the grill. Continue grilling at 500 degrees F. The internal temperature of the meat will continue to rise. Monitor this stage closely by using a good high-quality instant read meat thermometer. Pull the meat at your desired finishing temperature. We recommend medium-rare for this cut.
Pull the Roast and then let the meat rest for 10 additional minutes. As it rests the internal temperature of the steak will continue to rise an additional 5 to 7 degrees. So be sure you pull the roast at a temperature you like and account for the additional temperature increase.
If you want your steak at 145 degrees F then pull the Roast between 136 to 138 degrees F. We like our beef tenderloin cooked to an internal temperature of no more than 130 degrees F. So we pull the beef off when the thickest part of the steak is at 122 degrees. Then we rest and it will finish between 128 and 130.
Gas Grill – If using a gas grill be sure to follow the same steps. Light one or two burners as your direct heat and finish over indirect side.
Doneness
Adjust your cooking time to cook the steak to your desired internal temperature range. Be sure to read our guide on carry over cooking and steak temperature in more detail.
Slicing and Plating
After the rest use a good carving knife on a carving board or cutting board to slice the Roast into 1-inch slices. If serving family style garnish with a bundle of fresh herbs. Serve the mustard steak sauce in a small bowl with a spoon.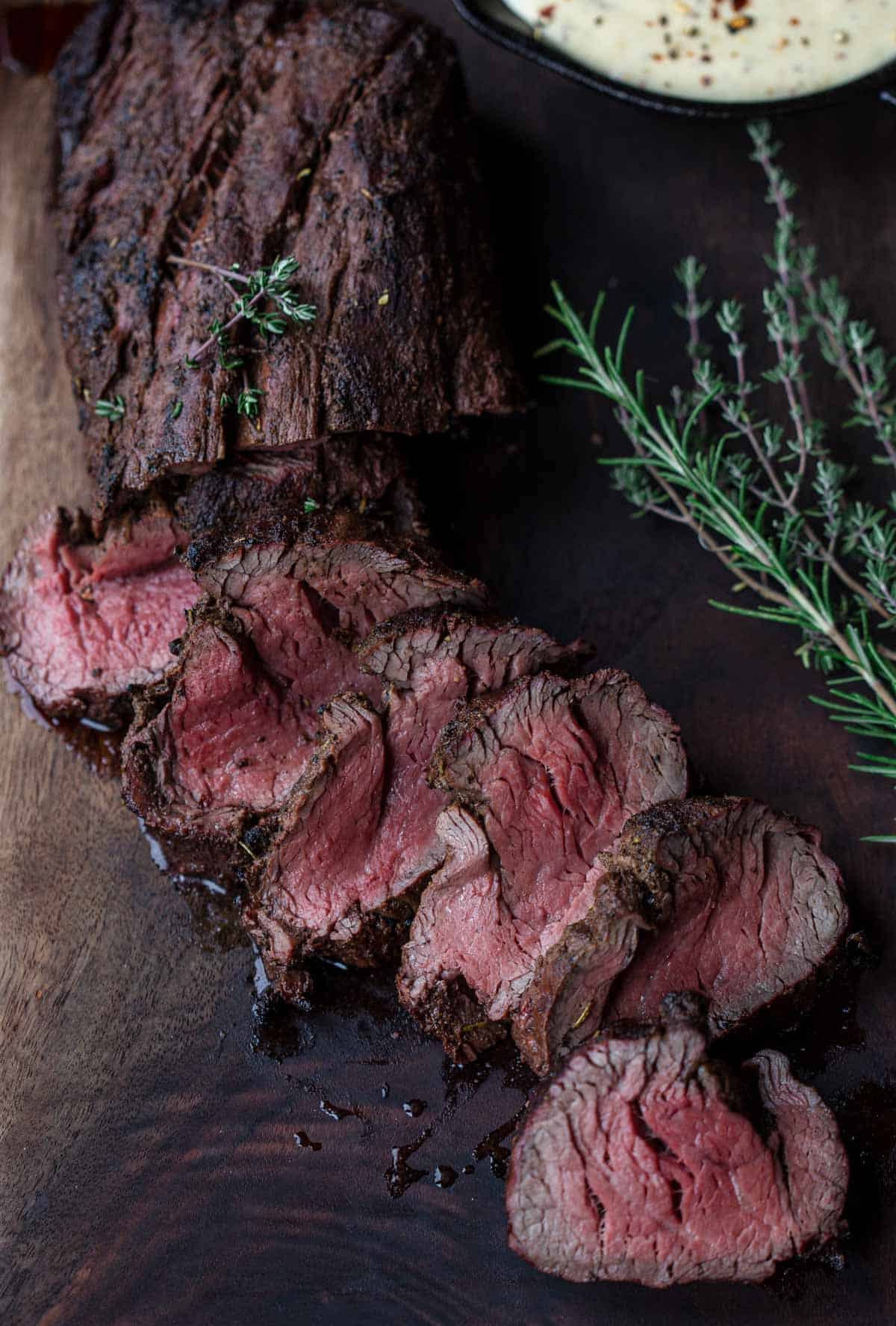 Mustard Steak Sauce
For our mustard steak sauce ingredients, we are using a thickening roux and then combining mustard with milk and finishing with our seasoning. This provides a nice balance of richness and acidity that pairs well with the flavors of the Grilled Beef Tenderloin. The whole sauce should come together in less than 10 minutes. We typically make the sauce while the Beef Roast is resting.
In a small sauce pan over medium heat melt butter and then add the flour. Stir to combine and continue stirring for 1 minute until it starts to bubble for 30 seconds. This activates the roux. Add the milk and continue to stir often over medium heat until the milk starts to thicken into a pancake batter consistency.
Turn off the heat and then add the remaining ingredients. Stir to combine.
Place the finished mustard steak sauce in a small bowl for serving. Serve warm.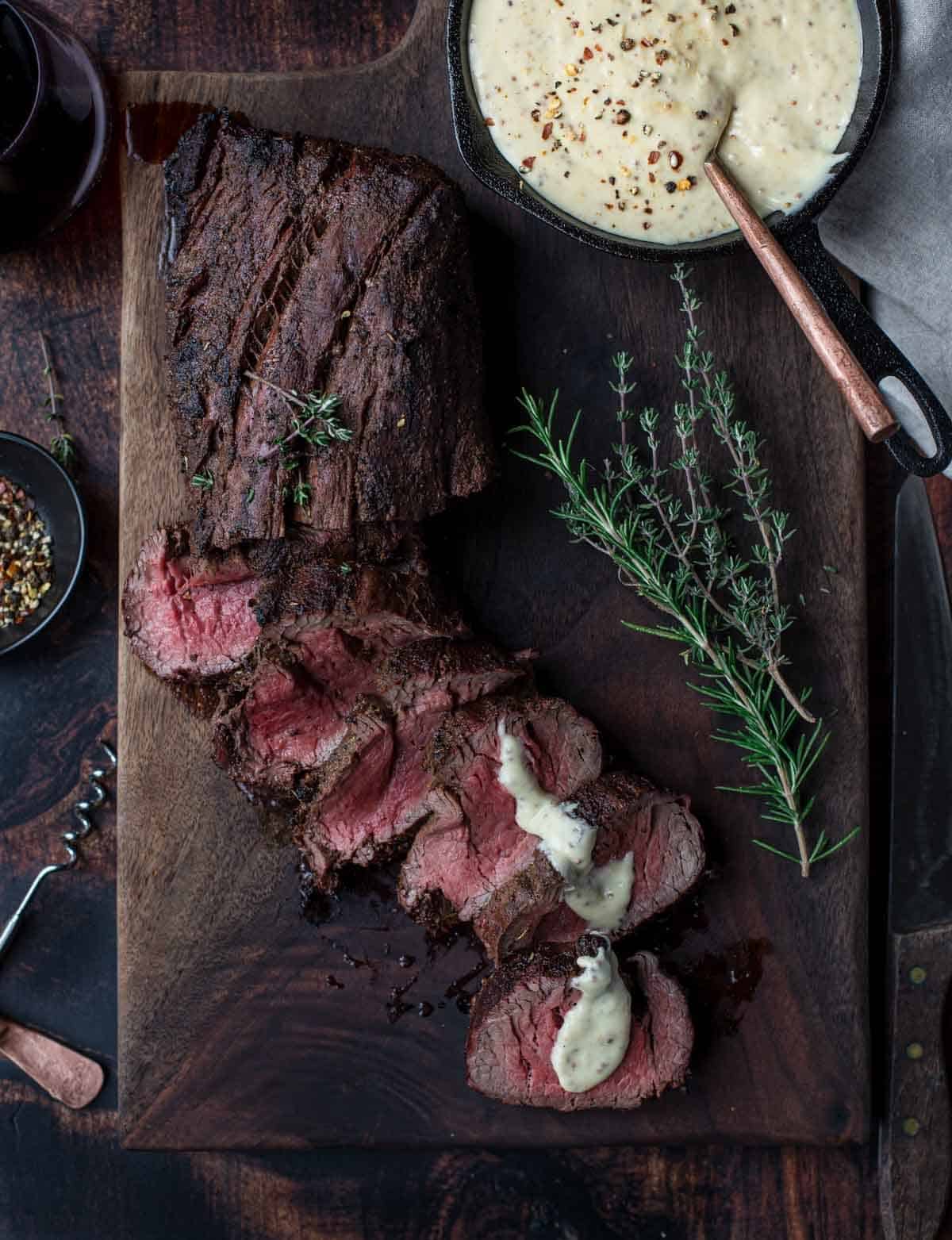 Wine Pairing With Beef Tenderloin
Because the Roast is lean with less intramuscular fat a balanced red wine with less tannin is best. Add the acidity from the mustard steak sauce and our go to pairing with this Grilled Beef Tenderloin is Syrah or Merlot.
You can read more in our full guide on pairing holiday roasts with wine.
Explore wines at the online Vindulge Wine Market.
Tools
Leftovers
If you have leftovers (unlikely) slice up the remaining Beef Tenderloin and make our French Dip Sandwich with homemade Au Jus, or our Steak Sandwich with Horseradish mayo.
Other Beef Roast Ideas
Favorite Side Dishes for Holiday Roasts
Don't be shy when choosing elevated side dishes.
Frequently Asked Questions (FAQ)
Is Beef Tenderloin good for grilling?
Yes, Beef Tenderloin is perfect for grilling using the two-zone grilling method. It's lean, cooks fast, and incredibly rich and tender with the char from a good grill.
What temperature should Beef Tenderloin be cooked at?
Grill Beef Tenderloin at 500 degrees F as the ambient temperature of a charcoal grill. On a gas grill medium-high heat.
How long does it take Tenderloin to cook on the grill?
It should take roughly 30 minutes for a 3-pound Beef Tenderloin to finish on the grill. But always cook to your desired internal temperature versus the time using a good instant read digital thermometer.
How is Beef Tenderloin best cooked?
Grilling adds the most pronounced flavor. Alternatively, you can reverse sear Beef Tenderloin or roast in the oven at a high temperature.
Tried this recipe? Give us a star rating and we would love to see! Mention @vindulge or use the hashtag #vindulge on all the social media handles. And consider subscribing to our newsletter where we drop all our favorite ideas and inspirations every week.
This post may contain affiliate links. This means if you click on the link, we may receive a small commission if you purchase through the link. We partner with brands we know and love and use and it helps keep the blog going!
---