Some say Filet Mignon is one of the best grilled steaks. And while we won't argue that point, we do agree that the tenderness and the flavor from Grilling Filet Mignon is amazing. Add some blue cheese, crunchy bacon, and caramelized onions to make the flavor explode.
And if you are looking for variety – try this grilled filet with mushroom brown butter sauce.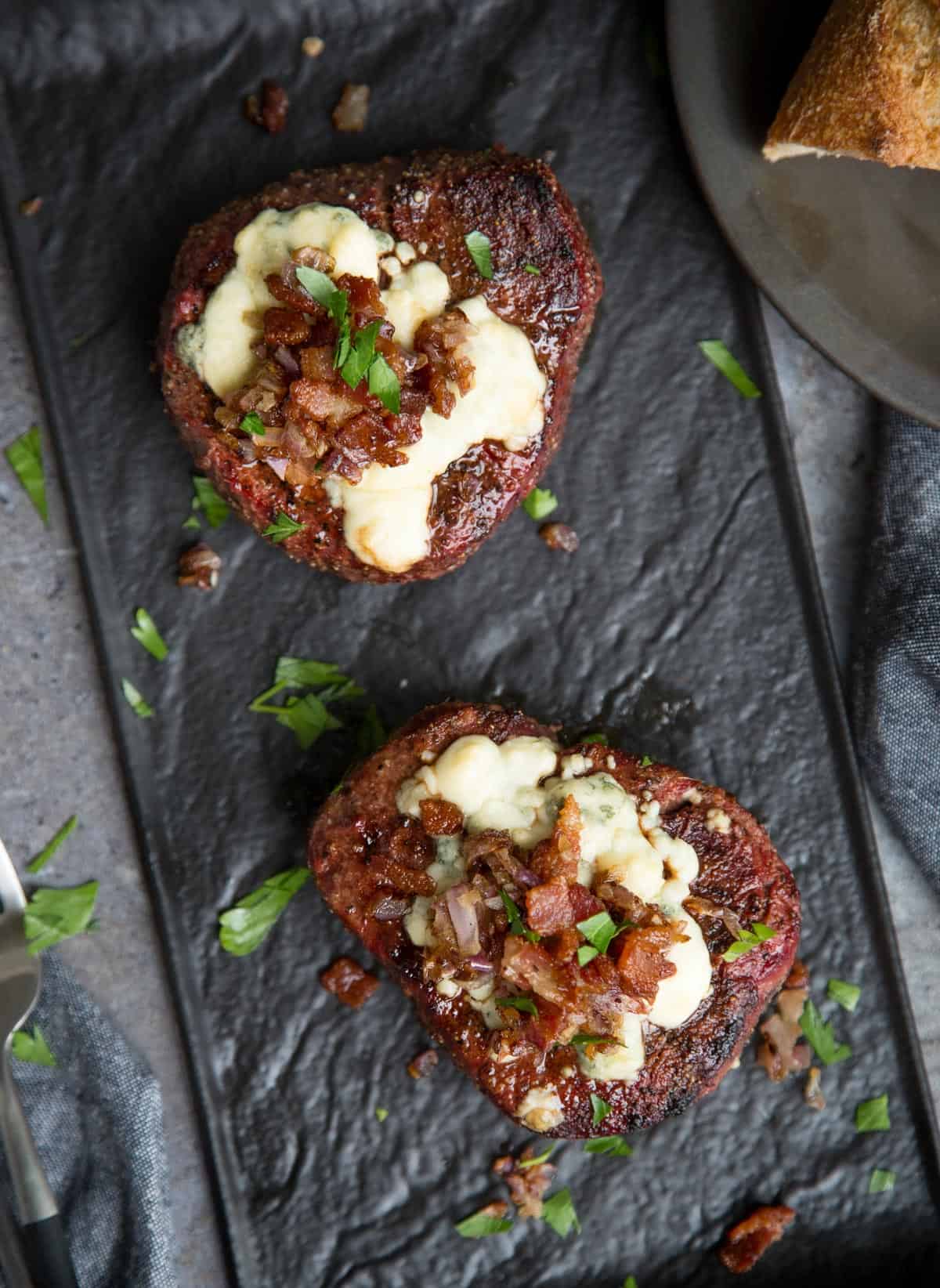 What is Filet Mignon?
Filet Mignon is a series of steaks cut from the Beef Tenderloin. The tenderloin is a muscle that sits under the ribs of a steer toward the backside of the cow. Because this muscle is not actively engaged in moving, like the brisket for example, the actual meat is very tender and lightly marbled.
The center cut of the beef tenderloin is cut into 8-ounce or 12-ounce steak cuts. Most often you will see these already pre-cut but you can also buy a tenderloin, trim it and cut your own steaks.
Seasoning
There is very little marbling in Filet. On it's own it has a buttery flavor and texture to it with a great beefy flavor. Without all the fat, like a ribeye, it will also grill very quickly. For seasoning our focus in enhancing the beefy flavor with a touch of olive oil to allow the rub to stick and then some SPG rub (kosher Salt, coarse black Pepper, and granulated Garlic).
Grilling Filet Mignon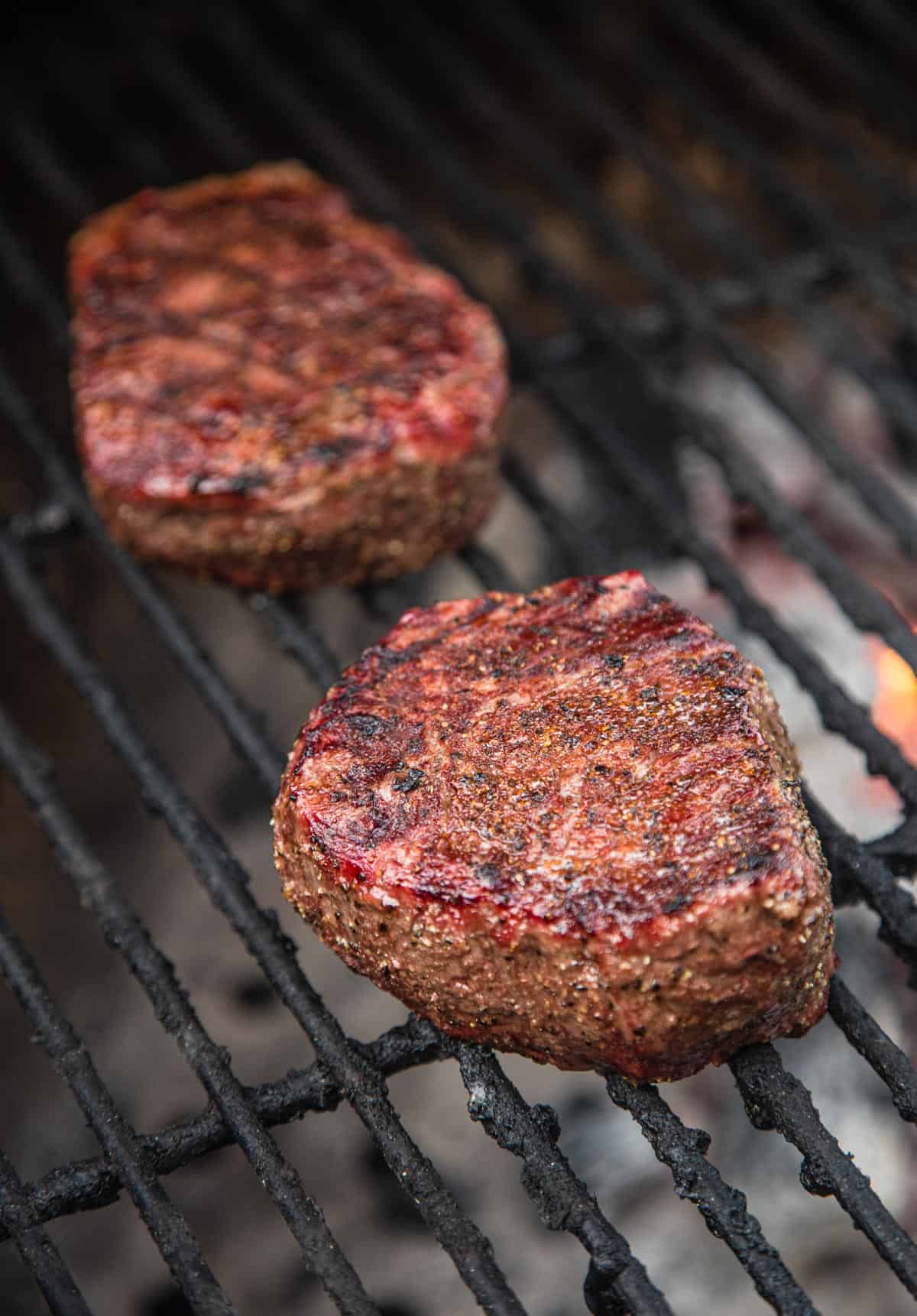 Because it is so lean and comes up in temperature quickly, the best way to grill it is to have a hot bed of charcoal (like 500 degrees Fahrenheit) set up in a two-zone method of heat, where the charcoal is lit on half of the grill.
Two-zone cooking allows you to get a hot sear and then move to the indirect side to finish grilling and avoid burning the meat. This takes only minutes, so it's also important to prepare and have other dishes done and then grilling filet mignon as the last step.
Place the steak over the direct side of the heat and grill for 3 minutes. This starts the process of browning the steak.
Flip the steak and continue grilling the other side over direct heat for another 3 minutes. Both sides should now have a nice brown crust to it.
Move the steak to indirect heat to finish. Once you've moved the steak to indirect heat, add the blue cheese crumbles (or Gorgonzola) and close the lid. As the steak finishes, the cheese will melt.
Pull the meat when it reaches your desired cooking temperature.
When is it Done
When it comes to how long to cook filet mignon it is all about cooking to your desired temperature, not time. Every cut will be different (grass fed versus grain), every fire hotter or cooler, so using a trusted instant read thermometer like a Thermoworks MK4 Thermapen you can pull the steak when it hits your desired temperature.
We like our beef on the rare side, which means we target 125 degrees F.
Vindulge Chef Temperature for Beef
Rare: 120-130 degrees F
Medium Rare: 130-140 degrees F
Medium: 140-150 degrees F
Medium Well: 150-160 degrees F
Well Done: 160 degrees F (and not recommended)
Caramelized Onion and Bacon Topping
You can simply eat the filet as is and it will be amazing. But adding some additional toppings that complement each other will make this dish shine. We combine caramelized red onions and crispy bacon and then dish that on the top of the steaks after they come off the grill.
Caramelizing Onions – Preheat a large saute pan over low to medium low heat and add olive oil and onions. Slowly stir them on occasion and let them brown and caramelize. They will start to sweeten up and complement the pungent blue cheese flavor. They should be caramelized after 30 minutes.
Crispy Bacon – At the same time the onions are cooking, add diced bacon to another pan over medium heat. Stir and cook until it is crispy. This will take about 20 minutes.
Combine the two together in a bowl and spoon over the top of the finished steaks. (If you only have one pan, start with the bacon. Then discard most of the fat and add olive oil and onions to saute.)
The last step is to add an optional drizzle of the aged balsamic. When biting into the steak it will be a great combination of sweet, savory, and spice.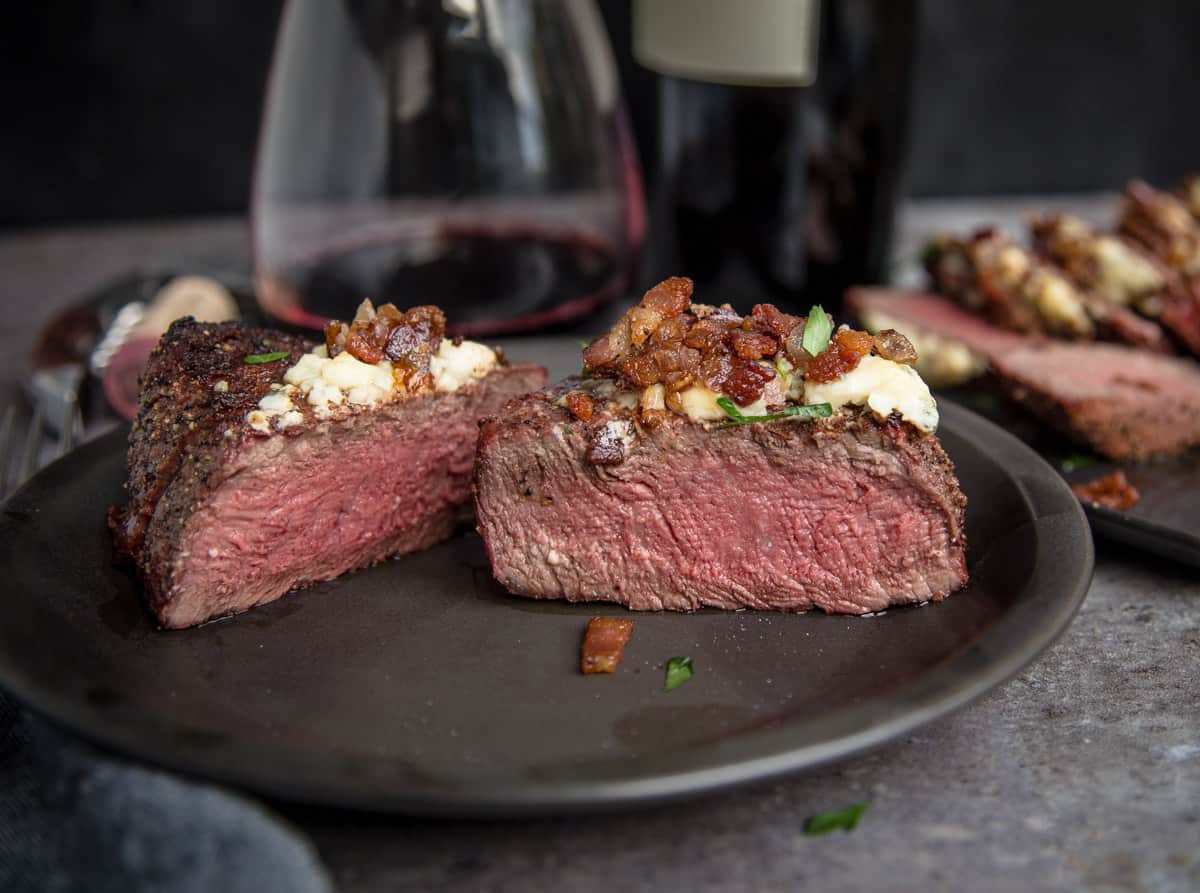 What to Serve with Filet Mignon
Grilling Filet Mignon Recipe
Filet Mignon Wine Pairing
The best wines to pair with Filet Mignon tend to be wines with moderate tannins like Cabernet Franc and Merlot. This is because the filet has less fat than a NY Strip or Ribeye which tend to lend themselves to a Cabernet Sauvignon or big Syrah. This particular preparation, however, provides much more bolder flavors with the topping vs without. The caramelized onions, crispy bacon, and blue cheese make this wine absolutely delicious with a leaner style Cabernet Sauvignon. Look to those from Sonoma, or even Washington state for good examples (or Napa if you know it's not a punch-you-in-the-face-bold style Cab). We've even had it with a bolder Pinot Noir and it stands up well. Go for something silky and smooth, and avoid the huge powerhouse wines for this recipe.
---
This post may contain affiliate links. This means if you click on the link, we may receive a small commission if you purchase through the link. We partner with brands we know and love and use and it helps keep the blog going!