Steak enthusiasts often say Grilled Filet Mignon is one of the best grilled steaks. And while we won't argue that point, we do agree that the tenderness and the flavor from Grilled Filet Mignon is amazing. Add some blue cheese, crunchy bacon, and caramelized onions to make the flavor explode!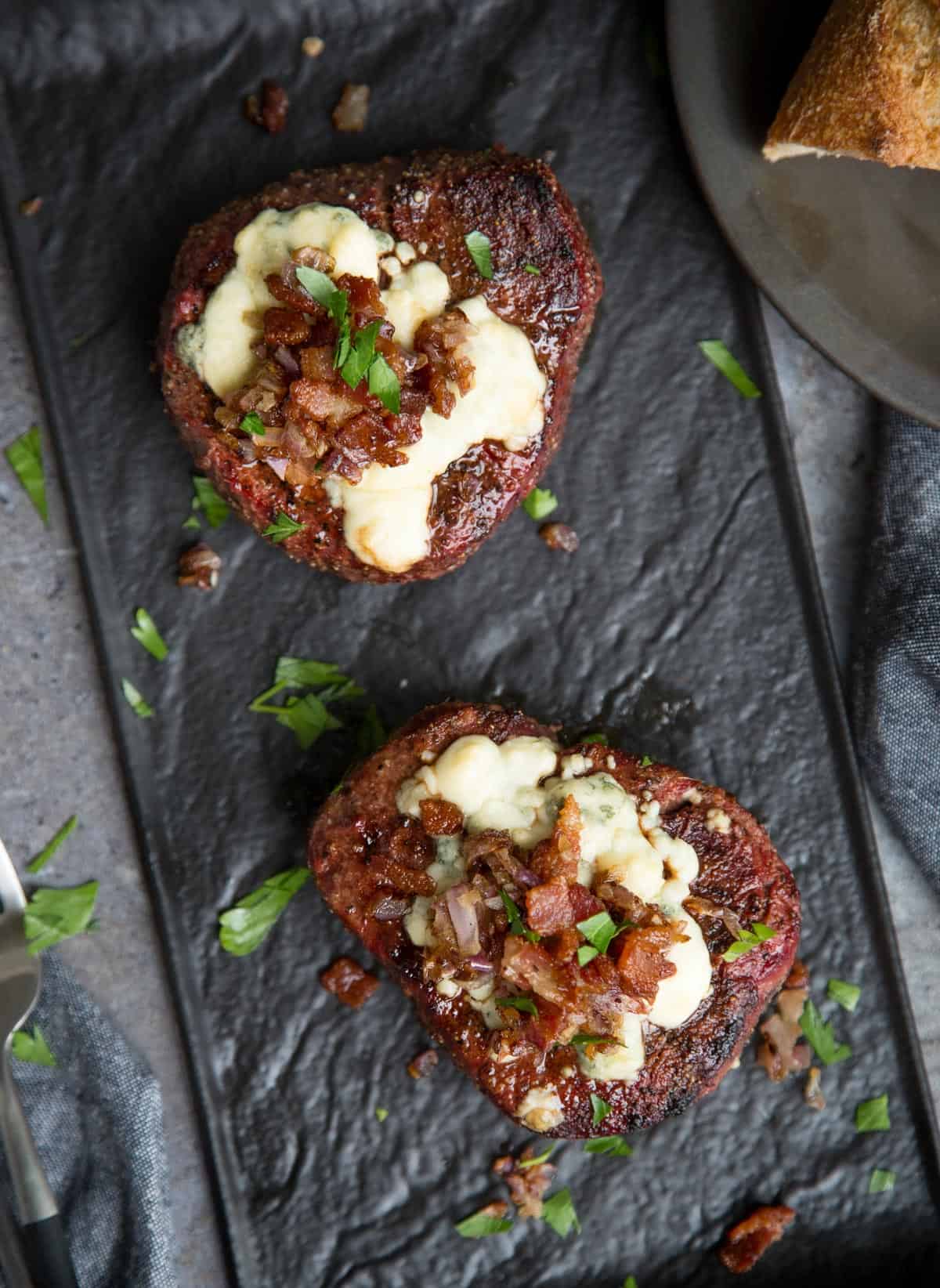 When you're spending money on a good cut of filet mignon you don't want to mess it up, because it's usually for a special occasion. This grilled filet mignon recipe will walk you through the cut and the steps to make sure you grill a perfect dish every time for that special dinner. We're here to help you make it a perfect dinner!
And if you are looking for variety – try this grilled filet with mushroom brown butter sauce as another recipe idea.
Jump to:
What is Filet Mignon
Filet Mignon is the most tender cut of steak, and it comes from the center of the Beef Tenderloin. (The second most tender is flat iron steak). The tenderloin is a muscle that sits under the ribs of a steer toward the backside of the cow. Because this muscle is not actively engaged in moving, like the brisket, the actual meat is very tender and also lightly marbled.
The center cut of the beef tenderloin is cut into 8-ounce or 12-ounce steak cuts. Most often you will see these already pre-cut, but you can also buy a whole tenderloin, trim it and cut your own steaks. Be sure to buy them cut into 2-inch thick cuts, which will typically be a 12-ounce steak.
Filet Mignon Flavor Profile: Because there is less intramuscular connective tissue the filet steak cut is classified as a lean cut of meat. Cooking filet mignon happens quickly and if you do overcook it the texture will be tough and chewy. It has a rich beefy flavor but is less juicy then a fattier cuts, like ribeye.
Buying Tips
Filet is an expensive cut of meat. So the goal is to buy the best filet mignon you can afford. Most often you will see these already pre-cut but (as mentioned above) you can also buy a whole tenderloin, trim it and cut your own steaks.
The pro-tip is buying a thick filet mignon, or cut your own from a trimmed beef tenderloin roast. Be sure to buy them cut into 2-inch thick cuts which will typically be a 12-ounce steak. A good butcher will already have them cut to the proper thickness.
Before purchasing filet, be sure you look at the cut. While typically lean you want to be sure there is some marbling and more importantly that they are thick (2-inches thick ideally).
If you purchase grass fed filet be aware that it will cook very quickly (because it is extra lean). So be sure you monitor the internal temperature while grilling to avoid overcooking.
Take advantage of holiday deals buy buying the entire beef tenderloin, trimming it, and then freezing what you don't use for a later date. You may pay more now but you can get a lot more yield for more recipes.
Online retailers, like Snake River Farms or Crowd Cow, often have great holiday deals as well, so consider ordering in advance (they come frozen) if good deals come around.
Preparation and Seasoning
It's easy to prepare filet for the grill. Be sure you remove excess moisture by patting with sheets of paper towels. Removing the excess water from the cut will help with getting a good sear. Apply a light layer of extra virgin olive oil to all sides of the steak. A little olive oil is a good fat that helps the sear versus water, which prevents the steak from browning.
Enhance the beefy flavor by keeping the seasoning simple. We use our SPG seasoning, which is equal parts kosher salt, coarse black pepper, and granulated garlic (versus garlic powder). Liberally apply the seasoning to all sides of the beef tenderloin steaks.
Room Temperature Steak – The Myth: Letting the steak come to room temperature is a myth. The reality is that leaving your steak out for an hour will not make the steak come to room temperature and get a better sear. The internal temperature of the steak will still be close to refrigerator temperature. It's more important to have a hot grill to get a perfect sear.
This is also a good time to prep the caramelized onions and bacon before grilling. See below for details.
Grilling Filet Mignon
Because filet mignon is so lean and comes up in temperature quickly, the best way to grill is indirect grilling (two-zone), versus direct grilling, regardless of your type of grill. For a juicy steak it's also important to monitor the internal temperature of the steak multiple times as you grill it.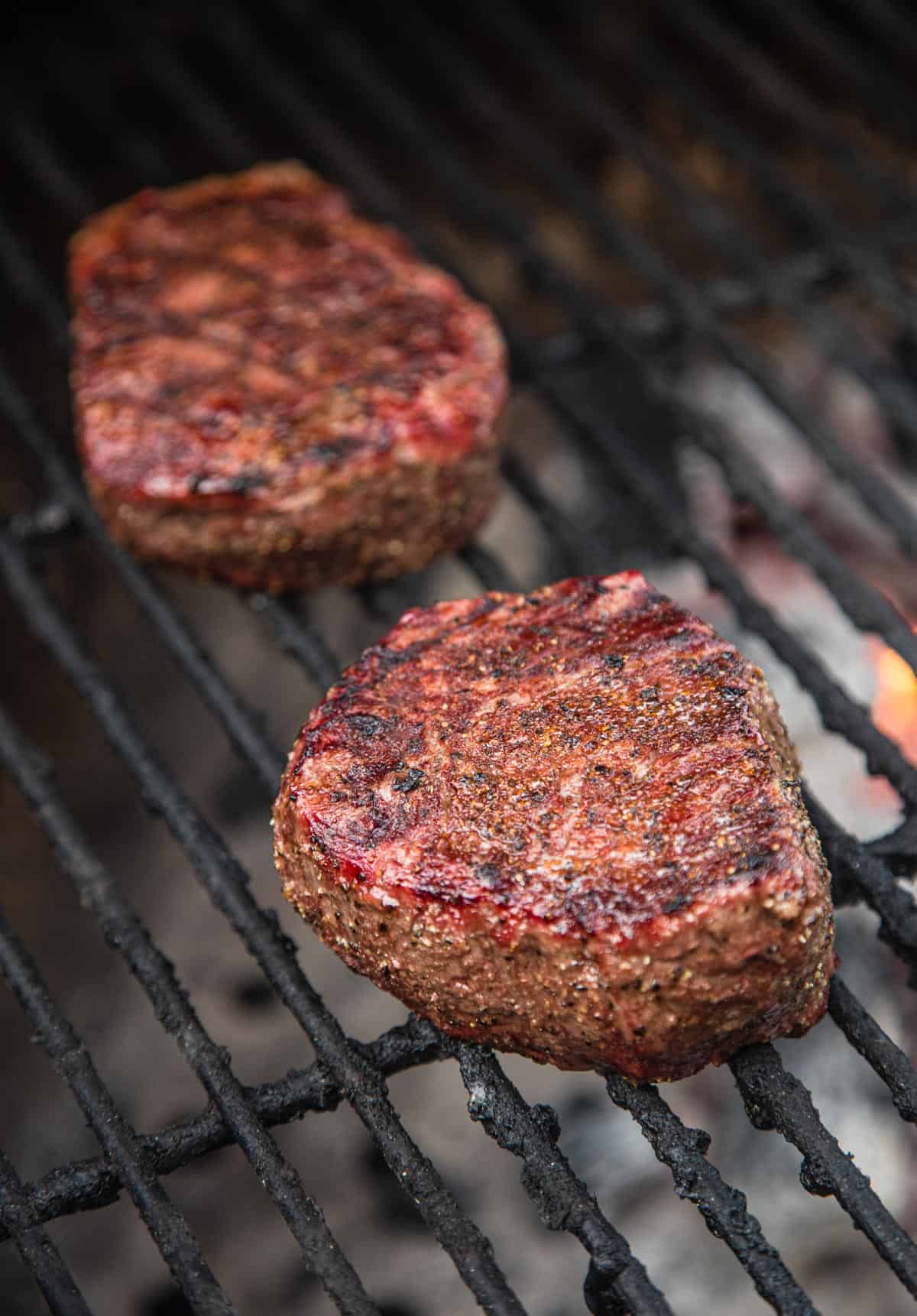 On a charcoal grill, two-zone cooking allows you to get a hot sear over the direct heat and then move to the indirect side to finish grilling to your desired internal temperature and avoid burning or overcooking the meat.
The grilling time takes only a few minutes over high heat.
Set up your grill for two zone-grilling targeting an internal grill temperature on a dome thermometer of 550 degrees Fahrenheit.
Place the seasoned filet mignon steaks over the direct side of the heat on grill grates and grill for 3 minutes. This starts the process of browning the steak.
Flip the steak and continue grilling the other side over direct heat for another 3 minutes. Both sides should now have a nice brown crust to it.
Move the steak to indirect heat to finish. Once you've moved the steak to indirect side of the grill, add the blue cheese crumbles (or Gorgonzola) and close the lid. As the steak finishes, the cheese will melt.
Pull the meat when it reaches your desired cooking temperature using a good instant-read thermometer (we like to pull our filet mignon at 125 degrees internal temperature). Let the steak rest for 10 minutes to allow carry over cooking to finish.
See frequently asked questions for gas grill instructions.
When is it Done
Always cook to an internal temperature when measured in the thickest part of the steak. Every steak you grill will take different times because the marbling and intramuscular tissue is different. That is why it's important to have a good instant read meat thermometer for best results. We recommend cooking filet to rare or medium-rare for the best flavor and texture.
We recommend the Thermoworks Thermapen One for grilling anything requiring temping. We have an article where you can read more about carry over cooking and the perfect steak temperatures. Read this, especially if you like well done steak.
Filet Mignon Temperature Guide
Rare: 120-130 degrees F
Medium Rare: 130-140 degrees F
Medium: 140-150 degrees F
Medium Well: 150-160 degrees F
Well Done: 160 degrees F (and not recommended)
Caramelized Onion and Bacon Topping
You can simply eat the filet as is and it will be amazing, or you can also add a simple compound butter. But adding some additional toppings that complement each other will make this dish really shine. We combine caramelized red onions and crispy bacon and then dish that on the top of the steaks after they come off the grill.
Cook your onions and bacon BEFORE grilling the filets.
Caramelizing Onions – Preheat a large sauté pan over low to medium low heat and add olive oil and thinly sliced onions. Slowly stir them on occasion and let them brown and caramelize. They will start to sweeten up and complement the pungent blue cheese flavor. They should be caramelized after 30 minutes.
Crispy Bacon – At the same time the onions are cooking, add diced thick-cut bacon to another pan over medium heat. Stir and cook until it is crispy. This will take about 20 minutes. Drain from fat and chop the bacon.
Combine the caramelized onions and chopped bacon together in a bowl and spoon over the top of the finished steaks.
The last step is to add an optional drizzle of aged balsamic. When biting into the steak it will be a great combination of sweet, savory, and spice.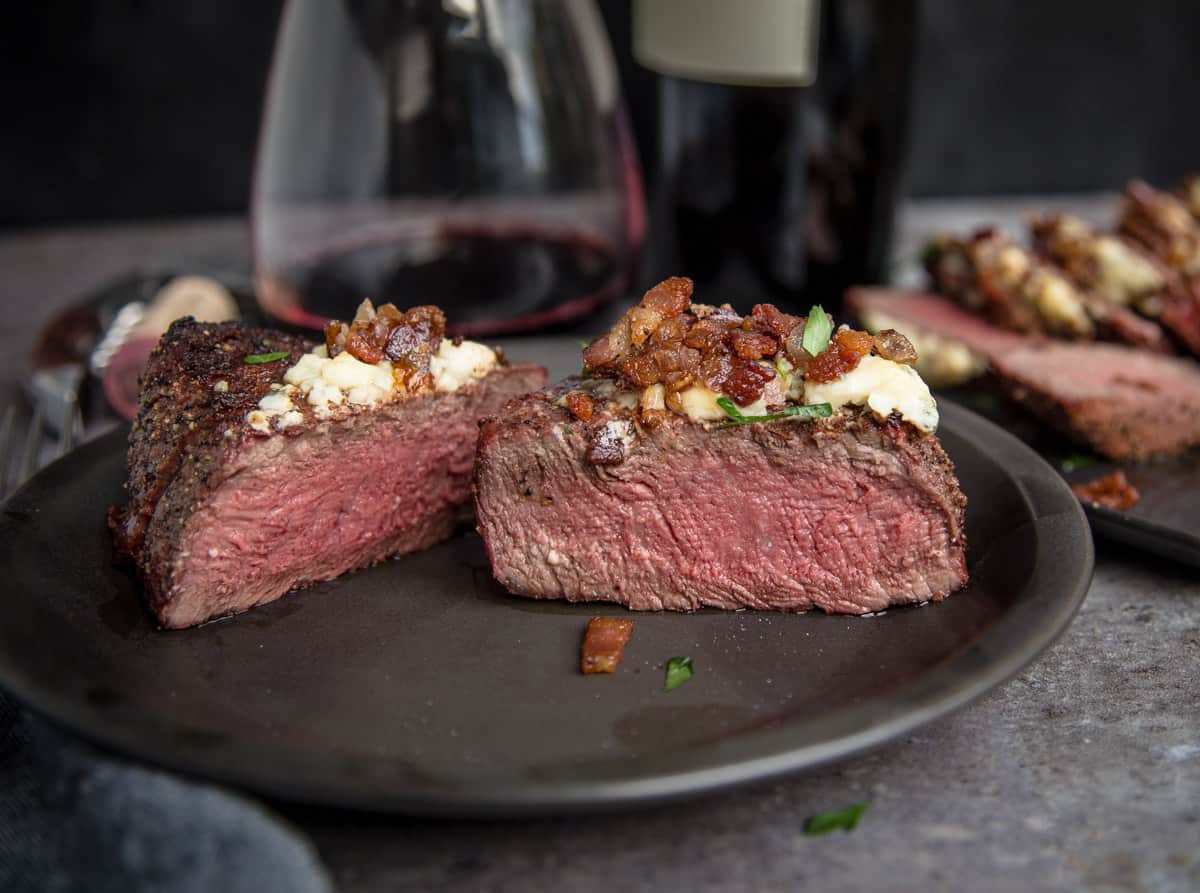 Frequently Asked Questions
How long to cook 2-inch filet mignon on grill?
If grilling direct it should take roughly 10 minutes to have a 2-inch filet grill to a rare internal temperature. For medium rare, estimate 10-15 minutes.
How to grill the perfect filet mignon on a gas grill?
If using a gas grill, light two adjacent burners to a medium-high heat (and leave the other burners off) and get the internal temperature of the grill to 500 – 550 degrees F. Follow the same recipe instructions.

Sear the filet over the burner (direct) side and then finish to your desired internal temperature on the indirect side. See recipe card for more details.

The indirect side will be the side that does not have a burner lit (assuming a 3-burner stove).
Should I sear my filet mignon before grilling?
No. That is an extra step not needed. Be sure your grill is set for two-zone grilling and is hot enough to sear (550 degrees F) over direct heat. If you place the filet over direct heat and it doesn't start to immediately sizzle then the grill and grill grate is not hot enough yet.
What to Serve with Filet Mignon
Filet Mignon Wine Pairing
The best wines to pair with Filet Mignon tend to be wines with moderate tannins like Cabernet Franc and Merlot. This is because the filet has less fat than a NY Strip or Ribeye, which tend to lend themselves to a Cabernet Sauvignon or big Syrah.
This particular preparation, however, provides much more bolder flavors with the topping vs without. The caramelized onions, crispy bacon, and blue cheese make this wine absolutely delicious with a leaner style Cabernet Sauvignon.
Look to those from Sonoma, or even Washington state for good examples. We've even had it with a bolder Pinot Noir and it stands up well. Go for something silky and smooth, and avoid the huge powerhouse wines for this recipe.
About Vindulge
Mary (a certified sommelier and recipe developer) and Sean (backyard pitmaster) are co-authors of the critically acclaimed cookbook, Fire + Wine, and have been creating content for the IACP nominated website Vindulge since 2009. They live in Oregon on a farm just outside Portland.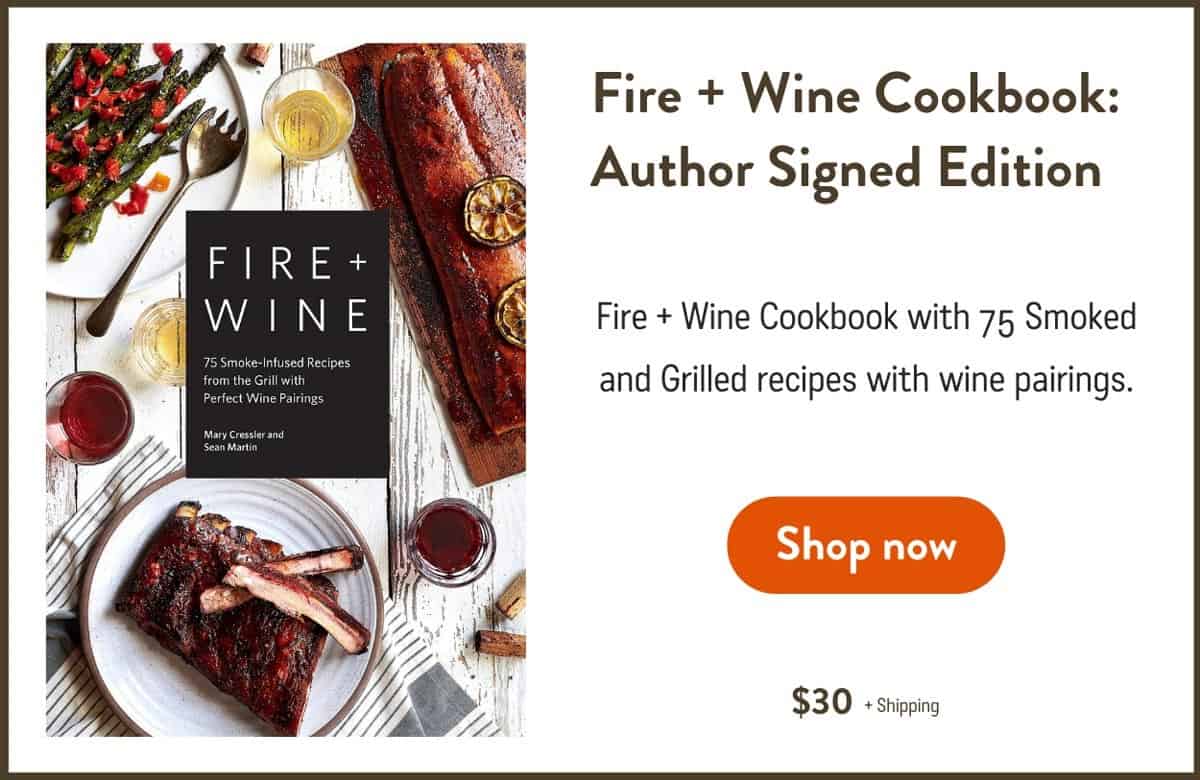 Tried this recipe? Give us a star rating and we would love to see! Mention @vindulge or use the hashtag #vindulge on all the social media handles. And consider subscribing to our newsletter where we drop all our favorite ideas and inspirations every week.
This post may contain affiliate links. This means if you click on the link, we may receive a small commission if you purchase through the link. We partner with brands we know and love and use and it helps keep the blog going!