Sirloin Steak is a delicious cut of beef that is affordable and still packed with beefy flavor and tenderness. This Grilled Sirloin Steak recipe combines two-zone grilling for the perfect steak. We also have a few recommendations for delicious toppings too, including a simple (but delicious) garlic herb compound butter.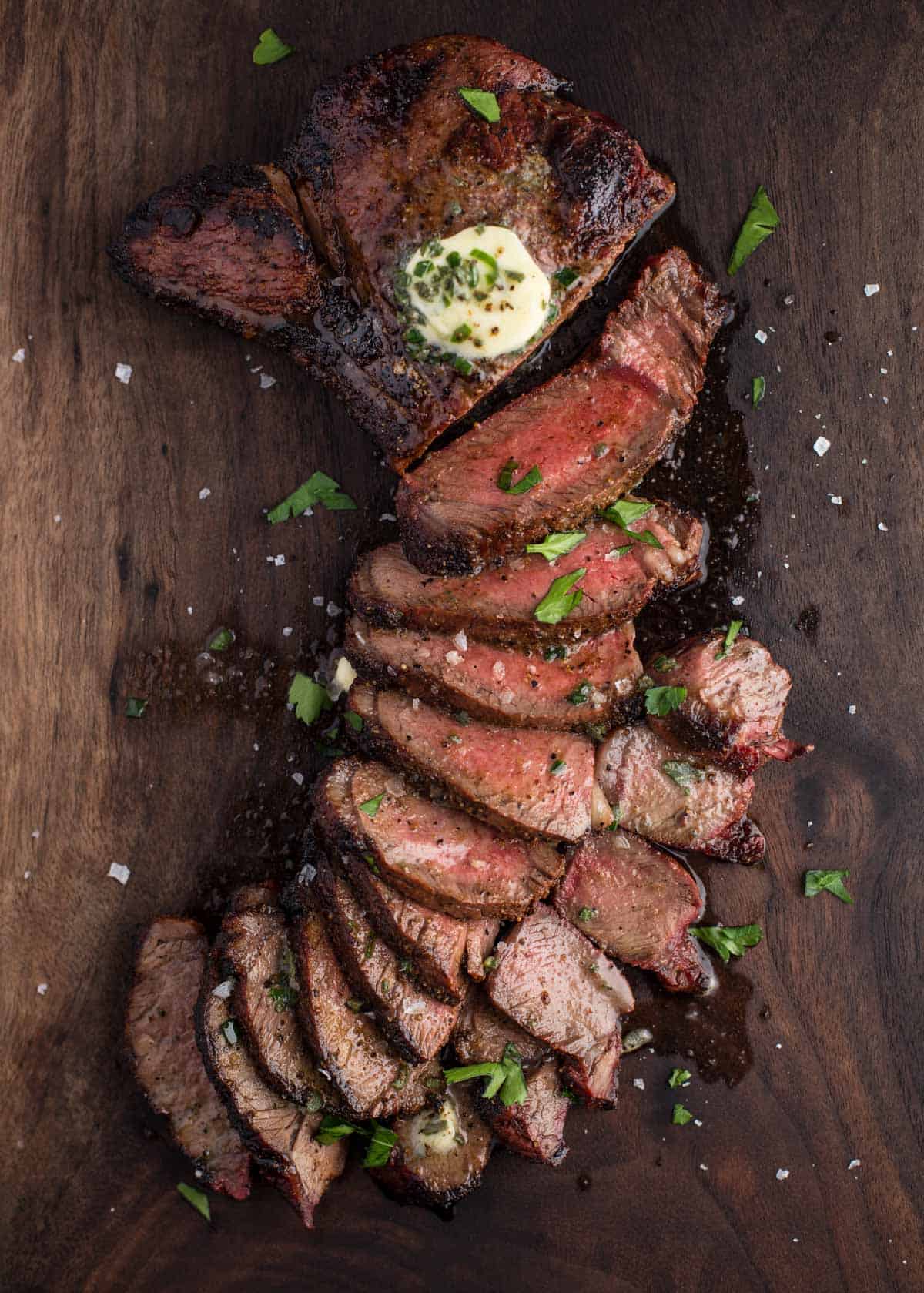 When exploring various cuts of beef to put on the grill, many jump directly to the Ribeye, NY Strip, or even the Porterhouse. Those steaks are delicious, but the one thing they have in common is that they are also expensive. Sirloin, and specifically Sirloin Steak, is a great option for a larger steak that is relatively more affordable but does not compromise on beefy flavor and tenderness.
Jump to:
What is Sirloin
Sirloin Steaks are typically cut from the Top Sirloin Roast, part of the sirloin primal. Sirloin Steaks can also be called boneless top sirloin steak, or center-cut steak. These cuts will be lean but still have great tenderness and beefy flavor. They are great to grill and roast.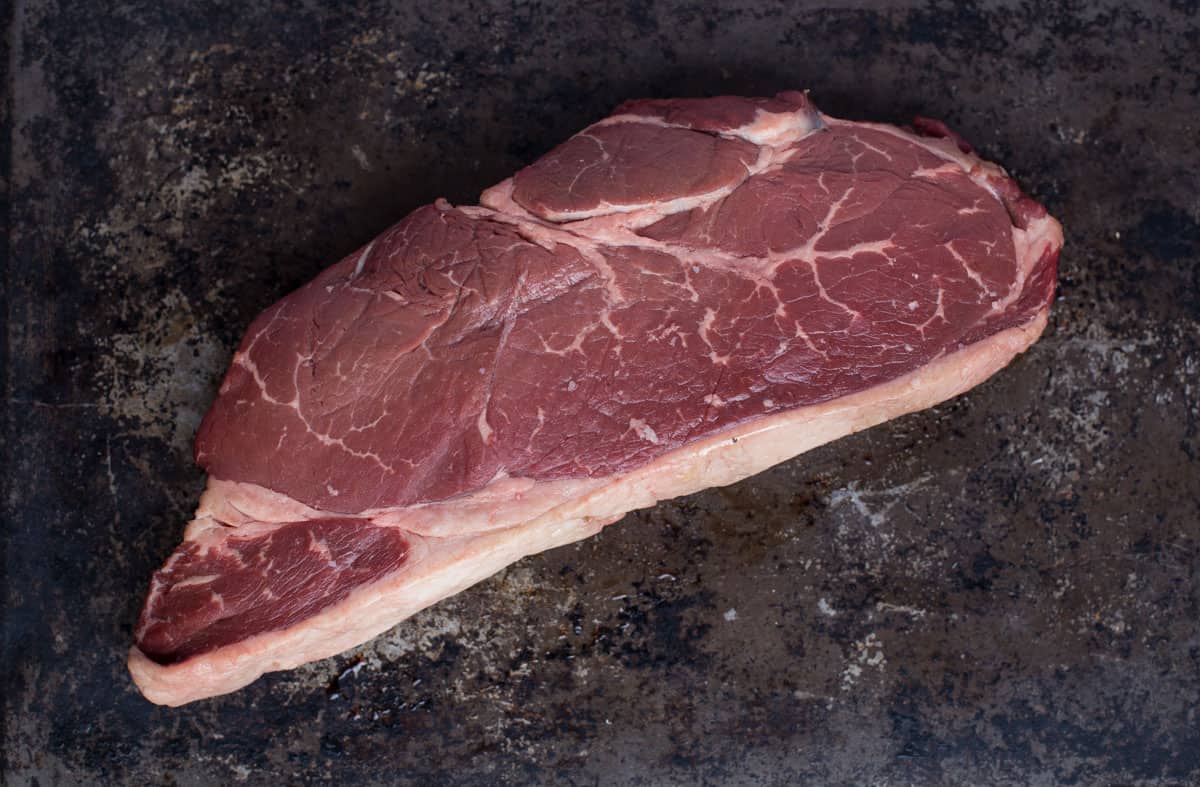 Sirloin Primal (primal cuts are the first major butchering as the whole cow is broken down into smaller portions) is comprised of many roasts and steaks you have likely heard of. Sirloin can be further broken down into many styles of cuts, including:
Picanha or Coulotte
Top Sirloin Roast
Tri Tip
Flap
Bavette Steak
Buying
When buying Sirloin Steaks for the purpose of grilling, look for thick cuts because they are so lean (at least 1.5 inches thick ideally). The thicker cuts will be easier to grill and prevent overcooking the steaks. Thinner steaks require a much hotter fire and can easily cook all the way through, leading to a medium or medium-well steak unintentionally. Our goal is rare or medium rare to maximize the beefy flavor and to have a little more control when achieving optimal finishing temperature.
When it comes to quality you can read through our guide on Choice versus Prime, but in the end look for some marbling as well. While lean, there will still be small pockets of fat working their way through the muscle and some fat will enhance the flavor.
Seasoning Sirloin Steaks
It is unlikely you will need to trim off any excess fat or silver skin, so you can go straight to seasoning. Start with a light coating of extra virgin olive oil to help the beef seasoning stick to the steak.
We want to get the most flavor from the beef, so consider simply seasoning the steaks with a classic steak seasoning of kosher salt, coarse black pepper, and granulated garlic, in equal parts. We typically plan 1 tablespoon of seasoning per pound of steak.
Then it's time to get grilling.
Grilled Sirloin Steak
Use a two-zone grilling method for grilling the steak. Sear first on each side, and then finish over indirect heat to get the perfect internal temperature of your steak. It's not about exactly how long to grill sirloin steak, it's about cooking it long enough to get to your desired internal temperature.
Prepare your grill for two-zone grilling targeting 450 – 500 degrees in the cooking chamber.
When the grill is at the right temperature, place the sirloin steak over the direct side of the heat and grill for 5 minutes, with the lid closed, or until you see a crust form.
Flip the steaks and continue grilling on direct for 4-5 minutes with the lids closed (until another nice crust forms on that side), and then move the steak to the indirect side to finish cooking.
Finish the steak on indirect side until the internal temperature of the steak reaches 125 degrees Fahrenheit for a rare steak, using a high quality instant read thermometer like the Thermoworks MK4 Thermapen.
Let the steak rest for 10 minutes and then slice and serve with your favorite toppings and sides. The resting period allows carry over cooking to occur, and the internal temperature of the steak will rise another 3 – 5 degrees. It also allows all the heated cells to start to calm down and reabsorb some of that liquid from the high heat cooking process.
Steak Temperature Ranges
There is no formal definition of consistent levels of doneness. It varies from chef to chef. The USDA recommends cooking steaks to at least 145 degrees F, which would be medium in our range.
Rare: 120-130 degrees F
Medium Rare: 130-140 degrees F
Medium: 140-150 degrees F
Medium Well: 150-160 degrees F
Well Done: 160 degrees F (and not recommended)
Toppings for Steak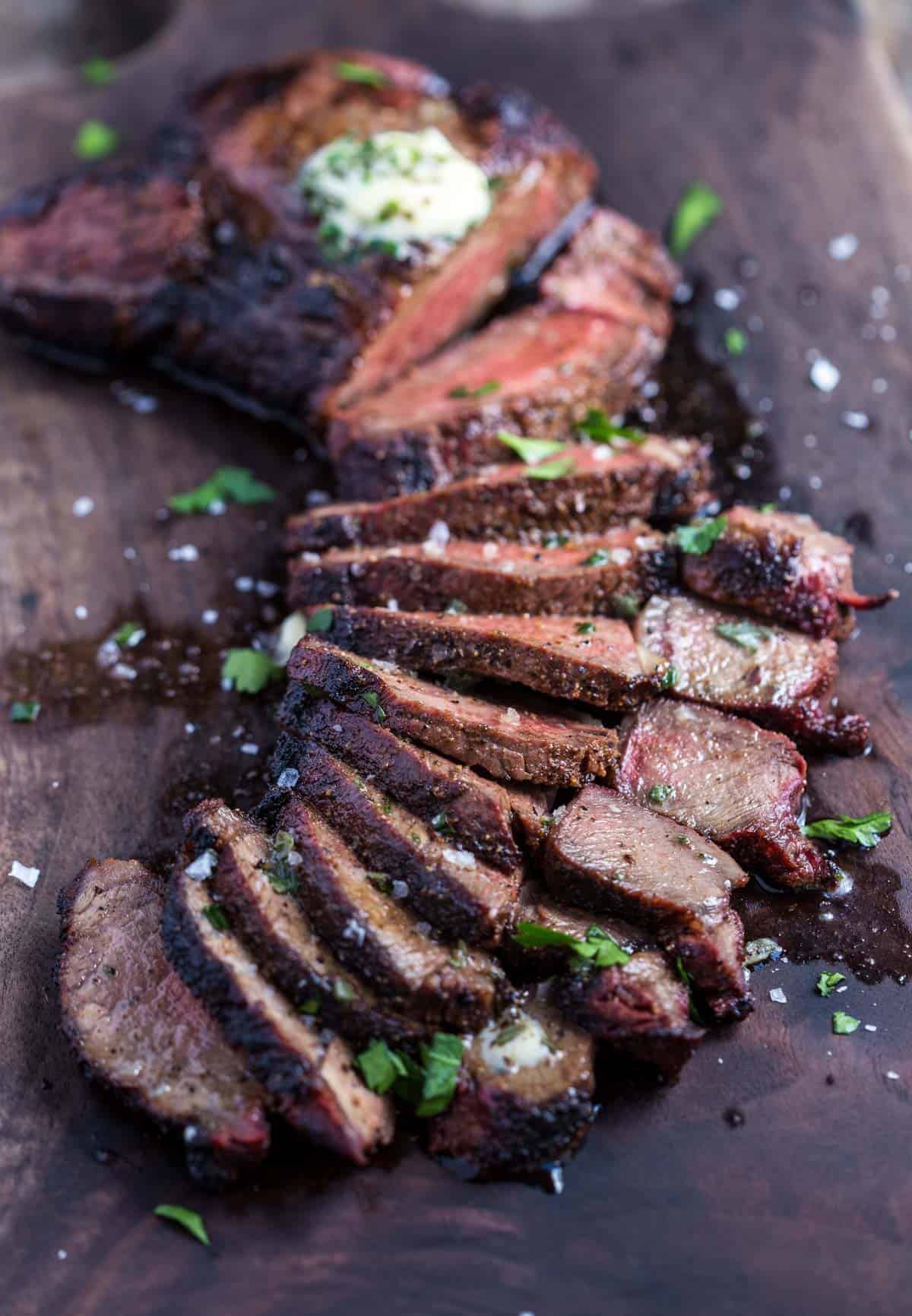 We love these Sirloin Steaks just with the seasoning. But if you like extra flavor consider adding a compound butter. Compound Butters are butters infused with herbs and spices. Just place the butter slice over the finished steak when you serve it. The butter will melt and add another flavor profile. In this recipe we use our herbed compound butter. Consider 1 tablespoon of compound butter per pound of steak.
Another option is a savory duck fat granola, exclussively from our cookbook Fire+Wine. It is a savory granola slowly roasted with herbs and duck fat for an amazing pairing with any roast or steak.
One of our favorites is our easy chimichurri. It's bright in flavor with a touch of herbal and spice to it. We love chimichurri on any steak.
Best Sides for Sirloin Steak
Other Sirloin Inspired Recipe Ideas
This post may contain affiliate links. This means if you click on the link, we may receive a small commission if you purchase through the link. We partner with brands we know and love and use and it helps keep the blog going!