A weekly roundup of some of my favorite things this week in the categories of wine, food, travel, and lifestyle. This was indeed a week full of "favorites".
Well, my absolute favorite part of the week was getting to spend it with some good friends who were visiting from California with their toddler who is about my kids age. Despite my house being in shambles, it felt like old times. It felt very very right for us all to be back in Oregon together. To celebrate, hubby re-christened the smoker for our first BBQ since being back in the state (at least for a saturday) and made his signature dish – Ultimate Smoked Pulled Pork Sandwiches. 7 lbs of meat were gone in about 20 minutes.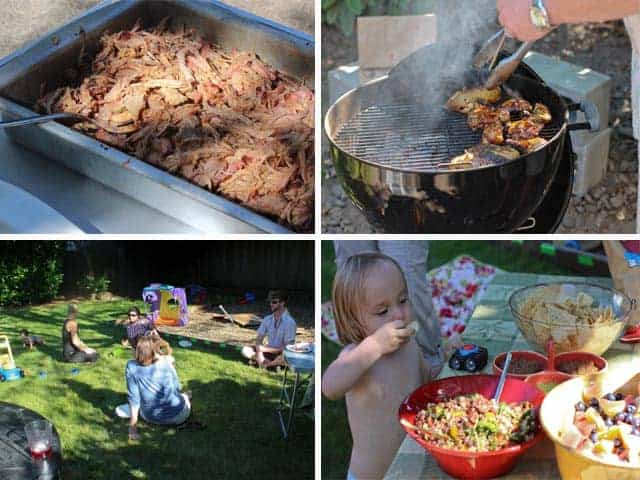 Cheddar Beer Kettle Crusted Smoked Pork Tenderloin
The second best part of the week came when I found out that my pork tenderloin recipe won Kettle Brand Potato Chips Joes vs Pros Cook-Off. I was, and still am, grinning from head to toe to know that I now have an "Award Winning" recipe 😉
How cool is that?!
See the announcement and the updated version of the recipe for Cheddar Beer Kettle Crusted Smoked Pork Tenderloin HERE.
Coppia Restaurant
My mom offered to watch the kids this past Tuesday allowing hubby and me a much needed and deserved date night. I couldn't have thought of a better place to go for our very first date night since returning to Oregon.
My history with this restaurant goes back to late 2005 on our very first visit to Oregon. Vino Paradiso Wine Bar (as it was called then) was the very first restaurant we ever went to in Portland, and we fell in love with the vibe. Not only that but we eventually became friends with owner and sommelier Timothy Nishimoto. It was one of the few wine bars in Portland that we visited regularly and was equally stunned and excited to hear Timothy and Todd O'Connor rebranded and designed the restaurant as Coppia in 2011 (after we had moved to CT), focusing specifically on the wine and cuisine of Piedmont, Italy.
From their website:
Coppia, which means "couple," or "pairing," reflects our passion for pairing the food and wines of Piedmont, and it is our hope that our passion sets us apart in the thriving Portland restaurant scene!
I love this in so many ways. Mostly because my favorite type of dining is food and wine pairing — especially when chefs and sommeliers go out of their ways to select specific wines for each individual course. It is a rare and special thing and worth every penny when done right (see my review of one of my favorite restaurants in the world that has a similar concept).
Now, in full disclosure, I am friends with Timothy and Todd, and under no obligation or encouragement to write about this. I was just so happy with our experience at Coppia that I wanted to share it here on the blog for anybody in Portland who has yet to visit, or anyone planning a trip to Portland (especially wine lovers).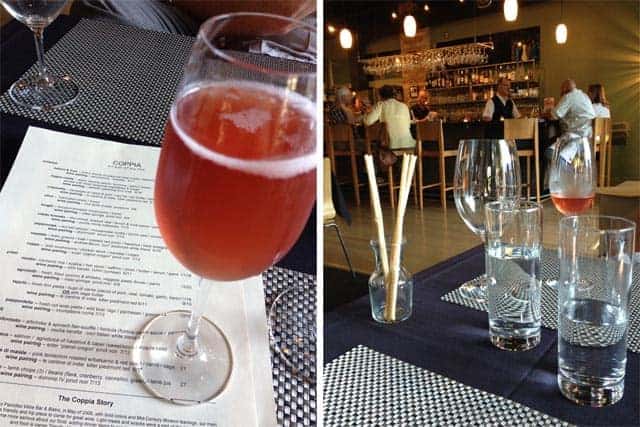 We started our dinner with a delicious and unique brut rosé blend of pinot noir and nebbiolo from Piedmont called "Deltetto". It was bold and delicious with lively bubbles.
Hubby was curious about the Crepinette — sausages of rabbit & pork, caul fat, watercress, lemon, thyme oil. They were spicy, juicy, and full of flavor, and now hubby won't stop talking about making our own sausages. <sigh>
The dish I can't stop thinking about is the Pappardelle — fresh cut pasta with wild boar ragu, parmesan, gremolata. Holy heaven. Not to be all name droppy by throwing out my own travel experiences, but I have been to Italy several times (though I haven't been to Piedmont specifically) and I have had authentic handmade Italian pasta, and this was pretty darn authentic. The pasta is handmade and full of flavor and great texture, and the boar ragu was mouth wateringly delicious. The sauce had a great balance of richness without being heavy or overly filling. It was paired with Montalbera Ruchè, from Piedmont, that had this delicious savory and earthy quality that really complimented the boar well.
We then tried their Carne di Maiale — pork tenderloin roasted with balsamic & red onion, carrot, and sage. The balsamic and sage gave it a deeply rich flavor, but much like the ragu, the portion of the sauce showed restraint. It wasn't drowning in the sauce, but instead just the right amount to compliment the pork. It was perfectly paired with Le Cantine di Indie (what they call their "killer Piedmont red"), a blend of nebbiolo, dolcetto, and barbera.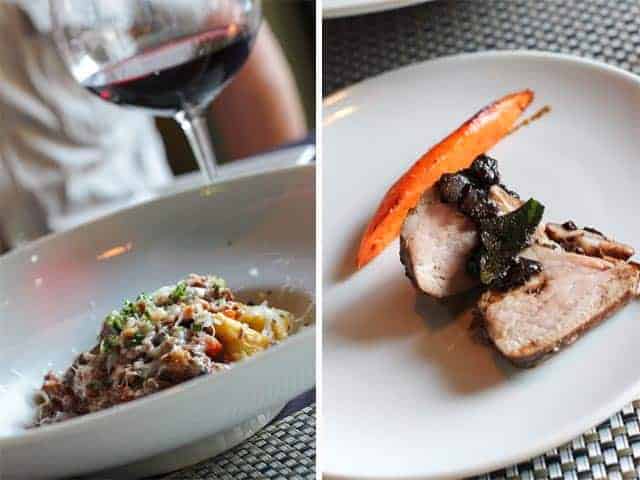 Pappardelle to the left, and a slice of the Carne di Maiale to the right
If you get the chance to visit, just do me a favor and get the recommended wine pairings with each course you select. Very few restaurants in Portland focus on this type of food and wine pairing. They offer small portions if you don't want a full glass, so you can get just enough to drink with each course. Timothy and his team know what they are doing when it comes to pairing wine with food, so let yourself experience this.
Located in the Pearl District on 417 N.W. 10th Ave Portland, OR. 97209
That's it for this week.
My goal for the weekend is to finish unpacking our house (finally!) and hit up a farmers market or berry stand so I can make THIS or something similar.
Cheers
*****
Why I write these Friday Favorite Posts
Previous Friday Favorite Posts
Want more? If you liked what you read you can subscribe to Vindulge and have new posts delivered directly to your inbox.