Smoked Beer Cheese Dip with Sausage and Hatch Chile is the greatest thing to happen to cheesy beer-infused dips since cheddar.
Smoked Sausage + Smoked Hatch Chile Peppers + Beer + Cheese = pure bliss.
Jump to:
My husband has a thing for cheese. He can't resist buying a few fancy cheeses whenever he goes to the supermarket, and he's a total sucker for a good melted beer sausage cheese dip. One of our favorite smoked cheese dips can be found at Deschutes Brewery (Portland, OR), made with creamy white cheese, Black Butte Porter, and stone ground mustard. It's meant to accompany their equally indulgent soft house-made brewery pretzels. It's also a place we default to when we have the kids because it's centrally located (in the Pearl District) and it's open and loud (drowning the sound of our excitable youngsters. Winner!).
While other restaurants try, very few can come close to their dip. So instead of trying to make a copycat version of theirs — and forget the pretzels (we're far from bakers) — we decided to stick our hands at making our own version of a beer sausage cheese dip. And duh, it would involve smoking everything.
The Ultimate Beer Sausage Cheese Dip
Of course our dip will need some meat and a little something extra to give it that "hmmmm" factor. So we decided on a combination of smoked sausage, smoked Hatch chile peppers, beer (but of course), and a mix of different types of cheeses (about half being smoked cheddar).
Though you don't have to smoke your own cheese, unless you're feeling really rockstar-ish. Tillamook does a pretty good job at their smoked cheddar.
Also, if football is your thing, this is prime time for tailgating season!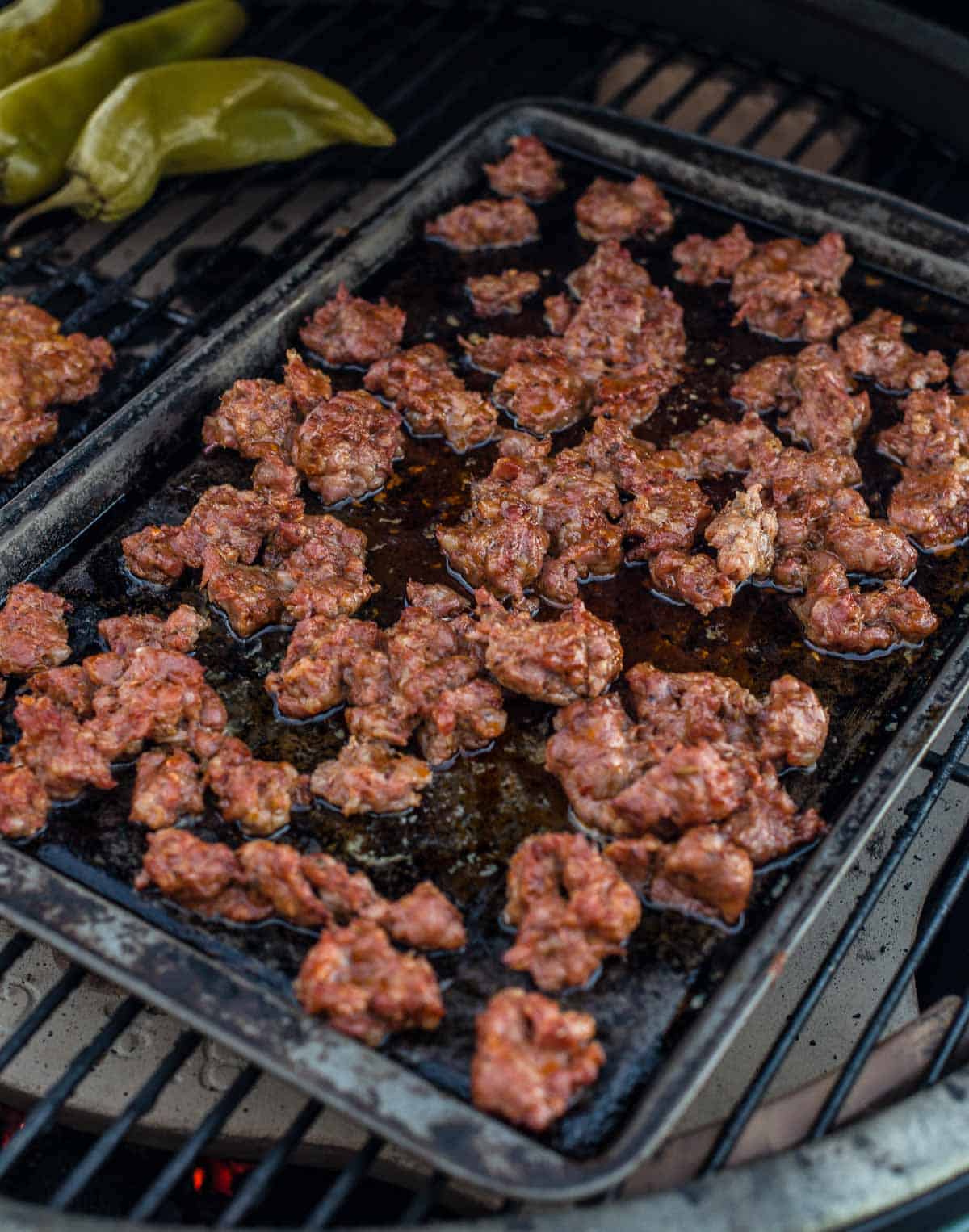 Smoke the Sausage and Hatch Chile
Start with bulk hot Italian sausage, breaking it up and placing on a tray or sheet pan. Then smoke it at 250 degrees F for around one hour or until the internal temperature of the thickest chunks are at 165 degrees.
We recommend using an instant read thermometer like the Thermoworks Thermapen One, taking the temperature in the thickest pieces of sausage, inserting probe only halfway into the meat. This is also a great opportunity to get those kiddos involved 😉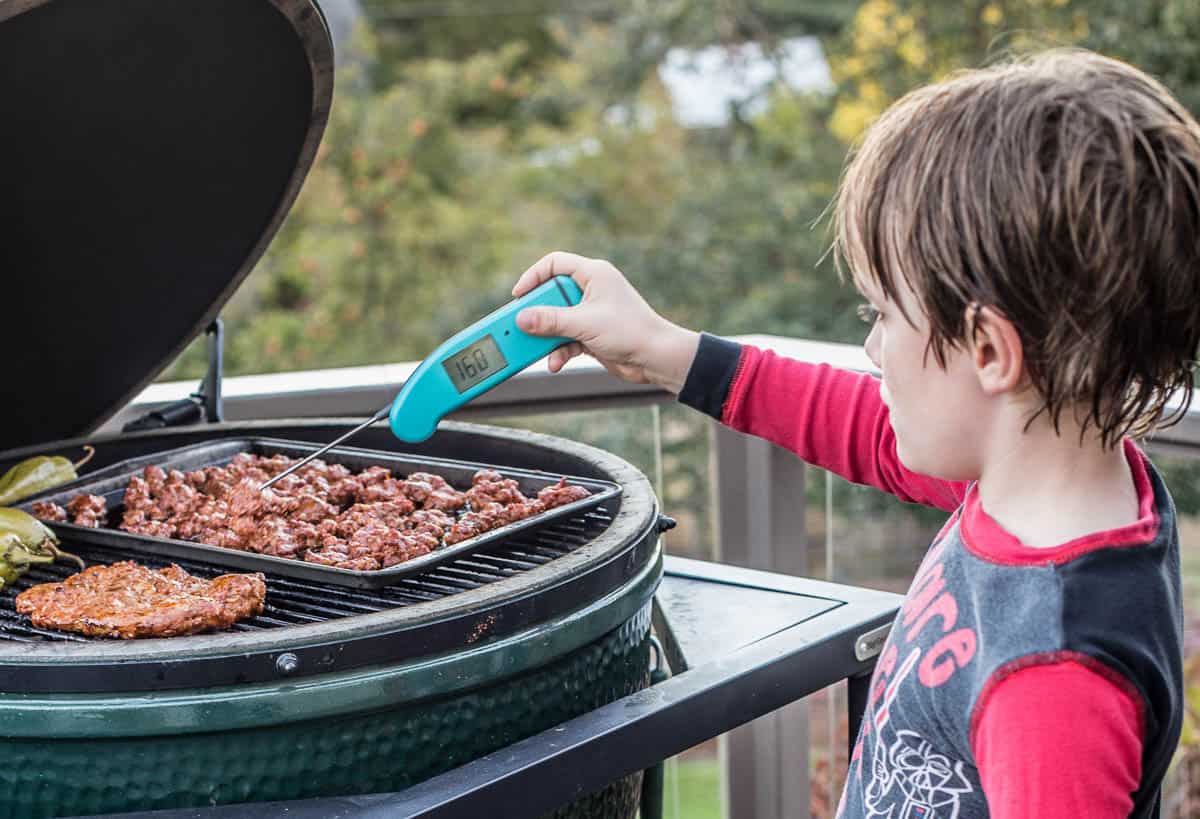 At the same time you can smoke your chile peppers next to the sausage. Hatch chile peppers are in season, so we've been using those. But Poblanos work well too, as well as Anaheim. Hatch can be spicy so if you want less heat, go with a Poblano.
Fun fact: Did you know one fresh medium-sized green chile pod has as much Vitamin C as six oranges?
After those little guys are smoked, chop up the chiles and break up the meat if it is still in larger chunks. Then start the dip.
Alternatively you can roast green chiles on the grill as well.
How To Make Smoked Cheese Dip
Grab a saucepan, sauté some onions, then add the smoked meat and chiles, some flour to thicken, the BEER, the cheeses, and finally mix away until your smoked cheese dip is nice and smooth. Transfer to a dish and serve with slices of bread or corn chips. Or if you're cool and went all out, serve them with your homemade pretzels (show off!).
Pro Tip: If you're serving this for a party or don't intend to devour it within 5 minutes of cooking, transfer to a slow cooker and keep on low to keep the cheeses from hardening back up. Leaving it over a low heat will keep it creamy and indulgent.
For Extra Kick: If you want to add a little extra kick we recommend topping your smoked cheese dip with some pickled peppers. We're a little obsessed with the spicy pickled peppers by the local company, Mama Lil's. But you can experiment with any pickled spicy pepper to top your dip with.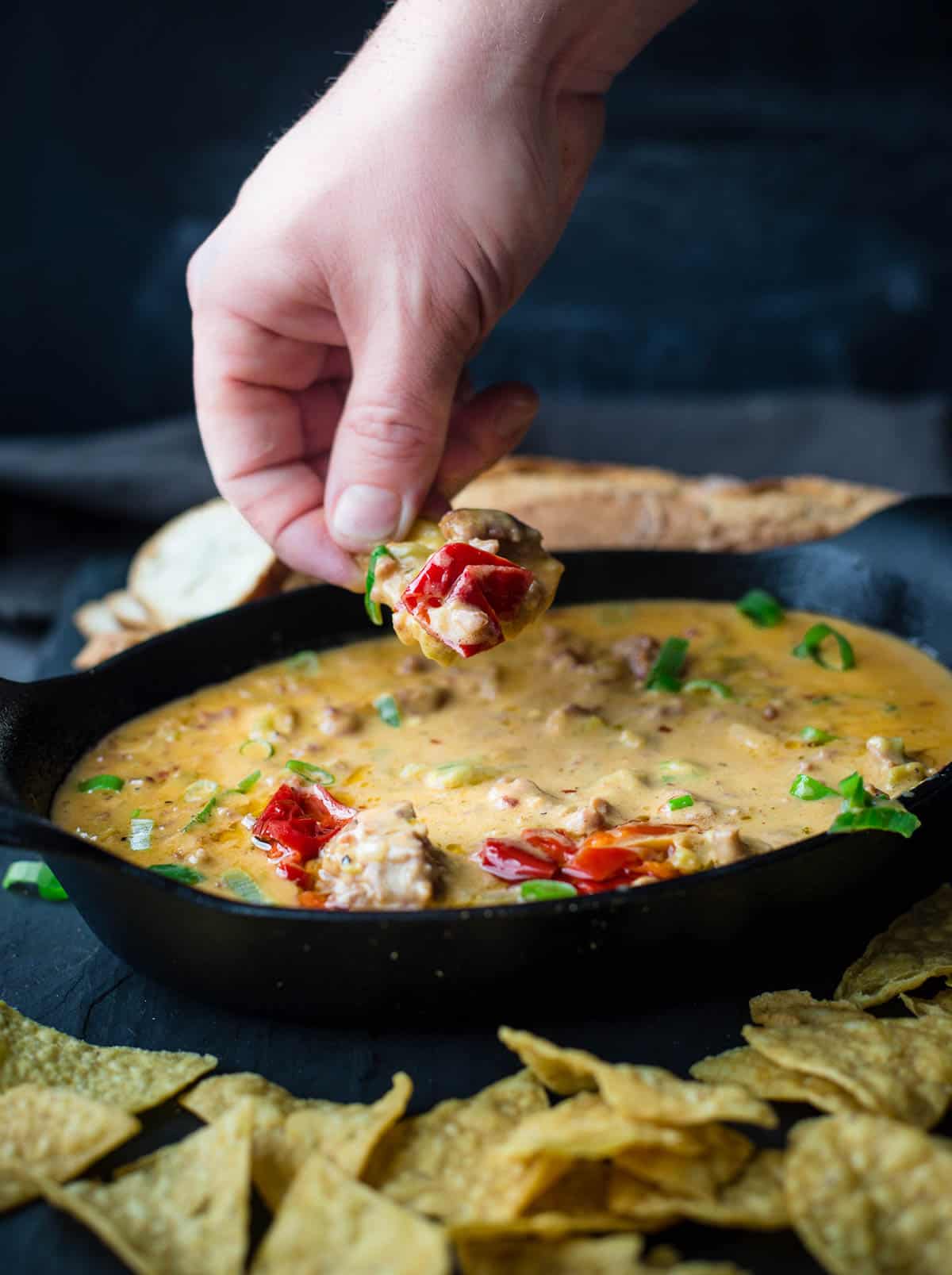 Best Beer for Beer Sausage Cheese Dip
We like something light and fresh for this, so we like a Pilsner. Kölsch, amber, and wheat beers provide great flavor too. For something with a little extra kick try something hoppy, like an IPA.
Smoked Cheese Dip Beer Pairing
Since this dish was inspired by a brewery version, and we made it with beer, it would only be fair to pair the finished dip with a beer. Go ahead and use whatever beer you used for the dip. We generally prefer lighter beers for this. Anything like a stout or porter will add intense flavors taking away from the gorgeous smoke from the sausage and chili peppers.
The hubby's fav is Kölsch by Occidental Brewing Co. It's super refreshing and super crisp and is fantastic inside the dip as well as a palate cleanser in between bites.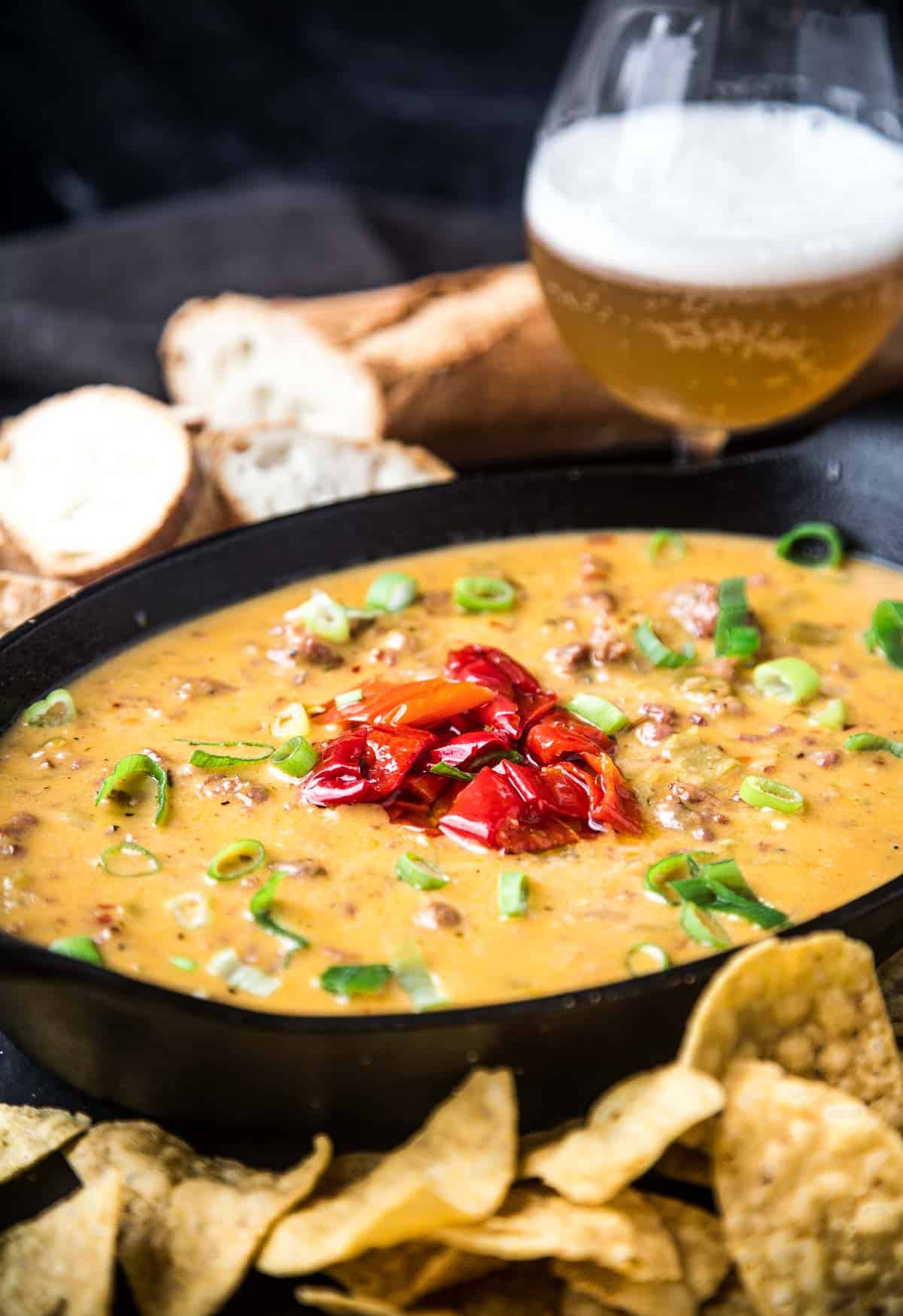 Wine Pairing
Why yes, you absolutely can, and should, pair wine with this! We cooked this on AM Northwest recently and brought wine to pair. Since we're talking football season and casual fare, we went with some of Oregon's newest canned wines. Yeah, that's right, canned wines, baby! You'll find some fun and tasty options from Free Public and Canned Oregon (brought to you by the folks who also produce Stoller Family Estate).
Other Dip Recipe Inspirations
*Disclaimer: this post contains affiliate links. We only recommend products we use and love!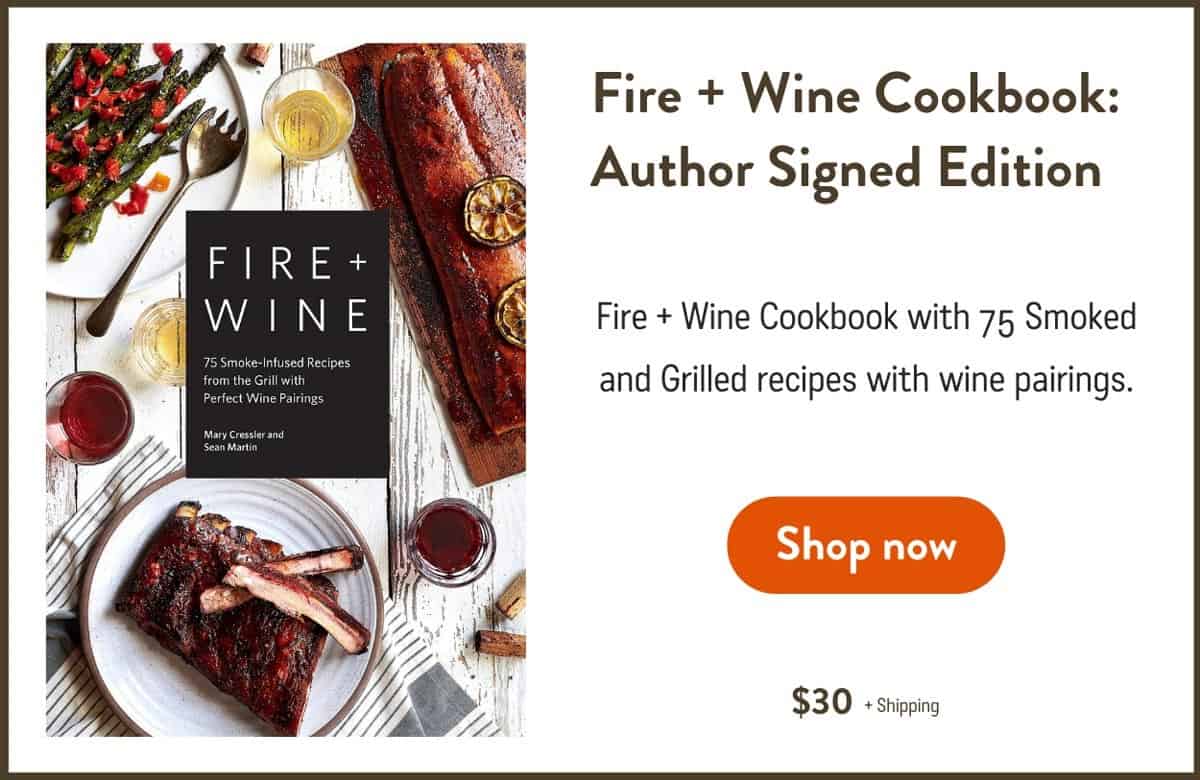 *This post was originally published in September of 2015, updated in October 2018 with new information and photos.
If you like this recipe we'd truly appreciate it if you would give this recipe a star review! And if you share any of your pics on Instagram use the hashtag #vindulge. We LOVE to see it when you cook our recipes.