My husband's eyes are bigger than his stomach.  He often has grand ideas for what he wants to make for dinner, usually leaving us with a week full of leftovers.  This past Christmas was the perfect example.
Christmas day hubby smoked up a 7 lb brisket (because our idea of Christmas dinner must always involve smoking something ridiculously big and takes at least 10 hours of cooking time).  Since it was just the four of us for Christmas this year we, needless to say, had a lot of leftover brisket.   The very next day some good friends were visiting from out of town.  They also have a toddler so we invited them to spend a casual afternoon at our house for drinks and catch up time.  Nothing fancy.  We had to have something fun to eat, however!
Trying to come up with something fun for our friends, while utilizing the 5 lbs of leftover brisket, we thought of this.
Brisket Bruschetta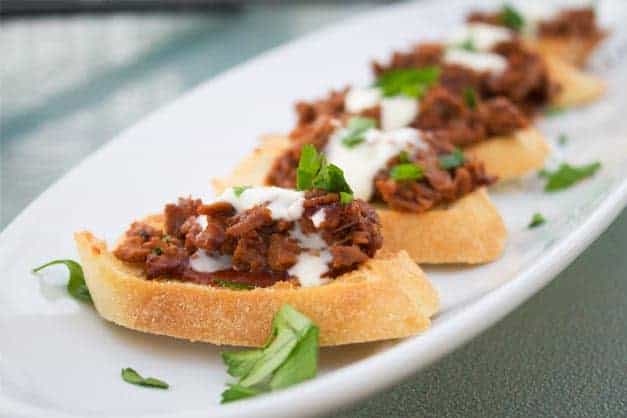 Last week hubby did it again.  He decided he wanted to smoke another brisket for dinner on Sunday (this time it was no special occasion, just a typical Sunday night).  My response was "Really? Again?  A whole brisket for just the two of us?" (Our kids don't really appreciate the delights of smoked meat… yet).  His response? "Uh, yeah, think of the leftover meals we can make all-week-long!"  He had a point.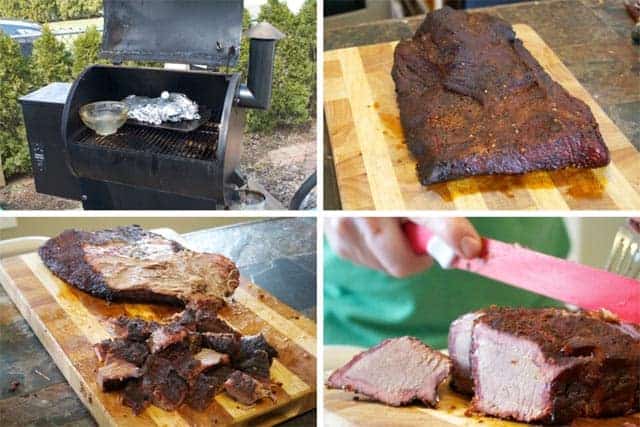 Since that bruschetta I now actually look forward to coming up with creative uses for leftover brisket, which sparked the idea of a new series here on the blog — "101 Uses For Leftover Brisket".
After pondering this I realized 101 may be slightly ambitious… though I already have 11 written… So we shall see how many I come up with in the end!
Leftover Brisket, recipe #1 — Brisket Bruschetta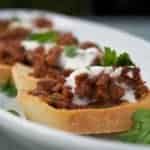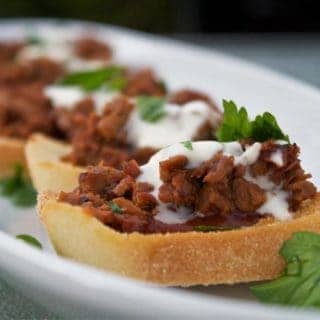 Brisket Bruschetta
A great use for leftover brisket. Brisket Bruschetta.
Ingredients
1

baguette

cut up into slices

2-4

tablespoons

olive oil

to drizzle over the bread and for warming the meat

1

heaping cup shredded leftover brisket

1/3

cup

BBQ sauce

I use homemade, but feel free to use your favorite

3

tablespoons

crème fraîche

sour cream or thick Greek yogurt would substitute well too

2

tablespoons

chopped parsley
Instructions
Turn oven broiler to high.

Place baguette slices on a cookie sheet and brush lightly with olive oil.

Place in the oven on broil under high heat until lightly golden toasted (about three minutes depending on how far up your top rack is. Keep a close eye on it). Remove.

Meanwhile heat up a medium size skillet to medium heat. Add some olive oil and warm up shredded brisket. Add BBQ sauce to the meat and stir. Remove. (Note: If you put the sauce on before the meat warms up it will caramelize too early because of the sugar, so put the BBQ sauce on after the meat is warmed through).

Place crème fraîche into a piping bag (or do what we do and put it into a sandwich baggie and cut a small whole in the tip).

Top each slice of baguette with about 1 heaping spoonful of meat/BBQ mixture, then top with a dollop of crème fraîche. Garnish with parsley.
That's it, nice and easy.
Tip: this is also excellent with leftover smoked pulled pork instead of brisket.
Wine Pairing
We've enjoyed this meal with anything from sparkling rosé to Washington Syrah.  The crunchy toast and smoked meat infused with the sweet and smoky BBQ sauce make it great with a luscious low tannic red.  But if served as an appetizer for a party it is also versatile with a highly acidic white (especially bubbles), because of the way it can cut through that rich crème fraîche while still holding its own with the smoky meat and sweet sauce, while refreshing the palate with each sip.
It really is one of my favorite uses for leftover brisket we've come up with.  It's elegant enough for a cocktail party and delicious enough to be served to the pickiest of barbecue fanatics!
What about you? What are your favorite uses for leftover brisket?
I've got plenty more ideas up my sleeve that I will reveal here soon.
More uses for leftover brisket
~~~~~~~~~~~~~~~~~~