How to make your own Basic Homemade Dry Rub for pork or chicken.
Have you ever wondered about the mysteries of making your own homemade dry rub? We've got a simple formula for making a great homemade dry rub that's great on barbecued pork and chicken.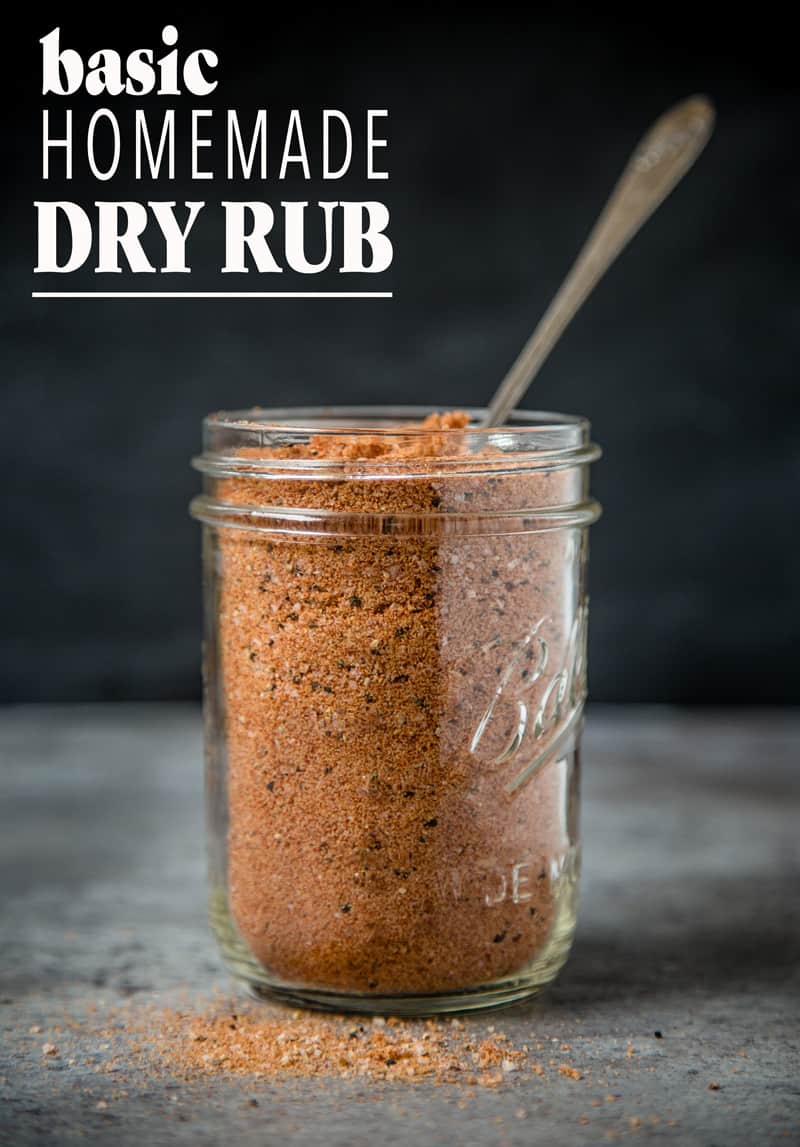 We get asked ALOT about what our favorite store bought dry rubs are. And the truth is, we really don't buy store bought rubs. They are seriously so easy to make that we just buy bulk dry spices and make our own rubs at home for our favorite proteins.
We've written about the subject before (here and fairly extensively here), but we wanted to actually show you via Sean's silky smooth live demonstration skills, in a video! Go straight to the video by clicking HERE or scroll down to the bottom to view it.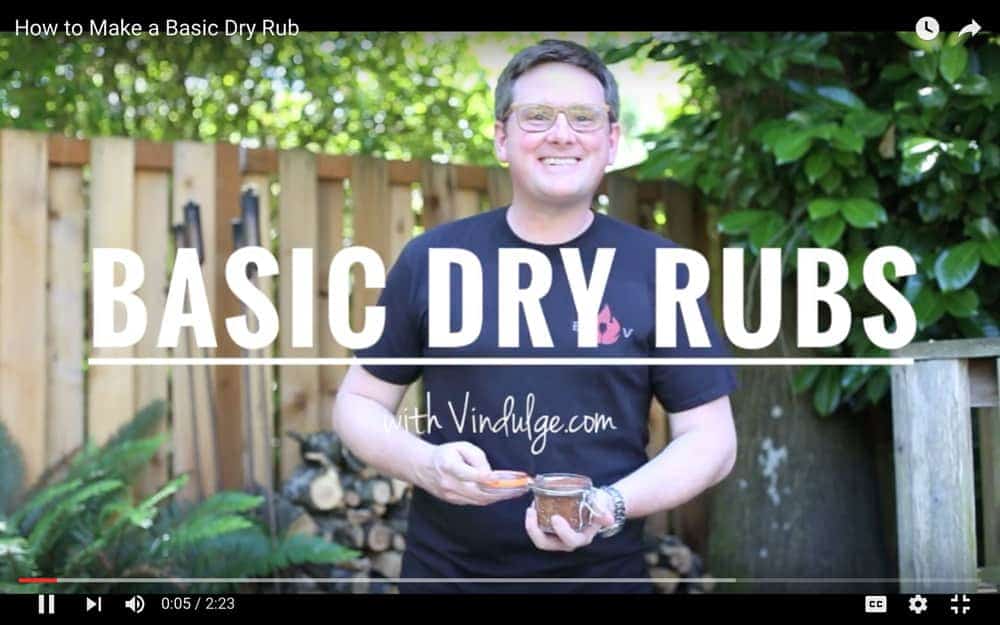 We've been toying around with the idea of incorporating new videos here on the blog (also per the request of readers). So, we decided what better way to combine some of the biggest questions we receive with our number one request to do more videos.
But first… What the heck is this "dry rub" you speak of?
What is a Dry Rub?
By definition the dry rub is just that — a collection of dried ingredients that can be used to enhance the flavor of your meat. When applying a rub, you're really only coating the exterior of the meat. But even though it may not penetrate too deep, the exterior can add a dimension of flavor and take a good cut of meat to great.
Three aspects to consider when coming up with your dry rub are the Three Ss: sweet, savory, and spice (aka heat).
Sweet
Why sweet? For low heat and slow cooking, the sweet factor is sugar (brown sugar, cane sugar, or even turbanado sugar), which will help to create that caramelized crusty exterior (bark). To balance the sweetness from the sugar this is where the savory flavor comes in. We hardly, if ever, use sugar for beef, but we love it on pork and chicken cooked low and slow.
Savory
This comes from things like salt and onion powder. You can also get some awesome savory notes from dry mustard, chili powder (which is simply a blend of dried chilies), cumin, paprika, celery salt, or ancho powder. Start small and keep adding some of your favorites.
Spice (or Heat)
Feeling adventurous? Add a little heat to your rub. This can start as simply as adding some fresh ground pepper. Some others flavors to kick it up a notch are cayenne pepper, red chili flakes, or dried chipotle to add some heat. Add these spicy at your own discretion. Not everyone is into the kick!
Formula for Homemade Dry Rub
One easy recipe format to consider when making a homemade dry rub is one part sugar and one part a mix of other spices.
What spices? A combination of salt and chili powder to start.
For ex: 1/2 cup brown sugar, then 1/2 cup a combination of other things (salt, cayenne, dried mustard, smoked paprika, chili powder, etc.)
If you're focusing on beef then skip the sweet and do a 50/50 combo of savory and heat. We don't love sweetness on our beef, primarily because it takes away from the natural flavors of the meat. With beef we generally prefer simple salt and pepper. But in the end it's about the flavors YOU want.
When to apply a Dry Rub and how long to keep it on your meat?
Apply your dry rub to your meat prior to cooking your meat. I like any rub to sit on the meat for a few hours, but even if you're in a rush and forgot to pre-rub your meat hours in advance that's okay! It will still add flavor.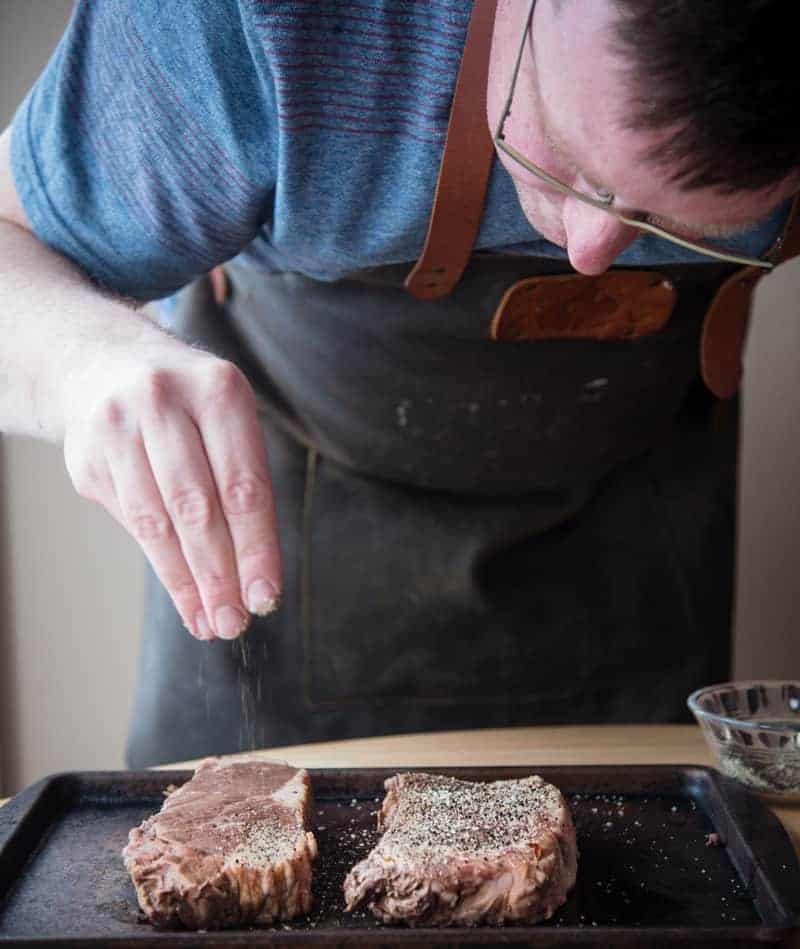 One thing to note about a dry rub and grilling is that with sugar you get a caramelized flavor, so be mindful of how much direct heat you use to avoid an unpleasant flavor. When you're applying the dry rub, don't overdo it. A nice coating in which you can still see the marbling of the meat is a good rule.
This is a recipe for a very basic homemade dry rub that we use often for pork (it's great for pork butt, tenderloin, chops, etc.). We like sweet on pork because we find pork flavor with some sweet is awesome. It's also a nice one for chicken. Feel free to use this as a base, then add whatever other flavors you enjoy.
Basic Dry Rub Recipe for Pork or Chicken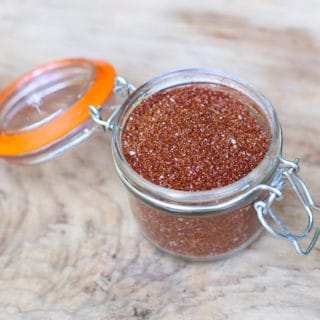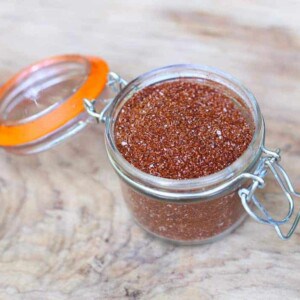 Basic Dry Rub for Pork or Chicken
A simple basic homemade dry rub for smoking pork and chicken.
Print
Pin
Rate
Ingredients
½

cup

brown sugar

⅓

cup

chili powder

2

tablespoons

salt

½

tablespoon

cayenne pepper
Instructions
Combine all ingredients together in a bowl. Transfer to an air tight serving container (like a mason jar or other dry rub container). Will keep for up to a year if sealed tight and kept in a cool place.
THE VIDEO FOR HOW TO MAKE A DRY RUB
And see this all in action… along with some bloopers along the way!
If you are having problems loading the video on this page you can check it out over on YouTube by clicking here.
You won't want to miss it. Sean's smooth skills are oscar-worthy, and spoiler alert: there are bloopers at the end!
---
Want a more advanced Dry Rub Recipe?
Try our Ultimate Homemade Dry Rub Recipe. We build upon this basic recipe and add a few more elements for a bold flavored dry rub.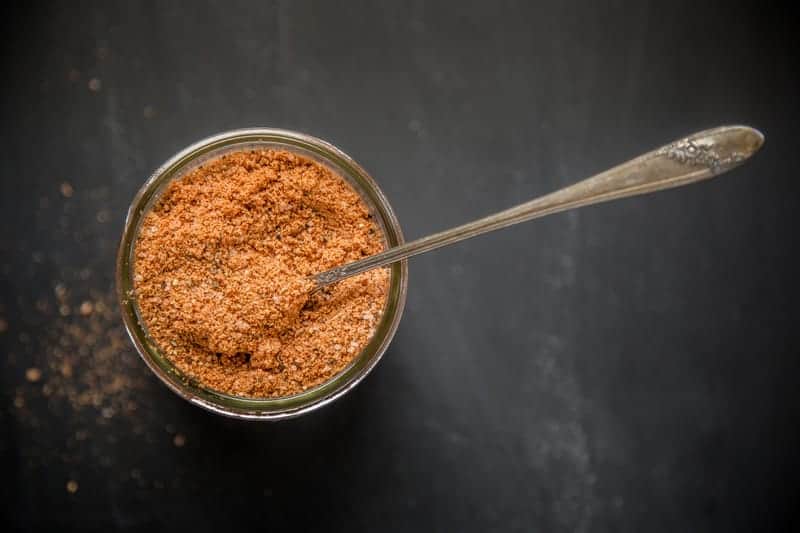 ---
If you like this recipe we'd truly appreciate it if you would give this recipe a star review! And if you share any of your pics on Instagram use the hashtag #vindulge. We LOVE to see it when you cook our recipes.
---