By contributing writer Sean, aka "the hubby"
I'm gonna go ahead and say something out loud. Grilled burgers can be very boring. It's true. Nothing is more uninspiring than frozen beef patties from your local chain supermarket, grilled so wrong they end up overcooked, then placed on a cheap bun with ketchup and mustard. But I'm here to tell you there is more to the grilled burger than a pressed flat patty that essentially oozes fat and coats your stomach. There is so much potential for burgers if you know how to build it (and I so wanted to insert a Field of Dreams quote here).
What do I mean by that? Well, read on as I share how to pick the right meat and then apply a consistent technique in order to build a flavorful burger that wows, and has you craving burgers on a weekly basis.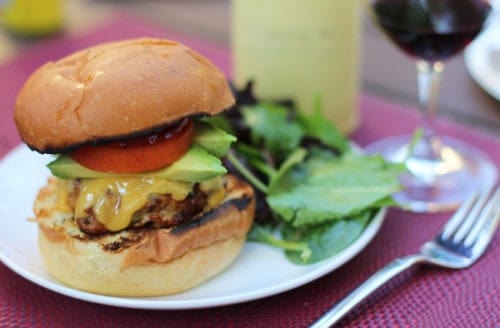 The Meat
I will be the first to share that we grill a lot of turkey burgers. Don't judge. I blame my wife, the health-conscious one of the family. But I promise you, whether a turkey burger or beef, there is one secret ingredient that will seriously make you excited to increase the rate in which you make burgers. Bacon!
I can imagine your visual of a slice of bacon on top of the burger positioned just right.  No…that's not what I mean. What I mean is bacon paste, ground raw in a food processor and hand mixed into your patty.
Bacon paste becomes the binder and fat that not only keeps the burgers together, but also elevates the flavor of burger beyond your typical boring patty you may buy at the store.
My wife first shared the secret to our bacon paste burgers over on VineSleuth last summer.  But I had to elaborate on them here, because I feel that passionate about bacon paste. But before we go into detail on the bacon paste let's talk about the proteins.
Beef
When you're buying store bought beef for burgers, and not grinding up sirloin on your own (reminder I have twin toddlers, so…. that's not going to happen in the near future), it's best to NOT buy lean. You want some fat. Ground beef is purchased typically by it's fat content, so you'll see things like 85/15 or 90/10. That means the ratio of meat to fat. And fat is flavor. For more flavor try out 80/20 for best results.
Turkey
When buying ground turkey the same ratio rules apply, however something to consider is going to your local butcher and mixing up some white and dark meat ground to the same ratio's you would expect from a beef burger. 75/25 or 85/15 is fantastic.  If you go too lean on a burger, regardless of turkey or beef, the flavor will be muted and it is much more likely to fall apart even with binding agents.
Bacon Paste
Now here is the clincher. To really nail that extra flavor you then take your protein above (ground beef or turkey) and add the bacon paste. Essentially, you take the bacon strip, cut it in quarters, put into a food processor, and pulse until it turns into a gooey mess and then add to your burger mix.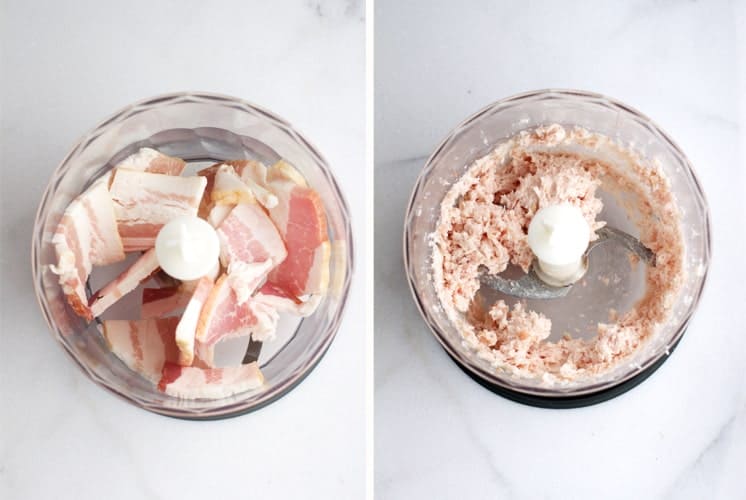 The ratio we use is 2 pieces of thick cut, uncooked bacon for every 1 pound of ground meat. That's all you need to add a boatload of delicious flavor to your burgers. Seriously…a boatload.

And as opposed to adding cooked bacon on top (which you can still do as well. I won't ever judge for overdoing it on the bacon), adding the raw bacon paste to your burgers adds incredible flavor as well as fat (moisture) to ensure your burgers don't dry out.
Fillings
Here is the best part. When building a burger, it's your canvass. Add anything you want, pre or post cooking. We actually add all our flavors into the ground patty mix, sans cheese, to get the most of the flavor in every bite and we love it. It makes for a more rustic burger, but that is our favorite kind. Juicy, thick, imperfect and full of flavor.
You can add caramelized onions, panko, blue cheese chunks, jalapeños… this list is endless. In the end however just remember the meat is the key ingredient.
Prepare your other ingredients and mix them with your ground meat. The key is using your hands, and not being shy. You need soft hands for this because you want to avoid over compacting the ground meat and making the burger tough. You want a large bowl and slowly and delicately mix the ingredients together, and yes it can get messy. However the end result is a tender, juicy and amazing burger with a ton of flavor.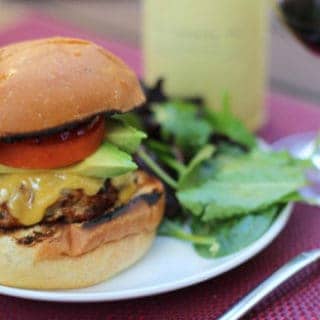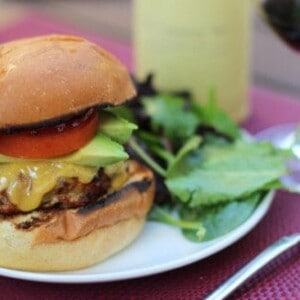 Ingredients
1

pound

ground beef or turkey

with fat content based on your preference

2

pieces

thick cut bacon ground into paste

see technique above

1/3

cup

diced onion

2

tablespoons

Worcestershire sauce

Pinch

of salt

Pinch

of pepper

4 ¼

inch

slices of extra sharp cheddar cheese

4

burger buns
Instructions
Mix ground beef (or turkey) with bacon paste, onion, Worcestershire, salt and pepper in a large bowl with your hands.

Form the burgers into four equal sized patty's and place on grill over direct heat.

Cook for three minutes each side for grill marks and then move to indirect heat. Add cheese slices, and then cover until internal temperature reaches 160 degrees for medium burger (little to no pink). About 5 – 8 minutes with a hot coal grill. Cheese should be melted and likely bubbling.

Remove burgers from heat and toast buns if desired. Serve with your favorite condiments and sides. (I use no condiments as I love the natural flavor, but my wife is a sucker for fresh slices of tomato and avocado.)
Flavor tip: If using a charcoal grill, add wood chunks to the charcoal mix. This will add some smoke and most importantly natural flavor from the wood. Yum.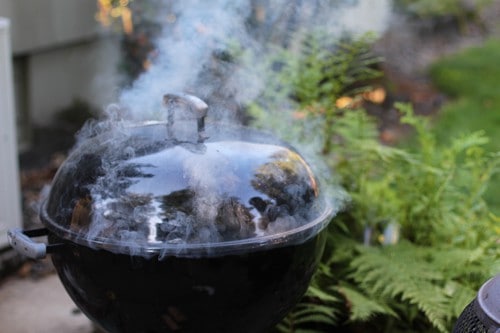 There are so many ways to make a better burger, this is but one. But when you take quality ground beef, and bacon paste, plus whatever else you add to it, you get one non-boring burger.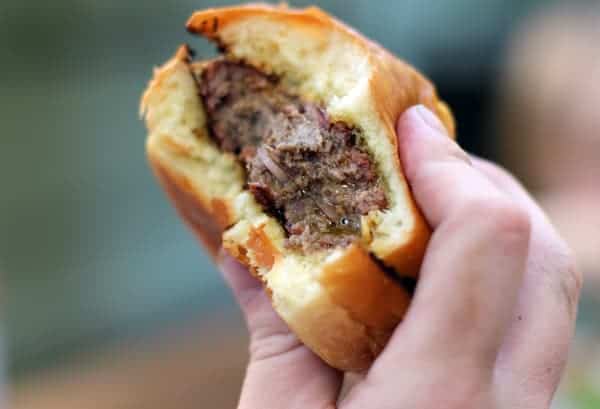 This is exactly how I like my homemade burgers. Like I said, if you have quality meat and a ton of flavor, you don't need toppings! 
Wine Pairing
(Where Mary gets to chime in and add her two cents… or rather two wine pairings)
I went on a bit of a lengthy discussion last year on what it means to be a good "burger wine". In reality, there's probably a burger for any type of wine out there, depending on the meat (or lack thereof), ingredients, and toppings. So calling a wine a good "burger wine" really depends on the type of burger.
For these two particular burgers we made the other day (one turkey, one beef, same method) I reached for two wines from the Cariñena region of northern Spain. I was sent a few wines from this region to participate in a Google hangout to learn more about the region, but ended up having to cancel last minute. Thank goodness for this article by Gregory Dal Piaz on the region I was still able to lean more about  the wines of Cariñena. If you haven't I do recommend checking out the article to learn about this under-the-radar Spanish region.
I chose them based on their grape composition (one was strictly Garnacha, the other a blend of Tempranillo, Cabernet Sauvignon, and Garnacha), and price (under $15) — all factors that make for a good weeknight pairing for simple grilled beef or turkey burgers.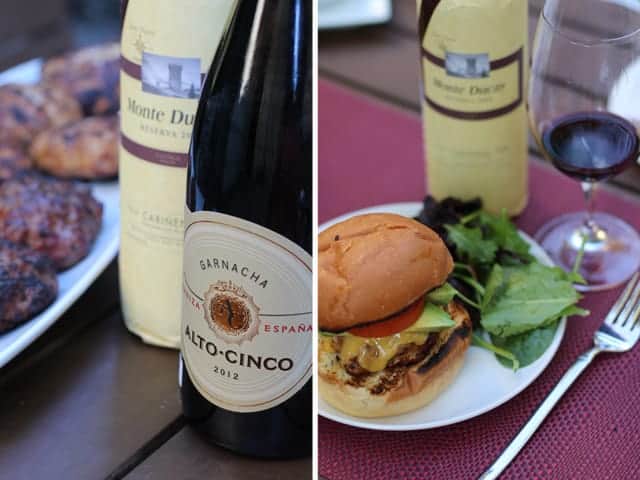 2012 Bodegas Paniza Alto-Cinco Garnacha
Cariñena, Spain 14% abv | $15 (media sample)
Smoky, spicy, and a bit chocolaty with ripe red berry fruit. Richer than I expected on the palate it also had some more red berry, and raspberry flavors alongside some spice and vanilla. It had this really intriguing freshly ground pepper flavor lingering at the very end that complimented the grilled flavors of the burgers quite well.
2009 Monte Ducay Reserva
Cariñena, Spain 13% abv | $7 available exclusively from Trader Joes (media sample)
What a surprise on this one. A blend of Tempranillo, Cabernet Sauvignon, and Garnacha, the wine has fresh and fruity aromas with black cherry, a little spice note, and some chocolate undertones. Juicy and bright on the palate with mild tannins openening it up for a wide range of food pairings, beyond these scrumptious burgers. My friend Nannette recommends it with our ribs, which I can see, so long they aren't drowning in too much BBQ sauce. But I'll easily pair it with these burgers any day of the week. I also found out later that this wine is available exclusively from Trader Joes. And for that price ($7), are you kidding me right now?! Definitely worth a swing down the wine isle at TJ's if you're looking for a good value red for everyday grilled dishes or an inexpensive wine for parties.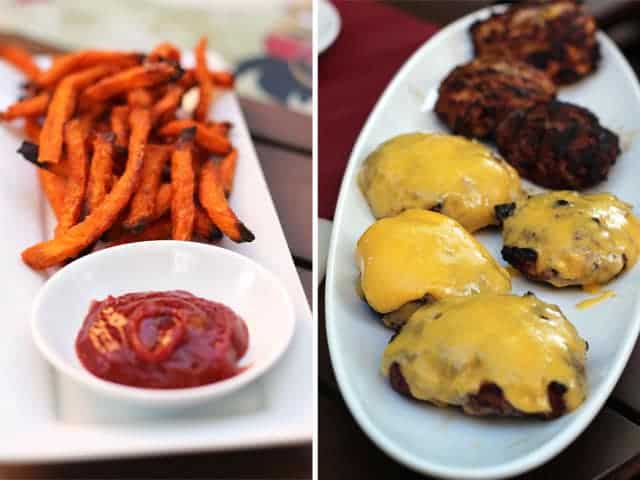 A Tip About Fries & Wines:
Fries and burgers go together like peanut butter and jelly.  And I am a sucker for french fries, sweet potato fries especially. I also love to dip them in ketchup.  But I've discovered that the sweetness of ketchup is a really bad match for most dry red wines, leaving your tongue feeling metallic and the wine tasting unpleasant. So if I'm planning to drink red wine I serve the fries as an appetizer (and avoid the red wine with the fries/ketchup combo).  If I'm at home that means I munch on the fries while the meat is cooking.  That way I still get to eat my fries, without ruining the wine.
What about you? What's your favorite wine for burgers? And are you willing to add bacon paste to the next burgers you whip up?
---
About the author: Business by day, BBQ by night. Father of twin toddlers. Husband of the author of this awesome blog.  Fan of PBR.

*****